Published November 13, 2020
/
Updated January 4, 2023
Branding builds businesses that endure. The most beloved and longest-lasting companies tend to be those that understand this. They invest in building a consistent presence and personality that's immediately recognizable across their entire marketing strategy.
When people think about brands, they often think about their visual identity. However, there's another element that often gets overlooked: voice and tone.
What is Brand Voice?
Brand voice refers to the personality and emotion infused into a company's communications.
It encompasses everything from the words and language you use, to the personality and image your marketing assets aim to invoke. It plays an important role in making sure your message cuts through the noise and makes a lasting impression on potential customers.
Why is Having a Strong Brand Voice Important?
The most enduring companies have a strong personality and clear sense of purpose. Their message is delivered consistently everywhere they have a presence with an established brand voice.
Developing brand recognition with consumers requires consistency and repetition. If your personality or messaging appear to change frequently, it's harder for audiences to know exactly what you're all about. As a result, your efforts are likely to fall flat, and lose out to a better-branded option (whether or not they can match your product quality).
What Exactly is the Difference Between Voice and Tone?
In addition to your voice, it's also important to understand tone.
Voice: This describes your company's personality. It's consistent and unchanging.
<em;strong">Tone: The emotional inflection applied to your voice. It adjusts to what's suitable for a particular piece or message.
While your voice remains consistent, tone may change according to the context of your messaging. For example, a social media post about a fun sale would have a more light-hearted tone than one breaking news about a company crisis.
Taking a Look at 3 Examples of Exceptional Brand Voices
If this still sounds abstract and a little tough to understand, that's okay. Sometimes, it's easier to see real-world examples to make a concept click. So, here are five brands who have nailed their voice.
MailChimp: Warm. Welcoming. Helpful.
Email marketing can be complicated, but MailChimp's voice reinforces their platform's ease of use.
Take this example from their homepage:
The headline simplifies the solution MailChimp offers in a way everyone can understand.
Duluth Trading Company: Irreverent. Authoritative. Practical.
Duluth Trading Company specializes in durable yet appealing clothing for working people. This is reflected in their branding, which uses clever copy that clearly explains the benefits of their products, while standing out with understated humor.
This is clear when you visit their website. For example, take their No Tug Tank Top. It's a tank top that's longer in the back, to avoid needing to be tugged down when leaning over (as one might do while gardening).
If you go into one of their stores, the signage reflects a similar personality: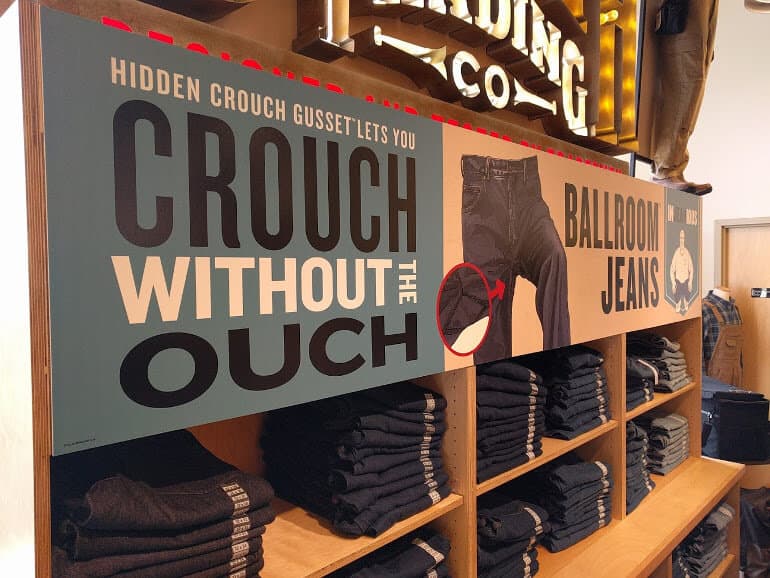 And if you catch one of their TV ads, it's immediately recognizable as one of theirs. Take an example of this men's underwear ad:
Next, note how the personality is similar, but the tone changes for this women's "NoGA" pants:
https://www.youtube.com/watch?list=PLqiPlfrzyAhVCx5us5Yz27MXrUNfQYu_c&v=5EwzxIrN56Q
Apple: Clean. Simple. Confident.
As the world's most valuable company, almost no one pairs powerful products with a confident voice as well as Apple.
Whether you're on their website …
… catching a TV ad …
https://www.youtube.com/watch?v=mW6hFttt_KE
… or flipping past a print ad …
Source: https://bgr.com/general/apple-watch-vogue-magazine-ads/
… the look is always clean and the copy is always punchy. Like Apple products and software, everything feels and sounds as though it's meant to get out of your way.
Establishing Your Own Brand's Voice in 7 Steps
Enforcing branding across all your marketing materials might feel intimidating. But, it doesn't have to be difficult. Follow this process to get the job done.
Step 1: Review Your Company's Mission Statement
Your personality should reflect your values. And your values should be easily found in your mission statement. If your company has one (or something similar), it should offer a good starting point for figuring out how your marketing efforts can connect your values to your brand.
Since they do an excellent job at all things marketing, look at MailChimp's mission statement:
Helping small businesses succeed is at the core of what they do. So, it makes sense that they often strike a warm and helpful tone across their marketing efforts.
Here is how they describe their voice on their public style guide:
All their brand adjectives connect back to being useful and welcoming.
Step 2: Audit Your Current Content and Messaging
If you already have content or copy you've produced, it's time to do a brief audit. Review your marketing assets, which may include the following (and more):
Website
Blog posts
Social media posts
Videos
Print collateral
In-store signage
TV spots
Radio ads
Then, note any common themes or consistencies in messaging and tone. Does your current voice fit your values and brand purpose? If not, how can it be improved?
Pay particularly close attention to your best-performing pieces (whether these are blog posts, videos, website pages, social media posts, or other content). These may tell you the most about what resonates with your audience.
Step 3: Do an Audience Survey
If you have an audience already, create a simple poll asking how they see your brand. Include the following questions:
How would you describe our brand?
If our company were a person, what would it sound like?
Do you find our tone appropriate?
You can create a poll easily using Survey Monkey or >Polldaddy. Then, use social media to share the survey with your followers, or send it to your email list.
Step 4: Research Your Audience, Too
A simple exercise to even better understand your target audience is to grab a small sample of your current best customers and research them:
Choose five of your existing best customers.
Search for each name in Google.
Review their social network activity to understand:
Interests (e.g. do they watch comedies? If yes, they may appreciate humor in your brand voice)
How they write (e.g. are they formal? If yes, they may appreciate your brand voice to be more academic)
Publications they read (e.g. do they read sci-fi? If yes, include nerdy sci-fi puns as part of your brand voice)
Etc.
Write a list of the words that come to mind as you review each of these customers. Once you've done this process for every person in this sample, review each list for commonalities.
For example, when we followed this exercise at CoSchedule, we discovered:
Our target audience is dominantly females who are obsessed with marketing, yoga, rock climbing, outdoorsy stuff (kayaking, hiking, biking), classic sports – i.e. baseball… basically,

anything trendy

.
They eat local or take-out (delivery), fancy donuts, coffee, kombucha, craft breweries.
They read, watch, and listen to TED talks, CoSchedule, heavy users on Pinterest and Instagram, read a lot of fiction (snarky/sassy fiction), "how to hack/organize my life" style books (self-help/self-improvement).
This is helpful because your brand voice should feel familiar + similar + natural to your target audience. Your voice needs to come off as someone they'd get along with + build a relationship with.
For example, CoSchedule's brand voice might sound something like this:
30-somethin' witty, smart female marketer who's humble, helpful, and confident. Think Emma Stone — sarcastic, witty, but sweet.
Step 5: Do a 'We're This, Not That' Exercise
Sometimes, in order to figure out what you are, it helps to figure out what you're not, as well. Try filling in the blanks in this sentence:
"We're _______ , but we're not _______ ."
Then, repeat this process several times until you arrive at three or four sentences that best describe your brand. Here's what this might look like when you're finished:
"We're authoritative, but not too serious."

"We're funny, but not sarcastic."

"We're friendly, but not sappy."
Step 6: Create a Brand Voice Chart
Next, take the three to four words that best represent your brand, and complete a chart that looks like the one below, explaining how each trait should and shouldn't be represented in your marketing:
This is simple to do using the template included in this chapter.
List your brand characteristics on the left.
Include a brief explanation of each trait in the next column.
Explain how to use (and not use) this trait in the next two columns.
Once you're done, the completed template should look something like this:
Keep this on hand for writers to use as a reference.
Create Step 7: Enforce Consistency With Clearly Documented Guidelines
When your team members and coworkers are producing content, it's helpful to provide clear guidelines they can refer to.
This helps ensure that your brand standards are maintained, and that every customer-facing asset your company creates sounds like one brand (even if you have several different people creating content and writing copy).
Brittany Berger wrote about this topic in-depth on the CoSchedule Blog. Here are the five most important benefits she highlights for having your guidelines written down and made accessible:
Applying the Appropriate Tone to Your Voice
Different tones may be necessary for different circumstances. This could depend on the message, the platform, or the segment of your audience you're trying to reach.
For example, if you had to deliver bad news, you wouldn't want to sound cheerful. Or, if you're writing a script for a how-to video, you may not want to sound overly stuffy or serious.
So, what's a marketer to do?
MailChimp addresses this with a brief explanation:
What Tone for Which Circumstances?
You, too, can draft a simple explanation for anyone writing content or copy within your organization.
Start by answering this question:
Is our tone generally formal or informal?
From there, determine how your tone might change based on the medium:
Under normal circumstances, our voice should be [FORMAL/INFORMAL].
When responding to a customer, adopt a tone that matches the conversation. Ex: respond to praise gracefully, and complaints with concern.
When sharing bad news, treat the matter seriously.
Then, write a brief description of the tone writers should use, given various contexts they may face on the job.
You're Done!
You now have a working knowledge of brand voice and tone, their importance, and how to develop each one successfully.