If your CoSchedule account is not connecting to your WordPress site, deactivating and reactivating your CoSchedule plugin can refresh the connection.
---
Go to the Plugins tab inside of WordPress and locate CoSchedule. Click Deactivate to temporarily deactivate your plugin.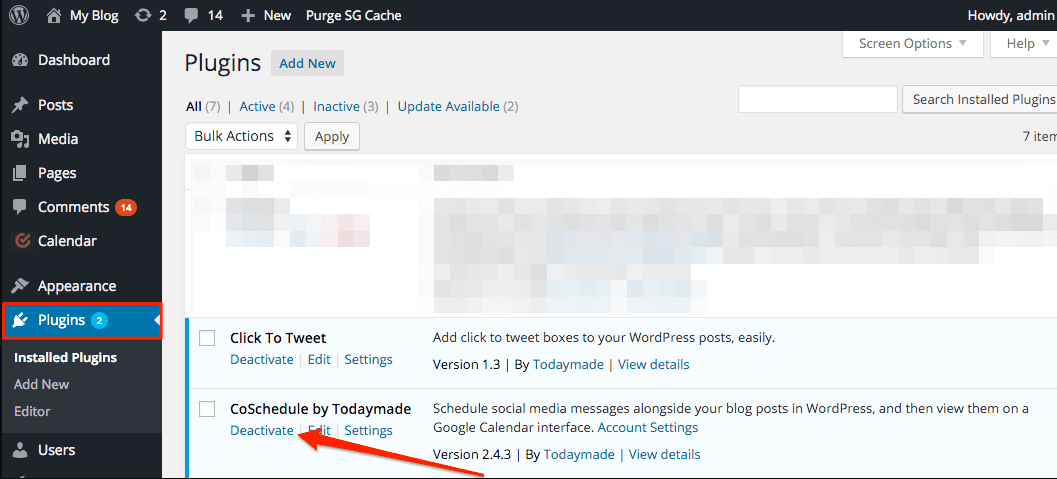 After your plugin deactivates, click Activate. CoSchedule will bring up a sign-in window. Sign back into your CoSchedule account.
If you are able to navigate your calendar and post, your CoSchedule account is connected to your WordPress site. If there is still a connection error, contact support at Support@CoSchedule.com.
Upon successfully reactivating the plugin, social messages that are still left to publish will resume according to the schedule you previously set up.
Was this article helpful?
Click on a star to rate it.
Average rating / 5. Vote count:
No votes so far! Be the first to rate this post.
Thank you for your rating!
Thank you for your feedback! If you have any additional feedback, please email us at support@coschedule.com.
Thank you for your feedback!