Evernote with CoSchedule
Below are details about a feature or functionality that is no longer offered in new subscriptions starting after January 13, 2021.
Collaborate in real-time with your team in the same Evernote note, and use CoSchedule's amazing team workflow features that you know and love to maximize the impact and efficiency of your team's hard work.
---
Why Would You Use Evernote With CoSchedule?
Evernote is a popular cross-platform note-taking app that helps you capture and prioritize ideas, projects, and to-do lists, so nothing falls through the cracks. It keeps your notes organized and synced so they're accessible anywhere. Plus they're searchable so you can always find what you need. Working together with CoSchedule, Evernote can be a great place to capture ideas and start drafts for blog posts or social messages. You can even convert your note to a WordPress post. If you'd like to include those notes as part of a Project in CoSchedule, read on!
Back To Top
---
Connecting Evernote to CoSchedule
1. 
Go to 
Settings
> Integrations
2.
 Locate and click 
Evernote
. Then click 
Enable
. Follow the steps to connect Evernote to CoSchedule.
Back To Top
---
Adding Evernote Notes to Your Project
In the project, click to add an attachment. Select 
Evernote
. Then click 
Select a Note 
to add an Evernote Note to your project.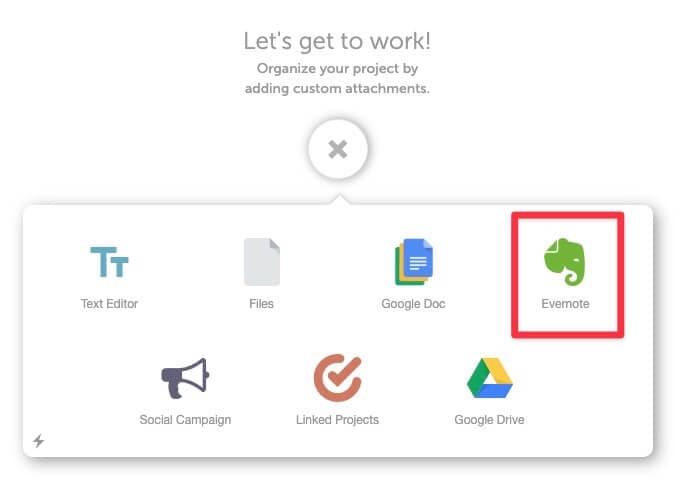 The
Select A Note
window will open. Here you can search for your note or choose between your "Shared Notebooks" or "Private Notebooks." You can also 
Attach New Shared Notebooks
.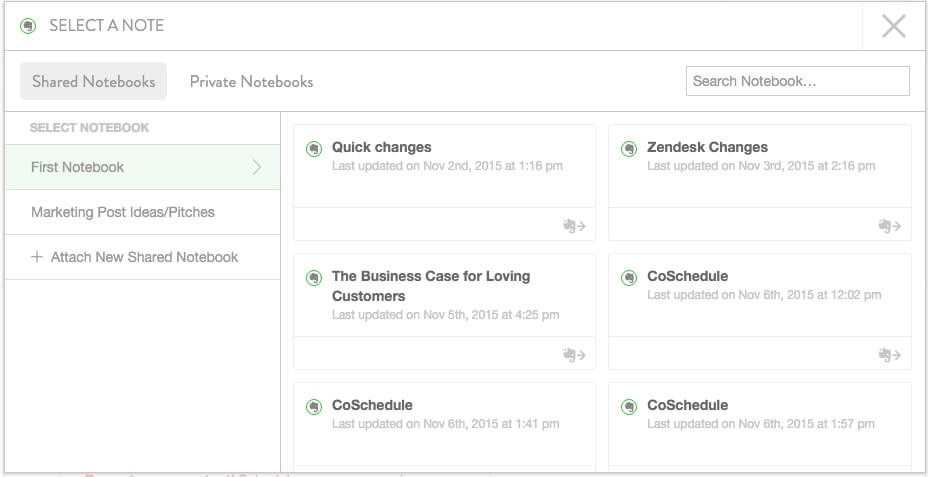 Once you have found the note you would like to add to your calendar, click the note and it will be added to your project. If you delete an Evernote note inside of CoSchedule, it will still be inside of your Evernote account. CoSchedule does not remove anything inside of Evernote.
Back To Top