Google Analytics with CoSchedule
CoSchedule can automatically add UTM tracking parameters to all of your links for better tracking inside Google Analytics. You do not need to connect a specific Google Analytics account.
Note:
Google Analytics works perfectly with
Bit.ly
to shorten your links. Without Bit.ly enabled, you will have long URLs with UTM parameters added at the end.
---
Why Would You Want To Use Google Analytics With CoSchedule?
Google Analytics can track the visitors to your website, but if you'd like to know how many of them came because they clicked on a link in a message you sent from CoSchedule then you'd want to enable this integration. It will create a separate "CoSchedule" campaign in your Google Analytics dashboard and allow you to look at the data specific to that campaign. If you do not have this integration enabled you will still get the general analytics for your website and if a link in a message you sent from CoSchedule is clicked on it will be added to the general analytics, just not a separate "CoSchedule" campaign.
Back To Top
---
What Are UTM Parameters
UTM parameters or "tags" are text strings that you can add to URLs that allow you track those URLs when they get clicked on. UTM tracking parameters are "read" by Google through your website's URL (and other tracking programs) then pulled into your Google Analytics Dashboard. The resulting data is visible in Google Analytics, meaning you can track traffic in terms of where it came from and how it got to you.
Back To Top
---
Enabling Google Analytics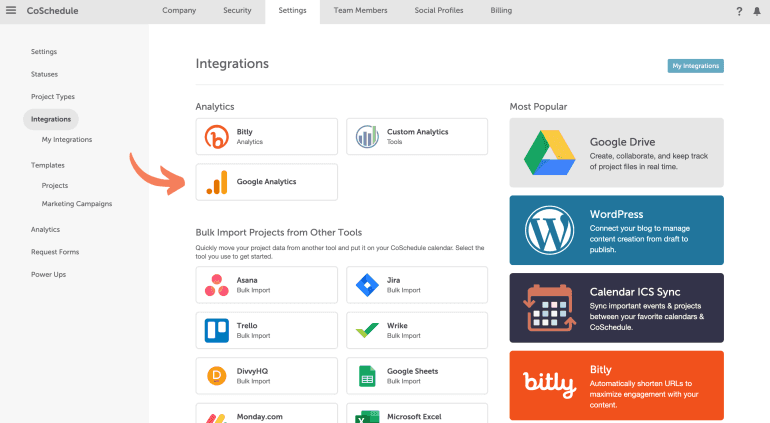 1. 
Go to 
Settings
> Integrations
and find the Google Analytics tile
2.
Locate and click 
Google Analytics
. Then click 
Enable
. UTM Parameters will now be added to URLs scheduled in CoSchedule.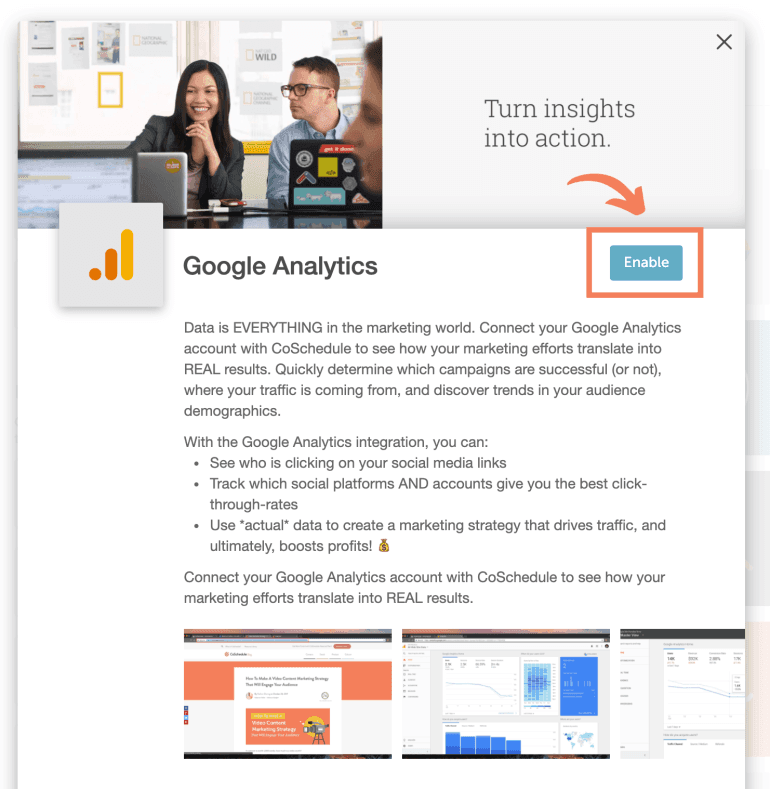 Back To Top
---
Default
UTM Parameters
CoSchedule will add these UTM parameters to any URL that is scheduled through CoSchedule.
utm_campaign: This is always set to 'coschedule' so you can group all of the traffic coming from your CoSchedule sharing.
utm_source:

This shows what platform you are utilizing to share content

utm_medium: This is the format, such as social profile, banner, email etc.
utm_content: Only will appear if a WordPress post is being shared. This will be the title of the WordPress post.
Back To Top
---
Monitoring Tracking Parameters Inside Google Analytics
Once you have Google Analytics enabled in CoSchedule, login to your Google Analytics account. Navigate to
Acquisition > Campaigns
. Click on
coschedule
 to reveal a breakdown of stats on visits, bounce rates, and conversions for each individual social network. You can learn more about Google Analytics campaigns
here
.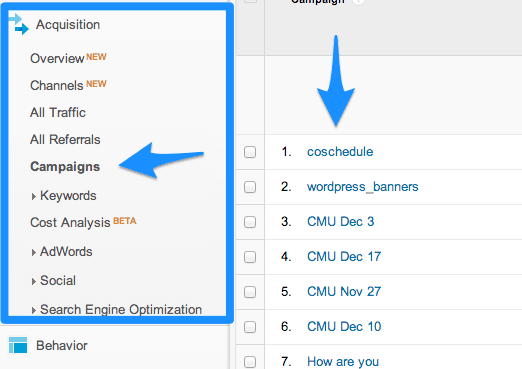 Back To Top