Mailchimp with CoSchedule
Connect your Mailchimp account with your Marketing Calendar to view all email marketing campaigns and make real-time changes to your emails (without jumping from screen to screen). You can connect multiple Mailchimp accounts if needed.
Connect Mailchimp to CoSchedule
Open Settings
From the main Settings tab, click Integrations
Locate and click Mailchimp, then click Enable
Follow the prompted steps to connect Mailchimp to CoSchedule. Once connected, click Sync and CoSchedule will sync all email campaigns in your Mailchimp account to your calendar.
Back To Top
---
Add Mailchimp Projects to Your Calendar
As soon as you connect your Mailchimp account to CoSchedule, scheduled email campaigns will be added to your calendar.
To create a new Mailchimp email campaign, click the + icon on the date you would like the campaign to start and select the Mailchimp project type.
Enter a title and click Create
Choose Regular Email or Plain Text Email
Your Mailchimp project will sync with your Mailchimp account and a new draft email campaign will be created in Mailchimp. Certain functions will now directly sync between the project in your calendar and the email campaign in Mailchimp:
Project Title Title of the email campaign in Mailchimp.
Scheduled Date Scheduled time for the email campaign in Mailchimp.
Subject Line Subject inside of the email campaign in Mailchimp.
Delete When you delete an email campaign in your calendar the campaigns will be deleted inside of Mailchimp and vice versa.
The Email Campaign will need to be officially scheduled first inside Mailchimp before you can change the schedule status inside of CoSchedule. Click
Edit in Mailchimp
to
schedule in Mailchimp.
Back To Top
---
Working With Draft Emails
Your calendar will sync all of the Mailchimp email campaigns in draft state. If they are scheduled, they will be located in the calendar view. If they're unscheduled drafts, they will be located in the Ideas Bin. To access all of your unscheduled email campaigns, go to
Ideas
. If you do not see an email campaign at first, use the search option in the Ideas Bin to search for the email campaign title.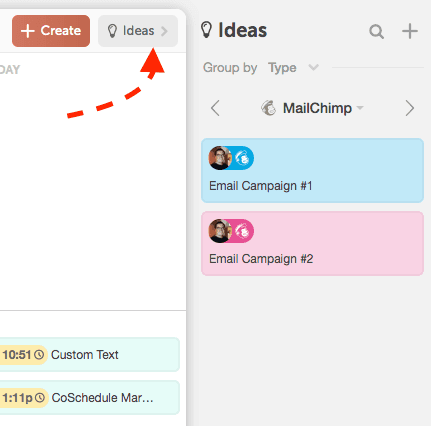 Back To Top