Getting Started with Conversations
Below are details about a feature or functionality that is no longer offered in new subscriptions starting after January 13, 2021.
Conversations is a powerful inbox-style feature that allows you to respond to comments, mentions, and direct messages for Twitter, Facebook Pages, and Instagram Business Accounts.
Note: Conversations are tracked in your Conversations Inbox from the time they are enabled. If you disable Conversations anything in your Inbox will be removed, whether read or unread. If you re-enable Conversations, it will pick up new messages from that point forward but will not show previous conversations.
---
Why Would You Use Conversations?
CoSchedule not only helps you schedule social messages, but it also helps you participate in the conversation across all your Social Profiles. Conversations lets you read, track, and respond to comments, mentions, and direct messages happening in your connected Social Profiles, all from within the CoSchedule application.
What You Can See in the Conversations Inbox
Facebook Pages: Comments / @Mentions / Direct Messages (Facebook currently only allows third-party applications to reply to Direct Messages within 24 hours after they are sent. You will still be able to reply to Direct Messages sent more than 24 hours ago directly from Facebook.

Comments on paid Facebook posts will not show up in Conversations Inbox

)
Twitter: Comments / @Mentions / Direct Messages
Instagram (Business Accounts only): Comments (Instagram currently does not allow third-party applications access to Direct Messages.)
---
Conversations Settings
Enable Conversations by going to
Settings > Power Ups
 and clicking 
Enable Conversations Inbox
on the Conversations Inbox tile. This will enable conversations for all of your applicable Social Profiles. You can then enable or disable individual Social Profiles as desired.

  You can also set your notifications preferences for the Conversations Inbox in your
Notification Preferences
settings. You can choose to receive a daily email with a summary of the open conversation threads on your calendar and/or any new conversation activity.

Back To Top
---
Navigating to the Conversations Inbox
To view your Conversations, open the left-hand menu in CoSchedule and select 
Conversations
.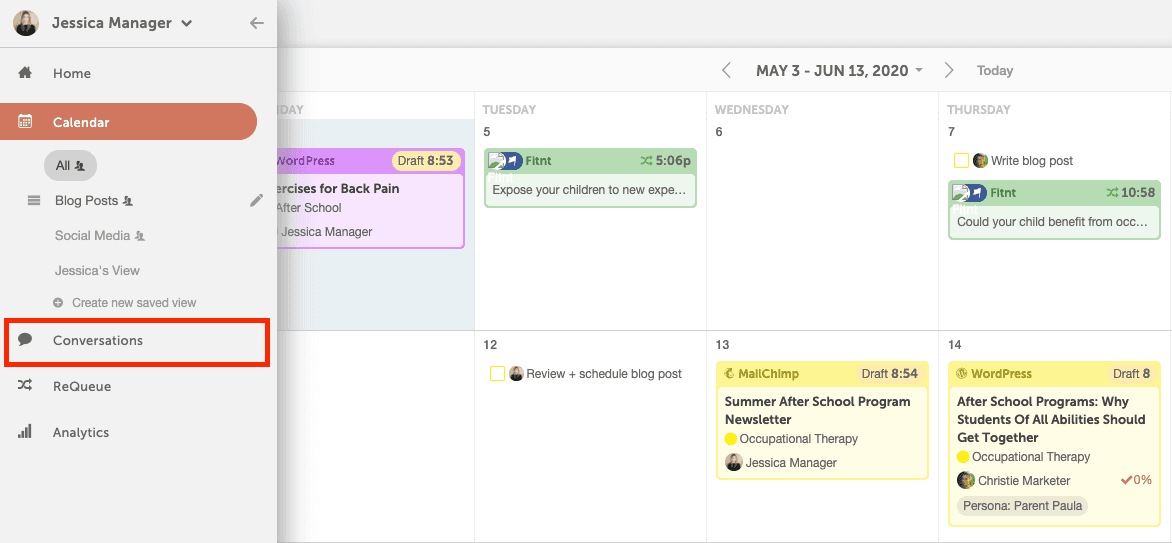 Alternatively, you can get to your Conversations Inbox from the breadcrumb menu above your calendar by clicking the view and choosing
Conversations
.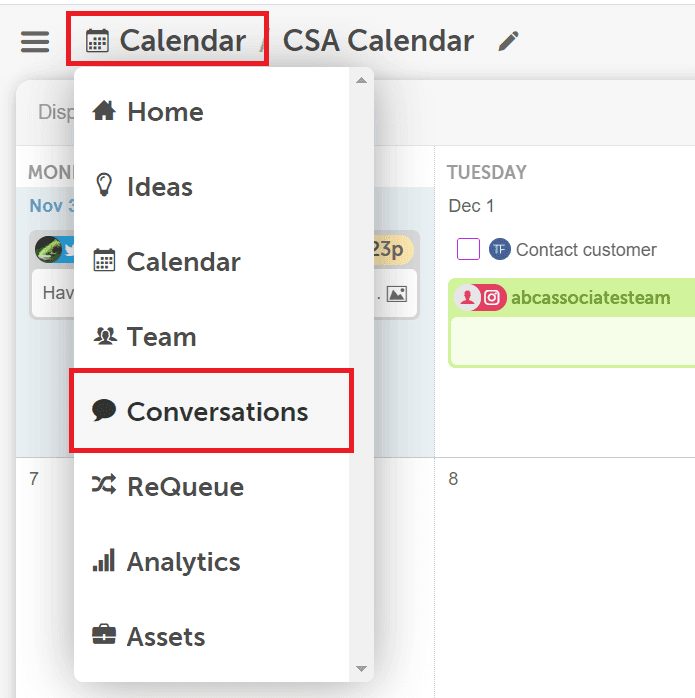 Back To Top
---
Filtering Conversations by Type
To begin, you will see the
Inbox
where all your Unresolved Conversations will be waiting for you.
Inbox
The Inbox items will show the number of Unresolved Conversation waiting for you.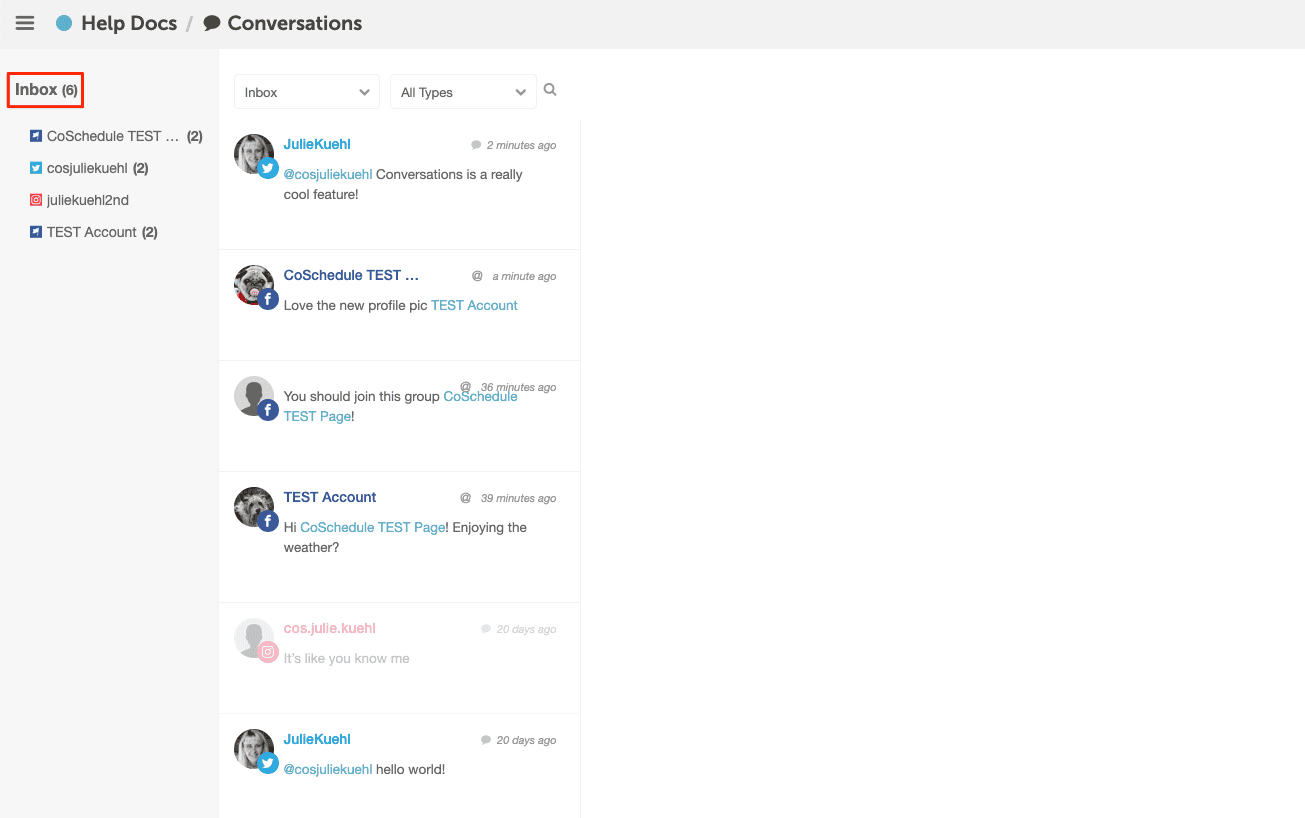 You can also choose to filter your Conversations Inbox by the type of message, such as Comments, Direct Messages, and Mentions depending on the Social Profiles you are looking at.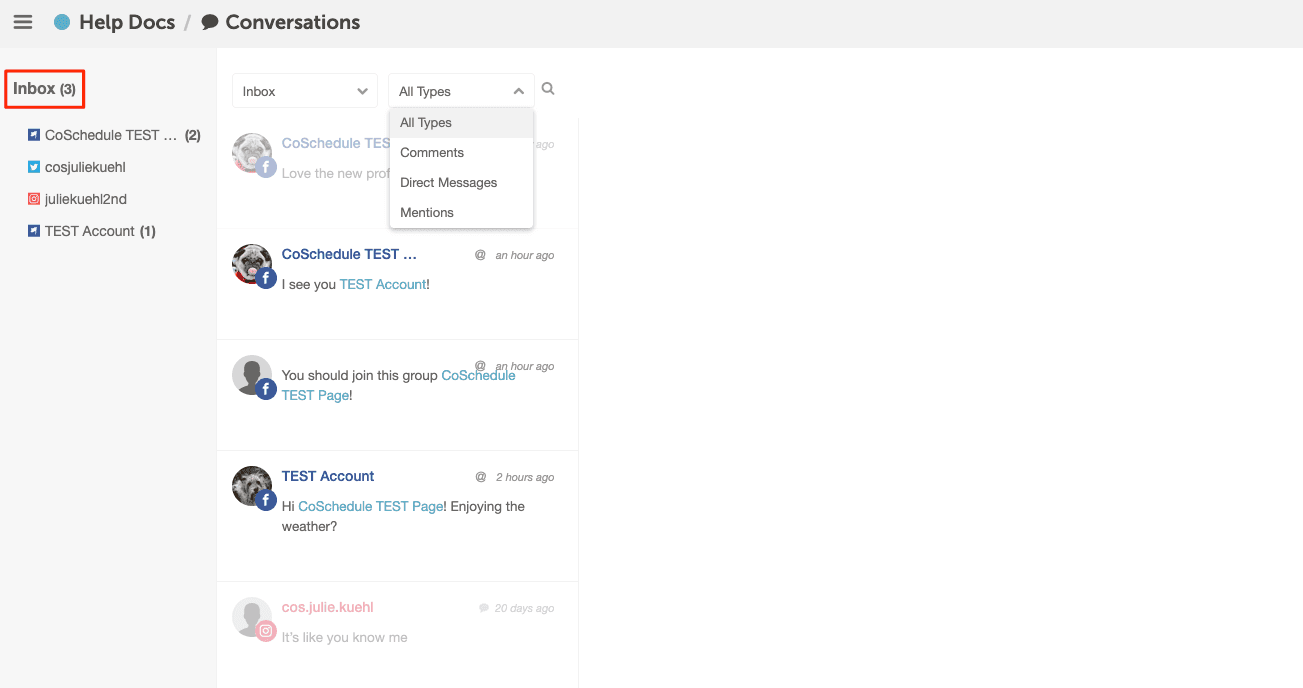 Profiles
Clicking on a specific Social Profile in the left-hand menu of your Conversations Inbox will show a list of the unresolved messages for that profile only.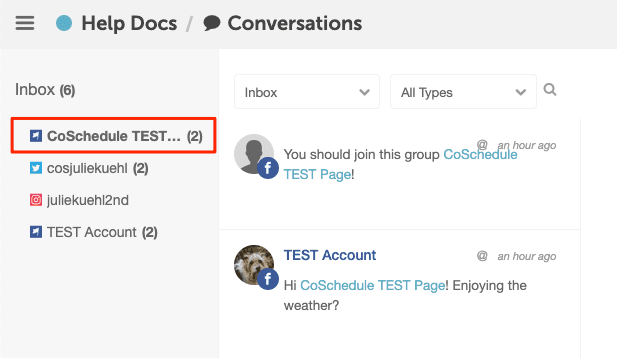 Back To Top
---
Responding To Conversations
Next to the left-hand menu is the list of Unresolved Conversations. Conversations that have been read but not archived will be faded.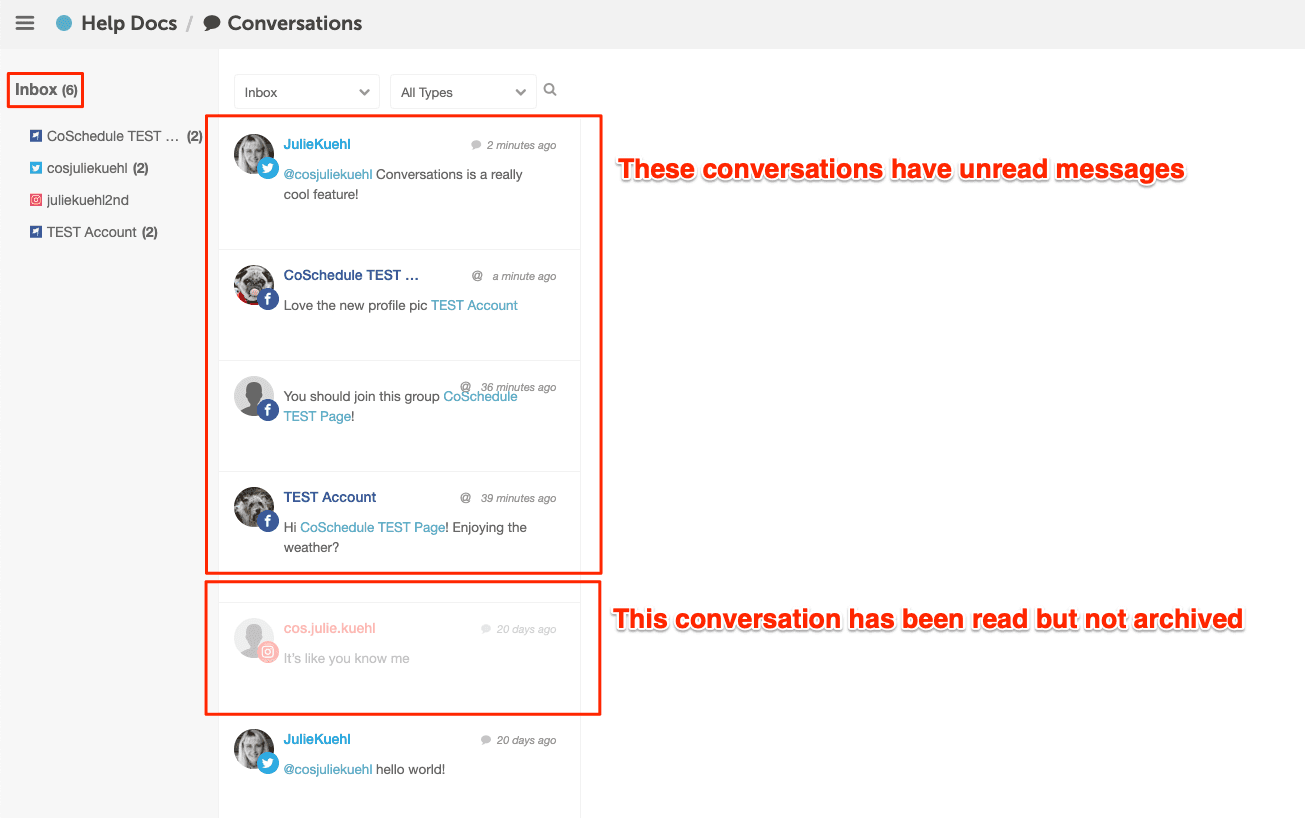 Clicking on one of the messages displayed will open the conversation. You can then scroll through the entire conversation to catch up before writing your reply. You can also "like" a message from the Conversations Inbox. Once you've written your response you can send the reply and it will appear as if you sent it directly from the social platform. You can choose to either send your reply and leave the conversation open or you can change the button to archive the conversation as you reply and remove it from your Conversations Inbox.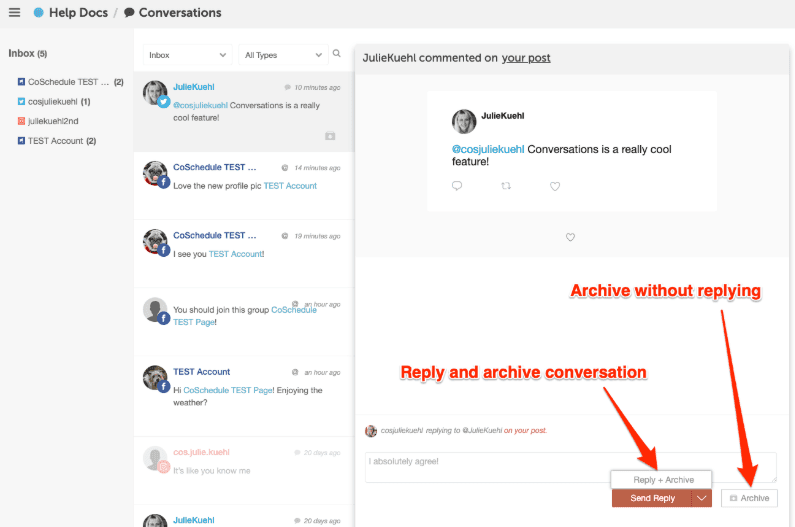 Once you have replied to a conversation, you will be automatically advanced to the next message in the list of unresolved Conversations.
Back To Top
---
Archiving Conversations
If you have read and responded to a conversation and want to remove it from your Conversations Inbox, you can archive it directly from the Conversations Inbox by hovering over it and clicking on the archive icon.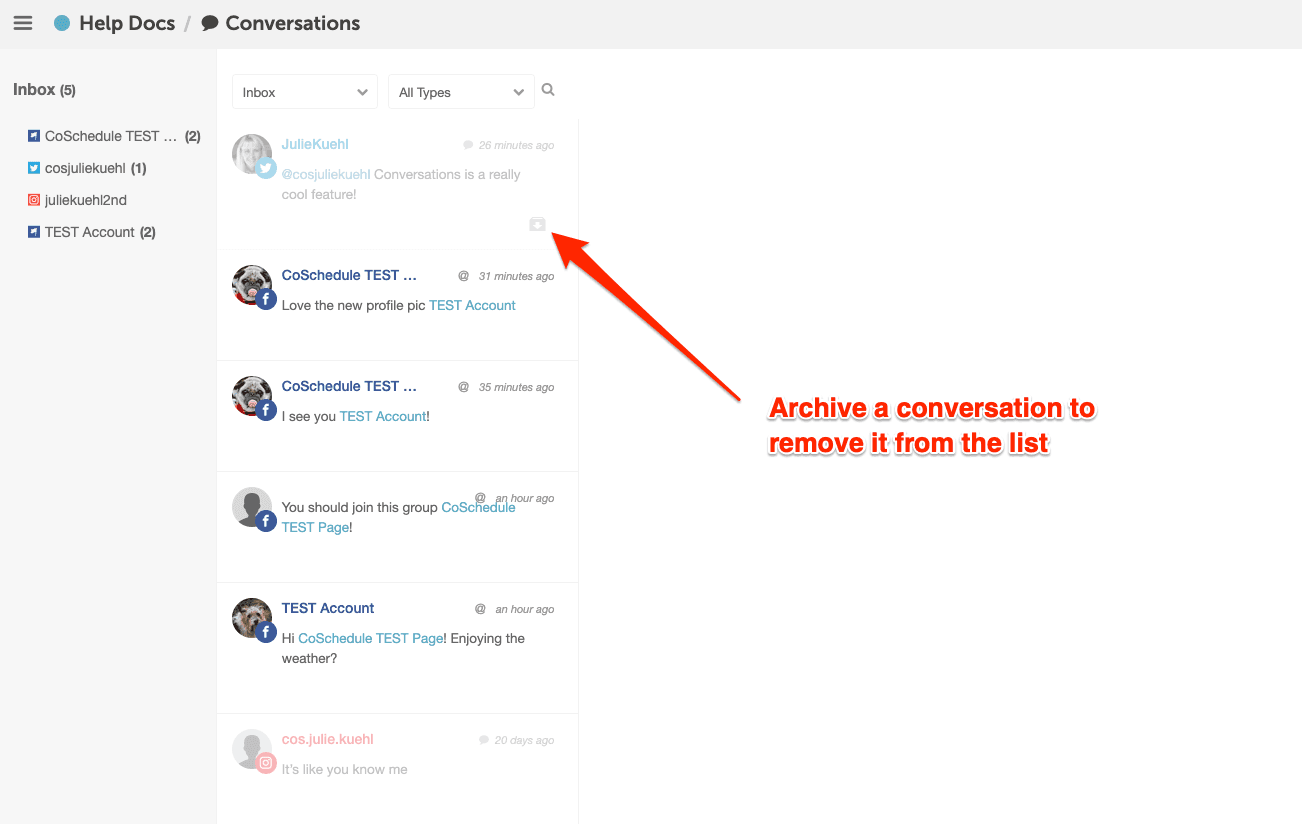 If you want to un-archive a conversation, you can switch to the list of archived conversations to find the one you want. Then click on the archive icon to restore the conversation to the Conversations Inbox.
Back To Top
---
Requirements to Enable Your Instagram Profile for Conversations
Enabling your Instagram profile to access conversations will be different than Facebook and Twitter.
Requirements:
Instagram profile must be a Business profile.
The Instagram account must be connected to a Facebook Page.
The person authenticating or re-authenticating the profile in CoSchedule must be an admin of the Facebook Page connected to the Instagram profile.
Back To Top