With CoSchedule, you can add videos to social messages by following the instructions below.
When posting videos to Facebook, Twitter, and Instagram, the video will publish as a native video inside of a social message.
LinkedIn currently does not allow third-party apps, such as CoSchedule, to post a native video to personal profiles. You can learn more about scheduling videos to LinkedIn personal profiles here.
---
Attach Videos to Social Messages
To upload a video to a social message, click

.
Once the video is uploaded, your video will process. You do not have to wait for your video to process, as long as you save your message, you can leave the editor. Large videos may take longer than usual to process. If the publish time is important we recommend scheduling the video in advance.
You can remove the video and upload a different video by clicking the "X" on the mini video preview.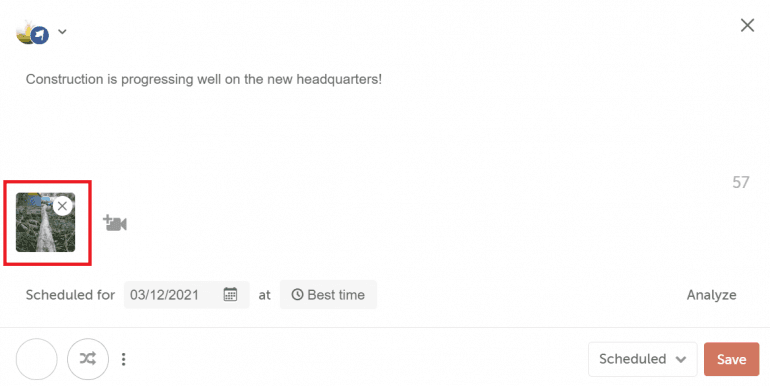 ---
Video File Type and FAQ
File Types: With video uploading inside CoSchedule, you can upload various different file types. Right now the video file types that CoSchedule currently supports are ".mov", ".qt", ".mp4", ".m4p", ".m4v", ".mpeg", ".mpg", ".avi", ".wmv", ".flv", ".ogg", ".ogv", ".webm", and "mkv."
The maximum file size we allow is 1 GB. However, Twitter's max size is 512 MB.
Why is my video taking awhile to process? If the video is a larger file, it will take longer to upload and process your video.
The max duration is different from Facebook, Twitter, and Instagram. Facebook must be less than 20 minutes, Twitter is 140 seconds, and Instagram is 60 seconds. There is no time limit to the other social networks since the social message will be a link to the hosted video.
Each network has its own maximum dimensions allowed for a video but we will resize a video down in order to meet those requirements.
Each network has restrictions on the height to width ratio of a video. Facebook is Horizontal 16:9, Portrait 9:16, Vertical 2:3, Vertical 4:5, Square 1:1. Twitter is 3:1 to 1:3. Instagram is 1.91:1 and 4:5. Unfortunately, we are unable to fix videos that are outside of these ratios.
Can I upload more than one video to a social message? No, each social message can only publish one video at a time.
Can I choose the thumbnail associated with my video? No, at the present time you cannot choose a thumbnail for your video in CoSchedule. Some of the social networks will allow you to do this, however.
The video gallery is not universal across the application. Users can only see uploaded videos in the video gallery for that project.
Can I add captions to my videos through CoSchedule? No, CoSchedule does not support adding captions to videos. You'll need to add captions to your video before uploading it to your social message.
Do you have any specific feedback for us?
We appreciate any feedback you're willing to share.