On June 28th, 2017, Facebook announced the removal of the ability to modify the link previews for all social messages. You can review their announcement at Modifying Link Previews. For that reason, changes can no longer be made to what is displayed for link-type messages (see the image below).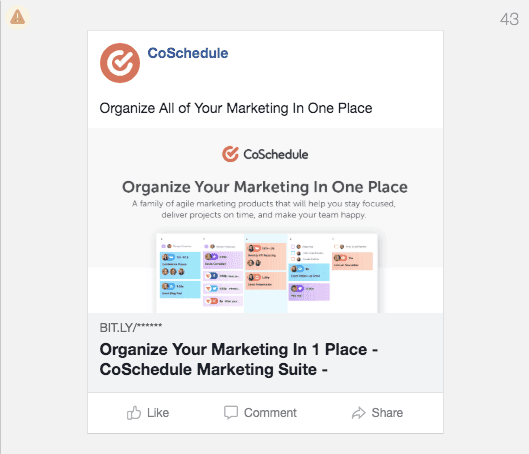 We realize this change is not ideal for professional marketers, but Facebook believes it is the best way to battle malicious websites and false information.
---
What does this mean for me?
If you are regularly scheduling Facebook link messages for your website, make sure that you have Open Graph optimized on all of your pages to make sure you're publishing the correct information. We will try and show you the best link preview that we can, but if you want to double-check any of your URLs prior to going live, we recommend inserting your URL into Facebook's Sharing Debugger.
For more information on Open Graph, we recommend visiting Facebook's Open Graph Best Practices and Guide for Webmasters.
---
Frequently Asked Questions
What happens to past ReQueue messages with customized link previews?
Messages that have been added to ReQueue that contain custom preview messages (Title, Excerpt, or Image) will default to what Open Graph is able to publish. CoSchedule will not update the preview for ReQueue messages. Facebook will scrape the information when the message is published again.
I use a page builder like Divi or Visual Composer inside of my WordPress integration. I need to update the Permalink box inside of CoSchedule or builder tags show up in the excerpt. What do I do now?
Because of how Facebook will scrape the Open Graph information from your website, you will no longer have to update the excerpt inside of CoSchedule. Facebook will instead grab the excerpt directly from the Open Graph information that accompanies your URL.
What tools can help me customize or manage my Open Graph information? 
For all WordPress or Drupal users, we recommend using YoastSEO. For more information on optimizing your social messages inside of Yoast, check out https://yoast.com/social-media-optimization-with-yoast-seo/
Do you have any specific feedback for us?
We appreciate any feedback you're willing to share.