If you are having trouble connecting your Facebook group to CoSchedule, please work through the steps below. These steps also apply if your social message failed with errors about reauthentication or permissions.
1. Confirm You Are an Admin
You must be an Admin of the Facebook Group to connect it to CoSchedule. From your Facebook Group, go to the Members tab and you'll find a section listing Admins and Moderators. You must have a badge next to your name listing you as an admin in order to connect the Group to CoSchedule.
If you are not an admin, please have an existing admin add you as one in this same Members tab. (You must at least be a member of the group first to become an admin) Once you've been made admin, wait 15 minutes to allow Facebook and CoSchedule to sync, then reconnect/add your group from your CoSchedule Social Profiles page.
If you still run into an Authorization error, please repeat this process in an incognito/private browser session.
2. Connect the CoSchedule App to your Facebook Group
From within your Facebook Group select Settings from the left-hand menu.
From Settings, scroll to the bottom and select Apps.
From here you'll select Add Apps, and search for CoSchedule on the app store.
Finally, click Add on the app, and you should be set to connect your Facebook Group to CoSchedule from your Social Profiles page.
3. Check Facebook Permissions
If you are still not seeing your group you may need to double-check that the permissions for Facebook group(s) are allowed within your Facebook Business Integrations Settings.
Go to your Business Integration Settings.
Click View and Edit on the CoSchedule App.
Scroll through the list and toggle all permissions.
Select all the Facebook Pages, Facebook Groups, and Instagram accounts you want to have associated with the CoSchedule app.
Though this settings menu can change from time to time, it will look something like this: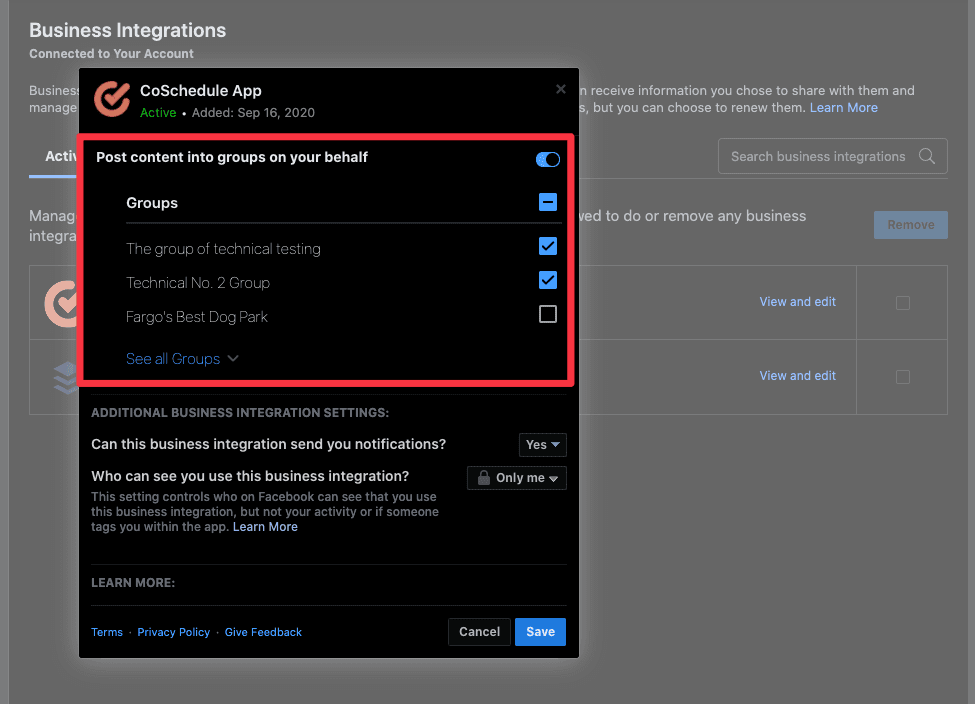 4. Contact Facebook Support
If none of the steps above worked, please reach out to Facebook for further troubleshooting. Unfortunately, CoSchedule can not go any deeper into troubleshooting your Facebook Group connection.
Do you have any specific feedback for us?
We appreciate any feedback you're willing to share.