Each time a new user signs up for CoSchedule we ask them what their biggest struggle is as a blogger and content marketer. Nine times out of ten it all comes down to traffic, asking "how do I get more traffic to my blog? " It's a fair question, and one of the first places I have them turn to is social media.
I know, I know. You already use social media…but are you really getting all of the traffic that you can out of it? Are you using it to its fullest potential?
When it comes to building traffic from social media, there are only a few things that you must do. The first is to have a social media sharing schedule. You absolutely must be promoting your content more than once online. The second is actually even easier – you must take advantage of the best practices for posting on each network.
How To Maximize Your Impact On Social Media
There are at least nine major social networks that you should be paying attention to. Each offers a unique audience and set of opportunities. No one said that you had  to take advantage of all them, but it couldn't hurt right?
Well, it could.
Sometimes when we spread ourselves too thin, we add tools to help that save us time, but sacrifice the quality of our message. A perfect example of this is a Facebook post that is also sent over to Twitter. Sure, you technically sent a tweet, but was it really optimized for the Twitter?
If you ask me, the ellipsis and link-back to Facebook say otherwise.
The truth is this: you need to make sure that your social messages take full advantage of the intricacies associated with each social network so that you maximize their effects.
In other words, you need to make sure that your messages look as good as possible on each network. By following the best practices associated with each social network you:
You become more likely to "catch the eye" of your intended audience.
Become more likely to gain click-throughs, retweets, and shares.
You know that you did everything you could to maximize your reach.
You give yourself an edge over your competition.
You increase your reach and SEO value.
If you are sharing blog content, you finally do it justice.
Understand that there is a right way and a wrong way to share on social media. Many of us just shotgun our messages out there, but we need to do it in the best way possible. Here are the best practices for each network.
Facebook
When it comes to sharing your content, Facebook is a no-brainer. With more than 1.23 billion users, Facebook is the kingpin of social networks. It is also one of the most complex in terms of message best practices.
Understanding Facebook Link Previews
Link previews allow your readers to preview the content on your page before they click through to read the post. Many users like them because they look good and they highlight their content well. There are several elements with link previews that you should be aware of.
Thumbnails – Facebook's link previews can include either small or large page thumbnails. The thumbnail that is displayed will depend on the page and device you are using. For example, on personal Profiles, link previews will always include the small thumbnail. In the News Feed or on business Pages, the large version of the thumbnail will be displayed if your image is large enough (more on this later). A best practice here would be to always use large images with your posts. Facebook will create better previews if your image is 400px wide or more.
Link Titles – This content will usually be pulled from your page title unless otherwise set in your blog or plugin. We will cover some options on this in a bit.
Link Descriptions – A description of the content on your page.
Customizing Your Link Previews 
Link previews are generated using a small bit of meta-tag code that is included the <HEAD> of your html page. This simple snippet of code tells Facebook and many of the other social networks what image, title, and description to use when a post goes live. You can preview what your own link previews look like using this handy debug tool provided by Facebook.
There are several ways to ensure that your link previews always look great.
The free JetPack plugin or Yoast SEO plugin for WordPress will make a "best guess" at what these link previews should include using data from the post itself. This is a good starting point, but may not offer enough flexibility for the power user.
Tools like our own CoSchedule allow you to completely customize your link previews, giving you maximum editing control.
Should You Use Facebook Link Previews?
As the most popular social network on the market, Facebook has become increasingly crowded with links and link previews. For this reason, some users have seen better results when they choose to forgo link previews all together and include their links inline, much like a Twitter post. Of course, individual results will vary, so you should do some testing with your own audience before making a final decision.
Taking Advantage Of  Facebook Image Previews
One excellent way to make sure that your posts look good on social media is to use image posts. Even if you are sharing a link, an image post will give your content the most exposure and bang for your buck. Just take a look at these three options. Which one would you be most likely to click on?
As is often the case, the more work you put into your post, the more you are likely to get from your effort. Image posts are the most time-intensive style of post on Facebook, but they bring you the most attention and they just might be the way to go.
Facebook Best Practices Checklist
Make sure that your blog is creating great link previews.
Set up a plugin that allows you to fully customize your link previews.
Make sure the images that you are using with your posts are at least 400px wide. This will give your link previews the best look possible.
Consider not using link previews at all if text-based posts bring you more traffic.
Image posts can make a big impression on your users.
Twitter
Many times we don't think that we have a lot of options when it comes to Twitter. We are all used to the text-based posts limited to 140 characters, but there are two simple things that you can do to maximize the look and feel of your your posts.
Include Images With Your Tweets
Over the past year, Twitter has been slowly rolling out updates to all of their mobile applications and their website that significantly improve the visual prominence of images that are included with posts. It is pretty easy to see why they are more attractive.
Despite their attention-grabbing-ness, so few users put them to work. What gives? All you need to do is include an image with your post.
What About Hovercards?
Just like Facebook's link previews, Twitter now allows you to include link previews with your posts in a feature called hovercards. These simple previews will show viewers a preview of your content before they visit your site. It is just another way to enhance your content. Hovercards are currently a "beta" feature offered by Twitter, so we will likely see more use for them down the road.
How To Enable Twitter Hovercards For Your Site
Using the Yoast WordPress SEO plugin, enable Twitter card meta-data from the Social > Twitter menu.
Visit the Twitter Hovercard Validator and enter the URL for your blog.
Once your site validates, request that your url is added to the beta program. Twitter will likely have you validated in just a few days.
Twitter Best Practices Checklist
Always do the simple stuff. Use a URL shortener and a custom domain name.
Hashtags are good, embrace them.
Include images with your posts so they stand out.
Set up your site with hovercards. It will take less than 2 minutes.
Google+
Google+ may very well be one of the most under-utilized social networks out there. It provides immense value with superior performance and a direct connection to search engines, and highly advanced features when it comes to posting your social messages. For example, did you know that Google+ supports markdown?
Using Markdown In Your Google+ Posts
Markdown was initially created by John Gruber (of Daring Fireball) as a simple way for non-programming types to write in an easy-to-read format that could be converted directly into HTML. Google+ makes a limited version of markdown available for each post. With this capability, you can easily add bold, italics, and strike-through to your posts, making them more engaging for your audience.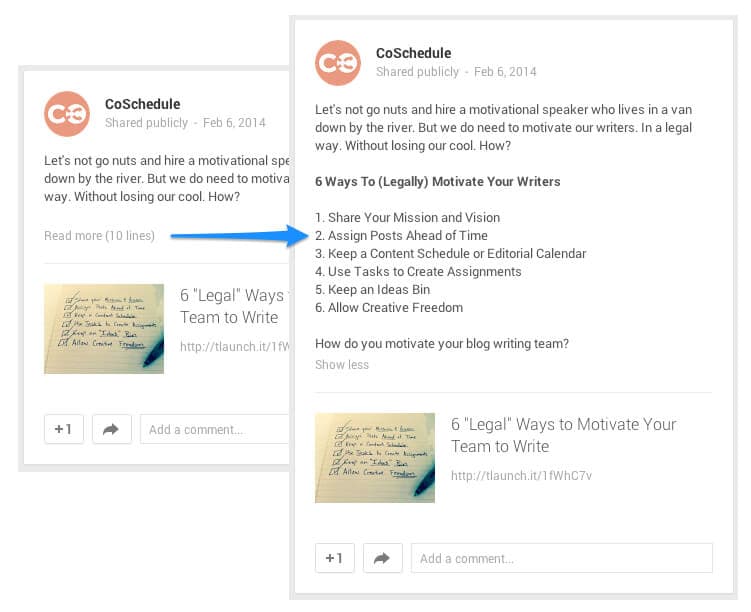 As you can see from the example above, we regularly add italic or bold text to our posts to make certain items stand out and provide additional value to our readers. It's simple.
Google+ Length Limit Is 100,000 Characters Per Post
Most people don't know, or take advantage of the fact that Google+ allows for 100,00 characters in each post. Considering Google+'s already high propensity for search performance, this is probably an advantage that you'll want to take when it can work for you.
Large Images Look Great On Google+
Just like on Facebook, large images play well on Google+. They will make your content more noticeable, and more likely to create click throughs on your posts. Google+ recently made a large change to the visualization of the link previews as well, now allowing for link preview images up to 505px in size! This makes your need for big images even more important than ever before.
Google+ Best Practices Check List
Don't ignore Google+. It's a great social network, and it performs better than any of the others in search.
Don't limit the length of your post too much. Google+ allows for 100,000 characters.
Use images to the maximum degree. Google+ uses the same meta-tags that Facebook does. Make sure they are right.
Consider using images posts when appropriate.
Add markdown to your post to make it more visually pleasing.
Google+ has an excellent implementation of #hastags and +users. Use them!
LinkedIn
LinkedIn is one of the more challenging social networks when it comes to great looking social media posts, but there are some things that you can do to maximize your efforts. There are several things you should know.
LinkedIn Will Include Link Previews
While it isn't quite as savvy in generating them, LinkedIn again iterates the importance of have good meta-tags and images included with your posts. These types of posts truly stand out on LinkedIn because they are usually mixed in with an large number of job announcements and position changes. For this reason, great content with an image can really stand out.
Use Questions To Engage Users
LinkedIn is the professional social network, so it is great for conversation. Maximize your impact on social media networks like LinkedIn by posing a question to your audience. This is an especially great way to build conversation and attention for your work. It is also an excellent way to stimulate conversation in your community.
LinkedIn Best Practices
Keep your meta-tags well manicured. LinkedIn will include link previews with your post.
You can also post images to LinkedIn, although they are currently not that exciting.
Consider using a question to engage conversation and community. This is especially true if you are sharing within a LinkedIn Group.
Pinterest
Pinterest is an exciting network to maximize your impact on social media  because the posts already look so good. Every post on Pinterest requires an image, so you will need to pay extra attention to your posts when sending them to this network. The first step to success with Pinterest is simple making sure your images are the right size.
Choose The Right Size Image
Avoid pinning content that is too big, too small, too blurry , or simply of extremely low quality. Remember, Pinterst is 100% images, and most of them should be vertical images. Remember, you will look as good as the images you send.  Also, be sure to note that the max image size on Pinterest is 554 pixels wide X 5000 pixels high.
Did You Know That Pinterest Also Uses Rich Pins?
I may sound like a broken record, but those meta-tags that we mentioned above for Facebook? They also work on Pinterest, creating something called 'rich pins.' These are essentially link previews that are built right into the Pinterest post yourself. You can validate your own url using their handy tool here.
Pinterest Best Practices
Post vertical images. They look better on Pinterest.
Choose your images wisely. Quality is everything here.
Verify your site for rich pins. Don't leave any stone unturned.
Make sure you use the right images. You time will pay off here.
The Last Step: Optimize Your Sharing Schedule
There are really only two things that matter when it comes to great social media sharing:
Follow the best practices outlined above and maximize the clicks you receive out of each post.
Create an advanced social media schedule that maximizes your exposure and time schedule.
CoSchedule is perfectly suited for this activity, but you can also use Buffer or another social scheduling tool.
New At CoSchedule: Social Previews
Just last week, we actually launched a new feature here at CoSchedule with the goal of making this entire process easier. Rather than simply guessing what your social media messages will look like on the other side, CoSchedule will now give you a live preview of your messages before they are even sent!
This feature is unprecedented in the social media scheduling world, and we think it is pretty darn cool. Maybe you'll agree?
Social messages themselves continue to become more and more complex, and it is best to take advantage of the visual capabilities that come with each social network. CoSchedule now makes this process easier than ever before by showing you a true-to-life preview of what your social message will actually look like before it is sent. As far as we know, we are the only scheduling tool to offer a feature like this.
These previews are designed to give you an accurate representation of your social media posts on each network. If you ask us, it might just make CoSchedule the best tool ever created for scheduling your social media.
Be sure to sign up for a free trial of CoSchedule if you haven't yet.  Or, if already have, you can simply contact us to reset a previous trial, just ask!