8 Social Media Best Practices That Will Save You 25.5 Hours In A 2-Week Sprint
8+Social+Media+Best+Practices+That+Will+Save+You+25.5+Hours+In+A+2-Week+Sprint
One of the biggest problems you mentioned having in the 2016 Better Marketer Survey was not having enough time.
A lot of you might feel like you're spending too much time or too little time on social media. Well, that research shows you spend around 30 minutes on a social platform when scheduling your content. If you're spending around 30 minutes on each social platform to share your blog posts, you're probably spending around three hours a day on social media, which ends up being 15 hours a week.
Can you believe that?
In two weeks, that's almost 30 hours.
If you incorporate these social media best practices into your schedule, you'll definitely save time. You'll no longer feel like you're wasting time on social media since you'll be using the time that you do spend on social media efficiently.
For each of these eight social media best practices, I've placed an estimated amount of time that it could take to do that practice. Keep in mind that the time saved will also depend on your career title, for example, a social media manager could probably end up being on social media longer than a content marketer or blogger, but amidst all that, implementing these social media best practices will help you save time.
Okay, let's jump in.
Want to use Click to Tweet on your blog?
Know Where Your Time Is Going (30 Minutes)
Whether you're posting to social media consistently or not, tracking how you spend your time will help you see where you should be spending your time instead.
Follow these steps to track the time you're putting into your different projects (example: writing posts, editing, and social media sharing) throughout the day for a week. And then adjust your time so you are spending it wisely.
Get your notebook and jot down everything you do during the day. If you want to really find out how long it is taking, time yourself. A free and easy time-tracking tool is Toggl, which will help you put these social media best practices to the test immediately. It helps you track everything digitally if you're not a big notebook kind of person.
Track everything that you do during the day (social media, writing, or research) and how long it takes you.
At the end of the day, look at how much time you spent doing different projects.
Figure out where you can cut back and where you can focus more time. If you ever got sidetracked ask yourself these questions: When did you get sidetracked? What caused you to get sidetracked in the first place?
I know from experience that the amount of time you spend on social media is going to be much higher than you think.
Schedule Social Messages In Bulk (1 Hour)
Being consistent on social media is extremely important for your professional presence.
I've seen many bloggers and businesses post to social media consistently all to drop off the side of the social media posting planet. Their social platforms are abandoned and lifeless. You don't want this to happen to you because it will hurt your presence.
Instead of going AWOL, schedule posts in bulk to cut back on time you would have spent on this process throughout the week. Instead of scheduling social every day, give yourself an hour now to schedule lots of social messages to trickle social throughout the next two weeks. Then you don't have to worry about it.
Use a social media scheduler to share your content for at least two weeks. One great thing about CoSchedule is that you can schedule your content calendar and social sharing all in one place.
Start by scheduling social messages for your most recent blog posts.
Then schedule out more social shares for your top blog posts. Why only your most popular content? Because re-shares and page views for your content are like votes from your audience that tell you that is what they want to see. You can find this data in Google Analytics or inside CoSchedule.
How To Find Your Top-Performing Posts In Google Analytics
To find your top-performing blog posts, go to the left-hand bar and scroll down and click Behavior. Then click Site Content and then All Pages.
Then you will see this:
It will show up with all of your best-performing blog posts. Schedule more social shares for that content to remind your followers of the content you already know they love.
How To Use CoSchedule To Find Your Top Posts
If you use CoSchedule as your social media editorial calendar, you can find your top posts here:
And then you will see this page:
These are your top posts. Click on the post to schedule more social shares for the next two weeks.
Choose A Day To Schedule Social Media
Pick one day to schedule social media. Block off an hour free from all distractions, schedule messages to cover the next two weeks.
If you need a reminder to schedule on that same day, set up an automatic reminder on your calendar. Google Calendar is a great tool to get reminders and to block off the hour you need to do this. If you need an additional reminder, you can always schedule yourself a task in CoSchedule which will send you a reminder email the day before your task is due.
Don't Overdo Yourself With Social (30 Minutes)
There are always new social media platforms that enter the stage to compete for your attention. Resist the urge to join every new platform that comes on the scene.
Only focus on a couple of social media platforms. After perfecting those, you can add other social platforms to the list.
Pro Tip: Choose 1–2 social platforms to really focus your attention on. And share something unique on each platform so that people have a reason to follow you there.
So that begs the question… on what two social networks is your audience the most active? It's a tough question with a simple answer if you know where to find it.
A solid place to start is Google Analytics by understanding which networks are giving you the most traffic, and also checking out which are contributing the most to the goals you defined in Google Analytics.
In Google Analytics, cruise to the left-hand sidebar and select Acquisition, All Traffic, then Channels.
Now under the Default Channel Grouping, click Social and you'll see the traffic data from all of your networks.
Pick the two social platforms where your audience is the most active and develop your game plan for those networks.
Bonus Tip: If you're using more than two social platforms, also schedule consistent messages on the other platforms, just so the engagement doesn't die. The purpose of this social media best practice is that you will really focus your attention on optimizing your audience's experience on your two social platforms instead of spreading yourself too thin.
At CoSchedule, our top two social platforms are Facebook and Twitter.
Since we know that, I conducted a Facebook optimization test last month to understand what things would improve our engagement and clickthroughs. You can also conduct your own social media optimization test to help you see what it working and what isn't:
Set an optimization testing period for a specific number of weeks.
Figure out what you will test each week. Only pick one thing to test per week so you'll know that what you changed was what caused the results you'll analyze. Some of the things you can test are: time of day to post, length of messages, types of messages, and sharing different types of media.
After each week, figure out what worked and what didn't work. Continue doing what worked and drop what didn't.
Create A Grab File Of Evergreen Ideas
 

(30 Minutes Or Whenever You Find Inspiration)

A grab file or swipe file is a great place to store plenty of awesome ideas and it will help you save time like nobody's business. Think of it as a notebook where you put everything for safe keeping until you want to share or use it.
You can store hashtags (Hashtagify is a great place to find hashtags), memes, links to GIFs, and images in your grab file. You can also copy over code if you want to embed a tweet or video.
Are you looking for hashtag ideas for your area? Trendsmap is a great place to look for hashtags that are being used in your location. And if you use Instagram, check out the Instagram blog for the Weekend Hashtag Project and also for hints on what's hot.
You can also write up a ton of social media posts and save them inside your grab file. Then just grab them when you want to share them.
Also try keeping your email copy in your grab file for your newsletters, since email could be considered as another form of social media and will help you write better social messages.
Basically, a grab file is a best practice for storing all your ideas (social media content and more) so it will be so easy to grab and share whenever you like. You can do this in a piece of content in your editorial calendar right in CoSchedule.
Create a new Google Docs file, Evernote Note, or piece of content in your CoSchedule calendar.
Put graphics that you want to share in there along with text and inspiration for new social messages.
Capture hashtags and handles that you want to remember to share at a later time.
When it comes to the day when you're going to schedule for social media, all you have to do is copy, paste, and schedule. Done!
Pro Tip: 
If you're using Evernote, have you ever thought of using the
Evernote Clipper
? You can clip information from websites and save them for later.
Do These Things To Automatically Improve Your Credibility On Social Media (15 Minutes)
When scheduling your social media for the week, make sure that you do things that will automatically improve your credibility to your audience. You don't want to share things or do something that make you seem less professional. Some people take things super seriously, so you want to make sure you do your best to show the right image of your brand or company.
Spend 15 minutes checking these things over:
Set A Standard Of Professionalism For Grammar And Spelling
Kyle Wiens, CEO of ifixit said on the Harvard Business Review that, "Good grammar is credibility, especially on the internet. In blog posts, on Facebook statuses, in e-mails, and on company websites, your words are all you have. They are a projection of you in your physical absence." Which is honestly true.
Of course, there are the grammar police out there who are looking for mistakes all the time. But if your company is going to be credible, you want to make sure that you are spelling words correctly and using correct grammar to the best of your knowledge.
So don't feed into the grammar police; just make sure you have content that meets your standard of professionalism.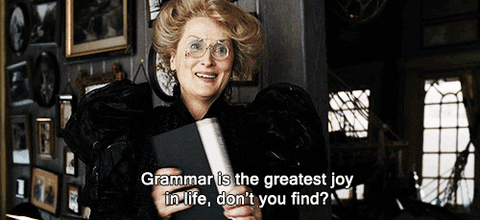 Now, you and your team are the ones who get to decide what your standard of professionalism is. Get together with them and discuss this:
What is our voice?
Is it okay to use colloquialisms?
Can we use smiley faces and exclamation marks?
What else meets our standard of professionalism when it comes to spelling and grammar?
After you've discussed this with your team, you'll know what the standard is. Or if you have an editor, just ask them.
Here are some other things that will help you:
Hire an editor. If you can't afford a full-time editor, find an affordable contract editor on Freelancer.com.
Or buy a program like Grammarly. It's an awesome tool we love here at CoSchedule.
Any step that you take to make the user experience better for your readers will only make them love you more.
The Thing About Social Is That It Will Always Be Around
So steer clear of negativity and even the slight possibility of insulting your audience.
Dan Zarrella says, "Negative remarks include things like sadness, aggression, negative emotions and feelings, and morbid comments." He adds, "If you want more followers, cheer up!"
Ways to stay away from negativity:
Highlight a desirable behavior.
Share kind messages that lead to happy outcomes. Write messages that highlight the value proposition behind the blog posts you're sharing—after all, that answers the age old marketing adage, "What's in it for me?" which could increase your clicks.
Be human—it's called social media, so show the people behind the brand, thank your followers for being awesome, and just be a good social person who focuses on building an online community.
Say No To Spam: Don't Share Posts Continually
This will drive some followers bonkers and may create some unfollows or people flagging your work so they don't have to see it again.
Think about it.
Do you like seeing a company's promotional posts every hour or so?
Nicholas Grizzell said, "You can always have too much of a good thing. Even if you're posting the right kinds of posts—not hard-selling—you can still drive your fans and followers away."
And you really don't want to drive them away. Especially if you want to make the most of the time you are posting to social media.
The number one step to not spamming people: Figure out your optimal posting frequency.
When a CoSchedule user asked us the question, "How often should I post on social media?" we started digging really deep into data to find the answer. After analyzing 10 different studies (with data we'll publish in a post that we'll release really soon), the outcomes were incredible and will help you perfect your posting frequency right now:
15 tweets per day
1 Facebook post a day (2 posts per day if your audience is more than 10,000 friends)
2 Google+ posts every weekday
4 LinkedIn posts a week
9 Pinterest Pins a day
Play around with your posting frequency to see what works best for you. Just be considerate to your followers. Find your best times and then schedule around those. Speaking of which…
Know When Your Followers Are On And What They Like (1 Hour)
If you know when your followers are on and what they like, you'll end up saving a ton of time instead of posting at all the wrong times or posting the wrong stuff.
Let's explore the favorite social platforms—Facebook, Twitter, Google Plus, LinkedIn, and Instagram—to find out when the best time to share with your followers is.
Oh, and if you want to hit the easy button… here is a free Google Analytics custom report to show you the best times to post on social media according to when your blog gets the most traffic. If traffic is your goal, that might be exactly what you need to get started.
Otherwise, onward to discovery.
Find Out When Your Facebook Audience Is On
Check Facebook Analytics to find out when your audience is on by clicking Insights.
And then… you'll see this… On the left-hand bar, click Posts.
And it will open to this page:
This will show you when your audience is the most active. It looks like this exercise shows that 3 p.m. is the peak time to post to Facebook based on our data from CoSchedule.
I'd recommend playing with the off-peak times as well. Play around with when you post and test it. According to SocialMediaToday, "75% of your audience sees your message in less than 2 Hrs."
Pro Tip: One thing I found from Facebook optimization testing was that posting one hour before the peak time was more successful than posting at the peak time.
Scroll down in Posts on your Facebook Insights page to discover what types of content and messages are getting the most engagement.
Under the Reach column, you'll notice certain Facebook posts will stand out more than others. Dissect the reasons to help you share better content for your Facebook fans. For each standout post, ask yourself a few simple questions:
Was this post more successful because of the content behind the click?
Was it the text itself that was super awesome?
Was it the bonus visual content (image, graphic, GIF, video, etc.) that made this post stand out?
Analyzing your best-performing posts will help you understand how you can improve all of your future messages, and is a super easy best practice to add into your routine.
In the example above, we tested the sending messages about blog ideas because we discovered in our research that coming up with new ideas was a big problem for content marketers. The data in the screenshot speaks for itself.
Know When Your Twitter Followers Are On
Start with your Twitter Analytics.
Then click on Tweets in the gray bar. That will bring you to this page:
When in Twitter Analytics, choose the dates you'd like to see the data for. Then press Export data. It will export into an Excel spreadsheet.
You'll get a spreadsheet something like this. I added the shades so you'd be able to see the different days. You'll be able to see all the times your posts were published in military time.
In Twitter, it can be a little difficult to find the perfect times that your audience is on. So if you test the times, messages you write, and watch the engagement rates that you get on your posts… you'll be able to come up with when your audience is on.
You could also do the test (that I mentioned earlier with Facebook) with Twitter.
In Twitter Analytics, click the Tweets tab and analyze the performance of your messages compared to one another. What makes some significantly outperform others for Engagements?
It looks like the optimal times to tweet are between 12–3 p.m. on weekdays with another peak time at 5 p.m. Just use Twitter Analytics to gauge your own best time based on what you just learned about engagement.
By testing your posting schedule and paying attention to the engagement and clicks, you'll have a better understanding of your audience and when they're online. This will help you post at the right times so that your standout messages are being seen.
Find Out The Best Times To Post On Instagram
Go to Iconosquare.
On the left side, you will see the overview. Scroll down and click Optimization.
You'll see this, which is my favorite part of Iconosquare:
This shows you when the best time is that your Instagram community is interacting with your posts.
Then if you scroll down, you'll also be able to see this…
It will also show you which hashtags are the most popular on Instagram and also the ones that you use.
Best Times To Post On Google+
I recently just found this awesome tool—Timing +—which you can use with Google+. Of course, play around and test the time to see if it's right for you. Also, make sure to set your time zone on this page.
When you scroll down, you'll learn the best days and times when your audience is on.
As a general guideline, technical content and deeply detailed, actionable, how-to content performs best on Google+. So take that advice and combine it with Timing+ to review your Top posts and build upon your previous success.
Your Best Times To Post On LinkedIn
Go to your company page in LinkedIn and then press on the Analytics tab.
On this page, you'll be able to see how well your audience is engaging with your content. If you scroll down from there, you'll see more on your reach and different kinds of engagement types.
Since LinkedIn is a professional's network, it's no surprise that the peak times are right after work, right before work, and during lunch breaks. Share to LinkedIn at 5–6 p.m. and during the middle of the work week at 7:30–8:30 a.m. and noon.
For this, you'll have to test with the times like I mentioned in the Facebook section up above. Look at your Updates section in your LinkedIn Analytics to understand which messages are getting the most Engagement. Test to find your sweet spot!
Things To Think About While Posting To Social Media (15 Minutes)
While it's important to save time, you'll also want to make sure that you are paying attention to these small but important details while scheduling out social media.
Be Human
It really helps to show your humanity on social media, especially if you're a business that usually shares your own blog posts or products. Do this by sharing images of people with your product as well as graphics. Another cool way to do this is to share videos and images of the happenings inside your company. All of these ideas will help show your humanity.
Look at these two images that Coke posted on Instagram. The one with the girl performed better.
The image with the relatable photo did better compared to just posting a graphic with promotional writing about Coke's product.
Besides, if you can make the things you share on social media relatable, your followers will love that.
Curate Content Like A Pro (30 Mins Or Whenever)
Neil Patel said, "If you budget 30 minutes daily to find content to post, here's what will happen: You will save time. You will work faster. You will find great content." Which is so true!
Curating content will help you fill up your social media schedule and form relationships with other bloggers when you share their content. They might just share your content. Your audience will also appreciate what you share with them.
Essentially, curating content strategically will help you cut back on the time you spend aimlessly on social media.
There are many different ways to find good content to curate for social messages. Here are a few that I've found to be quite helpful:
Pocket
If you have trouble finding things to share on social media, spend a little time every day looking for more content like when you read blogs at night. Use Pocket to save them for later. Then just hop in there and schedule social shares during the time you dedicate to scheduling later on.
ContentGems
This is a great content discovery website. You can put in what topics interest you to get email updates with blog posts and information regarding those interests and topics.
Bloglovin
Bloglovin is a great app that will send you notifications when your favorite blogs publish new content. It does half the work for you so you'll always have fresh, new content coming your way.
And then when you look at your feed, you'll see all the posts from bloggers you are following.
Evernote Clipper
The Evernote clipper is another great way to store your ideas or posts that you find. This works great as a grab file.
CoSchedule Chrome Extension
The CoSchedule Chrome Extension works so that you can press it and schedule to share anything that you find online that your audience might enjoy right on the spot. You can also add messages to your social media editorial calendar to publish whenever you'd like.
Share Your Content With Compelling Messaging  (15 Mins)
Even though you don't want to spend all your extra time on social media, it still helps to know how to share your content so your posts have the best influence. It all comes down to telling your audience what you want them to do.
Ask yourself these questions when creating your messages:
What kind of messages do you usually click on when you are on social media? If you need to, go to your fave network and find some of the posts you'd click on.
Why would you click on them? Is there something too good to pass on?
How can you do this with your own content?
Practice doing this with your own messages. Implement the things you like from other people's social messages.
It always helps to make your content sharable on your blog so that people can easily share it. You may see us do this a lot with a great click-to-tweet box.
Be sure to put a Click To Tweet box in your blog posts like this:
Want to use Click to Tweet on your blog?
Get the plugin here. It's free and super awesome!! It will get people sharing on Twitter for you! Win win!!
8 Social Media Best Practices To Save You Tons Of Time
As a reminder, your social media best practices are…
30 minutes: Know where your time is going.
1 hour: Share consistently by scheduling in bulk.
30 minutes: Do a couple social media platforms amazingly well instead of doing every social media platform poorly.
30 minutes: Create a grab file of content that is ready to schedule and share.
15 minutes: Show your credibility by using the correct grammar and spelling, writing professional messages, staying away from insulting people or companies, and by saying no to spam. And be human and share things that show your audience that you're a human.
1 hour: Know when your followers are on and what they like to schedule your messages even more effectively.
30 minutes: Curate content like a pro and cut back on searching for content.
15 minutes: Share your content with compelling messaging.
…that means you will have spent 4.5 hours in two weeks on social media scheduling.
You will have saved around 25.5 hours in two weeks. And when you use a scheduler like CoSchedule, you'll save even more time.
You now have the social media best practices that will help you get organized to save time on social media. Social media can be a big time suck for many content marketers and bloggers, but when you focus and spend your time wisely, you'll be able to get more done throughout the week.
You've got this! Try it out and let me know how much time you saved, rock star.
Sign Up!
Join to our newsletter to get the latest