Blue Medora
Blue Medora is a SaaS company setting the standard for enterprise-grade IT monitoring integrations. They deliver clients with multi-dimensional data using the industry's first IT monitoring integration, BindPlane.
Visit Website
Industry
SaaS
Company Size
120+ Employees
Size of Marketing Team
6 Employees
Director of Campaigns + Communication
Moria Fredrickson
Features Highlighted
Team Performance Reports, Task Templates, Marketing Campaigns
As a leader in their industry, Blue Medora has seen incredible growth – about 80% year over year.
And the marketing team is laser focused making sure the company sustains (and exceeds) this growth rate. But as a team of only six, it was a challenge cranking out enough high-quality projects to keep the funnel full of qualified leads.
To keep the momentum moving forward, they needed a tool and process that would improve their team's efficiency.
Enter CoSchedule. With CoSchedule, Blue Medora has been able to…
Maximize Team Resources And Get Projects Completed Faster
Blue Medora's marketing team is stationed across three different physical locations – Grand Rapids, Minneapolis, and San Francisco – making managing employees' workloads a challenge.
Moria Fredrickson, Director of Campaigns + Communication needed a solution that would help her distribute her team resources efficiently, eliminate bottlenecks on projects, and maximize team efficiency.
CoSchedule fit the bill. With team performance reports and project task lists in CoSchedule, she's been able to have more control over what her team is working on and when.
"Team reports help me facilitate one-on-one conversations. I can easily see what's on each person's plate and shift or re-prioritize workloads when necessary," Moria Fredrickson, Director of Campaigns + Communication at Blue Medora.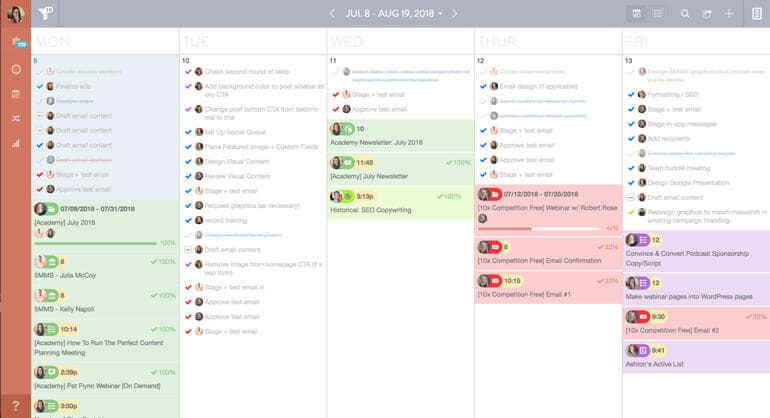 Because Blue Medora is growing fast, they're often running at max capacity. Managers on the marketing team knew they would need to hire to keep up with demand. But it was difficult justifying the need to leadership.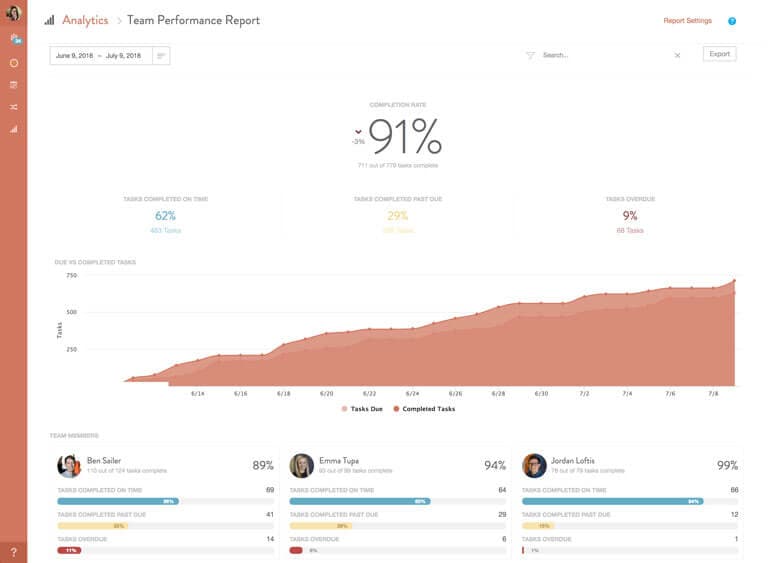 "Using Team Performance Reports [in CoSchedule], I can say 'we're running at 110% right now.' Which we can do for a little while, but at some point, we need to look at adding resources," explained Moria.
Now they can easily make strategic hiring decisions and avoid overworking their marketing team. Which makes for a happier, more productive team and higher quality work.
Consolidate Project Management + Collaboration Into One Tool
Before using CoSchedule, the marketing team managed projects via emails, spreadsheets, and Slack. But if things weren't updated or a team member didn't see an update, deadlines got missed.
The team now handles projects from start to finish in CoSchedule. By using custom task templates and discussions, they can add every file, conversation, and decision regarding a project in one place.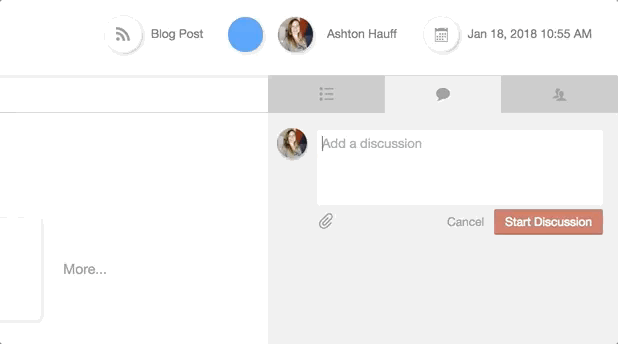 "Having discussions tied to an individual project helps us keep record of a project."
"I can easily check the progress, see comments, and manage QA in one spot."

MORIA FREDRICKSON,

Campaigns + Communication
Moria built custom task templates for recurring project types – blog posts, social campaigns, webinars, etc. So when they add new projects to the calendar, their team can get to work faster (and have full visibility into deadlines and process).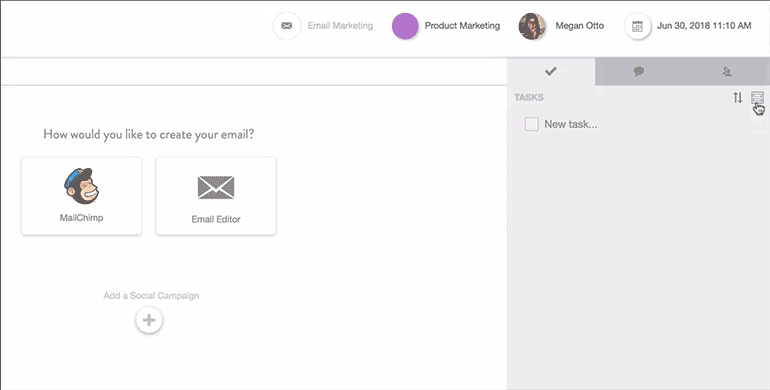 In fact, CoSchedule houses every project – big or small – that the team is working on. Creating better visibility and accountability for the entire team. As the team's "one source of truth," the team has adopted a new catch phrase…
"Put it in CoSchedule or it's not happening."

MORIA FREDRICKSON,

Campaigns + Communication
Pre-Plan 3 Months In Advance While Having The Flexibility To Handle Unexpected Fires
Blue Medora stays focused on growth goals by building out their strategic roadmap while staying agile when the roadmap gets disrupted.
To work ahead, projects get added to the calendar a quarter in advance.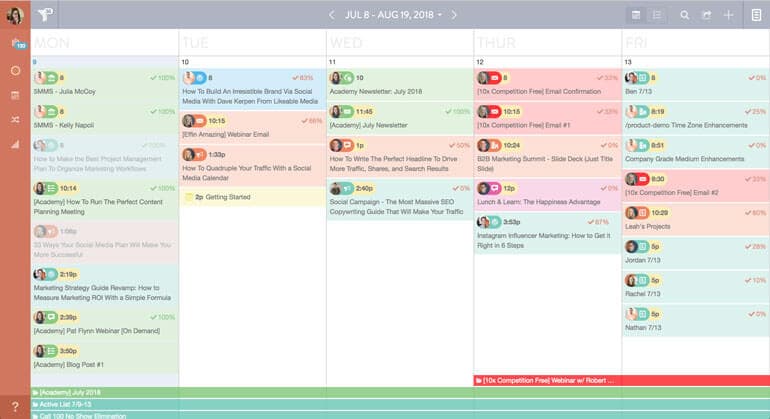 "Tasks get calendared out for us, and I don't have to try to identify when the deck, blog and emails need to get done before a webinar," says Moria.
In addition, when new (last minute) projects get thrown in, Blue Medora can quickly determine if these new projects take priority over existing ones and if they have the bandwidth to take them on.
"Because we plan so far in advance, it gives me leverage to say yes or no to requests. Before CoSchedule, I would probably just try to do something and stress out the team. Now we are organized enough to understand what goes into getting projects done," says Jamie Bourne, Head of Demand Generation.
Now it's easier than ever to stay agile and shift strategies when needed.
"If we didn't have what we need to focus on right in front of our face, it would get lost to fire drills every day."

MORIA FREDRICKSON,

Campaigns + Communication
With CoSchedule, Blue Medora has been able to field more project requests, complete projects faster and improve efficiency by 40%. Giving them the bandwidth to maintain project quality and drive qualified leads.