Lamar University
Lamar University is home to over 15,000 students, located near Houston in Beaumont, Texas. LU offers more than 100 programs of study leading to bachelor's, master's and doctoral degrees.
Visit Website
Industry
Higher Education
Company Size
2,000+ Employees
Size of Marketing Team
15 Employees
Social Media Manager
Bri Gore
Features Highlighted
Marketing Campaigns, Saved Calendar Views, Color Labels, Best Time Scheduling
Lamar University is among the fastest growing colleges in the Texas State University system. With five different academic colleges, 100+ majors, campus events, and student life activities, their marketing team has no shortage of content to share.
Overseeing all University accounts and campaigns can get overwhelming without the right processes in place.
Since adding CoSchedule to their marketing toolkit, Lamar University has been able to…
Plot And Execute Marketing Campaigns For The Entire University In One Calendar
For University marketing teams, multiple campaigns happening at the same time is the norm. But executing on all of them simultaneously is no simple task. It requires great attention to detail, collaboration, and pre-planning from the entire team.
Before CoSchedule, Lamar University's marketing team handled project requests and project management via emails, spreadsheets, and a variety of project management tools. With designers, directors, and social media strategists using different processes.
Now staff and students submit project requests through an online form. These then get added to CoSchedule as Marketing Campaigns – streamlining the process for the social team.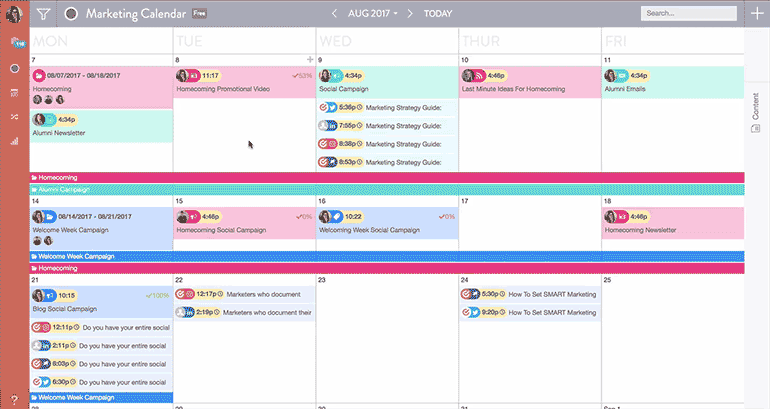 For large-scale campaigns, Bri adds a Marketing Project to the calendar. Blog posts, social promotion, press releases, t-shirt designs, project checklists, save the dates – every asset gets included in the project.
"Marketing Campaigns help me keep all of the assets for large events organized and on track. Especially for larger, longer campaigns like Homecoming or Week of Welcome."

Bri Gore,

Social Media Manager
This added visibility helps her stay on top of tasks, promotion, and deadlines for every project submitted by student groups, colleges, and academic departments.
Give Departments Access To the Content They Care About With Custom Views
The LU marketing team manages campaigns for the entire University. Because they handle a high volume of content, projects, and posts, it's difficult to share focused campaign plans with individual colleges and departments.
"With CoSchedule, I have an eagle eye view on our promotional calendar. And by using CoSchedule's color labels and saved calendar views, I can share custom views with specific departments; giving them a quick snapshot on what matters to them (without overwhelming them with every detail)."

Bri Gore,

Social Media Manager
By adding color labels for each college and implementing a tagging structure for extended campaigns, Bri is able to create and share filtered calendar views with department heads and marketing leads for each college.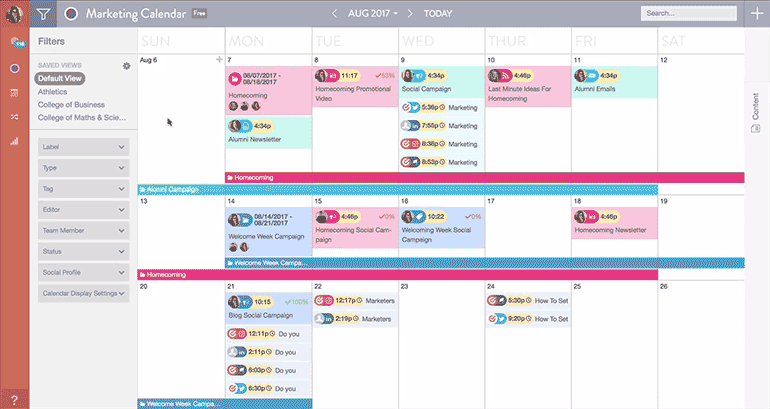 "It gives us more control of what we share. Because we know if everyone could see what we were scheduling on the main accounts, we would get numerous requests to fill every available time slot on our calendar. Being able to only provide those very specific views to each team member was something that was important to us." Bri Gore, Social Media Manager.
Now her team can see what every department is planning and publishing. Making it easier to balance the conversation and ensure messaging is focused on reaching overall marketing goals for the University.
Reach More Students Through Social Media At The Best Time (Every Time)
It's vital for higher education institutions to connect with students on social media. As the sole Social Media Manager for Lamar University, Bri has limited time and resources to dedicate to posting content.
To maximize efficiency, she uses CoSchedule's Best Time Scheduling to intelligently select publish times for her posts. This process allows her to spend less time scheduling content and more time focused on developing new social campaigns.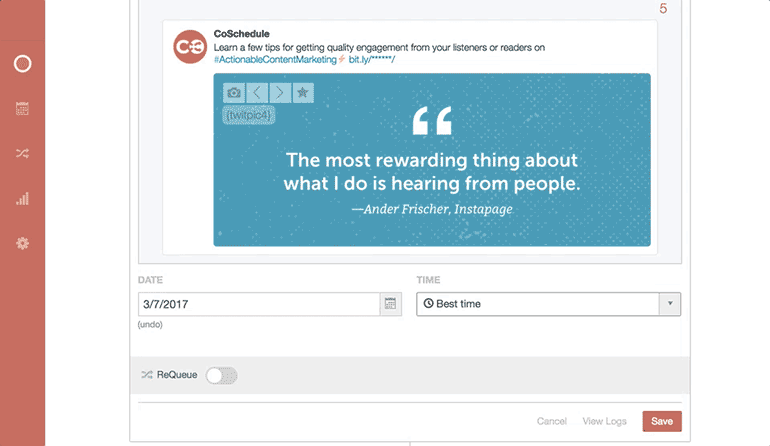 "From a social publishing aspect, CoSchedule has been a huge game-changer for us. We get twice the reach and impressions now than we did before we used Best Time Scheduling." Bri Gore, Social Media Manager.
Since switching from their previous tool to CoSchedule, they're reaching a larger audience on social media than ever before.