Simpleview
Simpleview is a tech company that helps destination marketing organizations (DMOs) succeed. They offer DMOs the industry's most advanced CRM and CMS platforms, forecasting tools, and mobile apps. While also providing valuable services like PPC, SEO, and digital marketing.
Visit Website
Industry
SaaS
Company Size
350+
Size of Marketing Team
12 Employees
Marketing Operations Manager
Nate Casimiro
Features Highlighted
Task Templates, Team Performance Report, Read-Only Calendars, Saved Views
Over the last few years, Simpleview has seen significant growth. The company has expanded their product and service lines, acquired multiple companies, and expanded into the international market. 
This drastically increased the number of project requests and work the Simpleview marketing team needed to complete in order to reach their business goals. To stay on track, they managed timelines, communication, and priorities in spreadsheets and email threads. 
Unfortunately, this disconnected process clouded accurate visibility of their pipeline and team bandwidth – making it difficult to accurately prioritize work, define delivery dates, and maximize internal resources. 
Communication and collaboration became more segmented as expectations rose. Stakeholder relationships seemed tense and fragile. And still, marketing operations tended to be long.
Simpleview's Marketing Operations Manager, Nate Casimiro, knew coordinating work via their current marketing tech stack limited their ability to meet stakeholder demands and keep them happy.
After implementing CoSchedule, their team was able to double their productivity and project output. Now they move projects through the production pipeline faster, deliver these projects on time, and strengthen stakeholder relationships by proving their value.
Maximize Employee Productivity To Double Project Output 
Before CoSchedule, Simpleview's marketing team coordinated project timelines, monitored progress, and communicated via a series of Google sheets, email threads, and an internal ticketing system. This process siloed context and communication across multiple tools and team members.
Marketers spent valuable productive time searching for files and sending emails to track down more information before they could complete their work. 
To solve these productivity roadblocks, Nate transitioned all of their project workflows into CoSchedule. Now tasks, timelines, and expectations are clearly defined for every project the team is working on. Each marketer at Simpleview has a clear picture of their priorities and workload.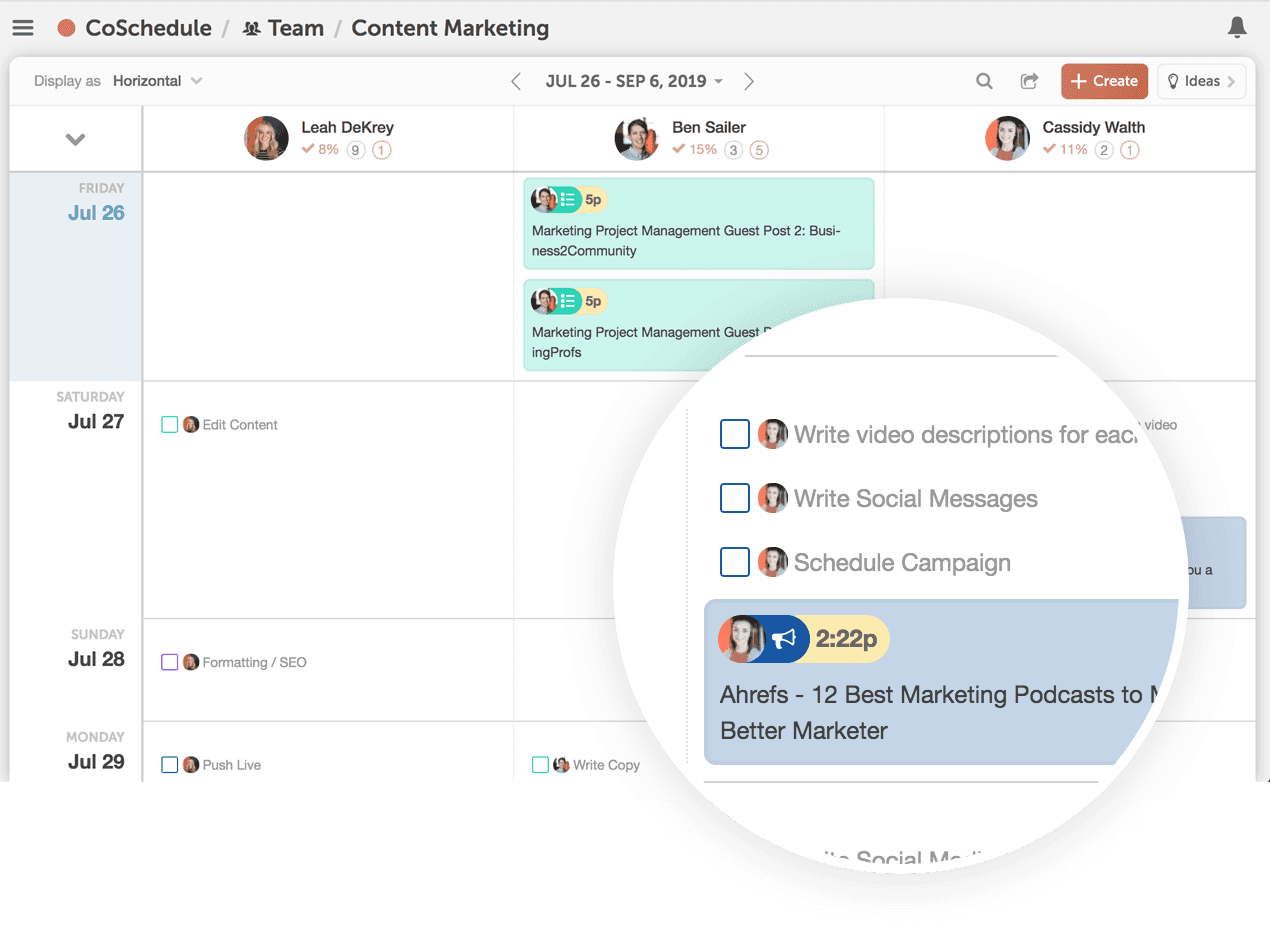 This focus has enabled their team to complete 2x more work than they were prior to using CoSchedule—increasing their average number of tasks completed per month from 100 to over 250.
"We have more accountability across the team. We're able to assign out more tasks, and visually see how much our team has accomplished."

Nate Casimiro,

Marketing Operations Manager
By implementing consistent internal processes with CoSchedule, Nate's team spends less time coordinating their work and more time actually completing it.
Deliver Projects Faster Due To Reduce Production Timelines 
Like many other marketing teams, communication was one of the biggest hurdles for Simpleview.
Marketing managers and internal stakeholders often became a roadblock on many active projects. They were forced to consistently push back delivery dates as team members waited for details, feedback, and required approvals.
By using CoSchedule for project management and communication, Simpleview's marketing team has eliminated nearly all of these roadblocks and has significantly reduced production timelines.
Files, tasks, feedback, approvals, and timelines are clearly defined for all of their active projects.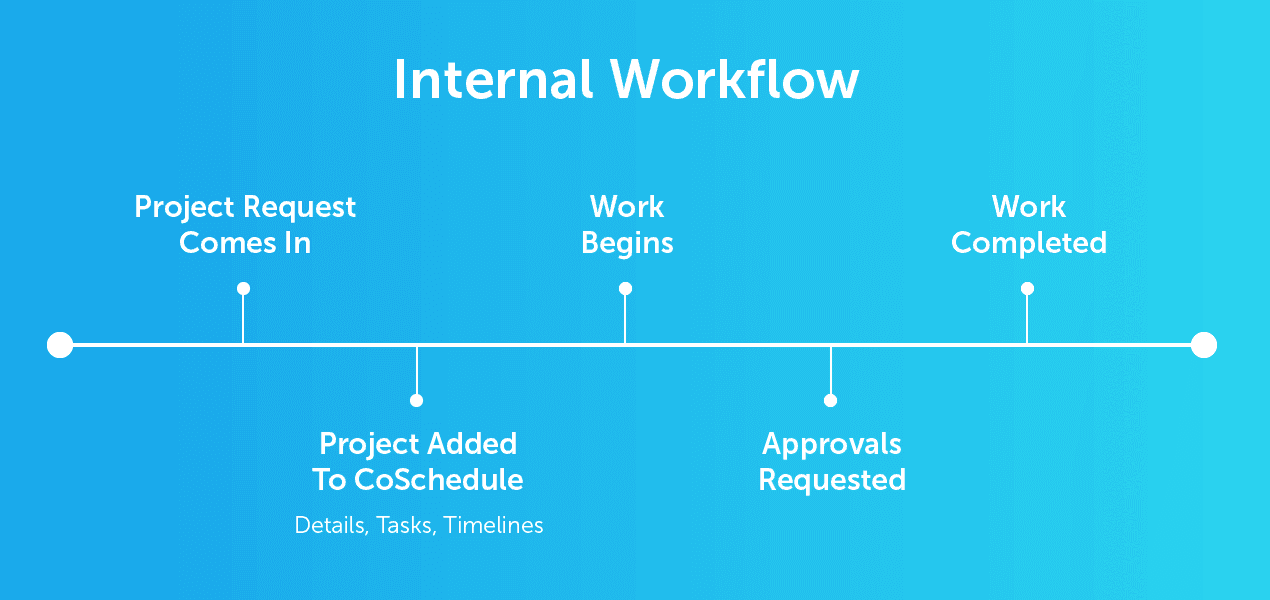 Clearly defined workflows empower their marketers to seamlessly move work through the pipeline with fewer bottlenecks—reducing the amount of time it takes to move a project from idea to publish.
With the increased bandwidth, the marketing team has taken on 108% more projects since their first month using CoSchedule—growing from 46 projects to an average of 95 every month.
"Now that everything is documented, we're doing more projects, and the turnaround time in the approval process is much faster."

Nate Casimiro,

Marketing Operations Manager
Consistently Prove Value To Internal Stakeholders 
Prior to using CoSchedule, it was difficult for Simpleview to easily deliver project updates to stakeholders. Although they facilitated monthly meetings with every department, they still received many emails with questions regarding project status.
They've nearly eliminated these emails by providing stakeholders with a complete overview of their projects—both in progress and completed—via a shared calendar view.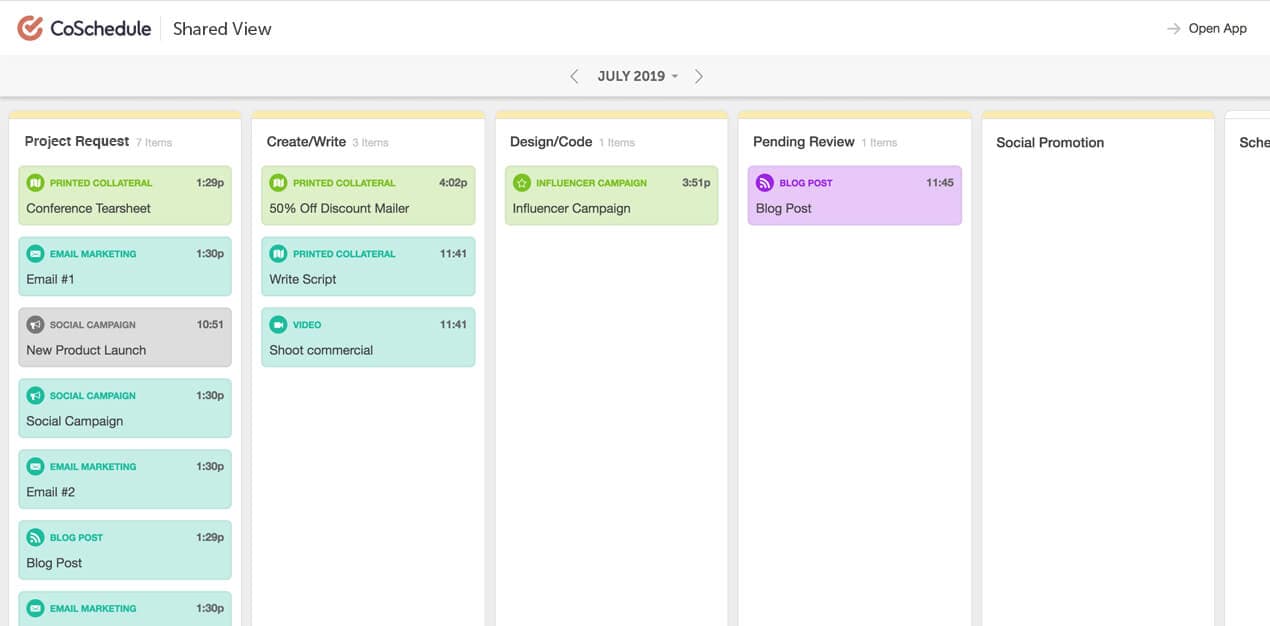 Simpleview's stakeholder calendar updates in real-time to reflect changes that may impact delivery timelines, such as new project requests, last minute requests that take precedence over everything else, and pending approvals.
"Right off the bat, we got a "wow" reaction. Stakeholders can see what we're doing, and they always know when their content will go live. Transparency-wise, it's improved our relationships with the departments we create collateral for."

Nate Casimiro,

Marketing Operations Manager
Now Simpleview's stakeholders have complete visibility of their projects any time they want to check in. Plus, Nate and his team can easily confirm they're working on the right content that aligns with company-wide business objectives.
More Efficiency = Better Results 
"Before CoSchedule, we managed projects in a series of spreadsheets and a proprietary ticketing platform designed for developers to track billable hours. It was not ideal for marketing workflows."

Nate Casimiro,

Marketing Operations Manager
This "makeshift marketing" solution created unnecessary project roadblocks that stunted efficiency and output. Marketers spent too much time following up with stakeholders and internal team members for context or approvals to move work through the pipeline. 
With limited visibility of the marketing team's bandwidth, it was nearly impossible to accurately gauge project timelines and delivery dates. Marketers were overwhelmed and working over capacity in order to meet stakeholder deadlines and maintain positive relationships with internal departments.  
Now that Simpleview's marketing team has implemented CoSchedule, they've been able to: 
Reduce the amount of time spent coordinating work and reallocate that effort on project execution.

Provide stakeholders with an accurate, transparent view of their project backlog to accurately prioritize project requests. 

Deliver more work every month to internal stakeholders – up from 46 projects to an average of 95. 

Consistently meeting project deadlines by increasing the number of tasks completed on time by 146%.
"Now the time we save on project management is spent focused on generating ROI and creating better leads." 

Nate Casimiro,

Marketing Operations Manager
In under a year, Simpleview doubled their project output, shortened project timelines, and improved stakeholder relationships using CoSchedule. 
Whether they're taking on more projects or onboarding new staff in record time, consolidating project management and communication in CoSchedule has transformed the way their marketing team works.