If you're managing a marketing team, you know how complex the job can be.
You're juggling team members, workflows, reviews, approvals…and you only have a brief moment to focus on each task before the next one pops up. There has to be an easier way to manage it all, right?
CoSchedule can help you master marketing management.
CoSchedule is marketing management software made to help you efficiently organize your team, optimize workflows, and automate processes. So you can spend time on more important things.

What is Marketing Management Software?
Marketing management software is a tool that helps you plan, manage, and execute numerous marketing tasks from idea to completion. This type of software is made to help marketing teams collaborate, communicate, and complete their work more efficiently.
Marketing management software usually includes useful features like:
Team management
Task & workflow management
Project scheduling & monitoring
Team and project reporting
What makes CoSchedule the best solution for managing your marketing?
CoSchedule lets you easily organize, visualize, and manage your entire marketing team (and their workflows) in one place. It's a unified solution that can lead to next-level team collaboration, productivity, and success.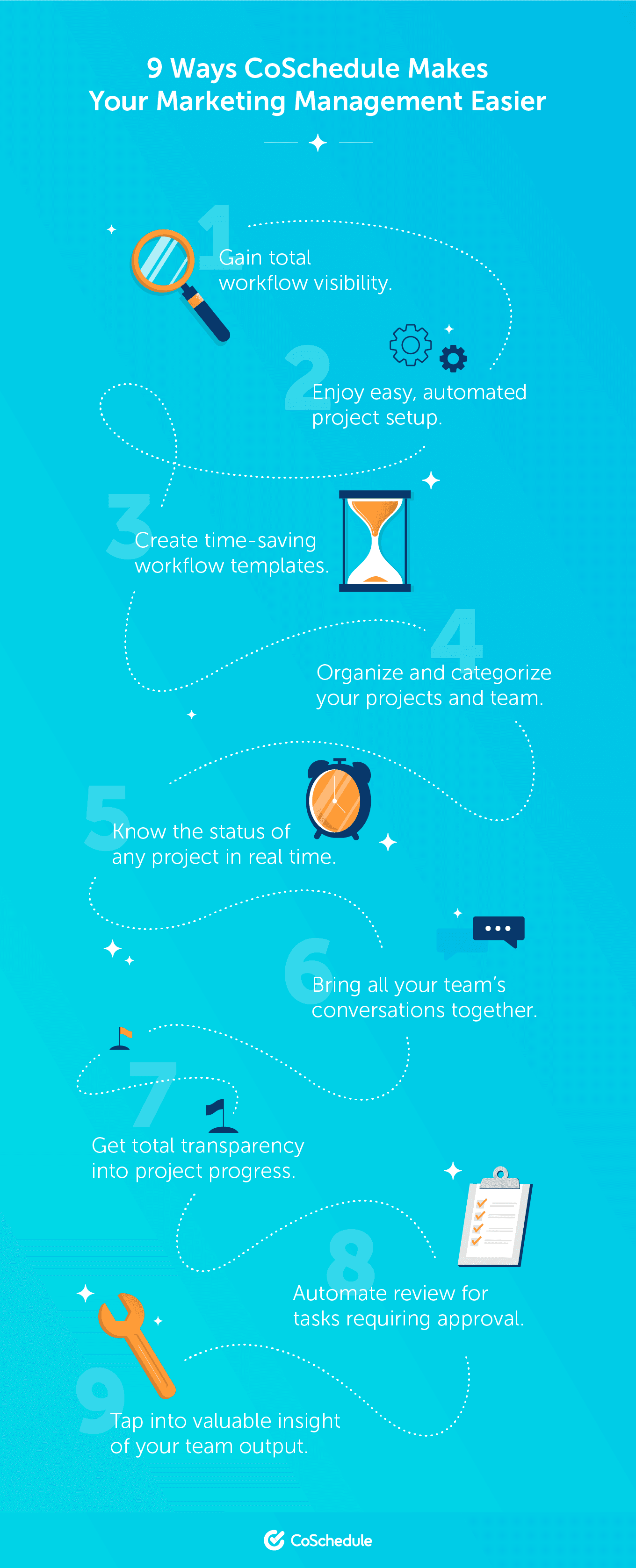 See Your Team's Work with Team Management Dashboard
Real talk: marketing teams are BUSY. Each team member has their own workload of projects. And it can feel nearly impossible to know what every person is working on…and when.
Bring more clarity to your team's daily workflow with CoSchedule's Team Management Dashboard. It provides a single view of everything your marketing team is working on, so you can:
Visualize workloads for each team member (and shift priorities as needed)
See real-time progress of all projects, including complete and incomplete tasks
Pull up the dashboard for status meetings, so everyone is on the same page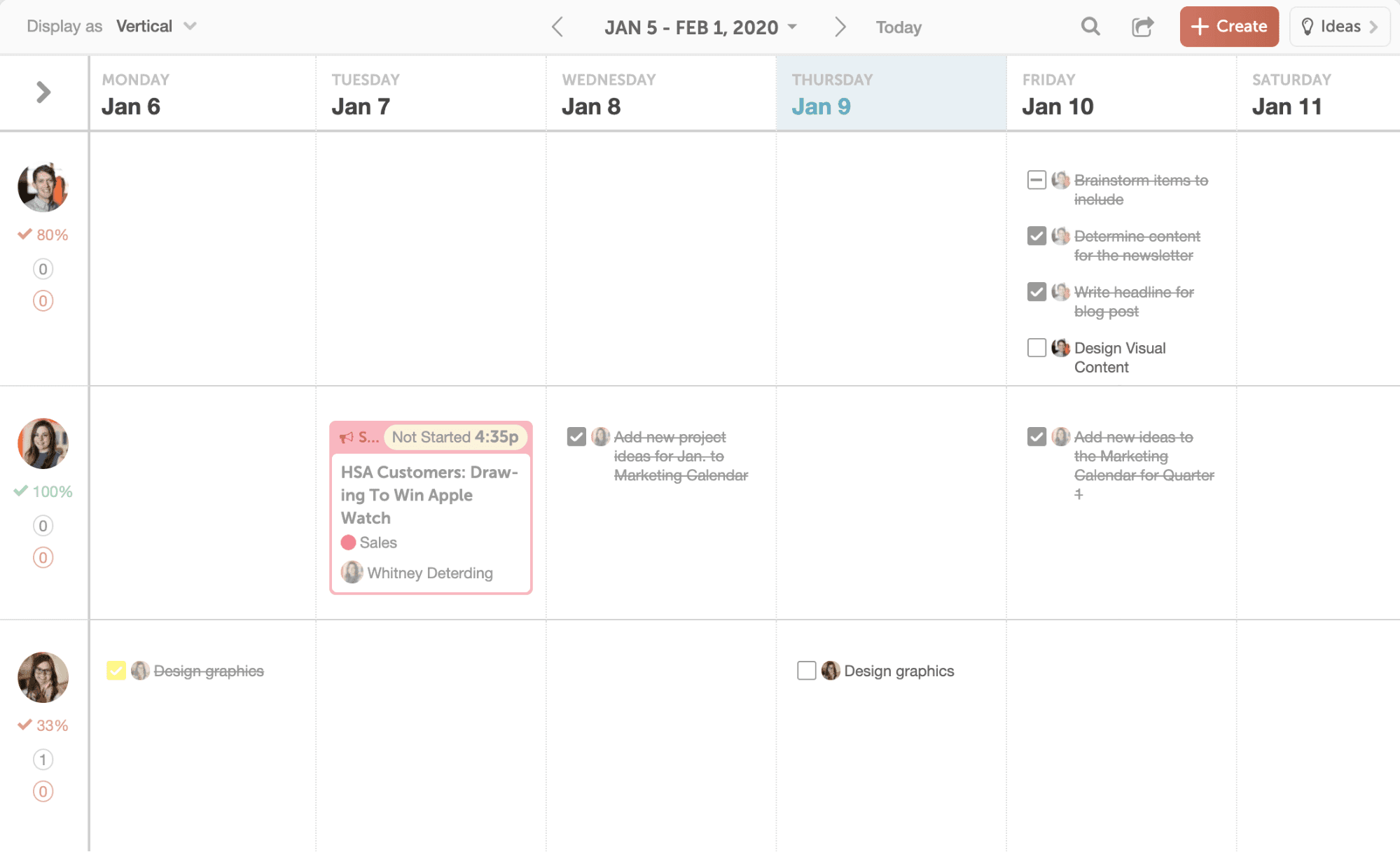 Set Up Marketing Intake Forms with Google Forms + Zapier + Idea Board
Many marketing projects start with a marketing intake form containing essential background information about the project.
But how do these forms function with marketing management software like CoSchedule? The process is actually really quick and easy, thanks to Idea Board and a cool Zapier workflow integration. Here's how it works: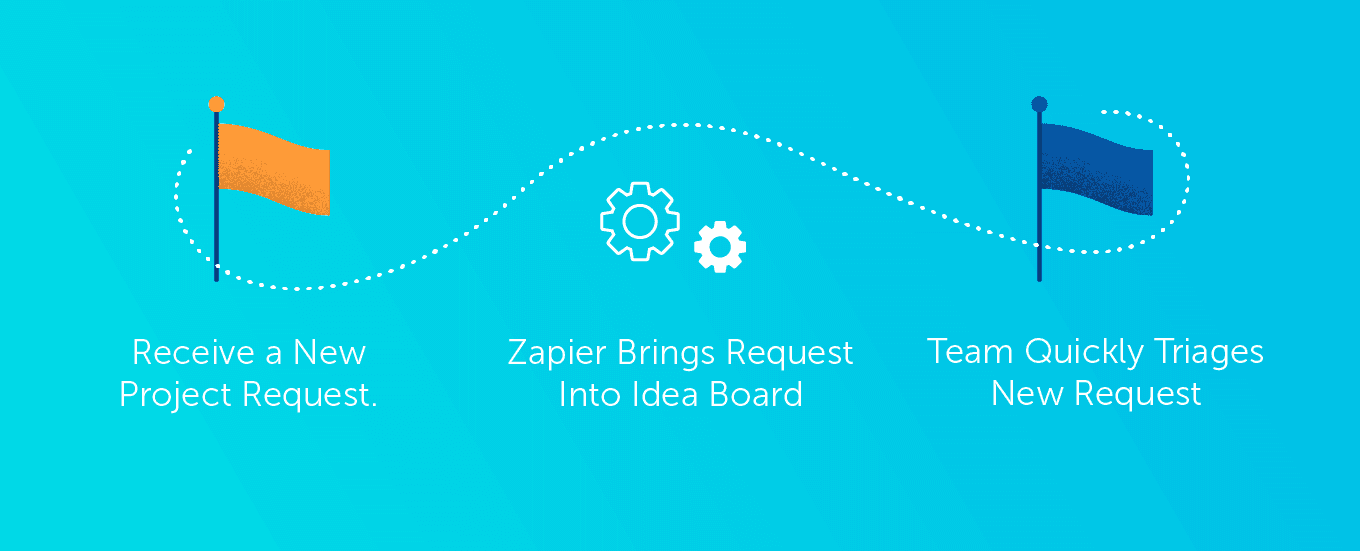 First, you'll set up a marketing intake form in Google Form or another third-party tool
When you receive a new project request, CoSchedule's Zapier integration will automatically pull that request from the form into Idea Board
Your team will be able to quickly see and triage each new request right in Idea Board
Bonus: CoSchedule also integrates with other tools your team already uses (like Trello, Basecamp, Wrike, and Asana). So you can build seamless, collaborative workflows from start to finish.
Assign Work with Tasks and Task Templates
Assigning, managing, and tracking tasks for each marketing team member can be a time-sucking chore. But it doesn't have to be.
With CoSchedule Tasks and Task Templates, you can create automated workflows that actually save you time–while keeping everyone on track.
Assign individual tasks to anyone on your team within a project. You can also create subtasks to break up one task into multiple, smaller steps.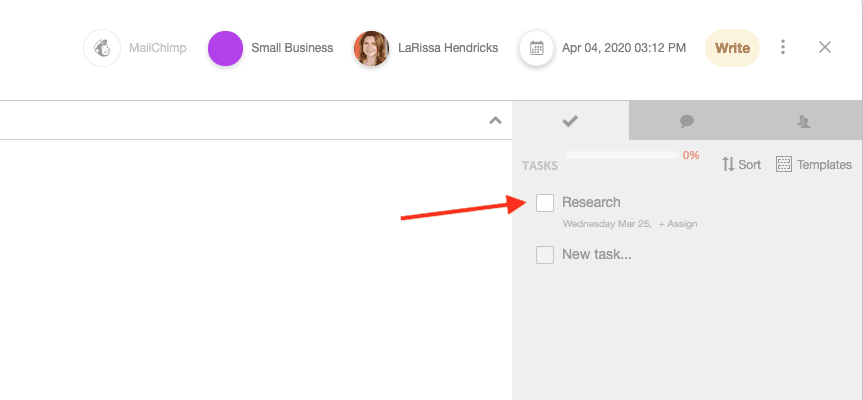 Create Task Templates for recurring projects. Task Templates automatically schedule tasks for you, so you don't waste time setting up the same tasks for similar projects.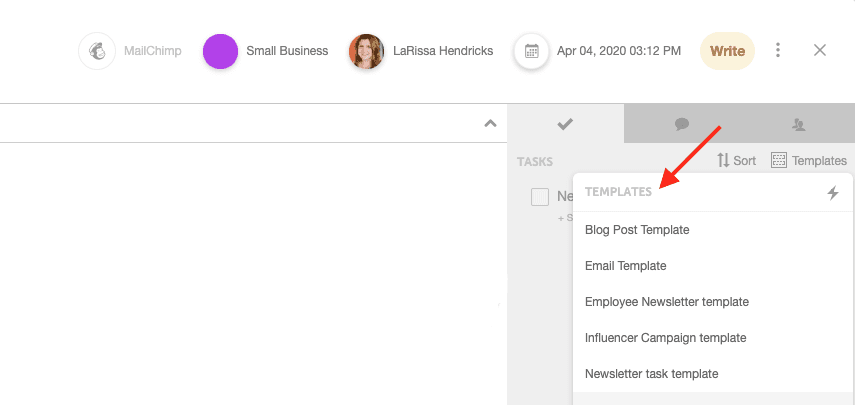 Organize Team Members and Projects with Color Labels and Tags
Once you get your marketing projects set up, your team's calendar will likely be chock-full of words and deadlines.
Distinguish between all those projects with CoSchedule's color labels and tags. They're an easy way to keep team members and projects categorized.
Color Labels
Start by creating customizable color labels for each project:
Visit your calendar settings to choose your custom colors (or stick with our pre-set color scheme)
Then pick a name for each color label based on how you want to categorize your projects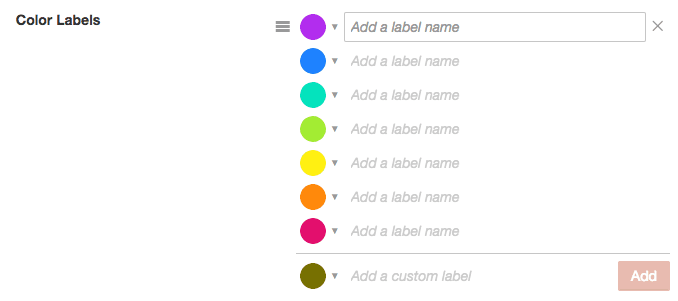 Helpful hint: Not sure which naming strategy will work best for your team? We recommend you create color labels for departments within your organization (Marketing, HR, Sales, etc.).
Tags
Add an extra level of organization to your projects with custom tags. They're a great way to group and sort related projects.
Classify your tags by target audience, content themes, marketing goals, or other areas essential to your team
Easily sort your tags by searching for one particular tag (or by creating a saved calendar view based on that tag)

Know Project Statuses at All Times with Custom Statuses
Every team works differently. With CoSchedule, you can add custom statuses based on your team's specific workflow. You'll always know the status of any project in real time–which makes work management a whole lot easier for everyone involved.
Choose statuses that fit each stage of your workflow within the larger draft, scheduled, and published stages.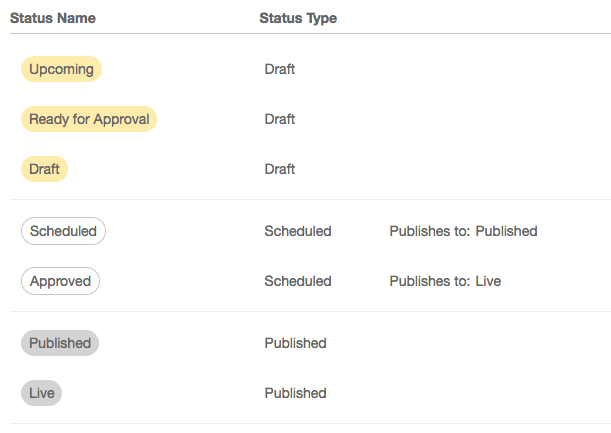 Some custom status names you might use are:
Planned
Write
Design
Ready for Review
Approved
Live
Hold Conversations in Projects with Discussions
Communication is often one of the biggest challenges marketing teams face. If everyone isn't on the same page, mistakes or missed deadlines can happen, leading to frustration within your team.
Instead of struggling to keep track of team conversations across multiple tools, use CoSchedule's discussion feature in each project. It's an easy way to bring your discussions into one place and boost team collaboration.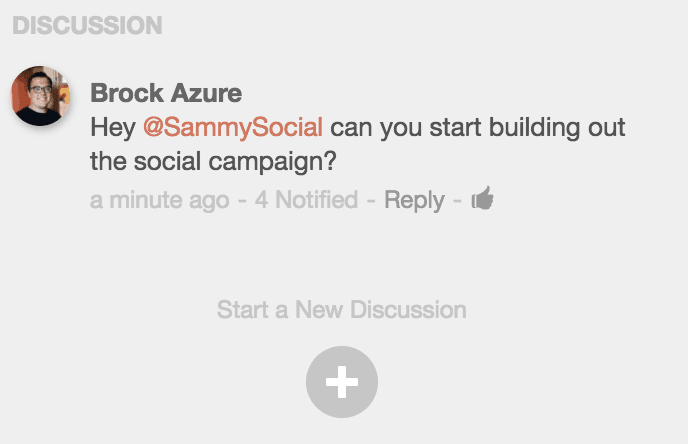 Start discussions inside projects or even individual tasks
Mention your team members to send them a notification
Reply or give a "thumbs up" to team members' comments
Add attachments to a discussion to easily share helpful assets
Manage Projects with Kanban Project Dashboard
Many marketing teams struggle to keep track of not just projects, but also the team's progress on those projects. It can be hard to tell where work is at in the pipeline–or how efficiently projects are being completed.
CoSchedule's Kanban Project Dashboard gives you complete visibility of project progress. So you know exactly which phase each project is in (and who's working on it).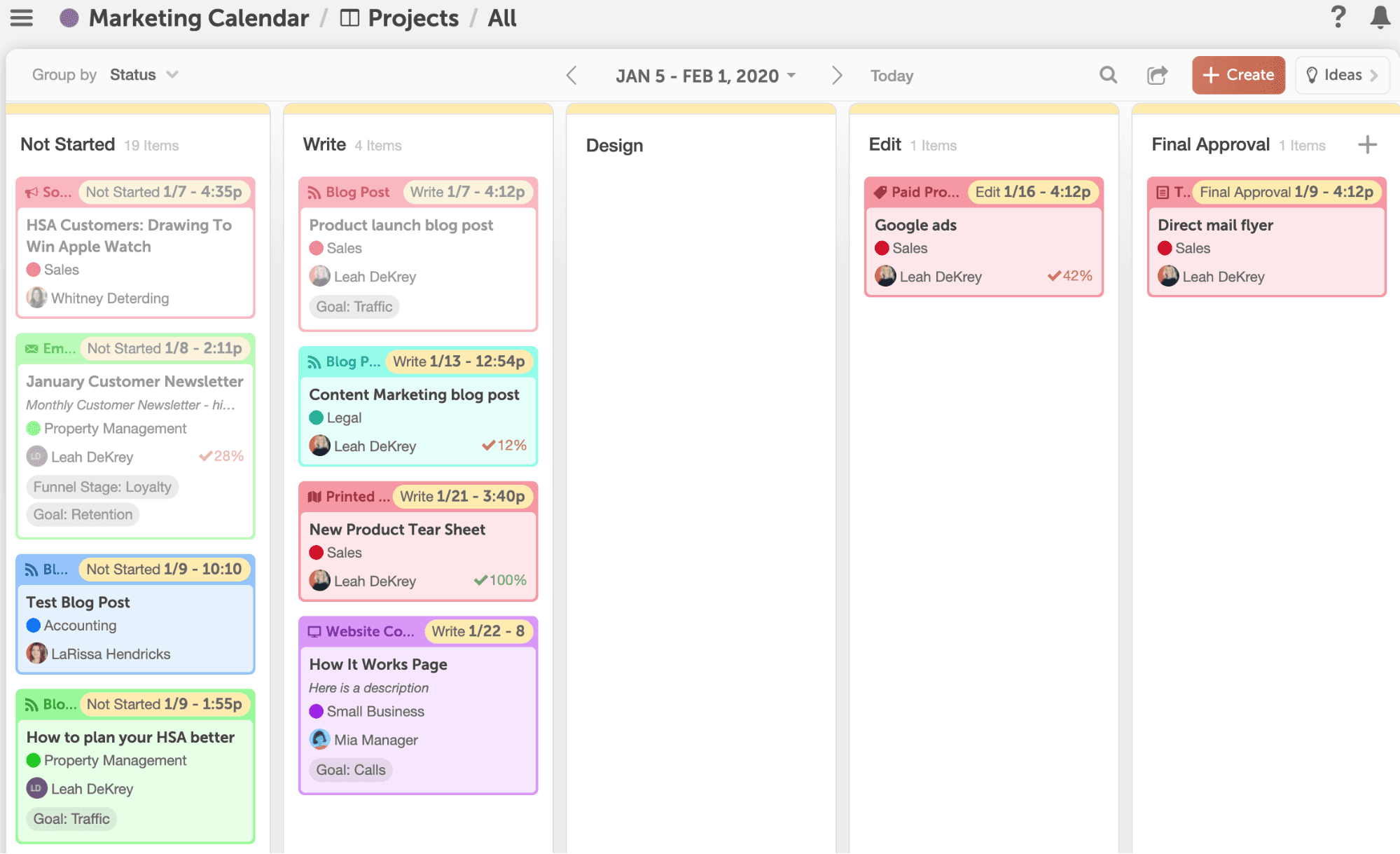 Use the Kanban Project Dashboard to:
Track your team's progress and easily visualize your work with custom statuses
Improve team workflows by identifying and removing roadblocks before they happen
Share work with stakeholders by creating real-time, read-only saved views
Approve Work with Task Approvals
For an extra level of team management, add Task Approvals to your project tasks. Task Approvals can be automatically assigned to specific team members for tasks that require review prior to completion.
For example: Say you need visual elements designed for an email. Your head designer might want to review the visuals created by another designer on the team before the email is sent.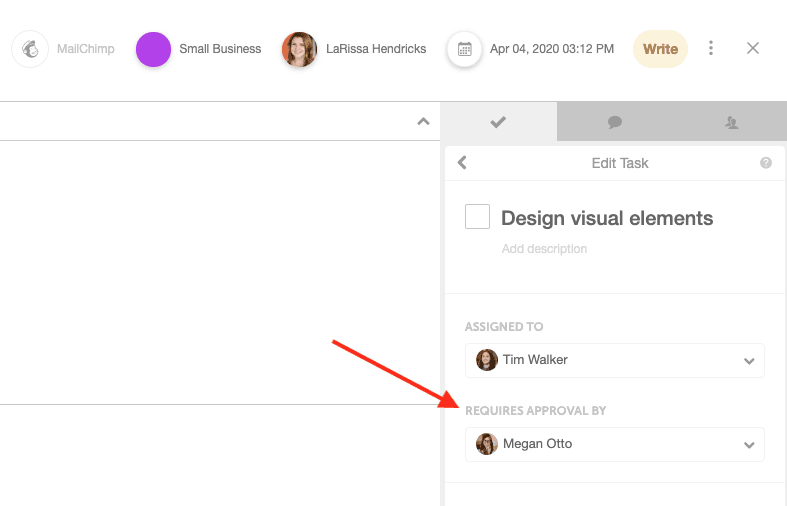 By adding an approval to the "design visual elements" task, your head designer will receive a notification to approve the task once it's finished.
Measure Team Output with Team Performance Reports
Your team's work doesn't end when a project is completed. By reviewing team performance analytics after each project, you can learn how to level up your performance on future projects.
CoSchedule Team Performance Reports provide valuable performance data for your entire team. You'll get a complete view of each project from beginning to end, including:
Completed tasks
Overdue tasks
Individual task completion rates for each team member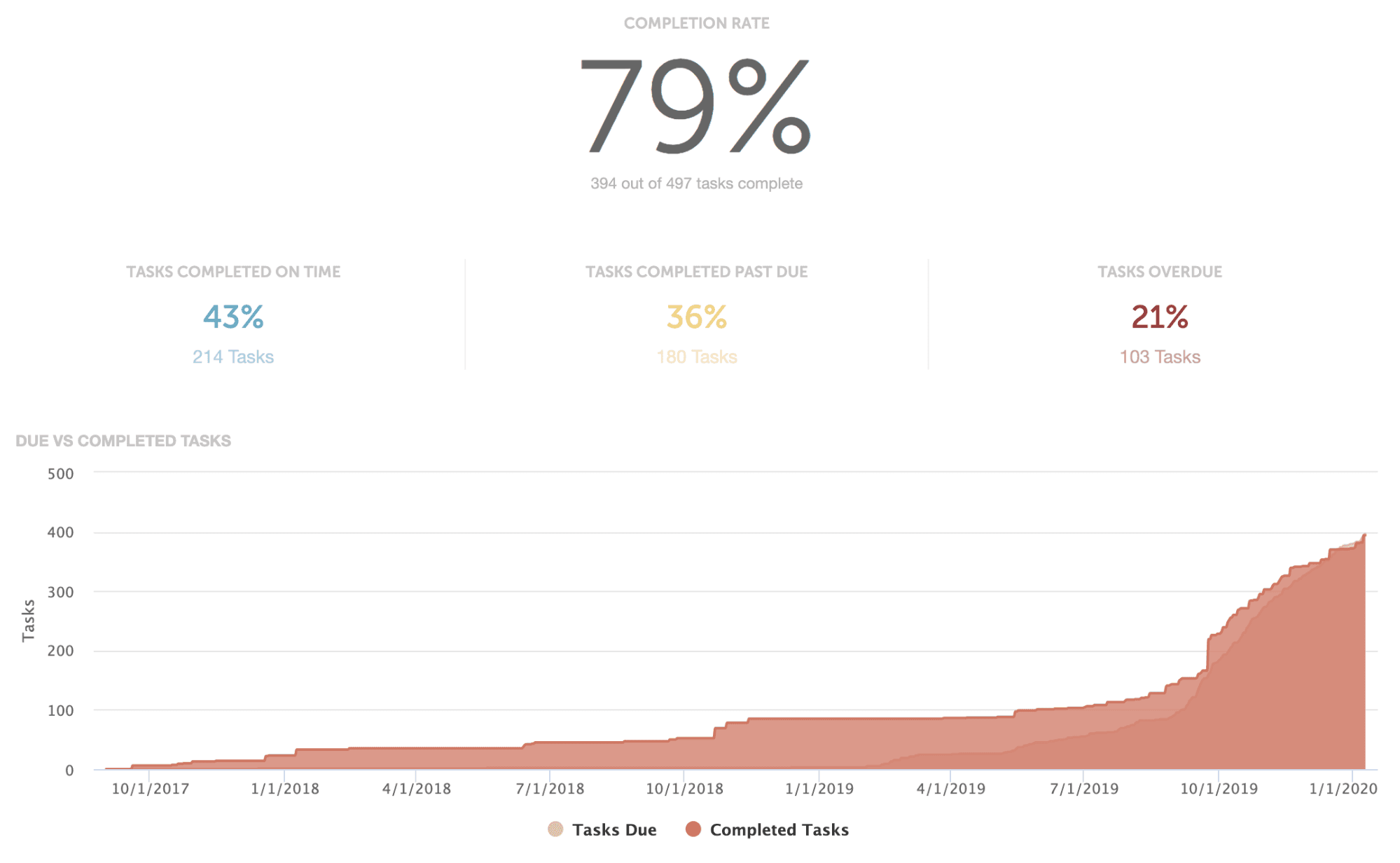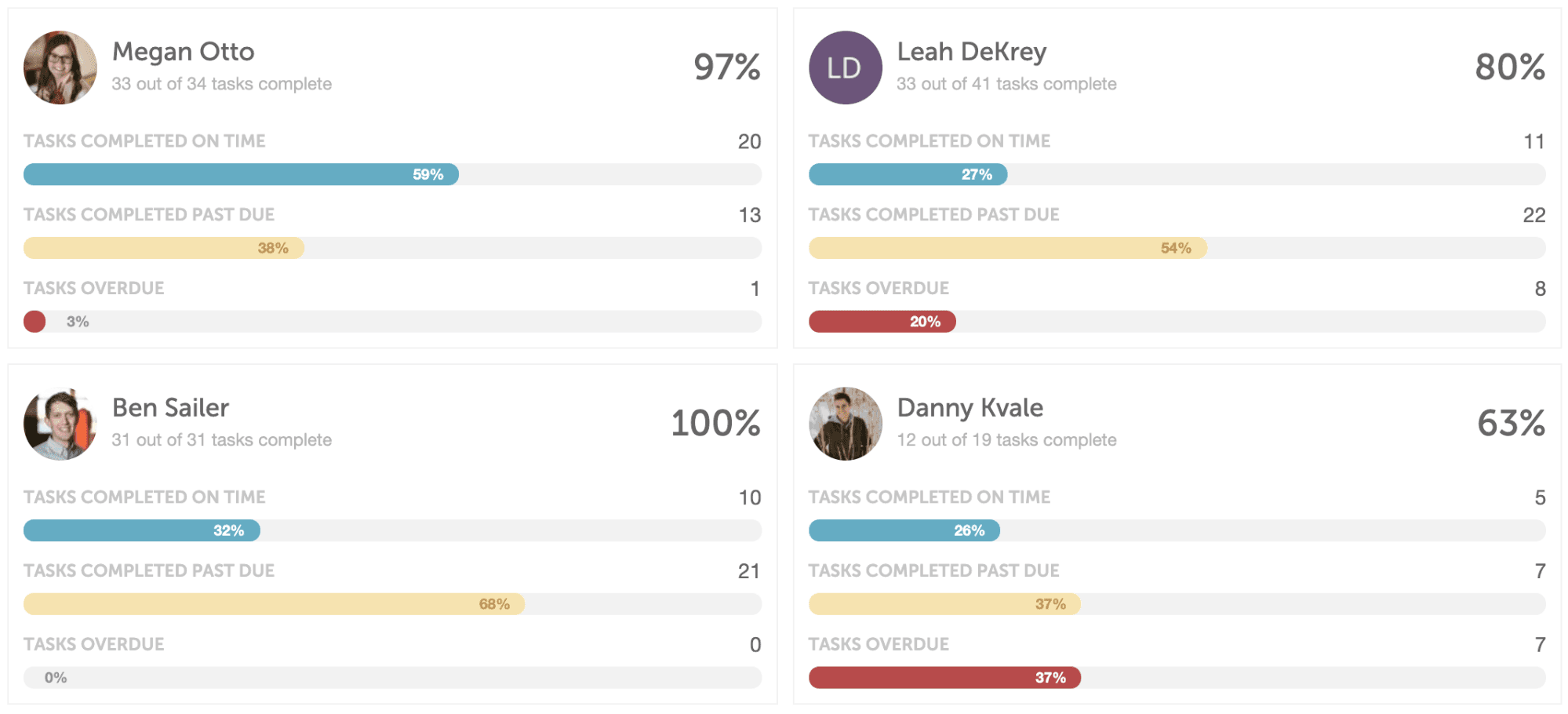 You can then turn those numbers into actions to improve workflows:
Spot highs and lows in task management
Increase the accuracy of project timelines
See who's falling behind and adjust workloads
Get the 30,000-foot View with Marketing Calendar
So you've created tasks for your marketing team. You've set color labels and assigned task approvals. It's time to step back and get the bigger picture of what everyone is working on.
The CoSchedule Marketing Calendar brings you one single, 30,000-foot view of EVERYTHING your team does. So you always have visibility into what's getting done–and what needs to be adjusted.
Know which tasks are complete and incomplete
Get a quick view of project owners and statuses
See shipping dates and times for all projects
View the completion percentage of each project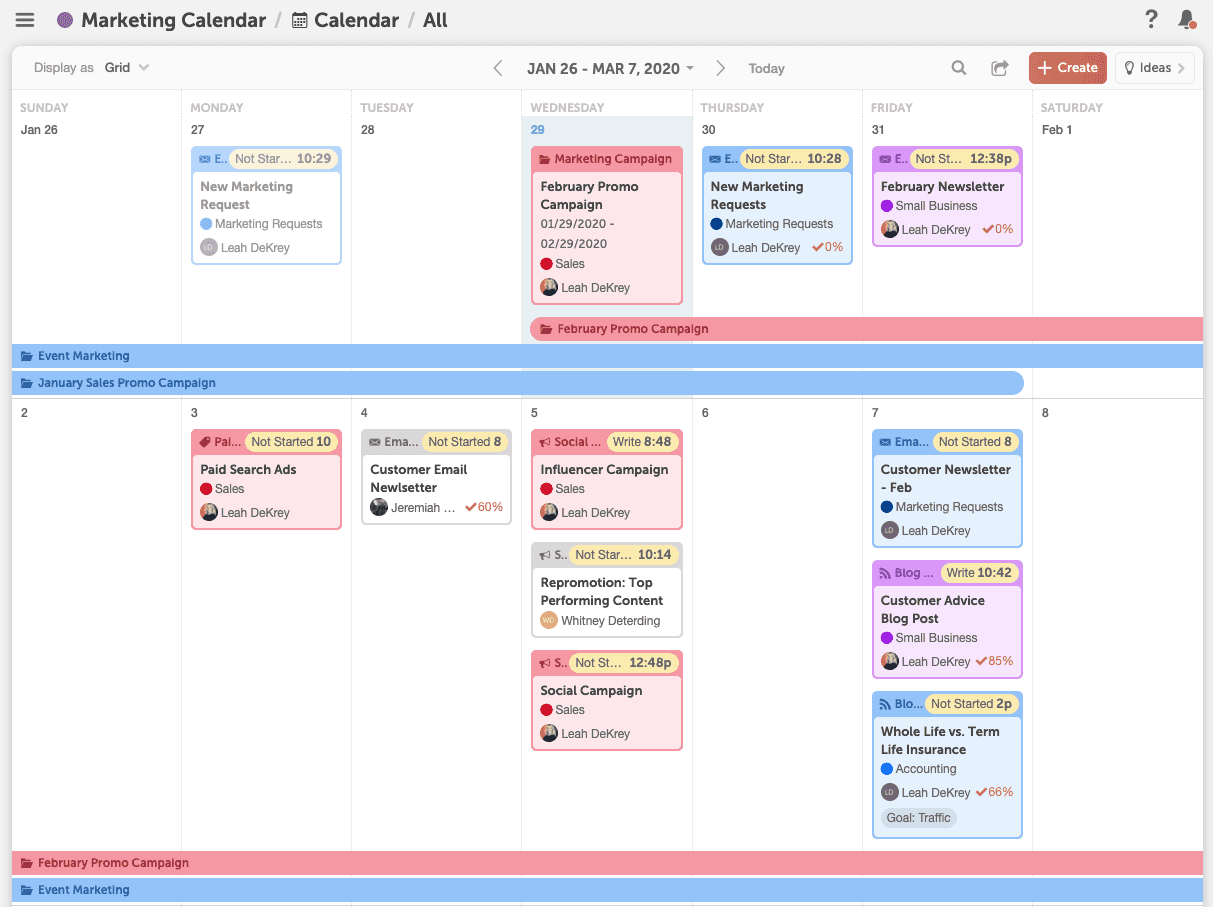 Ready to Master Marketing Management?
Go from chaotic multitasking to successful marketing team management in a snap with CoSchedule. Schedule your demo today and see how it works!