How To Kill Your Editorial Calendar And Watch Your Blog Fail 75
Headline Analyzer
The blog post headline analyzer will score your overall headline quality and rate its ability to result in social shares, increased traffic, and SEO value.
Test every headline before you publish. Try the Headline Analyzer »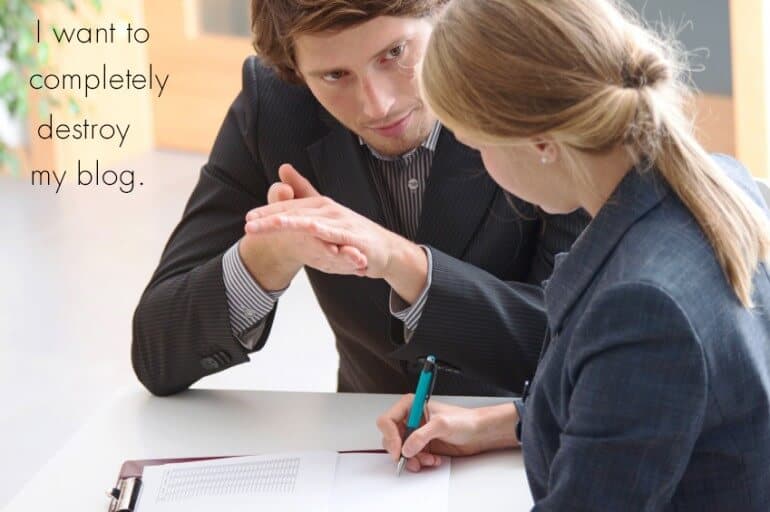 "I've been thinking that I want to kill my editorial calendar," he said, closing the door to the office behind him. It was just after lunch. He was late for his appointment.
"Why would you want to do a thing like that?" she asked.
"After a lot of consideration, I think it is time to dump my content marketing in the garbage, kill off my traffic, and watch my blog fail completely," he said. "Killing the editorial calendar is the way to go."
She paused. Who would want to do such a thing? "I can't say I've ever heard that request before, but I think I can help you." She pulled out a notepad and pen. "Tell me about your blogging team."
"I have a great blogging team. They communicate well and are really in agreement on what we're trying to do with our content." He leaned back in his chair and put his hands behind his head. "In fact, we worked really hard at that, setting up meetings and sort of training everyone to think towards one goal."
She nodded as she wrote. "We'll start there, with the team." She began writing faster. "I want you to introduce apathy to your team. It's the first step towards dismantling your editorial calendar.
"How do I do that?"
"You pull back on editing, you turn your content planning meetings into long, wandering, disorganized disasters, and you let deadlines and due dates slide without much fuss."
He nodded. "Apathy. Make them not care."
"A team needs a common goal, and each person needs to feel they have a bit of autonomy so they have the personal drive to get things done for their own sake. It gives them ownership in your blog. You have to kill that. You have to make them frustrated, annoyed, and even a bit angry. Steal any sense that the blog and the end result is important to them, and soon they'll stop caring."
"Could you be a bit more specific?"
"Disregard their ideas. Over-edit and micromanage their work, or put little effort or interest in what they're doing at all. Throw any kind of content on the site, whether it's ready to be published or not, and help them see that there is nothing about the blog that they should take pride in any more."
"How will this help me kill my editorial calendar?" he asked.
"Simple: your calendar has to have your whole team behind it. They have to respect each other to respect the calendar. Break your team, break your calendar."
"Does that work?"
"You can have the best calendar in the world, but if no one writes the blog posts they are supposed to write, if nothing happens according to your plan…"
"I get it. I kinda hate to do damage to my team, though, but I could see how changing their attitude towards the blog would work."
She leaned forward, tapping her pen on the paper. "Even better, just in case you have a team that's not willing to let things slide out of attitude, make things harder to get done."
She started to sketch a chart on the paper, scribbling circles and words and arrows as she talked, her pen digging into the paper the faster she spoke. "Think about how you create your content. You're dealing with ideas, planning, themes, social media networks, publicizing, and then, you take all of that, and you assign it to different people who then have to break each task down into their own organizational system and make it happen before they pass it back up the chain and the whole thing gets published."
She spun her notebook around so he could read it. "Do you see that? That's a huge, complicated mess. Who can keep doing that for any serious amount of time without the perfect tool?"
He nodded, recognizing what she was describing.
"Your editorial calendar was the way to make that easier. You simplified it. What if you were to reverse direction and make it complicated? Use lots of different apps to do all of these steps. Create a complicated workflow with unnecessary checks-and-balances. Make things as manual as possible and get rid of automation.
He looked at the diagram she'd drawn, the lines criss-crossing back on themselves. It looked like a string bound up in knots and tangles. He couldn't make much sense of it. "I get your point."
"Make the editorial process as complicated as possible, and your calendar won't have a chance. Complex things get put off, and eventually, they get forgotten."
She sat back in her chair and sighed. "Those two require purposefully destroying what you've built up in your team, and that's tough to decide to do. They work, though, and quickly."
"Is that it, then? Those two methods are all there is?"
"Not really. Editorial calendars die easily enough. Plan too far ahead for your team, and you'll discover you're creating content that doesn't fit when it's published. It'll sound out-of-date because you planned it months ago."
He laughed. "We've already done that."
"You can do the reverse, too. Plan things barely in time to make the calendar worth the hassle. You get a lot of bloggers that want to write on a whim and not plan, and if you barely plan ahead, you're basically doing that except with the fuss of a calendar mixed in."
"That's something I was always concerned about, whether a calendar would make our blog seem too formal, or not organic enough to be interested. I worried that a calendar would make readers realize we were writing ahead and not the day of."
"It's a common misconception," she said. "You think that the only way your blog can have legitimate flow is if things are written and published as closely together as possible. You get kind of a rush as you get caught up in the last-minute panic, but things get through, like typos and bad graphics and a general sense that your blog isn't coherently following anything in particular. Placing more value on when you feel like writing and when the muse strikes is a great way to kill your editorial calendar. The muse doesn't strike regularly two or three weeks in advance, you know. You make it happen."
They sat in silence for a few moments. The she spoke up. "Why do you want to kill your editorial calendar? Most people are trying to find ways to build their blog."
He smiled. "It's not that I want to kill our editorial calendar. But all that stuff I described? The dying blog, the low traffic, the struggle to keep things going? That's happening and I wanted to know why. Come to find out, we were doing a great job at killing the blog by killing our editorial calendar."
He shook her hand as he stood to leave.
"I think it's time I had a meeting with my blogging team."
January 9, 2014