Published October 14, 2023
/
Updated October 27, 2023
Content calendar templates do the legwork of building your publishing schedule.
Posting content whenever inspiration strikes leads to typos, an erratic posting schedule, and a lack of collaboration with your team.
Enter content calendars. They help you plan, organize, and share all the content you're creating.
The problem? Building content calendars from scratch is time-consuming. Where do you even begin? How many fields do you need? What sections should you include?
In this article, I'll share five content calendar templates. Whether you're a small or large team, starting a new blog, or scaling one, you'll find something you can use.
What Is A Content Calendar Template?
Templates are frameworks to help you organize your content, plan ahead, and get on the same page with your team and stakeholders.
A content calendar template will lay the groundwork for you. It'll already have a list of sections you should have, organized timelines, and space for collaborating with your team. All you have to do is copy the template and customize the fields to suit your needs. And voila! Your content calendar is ready.
3 Benefits Of A Content Calendar Template
Should you use content calendar templates when you can build your own from scratch? Yes! Here's why:
1. Content Calendar Templates Save You Time
When building a content calendar on your own, you have to brainstorm the various sections you'll need, color-code a spreadsheet to make it accessible, and organize the timelines to suit your publishing cadence. The whole process can be a timesuck from content creation and other valuable business activities. A content calendar template gives you something to build off of and saves the hours you would've spent making a content calendar from scratch.
2. Content Calendar Templates Ensure You Have Everything You Need
The content calendar you build from scratch will likely have a few missing fields. You might forget to include the "status" box to track projects or color-code it so it's skimmable. But if you use the content calendar templates we've built, you'll have all the fields required on a content calendar from the get-go. No hit or miss.
3. Content Calendar Templates Eradicate The Blank Sheet Syndrome
If you open an empty spreadsheet to create your content calendar from scratch, you'll stare at it for a long time. What sections should you include? How should you organize the fields? Which colors should you use? Instead of scratching your head for ideas, using a content calendar template gives you a structure to work from. Everything you need is already organized. You just need to edit it to fit your preferences and connect the dots.
5 Content Calendar Templates: Spreadsheets & PDFs
There are several types of content calendars depending on content types, timelines, and more.
For instance, a content calendar you use specifically to organize your social media content is a social media content calendar. A content calendar to organize only your blog posts is an editorial content calendar.
Your content calendar can be beginner-friendly and include only overarching details of a project. Or it can be advanced and contain everything from SEO to CMS details.
Lastly, your content calendar can be for the whole year. Or maybe it shows what you're working on in a quarter at a glance.
The following five content calendar templates include four spreadsheets and one PDF for various needs. Whatever type of content calendar template you're looking for, you'll find it here.
1. Annual Content Calendar Template Spreadsheet
Fit for: Someone who needs a basic, simple, and easy-to-use content calendar template.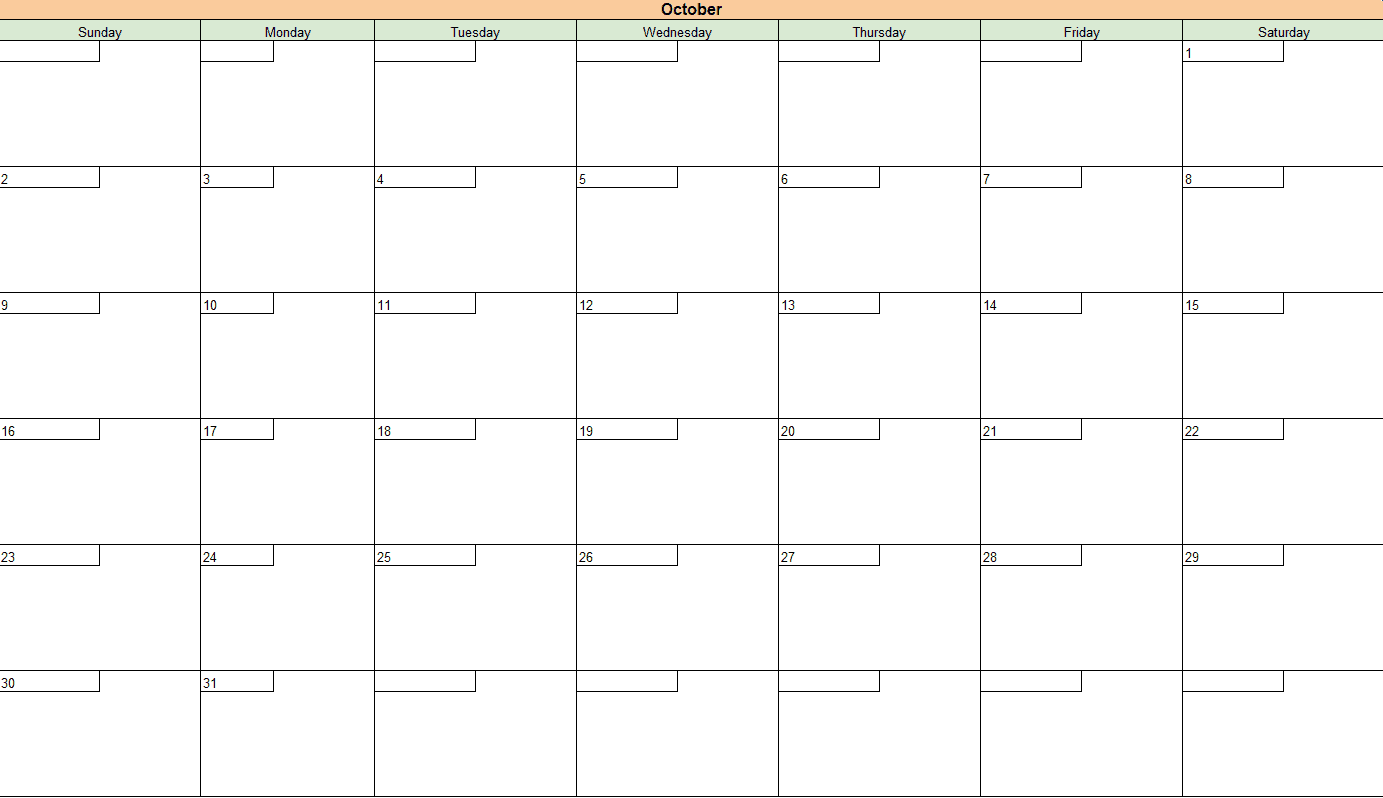 The annual content calendar template divides your content schedule into a monthly format. It lets you perform these tasks:
Note tasks, due dates, and publish dates in a traditional calendar format
Color-code tasks and dates by team or project
Sort projects in a checklist by the deadline, owner, and status
Add general notes on your content plan for the month
It's perfect for you if you want something straightforward that gets the job done. The learning curve is zero to minimal, so you can hit the ground running.
2. Advanced Content Calendar Template Spreadsheet
Fit for: Someone who requires an in-depth content calendar sharing the nitty-gritty of every project.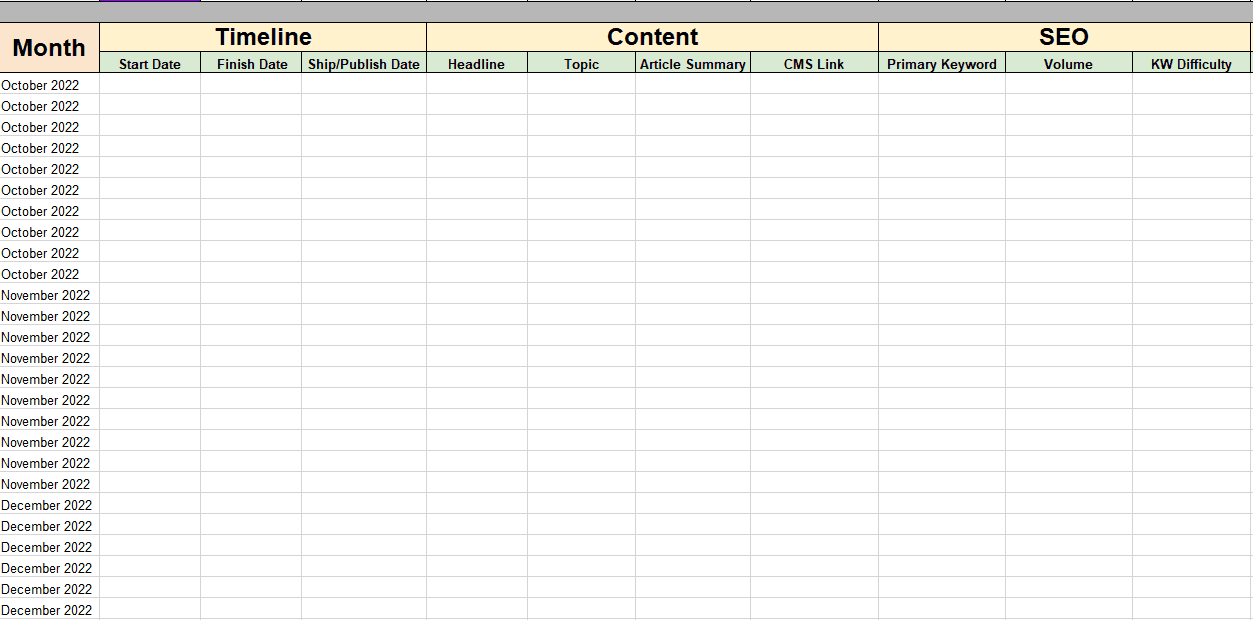 The advanced content calendar template presents all the project specs you need chronologically for the year. You can:
Organize projects in order of their publish month or content details
Note each piece of content's start date, finish date, and publish date
Specify a piece of content's headline, topic, and link so you can find it easily
List a project's SEO, team assignment, and marketing specifics to help you understand its context in your strategy and schedule
It'll fit the bill if you want something with all the bells and whistles. Instead of staying surface-level, this content calendar template goes deep and covers every facet possible.
3. Basic Blog Content Calendar Template Spreadsheet
Fit for: Someone who needs to organize their blog's content schedule.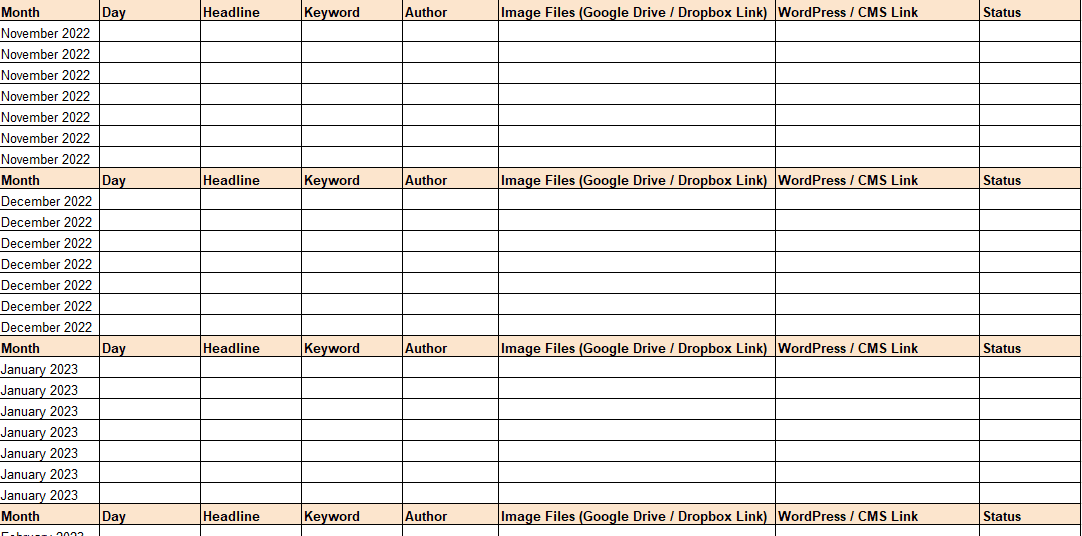 The blog content calendar organizes your blog posts by month and keeps every post's most important details in one place. You can use this template to:
Organize your blog posts by month to see how your strategy evolves
Link to the image files and CMS posts for all your blog posts for the year
Sort your posts by headline, keyword, and author
Monitor the status of your blog posts for the year
This template is made for you if you're looking for a content calendar specifically for your blog posts. It'll act as your blog's single source of truth.
4. Social Media Content Calendar Template Spreadsheet
Fit for: Someone who wants to plan their social media content.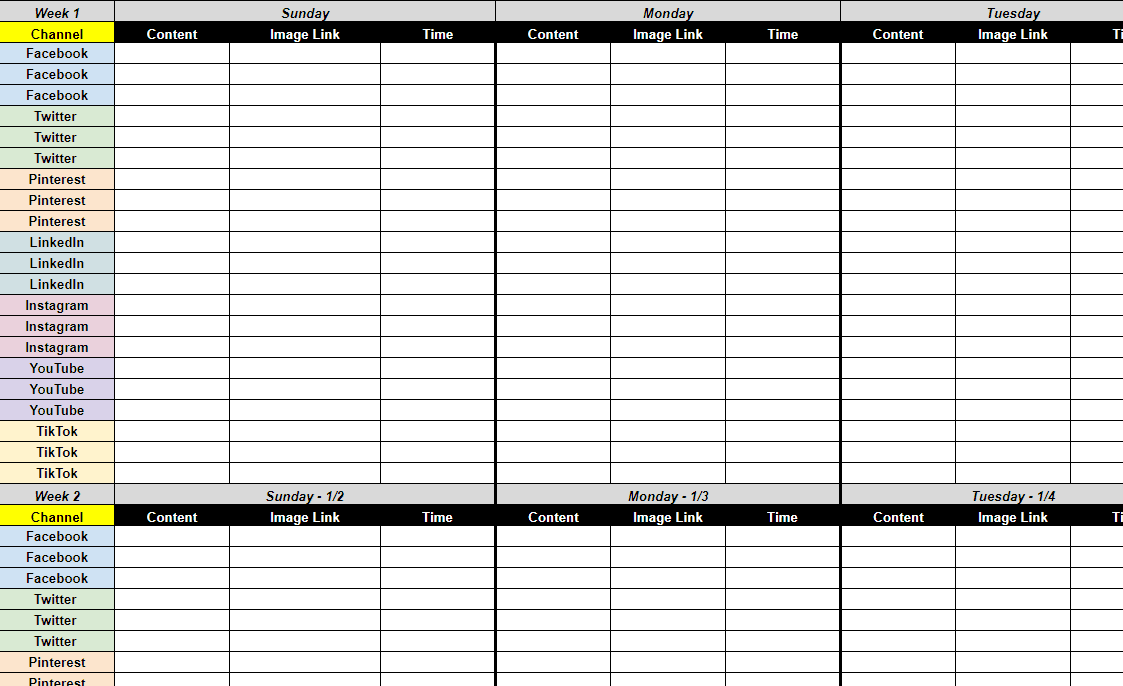 The social media content calendar template provides in-depth, daily social media post organization. It enables you to:
Schedule a post by its channel, day, and time
Sort your daily posts by channel
Zoom out to a monthly view to find gaps in your posting schedule
Color code your posts by category to see how you implement your social strategy
Add monthly notes on topics you don't want to forget
If you're a social media marketer managing various accounts, the social media content calendar template is perfect for you. It's suitable for managing both — a small or big social media presence.
5. Basic Content Calendar Template PDF
Fit for: Someone who wants an overarching content calendar to organize all types of ideas and content.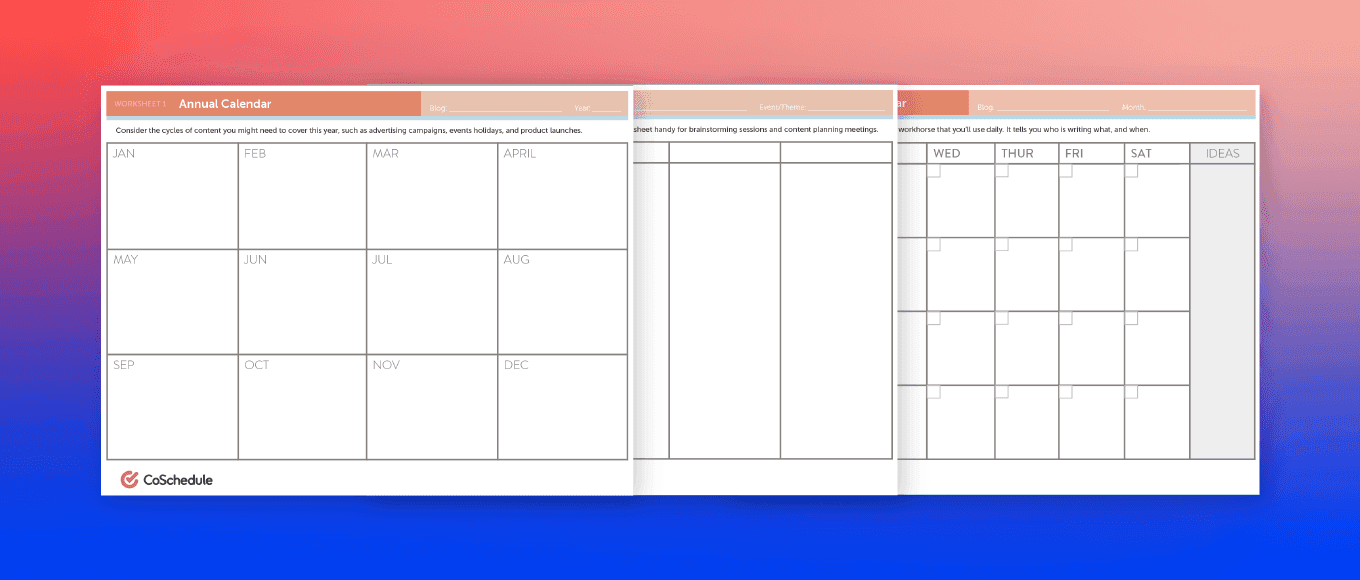 The basic content calendar template features two calendars and a worksheet to organize all of your content ideas. It has:
Annual calendar:

 Write down all the content themes you want to cover for the year by month.

Ideas worksheet:

 Keep an inventory of your content ideas before you move the best ones to your calendar.

Monthly calendar:

 Track your content tasks, due dates, and publishing dates for the month. Think of this worksheet as your go-to for your daily content work.
If you need a single content calendar for all your needs — from ideation to blog to social — this template will be your hero. The basic content calendar has everything you'll need to organize your content from A to Z.
3 Content Calendar Examples From Leading Brands
Want to see how the above templates translate into action? Here are three content calendars of leading brands.
1. Red Bull
Red Bull is a massive media powerhouse that just happens to sell an energy drink. They publish a lot of stuff—including blogs, social media messages, videos, and tweets.
What conclusions can we draw from Red Bull's content calendar?
Post your content where your audience is most active.

 Red Bull's audience of 20-to-30-year-old males is most active on Facebook and Instagram. Therefore, Red Bull publishes more content on these channels. Hang out where your audience is to get the maximum ROI out of your efforts.

Reuse video content on social media.

 Red Bull is known for their incredible video content. They repackage those videos for social media platforms like Facebook and Instagram. You might not have the same production quality, but if you have video content, repurpose it for social media to get the most out of it.

Create content that looks and feels authentically like the non-branded content that your audience seeks out.

 Red Bull is successful because their content feels organic. The audience doesn't feel like they're being sold to. Don't always keep selling. Aim to help and entertain your target customers. Sales will follow.
Takeaway: You don't need to keep overtly selling on social media to succeed.
Content Calendar Cadence:
Blog Posts: 11-12 pieces per day on redbull.com
Facebook: 9-11 posts per day
Instagram: 7-8 posts per day
Twitter: 1-2 tweets per day
LinkedIn: Less than 1 post per week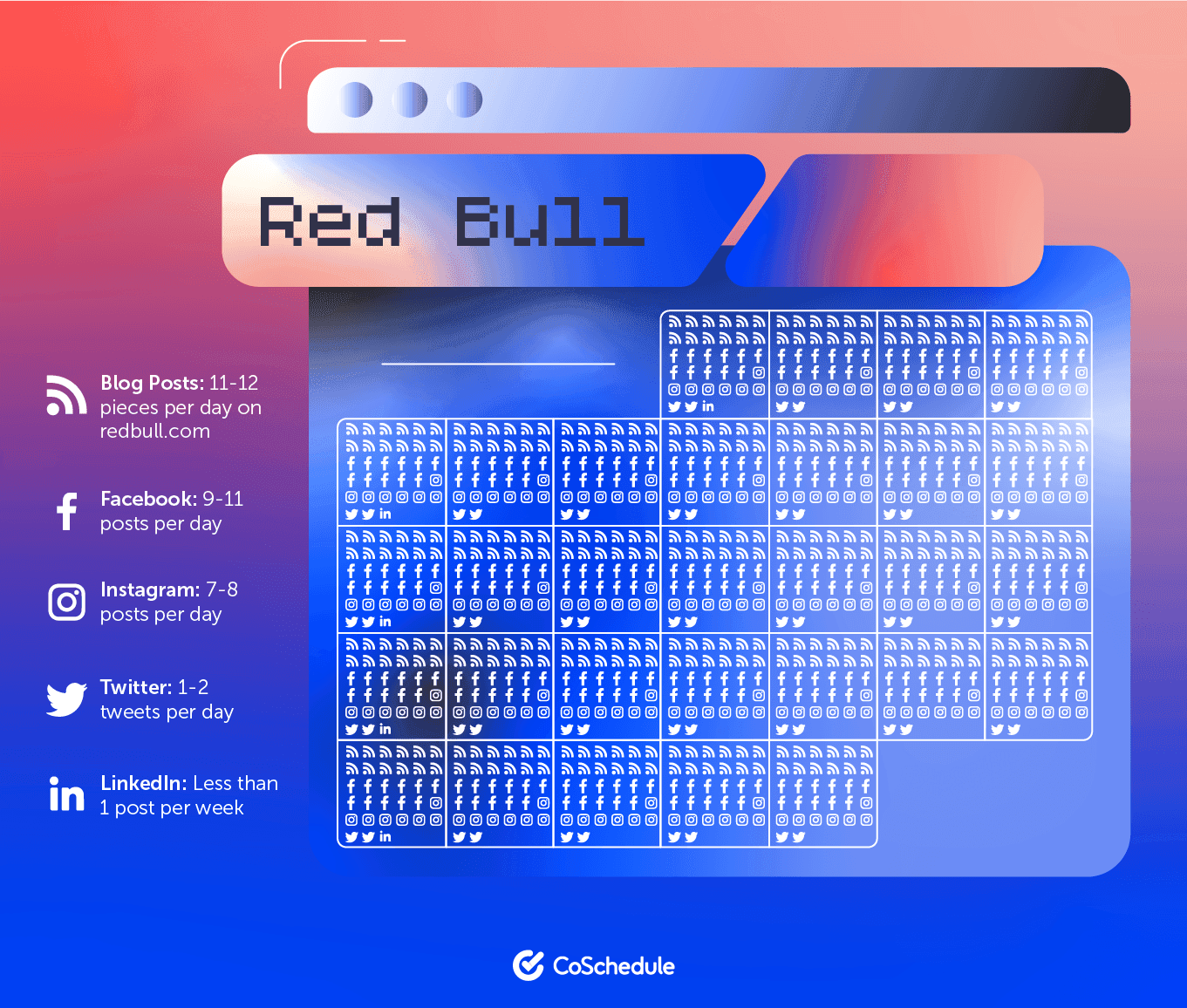 2. Reverb
Reverb sells musical instruments on its e-commerce website. They have created a reliable and consistent publishing schedule jam-packed with content about musicians, new and old instruments, and techniques Reverb's fans would find interesting.
What conclusions can we draw from Reverb's content calendar?
Publish content your customers crave.

 Reverb tailors all its content to serve its audience. They publish a lot of information, but everything is easy to digest and tailored to what their target customers find interesting.

Establish trust with your audience.

 Reverb establishes trust with its audience by talking to industry experts, famous musicians, and more. This builds trust and reliability — factors conducive to selling. Partner with influential thought leaders in your industry and get their stamp of approval to build trust among your customers.

Create content that makes it easy to understand how to use complex products.

 Using Reverb's products can get overwhelming and stressful. But Reverb does a great job explaining what their product does and how to use it. If you sell a product that's hard to use, share product-led content that shows how to get the most out of what you're selling.
Takeaway: Earn your audience's trust by creating helpful, actionable, and relevant content.
Blog Posts: 2-3 pieces per day on reverb.com
Facebook: 5 posts per day
Instagram: 2-3 posts per day
Twitter: 5 tweets per day highlighting various artists, gear, and instruments
LinkedIn: 2-3 posts per week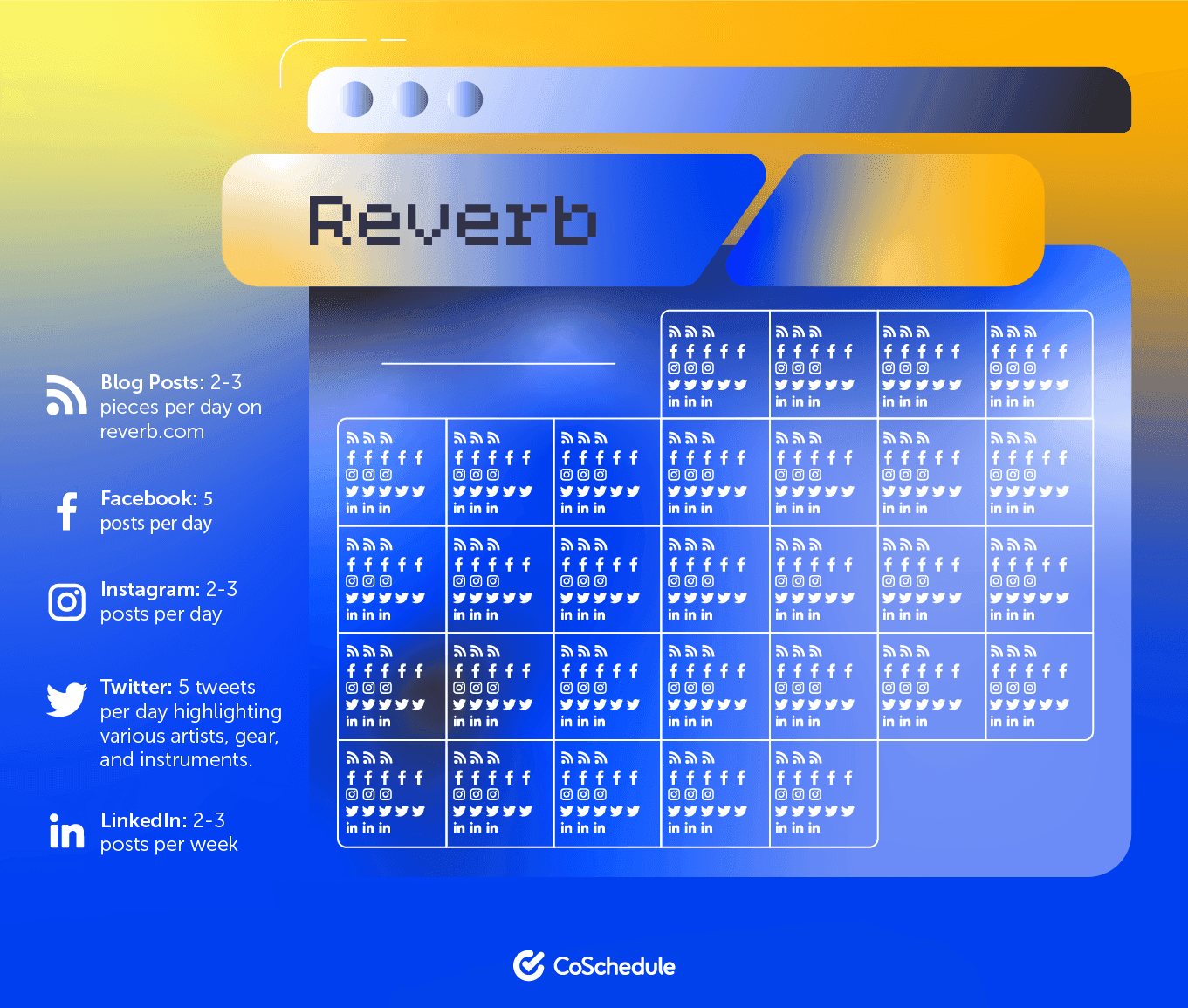 3. Disney Parks
Disney is a behemoth in the hospitality and service world. The Disney Parks blog is just one of several blogs, Facebook pages, and more that Disney runs.
What conclusions can we draw from Disney Park's content calendar?
Publish content that creates FOMO.

 Disney's theme parks are full of fun family things to do. Its content creates FOMO (fear of missing out), which entices its audience to take action. Highlight the benefits of your product in your content to show your target customers what they're missing out on.

Show customers what they will experience.

 Disney's content exudes joy. It makes you think how much fun you'd have if you went to its theme park. Create content that shows your audience what they will experience when they purchase your products.

Help buyers have the best time when they do business with you.

 Disney's content focuses a lot on the experiences that its customers have. You can replicate this by creating content that shows your buyers why they'll love using your products.
Takeaway: Build a positive association about your product in your buyer's mind by creating content that emphasizes the good experience your customers have.
Blog Posts: 5 pieces per day on the Disney Parks blog
Facebook: 1-2 posts per day
Instagram: 3-4 posts per day
Twitter: 5 tweets per day sharing news about events and magic-filled photos
LinkedIn: 7-8 posts per week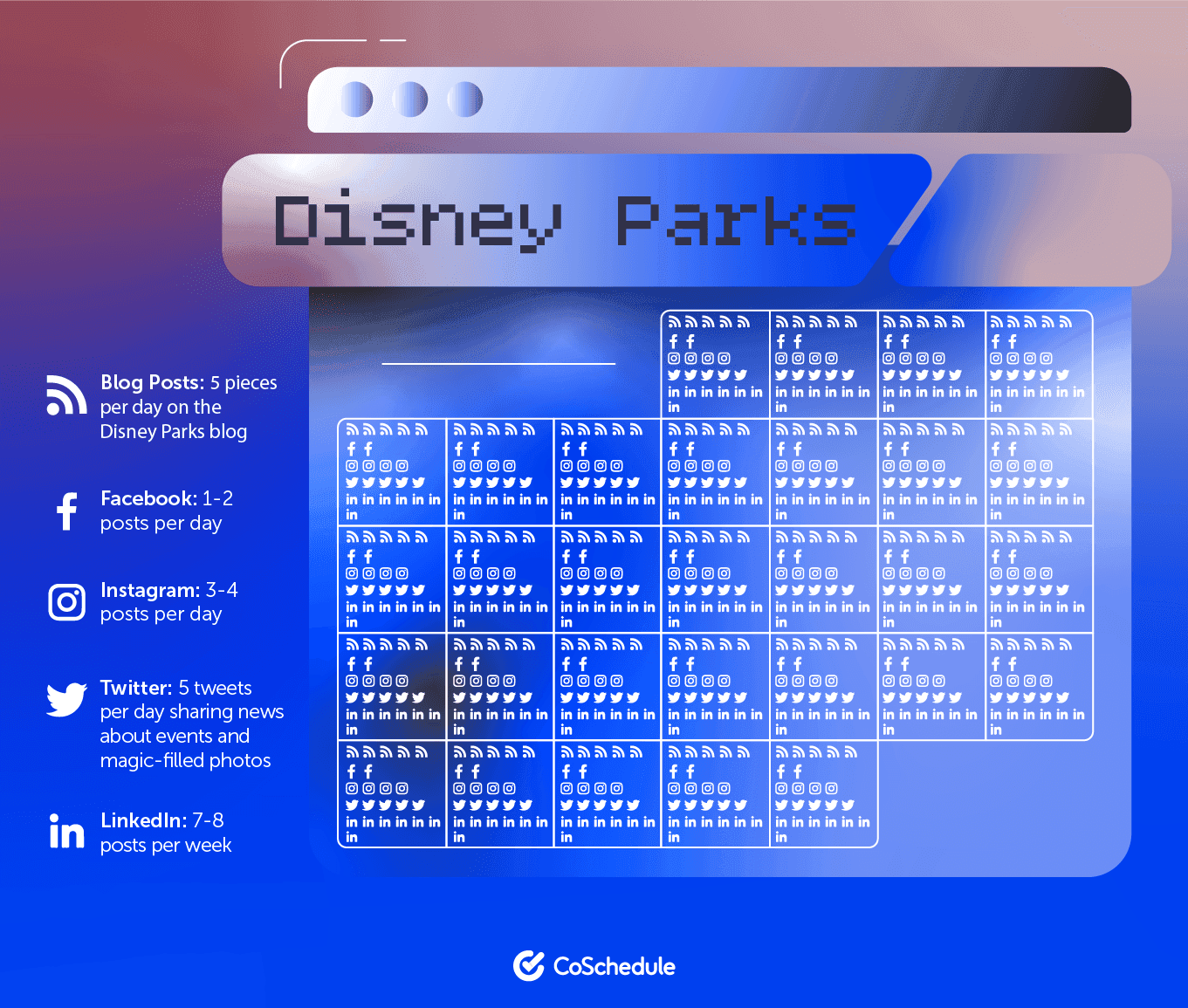 Content Calendar Templates Enable You to Focus On Content Creation
Consistently creating valuable content is hard work. You don't need to layer your to-do list with another task of creating a content calendar.
Instead, use the content calendar templates in this article to organize your content, simplify your publishing schedule, and focus on serving your audience.
If you want something even more advanced, try CoSchedule's Content Calendar — a dedicated tool to manage all your marketing efforts.