---
How to Connect to Instagram
Scheduling social messages for Instagram will be different than scheduling to other social profiles.
To begin, go to Calendar Settings > Social Profiles page and click Connect a Social Profile then choose Instagram. Select either a Personal Profile or Business Account.
For Personal Profiles, you will need to be logged in to the profile at instagram.com before you connect.
For Business Accounts, you will need to be logged in to the Facebook Profile connected to the account.
After authorizing your Instagram account to CoSchedule, the next step will be to download the CoSchedule Mobile Application from the Apple App Store or Google Play Store.
To connect multiple Instagram accounts to CoSchedule, you will first have to log into your second account at Instagram.com, then go through the above connection steps again. Learn more about Managing Multiple Instagram Accounts.
---
Downloading Mobile App
Once you have finished adding your Instagram account to CoSchedule, a prompt will open to show you how to download and install the CoSchedule mobile application.
In this window, download the application by going to the Google Play Store, the Apple App Store, Texting the application to your number, or sending the application to you through email. Once you have chosen an option click Continue.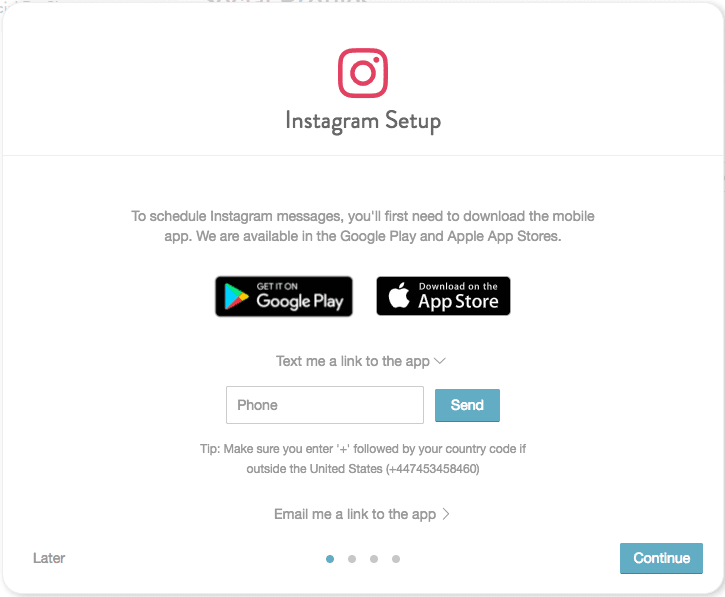 Once you have downloaded the mobile app to your phone, log in using your CoSchedule account information.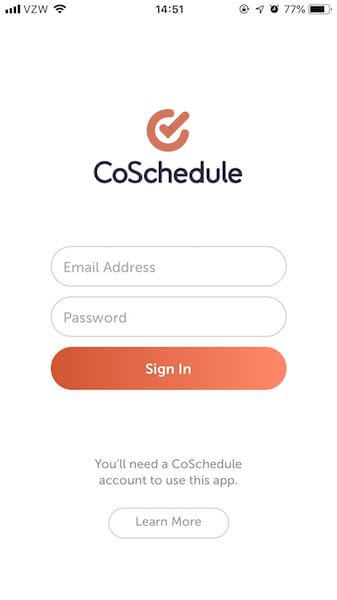 When you have logged into CoSchedule's mobile app, your CoSchedule calendar will sync with your mobile app and ask you to allow push notifications. Click Allow Push Notifications.
Push Notifications allow CoSchedule to send you notifications to your phone, so you know when to push your Instagram images to your Instagram account. You are now free to schedule your Instagram messages through CoSchedule!
Do you have any specific feedback for us?
We appreciate any feedback you're willing to share.