How to Create a Social Message
Use CoSchedule to publish social messages on Facebook, Instagram, LinkedIn, and Pinterest. 
To learn how to post on a specific Social Media platform, visit the Support Docs linked below:
Note:
Marketing Calendar Free plans are limited to 5 scheduled or drafted social messages at one time. To get unlimited social media publishing,
upgrade to Marketing Calendar Pro
.
---
Create a Social Message:
1. Click the orange
Create button
in the top right-hand corner of your calendar or click
+
on the day you want to schedule the Social Message.
2. Select
Social
.

3. Choose
Social Message
to create a stand-alone message or
Social Campaign
to create a string of social messages. 
4. Select the social profile(s) you'd like to post to from the drop-down menu. 
The profile(s) you've selected will show in the box.

You can remove a profile by clicking on the thumbnail picture.

 If you select multiple profiles, the social message will be split into separate messages once saved — one message per social profile.
5. Type any text you'd like included in
Your status update
section highlighted below.
The character count for the message will display in the bottom right-hand corner. 
6. Add desired content and media (see section below).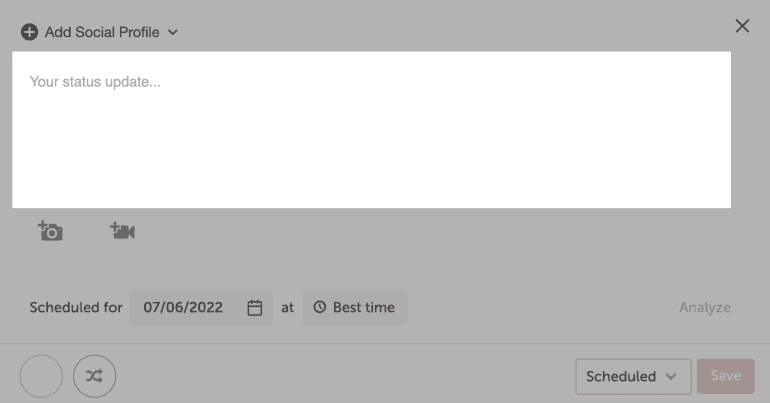 7. If you're ready to schedule, leave the status set to Scheduled. 
If you aren't ready to schedule, click to change the status to

Draft

or

Pending Review.

These statuses will prevent the Social Message from publishing. Only messages set to

Scheduled status

will be published.

8. Select the date and time you would like your message to publish. 
This date/time can be changed up until the Social Message publishes. 

Learn more about the Best Time Scheduling option

here

.
9. Once finished, click
Save
. 
Once saved, you can edit a Social Message:
 Click on the message from the calendar view. 

Edit the message.

Click

Save

.
If you need to delete a scheduled Social Message before it publishes:
Hover over the social message on the calendar. 

Click the

ellipsis menu

.

Select

Delete.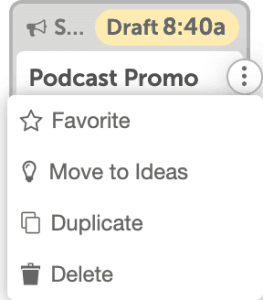 Note:
When your Social Message status is set to Scheduled and the scheduled time arrives, your message will automatically publish to the social profile — except for messages scheduled for Instagram personal profiles and multi-image messages scheduled for Instagram business accounts that need to be published manually after receiving a push notification.
published manually after receiving a push notification
.
---
Additional Message Enhancements
Depending on the social profile you can also use this section to @ mention another social account. 

For more help with this, checkout our Support Doc

here

. 
To include a link in your social message, add it to this field as well. 

After adding a URL, a preview of the link will display under the text. If you are not seeing the link preview, hit

Enter

on your keyboard.

If you don't want it to include a URL in your message:

Once you see the link preview, delete the URL from the body of your Social Message. 

The preview will stay in your message, and it will remain a link type Social Message.
If you don't want to include the link preview in your message:

Click the

X

on the link preview and the link image to remove them. 
Clicking the

Camera

or

Video

buttons will allow you to attach image(s) or a video to your message. 

Within a single Social Message you can include multiple images (depending on the platform) or one video, but not a combination of the two.
Click

Analyze

to analyze the Social Message with our

Social Message Optimizer

to help you grade your message for a better engagement rate before scheduling. 

Click the

white dot

to add a color label to your Social Message.
---
Learn More: