Social Networks You Can Connect To CoSchedule
CoSchedule can connect with the social accounts listed below. You can connect any combination of these accounts and connect multiple social profiles of any account type listed.
Twitter
You can connect your Twitter accounts.

Facebook
You can connect to your Facebook Pages and Facebook Groups that you have Admin access to.
Facebook Page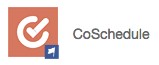 Facebook Group

LinkedIn
You can connect to LinkedIn Profiles, Pages, and Showcase Pages.

Instagram
You can connect Instagram profiles and business accounts.

Pinterest
You can connect your Pinterest accounts.
Back To Top