How to Add Alt Text
Add alt text to an image to provide a brief description. This hidden text is picked up by screen reader software, making your content more accessible to users who are vision impaired. Alt text is currently supported for posts to Facebook, LinkedIn, and Pinterest.
---
Add and Manage Alt Text
To add alt text to an image
Click to expand the image preview within a social message or file attached to a project.
Click Alt Text and type a short description of the image. The information will save automatically and populate anywhere you use that image.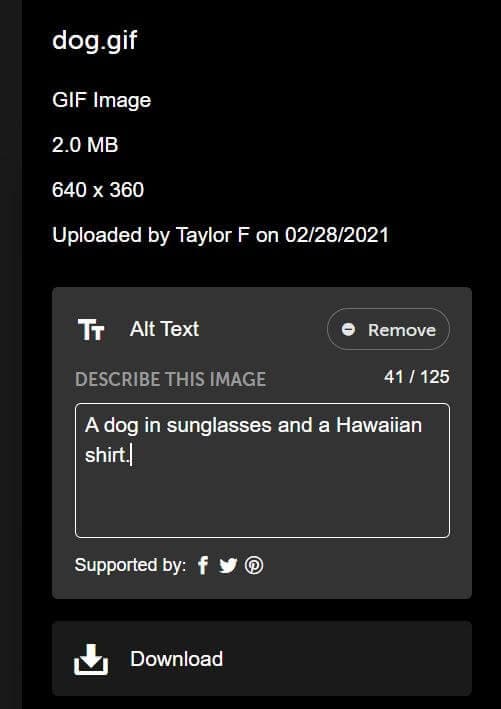 To remove alt text from an image:
Expand the image preview and delete any text. Your changes will apply anywhere you use that image.
---
Frequently Asked Questions
Does alt text work on all social media platforms?
Currently, only Facebook, LinkedIn, and Pinterest have APIs that support alt text.
How long can an alt text description be?
The maximum length for alt text is 125 characters.
Can I access alt text from the Assets tab?
No. Currently, you cannot access alt text from the Assets tab.
Why don't I see alt text when I use a read-only view?
Alt text is not visible in read-only views.
Can I add or change alt text for an image I already shared?
Alt text added to an image will not retroactively apply to images that have been shared before the alt text. It will apply to uses of that image going forward.
If I upload a duplicate copy of the same image, will the duplicate have the same alt text?
No. You must add alt text to each file, even if the images are the same.
What should I write in the alt text?
The best practice is to write a simple description that describes what is shown in the image, avoiding specifics related to a particular use of the image.
Can I auto-generate alt text?
No, you must manually type the alt text into the alt text field.
---
Learn More