Follow the instructions below to connect an Instagram business account to CoSchedule and successfully publish content.
---
Connect an Instagram Business Account to Calendar
1. In order to connect an Instagram business account to your calendar, you will first need to connect the Instagram account to a Facebook page. Please see the resources below for instructions.
Note: Direct publishing is only supported with business accounts. If you have a creator account messages will fail.
2. Open your Social Profiles page, click Connect Social Profile.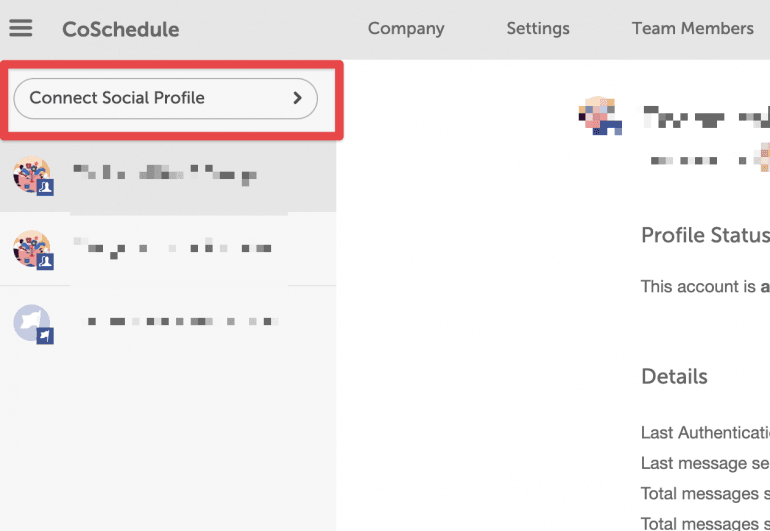 3. Select Instagram, then Business Instagram, then click Let's Connect.

4. When the next page pops up, click Edit Settings on the left.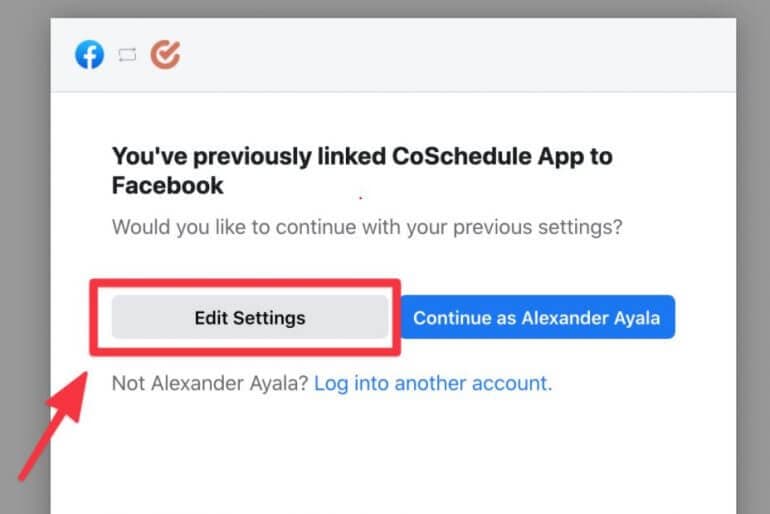 5. Make sure all Instagram business accounts (and Facebook Pages) you'd like connected to CoSchedule are checked.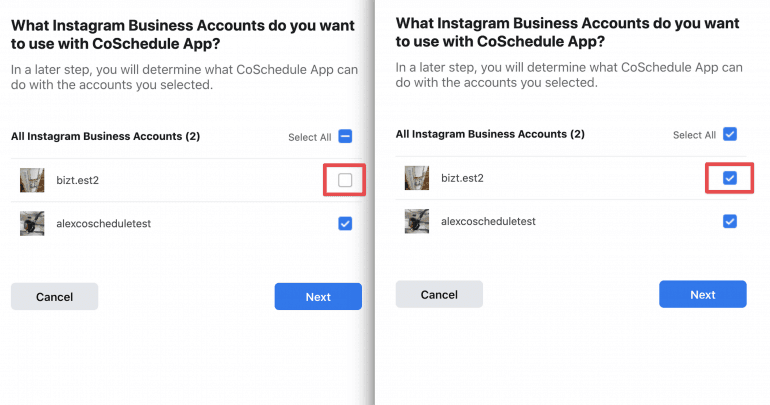 6. When the permissions page comes up, be sure all permissions are enabled.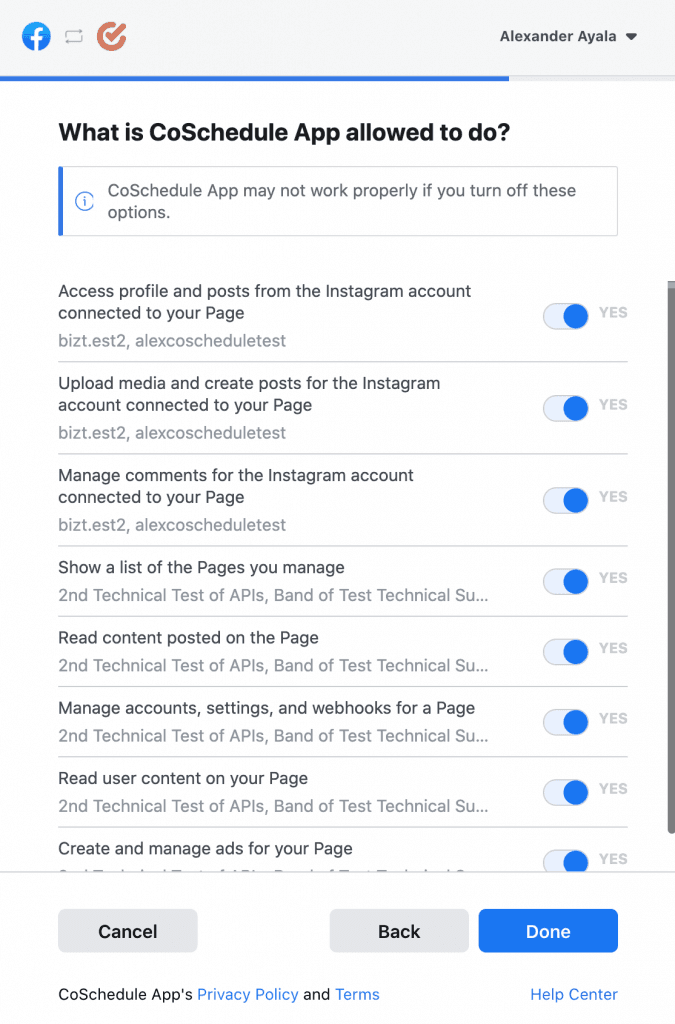 7.  Select Connect next to your Instagram page, and you're done.


Back To Top
---
Direct Publish
CoSchedule will directly publish single-image and video messages scheduled for Instagram business accounts. See Instagram's photo and video recommendations below. If the aspect ratio falls outside what is noted, we'll automatically crop before publishing.
Instagram limits each account to 25 directly published posts per 24-hour period. If you exceed that limit from publishing through CoSchedule and/or another other third-party, your social message will fail to publish.
Photo 
Maximum file size: 8MiB
Aspect ratio: Must be within a 4:5 to 1.91:1 range
Minimum width: 320
Maximum width: 1440
Height: Varies, depending on width and aspect ratio
Video 
Format: MOV or MP4 (MPEG-4 Part 14), no edit lists, moov atom at the front of the file.

Audio codec: AAC, 48khz sample rate maximum, 1 or 2 channels (mono or stereo).

Video codec: HEVC or H264, progressive scan, closed GOP, 4:2:0 chroma subsampling.

Frame rate: 23-60 FPS.

Picture size:

Maximum columns (horizontal pixels): 1920

Minimum aspect ratio [cols / rows]: 4 / 5

Maximum aspect ratio [cols / rows]: 16 / 9

Video bitrate: VBR, 5Mbps maximum

Audio bitrate: 128kbps

Duration: 60 seconds maximum, 3 seconds minimum (Note: If your video is too long or too short, it will fail to publish)

File size: 100MB maximum
---
Multi-Image Publish with Push Notifications
You can publish multi-image posts to your Instagram business account using push notifications. Follow the steps below to set up and publish from multi-image notifications.
Step One: Download the CoSchedule App
Download the CoSchedule mobile app from the Apple App Store or Google Play Store.
Log in to the app using the email address and password tied to your CoSchedule account. You will be asked to allow notifications. Tap Allow.

Step Two: Enable Push Notifications
Tap on the Instagram icon in the lower right-hand corner of the CoSchedule app.

The Ready To Post window will appear. Next, click on the gear icon in the upper right-hand corner of your phone screen.

You'll see the Notifications Settings window. Make sure the box next to the Instagram profile is checked to receive push notifications.

Step Four: Publish to Instagram via Push Notifications
After you schedule an Instagram post, you will receive a push notification on your mobile phone when the scheduled time is reached. Follow all of the steps below to successfully publish your post to Instagram.
Tap the push notification on your mobile phone.

You will see a Preview Message screen. Tap  Post Now to Instagram.

Posting To Instagram instructions will display. Click Continue. This will redirect you to the Instagram app.
From Instagram, click + to create a new post.

Select your image(s) or video (the media you scheduled will show up first in your library). You can then edit your image if desired. Once you have finished editing your post, click Next.
In the caption field, long-press on your screen until the Paste option shows up. Click Paste to add the text you scheduled, then click OK.

When you are ready to publish your post to Instagram, click Share.
Note: CoSchedule will send the full image to Instagram. Resize the image if needed.
Manage Multiple Instagram Accounts
If you are managing multiple Instagram accounts, it is important to make sure you are posting to the correct account.
When a push notification comes through, click on the notification. The CoSchedule mobile app will open with the message selected. After clicking Post Now To Instagram you'll be shown a reminder.
After clicking continue, you'll be redirected to Instagram. You can toggle between Instagram profiles by clicking on your profile photo in the bottom right-hand corner of your phone screen. Once you are switched over to the correct profile, you can follow the instructions above for Publishing to Instagram through push notifications.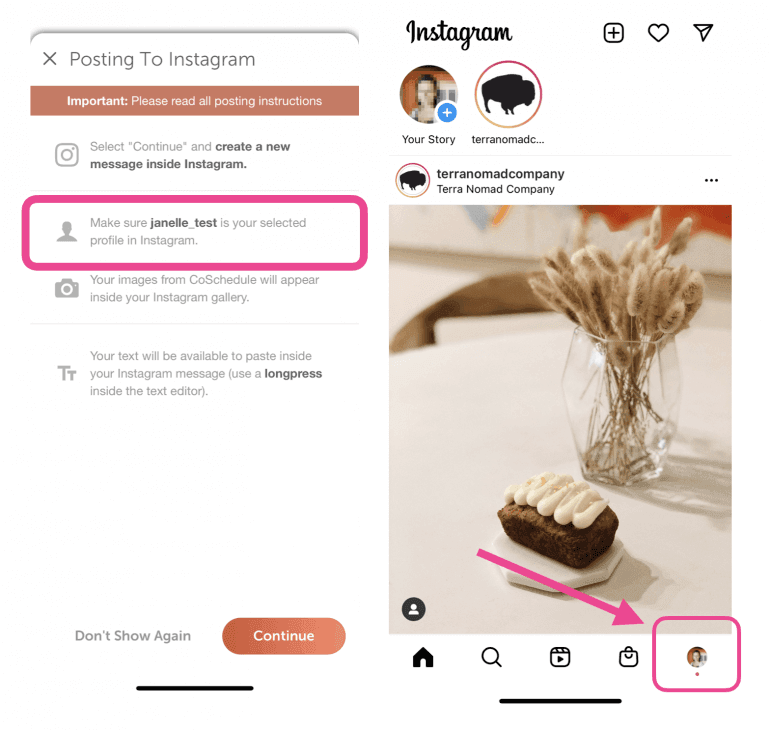 ---
Troubleshooting Connection Issues
If you're having trouble connecting your Instagram business account please work through the steps below.
1. Check for pending confirmation within Instagram
Open the Instagram app on your phone
Go to your profile and tap Edit Profile
Under Public Business Information you'll find your Facebook Page
If there is not a Facebook page, please follow these steps to connect one.
If there is a Facebook page, but there is a request from Facebook, you'll need to complete that requirement before your Instagram account will appear within CoSchedule
2. Check Facebook Permissions
Tip: Social publishing from your calendar may not work properly if all permissions aren't enabled.
 Go to your Business Integration Settings page
Click View/Edit on the CoSchedule App
Select all Facebook pages, Facebook groups, and Instagram accounts you want to be connected to CoSchedule, and enable all permissions. (Tip: This menu may be longer depending on your account, so you may need to scroll).
Click Save
Go to your CoSchedule Social Profiles page and connect your business Instagram account
3. Contact Facebook Support
If the steps above did not work, something is wrong within Facebook and CoSchedule is unable to help troubleshoot further.  For your convenience, here is a link to contact Facebook support.
---
Frequently Asked Questions
What if I missed the push notification?
If you missed a push notification or scheduled a post before enabling push notifications you can still publish the post. In the CoSchedule mobile app, navigate to the Ready to Post page by clicking on the Instagram icon in the bottom right-hand corner of your phone screen. Click on the unpublished Instagram post, then follow steps 2 through 7 in the section above Publishing to Instagram Through Push Notifications.
How many Instagram accounts can I connect to my calendar?
You can connect as many Instagram accounts as your CoSchedule plan allows. If you hit your limit, go to your Billing page and edit your plan to add more Social Profiles to your plan.
Can I upload multiple images (Carousel) to a post?
Yes! You add up to 10 images per Instagram post.
What types of posts can I schedule?
You can schedule single-image, multi-image (Carousel), and video posts to Instagram through CoSchedule.
Is there a limit to the number of hashtags allowed?
Yes, captions can contain a maximum of 30 hashtags.
What is the recommended image size?
Maximum file size: 8MiB
Aspect ratio: Must be within a 4:5 to 1.91:1 range
Minimum width: 320
Maximum width: 1440
Height: Varies, depending on width and aspect ratio
How long can my videos be?
Instagram videos need to be at least 3 seconds and cannot be longer than 60 seconds.
Recommended Video Specifications
Minimum aspect ratio [cols / rows]: 4 / 5
Maximum aspect ratio [cols / rows]: 16 / 9
Duration: 60 seconds maximum, 3 seconds minimum
File size: 100MB maximum
Do you have any specific feedback for us?
We appreciate any feedback you're willing to share.