You can create, schedule, and post tweets directly through CoSchedule. Before you begin, make sure you have a Twitter account connected to CoSchedule. (Note: Because Twitter limits tweets to 280 characters, only the first 280 characters will display in tweets posted through CoSchedule. Longer messages will not be broken into multiple tweets.)
---
Create a New Tweet
From your calendar, click the orange

Create

button in the upper right. 

Click

Social,

then

Social Message

.

 



Choose the account you'd like to post from using the drop-down menu.



Enter your desired text. As you type, you can see a character count for your message in the lower right. You can also add hashtags and

emojis

directly in this box.


---
Add Media to a Tweet
To

add a picture

to your tweet, click the camera icon, or click the video camera icon to

add a video.

You can

upload

 a file from your computer, select from previously-uploaded images, or choose media from your

Assets

folder. Click save when you have chosen your desired picture or video.
---
Schedule a Tweet
Once your tweet is ready to be published, choose the date and time you want it to appear. 
If you choose to publish on the current day, you can select

Best time to have your message posted at the best possible time for views and interaction, or choose one of the other options.

If you choose to schedule your post for a future date, you can also choose the Best time option, a specific

Custom time, or a time window.

---
Analyze a Tweet
Check your tweet post for some key metrics that indicate how successful it is likely to be. Click the Analyze button in the lower right to get a breakdown and some tips to improve your posts.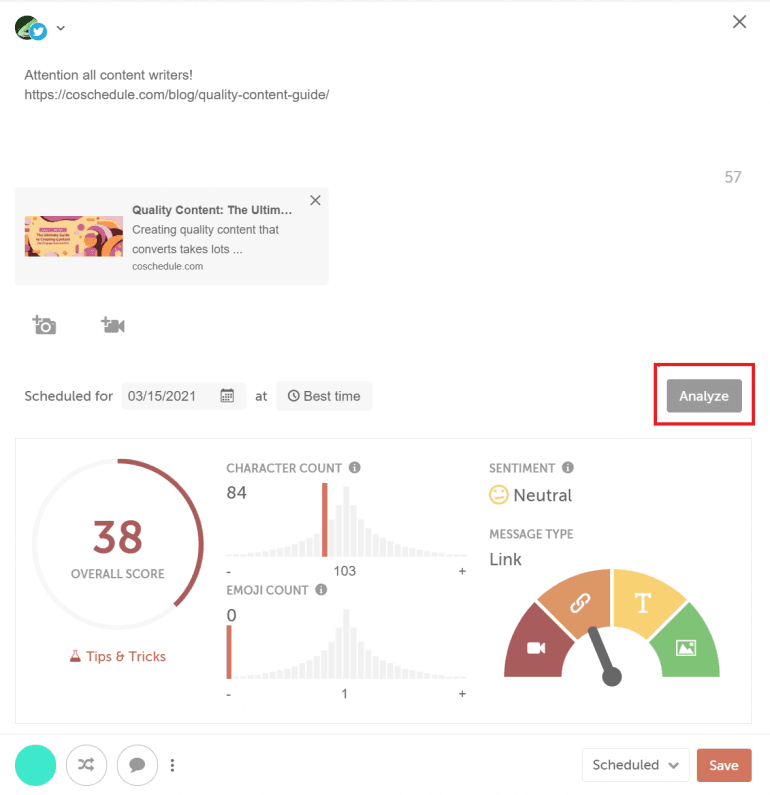 ---
Add a Color Label to a Tweet
Adding color labels can help you visually organize your calendar: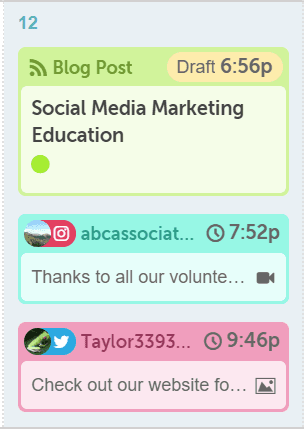 Click the circle in the lower left to choose a color.
---
Add a Tweet to ReQueue
ReQueue schedules your post taking into account your entire social schedule. You can read more about ReQueue and how it works here.
To add a message to ReQueue, click the button with two intertwined arrows in the lower left. Choose the group you'd like to add the message to and when you would like the message to expire.

---
Add Comments to a Tweet
Start a discussion with other members of your team by clicking the speech bubble in the lower left.



When your post is ready, click Save.
Do you have any specific feedback for us?
We appreciate any feedback you're willing to share.