Manage ReQueue Groups Settings
Manage your ReQueue groups to successfully automate social messages and get the most out of your content. 
For more help, watch this
video tutorial
or reach out to support at support@coschedule.com.
---
Group Settings
Limit the Number of Times You Send a Message
To set a limit on the number of times any individual message will be scheduled and sent per month, follow the steps below. 
Go to

Settings

.

Select

Power Ups

.

Choose

ReQueue

.

Make sure you are on Global Settings.

Scroll down to the

Individual Message Sending Limits

section.

Select the maximum number of times you'd like an individual message to be sent per month.
---
Intelligent Automation Group Settings
Configure Publishing Frequency
Adjust the publishing frequency to match your goals. When scheduling automated messages, CoSchedule takes into account both automated ReQueue messages and manually scheduled messages on your Calendar.
Go to

Settings

.

Select

Power Ups

.

Choose

ReQueue

.

Select

Intelligent Automation Settings

.

Scroll down to the

Configure Your Sending Goals

section.

Use the slider to select how frequently you would like to publish messages (light, medium, or heavy).
Set Time Slots for Intelligent Groups
Intelligent Groups
automatically publish messages according to your
Intelligent Group
settings. 
Go to Settings.
Click Power Ups.
Select ReQueue.

Click

Intelligent Automation Settings

.

On the calendar, select the days and times when you would like messages from

Intelligent Groups

to be published.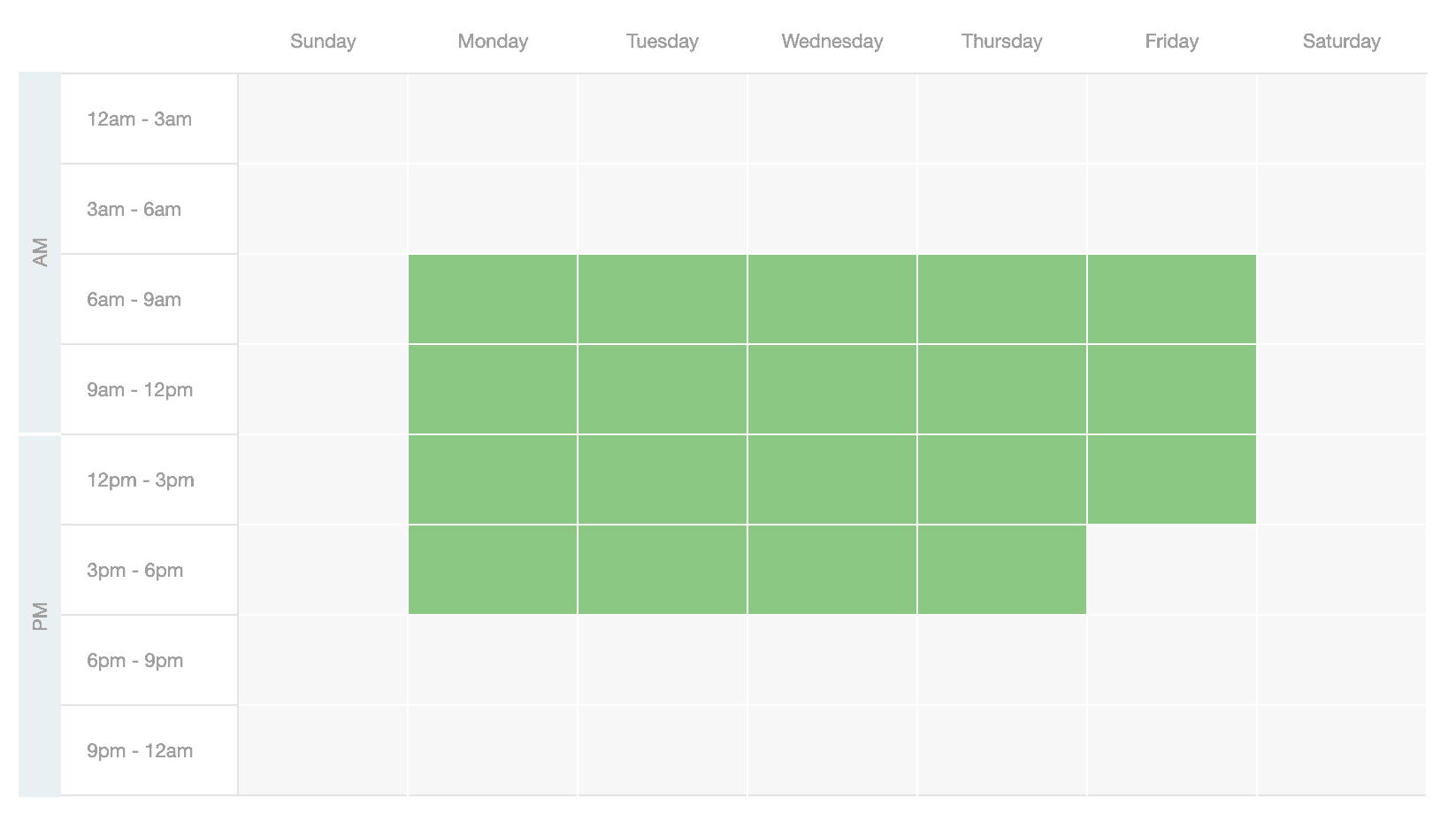 These settings will apply to all Intelligent groups.  
Edit Individual Publishing Settings for an Intelligent Group
Click into that ReQueue Group.

Click the arrow to open the settings.

Edit the start and end date and message limits as desired.

---
Placeholder Groups Settings
Edit Publishing Settings for a Placeholder Group
Click into that ReQueue Group.

Click the arrow to open the settings.

Edit the publication dates and times as desired.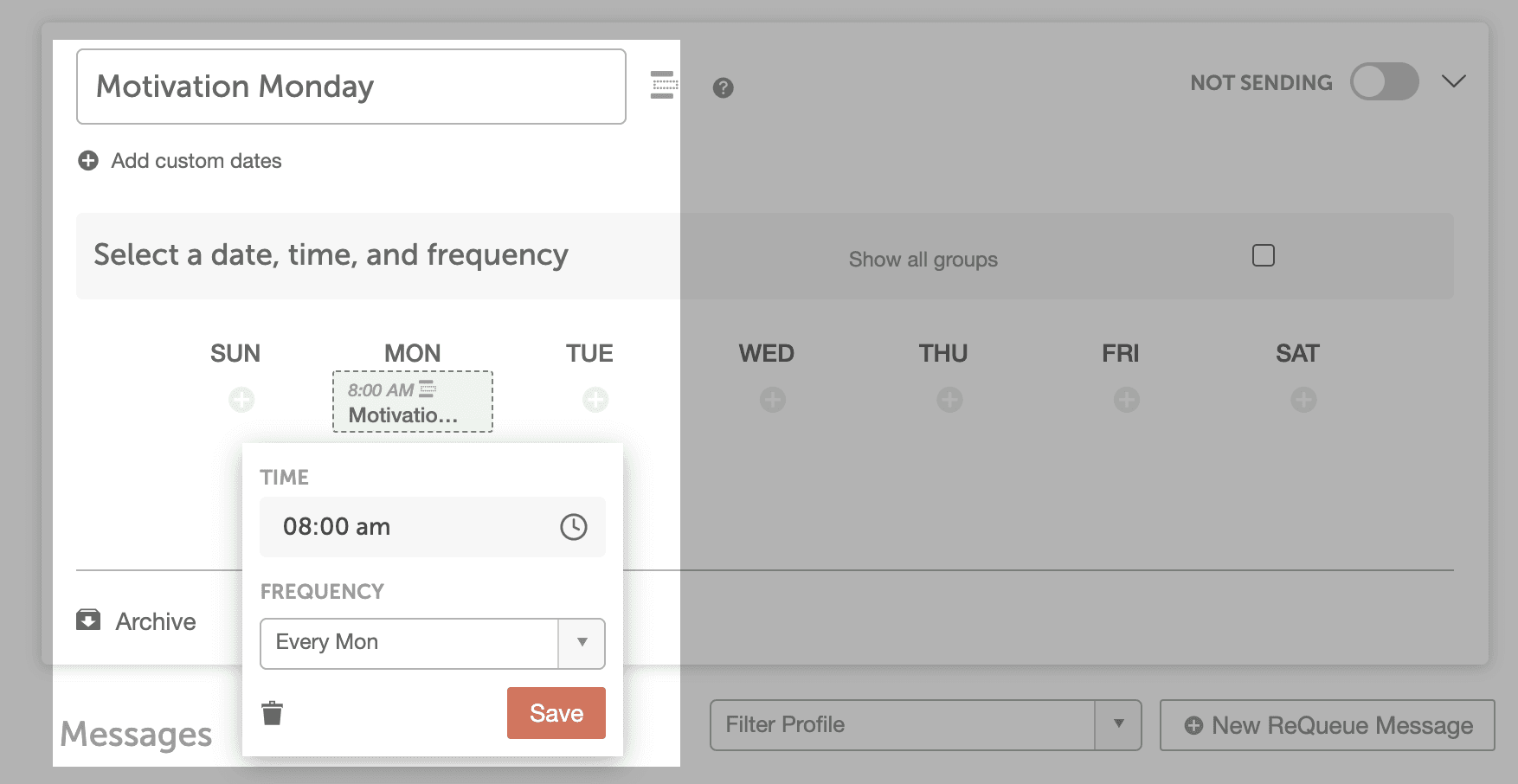 ---
Frequently Asked Questions
How Can I Control the Date/Time/Message that ReQueue Chooses?
If your goal is to publish a specific message at a certain time, you may want to choose an alternative  
Social Message Scheduling Option
. ReQueue is designed to fill in the gaps on your calendar with the messages you've placed in the ReQueue Groups based on the settings you choose.
When Will This Particular Message Be Sent By ReQueue?
Given the number of parameters and messages that Intelligent ReQueue has to work with, as well as the other content on your calendar, it can be difficult to predict which message ReQueue will choose and when a particular message will be scheduled or sent by ReQueue.
What If I Don't Want a Message From One of My Intelligent Groups to Send at the Time CoSchedule Has Scheduled?
You can click on an Intelligently scheduled ReQueue message on your calendar and choose to skip for two weeks. For more manual control over when messages are scheduled, set up a
Placeholder Group
.
How Can I Prevent a Message From Being Sent by ReQueue for the Next Few Months?
The best way to prevent a ReQueue message from being sent for a certain time frame is to include it in a Group that has custom start and end dates. It is not possible to do that for an individual message.
How Far in the Future Will ReQueue Messages Be Scheduled?
ReQueue will only schedule messages for the current week and the next week. That helps you focus on plans beyond that time period and saves effort as things change.
---
Learn More