How to Create and Schedule a LinkedIn Post
You can create, schedule, and post to LinkedIn directly through CoSchedule. Make sure you have a LinkedIn account
connected to CoSchedule
. 
Note:
Marketing Calendar Free plans are limited to 5 scheduled or drafted social messages at one time. To get unlimited social media publishing,
upgrade to Marketing Calendar Pro
.
---
Create a New LinkedIn Post
1. Open your
Calendar
.
2. Click the orange
Create button
in the upper right corner. 
3. Click
Social
.
4. Select
Social Message
. 
5. Choose the account you'd like to post from using the drop-down menu.
6. Enter your desired text. 
As you type, you can see a character count for your message in the lower right. You can also add hashtags and

emojis

directly in this box.
7. Add your desired content and media (see the sections below).
8. Once your LinkedIn post is ready to be published, select the date and time you want it to appear or select
Best Time
.
9. Click
Save
.
---
Add a Picture or GIF to a Post
1. Click the
camera icon
.
2. Choose to either upload  a file from your computer, select from previously-uploaded images, or choose media from your Assets folder. 
3. Choose your desired photo or GIF.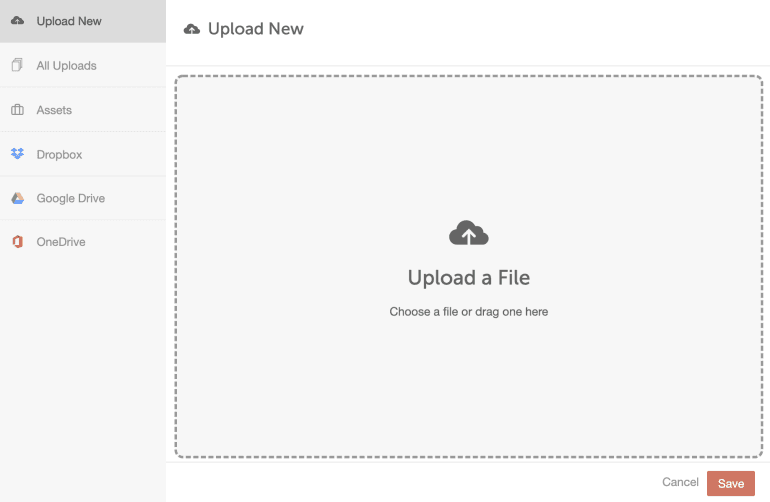 4. Click
Save
.
LinkedIn Image Requirements:
CoSchedule only supports a single image with LinkedIn posts. If more than one image has been added, LinkedIn will use the first one.

LinkedIn images look best when they are 1200px x 627px with an aspect ratio of 1.91:1.

For GIFs: Upload the GIF to a message as an image, with only one profile selected. (It will be displayed as a web-link). Do not select video - the results are not as good.
---
Add a Video to a Post
Personal Profiles
LinkedIn currently does not allow third-party apps, such as CoSchedule, to post a native video to personal profiles. If you are scheduling a personal LinkedIn profile post, CoSchedule will publish the video as a link hosted by CoSchedule. When clicked, the video will play inside a new page. 
Company Profile
When posting a video to a Company Profile, it will show as natively posted and will auto-play when scrolling.
To Add a Video:
Click the

video camera icon

.

Choose to either upload  a file from your computer, select from previously-uploaded images, or choose media from your Assets folder. 

Choose your desired video.

The video will proces - you can save the message while this is happening.

Click

Save

. 
LinkedIn Video Requirements:
Must be less than 1GB.

For the most updated video specifications, visit

this article

.
---
Additional Message Enhancements
Add a target audience if you have that integration. Learn how

here

.

To mention a another LinkedIn page in your post:
Type @pagename in the text area.

A list of results will populate with page icons. 

Select the username from the list, and you'll see it turn blue.

CoSchedule doesn't support mentioning other profiles in a post.
 Check your LinkedIn post for some key metrics that indicate how successful it is likely to be by clicking the

Analyze Button

in the lower right corner.

Add a color label to your post to help visually organize your calendar by clicking the white circle in the lower left corner and choose a color.

Add your post to ReQueue by clicking the ReQueue icon.

Learn more about ReQueue

here

.
Note: ReQueue is an Advanced Social Media Publishing feature and only available in Marketing Calendar Pro.
---
Learn More