You can create, preview, schedule, and publish Instagram messages from CoSchedule in two different ways:
Publish Instagram messages after you receive a push notification on your mobile device (CoSchedule mobile app required)
Publish Instagram messages directly via our integration partner Buffer (Note: this feature is no longer offered in new subscriptions starting after January 13, 2021)
Follow the instructions provided below to successfully connect and publish your Instagram content.
Connect Instagram to Your Calendar
Start from your Social Profiles page. Click Connect Social Profile and choose Instagram. You'll have the option to choose either a Personal Instagram account or a Business Instagram account.
If you have already connected one Instagram account to CoSchedule and would like to connect another, we strongly suggest using a private or incognito browser window to make sure the correct connection is established.
For Personal Instagram accounts, you will need to be logged in to the correct profile at instagram.com in another browser tab before you connect it to CoSchedule.
For Business Instagram accounts, you will need to be logged in to the Facebook profile connected to the Instagram account in another browser tab before you connect it with CoSchedule.
Before connecting Instagram to CoSchedule as a Business account, you will first need to connect the Instagram account to Facebook. See Connecting Business Instagram Accounts to CoSchedule for more information.
---
How to Enable Push Notifications
Having push notifications enabled on your mobile device is crucial to allow CoSchedule to notify you when your Instagram posts are ready to be published.
Download Mobile App
First, you'll need to download the CoSchedule mobile app from the Apple App Store or Google Play Store depending on your mobile phone.
Once you have downloaded the CoSchedule mobile app, log in using the email address and password tied to your CoSchedule account. You will be asked to allow notifications, click Allow.
Enable Push Notifications in Mobile App
To enable push notifications, open the CoSchedule mobile app on your mobile phone.
Click on the Instagram icon in the lower right-hand corner of your phone screen.
The Ready To Post window will appear. Next, click on the gear icon in the upper right-hand corner of your phone screen.
You'll see the Notifications Settings window. Make sure the box next to the Instagram profile is checked to receive push notifications.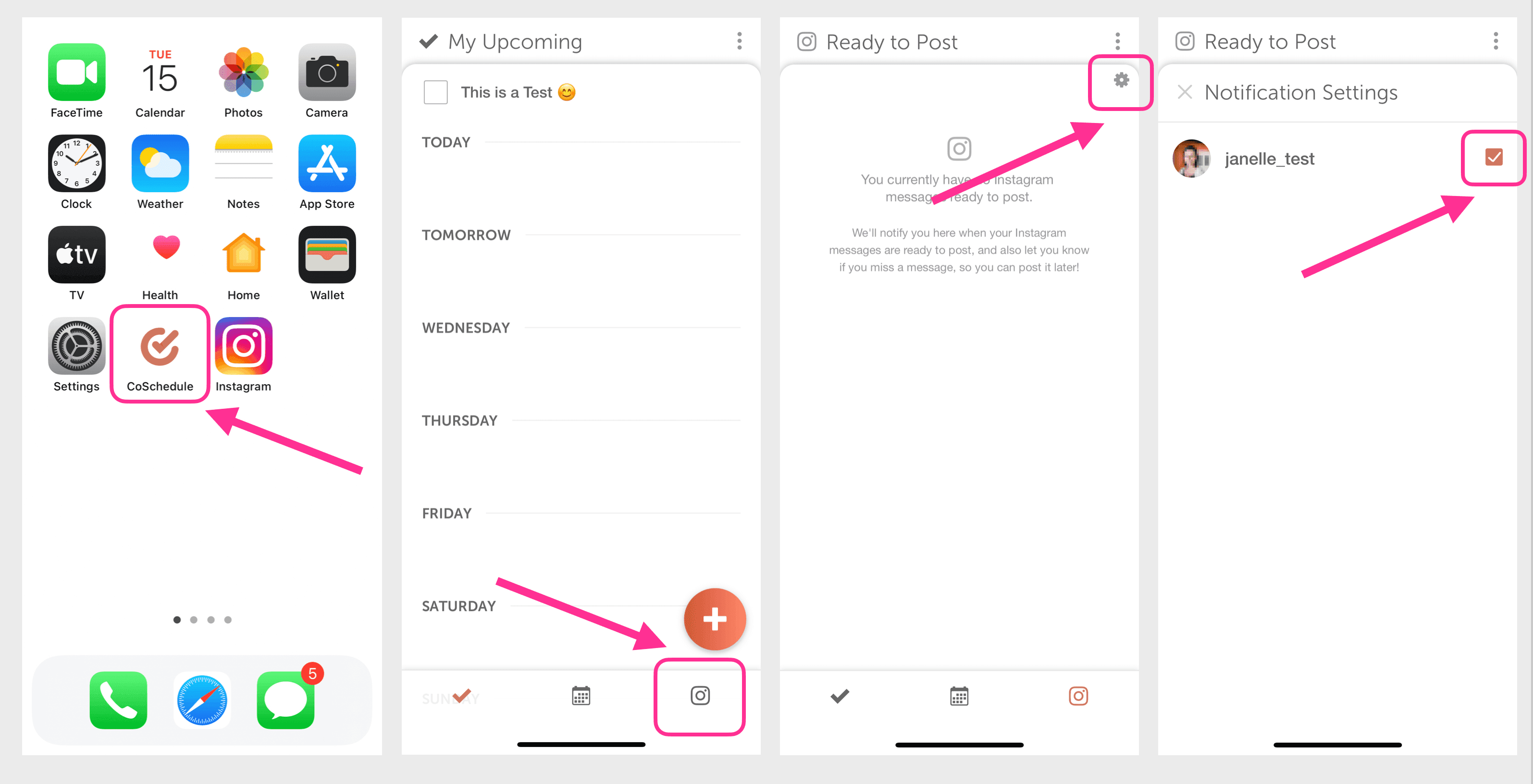 Test Push Notifications
From inside the CoSchedule web app, go to your Social Profiles page. Select the Instagram profile you want to test, then click Send test notification.
If you have notifications enabled correctly, you will receive a test notification on your mobile phone.
If you do not receive a test notification on your mobile phone, double-check that push notifications are enabled by following the instructions in the Enable Push Notifications section above.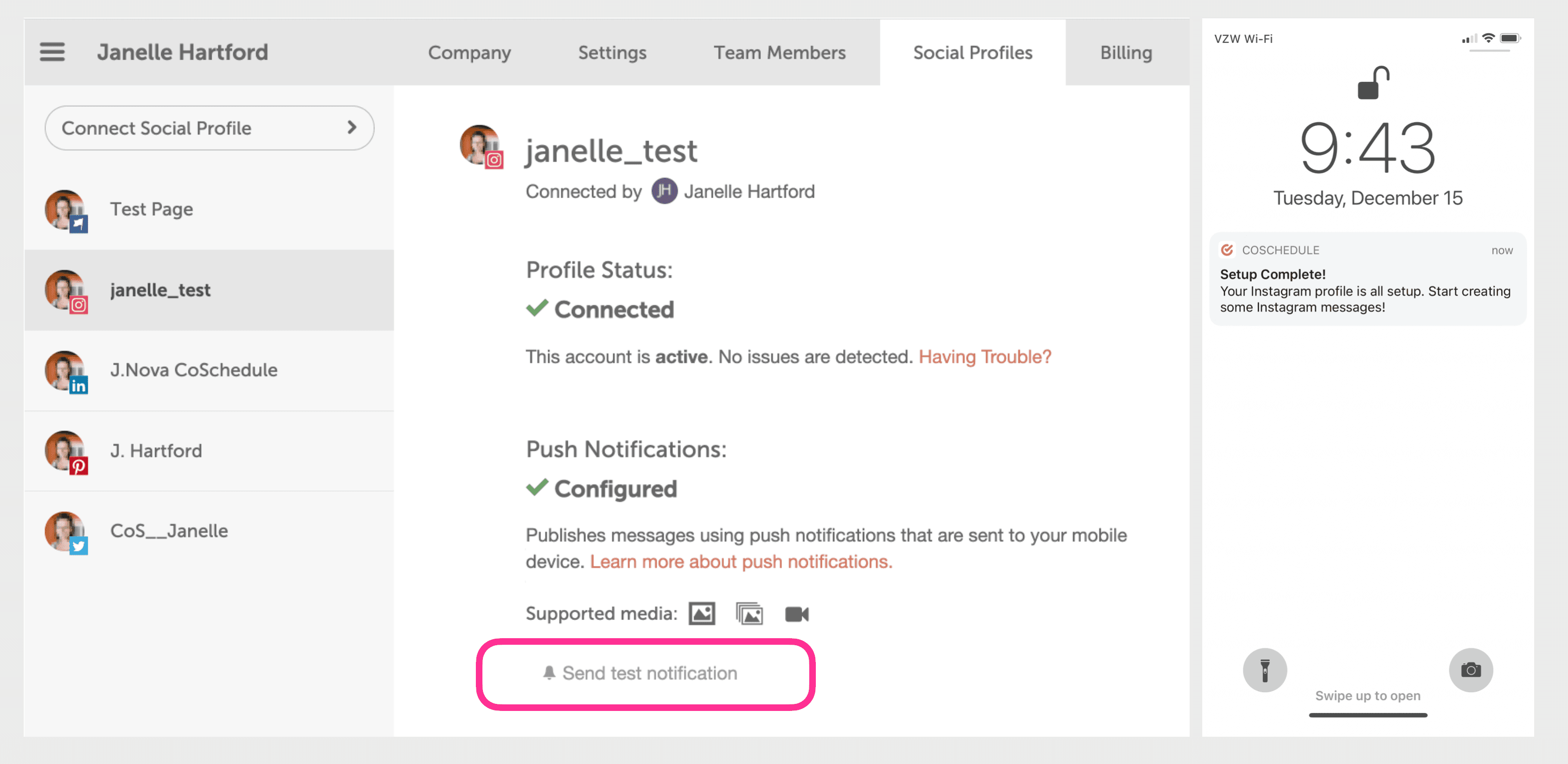 ---
Create and Schedule an Instagram Social Message
You can create and schedule Instagram posts from your calendar, then publish them using our CoSchedule mobile app.
Create a New Instagram Message
From your calendar, click the orange + Create

button in the upper right.

Click

Social >

 

Social Message

Click Add Social Profile, then choose the Instagram profile(s) you want to post to from the drop-down menu.

Next, enter your desired text. As you type, you can see a character count for your message in the lower right. You can also choose to include hashtags and

emojis

. Because Instagram only supports 30 hashtags per post, you will be prevented from saving your message if you add more than 30 hashtags.

Note:
Any
URL links included in Instagram posts will not be clickable upon publish. The best practice is to add links to your Instagram profile bio where they will be clickable, then mention in your post that a link will be available in your profile's bio. 
Add Media to an Instagram Message
To add photos to your Instagram post, click the camera icon, or click the video camera icon to add a video. You can upload a file from your computer or select from previously uploaded images. Click Save when you have chosen your desired photo(s) or video.
Schedule an Instagram Message
Once your post is complete, choose the date and time you want to post.
If you choose to schedule your message on the current day, you have the option to select Right now which will immediately send a push notification to publish your post after selecting Save.
You also have the option to select Best Time Scheduling to have your message posted for optimal views/interaction, or choose a custom time.
---
Publish to Instagram through Push Notifications
After you schedule an Instagram post, you will receive a push notification on your mobile phone when the scheduled time is reached. Follow all of the steps below to successfully publish your post to Instagram.
Click the push notification on your mobile phone.
You will see a Preview Message screen, click Post Now to Instagram.
Posting To Instagram instructions will display. Click Continue. This will redirect you to the Instagram app.
From Instagram, click + to create a new post.
Select your image(s) or video (the media you scheduled will show up first in your library). You can then edit your image if desired. Once you have finished editing your post, click Next.
In the caption field, long-press on your screen until the Paste option shows up. Click Paste to add the text you scheduled, then click OK.
When you are ready to publish your post to Instagram, click Share.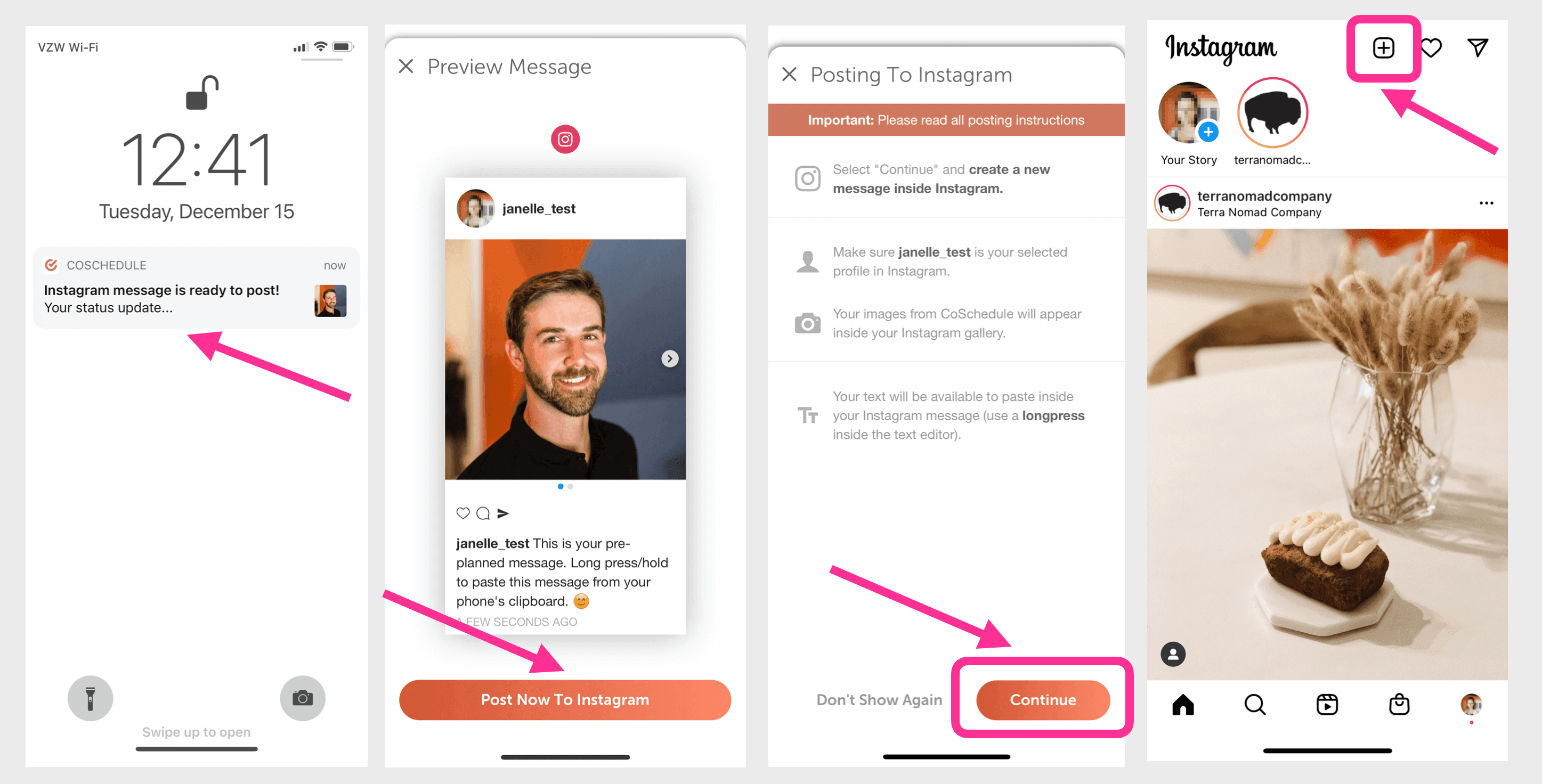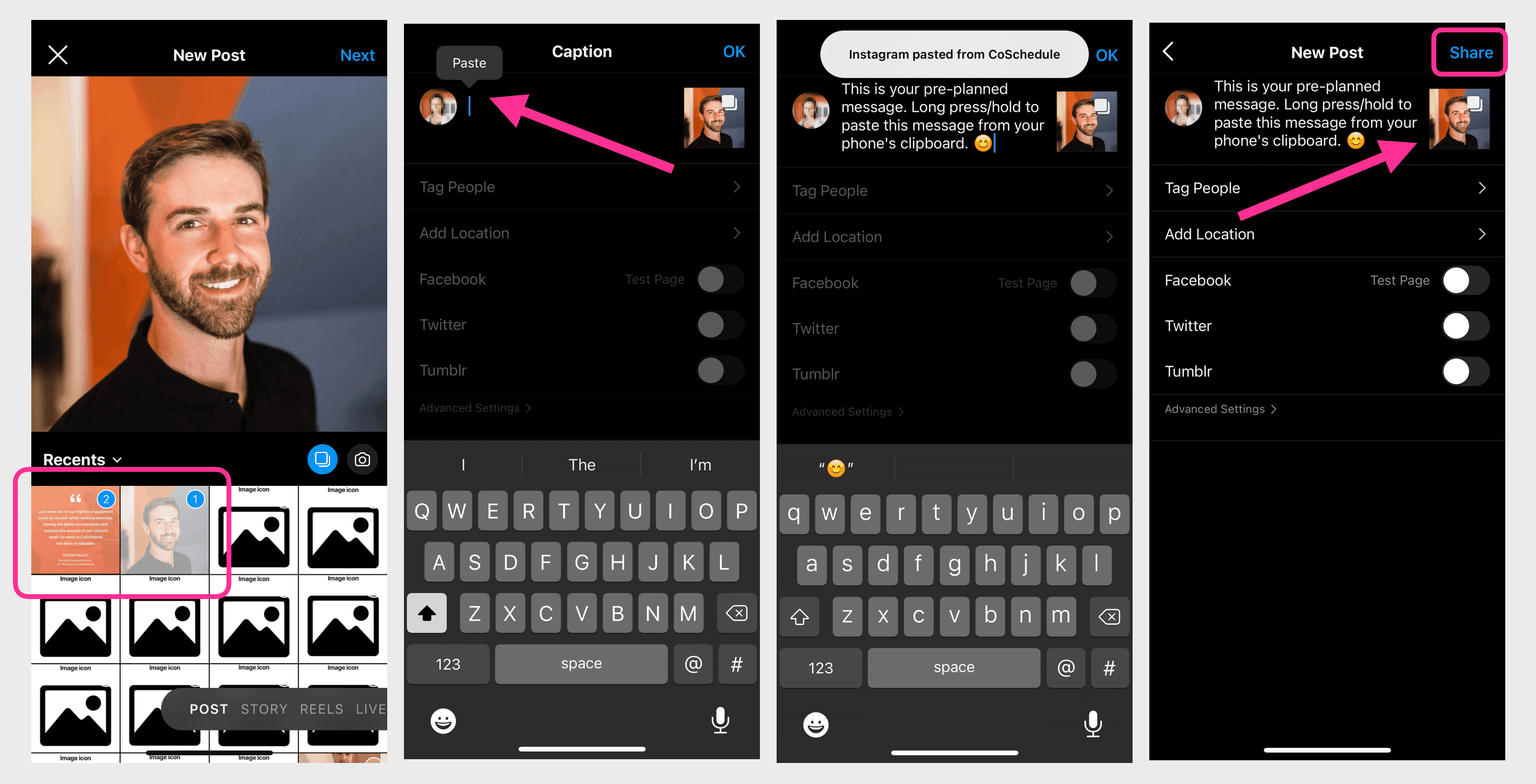 Note:
CoSchedule will send the full image to Instagram.
Resize the image
if needed.
---
Manage Multiple Instagram Accounts
If you are managing multiple Instagram accounts, it is important to make sure you are posting to the correct profile.
When a push notification comes through, click on the notification. The CoSchedule mobile app will open with the message selected. After clicking Post Now To Instagram you'll be shown a reminder.
After clicking continue, you'll be redirected to Instagram. You can toggle between Instagram profiles by clicking on your profile photo in the bottom right-hand corner of your phone screen. Once you are switched over to the correct profile, you can follow the instructions above for Publishing to Instagram Through Push Notifications.
---
Frequently Asked Questions
What if I missed the push notification?
If you missed a push notification or scheduled a post before enabling push notifications you can still publish the post. In the CoSchedule mobile app, navigate to the Ready to Post page by clicking on the Instagram icon in the bottom right-hand corner of your phone screen. Click on the unpublished Instagram post, then follow steps 2 through 7 in the section above Publishing to Instagram Through Push Notifications.
Can I post an Instagram story?
CoSchedule does not currently directly support Instagram stories. However, once the message has been passed from the CoSchedule app to the Instagram app, you are free to use that message within Instagram however you'd like and create stories there.
How many Instagram accounts can I connect to my calendar?
You can connect as many Instagram accounts as your CoSchedule plan allows. If you hit your limit, go to your Billing page and edit your plan to add more Social Profiles to your plan.
Can I upload multiple images (Carousel) to a post?
Yes! You add up to 10 images per Instagram post.
What types of posts can I schedule?
You can schedule single-image, multi-image (Carousel), and video posts to Instagram through CoSchedule.
Is there a limit to the number of hashtags allowed?
Yes, captions can contain a maximum of 30 hashtags.
What is the recommended image size?
We recommend uploading square images that are at least 1080px wide. If the image is not an exact square, you can crop it in the Instagram app before publishing.
How long can my videos be?
Instagram videos need to be at least 3 seconds and cannot be longer than 60 seconds. You will be able to upload longer videos through CoSchedule, but they will have to be cropped once sent to Instagram before publishing.
Recommended Video Specifications
Size: maximum width of 1080 pixels
Frame Rate: 29.97 frames per second
Codec: H.264 codec / MP4
Bitrate: at least 3,500 kbps
Audio: AAC audio codec at 44.1 kHz mono
Do you have any specific feedback for us?
We appreciate any feedback you're willing to share.