Mention Twitter users, Facebook Pages, Linkedin Pages, or Instagram users in your social posts. Mentioning other social profiles you create a link to that account. Your message may appear on their timeline and it's possible they could be notified when your message is published. Other people reading your message can click on the hyperlink and be taken to that social account too. It's a great way to have your readers become more engaged with your messages and spread your reach!
---
To mention another user or page, create a social message. Select a Twitter profile, Facebook Page, Instagram Profile, or Linkedin Page. After you select your social profile, start to write your message.
To mention another user or page, type @ then type the page name exactly as it shows on the page itself (including spaces).
Twitter Profiles / Facebook Pages / Linkedin Pages: A list of results will populate. Select the username from the list.
Instagram: There will be no list of results. Enter the exact name of the profile you are wanting to mention and the user will be mentioned when the post is published.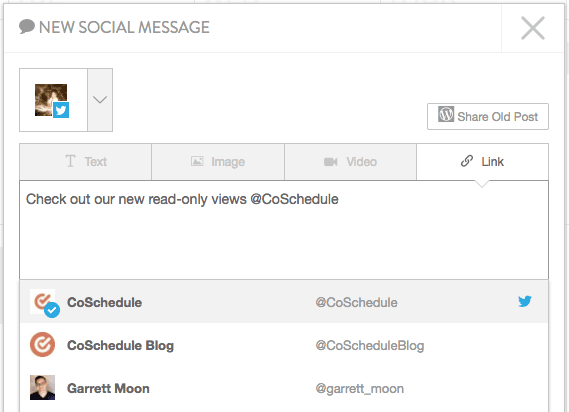 The mentioned profile will be blue inside of the social message preview. When finished with your message, click Add Message.
Thank you for your rating!
Thank you for your feedback! If you have any additional feedback, please email us at [email protected]
Thank you for your feedback! If you have any additional feedback, please email us at [email protected]