Connect an Instagram Personal Profile to Your Calendar
Follow the instructions below to connect an Instagram personal profile to your calendar and successfully publish content.
Connect an Instagram Personal Profile to Your Calendar
Log in to the correct profile at instagram.com
In CoSchedule, open your Social Profiles page, then click Connect Social Profile
Select Instagram, then Personal Instagram, then click Let's Connect
When the next page pops up, allow all the permissions for CoSchedule.
On the next screen, you're set to go. Click Ok, Got it! 
---
Direct Publish
Direct publishing to Instagram personal profiles is not available. If you'd like to convert to a business or creator account to take advantage of direct publishing, you can learn more
here
. Be sure to complete Step 6 to connect your business account to a Facebook Page associated with your business.
---
Publish with Push Notifications
You can publish posts to your Instagram personal profile using push notifications. Follow the steps below to set up and publish with push notifications.
Before Posting
Download the CoSchedule mobile app from the

Apple App Store

or

Google Play Store

.

Log in to the app using the email address and password tied to your CoSchedule account. 

Tap on the Instagram icon in the lower right-hand corner of the CoSchedule app.

The Ready To Post window will appear. 

Click on the gear icon in the upper right-hand corner of your phone screen.

You'll see the Notifications Settings window. 

Make sure the box next to the Instagram profile is checked to receive push notifications.

You will be asked to allow notifications. Tap Allow.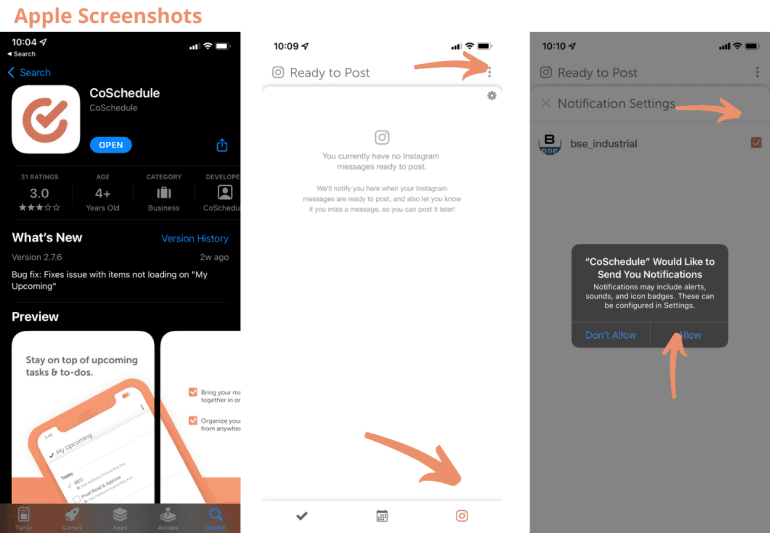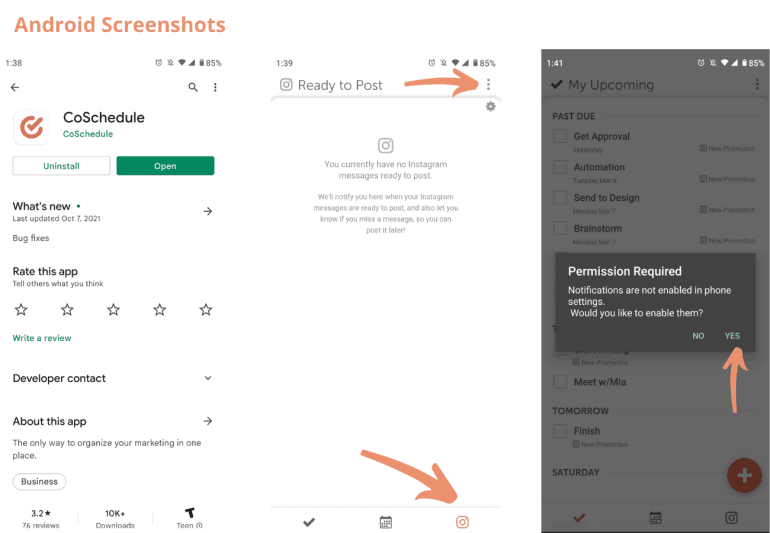 Publish Your Scheduled Message
After you schedule an Instagram post, you will receive a push notification on your mobile phone when the scheduled time is reached. Follow all of the steps below to successfully publish your post to Instagram.
Tap the push notification on your mobile phone.

You will see a Preview Message screen. 

Tap Post Now to Instagram.
Posting To Instagram instructions will display. Click Continue. This will redirect you to the Instagram app.

If you manage multiple Instagram accounts, toggle to the correct account if needed.

From Instagram, click + to

create a new post

.

Select your image(s) or video (the media you scheduled will show up first in your library). You can then edit if desired. Once you have finished editing your post, click Next.
In the caption field, long-press on your screen until the Paste option shows up. Click Paste to add the text you scheduled, then click OK.
When you are ready to publish your post to Instagram, click Share.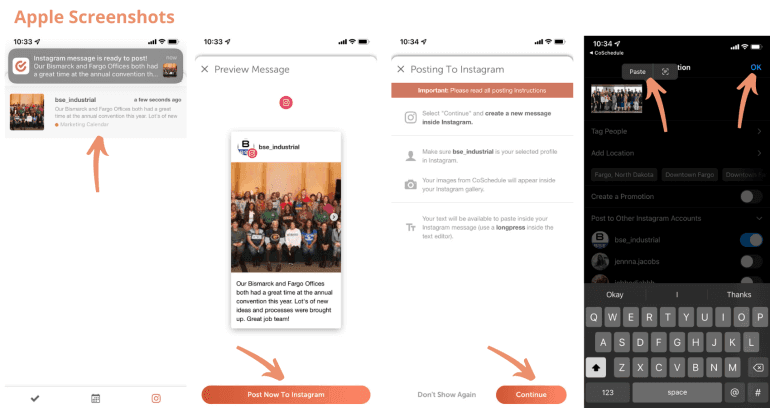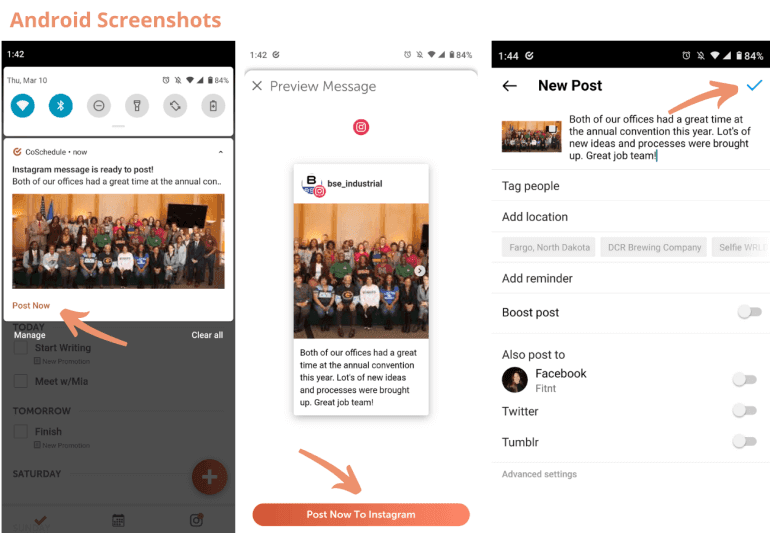 Note:
CoSchedule will send the full image to Instagram. Resize the image if needed. 
If you are managing multiple Instagram accounts, it is important to make sure you are posting to the correct account.
---
Troubleshooting Connection Issues
If you're having trouble, retry the connection process in an incognito/private browser tab, or another browser.
---
Remove an Instagram Personal Profile from Your Calendar
Open Settings, then click Social Profiles
Click on the Instagram Personal Profile you'd like to remove from the left-side menu
Scroll to the bottom of the page and click Delete Profile from Organization
---
Frequently Asked Questions
What if I missed the push notification?
If you missed a push notification or scheduled a post before enabling push notifications you can still publish the post. In the CoSchedule mobile app, navigate to the 
Ready to Post 
page by clicking on the Instagram icon in the bottom right-hand corner of your phone screen. Click on the unpublished Instagram post, then follow steps 2 through 7 in the section above Publishing to Instagram Through Push Notifications.
How many Instagram accounts can I connect to my calendar?
You can connect as many Instagram accounts as your CoSchedule plan allows. If you hit your limit, go to your 
Billing page 
and edit your plan to add more Social Profiles to your plan.
Can I upload multiple images (Carousel) to a post?
Yes! You add up to 10 images per Instagram post.
What types of posts can I schedule?
You can schedule single-image, multi-image (Carousel), and video posts to Instagram through CoSchedule. You cannot schedule a post containing both video and image(s).
Is there a limit to the number of hashtags allowed?
Yes, captions can contain a maximum of 30 hashtags.
What is the recommended image and video size?
For image and video size recommendations, click
here
.
How long can my videos be?
Instagram videos need to be at least 3 seconds and cannot be longer than 60 seconds.
Back To Top