Why You Need To Use A Blog Calendar (and How To Create One With a Template) 73
Headline Analyzer
The blog post headline analyzer will score your overall headline quality and rate its ability to result in social shares, increased traffic, and SEO value.
Test every headline before you publish. Try the Headline Analyzer »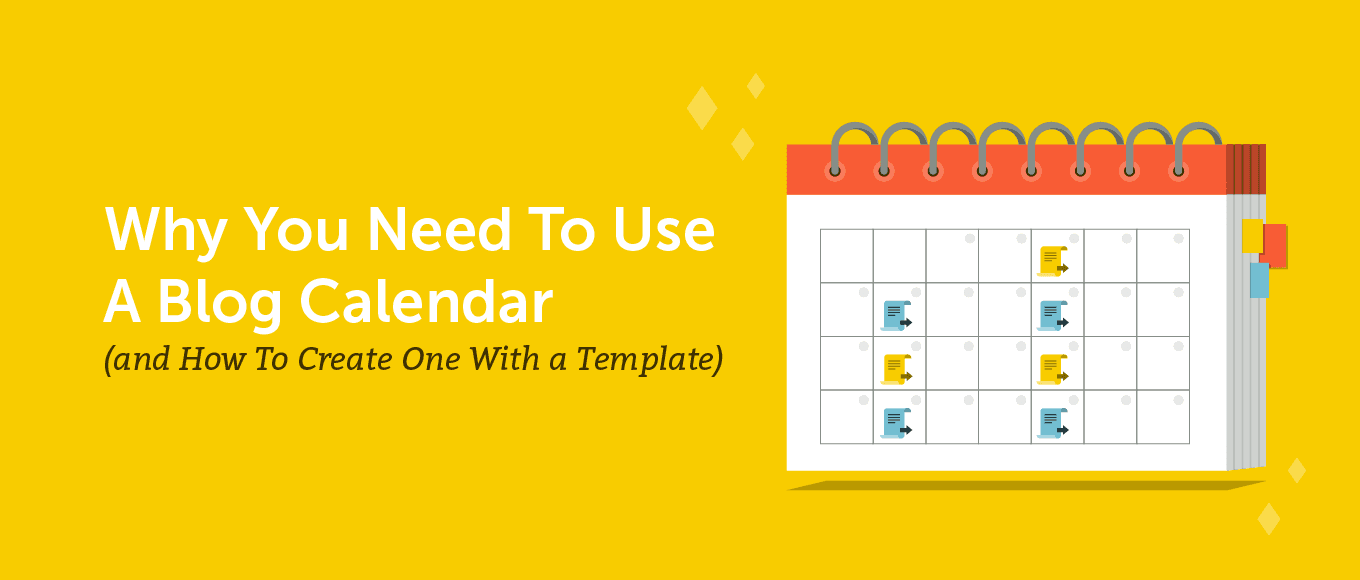 Do you use a calendar to organize your blogging efforts?
If not, you really should.
Otherwise, you are prone to develop random-posting-syndrome, a devastating – yet common – condition known to plague bloggers everywhere.
While the name is entirely fictional, random-posting-syndrome describes an all too real condition known to affect marketers who wish to blog without a documented plan. Once a blogger develops this condition, their blog receives increasingly less traffic and less engagement until one day, it succumbs and is unable to carry on.
Maybe that's a little dramatic. But the fact remains that the most successful bloggers in the world follow a strategy for their content marketing.
According to the Content Marketing Institute, 65% of the most successful content marketers have a documented content marketing strategy that includes their blogs.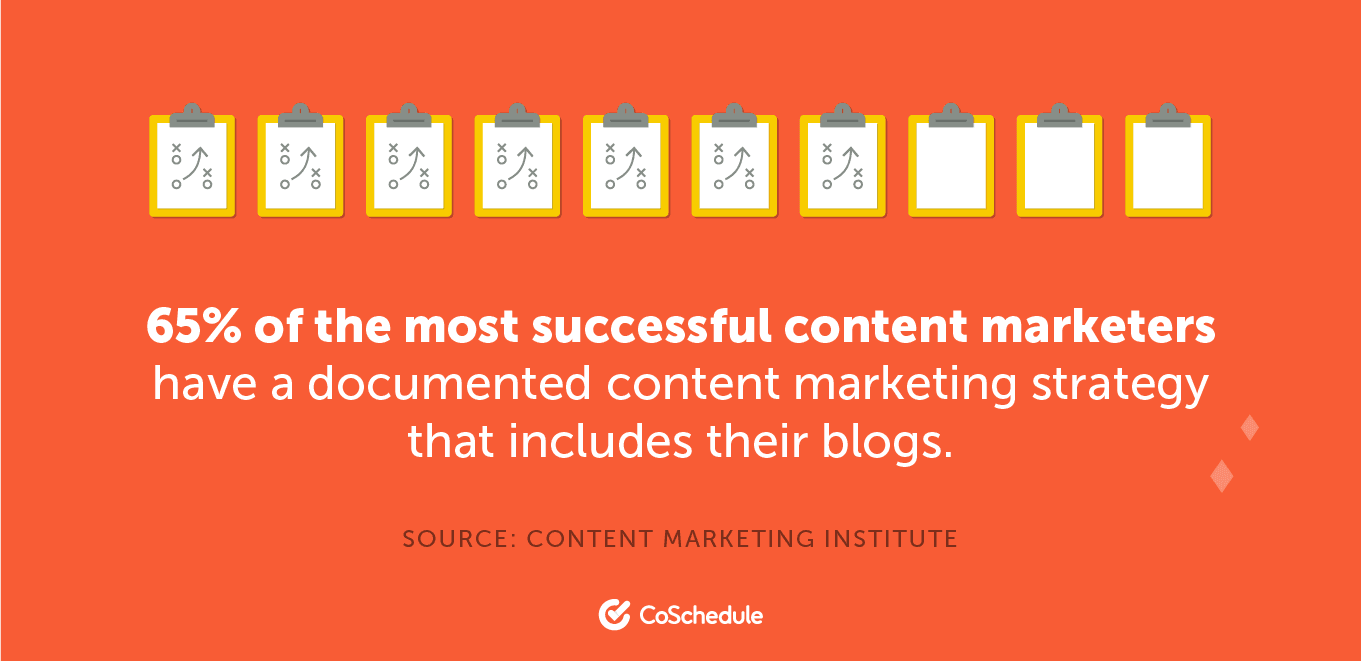 And that makes sense. With over 4 billion people clicking around on over 1.94 billion websites, the blogs that succeed are the ones that are structured, organized, and consistent.
A blog calendar is a must to get you there.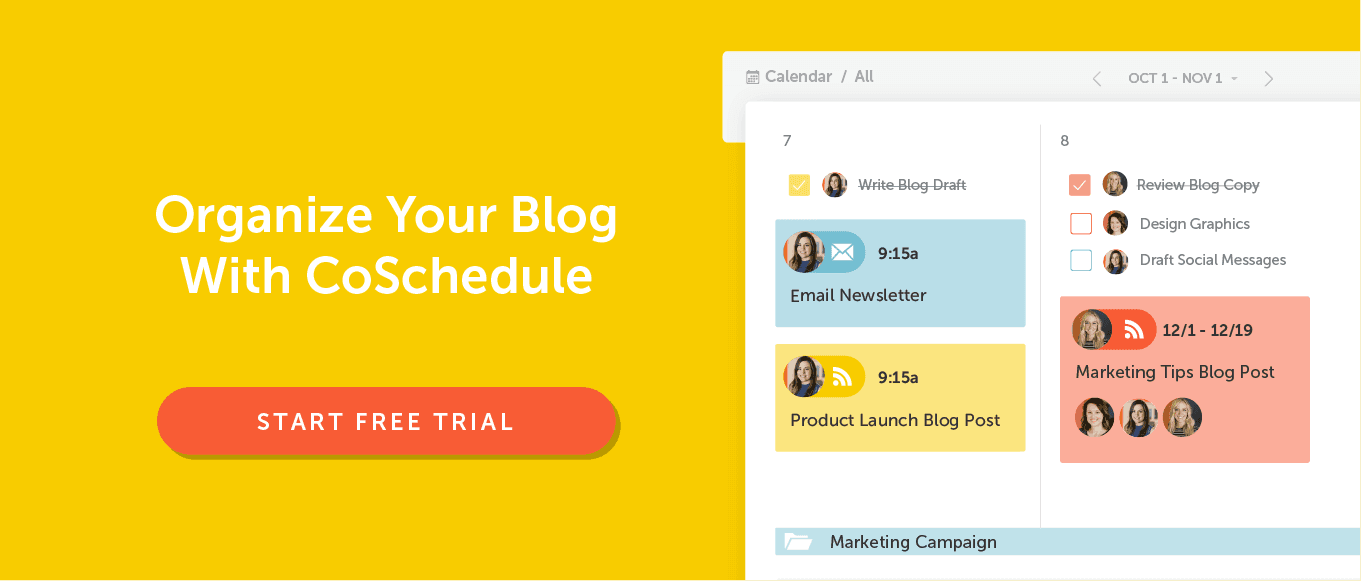 DOWNLOAD: Marketing Calendar Template
Create your calendar fast using this Excel-based template. It makes it easy to plan and organize every post for your blog so you can hit deadlines and publish more work:
Benefits of Using a Blog Calendar: Boost Your Bottom Line and Your Productivity
Using a blog calendar will not only boost your traffic and engagement, it will also lead to a myriad of other benefits for you and your business.
Hopefully, by now you know that blogging consistently can dramatically increase your traffic.
But did you also know that posting consistently can boost your social media engagement, newsletter subscriptions, and customer conversions?
A blog calendar can help you do all that and more.
By being able to see your content creation efforts in advance, you can be more strategic with your content strategy. You can manage your time better and more clearly visualize the direction you want to take your content.
Having a blog calendar leads to greater focus, more strategic thinking for your business, and greater productivity.
Convinced that you need to use a blog calendar yet? Good.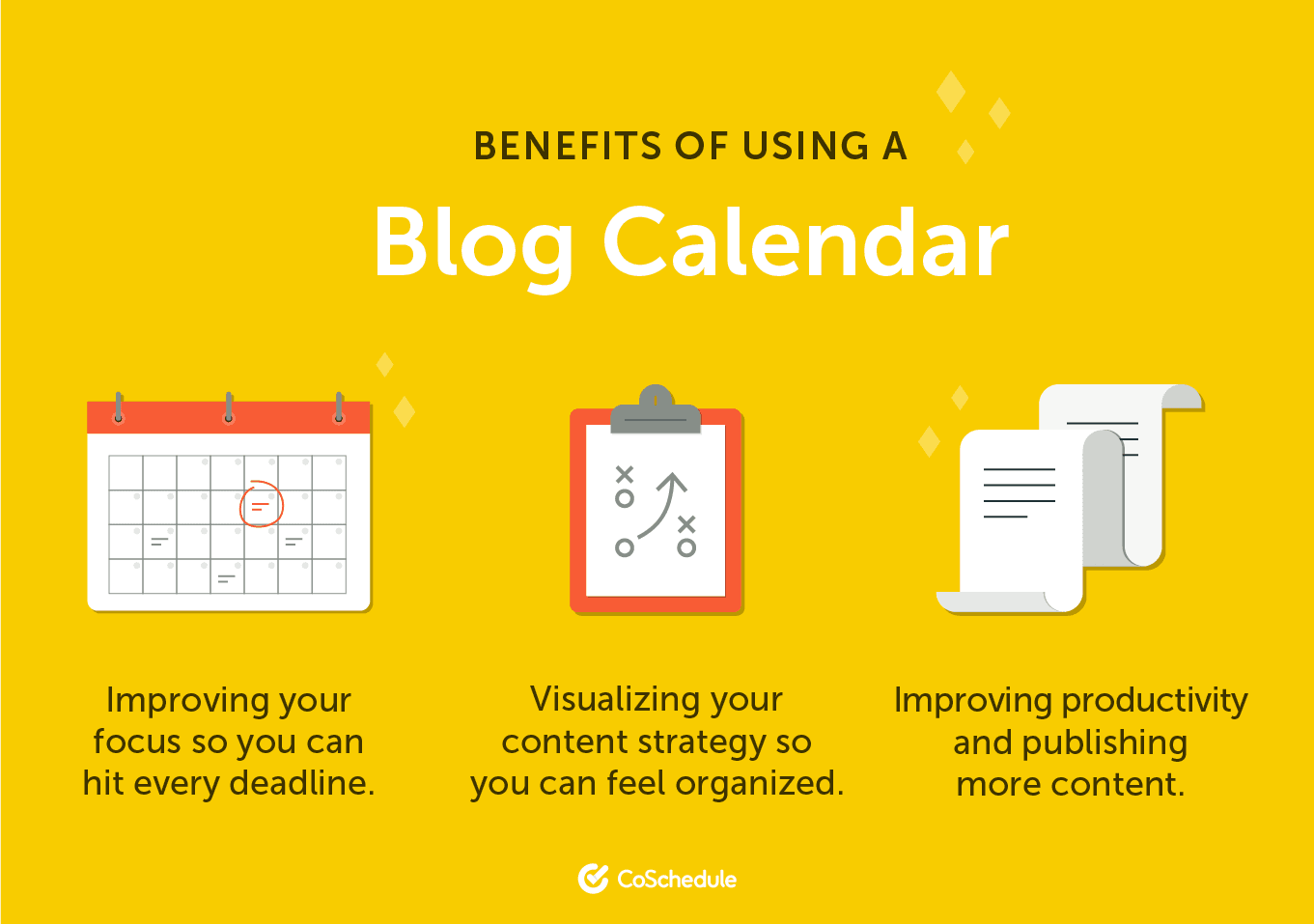 How To Create a Blog Calendar in 5 Steps: Your Step-By-Step Guide to a Blog Content Calendar that Works
Assuming you've already done keyword research and have a few good ideas about what content to make, you're ready to create your blog content calendar.
Looking for more tips on keyword and topic research? Check out Ann Smarty's guest post, Your Ultimate Content Marketer's Guide to Keyword Research.
1. Start With A Blog Editorial Calendar Template (or Use CoSchedule)
In order to simplify the process of creating a blog editorial calendar, CoSchedule provides an interactive marketing calendar template (included in this post) that is super simple to use.
However, the same principles we show you here apply if you chose to manually create your own blog content calendar in Excel or on another platform.
When using CoSchedule, begin by navigating to the calendar section from the home screen, which is found on the left side.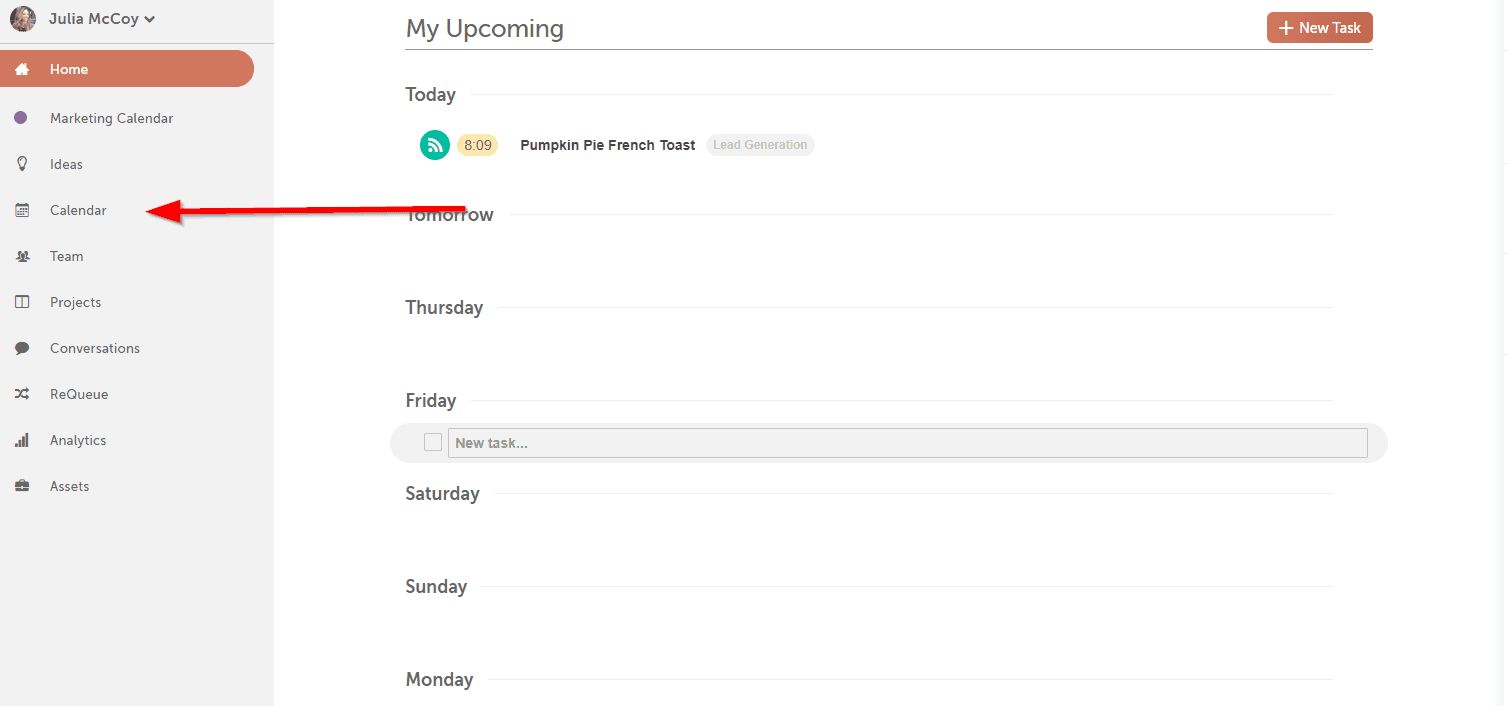 Once you're here you can view the campaigns and projects that you've already set up for the future.
The idea is to be able to see all the elements of your campaigns, including blog posts, email, and social media in one place so that you can prepare the proper content to be released at the right time. Whatever method you chose, it will be useful to be able to see all of them in one place.
2. Keep Track of Your Blog Calendar Topic Ideas
The key to good content strategy is to always have a full pipeline of fresh content. Ideas might come from anywhere, and when they do, you want to be prepared. It's a good practice to capture them all in one place so that they're ready for when you when you need them.
Using the CoSchedule template, you can keep track of your ideas by clicking in the top right corner of the calendar, selecting ideas, then clicking the plus icon. It will say "add unscheduled item" when you hover over it. Click it, and then select the appropriate category.
Any ideas you add here will show up on the left-hand side, or they can be hidden by clicking the "ideas" button again. They can also be seen by changing the view from "calendar" to "ideas" on the left-hand menu, as shown in step 1.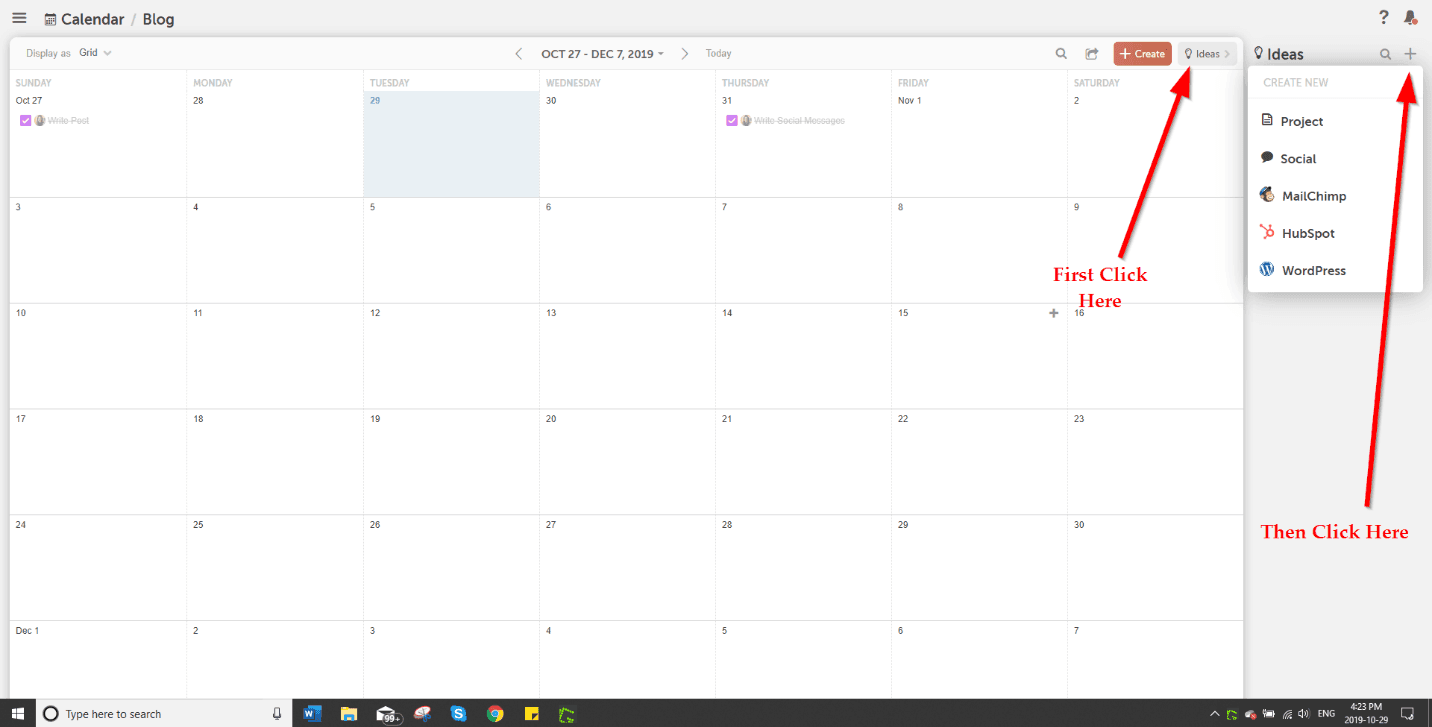 3. Input Upcoming Content
When you're ready to flesh out your idea and you've decided you're going to run with it, it's time to put it on your calendar.
Click the top right button "create" and then select what type of content you'll be creating.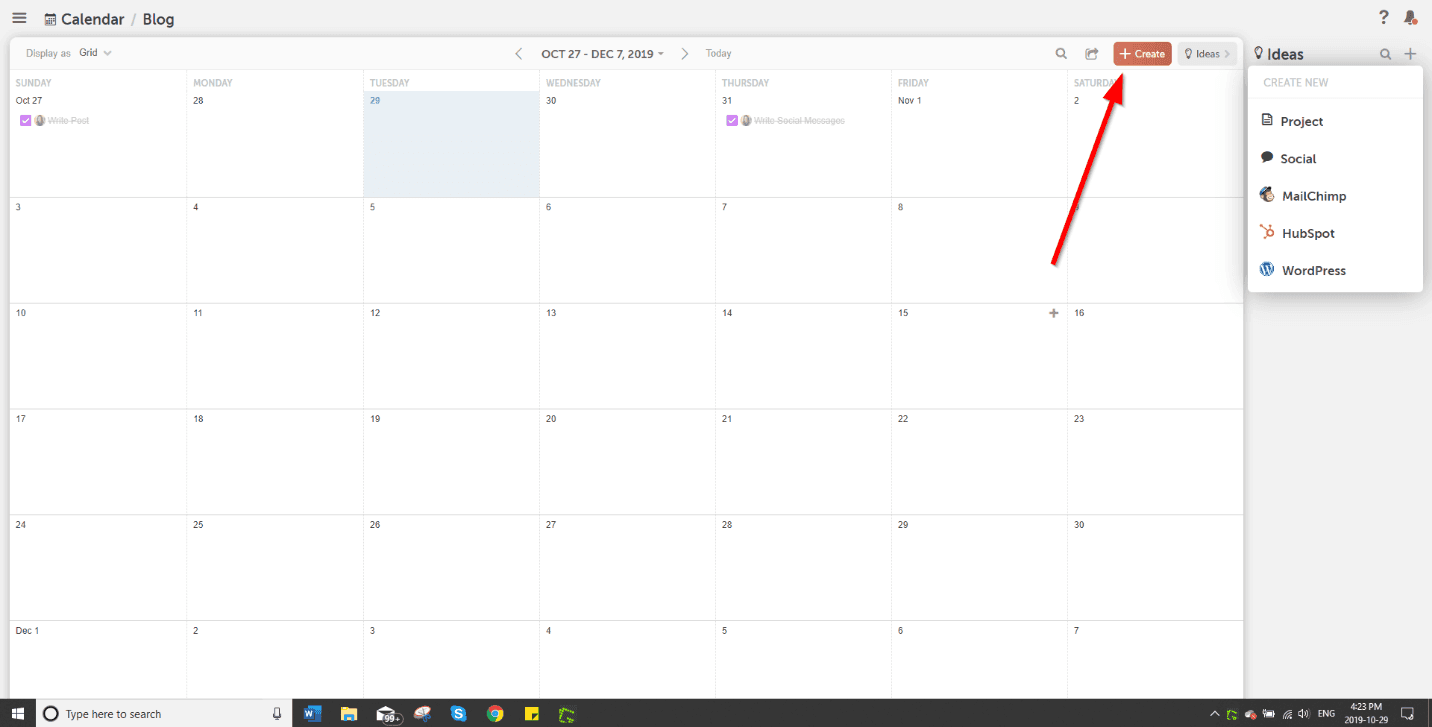 Next, type in the name of the piece and when you want to publish it. Make sure you've selected the right type of content, in this case, a blog post. Keep yourself organized with a description, tag, or label to quickly see the type of content you're creating, or who it's for.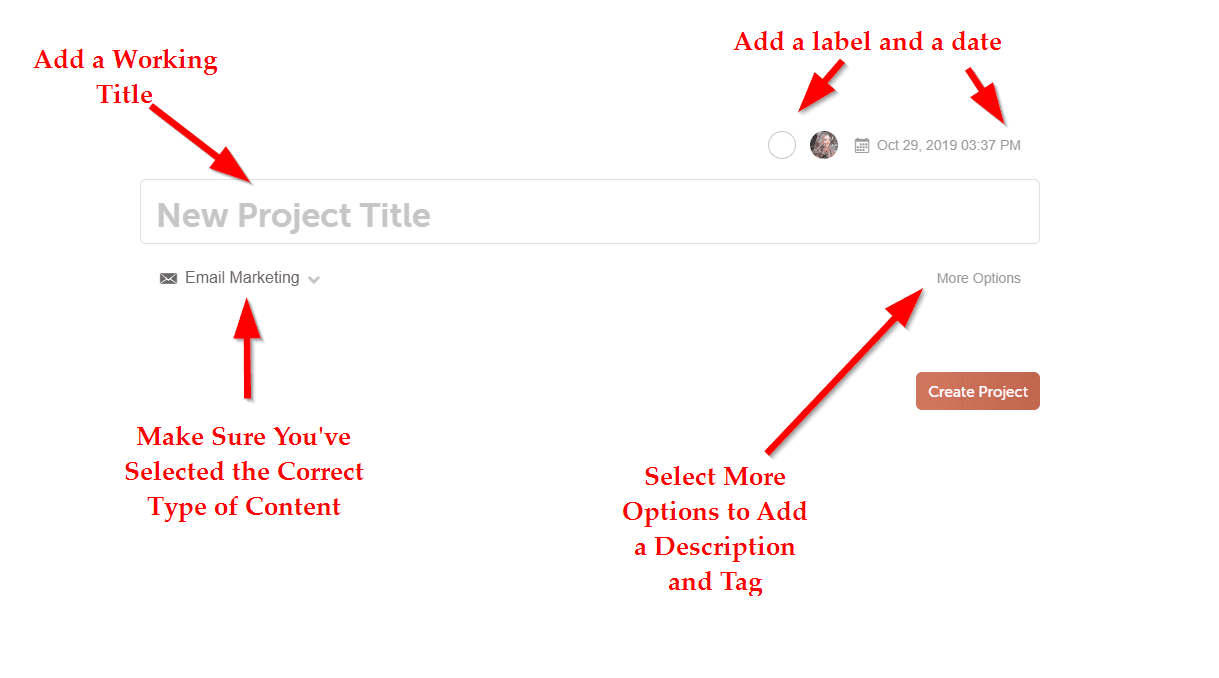 Content variety is an important factor to consider in planning your blog calendar. Make sure you vary the type and length of content.
It's best to stick to a few certain types of articles that add value to your readers. For example, "How To" posts, "Ultimate Guide" posts, and the occasional fun "Get to Know Me" piece is a good mix. Plan to upload the same types of content on a regular schedule (for example, "How To" posts every other Friday).
[Tweet "Stick to a few certain types of articles that add value to your readers."
4. Collaborate, Organize, and Complete Your Work
Now, you can upload a file to develop your piece or write directly into the text editor.
You can keep track off tasks that still need to be done for this content and collaborate with others in the left-hand menu. You can also add the project to different campaigns from here.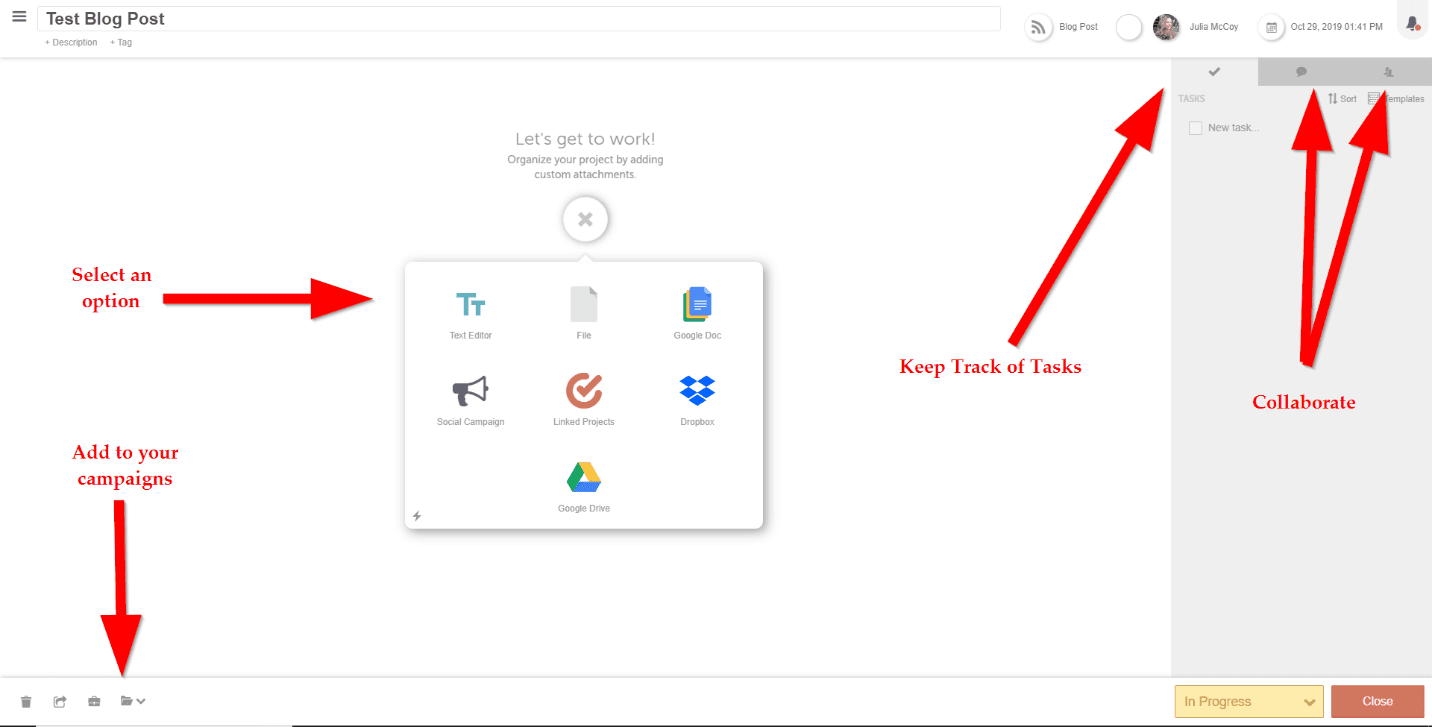 When you're developing your blog content calendar, you will want to make sure each piece you add to your calendar is well researched. That means for each piece you add, you'll want to know to:
When To Post:

 What is the best time of day to post? Which days of the week do this type of content receive the most shares? Using your own experimentation and content analyses tools like BuzzSumo are useful for this.

Ideal Length:

 Based on data for your industry and the type of post you are working on, decide on how long the post should be. If your goal is SEO, 2,000+ words is a proven minimum for more results from your search-optimized long-form content.

Headline:

Coming up with an amazing headline is crucial to ensure people engage with your content. Headlines should be developed at this stage of the planning process to make writing simpler and more organized.

Relevant Links:

When you're planning your calendar, it's helpful to note any relevant links to include that will help your readers and boost your SEO.
Here, you can see what this might look like on your blog content calendar.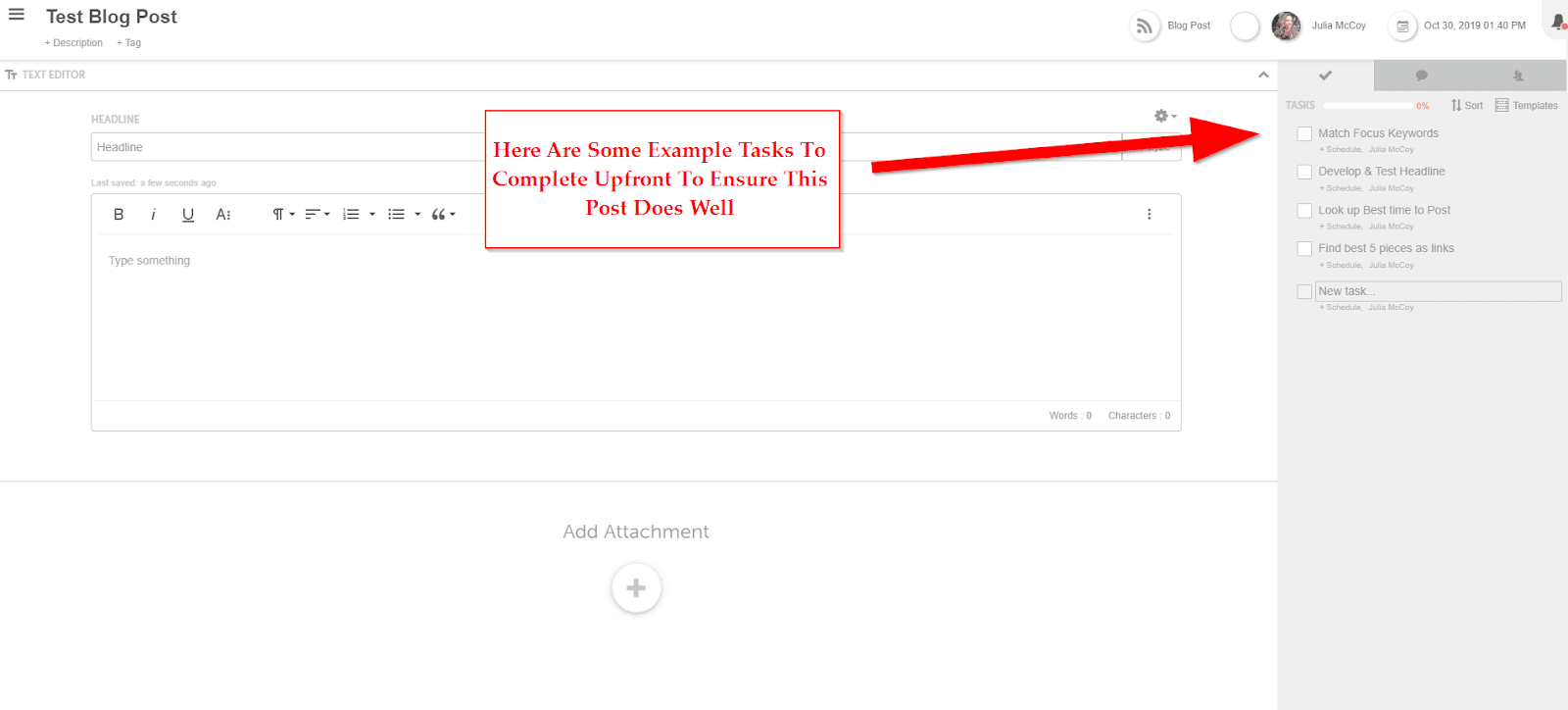 When you're finished adding all preliminary information, you want to schedule the date when you'd like this piece to be completed and click save. Here is a sample completed marketing calendar entry.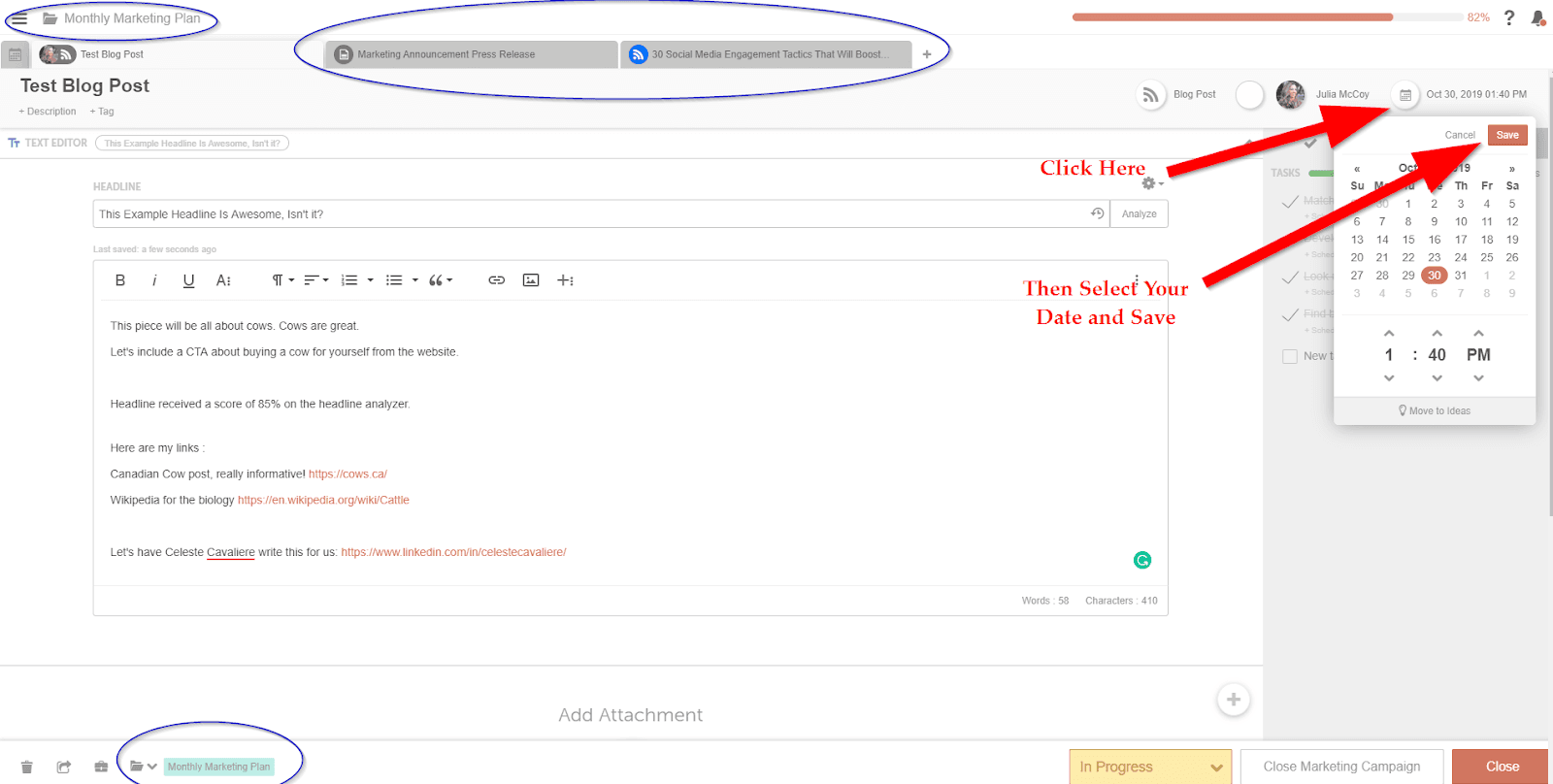 Since it has been added to the monthly marketing plan (shown in blue) it will show up in the calendar as belonging to the monthly marketing plan.
5. View All Content In One Place
Now, you can take in the planning work you did at a glance. Click close on the task screen to see the calendar view come back.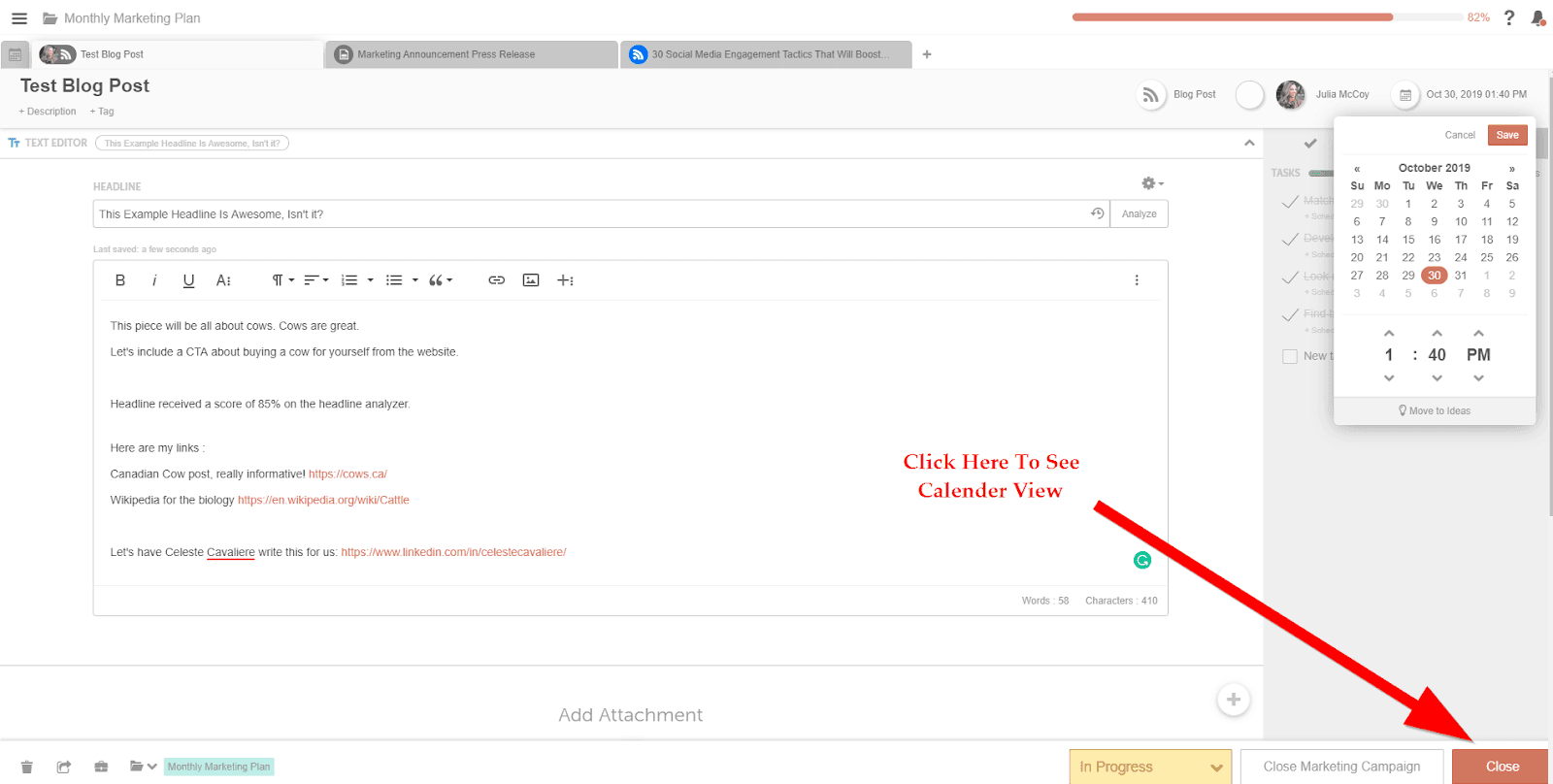 The calendar view, by default, shows the events for the campaign you were working on.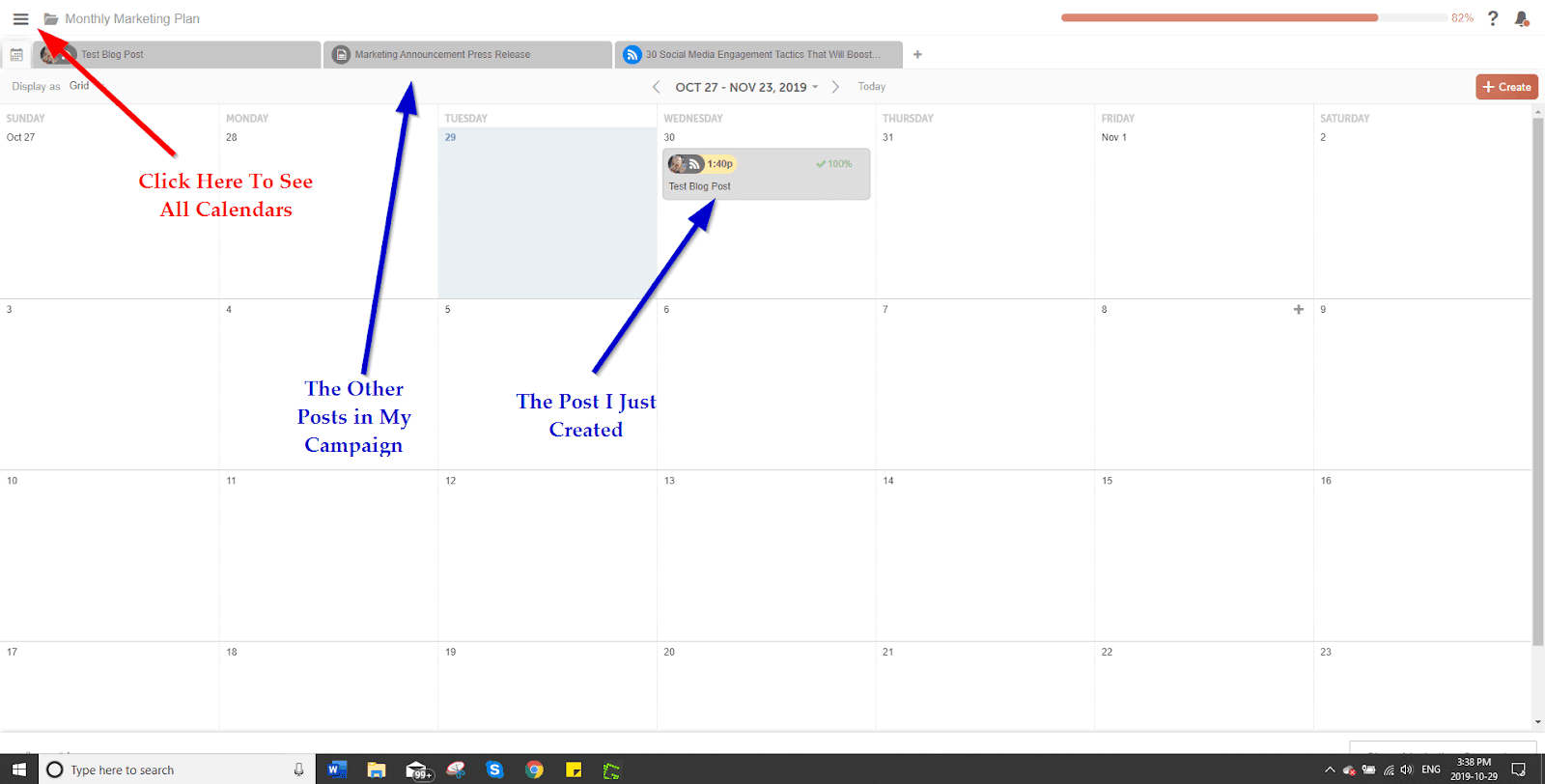 You can close the campaign calendar and view any calendar you want, including all of them at once by clicking on the left menu.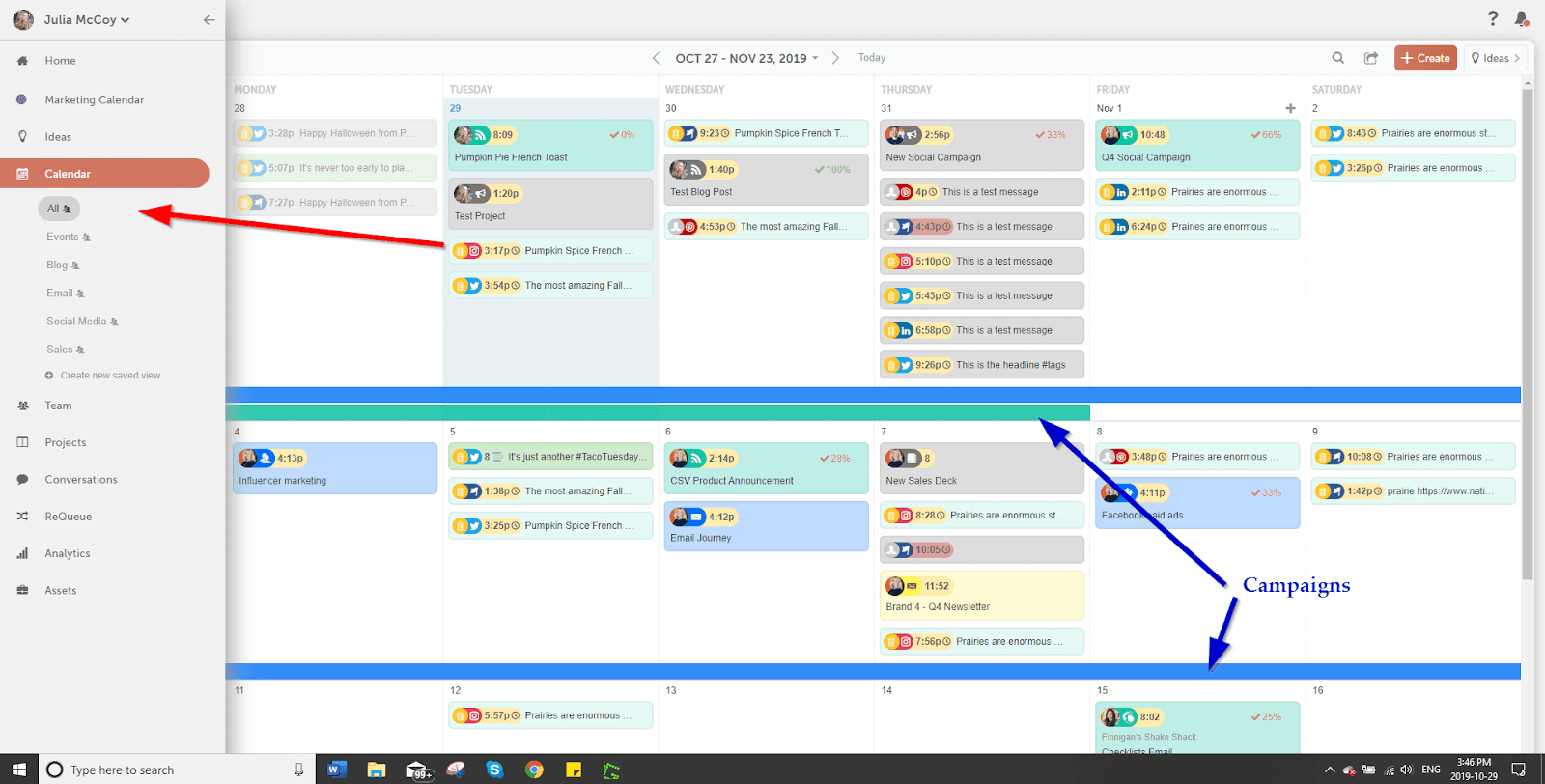 By selecting the blog option, I can view my blog editorial calendar. Similarly, I can view my calendar just for social media posts, email campaigns, or meetings.
The long bands that run along the bottom of the marketing calendar and span many weeks represent campaigns. The projects associated with a given campaign are color coordinated to match the campaign color, and the projects that stand alone have their own color.
This way, it is easy to keep track of how many posts are being dedicated to a given objective, and how long that campaign will last.
You can set up new campaigns in the same way as setting up a project. Go back to step #3 and select "Create", then "Campaigns".
Additionally, you can always drag and drop projects around if you want to change their dates, or if you miss a deadline.
Now that you know what information is required to create a good content strategy, and how to organize your ideas in a marketing calendar, you can get to work populating your own marketing calendar template.
Create Your Own Marketing Calendar With CoSchedule
It's time to get organized.
The time for random acts of marketing, unplanned blitzes on social media, and sporadic, un-strategic blogging has passed. Don't be an entrepreneur who is unsatisfied with their online marketing because they failed to plan. Do yourself a favor and put together a solid strategy for your marketing goals.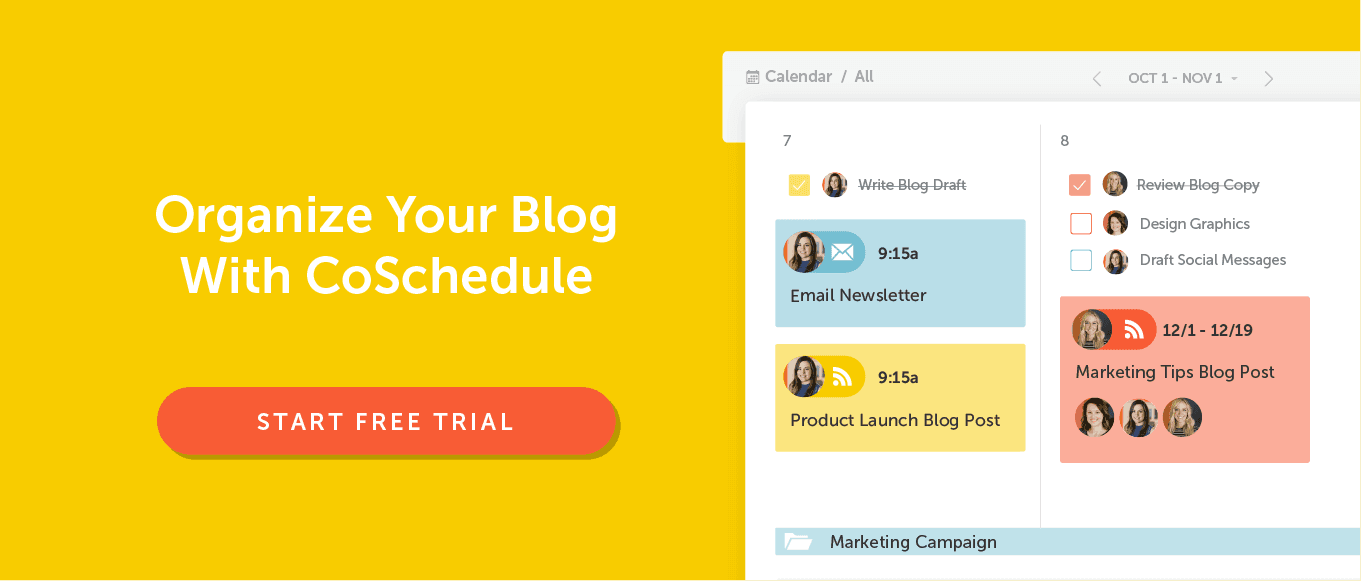 December 19, 2019