7 Content Calendar Examples From Awesome Brands to Inspire Your Own
Headline Analyzer
The blog post headline analyzer will score your overall headline quality and rate its ability to result in social shares, increased traffic, and SEO value.
Test every headline before you publish. Try the Headline Analyzer »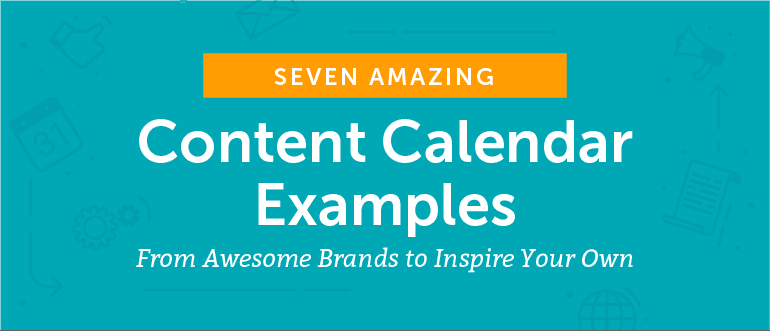 Content calendars can make or break the successful implementation of your content strategy.
Why?
Because they help keep your team on track, let them see what's coming next, and help them avoid the panic of having to write something at the last minute.
In this post, we took seven companies across a variety of industries and reconstructed their blog and social media posting schedules (based on manual research) to create example content calendars.
Then, after you've seen each example, we'll show you how to establish your own publishing frequency, and build a content calendar to keep it organized.
But First, Who Are We, Anyway?:
CoSchedule is an industry-leading marketing calendar software platform. Curious to learn how you can manage your content + social media (and all your other marketing projects), all in one place?
Start here
.
Download Your Content Calendar Template Kit
Before you continue reading, download your content calendar template kit. It contains:
A social media scheduling calendar

 to plan, write and organize all your social media messages.

A content calendar template

 to organize and plan your content in advance.

A printable marketing calendar

 for your desk so you can always keep an eye on what's coming next.

A best times to post on social media infographic

 to take the guesswork out of when you need to be posting.

A how often to post on social

media infographic

 to know the baseline amount that you should post on your social media pages.

A best times to publish blog posts infographic

that lets you see the best times to publish your blog posts to gain the most eyeballs.
What Is The Purpose of a Content Calendar?
The purpose of having a content calendar is to make sure your content team stays organized and on top of your publishing schedule. Some specific benefits include:
Giving your whole team visibility on what you're working on.
Making it easier to plan ahead.
Let's Look At 7 Content Calendar Examples From These Leading Brands
We chose the following companies to reconstruct their publishing schedule. Each one of these organizations had an active blog and a regular social media presence.
Red Bull:

Red Bull is a publishing company that just happens to sell an energy drink. This makes them interesting because they publish a large amount of high quality content.

Reverb.com:

An e-commerce business that carries musical instruments and accessories. They create content that makes it easy to see and hear what you're getting before you buy.

Modcloth:

An e-commerce vintage clothing brand. They publish a mix of promotional content that helps sell clothes and content that shows their audience how they might look when wearing their product.

Disney Parks:

An estimated 150 million people visit Disney parks every year. Their content helps those visitors have the best time.

BMW:

BMW is the most popular car brand on Instagram. Their messages promote an aspirational lifestyle that people strive to achieve.

Whole Foods:

Whole Foods curates content that's valuable to people who want to live a healthier lifestyle. They also share their own recipes.

Concordia College:

 

The marketing department at Concordia uses the story of their current students to attract new prospective students.
Each one of these organizations span a variety of industries and company sizes. No matter what your organization does you can see a variety of schedules to inspire your own.
Red Bull
Red Bull is a massive media powerhouse that just happens to sell an energy drink. As you can see from their content calendar, they publish a lot of stuff whether it's blogs, social media messages, videos and more.
What conclusions can we draw from Red Bull's content calendar?
Post your content where your audience is most active.

 Red Bull's audience of 20 to 30 year old males is most active on Facebook and Instagram. Therefore it makes sense that Red Bull would publish a larger amount of content on these channels.

Reuse video content on social media.

 Red Bull is known for their incredible video content. Much of that gets shared on Facebook and their other social platforms. You might not be able to shoot the same kind of video, but if you have video content at all, repackage it for social media for maximum mileage.

Create content that looks and feel authentically like the non-branded content that your audience seeks out.

Red Bull is so successful because it looks like content from a publishing house. They don't feel like they are being sold too.
Takeaway: Organic social media content doesn't always need to sell directly in order to be successful.
Reverb.com
Reverb.com is an e-commerce website that sells pretty much any music related instrument you could think of. They know their audience well and have a created a reliable and consistent publishing schedule that's jam-packed full of content about musicians, new and old instruments and techniques their fans would find interesting.
What conclusions can we draw from Reverb's content calendar?
If you're going to publish a lot of content make sure you do it well

.

 One of the reasons that Reverb.com is so successful with their content is because of their ability to tailor it to their audience. They publish a lot of information, but all of it is executed well.

Establish trust with your audience.

By talking to industry experts, popular musicians and more they are able to establish a sense of trust with their audience. People can drop a lot of money on their sites because they can trust what they find.

Create content that makes it easy to understand how to use complex products.

 Reverb does a great job explaining what their product does and how to use it. Their product base can get overwhelming and stressful so Reverb makes it easy to understand and find the dream product their audience is in search of.
Takeaway: Earn your audience's trust through the content you create.
ModCloth
ModCloth is another e-commerce website that sells women's vintage style clothing. ModCloth caters to a very niche market place as the demand for vintage clothes falls to a unique group of buyers.
What conclusions can we draw from ModCloth's content calendar?
Put your audience's interests first.

 Modcloth's audience is interested in fashion. They aren't satisfied with what they can find at the mall. By creating content that gives their audience fashion ideas by itself, it's okay that the copy tells them where to find it. This is an exception where direct selling can work for a retail brand.

Start small and grow.

 You don't need to publish 67 blog posts and 123 social media messages right off the bat. ModCloth's publishing schedule is small but that's what works for them. You have to walk before you can run and that includes your content creation.

Your blog doesn't have to be your main focus.

Blogs are great, but they're also time-consuming. If your team doesn't have the resources or the time to publish a ton of blog content, that's okay. Focus your efforts on creating great content on your social media pages,e-books or landing pages and slowly grow your blog.
Takeaway: Organic social media content should not always look and feel like an ad.
Disney Parks
Disney is a behemoth in the hospitality and service world and needless to say they publish a lot of content. The Disney Parks blog is just one of several blogs, Facebook pages and more that Disney runs.
What conclusions can we draw from Disney Park's content calendar?
Create content that creates FOMO.

Disney has many massive theme parks that are packed full of attractions and fun family things to do. Their content creates a FOMO or feeling of missing out on all the fun. This move creates a sense of urgency and longing for your audience hopefully promoting them to take action.

Show them what they will experience.

Create content that shows your audience what they will get or experience when they purchase your products. Instead of letting them guess what will happen, show them instead.

Help them have the best time when they do business with you.

Disney's content focuses a lot on the experiences that their customers have. You can do this as well by letting your content show them how working with you creates the best possible experience they'll ever have.
Takeaway: Show your audience how to create an experience when they visit you.
Whole Foods
Whole Foods is a natural grocery store that was recently acquired by Amazon. They're blog integrates the products their selling with fun easy to read content.
What conclusions can we draw from Whole Foods content calendar?
If you don't have enough blog content to supplement your social media messages, curate it from other sources.

 Whole Foods doesn't publish a ton of blog content throughout the month so to supplement some of its social media posts it will scrape content from other related blogs, news sources and even their own customers.

Try publishing themed content.

One thing that Whole Foods does well is post themed content. Whether that be new Halloween recipes or ways to used seasoned fruits and vegetables Whole Foods finds a way to make their content timely and themed.

Don't publish blog content just to fill your content calendar.

If you're experiencing gaps in your content calendar don't randomly publish blog content trying to fill it in. Your blog content should always be strategically written.
Takeaway: Everything that Whole Foods publishes is high-quality content that their audience cares about. They might do well to publish a little more but you don't have to have a publishing schedule like Red Bull to be successful.
BMW
BMW is a world-renowned luxury vehicle maker. Their designs are timeless, classic, and out of reach for many pocket books. Their content marketing strategy however, is not.
What conclusions can we draw from BMW content calendar?
Use your blog to show behind the scenes stuff about your product

.

 People love seeing what makes a product tick. Use your blog to show them information that they may not get by seeing advertisements or use cases of your product.

If you sell an expensive product, use social media to reinforce your brand not make a direct sale

. People know who BMW is and how it makes them feel. Their product is out of reach for many of their audience members meaning that a link to a dealership in a post probably isn't going to result in a sale. If your product has a pretty hefty price tag use your social media to reinforce the luxury idea of your brand.

Make people feel like they're part of the community.

 BMW is great at making their audience feel included when they buy their product. They're not just purchasing a car, they're also becoming part of a community.
Takeaway: If your product is a hard direct sell, create content that caters to your audience's aspirations.
Concordia College
Concordia College is a small liberal arts college in Moorhead, Minnesota. Like many colleges Concordia keeps and active blog and social media presence to attract prospective students.
What conclusions can we draw from Concordia's content calendar?
Reshare your blog content.

 Concordia shares one blog post multiple times on one social media channel. This can help ensure that as many people see your content as possible.

Let current customers tell your story.

Concordia uses their content to show potential student see what it would look like if they were to attend the college. Word of mouth is more powerful than what you could say about yourself as a brand.

Once you've publish your content respond to what people have to say

. Your content publishing schedule is not complete once it's live. You need to be able to continue that conversation about your content with your audience. Find out what they think and take the time to show them that you care about what they have to say.
Takeaway: Reinforce the idea that your organization creates a community.
How Can You Build Your Own Calendar Like a Leading Brand?
You've seen seven different examples. The next step in your process is to create a content publishing schedule and a social media promotion schedule.
So how do you do that?
Step One: Figure Out Content Types and Publishing Schedule
The very first step in developing your content calendar is deciding what types content you're going to be publishing. Some common options are:
Blog Posts
E-Books
Landing pages
Podcasts
Videos
Social media posts
Email newsletters
There's no limit to the types of content that your team can publish but remember to start small and grow into more types later down the road.
Once you've decided what types of content you're going to publish, you need to decide how often you're going publish each type of content. For example it could look something like:
Publish two blog posts a week.
Publish one podcast a week.
Publish one e-book each quarter.
The publishing schedule that your company decides on can grow or shrink depending on For every content piece you publish you should include the following information in your content calendar:
The date it publishes.
The topic it covers.
The content format you'll create.
In your content calendar template it would look something like this:
Step Two: Decide What Channels You Want To Publish Your Messages On
Once you have your publishing schedule figured out you need to decide how you're going to promote the content you've created.
You can choose one standard promotional schedule for every piece of content that you publish or you can create a different promotional schedules for each type of content.
Here's an example of promotional schedule that you could use:
Step Three: Determine How Often You're Going To Post
You can use the How Often To Post on Social Media infographic to help create your schedule.

Step Four: Decide What Times You're Going To Post
Once you've decided how often you're going to post on each of your channels you need to decide when you're going to post. This infographic on the best times to post on social media can help you get started:
Or Use CoSchedule To Build  Your Own Content Calendar
You've seen the examples and you've got the knowledge, now all you need to do is start building your calendar in the templates you downloaded earlier.
You could make it even easier though using CoSchedule Marketing Suite.
CoSchedule has its own WordPress integration that will allow you to plan and schedule all your WordPress blog posts on one marketing calendar.
Here's an example of what CoSchedule looks like with a bunch of scheduled content: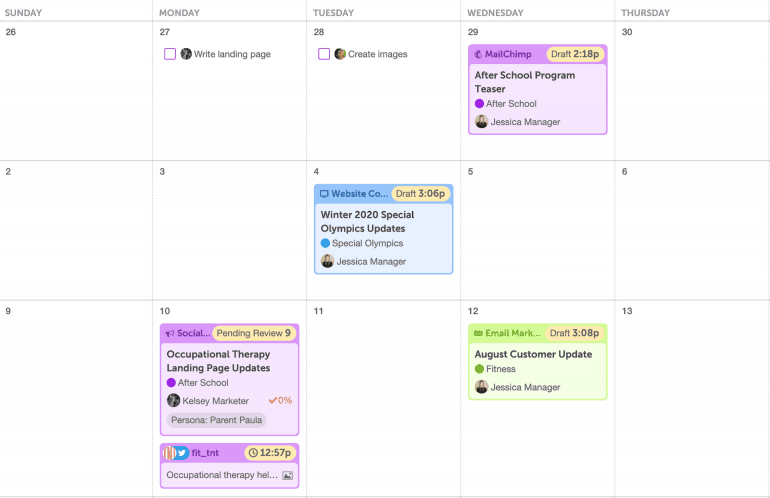 You can also use Social Campaigns to create social media messages for your content by clicking the + and Social Campaigns in your blog content: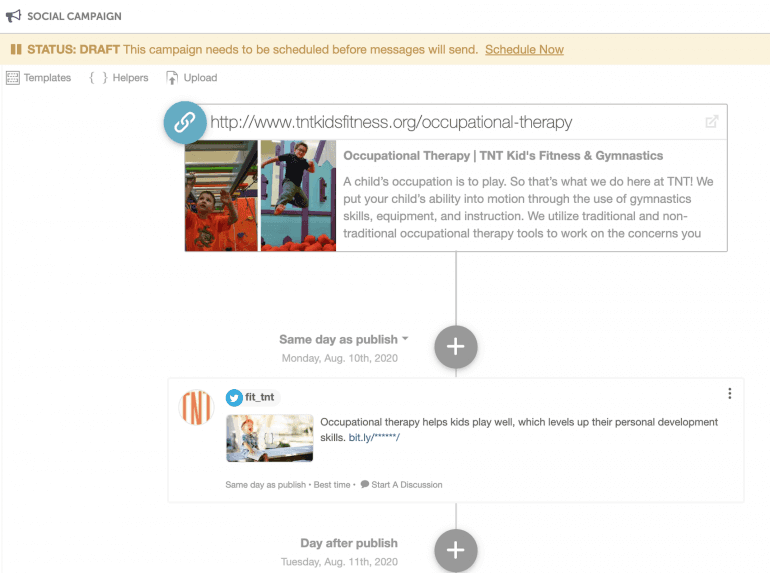 Click the day you want to send your message on and choose your channel:
Select Best Time from your publish menu. This feature automatically selects the best time for your social messages to publish.
Best of all you can drag and drop your content and your CoSchedule calendar will make it easy by automatically adjusting the post and all of its social media messages.
Plus you can use custom content to manage all of your content types. With CoSchedule, you can create custom content types so your content team can keep track of anything you want to publish.
To do this head to your calendar settings, scroll down to content types and select Add New:
Name your content type, choose your icon:
As you begin to fill in your CoSchedule calendar it could start to look something like this:
There's so much that CoSchedule can do to help get your content team organized and ahead of the game. See how you can get your team organized with CoSchedule. Once you think you're ready start your two week trial or schedule your demo today.
Now You're Ready To Create Your Own Content Calendar
You have all of the tools you need to create a killer content calendar. Whether you're using an excel spreadsheet or a CoSchedule calendar your publishing schedule is up to you and your team.
Do you have any fun advice about content calendars that we missed? Share it with us in the comments.
February 8, 2018