Get Inspired By 21 Of The Best Content Marketing Examples In The Biz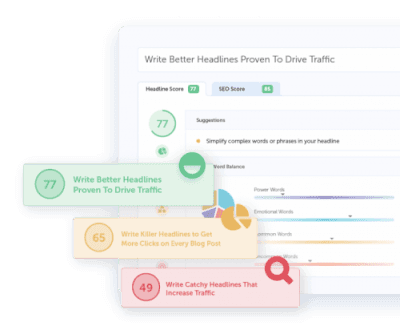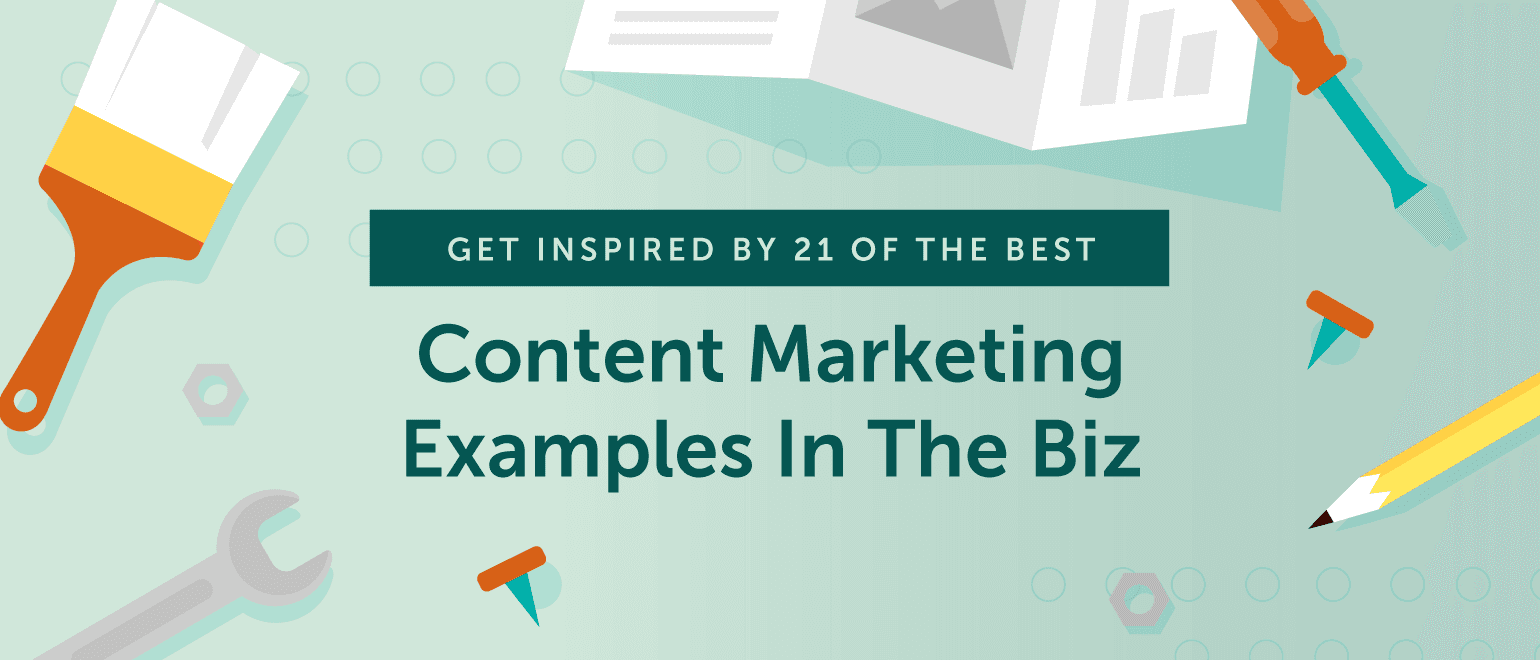 Content marketing has been around forever.
*Fun fact* many accredit Benjamin Franklin as the first ever content marketer when he published the yearly Poor Richard's Almanack in 1732.
Historical marketing fun facts aside, every marketer worth their salt has likely experimented with content marketing tactics.
So much so, that the very concept might be starting to feel stale and overdone.
But the stats speak for themselves, content marketing remains one of best tools in a marketers tool belt.
Here's what we know:
78% of consumers prefer getting to know a company through articles rather than ads.
content marketing costs 62% less than traditional Marketing.
Per dollar spent, content marketing generates approximately 3x more leads than traditional marketing.
Companies that published 16+ blog posts per month got almost 3.5 times more traffic and 4.5 times more leads than companies that published zero to 4 monthly posts.
55% of marketers say blog content creation is their top inbound marketing priority.
47% of buyers viewed 3-5 pieces of content before engaging with a sales rep.
Visual assets are the single biggest content contributor when it came to social media in 2017.
After watching a video, 64% of users are more likely to buy a product online.
53% of content marketers use interactive content in lead generation efforts.
Lead generation, sales, and lead nurturing are the top three organizational objectives for content marketers.
Sources: https://www.lyfemarketing.com/blog/why-is-content-marketing-important/; https://www.hubspot.com/marketing-statistics

If you've become disgruntled with the state of your own content marketing and are feeling less than inspired, you've come to the right place.
We're breaking down 21 of our favorite content marketing campaigns to get your creative juices flowing.
Download Your Free Content Marketing Template Bundle
First things first… what do all these amazing content marketing examples have in common?
They are expertly executed and distributed seamlessly.
Are you prepared to do the same?
It's going to be awfully hard to rock your killer content marketing campaign if your implementation and team coordination is a mess.
Download our free content marketing template bundle. It contains everything you need…
A content plan template to help you measure and learn from your success.
An Email Marketing template to distribute and communicate your new initiative.
A blog calendar template to plan every post ahead of time in one place.
Get More Organized Than Ever With CoSchedule
When you're completely fed up with managing spreadsheets, sifting through countless emails, and all the time-consuming meetings just to get your marketing team on the same page, considering upgrading to CoSchedule.
It's the only way to get all your marketing organized in one place.
Get a bird's eye view of everything your team is working on; and collaborate, plan and execute your entire marketing strategy in one place. From social media promotion to blogging… you can plan it all with CoSchedule.
No more bouncing from tool-to-tool or hacking project management platforms that weren't made for marketing teams. CoSchedule brings everything you need into one place.
Table of Contents
Charmin - Sit or Squat: Restrooms Near Me! App
We've all been in a dire situation where we need to find a restroom ASAP. We've also all probably been forced to use a restroom that leaves a little something to be desired in terms of cleanliness. Enter Charmin's "Sit Or Squat" app.
It's essentially Foursquare for public restrooms. Users can rate each public restroom on cleanliness and use the app's map functionality to find the closest bathroom near them.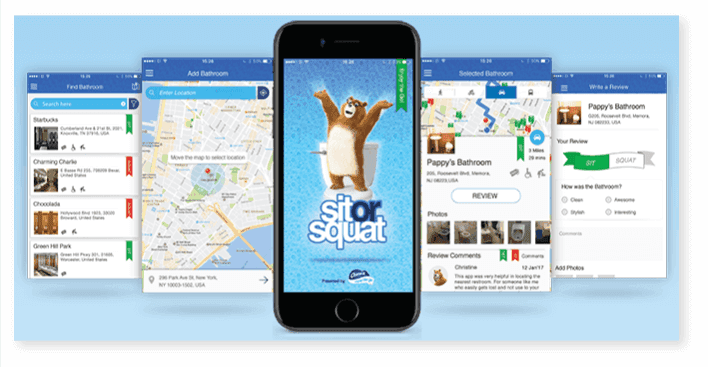 What Makes This Content Great?
It's genuinely useful. Great content is often defined by the value it provides. This solves a common problem in a way that aims to create loyalty to the Charmin brand.
It's creative and comical. Everyone has been in a restroom at some point where they've had to do the "hover". This content pokes fun at that situation, while also helping users avoid that very situation.
Nerd Wallet - Money Talks Web Series
To most folks, the thought of financial management and investing is overwhelming. The learning curve is steep - so much so that people don't even know where to start. Couple that with a little debt and it's enough to make someone want to stick their head in the sand for good.
Nerd Wallet and their crash course in all things financial aims to help solve these problems.
From creating a budget and managing debt, to setting up your financial future, Nerd Wallet's video series explains important basics about money and investing.
They also have a library of other supporting tools like a budget calculator, free budgeting spreadsheets and a retirement planner, to name a few.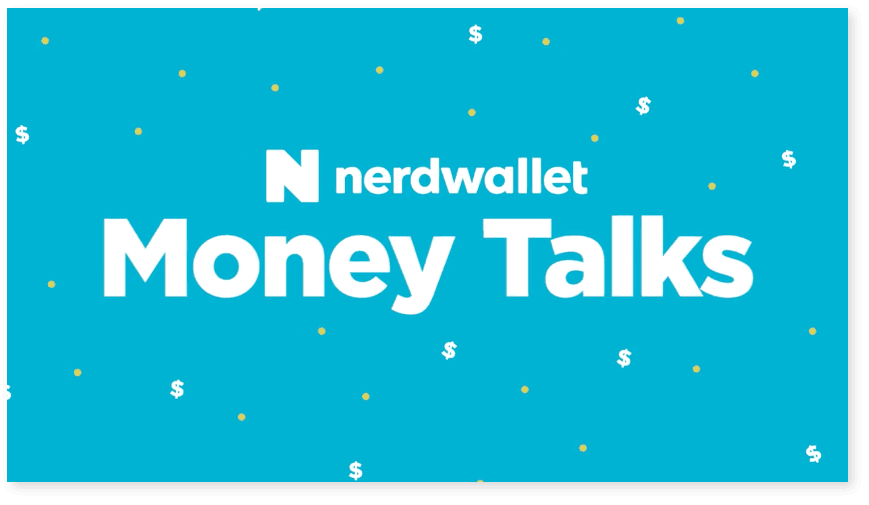 What Makes This Content Great?
It's comprehensive, yet approachable. Complicated topics require a careful strategy to make sure people aren't scared away. Nerd Wallet does a great job of making visitors feel like they have the skills to tackle their financial woes.
They didn't cut corners. The video and content quality on Nerd Wallet's site are second to none. They've invested in quality videos and supporting tools that address a visitor's pain points from top to bottom.
IKEA
Augmented reality is all the rage right now. IKEA jumped on the bandwagon with its "Try Before You Buy" app.
IKEA products have a special challenge in that you can't see how something will look in your space until after you've assembled the product.
Which makes returning the product nearly impossible… because, honestly, who could reverse engineer those assembly directions.
Will it fit?
Will it look ok?
Is the color right?
All questions that can only be answered post assembly… until now. IKEA's Place app solves this challenge by letting customers see how over 2,000 furniture items will look in their spaces. No assembly required.
What Makes This Content Great?
It fits the content core perfectly. Great content fulfills two purposes…
1) it provides value to customers.
2) is balanced by the business' interests.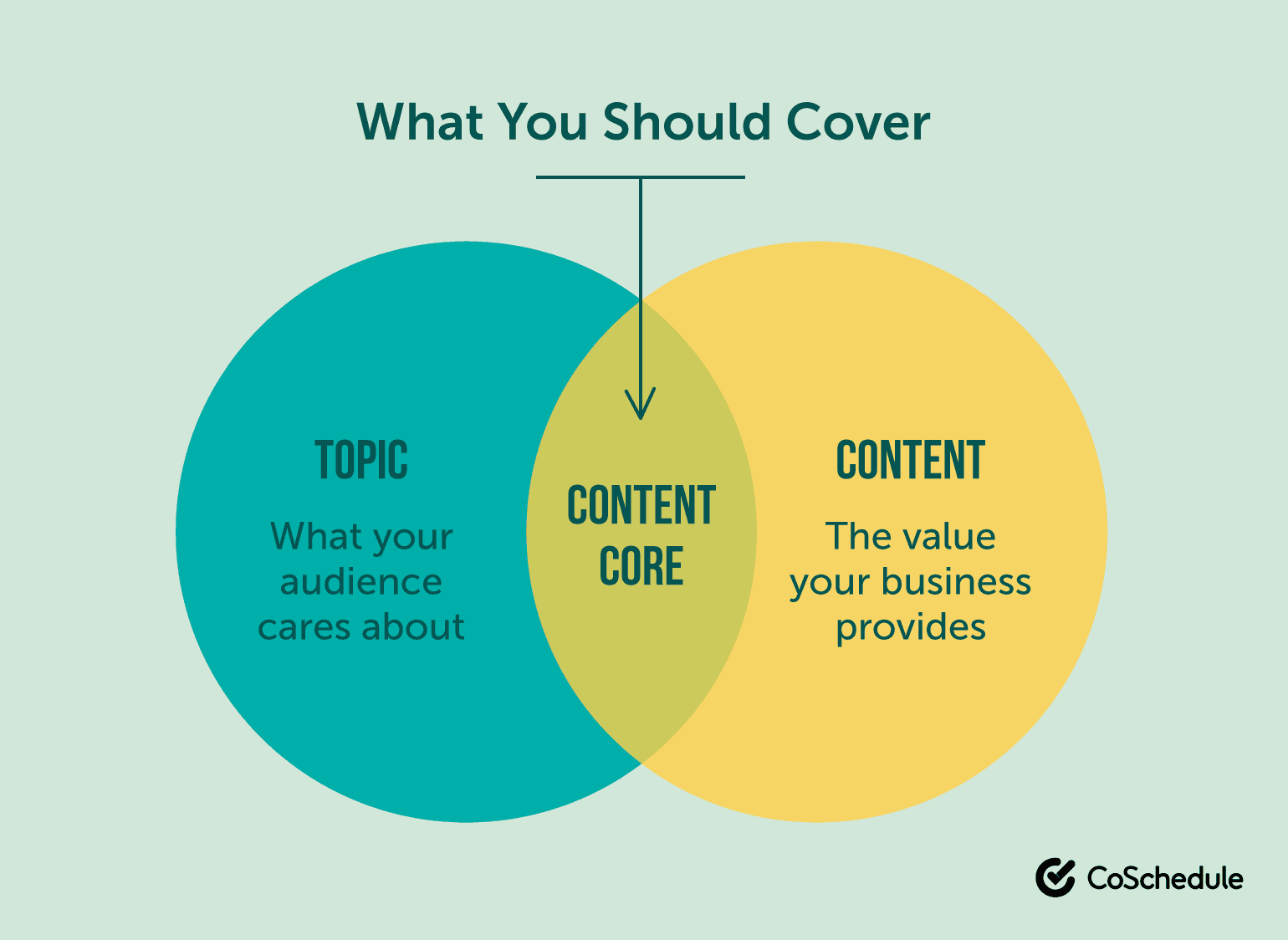 Read more about the content core and how to find it.
It uses the latest technology. Sometimes using the latest buzzworthy technology can be like fitting a square peg into a round hole. This campaign, however, uses new technology in a way that makes sense.
Facebook Blueprint
Would you be surprised to hear that even Facebook dabbles in content marketing?
Facebook has an extensive e-learning syllabus to ensure that professional marketers are equipped with the skills they need to master Facebook and Instagram advertising.
The content provides individuals the opportunity to customize a learning path based on their role or interests, as well as a certification to add value to their resumes.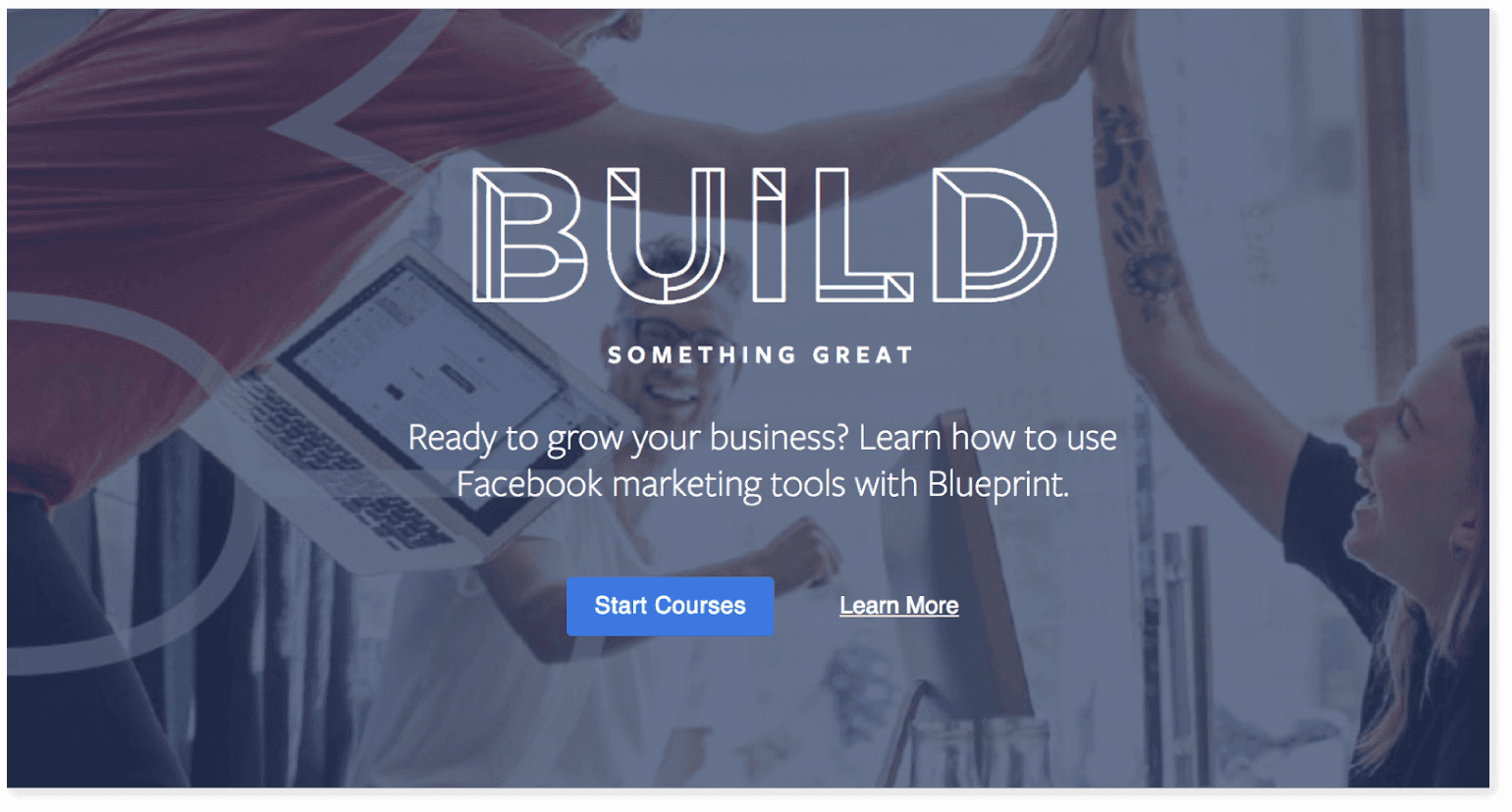 What Makes This Content Great?
The value. Facebook marketing skills are highly sought after in the business world. This path to certification gives participants an extremely valuable skill to help them in their careers.
Individualization. Instead of just creating a one-size-fits-all course, Facebook committed significant resources to make sure that there is a customized course plan that fits your needs… whether you're in the C-suite or an intern.
Make-a-Wish Foundation - Batkid Begins Documentary
Non-profits, though not technically "selling" anything, they are still competing for your time and money.
The Make-a-Wish Foundation doubled down on content marketing when it went all-out to make one child's dream of becoming Batman a reality. The process was captured on video and resulted in an award-winning documentary.
The foundation leveraged social media to recruit the massive number of volunteers needed to pull off such an elaborate wish.
If you can watch this trailer without feeling all the feels, you might be the Tin Man.
What Makes This Content Great?
It's emotional. Connecting people on an emotional level, especially for a non-profit, is a great way to increase awareness and inspire charitable contributions.
It took a multi-channel approach. Your content marketing doesn't need to take on a single form. Many channels can (and should) work together to achieve your goals.
Babylist
If you're a first-time parent, you know there is nothing more overwhelming than preparing for the arrival of your baby.
What do I *actually* need?
How do I a choose a stroller?
Is that $200 changing pad really necessary?
Babylist's content answers basically every question a first-time parent could come up with. The company's "best of" section ranks products in every category imaginable - from bottles to diaper bags. You can even take a quiz based on your lifestyle and the company will email you a pre-made baby registry with just about everything you need.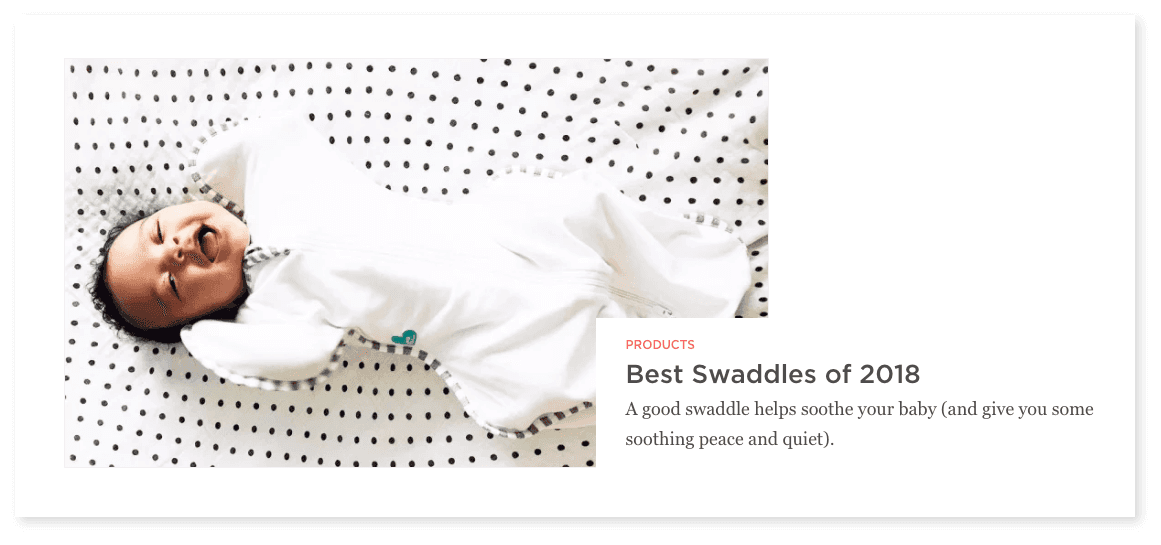 What Makes This Content Great?
It understands the unique challenges of its visitors. With so many baby products out there, it can be hard to know where to start as a first-time parent. Babylist's content does an excellent of making parents feel a little more prepared for their new arrival.
It gives its best content away for free. Babylist's pre-made registry is so good people would probably pay for it, but instead, the company gives you it for free.
Read more about why giving away your best content for free is a winning strategy.
Back to the top

ASOS
It's hard to choose just one element of ASOS' content marketing to focus on… it's all so good. The company's blog, Instagram presence, email strategy, and video marketing all work together seamlessly.
One of its most interesting strategic choices is how the company incorporates influencers into its content marketing. Each influencer has an ASOS specific Instagram account that shares shoppable ASOS styling.
These influencers are also featured heavily on their site. Each "ASOS Insider" has a specific aesthetic outlined under their profile picture, which makes it easy for customers to identify which influencer aligns best with their own personal style.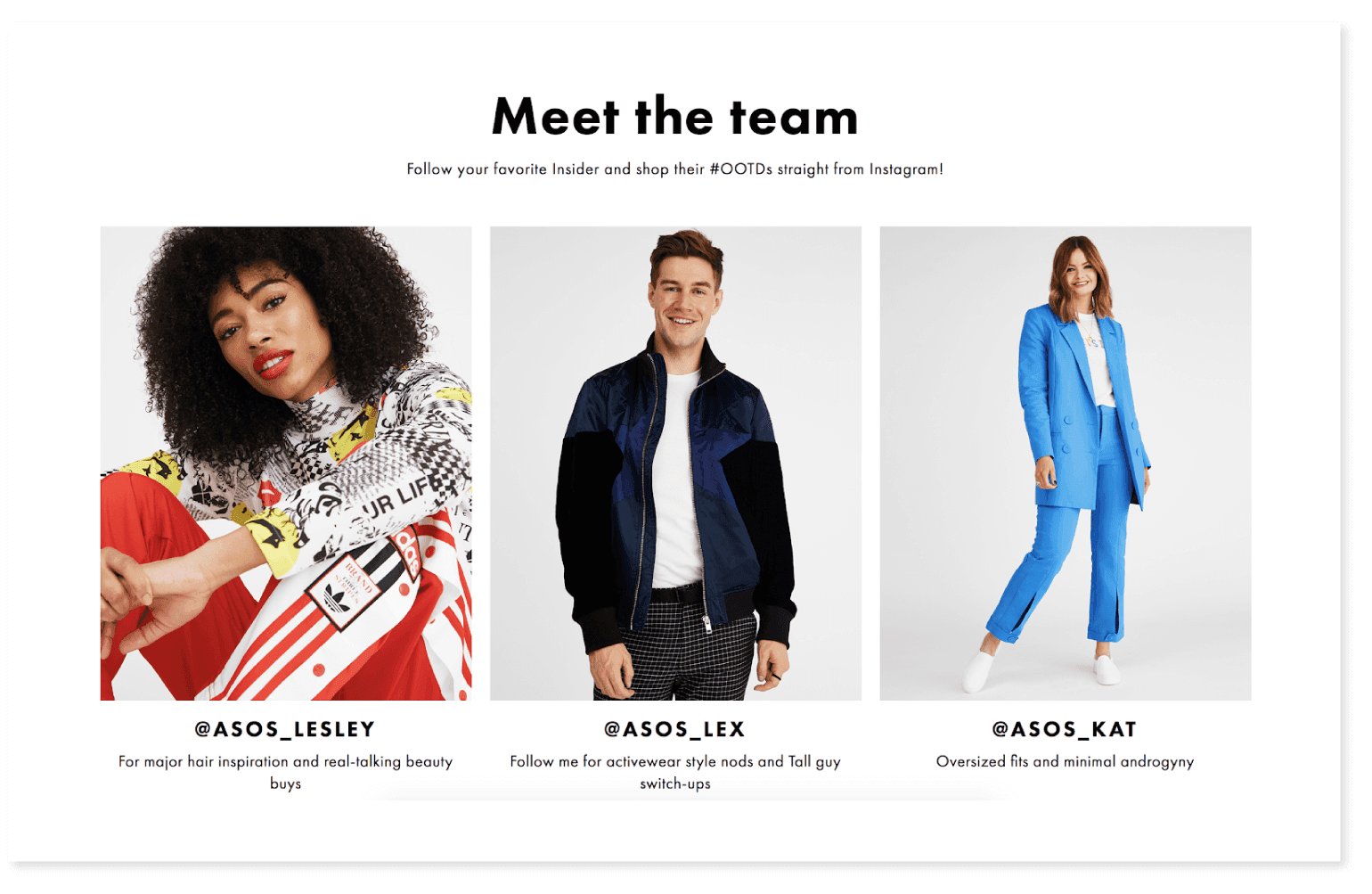 What Makes This Content Great?
Content IS their marketing. You can tell that ASOS doesn't force "content marketing" into a seperate silo. Rather, it is at the heart of its marketing strategy.
It mixes old and new. ASOS does Instagram and YouTube content just as well as it does its old school print magazine. The company proves that if it's worth doing… it's worth doing well.
Primary
Primary creates baby and children's clothes that are free from cutesy text, embroidery, and emblems. The perfect blank canvas for some DIY fun.
The company has a dedicated section of its website that focuses on no-sew, easy-to-recreate costumes and DIY projects using its clothing as the foundation. The blog features everything you need to make the costume at home, as well as step-by-step instructions to avoid any #pinterestfail moments.
Primary even offers a costume concierge for DIY help and questions.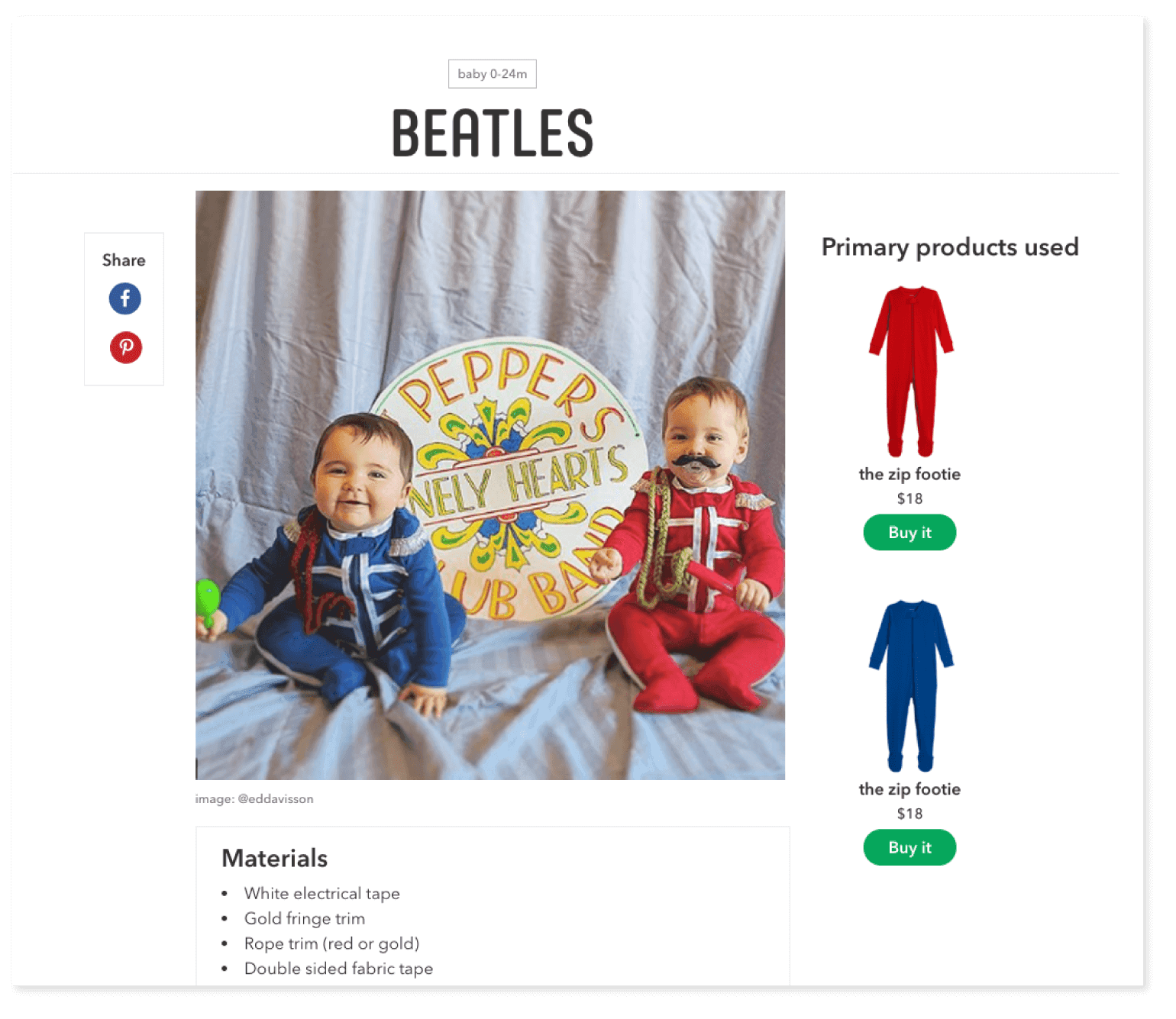 What Makes This Content Great?
It leverages user-generated content (UGC). Primary puts its customers' creativity on display by showcasing the best uses of its garments in DIY projects. UGC is a cost-effective and authentic way to bolster your content marketing.
It's well organized. The DIY blog does a great job of organizing its content based on the needs of the visitor. Projects are categorized based on child age, costume type, size of the group, etc.
Wisita - One, Ten, One Hundred Documentary
Producing quality video content is always a challenge for time and budget-strapped marketers. Wistia aimed to explore this challenge with its first ever episodic documentary.
The 4-part series explores what video marketers can do with a $1,000, $10,000 and $100,000 budget.
As a video software company, the episodic documentary is an exciting way to highlight how budgets affect the creative process - a common hardship for many marketers and Wisita customers.
What Makes This Content Great?
It's daring. Wistia undoubtedly spent a lot of time and resources producing this content. With original series' popping up all over, it's gutsy to see something of this magnitude come from a tech company.
It's transparent. One of the coolest things about this content is that it gives watchers a behind-the-scenes look at video marketing - the good, the bad, and the ugly.
Hershey's - Celebrate with Hershey's
Hershey's microsite, Celebrate with Hershey's, is a great example of how to take a blog one step further. The site aggregates all it's best recipes, DIY projects, games and more into one area.
For something that needs to change as often as the next upcoming holiday, a microsite gives Hershey's the flexibility to adapt and tailor highlighted content and design as necessary. Something that can be challenging to do with a standard company blog.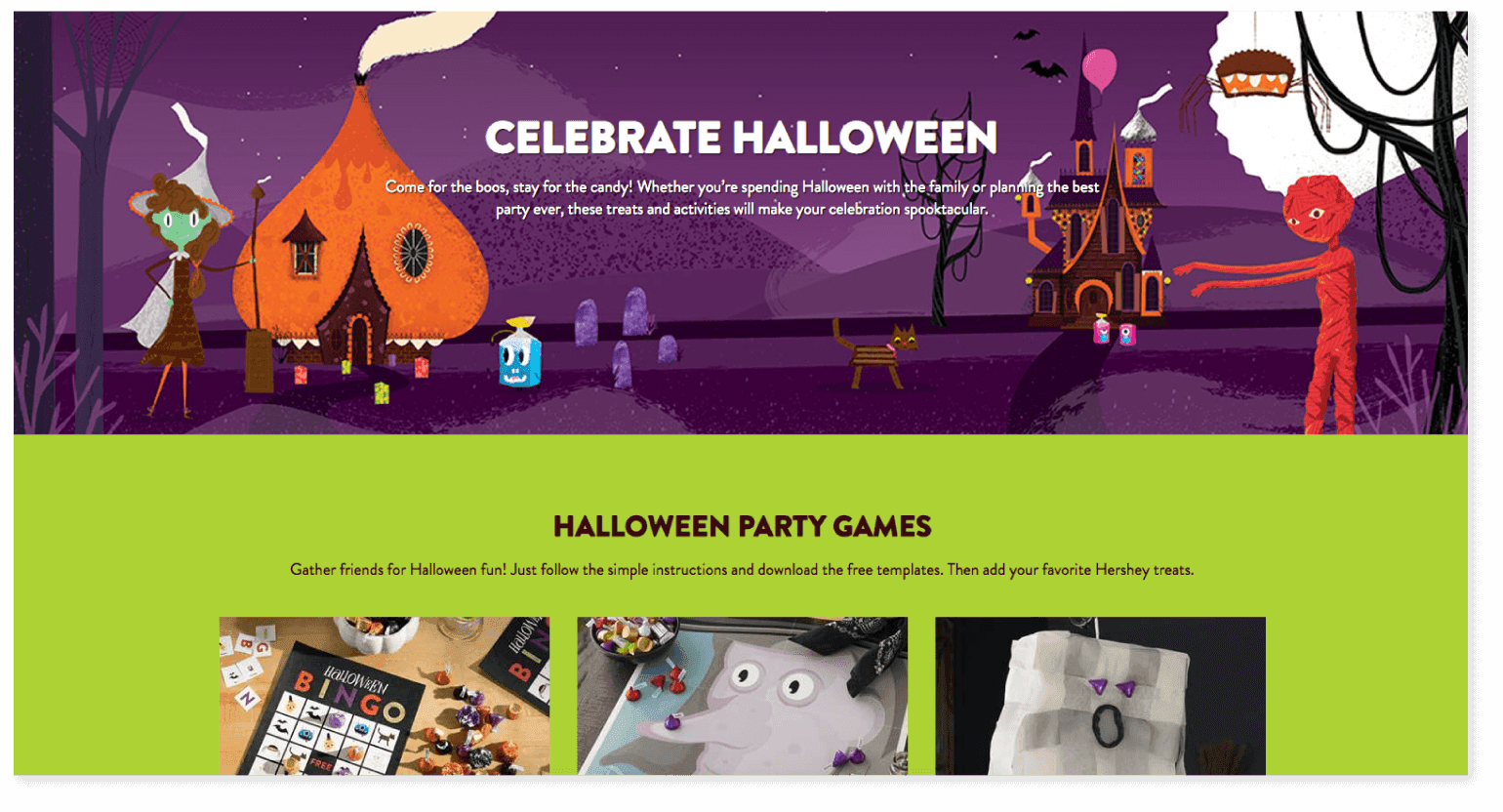 What Makes This Content Great?
The supporting materials. Rather than just explaining the project, Hershey's actually provides printable games, stickers, etc. to help visitors make the most of the projects.
The creativity. Who would have thought there would be so many uses for a simple Hershey kiss? The site is a treasure trove of fun activities to do with your kids.
Bank of America - Better Money Habits
Bank of America partnered with the Khan Academy to launch a series of videos which lifts the curtain back on real people in real jobs. These individuals share their own financial journeys, from monthly incomes, budgeting and what someone looking to enter into their industry can expect in terms of salaries and responsibilities.
The content focuses on appealing to young adults and explains financial facts with relatable "IRL" examples, so each visitor can compare and contrast against their own situations.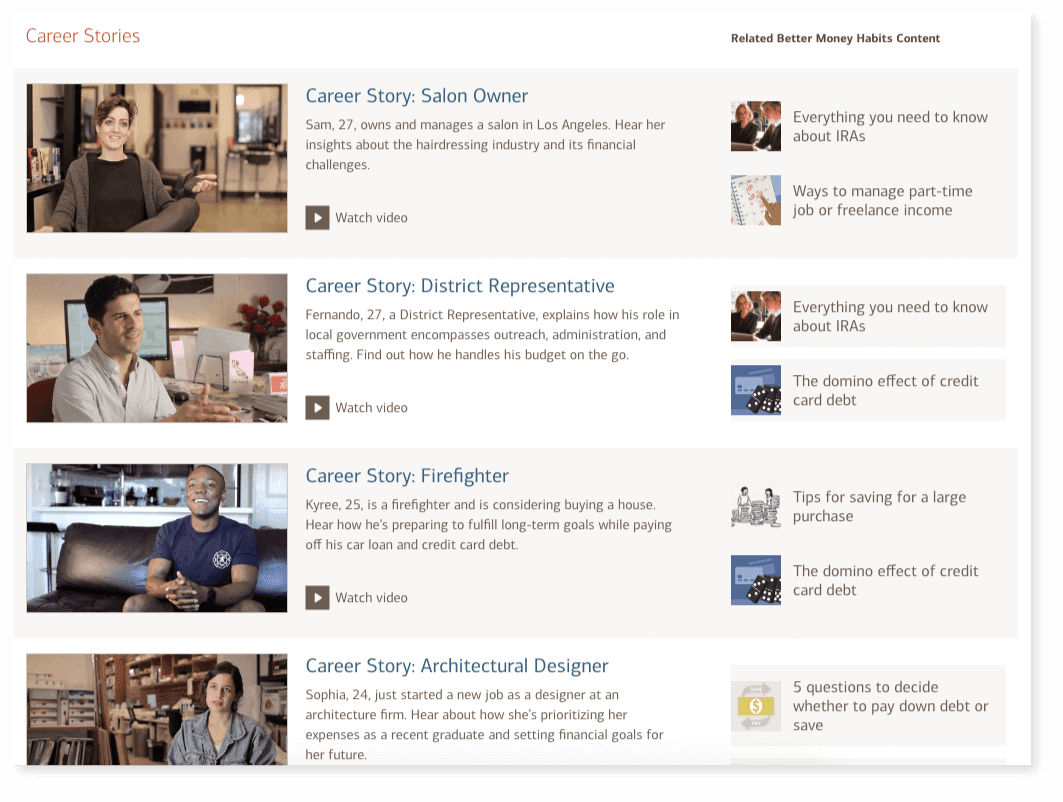 What Makes This Content Great?
It focuses on a strategic target market. Attracting young professionals builds loyalty early, which is especially important in an industry like banking where customers often become ones for life.
It broaches a topic that many shy away from. Discussing salaries and financial health isn't easy, but Bank of America's video series helps people in similar industries relate to each other and learn from one another.
Headspace
The Headspace blog is a great example of how to do blog content right.
The "Orange Dot" blog covers a range of topics that aim to help readers navigate the challenges of everyday life. From relationships to work or parenting, the Headspace blog offers advice in a way that isn't intimidating to meditation novices.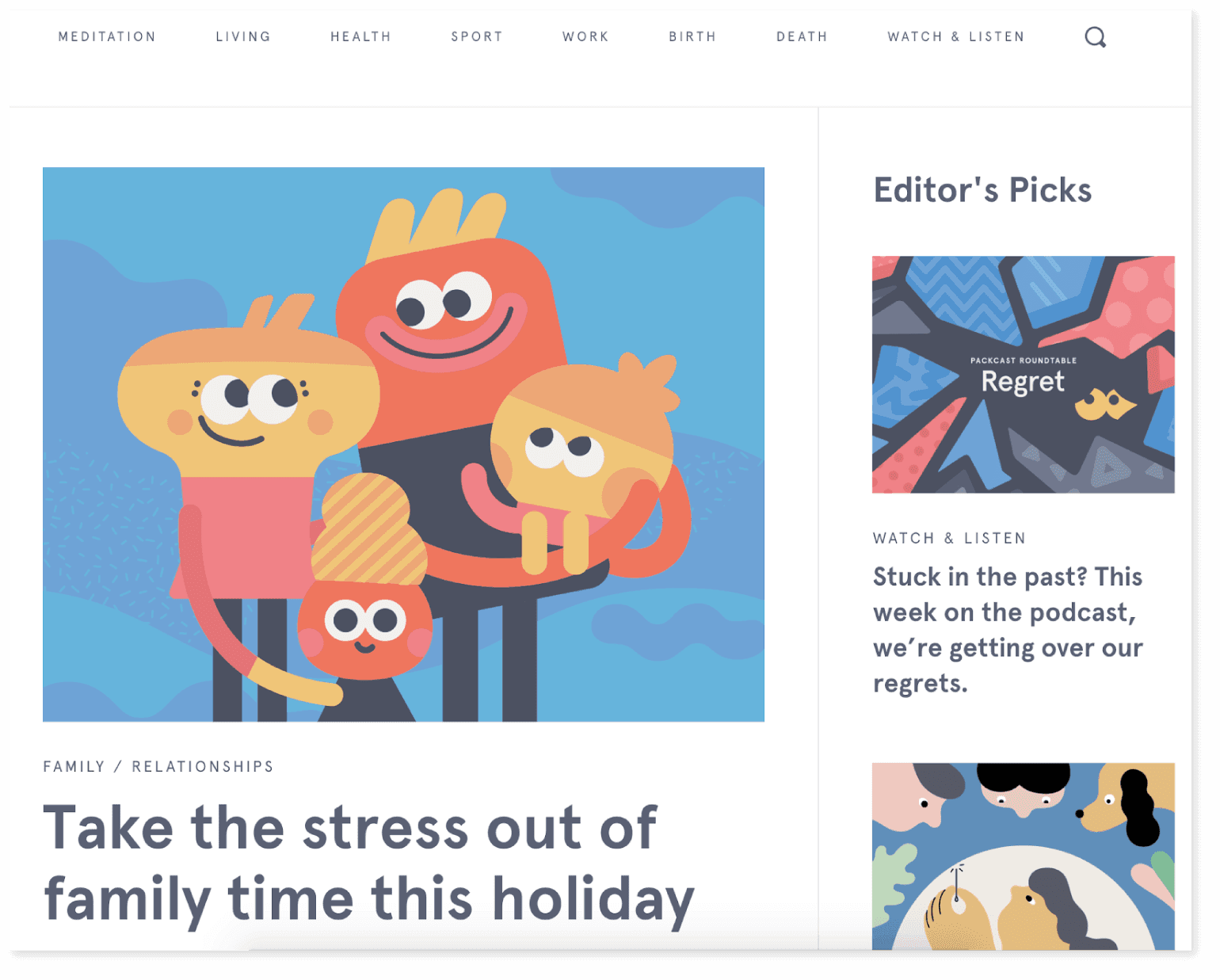 What Makes This Content Great?
The company approaches content marketing like a true publisher. The company's content is compelling and touches on common issues individuals are faced with on a daily basis. All of the articles featured on the blog have one clear goal: to support readers as they work toward a healthier, happier life.
Branded imagery. Every post, article, video, or podcast is paired with a vibrant image that is on point with the company's brand. No stock images in sight.
Zillow
Zillow's blog, Porchlight, encompasses a wide range of content that is targeted to each of its user personas including, renters, homeowners and agents.
The blog addresses inspirational topics like tackling a kitchen renovation; to practical ones like how to address toxic mold as a renter. Regardless of which persona the content is for, the common thread is that engagement is always on at the forefront and supports the company's mission: to help people find their next home.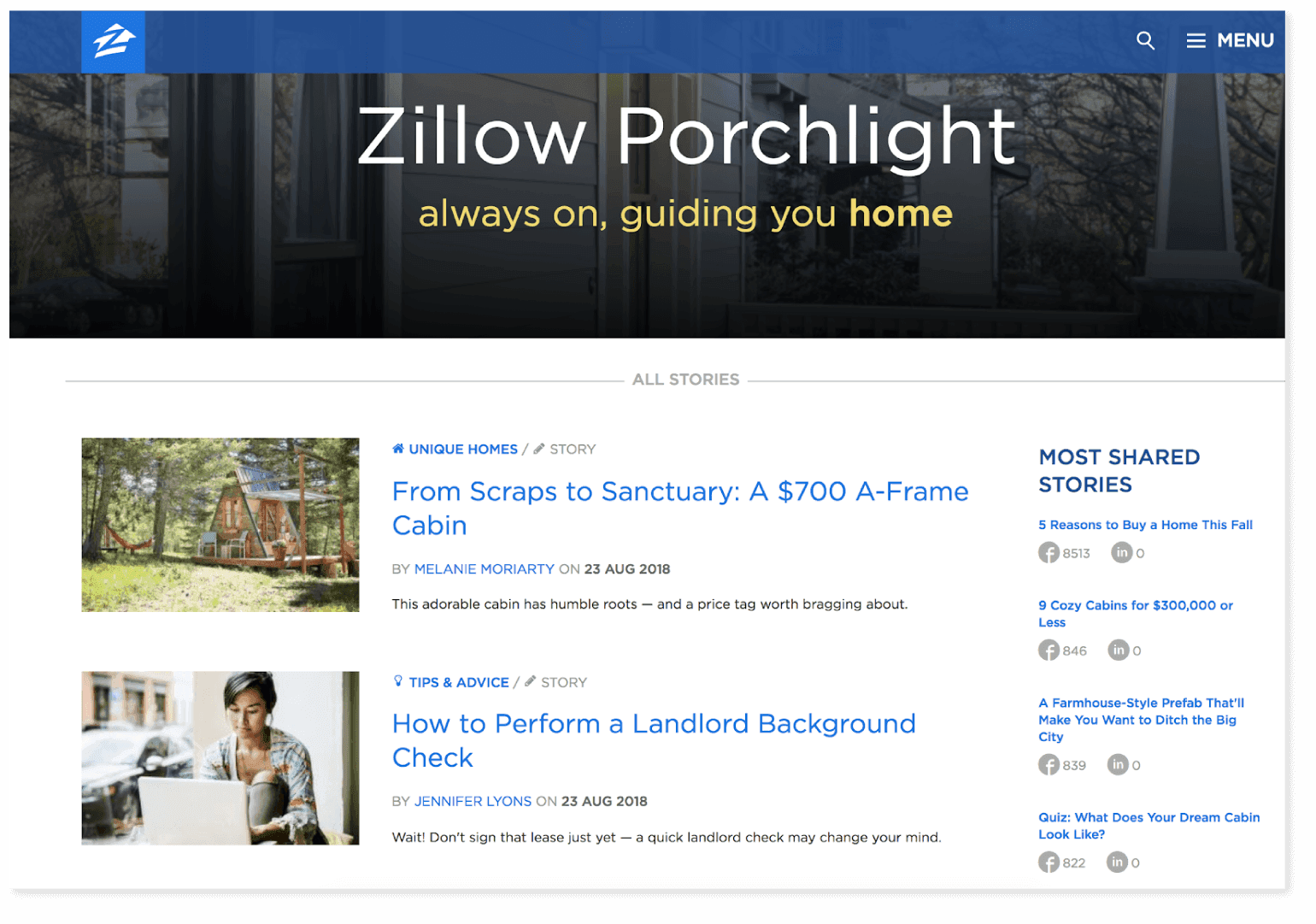 What Makes This Content Great?
Guest contributors. Zillow has been known to feature content written by well-known names in the industry like Christina El Moussa from HGTV's Flip or Flop.

P

osting frequency. Zillow does a great job of pumping out content on a regular basis… typically about twice per week.
Four Seasons
When you think of fancy-pants hotels, the Four Seasons will likely come to mind. The hotel's digital magazine is a great example of how content marketing can reinforce an already established brand identity.
Focused on luxury, the Four Seasons blog looks more like a high-end travel magazine than a blog. All of the company's content is well-researched and aims to inspire travelers to make their next trip unforgettable.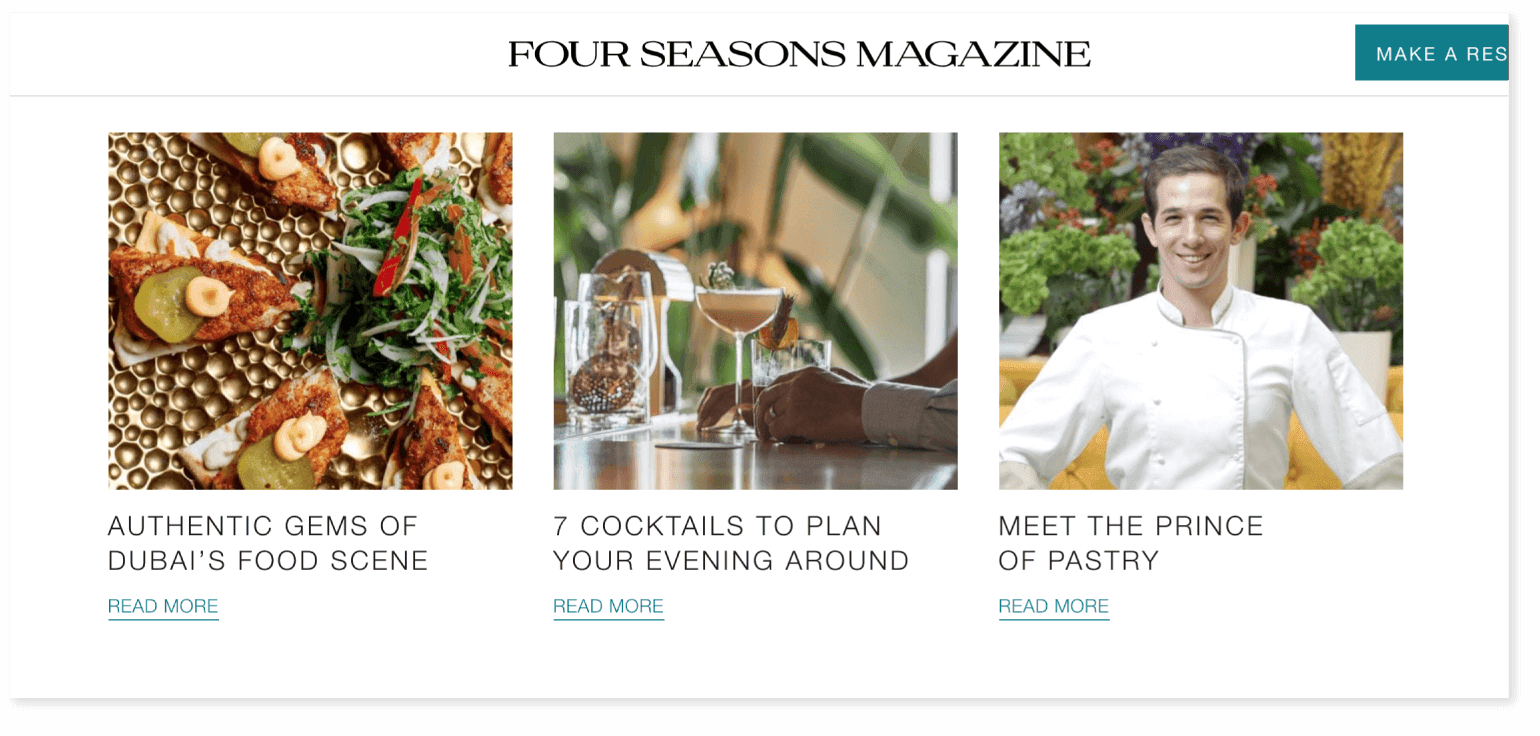 What Makes This Content Great?
The aspirational imagery. It's hard to read the Four Season's blog without picturing yourself living your best life looking #flawless on the beach… even if that is wholly unattainable.
Custom itineraries. Based on specific destinations, the company provides dining and activity suggestions to recreate experiences featured on the blog.
Nike
What if your next content marketing campaign took 2 years to produce? Talk about patience. This is exactly what Nike did with its Breaking2 documentary.
The goal was to document and achieve what was never thought possible… completing a marathon in under 2 hours. Together with three elite runners (Eliud Kipchoge of Kenya, Lelisa Desisa of Ethiopia, and Zersenay Tadese of Eritrea) and National Geographic, Nike provided the optimal conditions (and the shoes) to break the marathon record.
To date, the documentary has been viewed well over 3.5 million times on YouTube.
What Makes This Content Great?
It pushes the limit. People are drawn to content that attempts to do things that have never been done before. Think of all the times in history where millions tuned in to see if history could be made.
It leveraged live streaming. Aside from the 3.5 million people who watched the polished documentary, over 13 million people watched the event stream live across social media.
AirBnB
Everyone wants to travel like a local - avoiding the tourist traps, eating at the best underground restaurants, and wandering the little known streets with a great coffee in hand. Playing off its unique business concept, AirBnB's guidebooks are the place to turn if you're looking for local tips about your next destination.
The content makes AirBnB's site so much more than just a place to book your next stay. It creates an all-encompassing travel planning site where you can make your itinerary based on real locals' advice.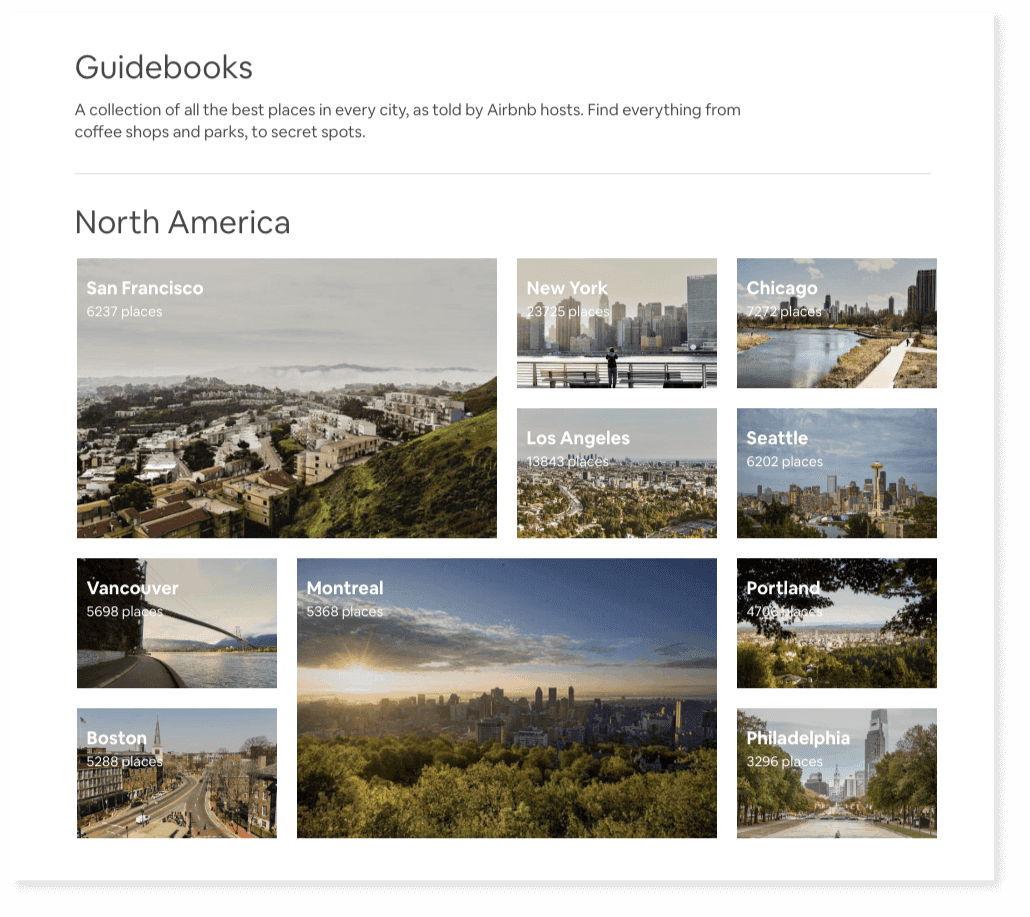 What Makes This Content Great?
It's complementary to AirBnB's business. If you're going to stay at a local's house or apartment, why not take some of their advice regarding what to do in their city, too? It's a logical expansion based on the nature of what the company does.
It's interactive. The map functionality makes planning your next trip not only convenient, but also fun, as you can drag that map around to discover new attractions.
Save the Food
Food waste is a big issue in America. The Save The Food initiative is implementing content marketing tactics to raise awareness about the problem and what we can do to help solve it.
The microsite features great tools like a "guest-imator", which is an interactive calculator that assists with estimating how much food you need to prepare for your next dinner party; an interactive storage guide, to learn how to properly store food, how long it can stay there, and what you can do if it's past its usage date; and more.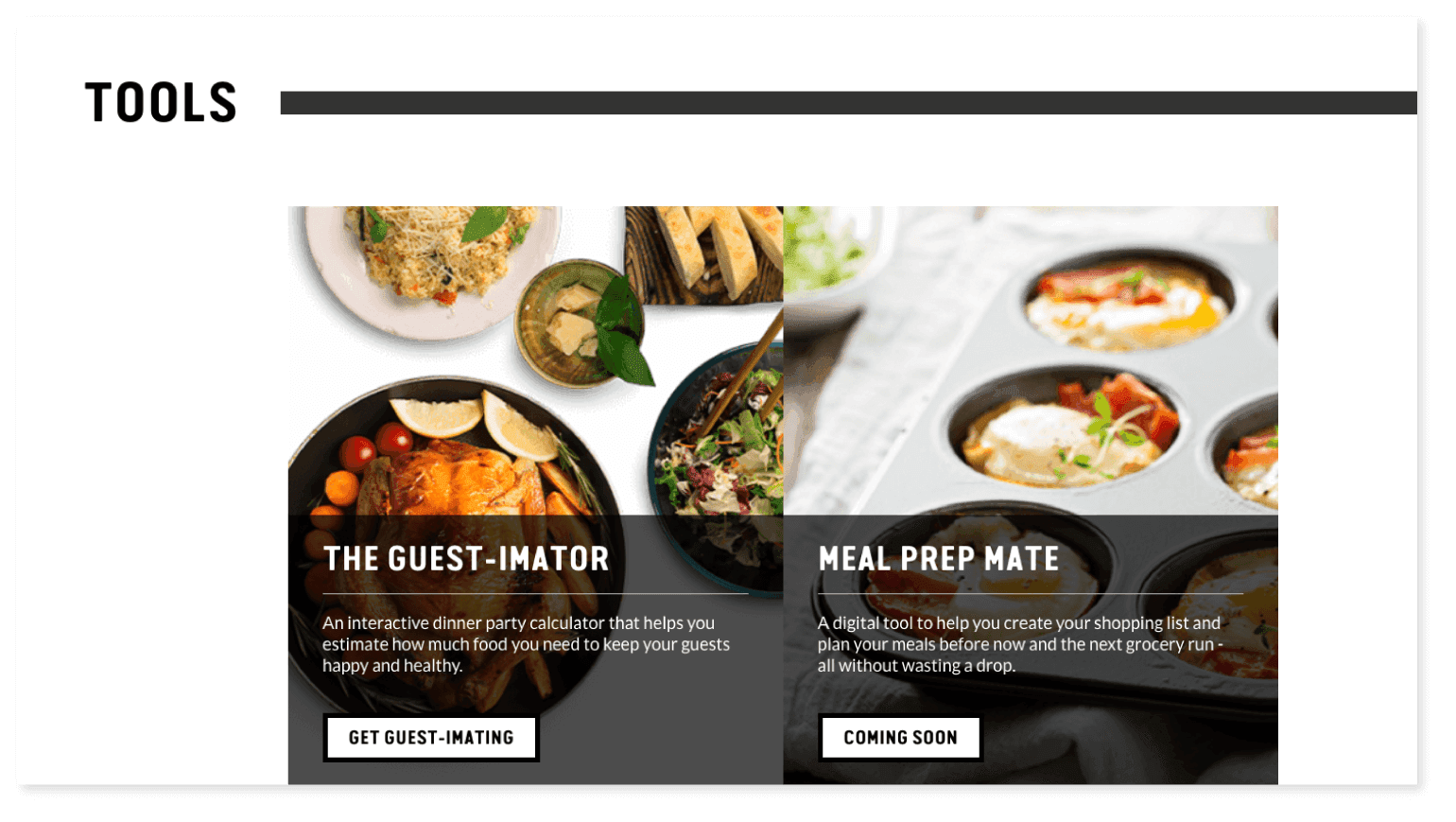 What Makes This Content Great?
It makes an issue tangible. Food waste is something that can be kind of nebulous. We don't often think about how much money we are throwing out nor how many resources go into producing our food. Hearing that a family of four could be throwing away up to $1500/year on wasted food or that it takes roughly 50 gallons of water to produce one egg is really eye-opening.
It is interactive. All the tools not only aim to help solve the problem of food waste, but they are also fun to use.
Blendtec
The Blendtec video campaign "Will It Blend?" might seem a little silly at first blush. It undoubtedly is, but it also highlights the strength of Blendtec blenders in a fun and engaging way. In fact, the videos are surprisingly addicting.
The videos don't have the highest production value, which honestly adds to the charm. That, coupled with some cheeky copy, and a host that is reminiscent of everyone's dad, makes this campaign an all around content marketing win.
What Makes This Content Great?
It's addicting. This content makes it so easy to fall down the rabbit hole… who isn't curious what a bunch of everyday objects look like after being put through a blender?
It doesn't take itself too seriously. There's a lot of examples on this list that focus on being uber professional. The "Will it Blend?" campaign knows what it is, and isn't trying to be anything more.
Pandora - Sounds like you
What would you sound like if you were a melody? Would you be influenced by any certain artist or genre?
Pandora's microsite, "Sounds Like You", uses data from its Music Genome Project, coupled with a visitor's favorite songs and composes a custom melody especially for the visitor. The microsite is not only beautifully designed, it's incredibly fun to participate in.
The site combines both personalization and "sonic branding" to provide visitors an interesting content experience.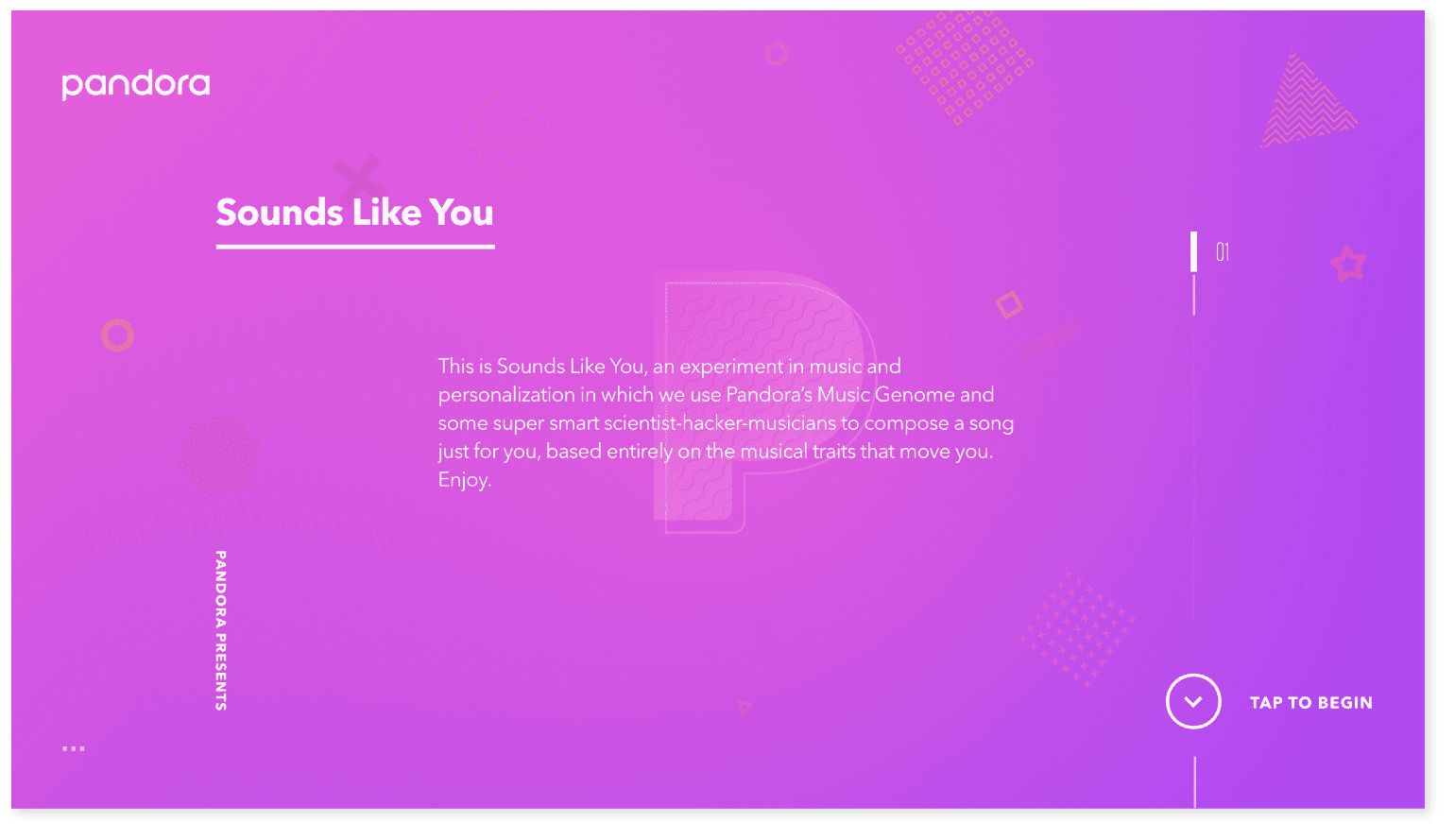 What Makes This Content Great?
Its personal. Each person who "plays" gets a personal audio clip based on their music preferences.
It fits the brand. Pandora built its brand on personalization–offering a music service that becomes more personal as you listen. This content personifies that in a fun and engaging way.
Shopify
One glance at the Shopify blog and you can tell the company knows their audience and the problems they encounter. The company offers basically everything one could need to get their e-commerce business up and running, including free stock photos, forums to learn from others, free e-courses, an a whole host of tools to help run your business.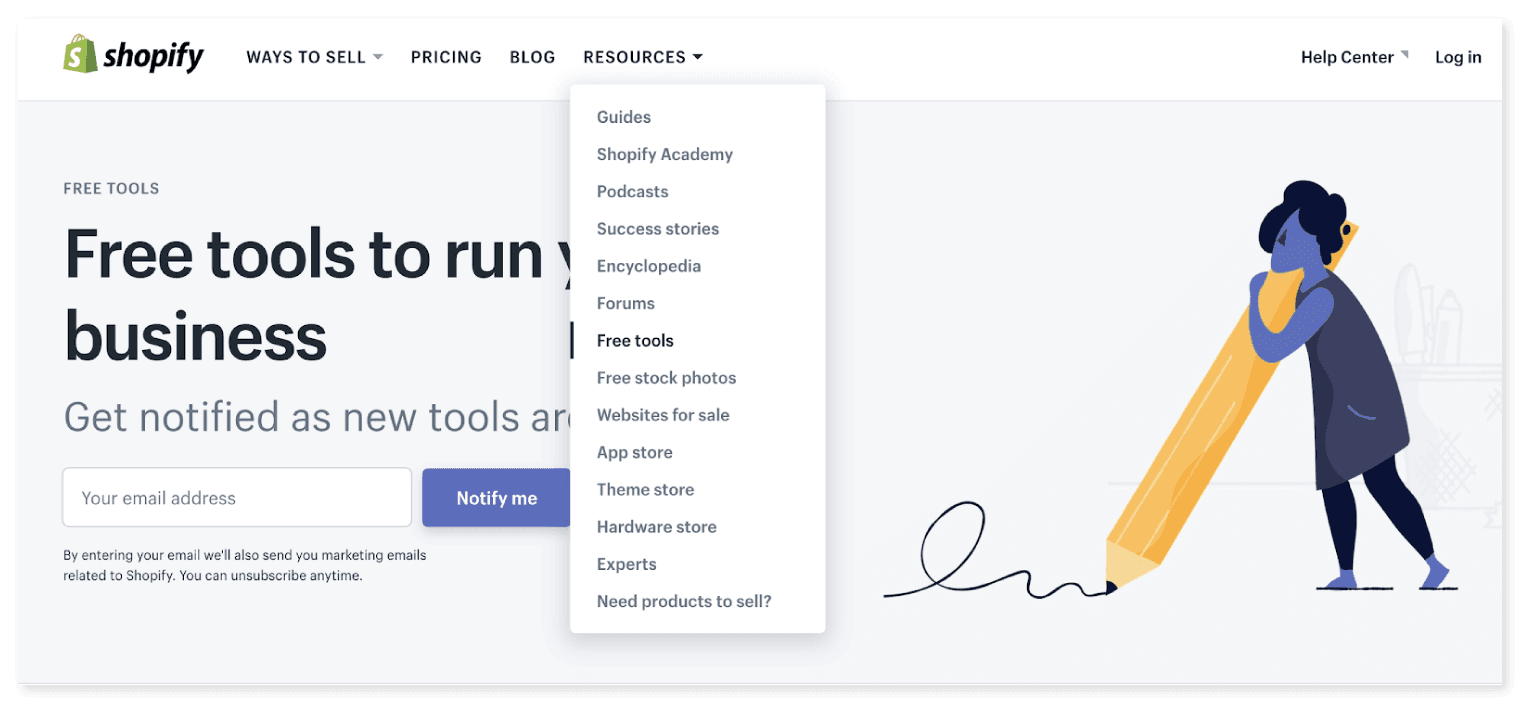 What Makes This Content Great?
Its depth. If you have a question about running an e-commerce site, Shopify has a tool article or course to solve it.
The templates. Turning your side hustle into a full-time business can be intimidating. How do you create barcodes or send invoices? The template area of Shopify's resource center is meticulously planned to help visitors be successful.
Glossier
Before there was Glossier, there was Into the Gloss, a beauty blog that reached over 1.5 million unique visitors since its launch in 2010.
So it's no surprise that Glossier views content marketing as a cornerstone to the brand's strategy. CEO, Emily Weiss, has even said that the product and content are one and the same. In a 2017 interview, Weiss compared Glossier products to pieces of content and called the company "a content company."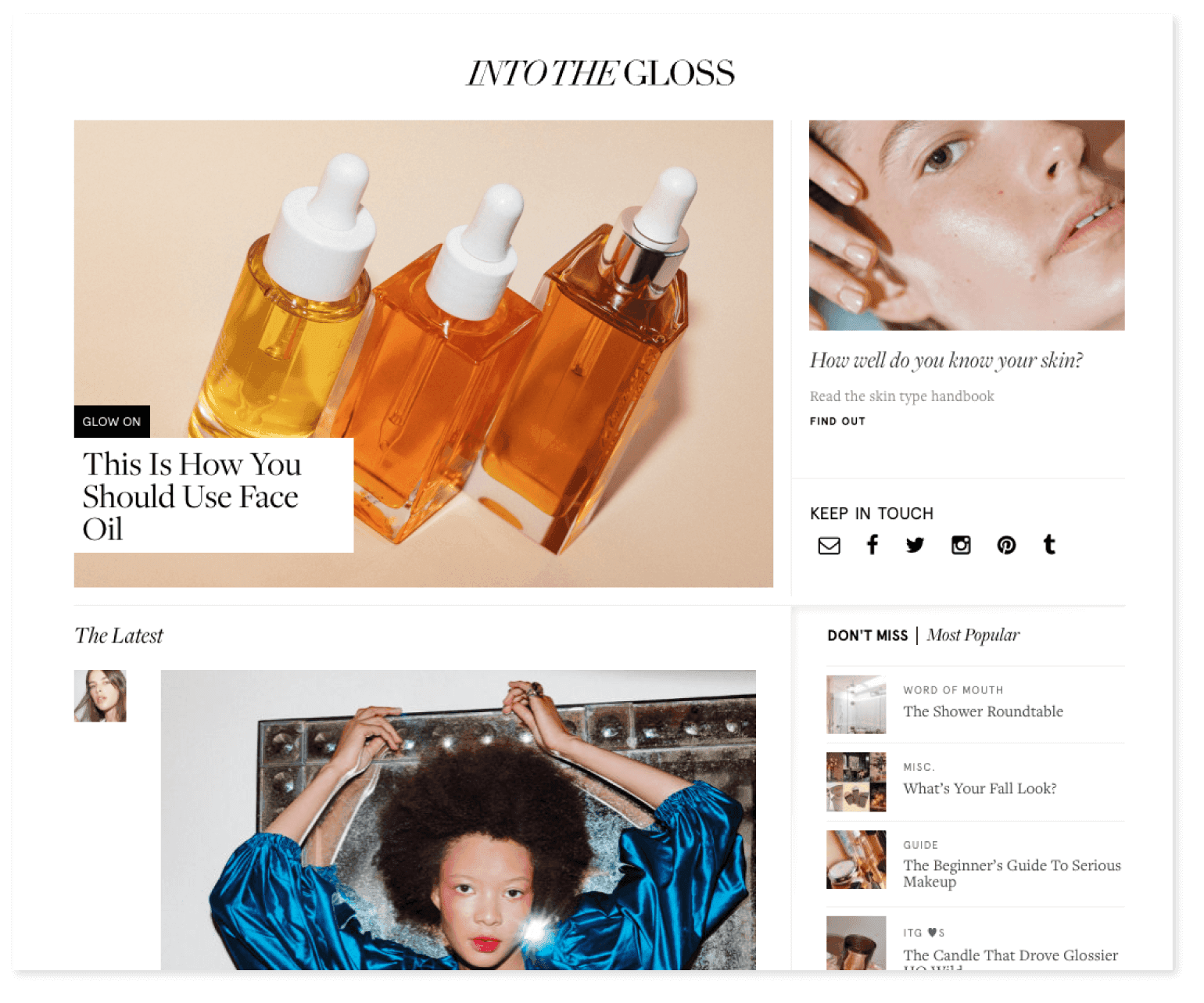 What Makes This Content Great?
Each content item has a purpose. The company doesn't just produce content for the sake of sticking to a publishing schedule. For example, with each new product launch, Glossier also publishes an article outlining how it was developed and why.
It takes content seriously. By starting out as a publisher, the company gained unique insights into reader preferences. They then used those comments and preferences to identify gaps in the beauty market and aid in the development of its own line of skincare.
Time To Plan And Launch
Now that you've got a bunch of examples to inspire your next content marketing campaign, learn the next steps to make it a reality - from strategy to execution.
CoSchedule… The Spreadsheet Killer And Time Saver
When that spreadsheet you're using to plan your marketing campaigns is spiraling out of control, give CoSchedule a try.
It's the only family of marketing products to help you deliver projects on time, stay focused and increase productivity. Basically, you can quit feeling like this…  ↓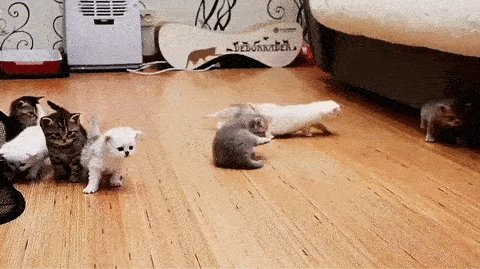 November 22, 2018