What Makes CoSchedule the Best Project Management Software for Marketing Teams?
If you're here, you probably have some serious issues managing marketing projects. After all, what team doesn't? Keeping tasks, projects, and campaigns on track department-wide isn't easy, and marketing managers have unique needs that popular tools can't always meet. This is where CoSchedule stands out. As a purpose-built
marketing project management platform
, it includes the features and capabilities marketing managers need most to get organized. In this post, you'll learn exactly how it stacks up against popular general-purpose tools, and what makes it the best option for marketing teams (backed by data and detailed comparison charts). While by no means exhaustive, it'll give you the high-level understanding you need to determine if it might be the right choice for your marketing department.
What Makes CoSchedule the Best Project Management Software for Marketing Teams?
Click To Tweet
Why Do Marketing Teams Need Project Management Tools?
There are tons of project management tools and software options out there. But, for marketing teams, not all of them are purpose-built for their specific needs. This creates a situation where CMOs and marketing managers choose a mix of apps for different tasks and processes, leaving teams with disjointed martech stacks (
a problem CoSchedule calls "makeshift marketing"
). So, what's the problem with this? Here are several:
Disjointed toolstacks lead to disjointed workflows.

It builds inefficiency into processes and makes life harder for everyone.

This leads to copy-and-paste processes that leave too much room for error.

Get used to things getting missed.

Ultimately, it makes managing projects unnecessarily difficult.

Time gets spent managing tools instead of getting actual work done.
In short, makeshift marketing creates an untenable situation for anyone managing marketing projects. Odds are, it's the exact problem you're here to solve, too.
What is CoSchedule, Exactly?
CoSchedule is a marketing project management platform where busy teams can plan and execute every project. It's mission control for your entire marketing team:
Need Something Quick and Free?
What if marketing project management is something new for your team? Or, what if you need a low-cost solution in the meantime before settling on software to get the job done? Try downloading this free marketing project management calendar template, which includes:
A field for your projects backlog that you will plan in the future.
A list for every project your team is currently working on.
A sprint backlog tab for mapping out the timelines for all your projects.
A place to measure the results of each project (so you can improve in the future).
Get it free below:
What Does CoSchedule Mean for Your Team?
CoSchedule is built to be the hub where teams manage every project from start to finish. It solves all of the problems mentioned thus far (plus tons more) by providing everything marketers need to get stuff done while integrating with many of your favorite tools you're probably already using. Here's a short list of common headaches it solves:
Endless email chains?

 Gone.

Lost documents?

 Never again.

Late projects?

 Not for your team.
Next, get a complete breakdown of what CoSchedule can do, and how it stacks up against other products you might be considering.
CoSchedule vs. General Project Management Tools: A Quick Comparison Chart
So, how does CoSchedule stack up feature for feature against general project management solutions? Take a look at this high-level comparison chart:
The Features You Need (With More to Come Soon)
CoSchedule is built for marketers with input from marketers, including our customers and our own internal marketing teams. Feedback gets turned into features that address real-world problems fast. Here are some of those key features of interest to managers (with more to come):
Marketing Calendar
With CoSchedule, teams have full visibility of all projects and campaigns on
one unified calendar
. This alleviates confusion around who is doing what, and when. Plus, team members get total clarity on upcoming deadlines.
You can also view the calendar in a List View if preferred:
Using Custom Content Types, you can plan and manage any kind of marketing project your team needs to execute:
If you need to change a deadline, it's as simple as dragging and dropping projects from one day to another: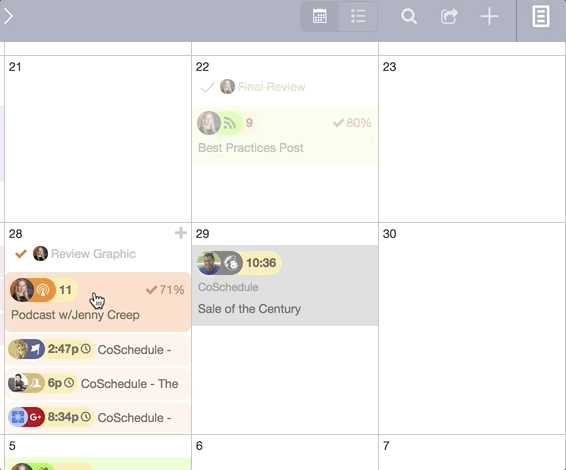 Plus, with
Saved Views
, you can share a non-editable version with clients (perfect for agencies):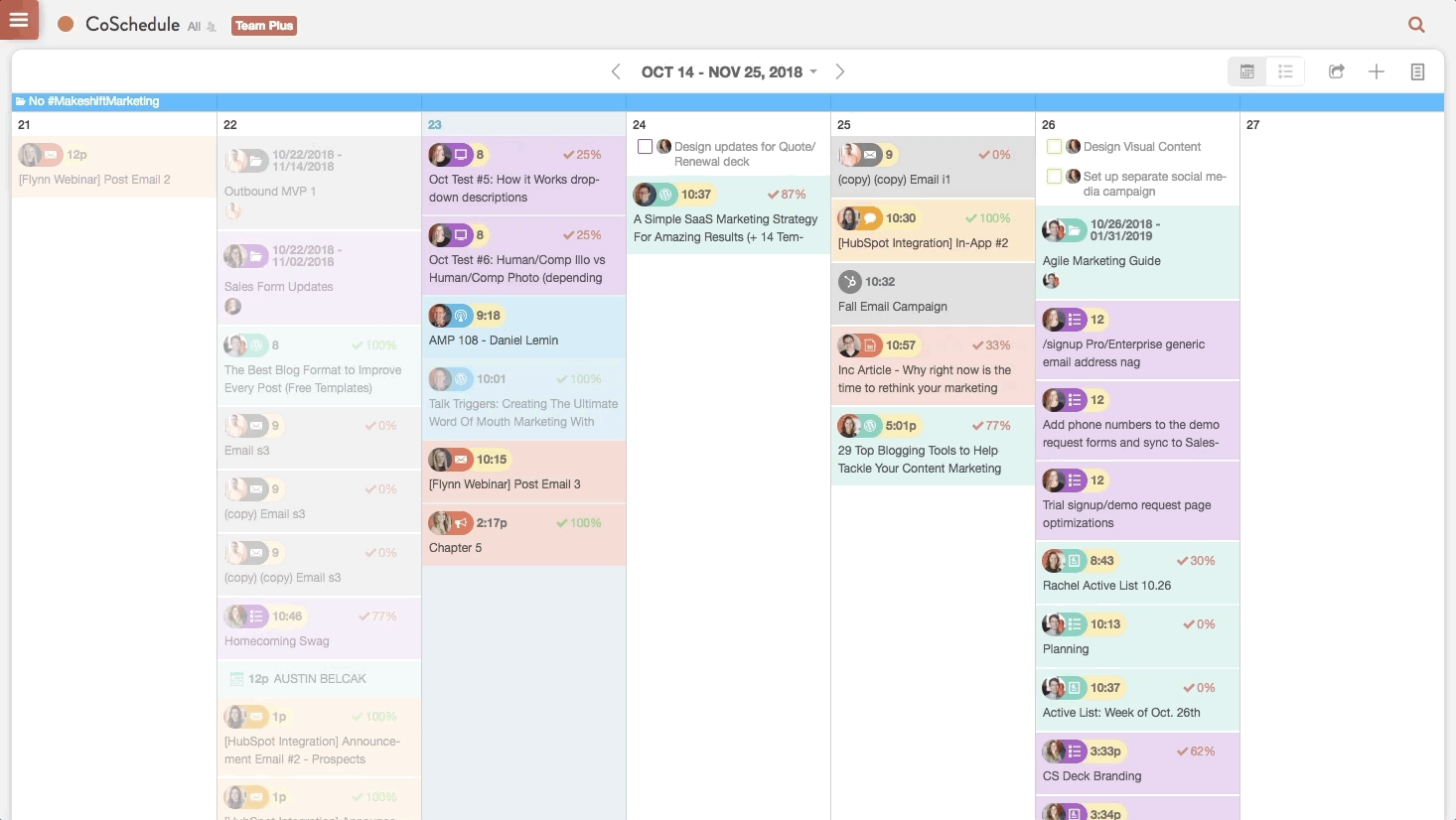 Marketing Campaigns
Managing large-scale campaigns with multiple marketing projects? You can organize everything easily using Marketing Campaigns:
When viewing your calendar, you'll see Marketing Campaigns appear as color bars across the calendar: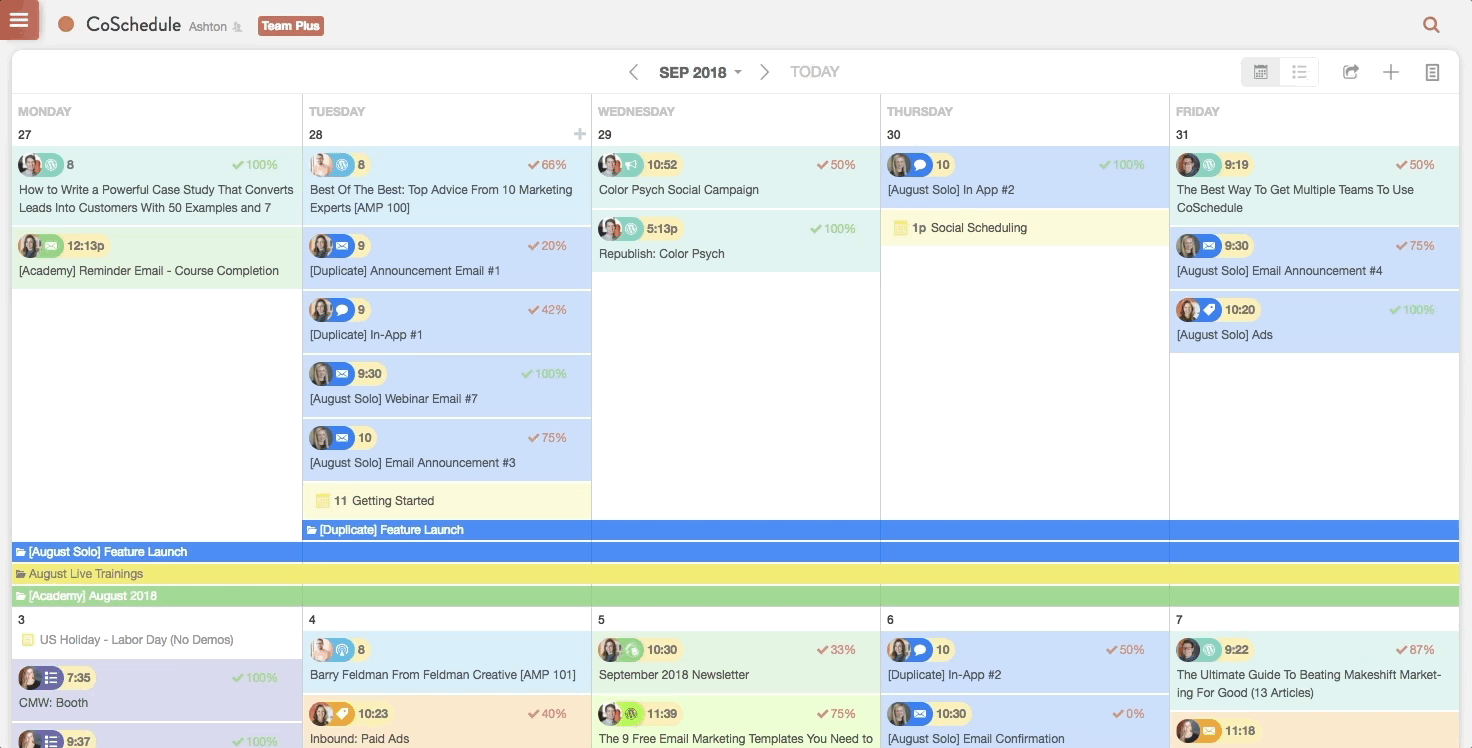 Clicking into a Marketing Campaign lets you easily see every project and its status within that campaign.
Kanban Project Dashboard
Kanban project management is popular for a reason: it's simple and effective. If your team prefers to manage projects and tasks using kanban-style workflows and software, switching to CoSchedule is easy:
Team Management Dashboard
Who's doing what and when? With Team Management Dashboard, team members can see all their tasks for the day (across all their projects) in one place:
Custom Statuses
Different types of projects may need different terminology to indicate their completion status. For example, a blog post might go from "Draft >>> Editing >>> Publish," while a research project may need … well, a completely different set of language, based on what your team uses internally. Using Custom Statuses in CoSchedule makes it easy to label project status exactly the way you need:
Task Management
Managing tasks within projects
 is simple using CoSchedule. Create a project, and then add tasks (which you can assign to team members with deadlines) to the right: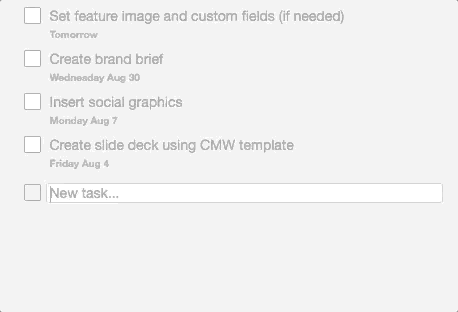 If you have specific workflows you execute routinely, create
Task Templates
that can be applied in just a couple clicks:
Need to sign off on assigned tasks before they can be considered complete? Use Task Approvals to confirm completion status after you've had a chance to review the work:
Each time a task is checked complete, the completion percentage will increase toward 100%, making it easy to see how projects are progressing at a glance on the calendar:
Team Performance Reports
Need to know who's getting their work done and who's falling behind? Use Team Performance Reports to see exactly who's hitting their deadline and who's struggling. Its integrated with Tasks to help you track every team member's real productivity:
Discussion Threads and Document Uploads
Looking for a way to collaborate and communicate while keeping the conversation connected to its relevant project? You can do all of this with document uploads and sharing files within
Discussion Threads
:
Plus, if you tag a team member, they'll receive desktop and email notifications letting them know. You can also see notifications you've been tagged in with your personal dashboard upon logging into the app:
Need to pass documents back and forth between team members? You can do that well. Just attach your file to a comment. This makes it easy to maintain proper version control without losing track of important notes while helping to eliminate labyrinthine email threads (which are like black holes, where important conversations go in and are often never seen nor heard from again).
WordPress + Social Media Automation
The days of using spreadsheets to create editorial calendars are over. If you're
managing content projects using WordPress
, this integration ensures easy scheduling so every post gets published on time: Plus, the CoSchedule WordPress plugin makes it easy to use CoSchedule directly inside WordPress if desired:
And with
Social Campaigns
, you can schedule social media promotion for your WordPress content with automated scheduling:
And there are more social media features too:
Best Time Scheduling

: Automatically schedule social posts at optimal times.

ReQueue

: Reshare your best content and get even more engagement.

Social Media Analytics

: Measure the performance of your posts.
What does this mean for project management? Everything stays organized and your team saves time on planning and execution, so you can keep them focused on doing work that matters, instead of struggling with disconnected tools and failure-prone copy-and-paste processes.
Email Marketing Integrations
You can also manage email marketing content in CoSchedule via integrations with MailChimp (as well as Campaign Monitor, Constant Contact, and Active Campaign).
Even More Smart Integrations With Your Favorite Tools
The number of useful integrations for marketing project management in CoSchedule doesn't end there.
Evernote
Evernote is one of the most popular note-taking and organization apps available for several reasons. It's powerful, flexible, and perfect for collaborative teams.
And it integrates seamlessly with CoSchedule
.
Google Drive
Gsuite is an increasingly popular office suite option in a lot of businesses. With CoSchedule, you can attach Google Drive documents to projects, and even convert Google Docs directly into WordPress posts.
Google Calendar
Sync all your meetings and events so they're viewable in one place.
Zapier + Trello, Wrike, Basecamp, and Asana
Does your marketing department collaborate with other teams that need to use general project management tools? You can keep everything in sync using
Zapier to integrate CoSchedule
with Trello, Wrike, Basecamp, and Asana. Every project stays on the same page across teams, and everyone gets to continue using the tools that work best for their needs:
More Resources to Get Your Team Onboard
Implementing a new software tool can be challenging. You'll need to get your team comfortable with the idea of making a switch from what you're using now, whether that's a combination of spreadsheets, apps, and other non-marketing software tools. But, it's a necessary step toward beating makeshift marketing and succeeding in managing marketing projects effectively. These resources should help:
Schedule Your Demo Today
Now you know what CoSchedule has to offer and what it can to transform your marketing project management. Next, it's time to try it yourself and see how it can support your unique needs and workflows.