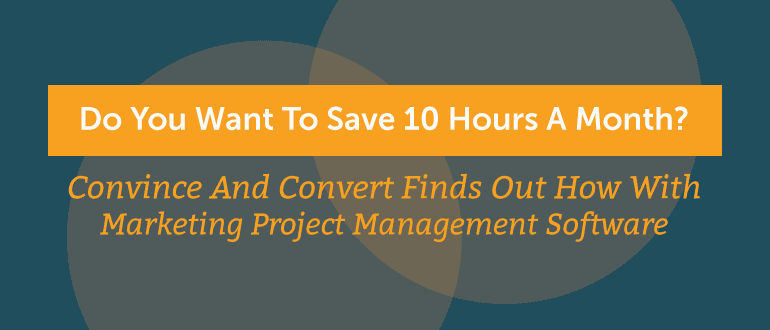 Marketing project management isn't easy. It requires the careful coordination of many moving parts, all while corralling creative professionals (who often loathe structured processes). Yet, without clear processes in place (and sufficient software to support them), the work is liable to go off the rails. Projects turn into fire drills, and while the team might think they're thriving under chaos, the reality is working under disorganized conditions negatively impacts results.
The data bears this out, too. According to recent research data, marketers who are organized are 397% more likely to report being successful. In addition, marketers who proactively plan projects and campaigns were 356% more likely to report success.
That means marketing teams that prioritize getting organized and managing projects effectively are much more likely to ship more projects, hit their deadlines, and produce better work than those who don't.
Success also requires having the right tools for the job. And with so many project management software tools for marketers to choose from, picking the best option for your team is important.
In this post, you'll learn:
How project management software helps marketing teams get organized.
Which features matter most (and which tools have the features you need).
How to put processes into place to make the most of your tools.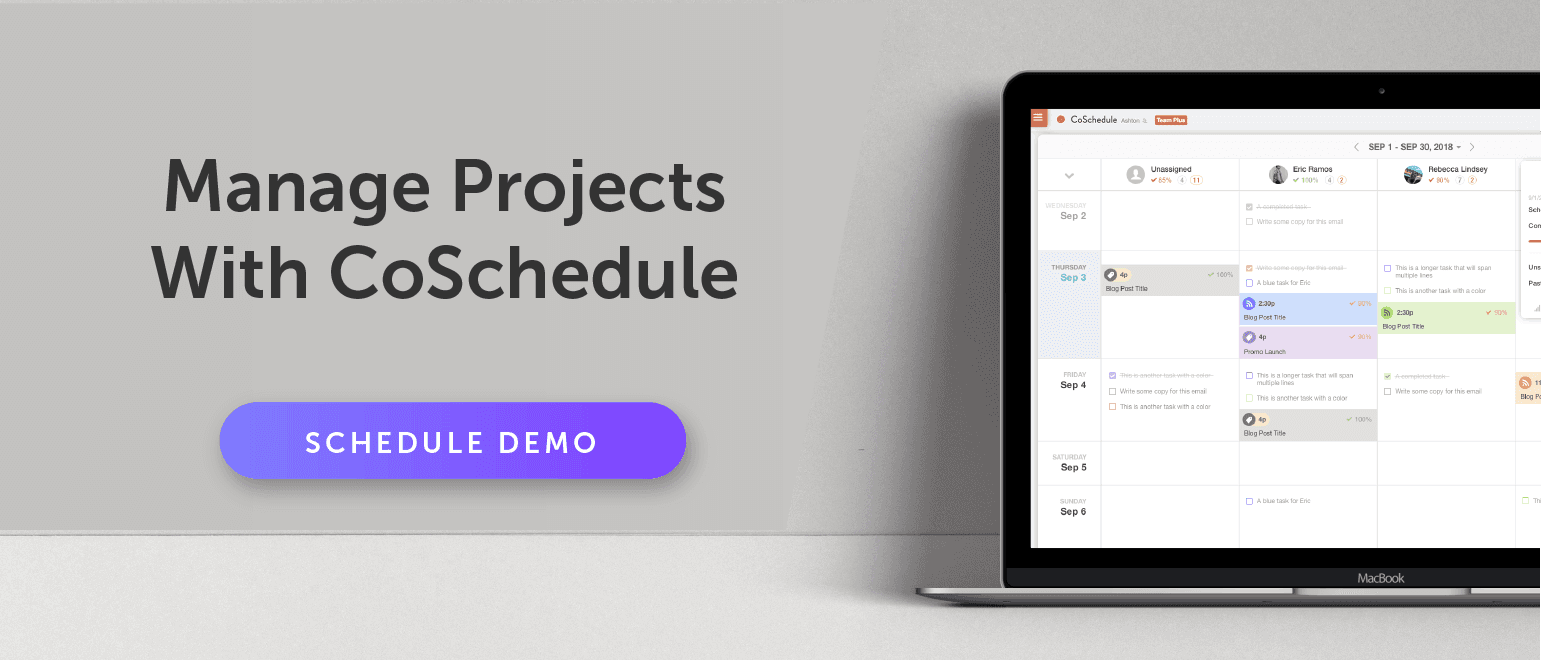 Download: Marketing Project Management eBook
No matter which software you buy, your success will hinge on your ability to put proper processes into place that actually work. Fortunately, doing this is easy when you have a clear and actionable guide to follow. Download your ebook below and then put it to use now: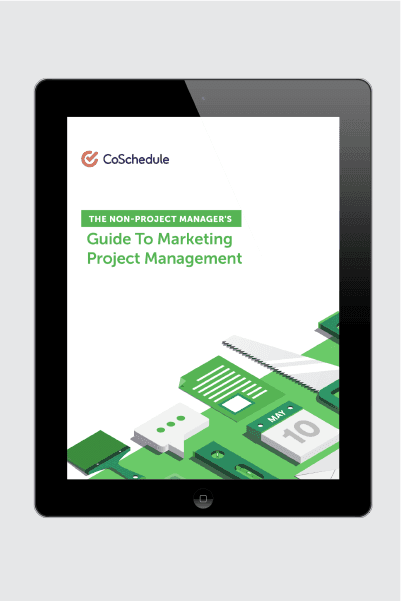 Get Your Download Now
Plus, join our email list to stay up-to-date.
Success! Your download should start shortly.
Tired of the marketing mess?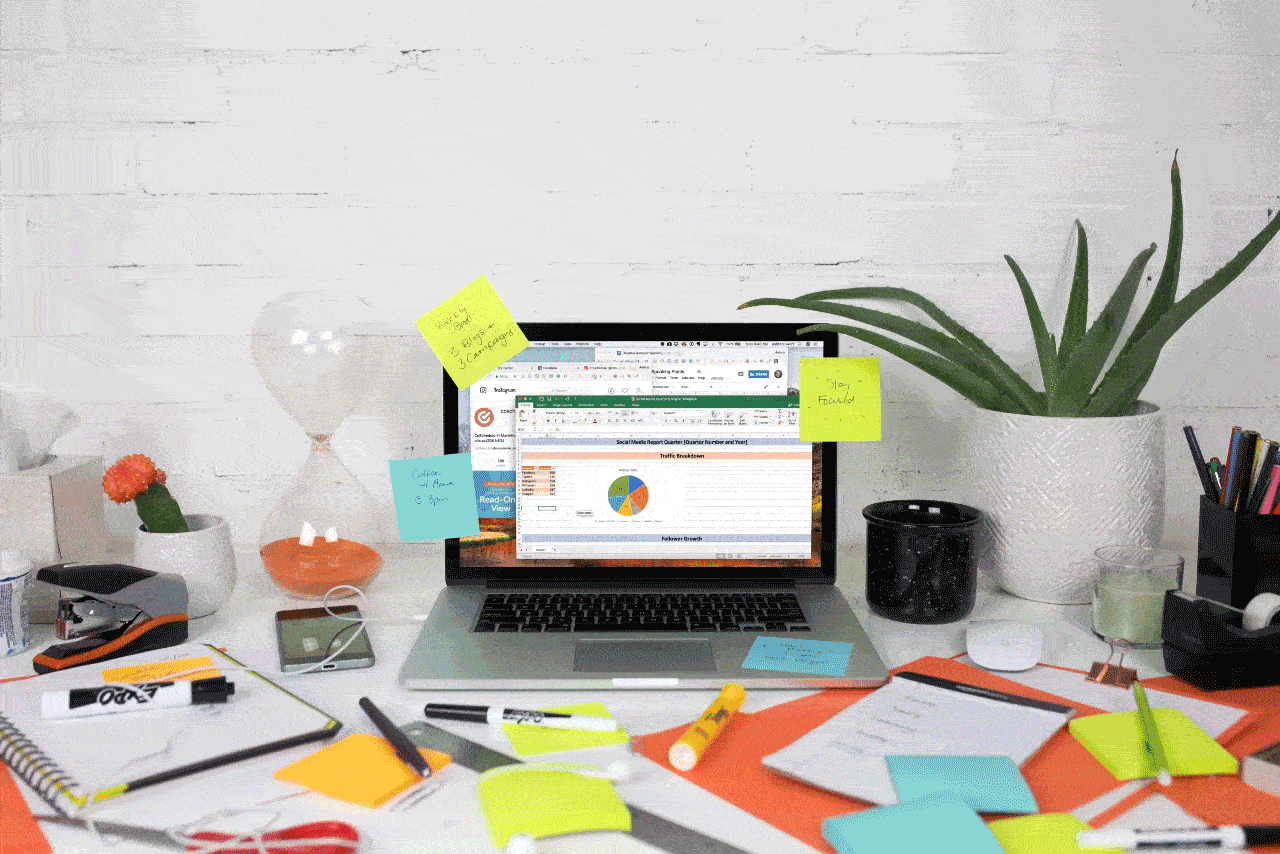 Awesome news! You're invited to a 1-on-1 marketing demo of CoSchedule! In 30 mins or less, you can see how to:
End the frustration of missed deadlines.
Get total visibility into ALL of your marketing in one place.
Save 20 hrs this week alone (and every week after).
If you've ever kicked the tires on CoSchedule, now's the time to see what it's really like.
Success! Your download should start shortly.
Clean up the chaos with your CoSchedule editorial calendar!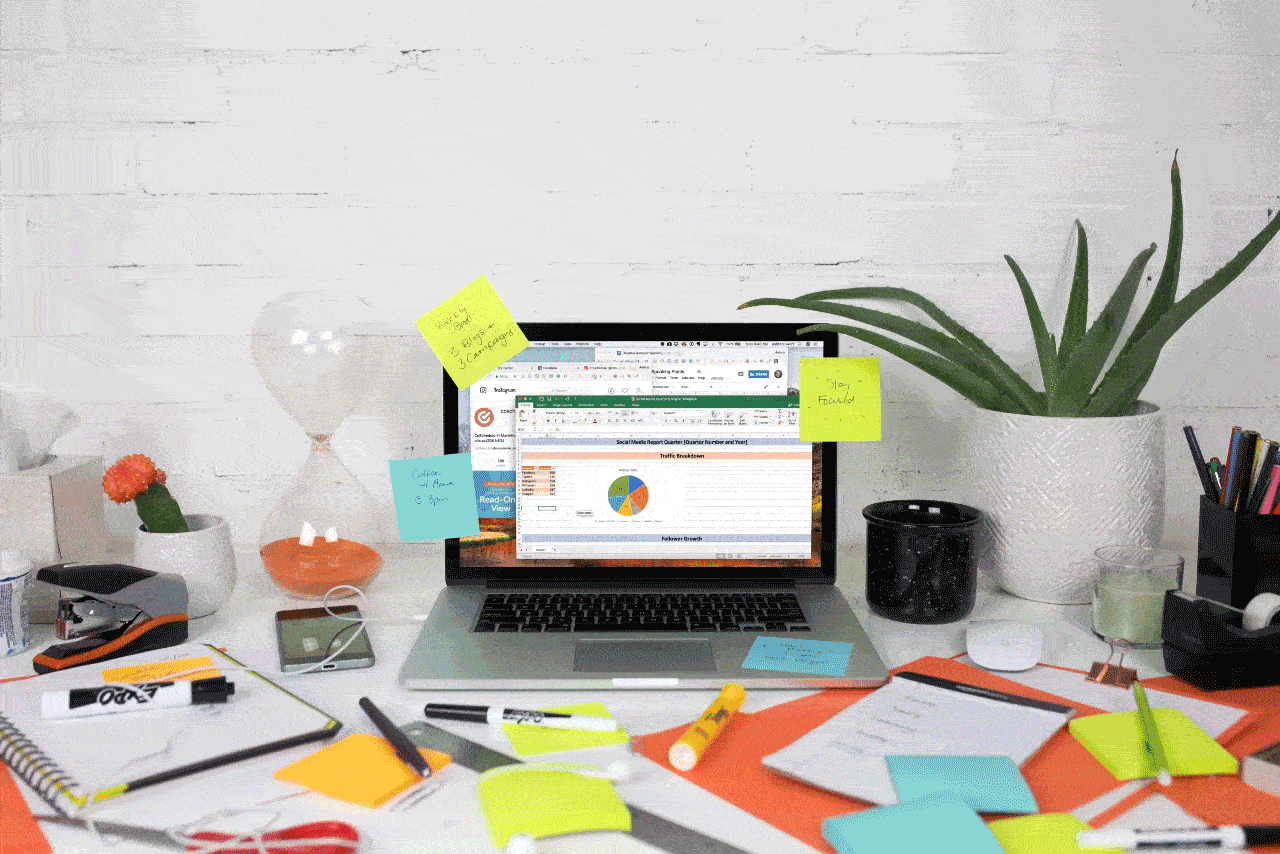 With CoSchedule, you'll:
Save time with blogging, social, and email (think HOURS every week)
Schedule your social posts in batches (and increase your posting frequency) super easily
Get your sh*t together (and hold yourself accountable to publishing like the boss you are!)
Now's the perfect time to start your 14-day free trial to see for yourself!
What is Marketing Project Management Software?
Here's a short definition:
Marketing project management software describes purpose-built tools that help marketing teams manage workflows, plan campaigns, and support effective processes. It supports end-to-end management of workflows and campaigns from planning to execution. It often includes marketing-specific features, such as integrations with other marketing tools.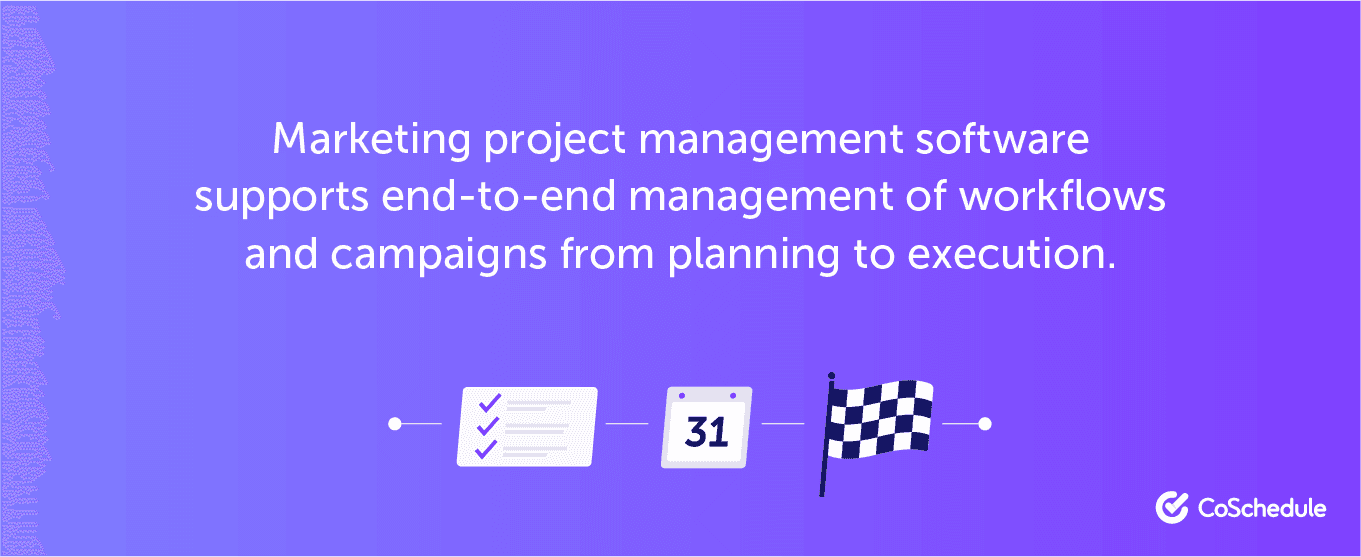 Why Do Marketers Need Project Management Tools?
The marketplace for PM software is crowded.
That's because there's a ton of demand from teams of all different types across businesses in all different industries. So, marketers are often forced to use whatever the rest of their company uses, or worse, resort to nothing more than spreadsheets for managing projects.
This … can work. Technically.  But, these tools are never ideal, and they nearly always lack functionality that marketers need.
This leads to copying and pasting information between multiple disconnected tools, resulting in frustratingly disjointed workflows. CoSchedule calls this phenomenon "makeshift marketing," and it's corrosive for productivity and success. Purpose-built software, designed with marketers in mind, is a better option. This category includes general tools with available offerings for marketers, and software that's made specifically for marketers to do their best work.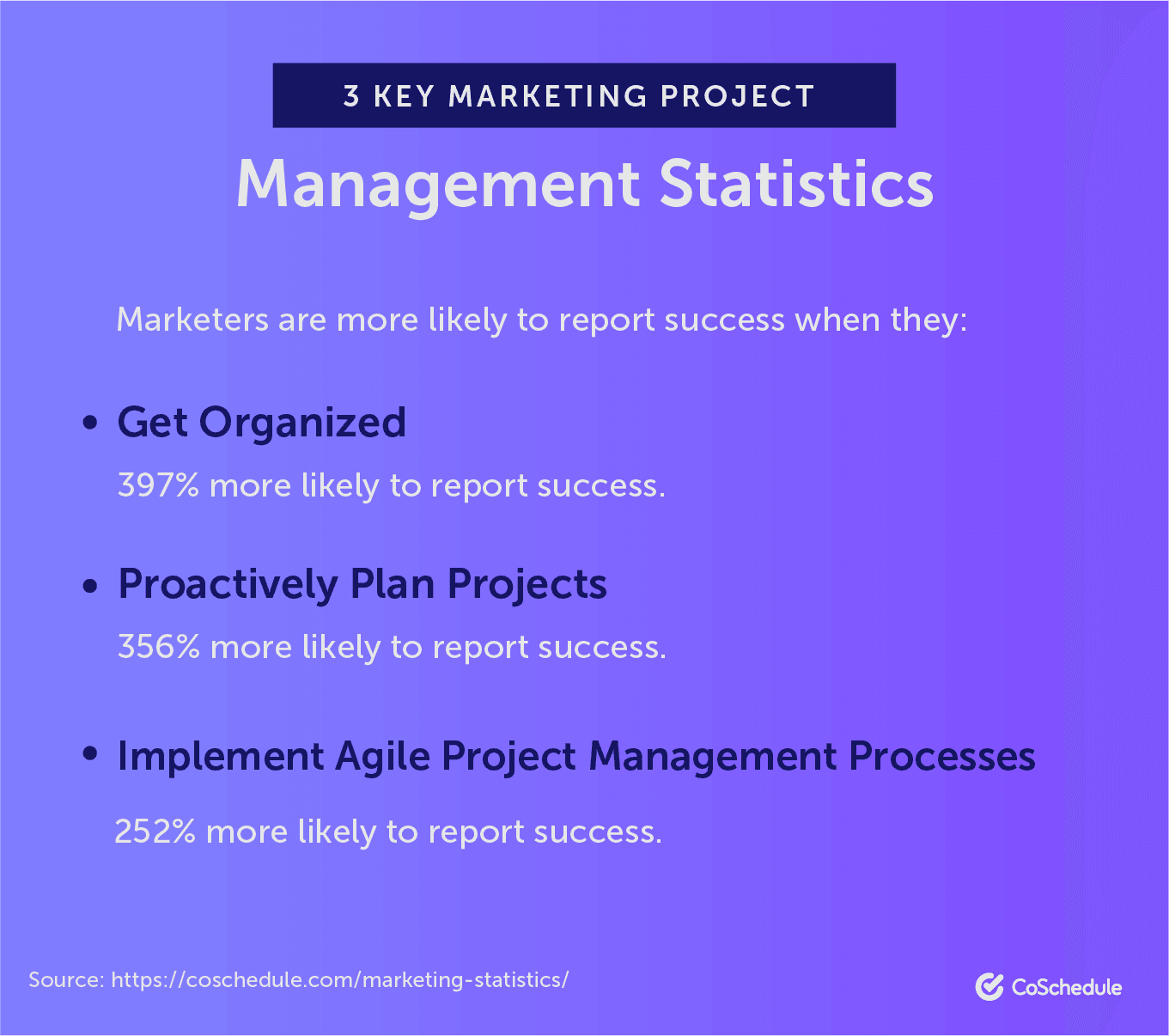 How is this Software Used?
So, what are some common applications for this type of software? There are plenty, and different tools may be better suited to what you need (depending on your specific project management requirements).
Manage Team Members
Cross-functional teams bring together the diverse skill sets needed for modern marketing. But, they can also be complex to manage. A good PM solution will allow you to see all their work in one place (and for everyone else on the team to see what their teammates are working on as well).
Planning Projects and Campaigns Around a Calendar
Using a Marketing Calendar to organize projects and campaigns in advance helps busy teams stay on the same page.
Assign Tasks
It's frustrating to have work fall through the cracks because it was buried in a bottomless email thread or lost in a chat app. Assigning and managing tasks within your project management software ensures nothing gets forgotten, making it easier for teams to manage their work, track their progress, and be held accountable for hitting deadlines.
Automate Workflows
Without clear workflows in place, it can be hard to know how work should be completed. This can make project handoffs difficult too, if one team member isn't sure where they're needed in that workflow. Workflow automation makes it easy to set up repeatable lists of tasks, with assigned team members and deadlines, to make sure the work is completed correctly every time.
Measure Productivity
How much work is the team actually getting done? Are all your deadlines being met? Team reporting features can quantify this by tracking how much work gets completed (and whether it's getting completed on-time) within your software.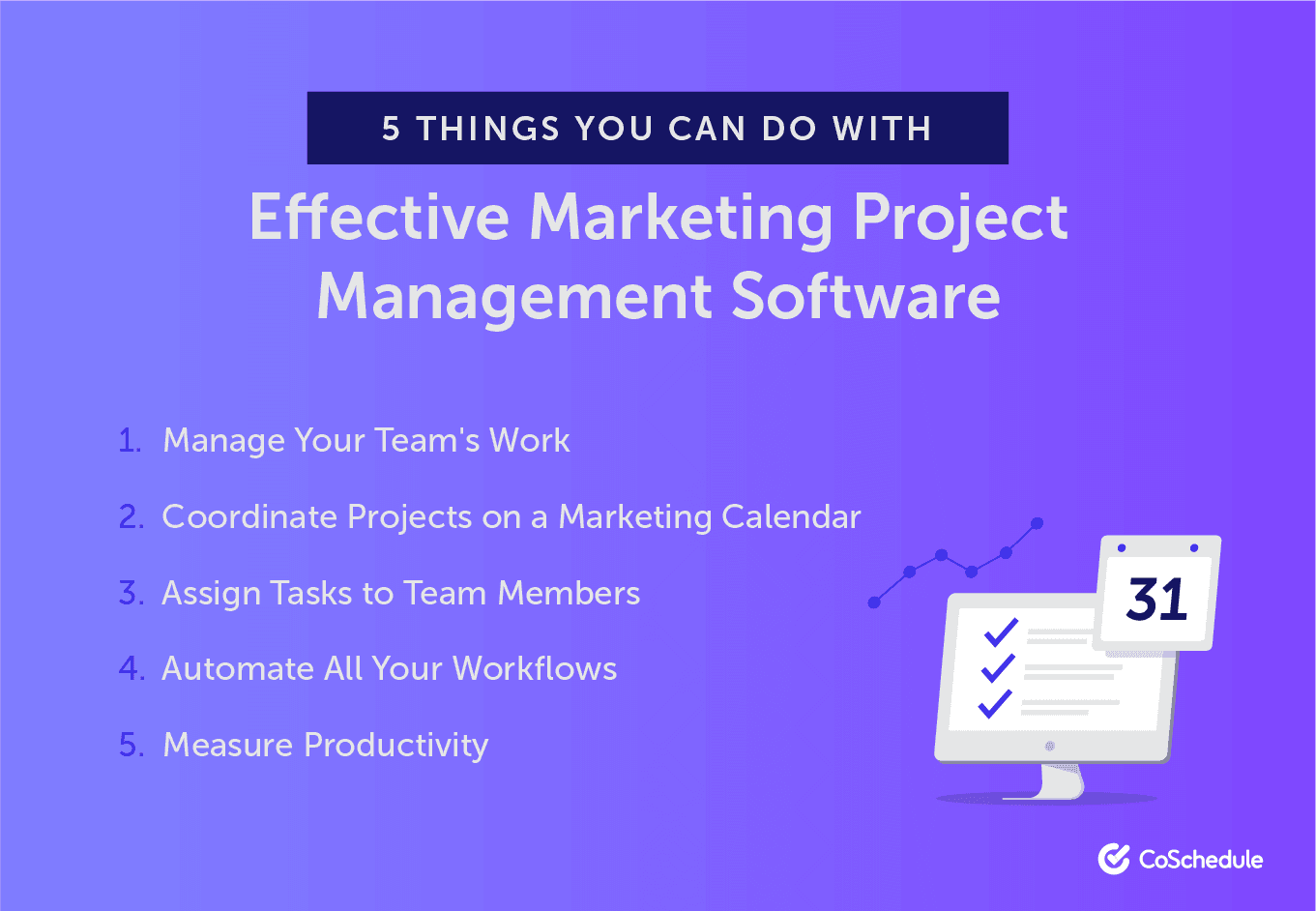 What are the Benefits of Using PM Software?
That explains how these tools are used. But, what's the purpose of using them instead of spreadsheets and generalist apps for things like cloud storage, task management, and so forth? Again, there are a number of upsides to using purpose-built tools, including the following:
Getting organized.
Publishing more work.
Hitting all your deadlines.
And above all, keeping your team happy (thanks to points one through three above).
10 Project Management Tools for Marketers, Compared
Some examples this post will explore include:
*integrates with CoSchedule using Zapier
CoSchedule
The CoSchedule Marketing Suite is a family of agile marketing products that will help you stay focused, deliver projects on time, and make your team happy. Here's what it includes:
Wrike
Wrike is a general project management tool with some features catering toward marketers. It integrates with CoSchedule using Zapier.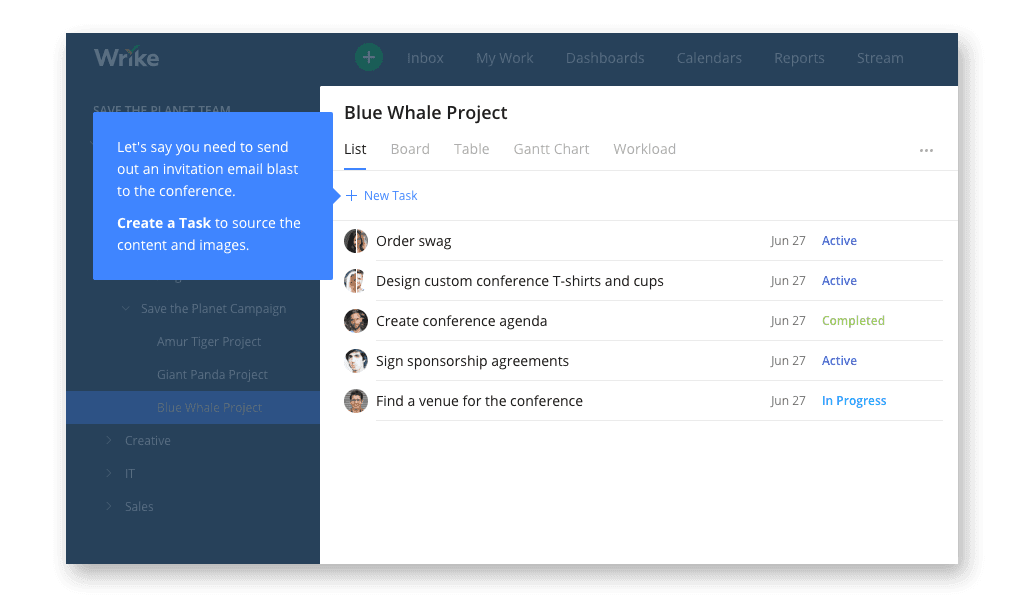 Trello
Trello is a popular Kanban project management tool. It makes it easy to create and manage card-based workflows and is used by all kinds of different teams. Like Wrike, you can sync Trello with CoSchedule using Zapier.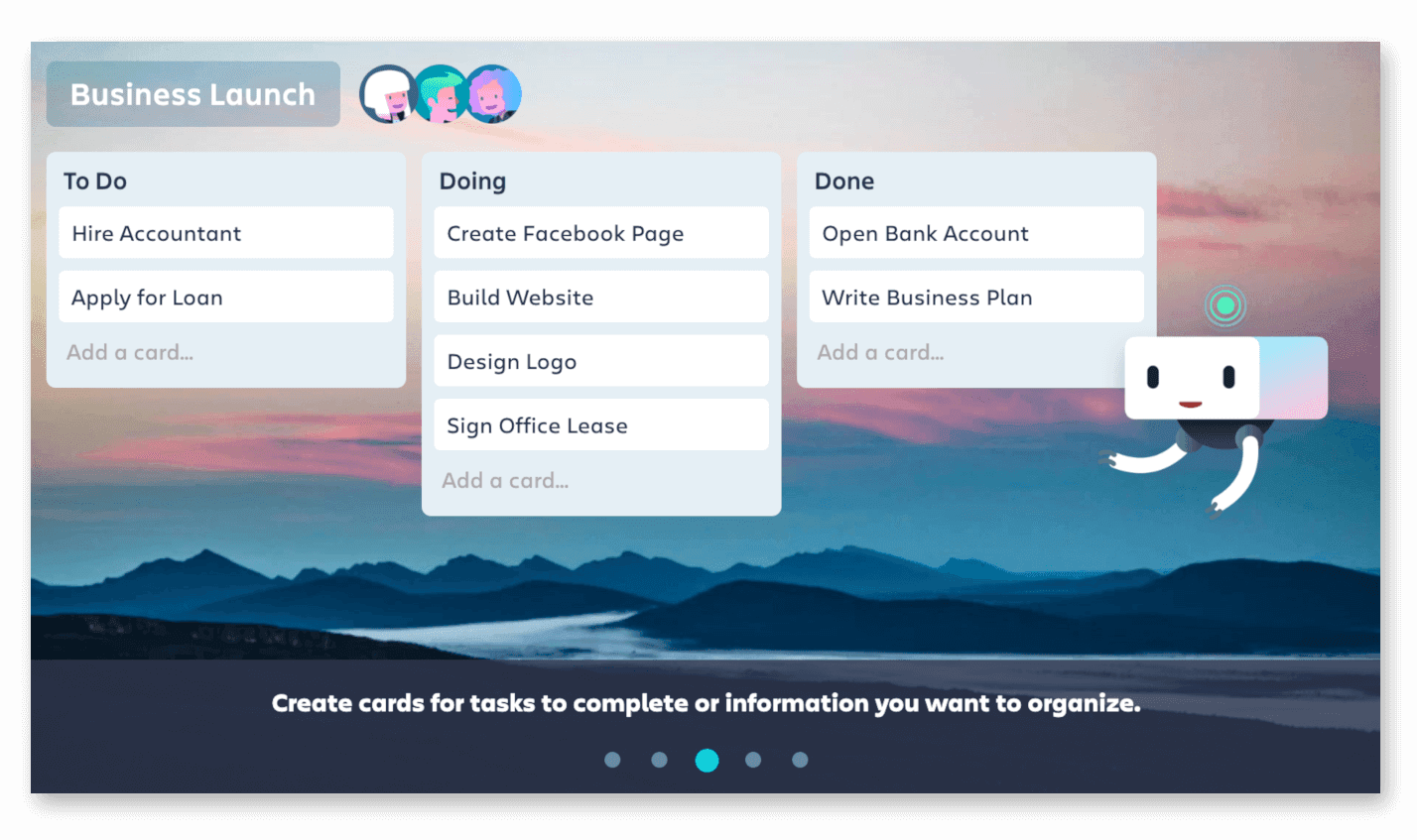 Asana
Asana is a work management platform used by many different types of teams. Their mission is to "help humanity thrive by enabling all teams to work together effortlessly". Similar to Wrike and Trello, this tool syncs with CoSchedule via Zapier, too.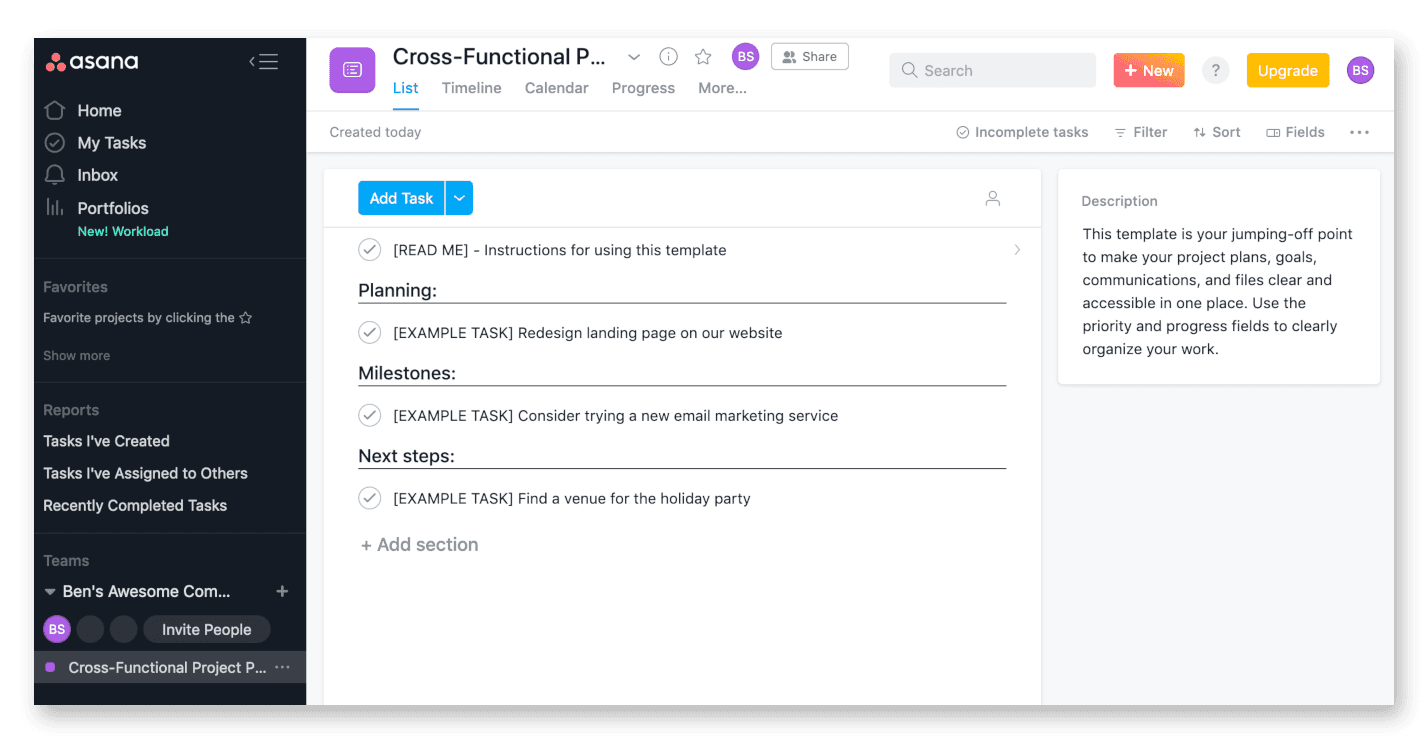 Basecamp
The last tool listed here that can connect with CoSchedule thanks to Zapier (this post has repeated that a lot, but it's just a great integration), Basecamp is a popular long-running player in the team management and communication space.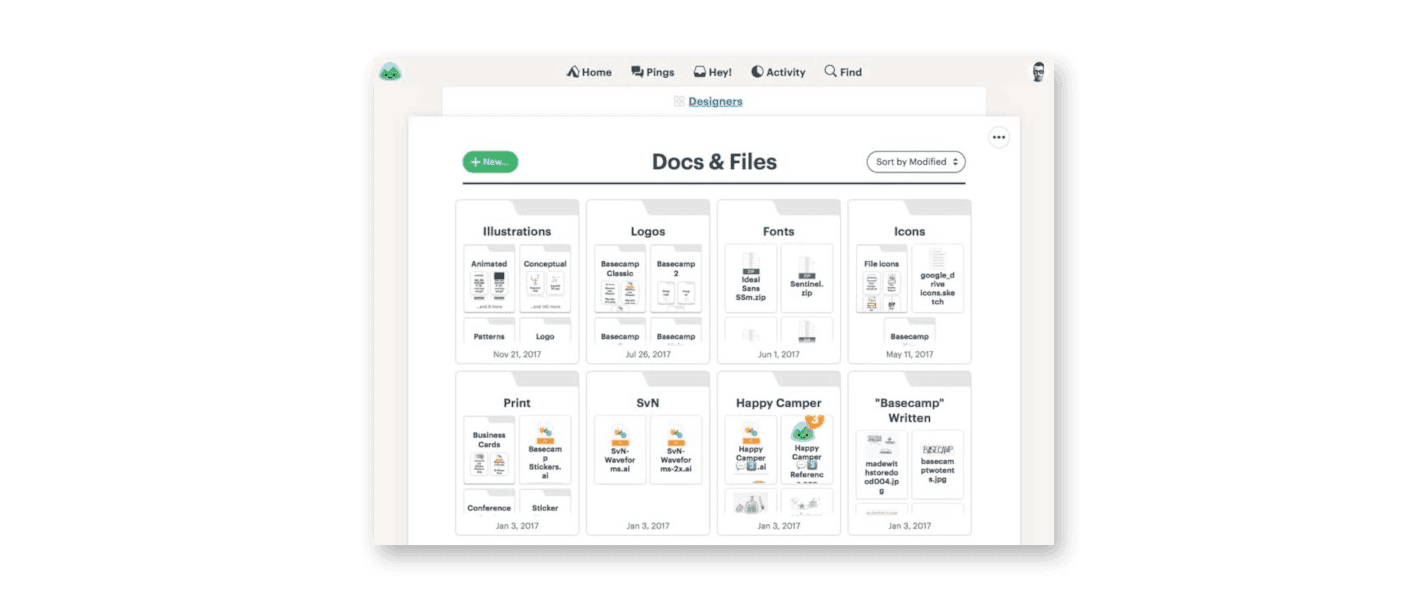 Brightpod
Project management and time-tracking software for marketing and creative teams.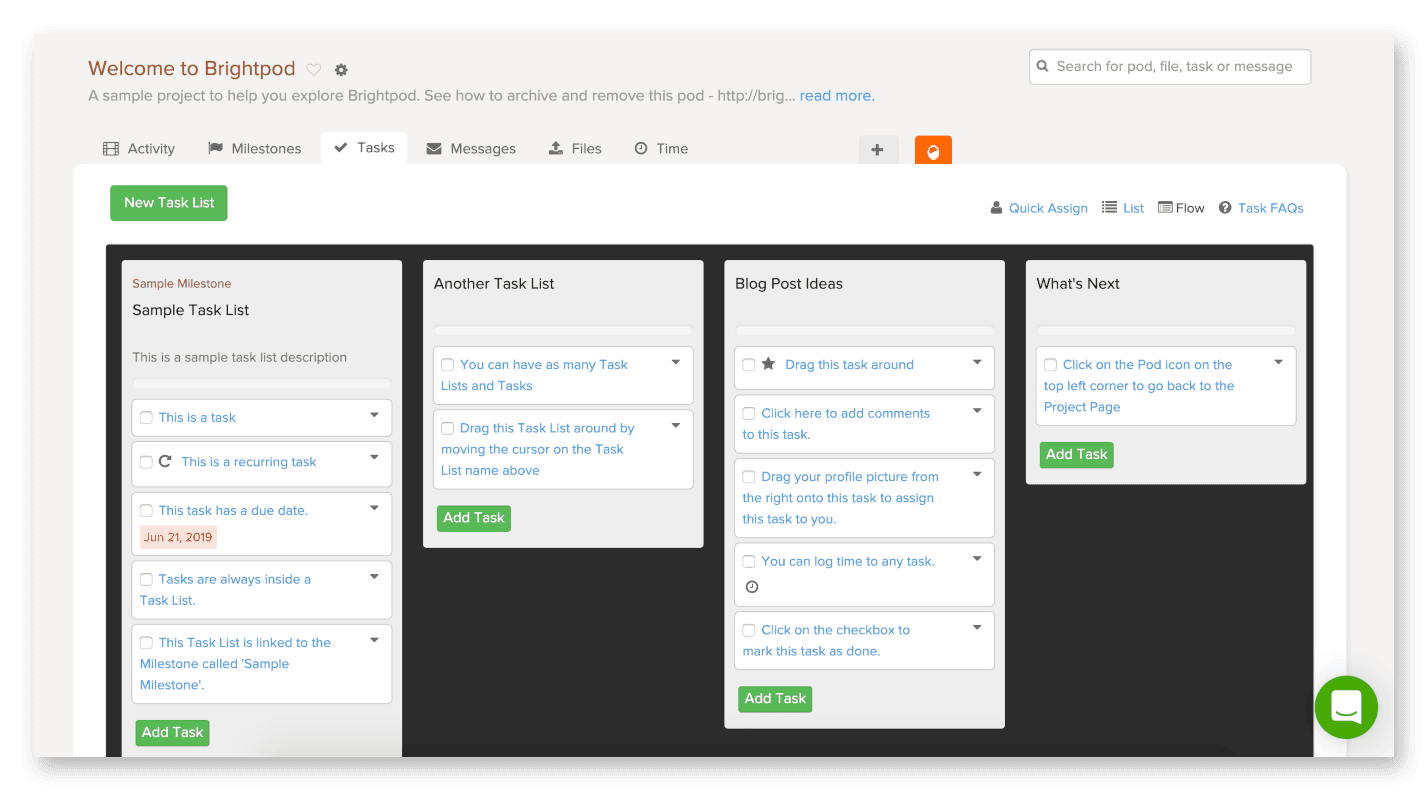 RedBooth
RedBooth focuses primarily on organizing, visualizing, and communicating around task management. It's a bit more straight-forward in terms of feature set than other tools mentioned here.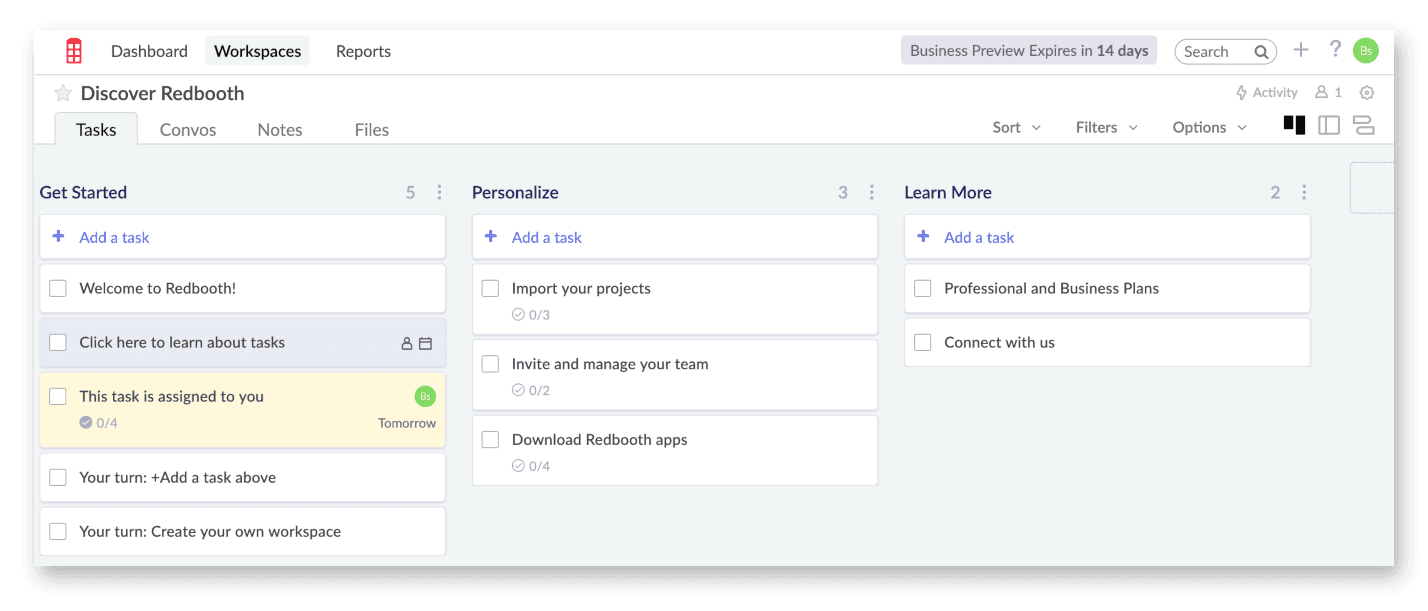 Function Fox
FunctionFox is clean, simple, and focused on managing projects and tasks.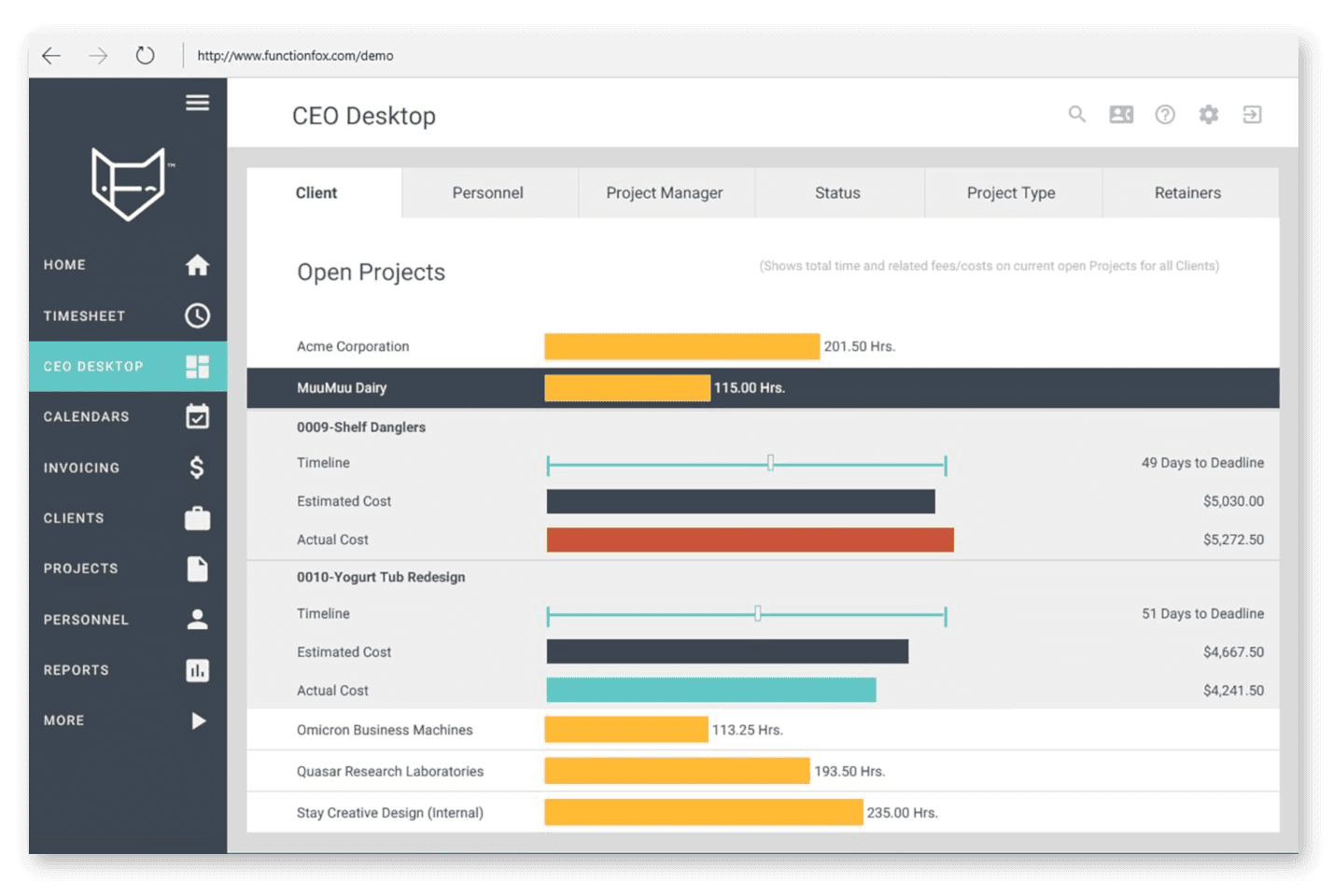 Workfront
Workfront is a robust work management platform. It integrates with a number of different software platforms.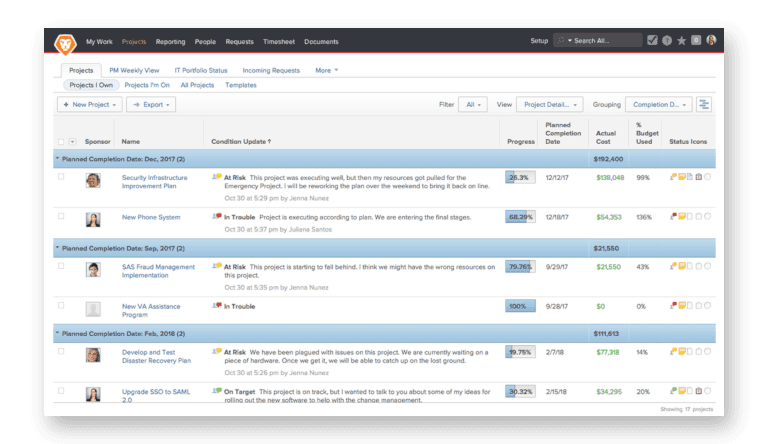 Workamajig
Workamajig offers simple task and project management for creative teams without too many bells and whistles.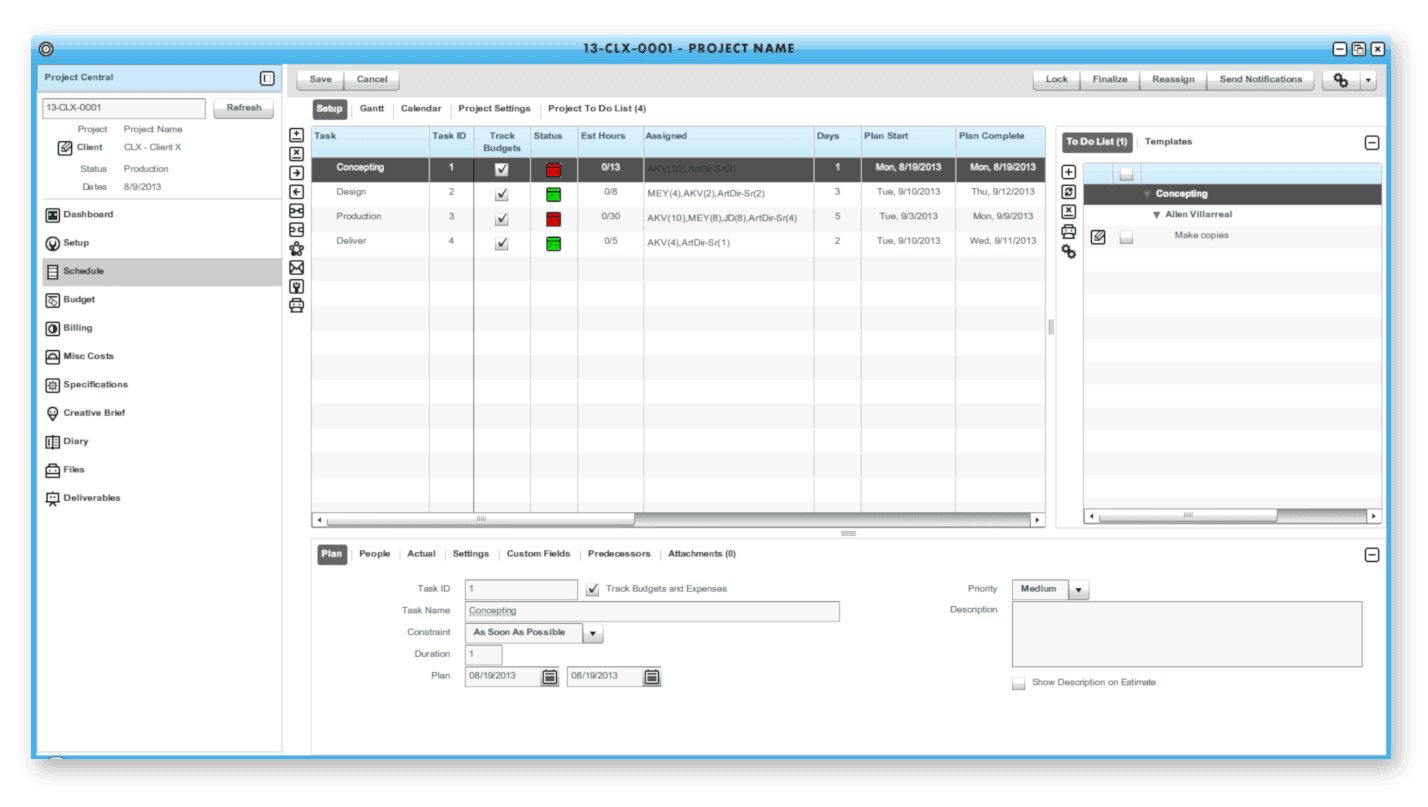 Feature Comparison: How Do Different Tools Stack Up?
How do each of these tools stack up on paper (or rather, on your monitor)? Take a look at this point-for-point comparison table to find out: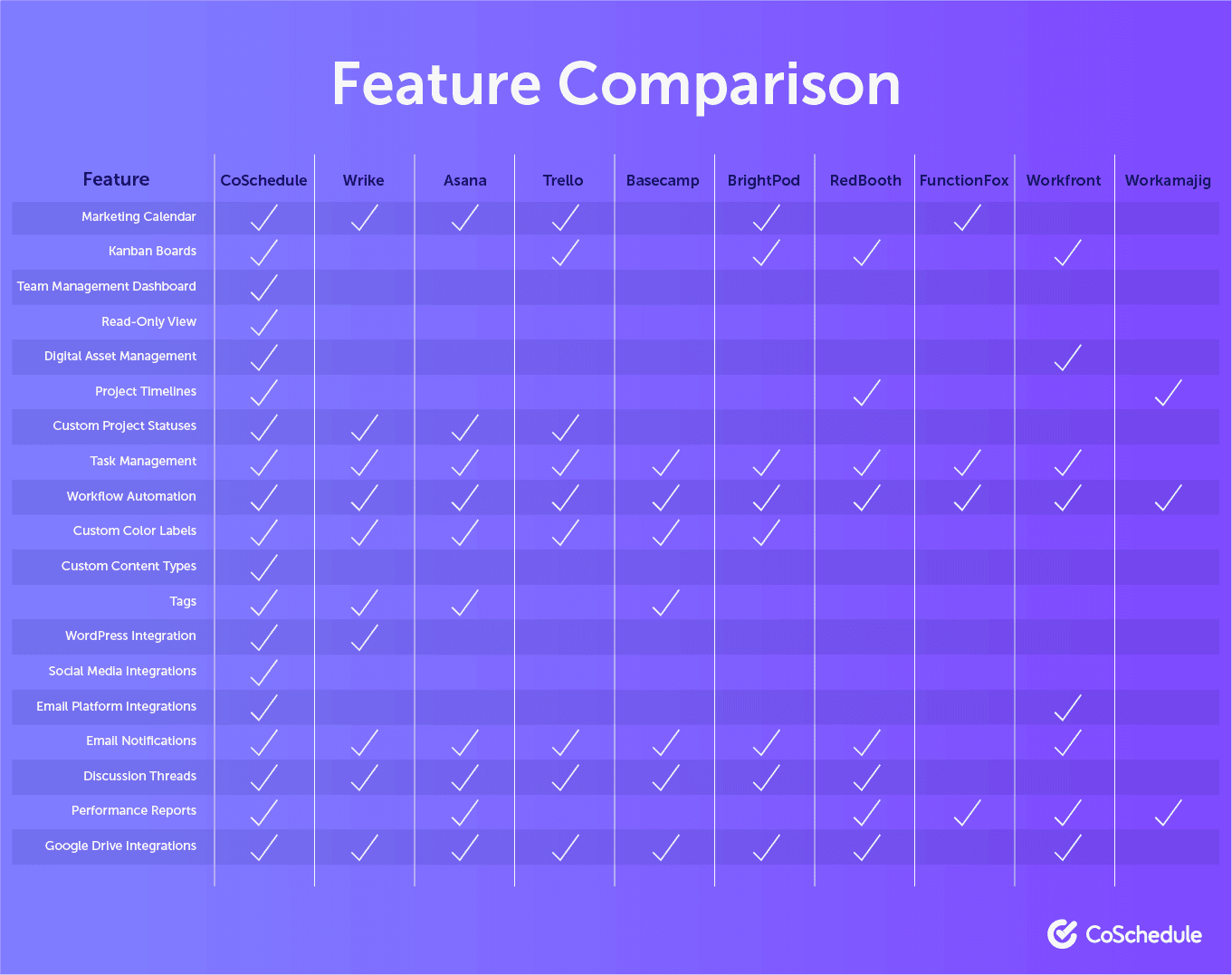 Pricing Breakdown
In addition to features, what do marketing teams get for what they spend on each tool? Here's a visual pricing breakdown for each option: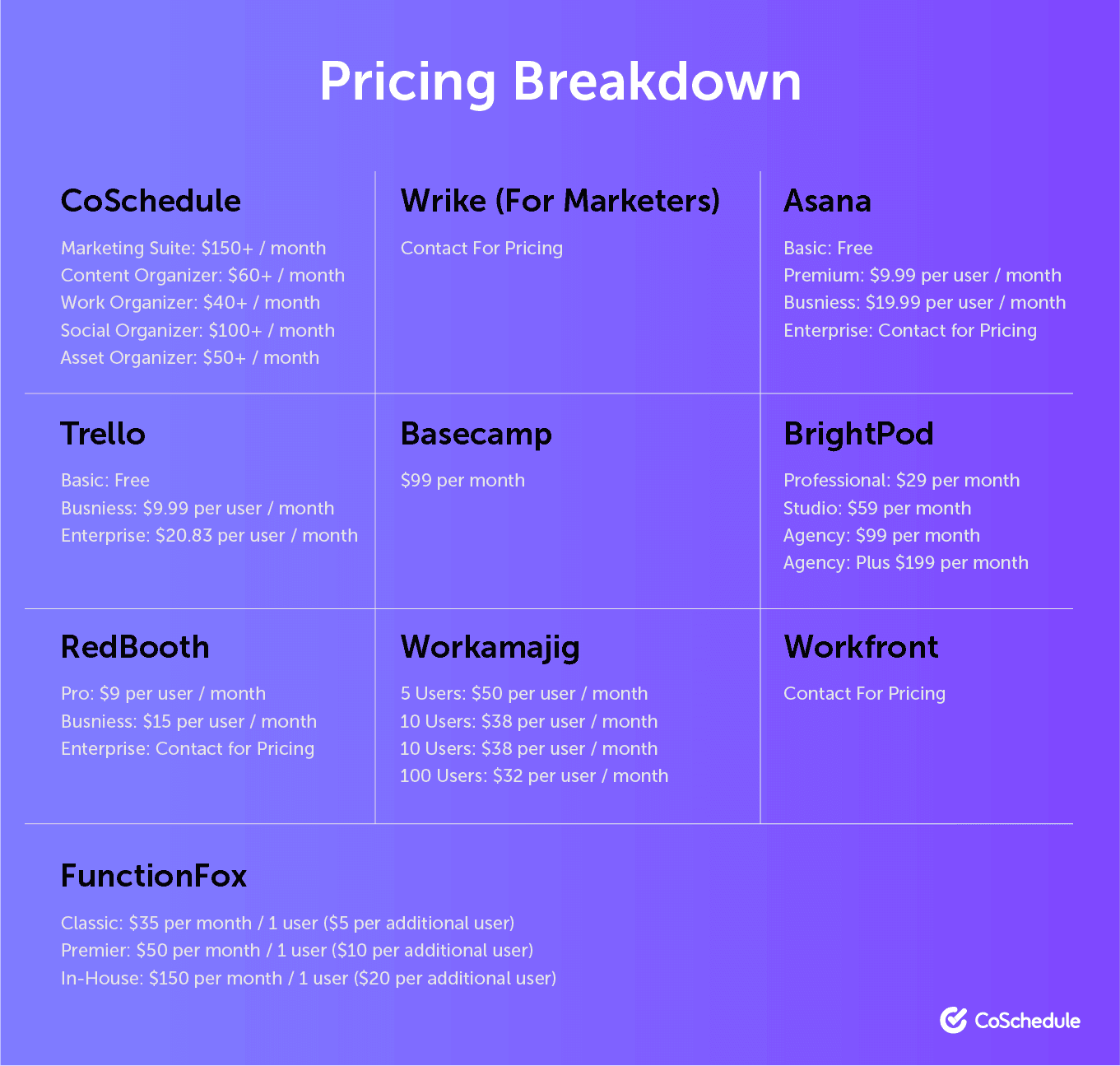 What Sets CoSchedule Apart from the Competition?
CoSchedule is built for marketers with input from marketers, including our customers and our own internal marketing teams. Feedback gets turned into features that address real-world problems fast. Some of those features include the following.
Marketing Calendar: Full Visibility Across Every Project + Campaign
With CoSchedule, teams have full visibility of all projects and campaigns on one unified marketing calendar. This alleviates confusion around who is doing what, and when. Plus, team members get total clarity on upcoming deadlines.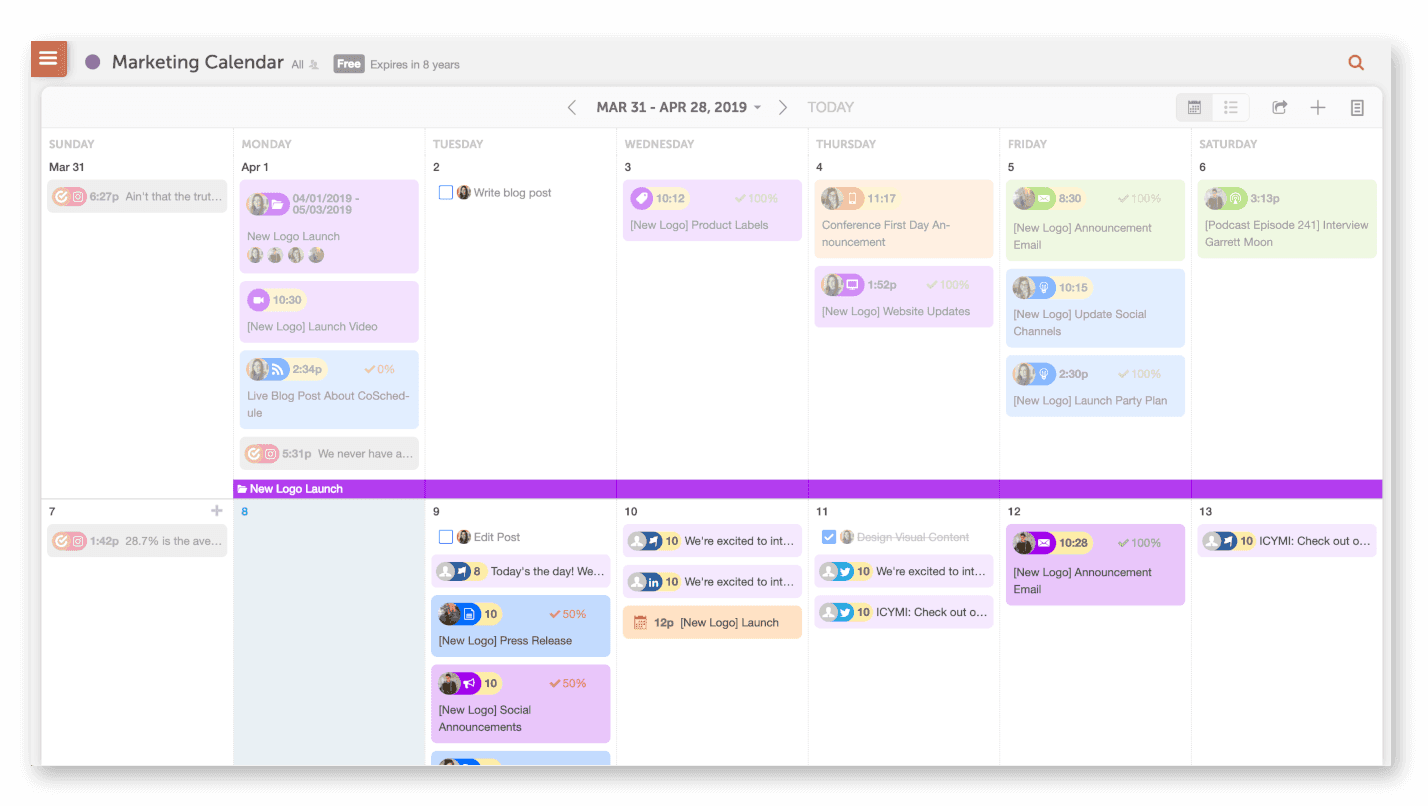 You can also view the calendar in a List View: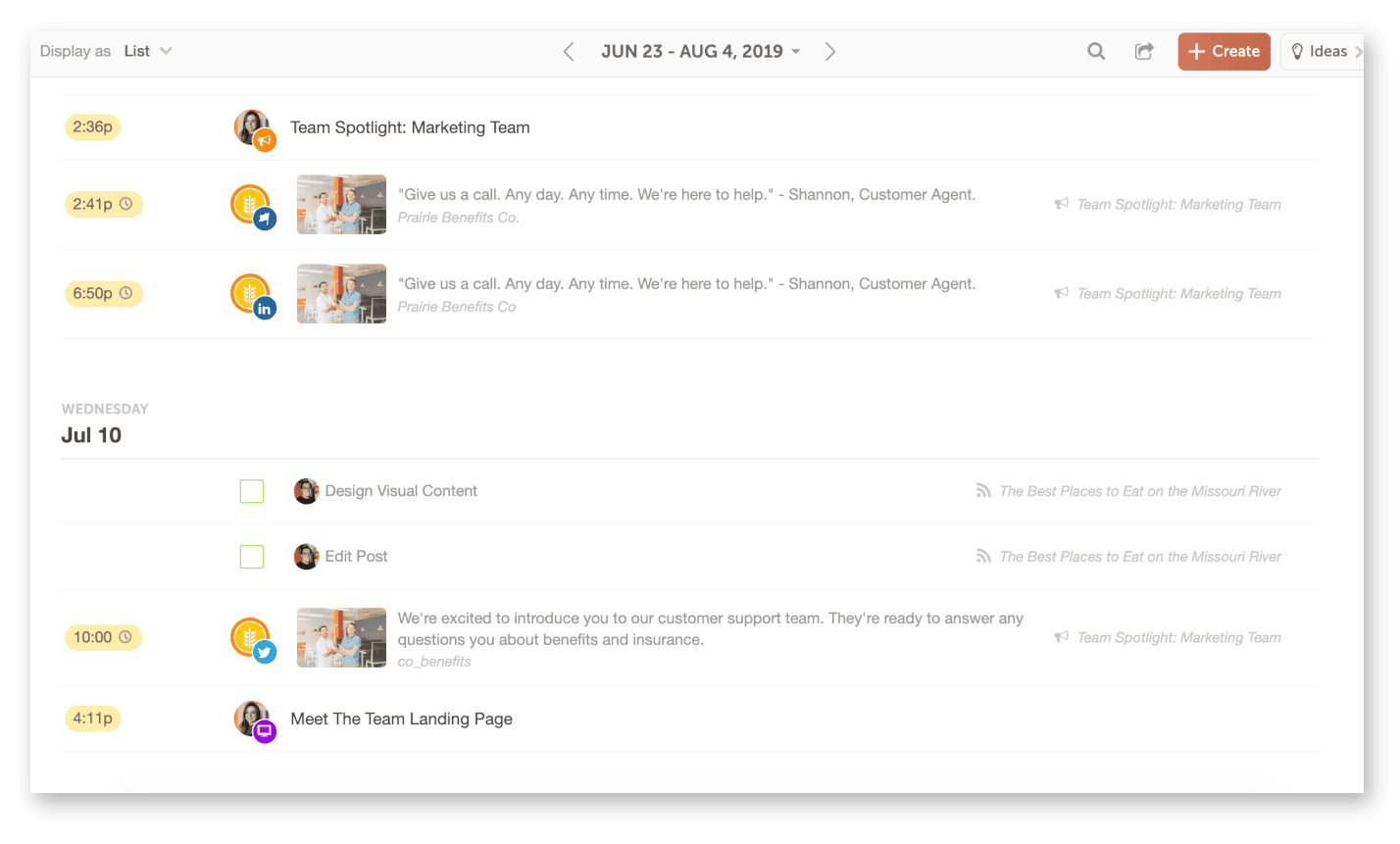 Custom Project Types: Organize and Managing Everything
Using Custom Project Types, you can plan and manage any kind of marketing project your team needs to execute:

Asset Organizer: Replace Your Digital Asset Manager
Tracking down files and digital assets in a traditional DAM or cloud storage solution can be a hassle when those tools can't integrate with your project management software. This problem is compounded when files are stored in different across multiple platforms, making it difficult to manage projects efficiently and effectively. CoSchedule's Asset Organizer solves these problems by providing the digital asset management capabilities that marketing teams need most: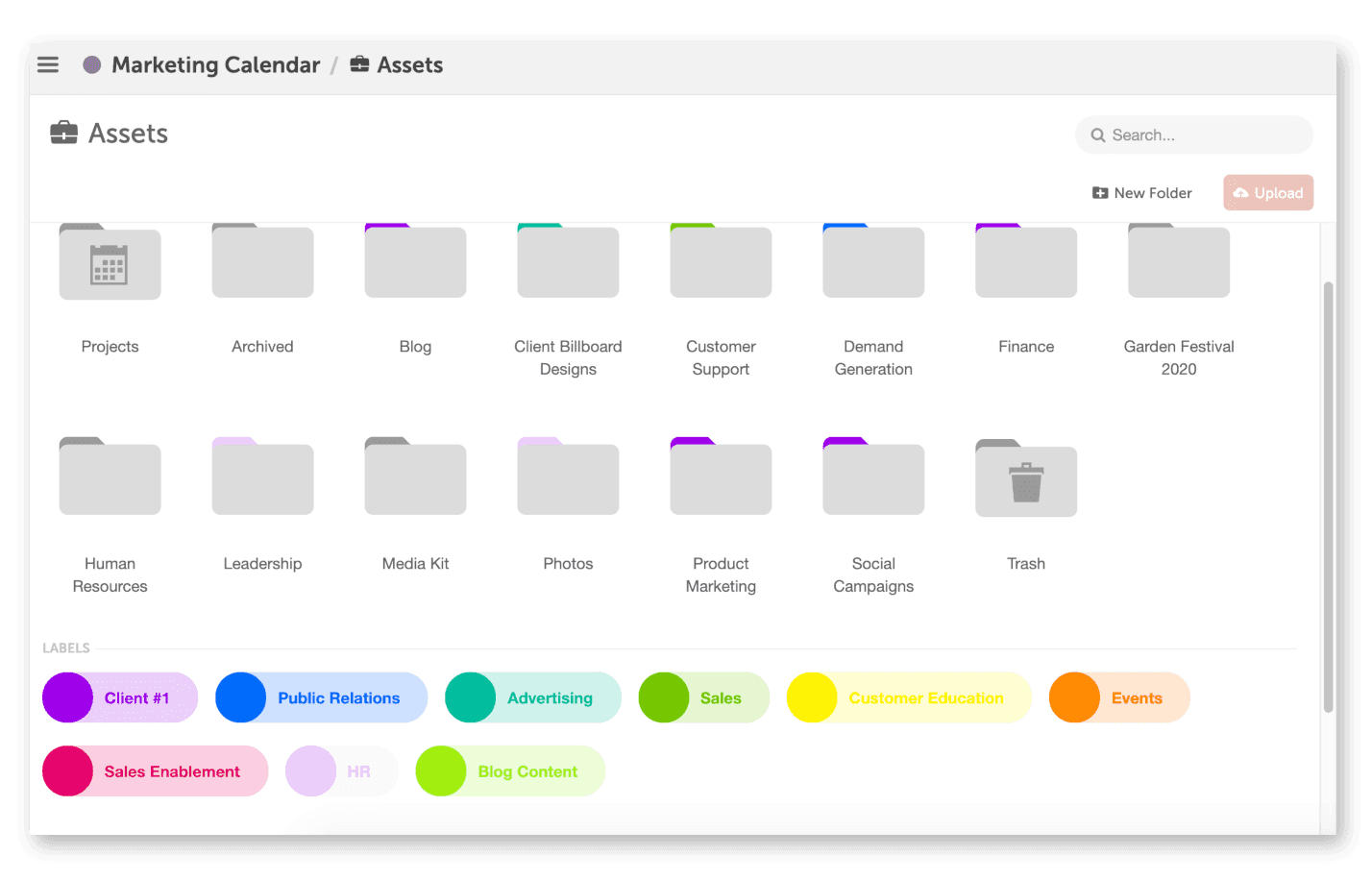 Marketing Campaigns: Coordinate Multiple Projects at Once
Managing large-scale campaigns with multiple marketing projects? You can organize everything easily using Marketing Campaigns. When viewing your calendar, you'll see Marketing Campaigns appear as color bars across the calendar:
Kanban Project Dashboard: Put Kanban Into Marketing Practice
Kanban project management is popular for a reason: it's simple and effective. If your team prefers to manage projects and tasks using kanban-style workflows and software, switching to CoSchedule is easy: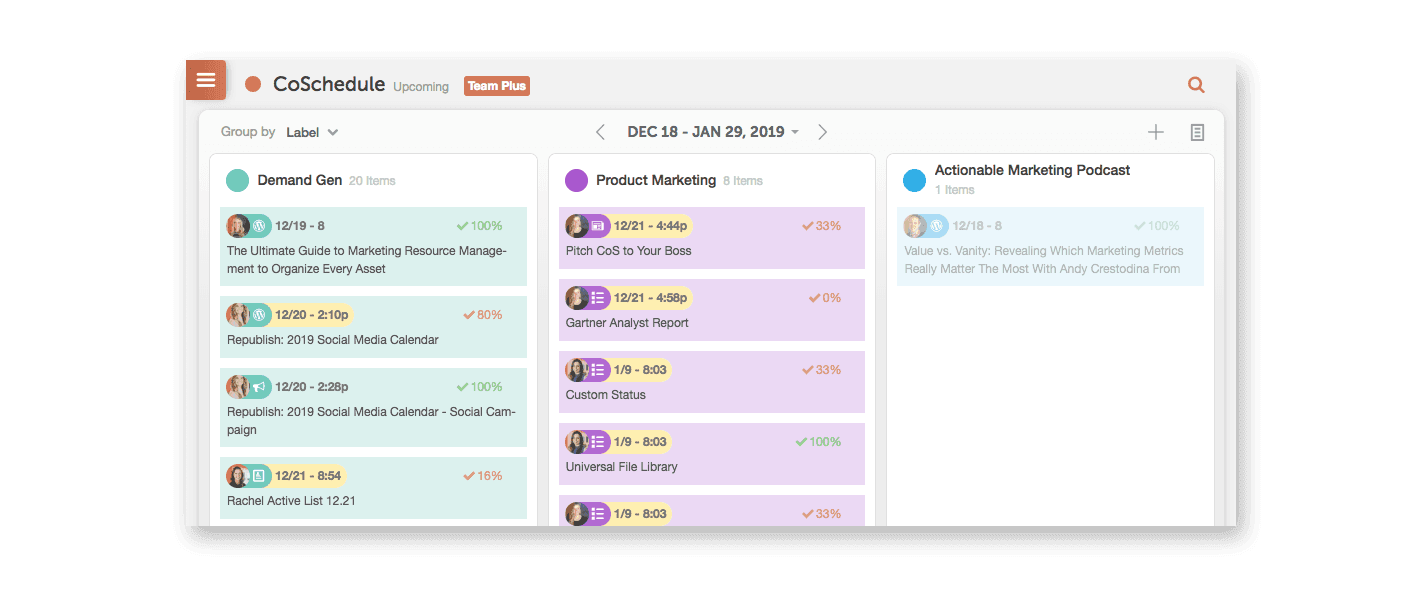 Team Management Dashboard: Know Who's Working on What
Who's doing what and when? With Team Management Dashboard, team members can see all their tasks for the day (across all their projects) in one place:
Custom Statuses: Establish Workflows That Work For You
Different types of projects may need different terminology to indicate their completion status.
For example, a blog post might go from "Draft >>> Editing >>> Publish," while a research project may need … well, a completely different set of language, based on what your team uses internally. Using Custom Statuses in CoSchedule makes it easy to label project status exactly the way you need:

Task Management: Never Miss a Step Again
Managing tasks within projects is simple using CoSchedule. Create a project, and then add tasks (which you can assign to team members with deadlines) to the right:
If you have specific workflows you execute routinely, create Task Templates that can be applied in just a couple clicks:
Need to sign off on assigned tasks before they can be considered complete? Use Task Approvals to confirm completion status after you've had a chance to review the work: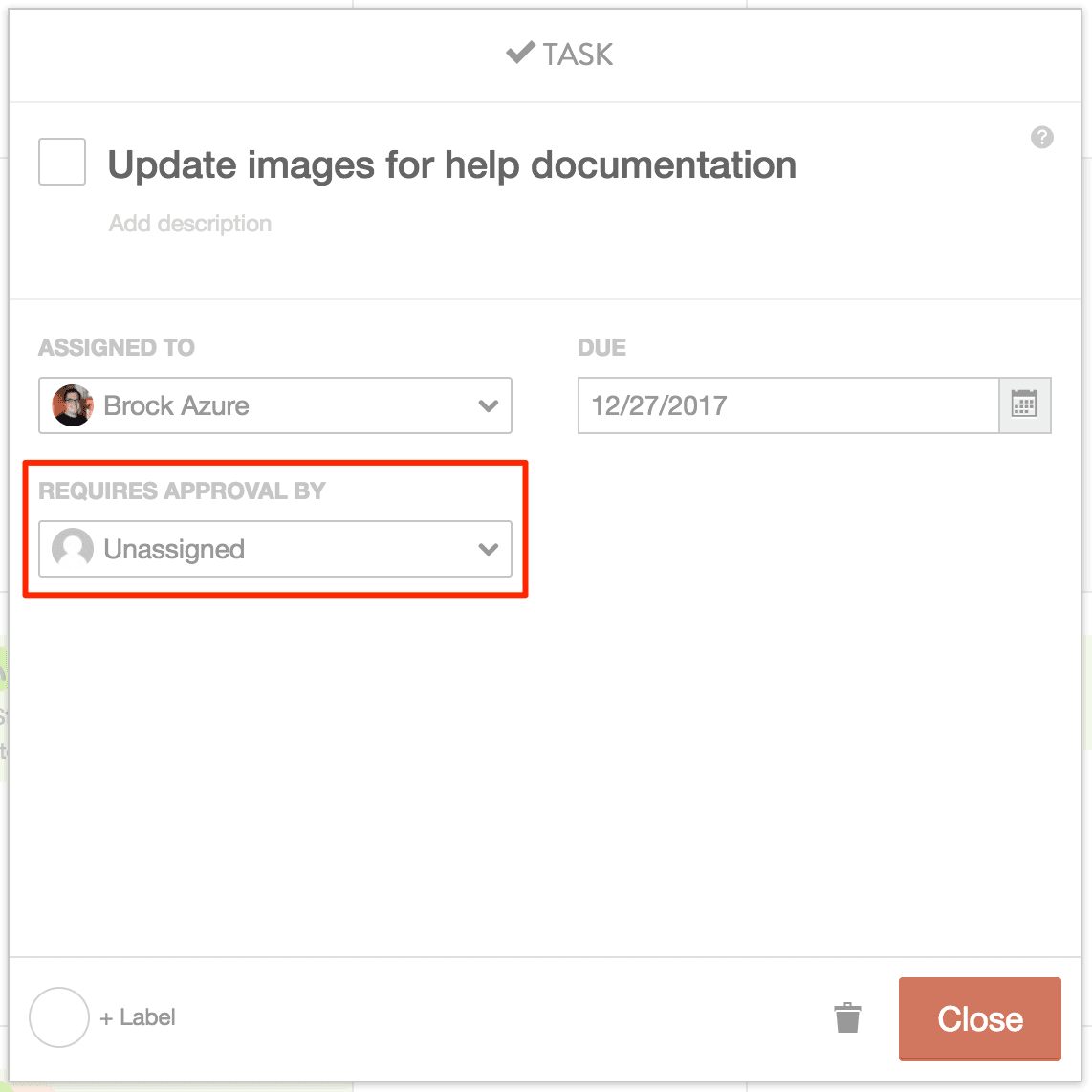 Team Performance Reports: Measure Your Team's Project Completion
Need to know who's getting their work done and who's falling behind? Use Team Performance Reports to see exactly who's hitting their deadline and who's struggling. It's integrated with Tasks to help you track every team member's real productivity: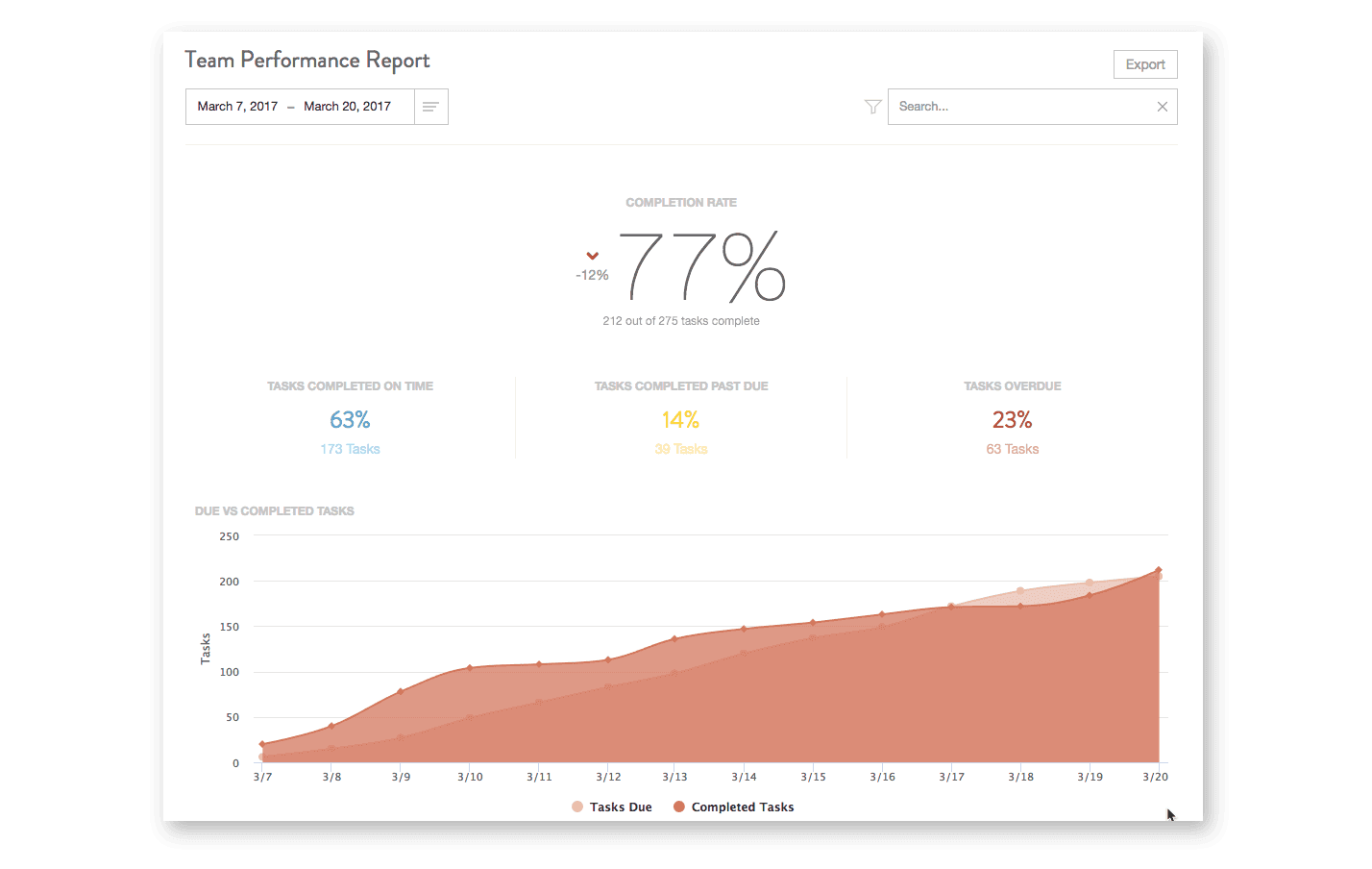 Discussion Threads: Manage Communication and Version Control
Looking for a way to collaborate and communicate while keeping the conversation connected to its relevant project? You can do all of this with document uploads and sharing files within Discussion Threads: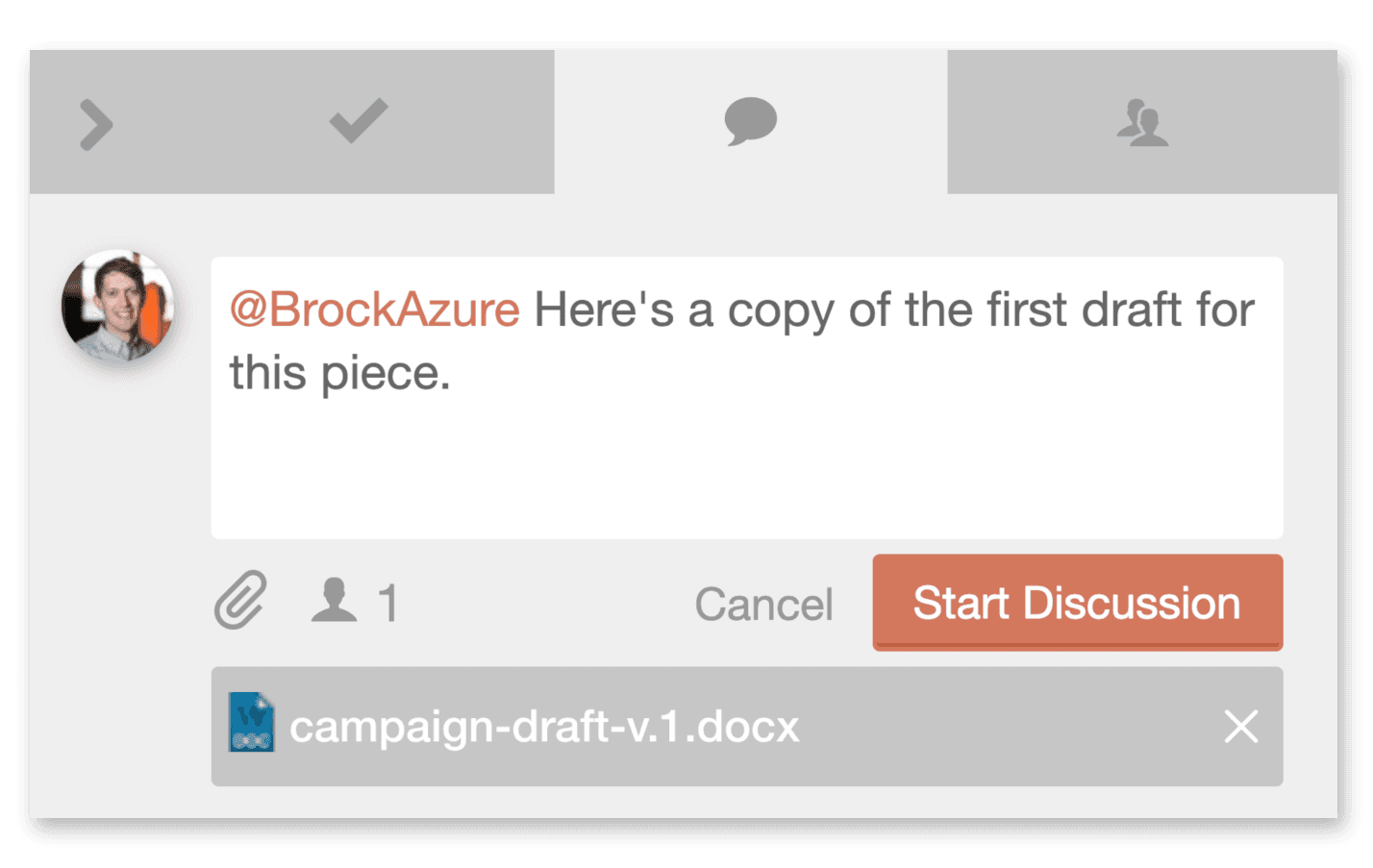 Plus, if you tag a team member, they'll receive desktop and email notifications letting them know. You can also see notifications you've been tagged in with your personal dashboard upon logging into the app:
Need to pass documents back and forth between team members? Just attach your file to a comment. This makes it easy to maintain proper version control without losing track of important notes while helping to eliminate labyrinthine email threads (which are like black holes, where important conversations go in and are often never seen nor heard from again).
WordPress + Email Marketing + Social Media Integrations: Manage and Execute Projects in One Place
With CoSchedule, you can plan, execute, manage, and schedule projects all in the same place. Instead of managing project workflows in one place, and scheduling publishing in another, CoSchedule brings everything together.
WordPress:

Create and schedule blog posts.

Social Networks:

Automate social publishing and analytics.

Email Service Providers:

Connect MailChimp (two-way sync) or Campaign Monitor, Constant Contact, or Active Campaign (one-way sync) to manage email content creation.
Google Drive: Convert Google Docs to WordPress, or Attach Docs, Slides, and Sheets
With CoSchedule, you can attach Google Drive documents to projects, and even convert Google Docs directly into WordPress posts.
Zapier + Trello, Wrike, Basecamp, and Asana
Does your marketing department collaborate with other teams that need to use general project management tools? You can keep everything in sync using Zapier to integrate CoSchedule with Trello, Wrike, Basecamp, and Asana. Every project stays on the same page across teams, and everyone gets to continue using the tools that work best for their needs:
Putting Power Into Practice: Developing Project Management Workflows With CoSchedule
You know what CoSchedule can do. But, how do you, an intrepid marketer, actually get started and use it to organize all your marketing projects? Here's a quick guide to getting the most from the CoSchedule Marketing Suite, fast. If you're starting a demo, this will be especially helpful for getting a strong sense of what you can do.
Setting Up Your Calendar
First, get things set up the way you'd like. This entails getting a handful of things configured the best way for your team:
Setting up Color Labels.

This helps keep the calendar visually organized.

Creating Custom Project Statuses.

This helps everyone understand project phases.

Selecting Custom Content Types.

This helps customize the calendar to support the types of projects you'll be creating and managing.

Adding Saved Views.

This helps you set up filters so team members can see only the projects they need to access.

Connecting integrations.

This helps you consolidate and connect other tools you'll need to manage workflows effectively.
Fortunately, getting up and running doesn't have to take much time at all. Plus, you have plenty of flexibility to customize the calendar exactly the way that works best for you.
First, Color Labels allow you to color-code your calendar in a way that makes it easy to understand what is what at a glance.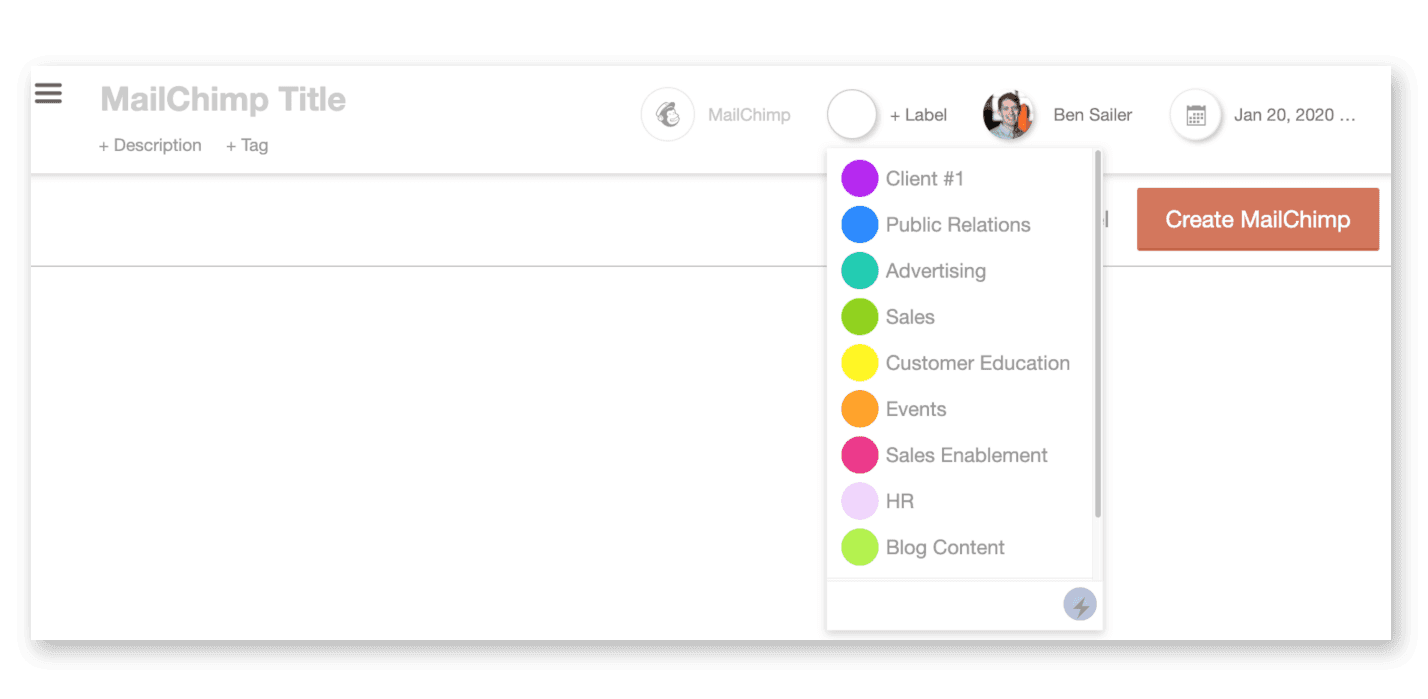 Here are some ideas for ways color labels can be used:
By Team

By Project Type

By Business Segment
Next, establish Custom Project Statuses.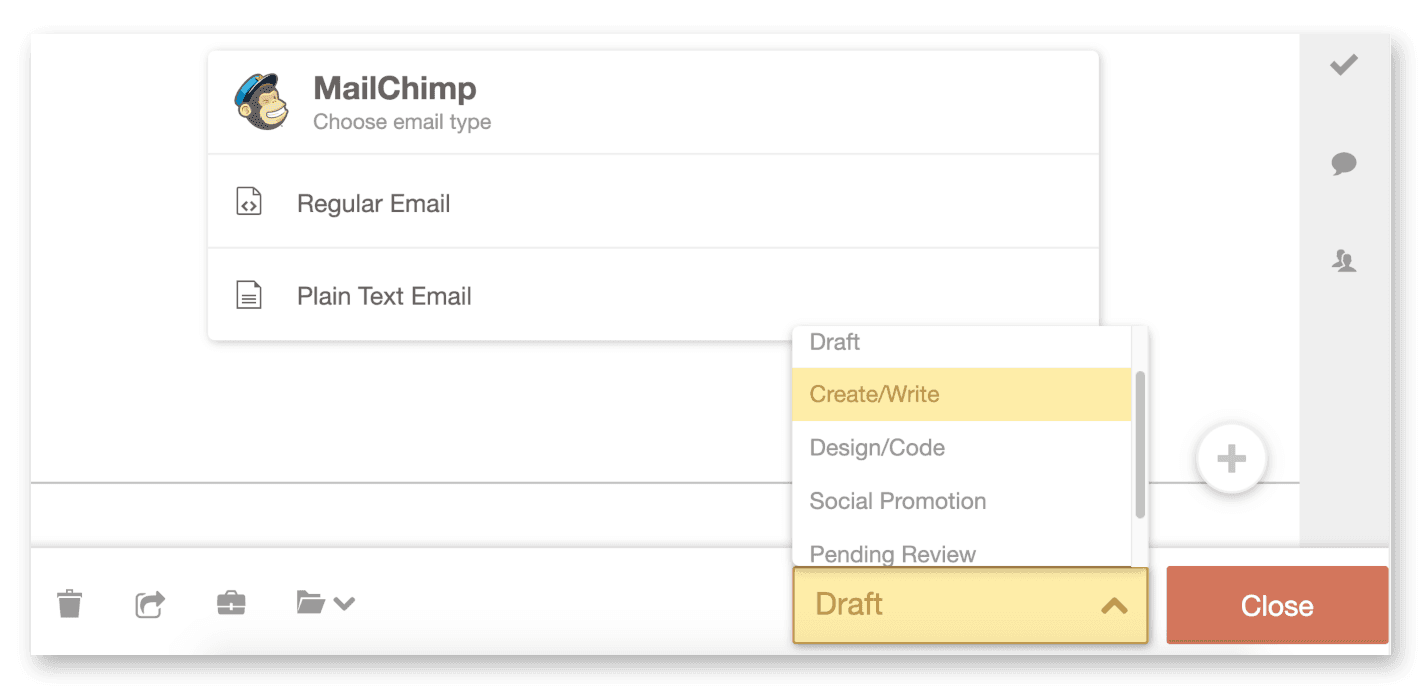 Here are some ideas for setting Custom Statuses:
Content

: Draft / Write / Design / Review / Publish / Promote

Design

: Creative Brief / Plan / Design / Review / Publish

Video

: Plan / Storyboard / Script / Shoot / Edit / Review / Publish
Essentially, this allows you to use the exact verbiage your team uses to denote project phases, and have that reflected on your marketing calendar. So, however you usually denote steps in projects with your team, you can build it out in CoSchedule.
Next, add Custom Project Types. Do you have types of projects your team executes frequently? You can set up your calendar to represent those projects visually, customized to your own needs.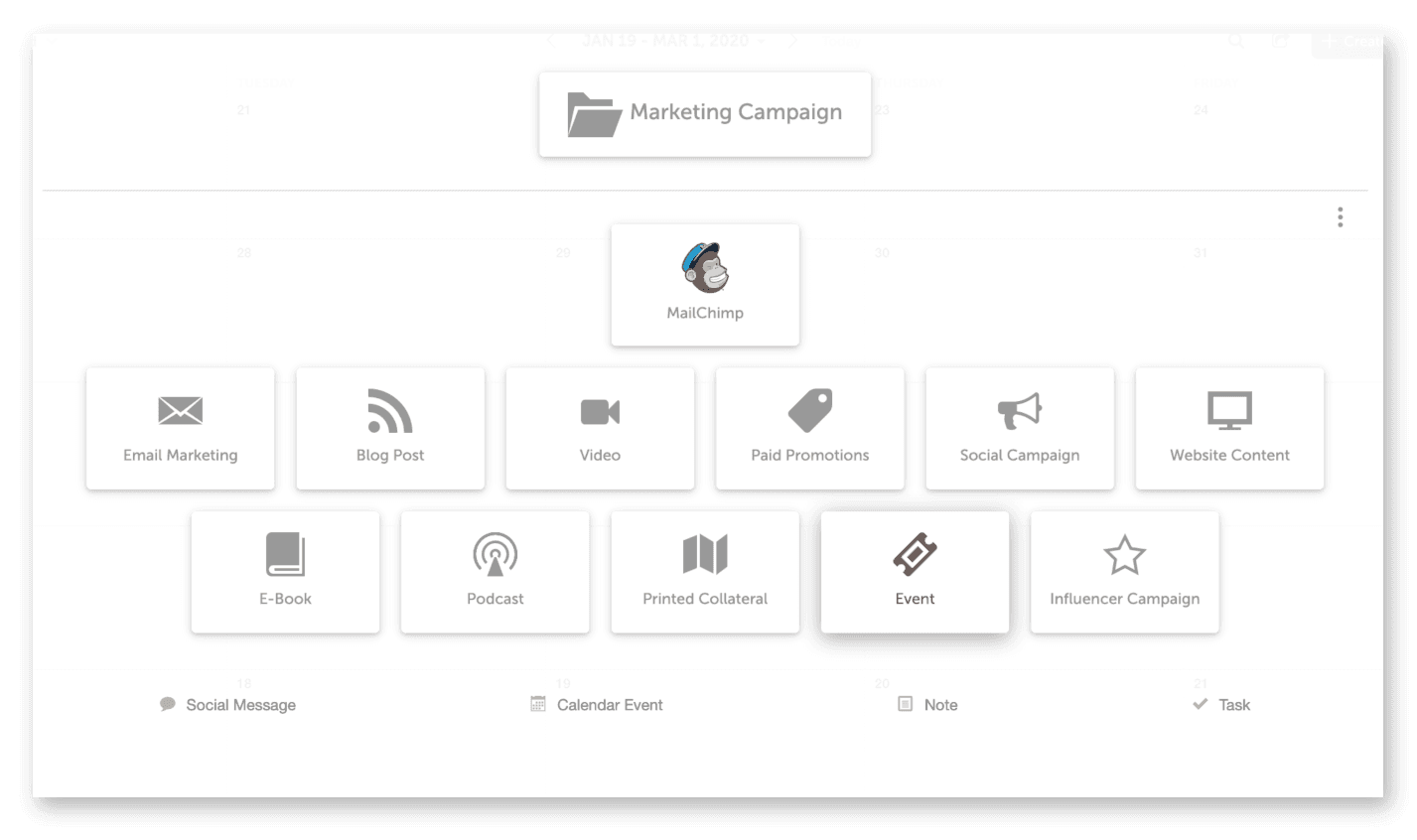 These appear when you click a day on your marketing calendar and can be customized using tons of different options: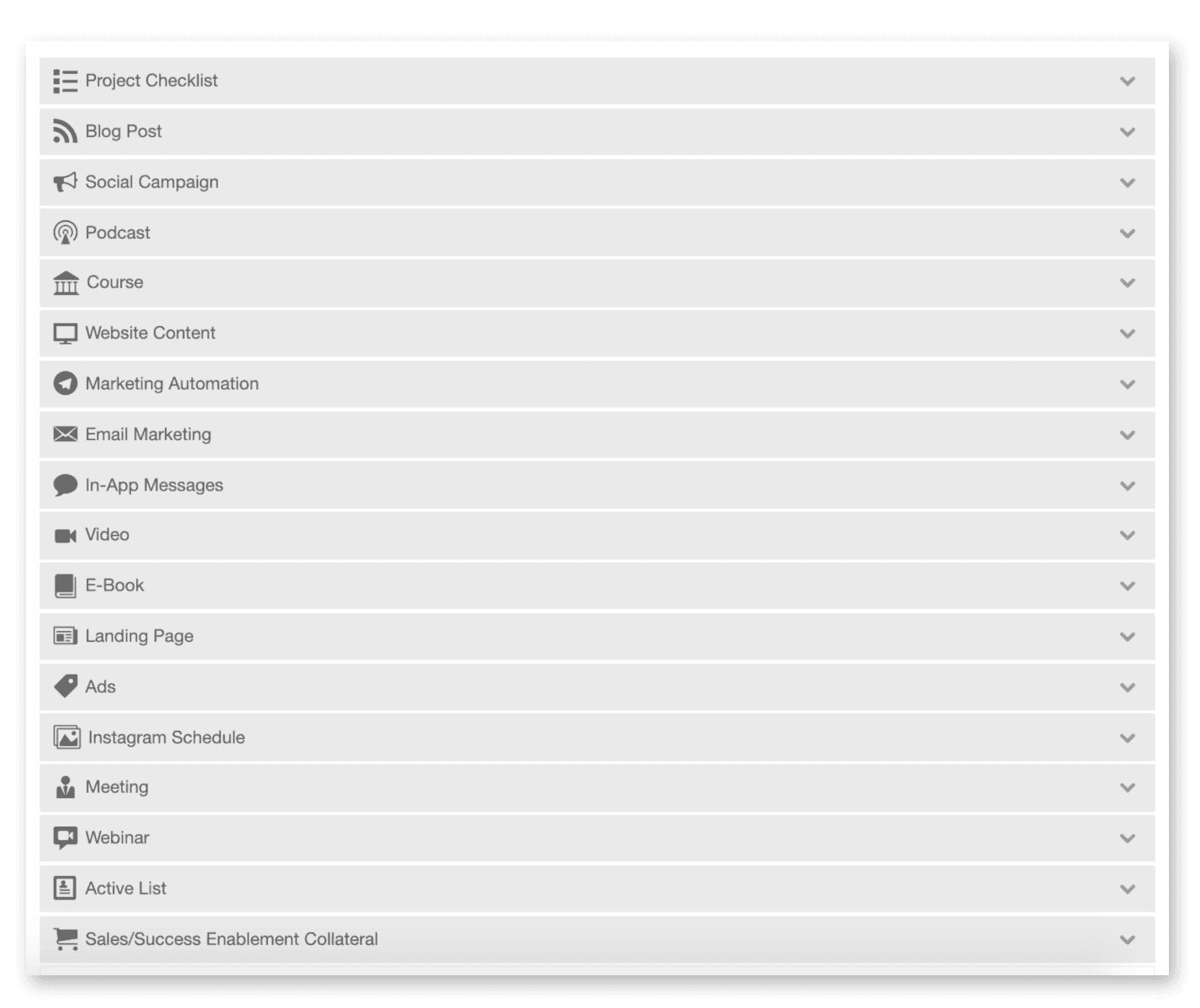 Next, setting up Saved Views makes sure team members can filter the calendar by the projects they need to see (and without the ones they don't).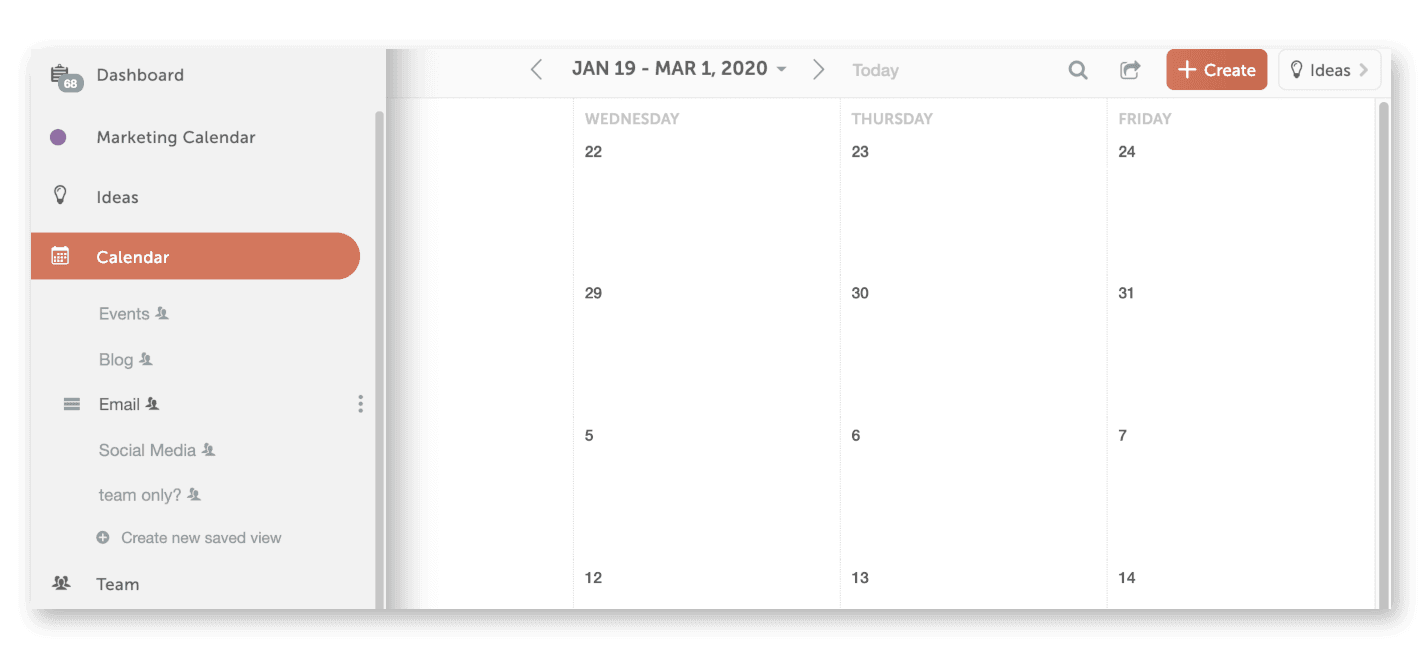 Creating Marketing Projects and Campaigns
Adding projects to the Marketing Calendar is easy. To add a project, select a day on the calendar click the + sign:
Next, select a Project Type (for this example, we'll choose a Blog Post):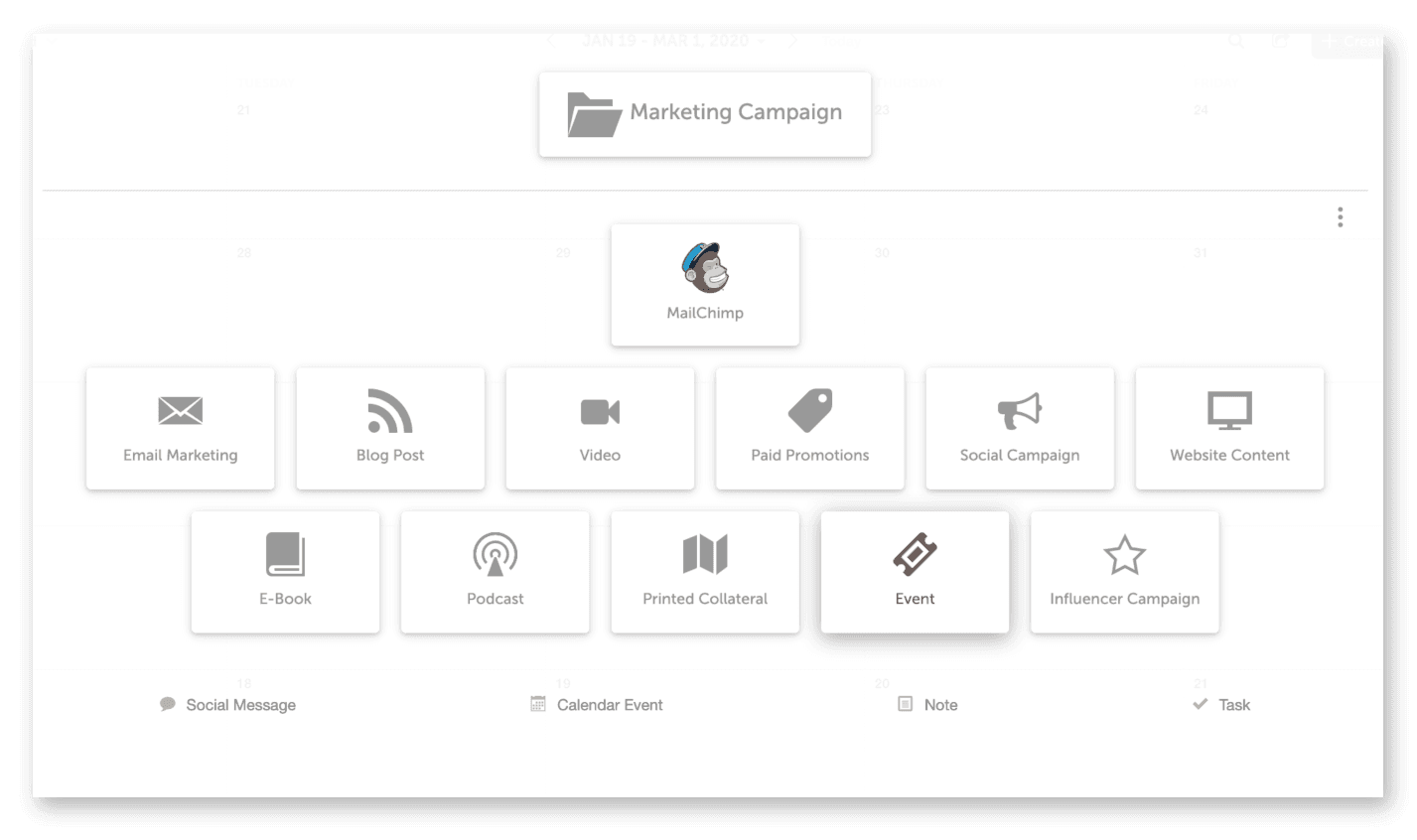 You'll now see this screen, where you have the following options in the bulleted list beneath:

Title:

A title for your project or content.

Description:

A brief description to provide context for your project or content.

Tags:

Tagging can help make content easier to find later.

Color Label:

Add a corresponding color label that makes sense for your project.

Owner:

Who on the team is leading or owning this project?

Date:

For content, this will be a publish date. For campaigns, this will be a start and end date (more on this in a bit).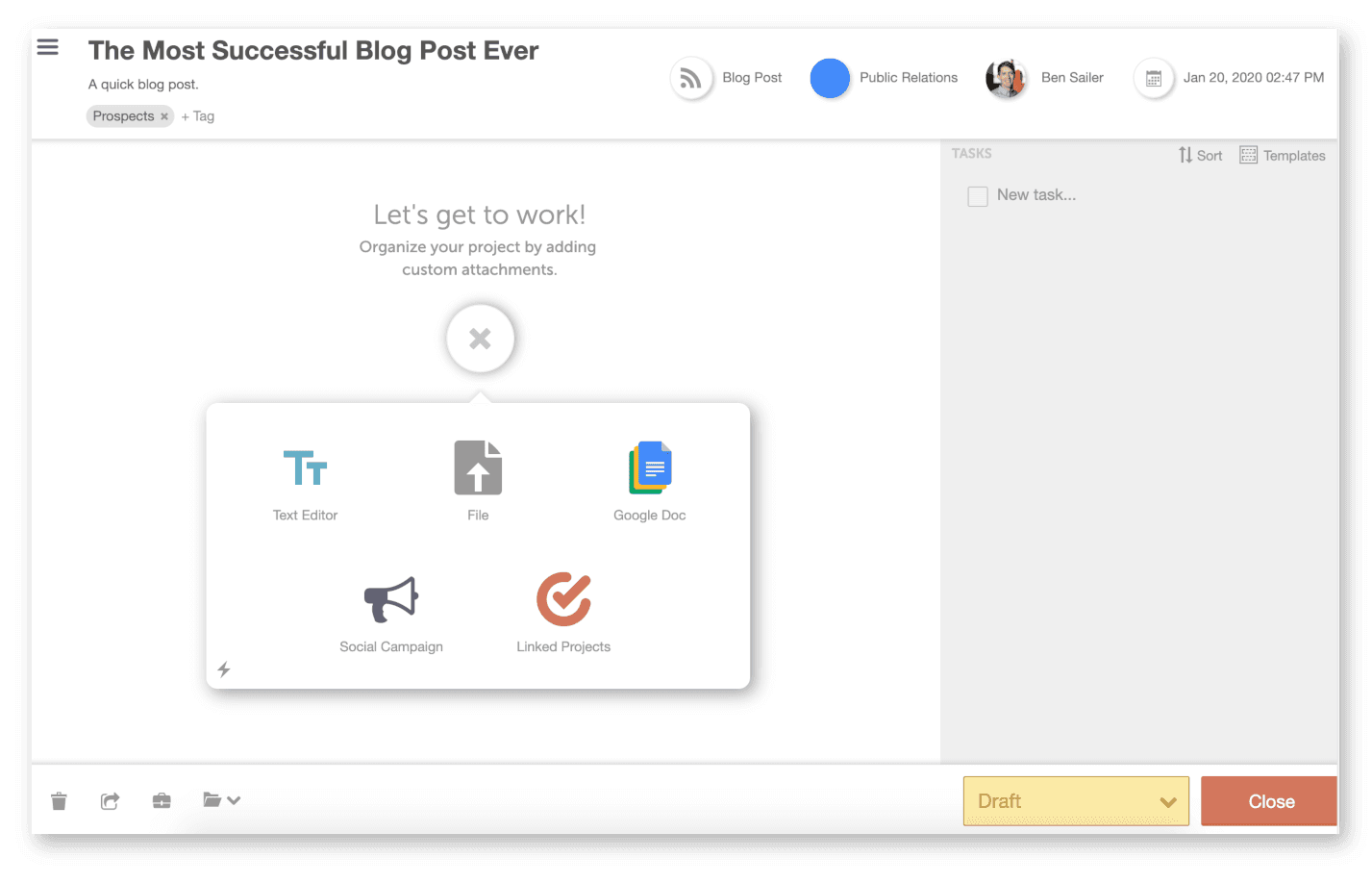 Now, since this project is just a draft, for now, we'll leave the Status as "Draft."
If you're creating a marketing campaign with multiple projects that need to be managed, the process is similar.
Setting Up Task Templates
The next thing we need in order to manage this project is a Task Template. This is a checklist of tasks that will help keep the workflow organized and make tracking project progress easy.
You can either add one task at a time (with an assignee and a due date: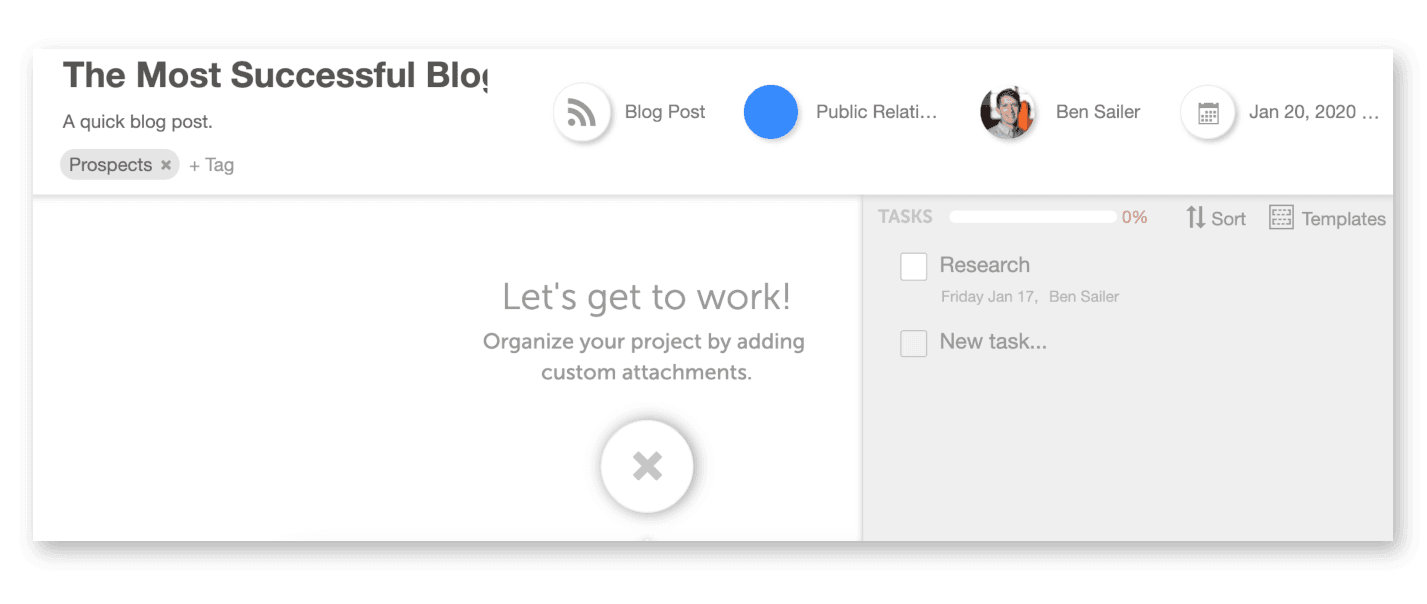 Or, you can create a list of tasks, save it, and apply it as often as you need: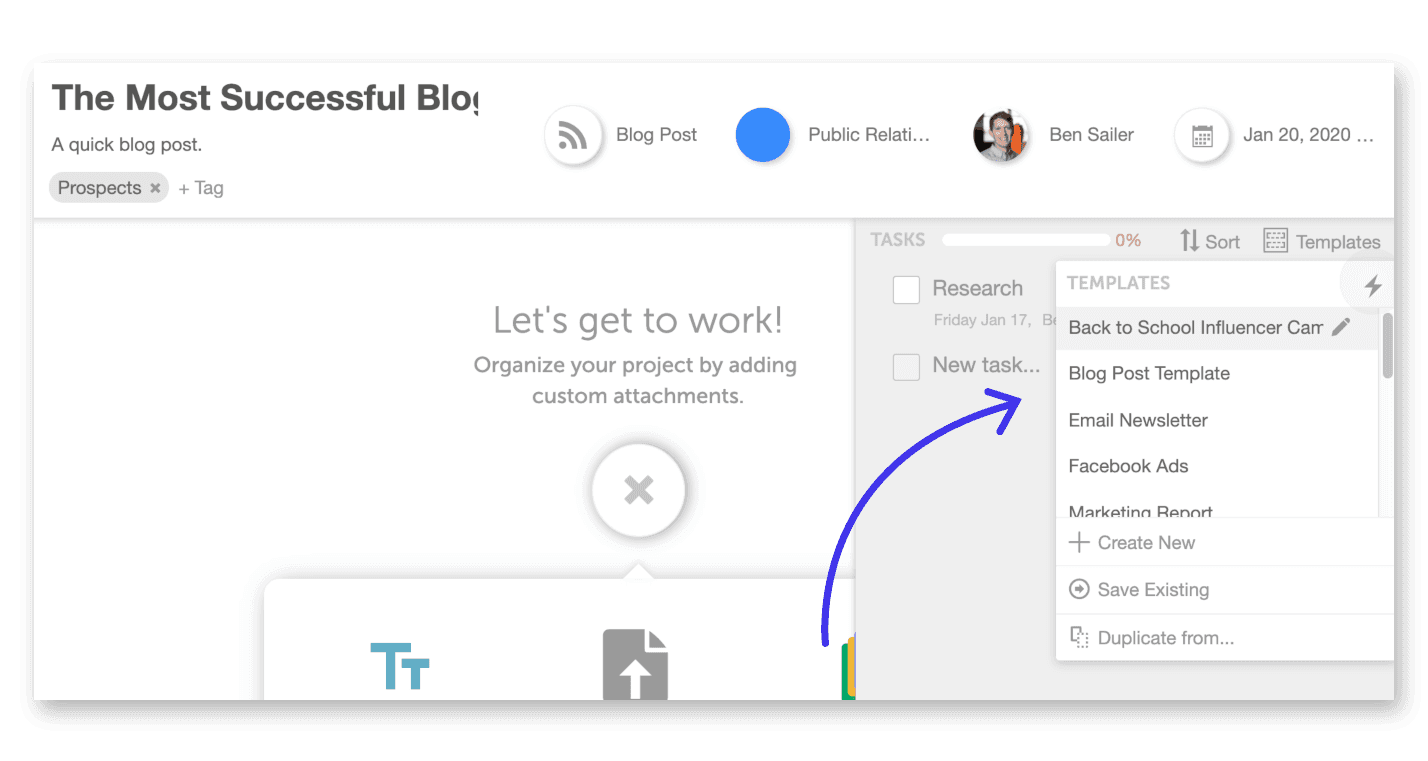 Here's an example of the Blog Post Template we've created. It has all the tasks, deadlines, and team members we need to write a blog post successfully already applied: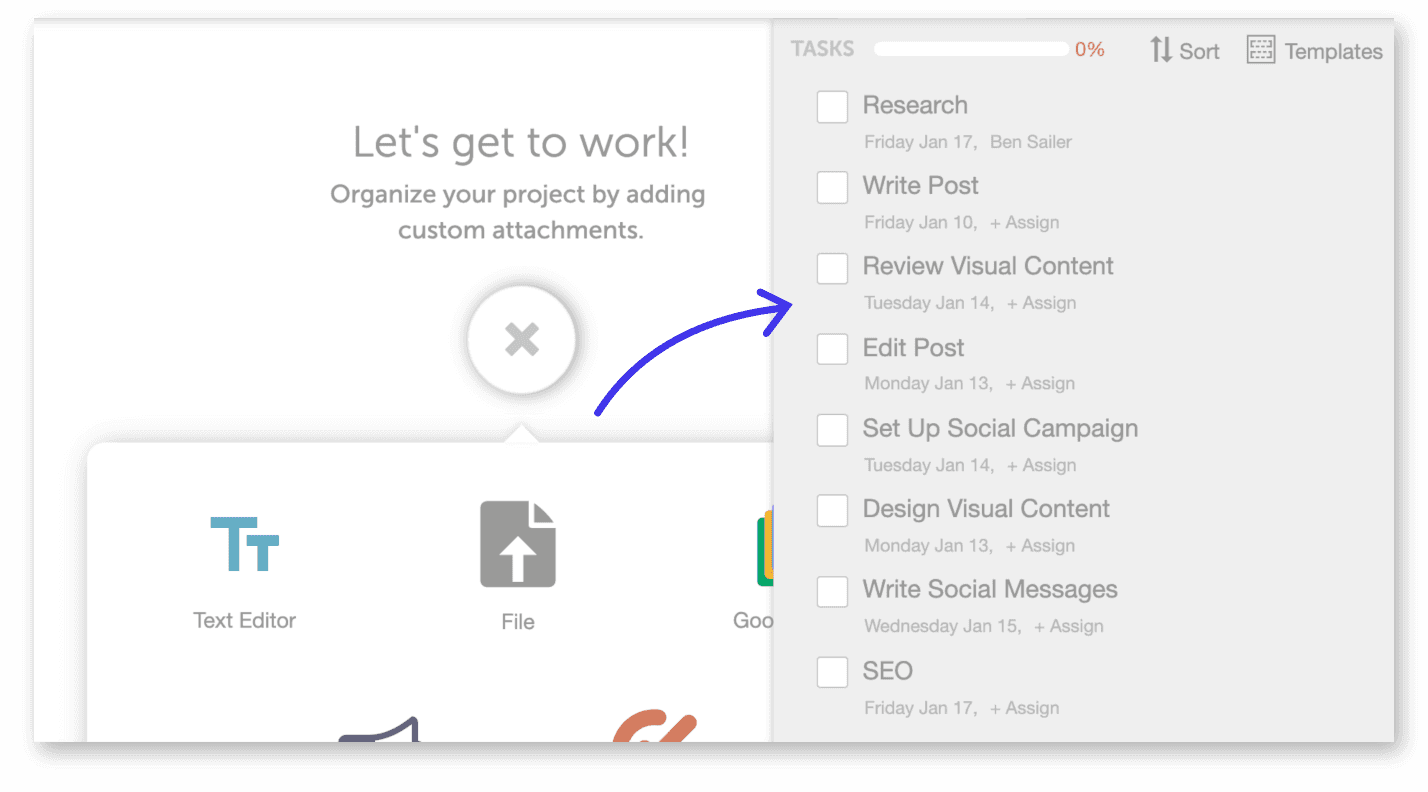 Clicking each task will increase the completion percentage, so we can know how far along this post is toward being finished: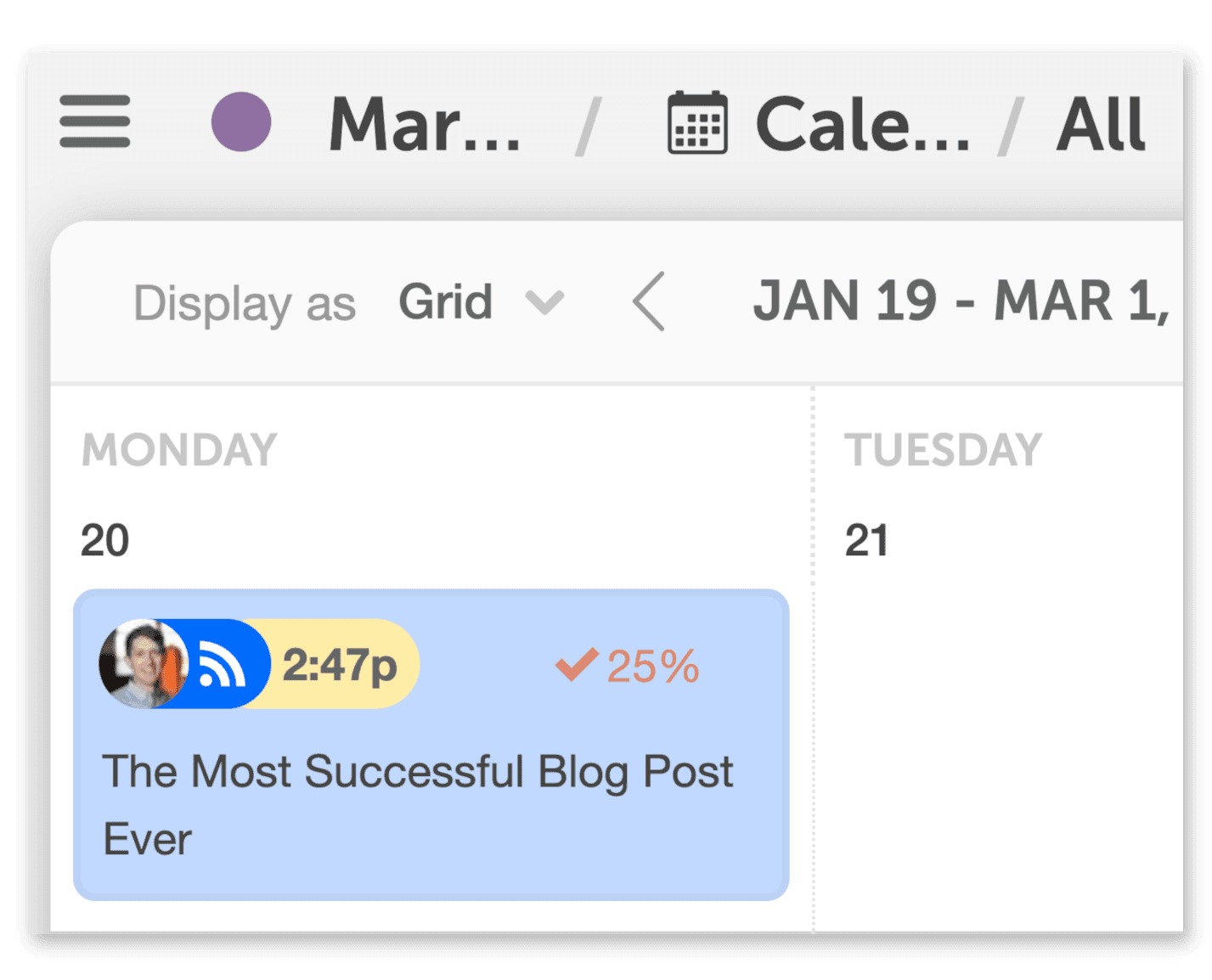 Establishing Approval Workflows
Putting consistent review processes into place is essential for ensuring work is completed accurately and on time. With CoSchedule, you can add an approval step to any task. Click into any task on a project, then select an assignee and who needs to approve it: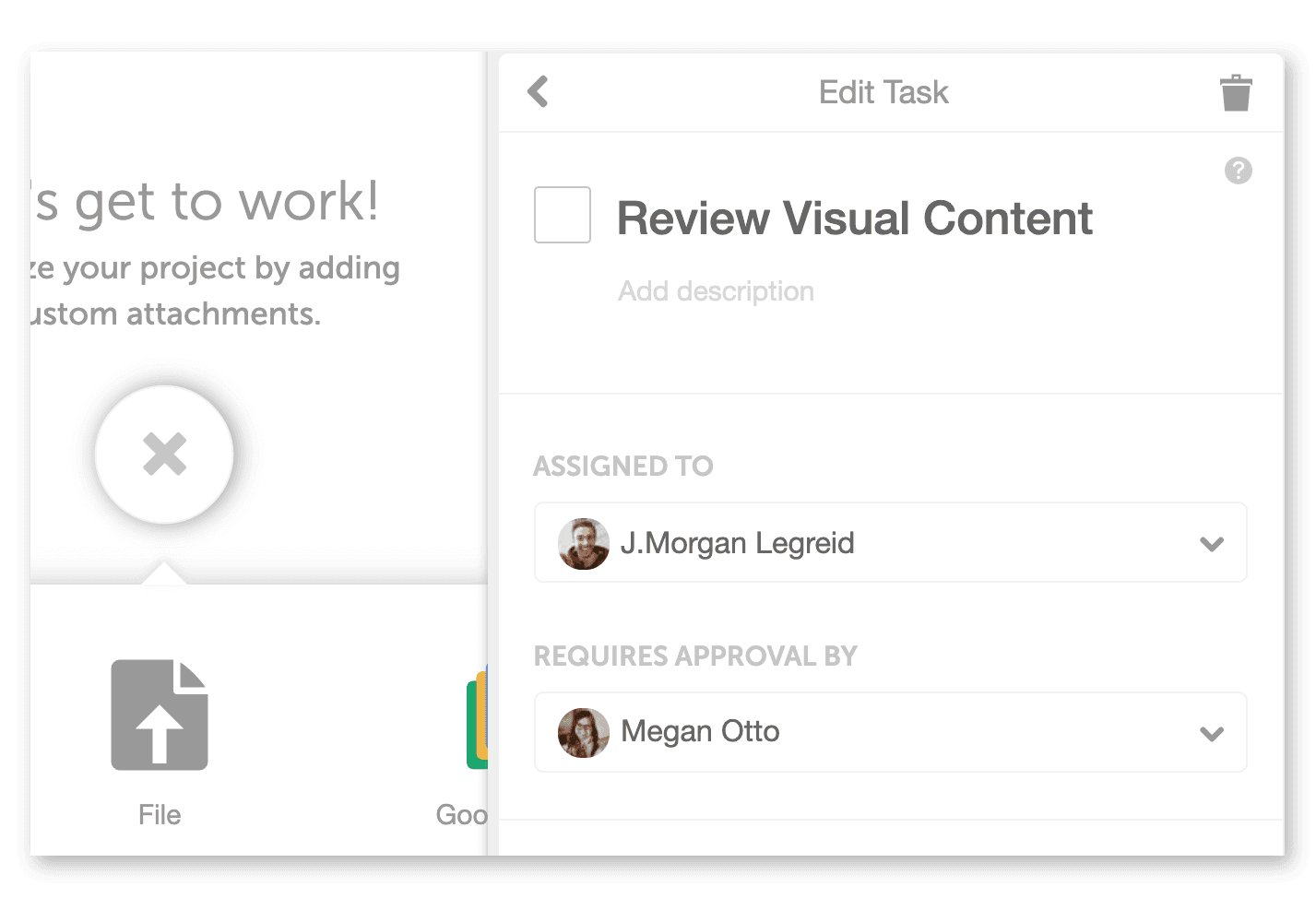 You can also add simple if-this/then-that logic to determine what happens next once a task is complete: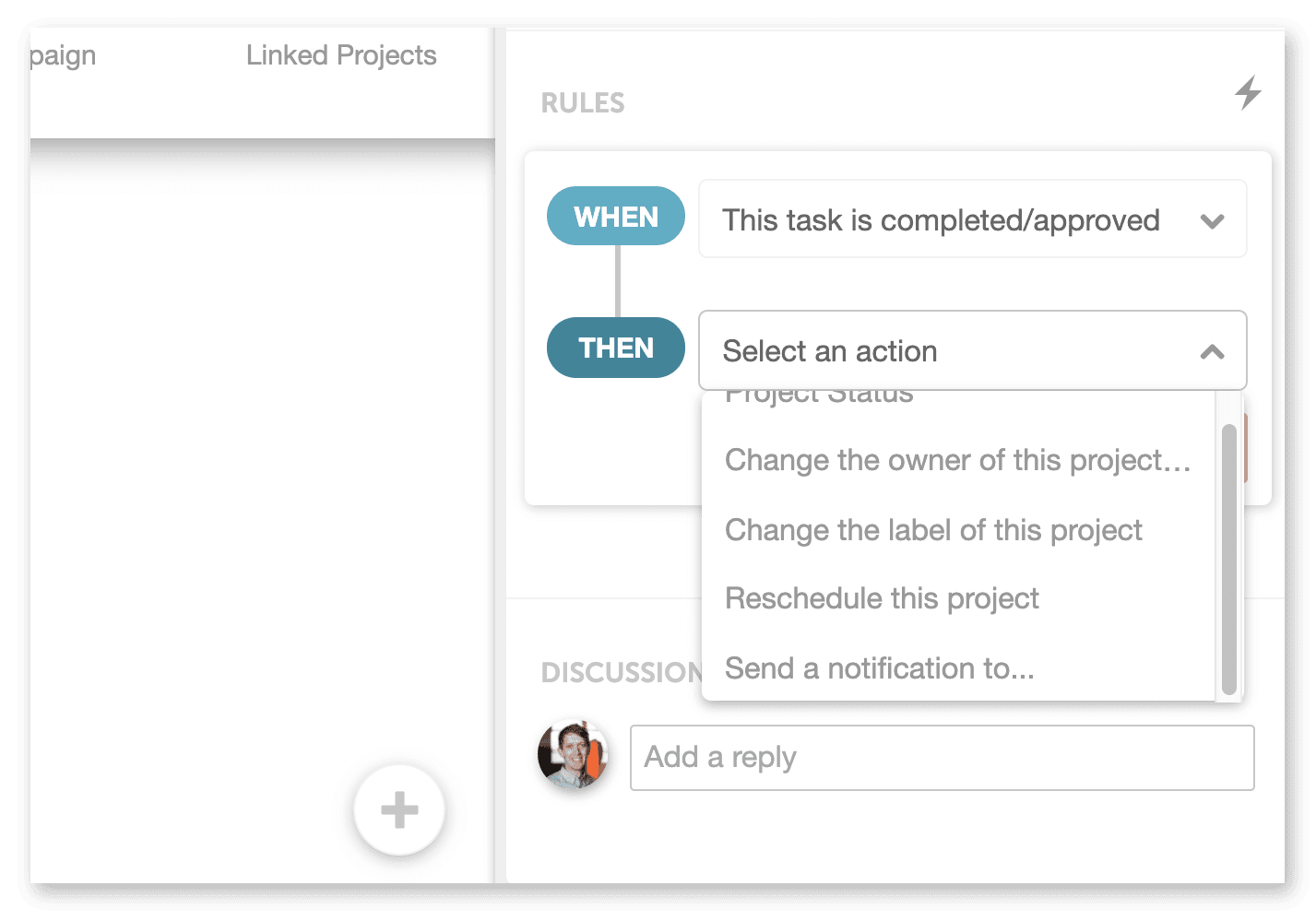 This makes it easy to automatically change the project's Status or Color Label once a task is complete. Or, you can automatically send a notification to a specific team member (like a project manager) to let them know it's done.
Managing Tasks With Team Management Dashboard
Once you have a number of projects and tasks assigned, you'll need one place to manage them all. That's where the Team Management Dashboard comes in. It takes all the tasks assigned to all your team members and puts them in one place. You can view your team's tasks in a vertical layout: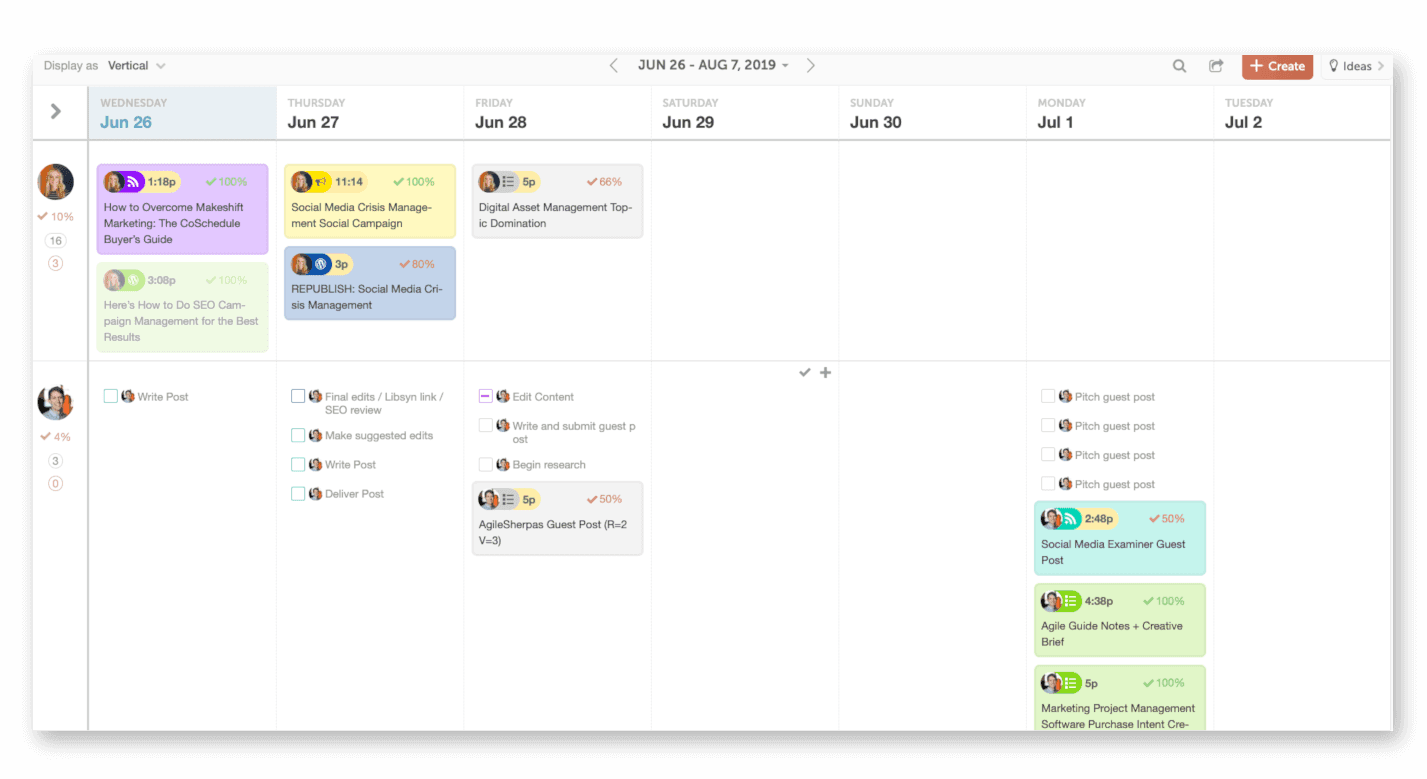 Or horizontal:

Measuring Output With Team Performance Reports
How are your team's project workloads looking? Who's getting their work done on time, and who isn't? Who might need more tasks, and who might need some things taken off their plate?
Team Performance Reports can help answer these questions. They provide teams with tons of useful performance and productivity data (which can be delivered via email in attractive reports to whoever on the team needs them):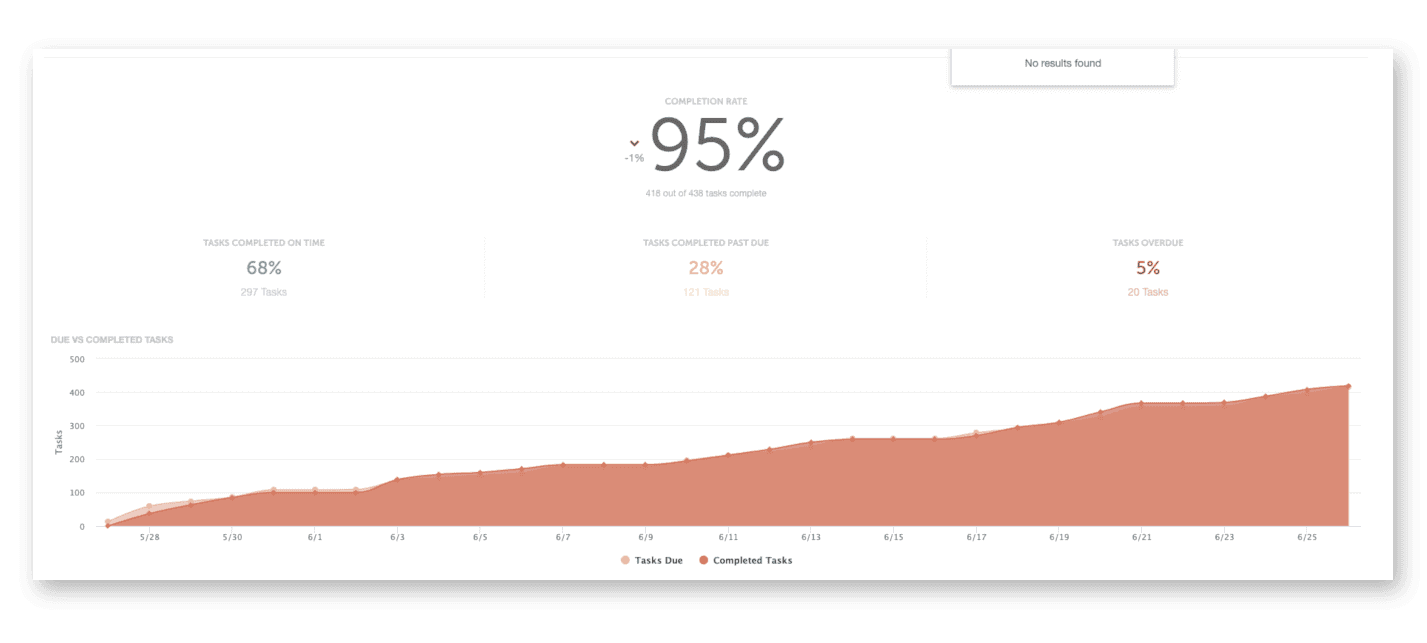 You can see:
Tasks completed on time.

Tasks completed past due.

Tasks currently overdue.
Plus, you can get a detailed breakdown for each team member:

With this data, you can:
Know who's smashing their deadlines.

Better allocate team resources.

Show your results and prove your project management processes are effective.
Start Managing Projects With CoSchedule
Ready to see how CoSchedule can help get your team organized and improve your marketing project management? Schedule a demo and see how it works first-hand.