Marketing Work Management: How to Calm the Chaos and Hit Every Deadline
Is your team working without a clear marketing work management process? If so, you're probably tired of having more projects than you know how to handle. Your writers and designers are likely tired of being pulled in too many different directions at once. And the stakeholders that depend on you are definitely tired of long
project timelines
and
missed deadlines
. Sound familiar? You're in the right place. In this post, you'll learn how to:
Develop an effective project intake process.
Implement a simple framework for allocating team resources and prioritizing work.
Make your team happier, more productive, and more focused.
It's time to put an end to marketing chaos. There's a better way to work.
Download: Marketing Work Management Templates
Throughout this post, you'll learn how to use CoSchedule to manage marketing work. However, if you don't have CoSchedule, you can still apply this advice using these three templates:
Marketing Project Checklist: Map out workflows and track progress in Excel.
Marketing Project Time Tracking Template: Track how much time gets spent on work and measure productivity.
Marketing Calendar Template: Visualize upcoming work and deadlines.
What is Marketing Work Management?
In a marketing context, work management is distinct from workflow management, project management, and other similar-sounding terms. So, what exactly are we talking about here? Let's work with the following definition: Marketing work management describes the processes teams use to triage projects, allocate resources, and ensure that work is completed accurately and on-time. Here's a visual breakdown of how it operates:
Why Should Marketers Care About Work Management?
If you're going to propose putting new processes into place, then you'll need a strong justification for putting in the time and effort that'll require. Fortunately, the benefits sell themselves when teams are faced with the kinds of problems this is intended to solve:
Putting an end to last-minute fire drills. No one enjoys having their day derailed with unreasonable requests. Even the biggest and most well-organized companies can struggle with this without the right processes in place.
Better understanding how work moves through your company. When you know how projects are flowing from request to completion, you can better identify bottlenecks that are causing frustration and holding up productivity.
Making your team and stakeholders happier, more focused, and more productive. In the end, this is what you want to achieve. When people feel focused and productive, they're more likely to enjoy coming to work, and will do better work too.
In short, there's no real downside and plenty of benefits to be gained.
Marketing Work Management: How to Calm the Chaos and Hit Every Deadline via @CoSchedule
Click To Tweet
Where Are Marketers Struggling?
That all sounds like a dream. So why aren't marketers achieving it? Several statistics help paint the picture of what's going wrong:
These numbers outline a two-part problem:
Marketing teams lack organizational skill to manage their work successfully.
And they're not measuring how much work is actually getting done.
This post will help solve both of these issues.
A Look at a Typical Marketing Project Request Process ...
The way companies handle the flow of marketing projects often isn't great. Sometimes there's no actual process in place at all, or if there is one, it isn't always well defined. That leads to all kinds of confusion, and it's no way to live or work.
There has to be a better way to work than this, right? If looking at that image hurts, that's because it's true (and you might be feeling that pain right now). But as cliche as it might sound, there are better ways to work, and putting better processes into place is within your reach.
Building a Better Marketing Work Management Framework in 7 Steps
Okay, so you know you need to do something, and you're committed to getting done. But … how will you actually make marketing work management a reality? It's easier said than done, sure, but it's also not as difficult as you might think. Here's a complete process, adapted from what's worked well for CoSchedule.
Give Stakeholders One Place to Submit Project Requests
You ever have someone drop by your desk for a quick conversation that's actually a project request that throws your entire afternoon out of whack? If you've been in this industry for long, then odds are you're shaking your head in agreement. This isn't necessarily your coworkers fault though. They just don't have a clear and easy way to submit requests for the things they need. So, give them one! This can be as easy as setting up a Google Form with the following fields:
What is your name and department?
Which type of project do you need?
Who is this project for?
What is the goal for this project?
What are the requirements for this project to be considered complete?
When do you need this completed?
Have a Plan to Prioritize Projects
The most important projects are the ones with the most potential to impact your business. While there will be times when other time-sensitive projects need to be tackled first, but generally speaking,
the more potential to impact revenue, the more important the project
. You can prioritize projects with a simple three-point scale:
Low Priority: It would be nice to get these things done, but they're not essential.
Medium Priority: These items need to get done, but not immediately.
High Priority: Your highest-impact projects that most directly drive profitable customer action.
Priority needs to be balanced with level of effort. The fact that someone wants something right now doesn't mean there are resources available to make it happen. Use a separate four-point scale for determining level of effort:
Low: Simple projects that can be completed quickly and easily.
Moderate: Slightly more complex work that takes less than a day.
High: Complex work that will take one or more days.
Long-Term: Major projects that take multiple months.
Determine Time Availability for Team Members
Once you know what needs to get done, and can estimate roughly how much effort it's going to take, it's time to start assigning work. That starts with determining how much time team members have available, before you start allocating resources and determining who's doing what and when. Using the Team Management Dashboard (available on Professional and Enterprise
Work Organizer
 and
Marketing Suite
 plans—
see details
) in CoSchedule, review everything team members currently have assigned:
Without getting too deep into how it functions (this post will dig deeper into this in a little bit), you can use this to:
Get full visibility into who is working on what.
See all assigned work for your team.
Move tasks around to balance their workload.
Using that information, do the following:
Estimate how many hours of work each team member has on their plate right now.
Estimate how much time they'll need for the project you're planning.
Confirm they will have time to complete their tasks before the deadline.
Start Every Project With a Creative Brief
When you follow this process, nothing is real until it's in writing. And in this case, that means writing a creative brief that outlines the requirements and goals for your project.
No project should start without completing this step
. Here's a quick look at the creative brief template included in this post and notes on what each section should include:
You'll note that this template can be completed largely by elaborating on the information you gathered through your intake form. Your job will be to take that project brief and build out a summary and determine the resources you'll need.
Set Up the Project Within Your Work Management Software
Once you have your project planned, it's time to map it out in your work management software. You can use spreadsheets for this, but dedicated tools built for the job are much easier and more efficient to use. Using CoSchedule, find the Marketing Calendar:
Next, add a Marketing Campaign to the calendar (this is a folder visualized as a color bar across the calendar that makes it easy to see only the projects contained within the campaign):
Then, you'll see a screen prompting you to name the campaign:
Next, click on days on the calendar to add each individual project to the campaign:
Clicking Project will bring up a prompt that allows you to add more types of content and projects onto the calendar:
Once you add a Project, you'll see the following workspace:
Your next step will be to assign tasks. For each task, you'll need to figure out:
Who is responsible for this task?
When will it need to be completed?
Does it need to be approved before it's considered complete?
Each of these items can be easily be added using the controls pictured below:
Each task you assign here will appear on the Team Management Dashboard (this post will revisit this again in a little bit). Continue with this process until you've added everything that you need. Once you're done, click Close Marketing Campaign. Then, you'll see something that looks like this. The marketing campaign will appear as a color bar across the marketing calendar:
Then, clicking into that color bar will let you see only the pieces that are a part of that campaign:
Another Method: Are you creating just one project that isn't part of a broader campaign? No problem. Just click a day on the calendar, or click Create within the Team Management Dashboard, and add a single project.
Plan the Workflow for Each Project
The previous section touched on adding tasks to projects, but let's take some time to cover how to actually plan effective task-based workflows. This is a snap with a little bit of effort. For every project you plan, start by generating a list of all the tasks that need to be completed. Don't be afraid to get granular. Here's an example of what this might look like for a blog post at CoSchedule: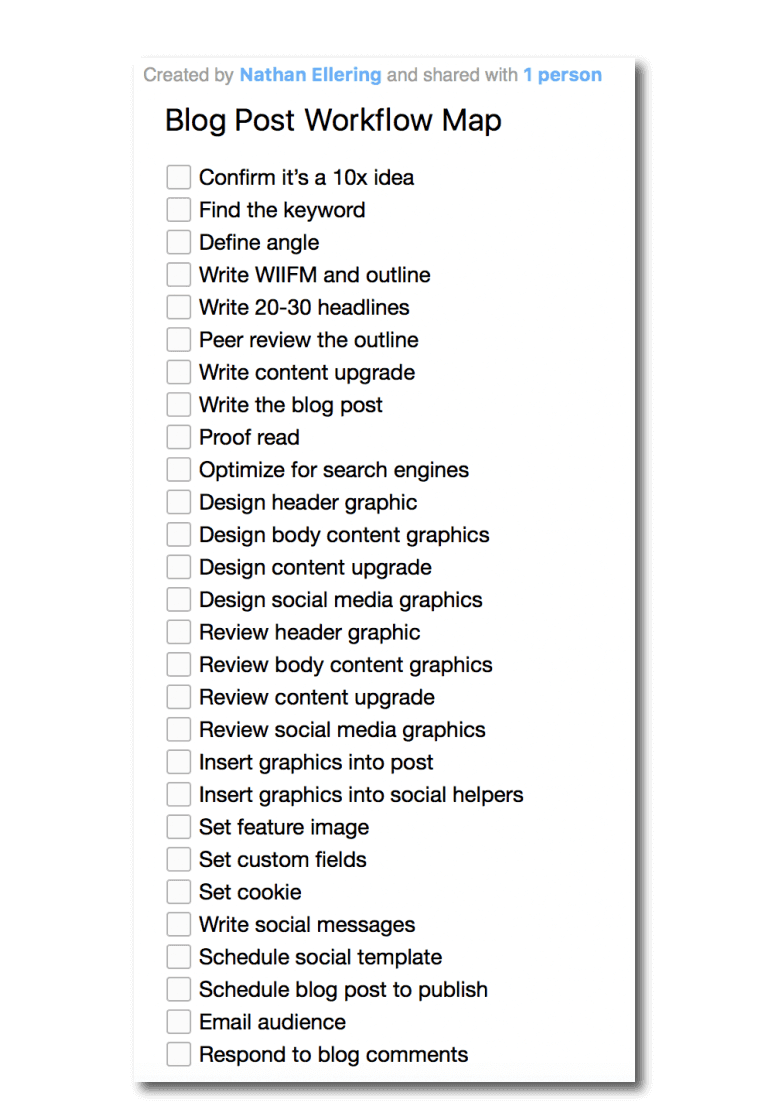 That's a lot of steps, but it helps make sure that everything gets done correctly without missing a step. But some of these steps can probably be consolidated. Here's another look at the same list with some steps combined:
That looks more manageable. Next, it's time to add in some notes for what's expected out of each step: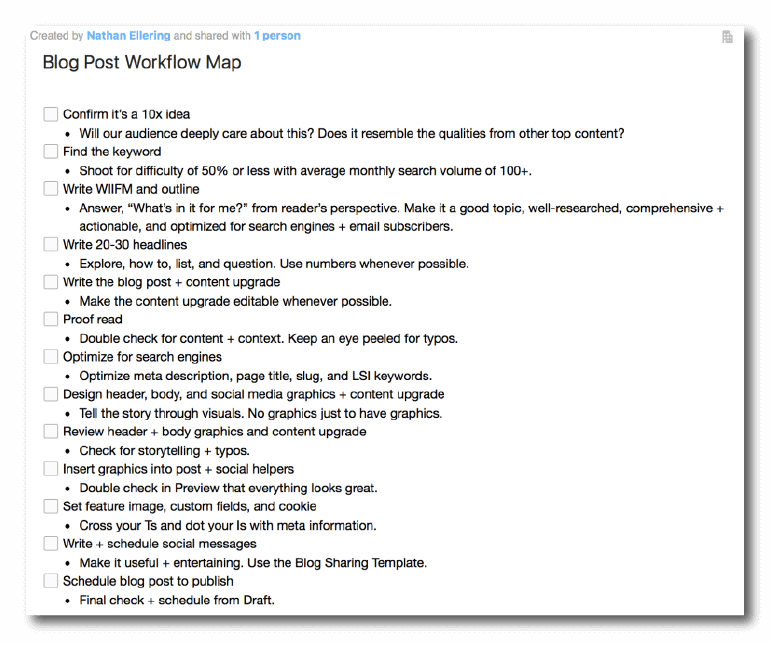 Then, add in names for who will complete each step:
Finally, add in the amount of time it'll take to complete each step too: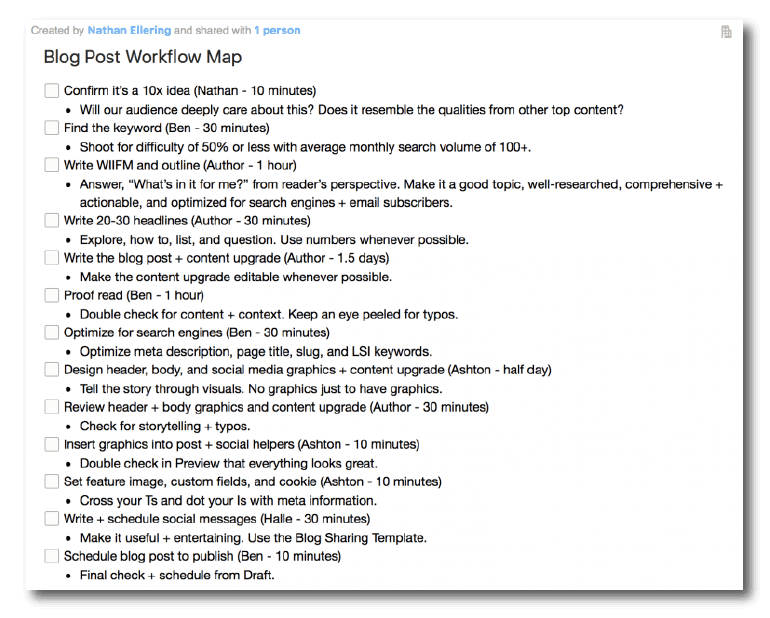 Once you have all this mapped out, you can build your workflow into a Task Template in CoSchedule. Task Templates are checklists you can apply and reapply automatically on projects (so you don't have to rebuild them every time you set up a project). Applying task templates to projects is easy. Click into a project and find the Task Templates icon. Clicking this will bring up all the task templates you have created:
Balancing the Team's Workload
Once you have multiple projects in progress with your marketing team, you'll need to make sure you're managing their workload effectively. If someone is consistently looking for more things to do, they might need more work put on their plate. Conversely, someone who is falling behind might be overloaded, or could use some extra help. How can you actually quantify whether the team's workloads are properly balanced? Measure their output and gauge whether or not they're hitting their deadlines. If you have some sort of task management software with task completion reporting built in, this will be easy enough to do. CoSchedule customers can use the Team Performance Report, which automatically tracks team member output based on how often they complete tasks on time. You can see overall task completion rate:
Plus each individual team member's completion rate:
What Should You Do When Team Members Fall Behind?
It happens. Sometimes marketers get overloaded with more work than they can handle. Other times they might simply struggle to get everything done that they've been assigned. And in some cases people just slack off. Whatever the case may be, you'll need to do something about it. That's work management 101. So, here are some simple action plans to fix the issue:
Sit down with the team member to find out what's going on.
Are they overloaded? If so, see if you can push back their deadlines or move some of their work over to another team member. This might also be a sign that you need to hire.
And if it turns out they're not performing up to expectations, it may be best to get your HR department involved and take things from there.
Ready to Get Your Work Management Processes Organized?
There's more to work management than what can fit into a single blog post. But you now have an actionable process in hand that you can start applying right now. And as you get better at planning work and managing workflows, it'll only get easier and more effective over time.