10 Simple Blog Post Templates to Create the Best Content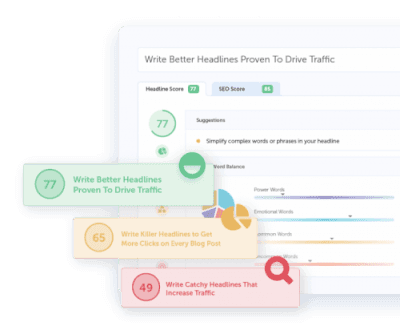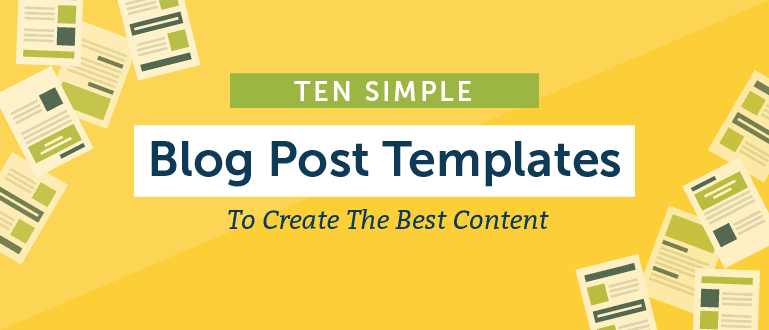 As a marketer, you have a lot to do.
Promotions to manage. Campaigns to plan.
In other words, you have no time to write fantastic blog posts.
Sure, you do your best to "create great content" (because that's what you been told to do).
But, you're not happy with the results.
Meanwhile, your competition's blog is crushing it.
"How can I be like them," you ask.
Reading this post is a good start.
We've put together ten different blog post templates that cover every step in the content creation process.
Plus, we'll walk through how to use each one.
By the time you're done, you'll know exactly how to write effective blog posts, without spending nearly as much time.
The days of staring at a blank cursor are over.
DID YOU KNOW:
You can plan, publish, and promote all your WordPress blog posts on one marketing calendar with CoSchedule?
See how it works
.
Get 10 Free Blog Post Templates and Create Great Content Now
This awesome bundle includes all ten templates we'll show you in this post. From developing personas, to craftingf outlines, to actually writing the posts themselves, you'll get everything you need to succeed. Grab 'em now. Then, read the post to learn how to use them.
Step One: Use Your Blog Audience Persona Template To Identify Your Target Audience
First, determine who your audience is. By knowing exactly who you are writing for you can tailor your content to fit their needs.
How do you build an audience persona for your brand's blog?
First, read this post on finding your target audience.
Then, pull out your blog post audience persona template and outline the biography of your blog reader.
This should include where they work and what types of companies they work for.
Include details like, what their title is (manager, strategist, etc.) and specific company types like (Fortune 500, startup, etc.)  In the end, it should look something like: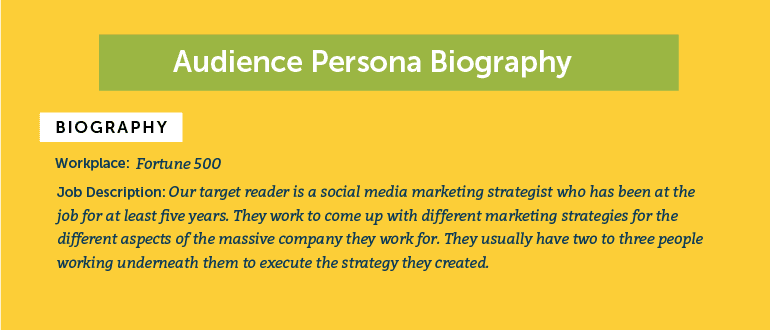 The next part of your template is filling in the demographic information for your audience persona including age, gender, income, level of education and location type.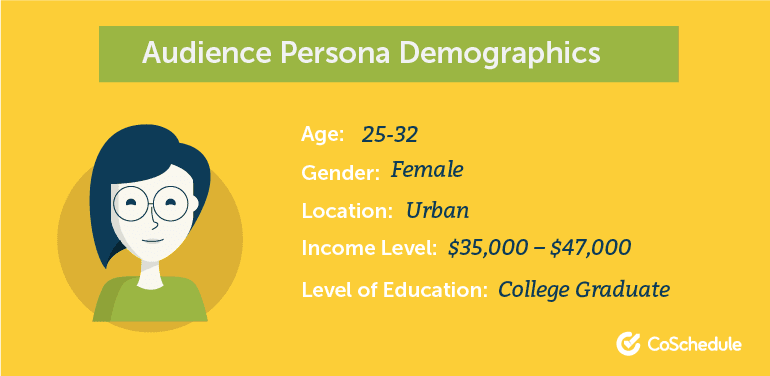 Next, you'll focus on their hobbies and interests as well as the challenges and goals they face. Hobbies and interests will play an essential role in identifying who reads your blog as it can help you relate your content back to them.
Challenges that your target audience faces can help you identify what sorts of topics to cover.
Defining the goals of your audience can help you create content that shows your readers how to reach them.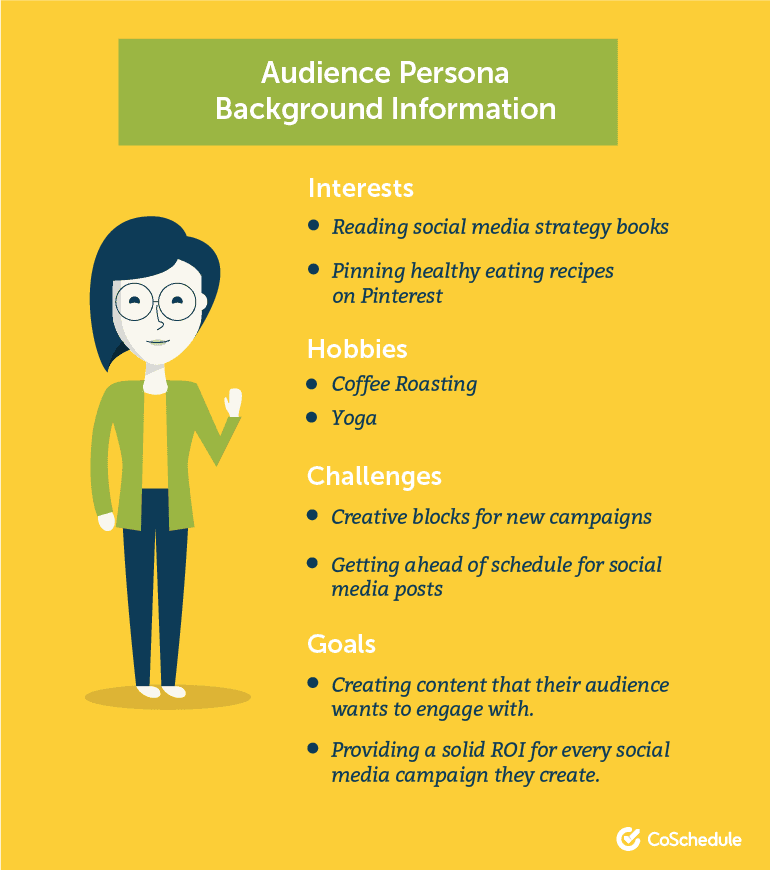 The next part of your persona template is writing a personal summary of how your target audience would describe themselves.
You should also add what your audience expects from reading your blog as well as concerns that may prevent your target audience from reading your blog posts.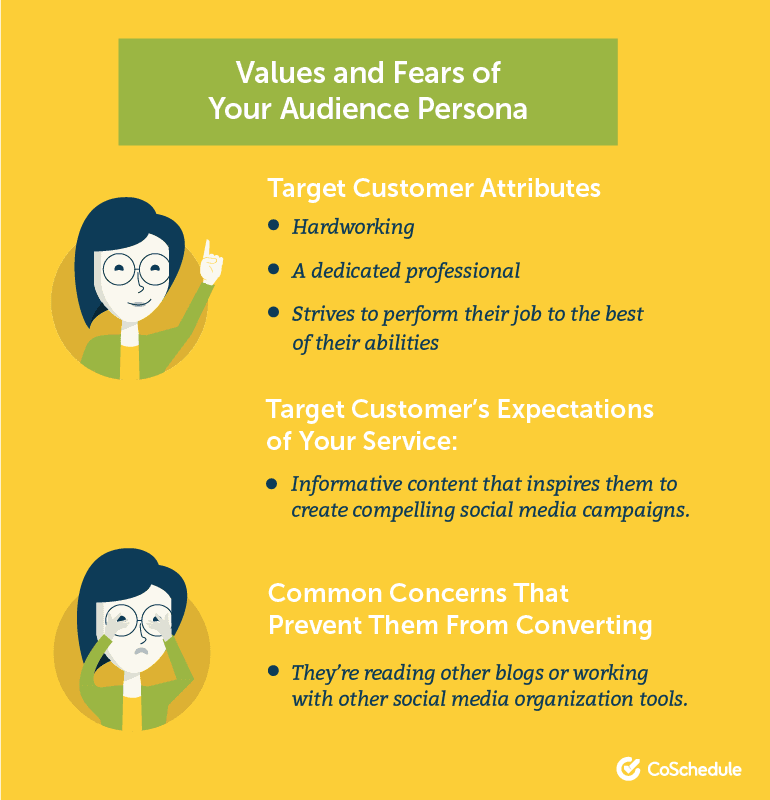 The last part of your template should include other blogs and news sources that your target audience reads. You can also include customer quotes to finish off your persona.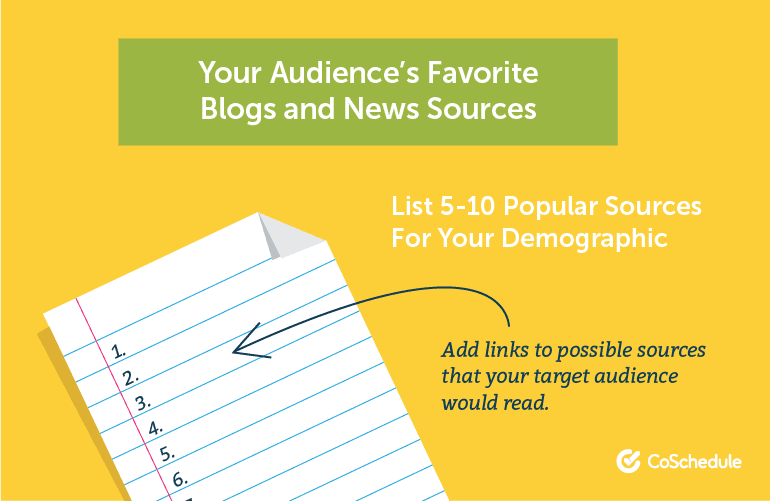 Step Two: Use Your Keyword Research Template to Organize Blog Post Keywords
If you've written blog posts before you know how important it is to have a keyword that has a high search volume and low competition.
Not only that you need to make sure that the keywords you use are terms that your target audience is searching for.
Keywords are broken into two sections for every blog post that you write. One is your main keyword. Your entire blog post is centered around this keyword.
The second set of keywords are LSI or latent semantic indexing terms. These keywords relate back to or are variations on your main keyword.
To find keywords around the subjects, you want to write about turn to a tool like Moz or Ahrefs.
Type in the subject you may want your blog post to cover:
Record the main keyword in your template:

The next part you need to record is search volume. This tells you how often your keyword is searched per month. For the keyword social media calendar it's searched about 201-500 times per month:

Difficulty refers to how hard it will be for your blog post to rank for a specific keyword. For our example, the difficulty score for ranking on this particular topic is 65: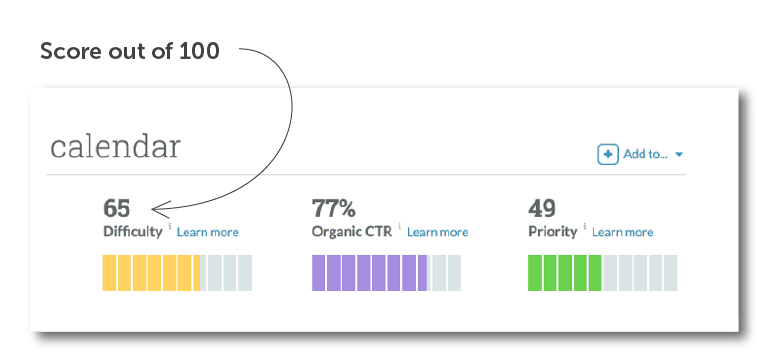 The next part of your keyword research involves finding your additional LSI terms or other keywords that you would want your blog post to rank for: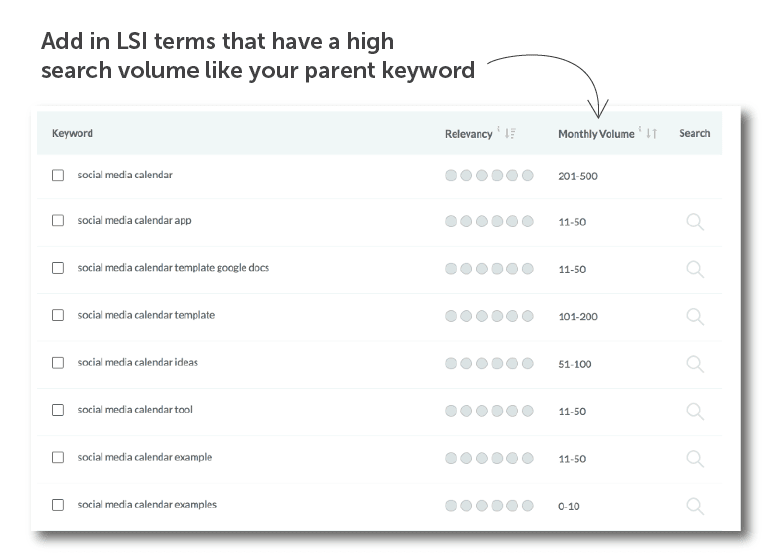 Include an arrow that points to monthly volume that has text that says: Add in LSI terms that have a high search volume like your parent keyword.
Record any additional LSI keywords in your template:

The next part of your keyword research is going to be reading the top ten posts that are currently ranking on the keyword topic that you are going to write about. Look for what your audience wants to learn. What is their intent behind a search for that particular keyword?
For the social media calendar example, the search intent behind that post is to build out a social media calendar to help marketers stay organized. Templates, as you can see, are a plus: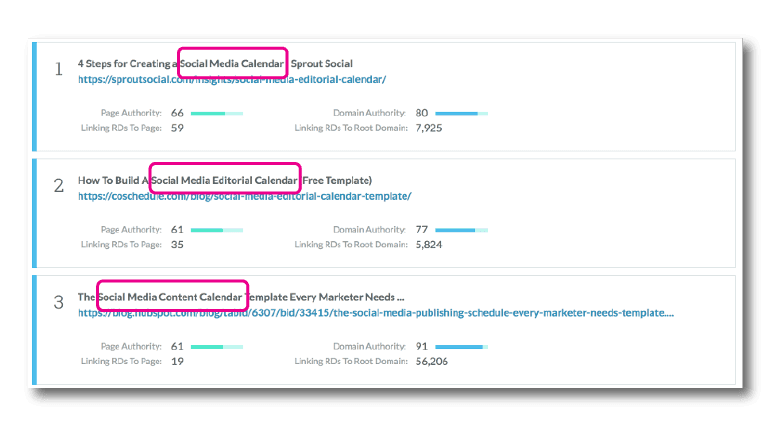 Record the intent in your spreadsheet:

The last part of your template will involve identifying if the content is new if you are optimizing a post you have already written and what type of content it is:

Repeat this process for every blog post you intend to publish. Keep these tips in mind for every keyword you look for: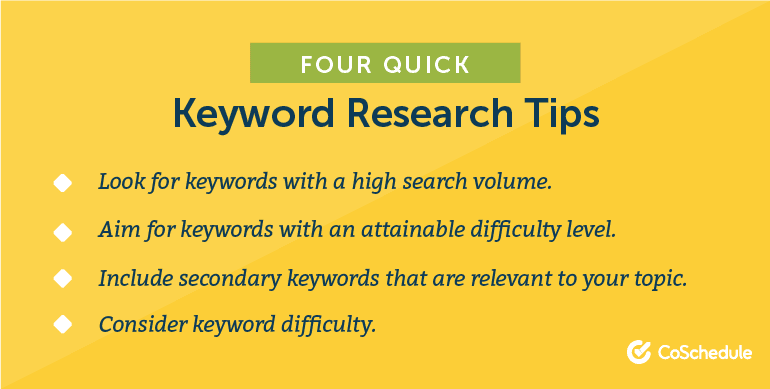 Step Three: Record Your Headlines In Your Blog Title Performance Tracking Template
Now you have your keywords and your audience in mind. The next step is creating a remarkable headline that grabs the attention of your audience.
Headlines are what attract your audience and encourage them to click. They are your opening act. Without a strong opening, your audience won't continue to read.
According to our research,  we have found that headlines do well if they:
Incorporate keywords.
Use "How to" formatting.
Use numbers or statistics.
They are about 55 characters long.
Have a strong positive sentiment.
Use our Headline Analyzer Studio to create better headlines instead of guessing at what might work: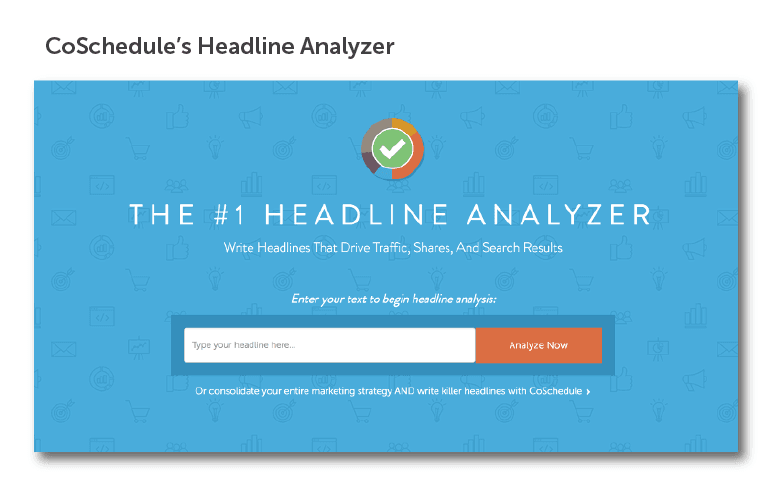 In your Blog Title Performance Tracking template, write two different headlines and record the scores, sentiment, headline type, and length in words and characters.

Aim for a headline score of at least 70 for each headline you write. After you've composed two, choose which one fits your blog post best.

Back to the Top
Step Four: Use Your Blog Post Outline Template To Format Your Thoughts
I can speak from personal experience when I say the best bet you have to create a great blog post quickly is to write an outline.
Outlines allow you to format your thoughts and give you (or your writers) a concise direction to take the post in.
We've made it even easier to format your outline with our blog post outline template.
To start, identify what's in it for your audience. We call this the WIIFM (or What's In It For Me section, which is exactly what your audience will be asking themselves before they read your post).
This should identify the exact benefit your audience will take away from reading your content: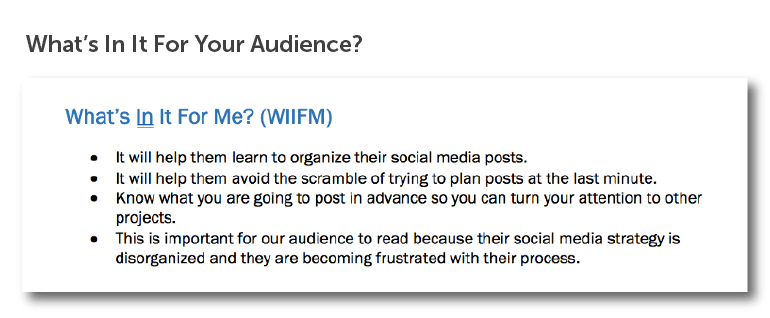 Next, decide what format your blog post will take. Some common options are:
List posts.
How-to posts.
Infographic posts.
Story posts.
Example posts.
Once you choose a post format, identify why your post should be in a particular format:

Next, you'll tackle your introduction. This should be formatted into three different parts:
The problem your audience is experiencing.
The three things that your reader will learn when they read your post.
How what they will learn will help solve their problem.
Your introduction acts as your opening argument. There's a ton of content out there on the web; you need to convince your target audience that your blog post is the one to read.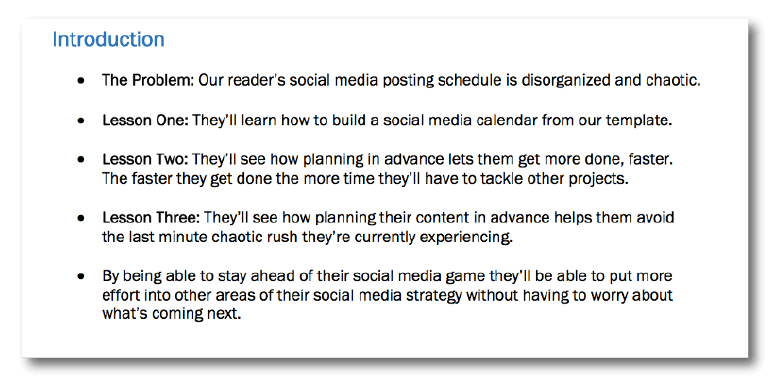 Then comes your body copy outline. These should be overhead thoughts, not necessarily entirely fleshed out paragraphs of text. Just write down the idea you want to bring across.
This can be done through something as simple as writing your H2 and H3 headers: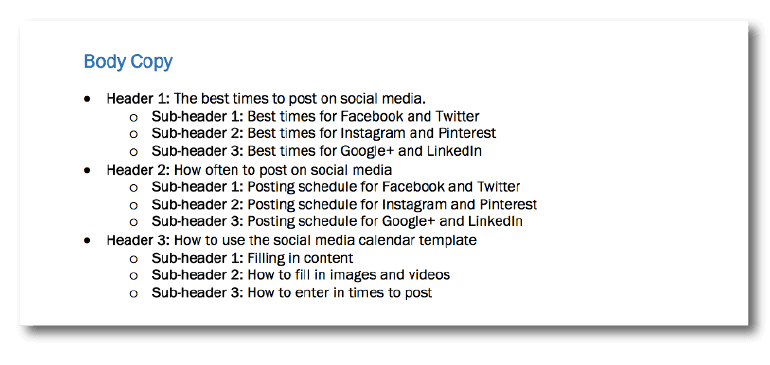 Once you have the body of your post figured out you can move on to creating the Call-to-Action text that will be in your blog post.
First, determine what you want your CTA to say. It should be between eight to ten words like your headlines.
This should give your audience explicit direction for the action you want them to take after they read your post.

There's also space in your outline to add in any sources, data or research that you need to back up the advice in your post: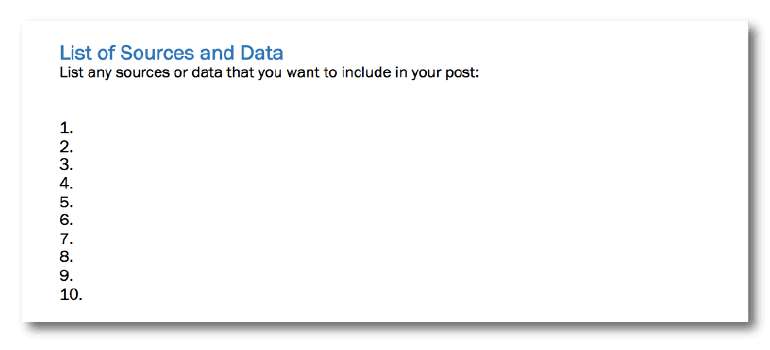 The last part of your outline is your conclusion. Here is where you'll summarize the main points of your post and add in your CTA:
Step Five: Use Your Blog Post Template To Write Your Content
The next part of your blog writing process is going to be crafting your post. This is usually the most time-consuming process, but now that you have your outline and your angle it will be much faster.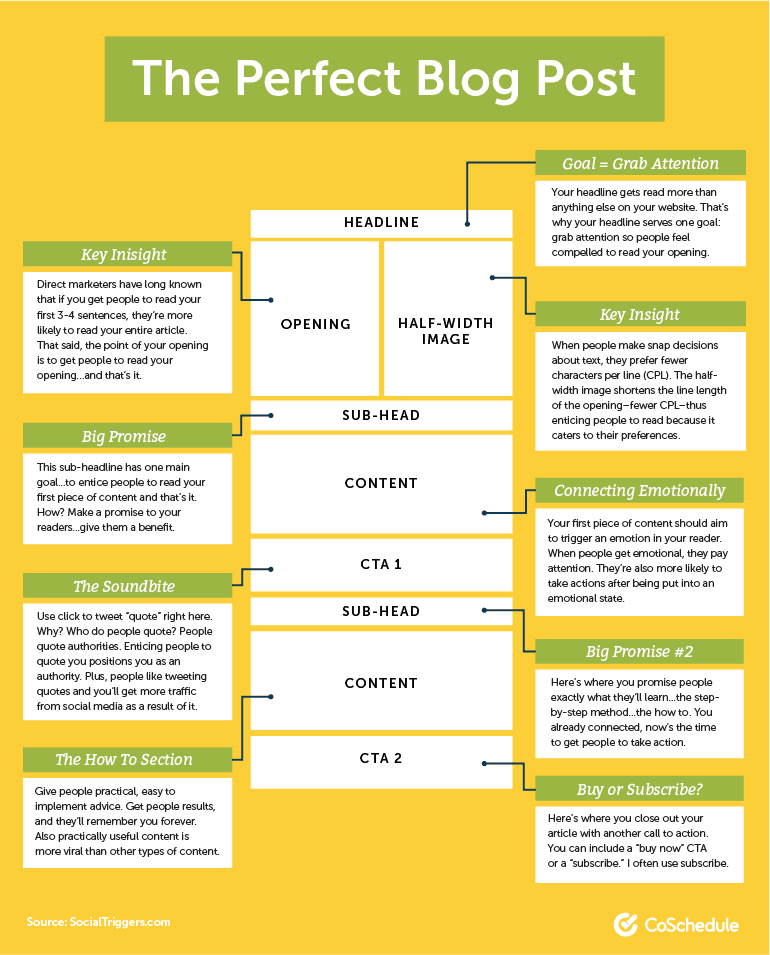 Your blog post content template will be able to help you as well.
Did you know? You can write your entire blog post in CoSchedule using our built-in text editor.
First, add your headline:

Then add your title tag. Title tags should be under 70 characters to properly show up in a Google search. Next is your meta description. Meta descriptions are the short descriptive text that appears under your title in a google search. Your description should be under 156 characters to display correctly.

Now you can start writing the meat of your blog post content. First up is your introduction. Remember to keep it short, cover all the points that are in your outline and don't bury the lead for your audience.

Next is body content of your blog post. This section needs a separate subheader. If you need additional sub-points underneath, label them with an additional subhead.
Each section of the body of your blog post should be between three and five paragraphs long, with no more than three sentences to a paragraph.
This helps keep your blog post easy to skim. Repeat this process for each section of your post.

After you've crafted the body of your blog post, add in your conclusion and CTA. Your conclusion should wrap up the main takeaways from your post while your CTA should entice your reader to take action.

Step 6: Use Your Call To Action Templates To Format The CTAs For Your Blog Post
The next step in your process is to create a call to action that encourages your reader to ... well, take action.
CTAs are vital to encourage readers to engage with your content. However, before you even begin to write you need to decide what you want your reader to do. Some common options are:
Direct purchase.
Download a document.
Trial signups.
Email signups.
The main text of your CTA should be concise, the simpler the better.
In fact, Neil Patel of Crazy Egg says that if a CTA is between ten to fifteen words, it's too long.
Our CTA template will help you format the best CTA's for your blog posts by walking you through a brainstorm session.
There are even a couple examples in there to help get your creative ideas flowing.
To make writing your CTAs even easier, here are 54 words to consider including:
Step 7: Use Your Content Editing Checklist To Check For Errors
The reality of blog post writing is that no first draft is entirely perfect. You're probably going to have to go through a round of edits first.
Instead of just flying through your post looking for a few grammatical errors, use our content editing checklist that lists common mistakes to correct in your blog posts.
This will also help keep your blog posts on track, so you know when it's ready to be passed off to your designers.
Some common things to add to your checklist are:
Grammar errors.
Incomplete thoughts.
Headline length.
Clear WIIFM?
Content upgrade completed?
Sub-heads formatted correctly?
CTA added in the correct spots?
You can adjust and edit the template we've provided based on your how your content creators write or bases that you want to check off.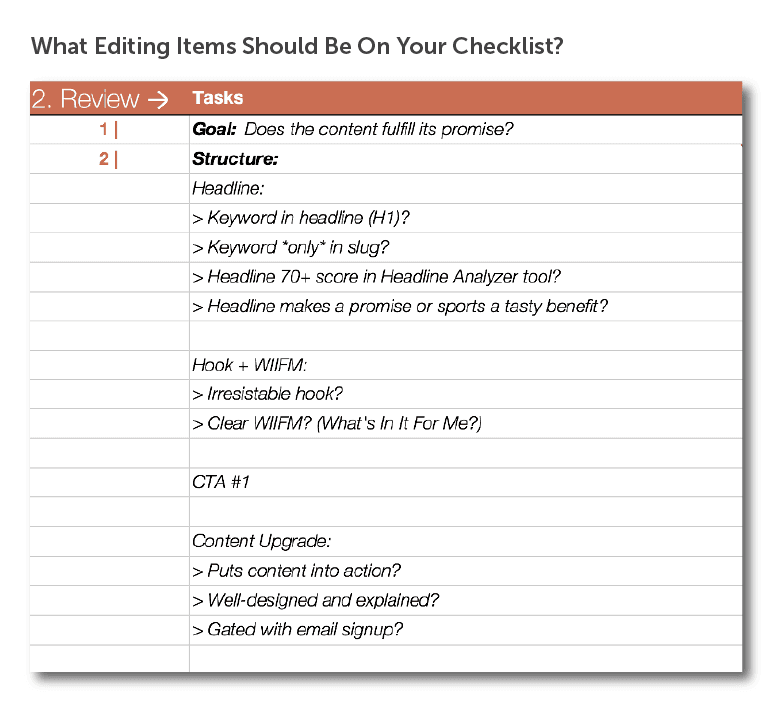 You can also put in the name of the person who is responsible for each portion of your editorial checklist and the day that it's due. This can help keep all of your team members on track.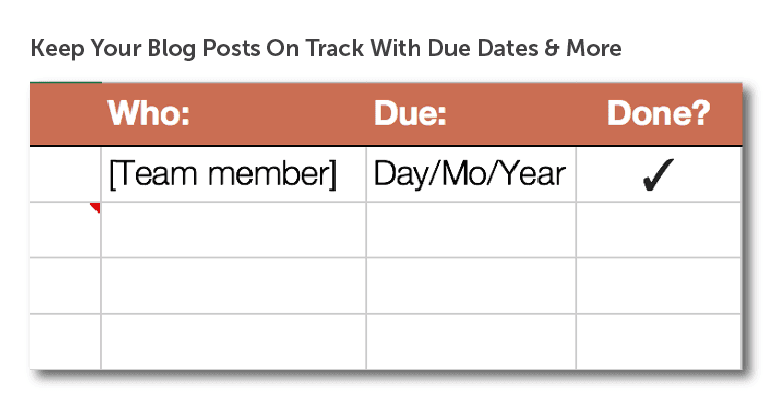 Step Eight: Optimize Your Post For SEO with Our On-Page SEO Checklist
You've gone through your blog post, and it's edited and ready for publish.
Well, almost ready.
Your next step is to optimize your blog post for search engines. Remember, the higher your page ranks for your intended keyword, the better chance you have of attracting readers to your blog.
The SEO on page checklist which you downloaded in your blog writing kit. Each step on this checklist is meant to help you optimize your page for Google SEO crawlers.
This includes things like:
Double checking your title and meta tags for length.
Making sure your images are optimized.
Linking out to your research and data resources with the right anchor text.
Plus a lot more. If you can check off everything on that list, you're ready to go.
Step Nine: Promote Your Blog Post on Social Media With Our Blog Promotion Template
So far you've spent a lot of time researching keywords, writing the best post possible and optimizing it for search engines.
Now you need to put together your social media promotions. The blog post promotion template that you downloaded contains a rough outline of how many social media posts you should create for every blog post you write.
For every social message you write, run it through our Social Message Optimizer.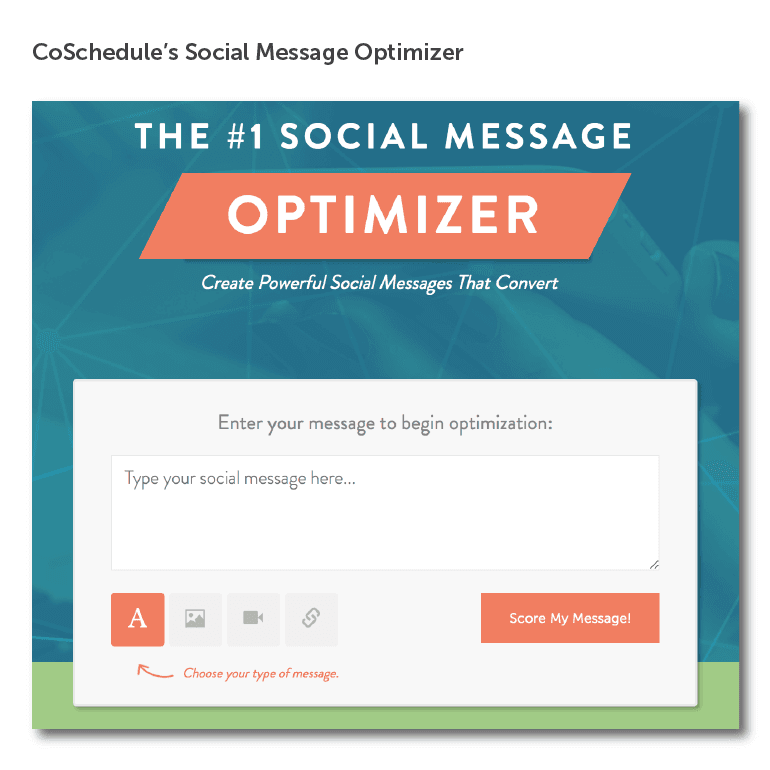 You can work with the optimizer to create the best possible posts for every channel. As you work through your posts record them in your template: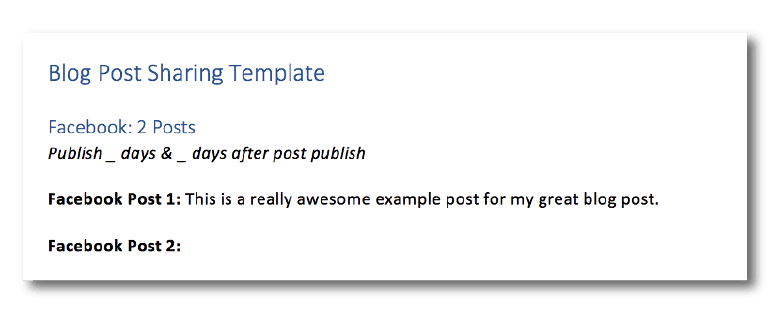 DID YOU KNOW:
Did you know you can schedule all your blog posts and social media promotion on one marketing calendar with CoSchedule?
Learn more here
.
Before you schedule your social messages to publish, do yourself a favor and add in a Google Analytics tracking link to every social media post you publish. This will help you gather data later on.
To create a tracking link, go to the Google URL link builder and enter the URL of your blog post.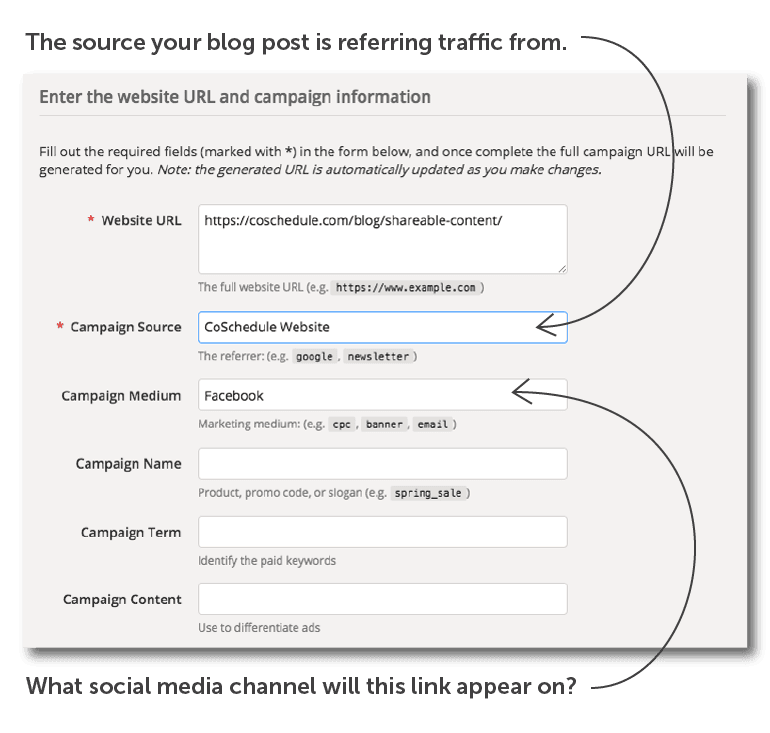 Once you have your Google link generated, enter it into a link shortener like bit.ly. This will help make sure that you don't have a massive tracking link in every one of your social media posts.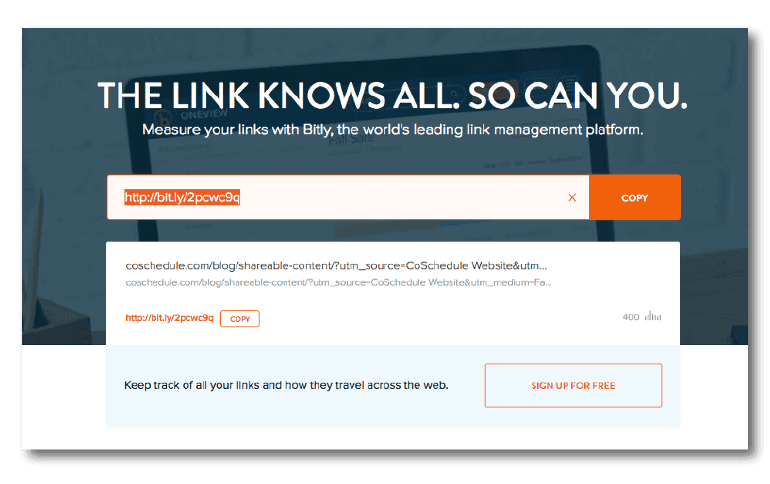 Step Ten: Analyze Your Results With Our Blog Post Analysis Template
You published your post, and your social messages have sent.
The last part of your blog post writing process (and the final template you'll need) revolves around tracking how your blog post does with your target audience.
This is where the additional tracking links for your social media posts pays off.
The first part of your report should contain the URL and topic of your post:
The next part of your template contains unique and total page views. To find this data go to your Google Analytics home page and go to Behavior > Site Content > All Pages: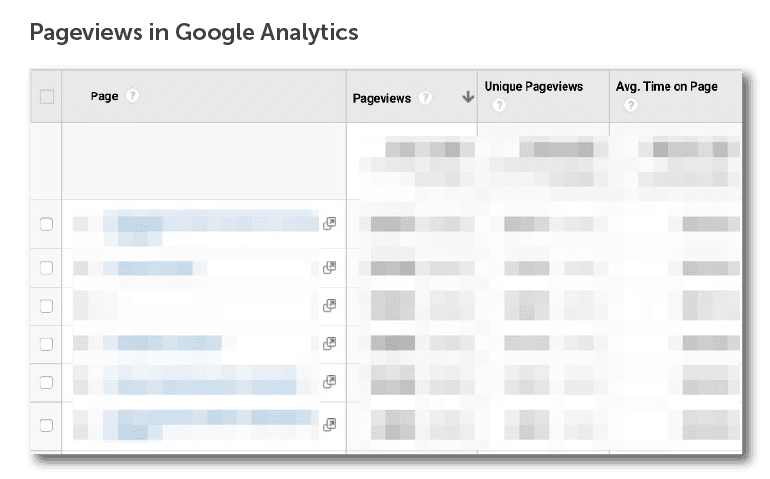 Record each of the unique pageviews and total page views in your template:

Tools like Ahrefs will help you find the rank of your blog posts. Go to Rank Tracker > Position: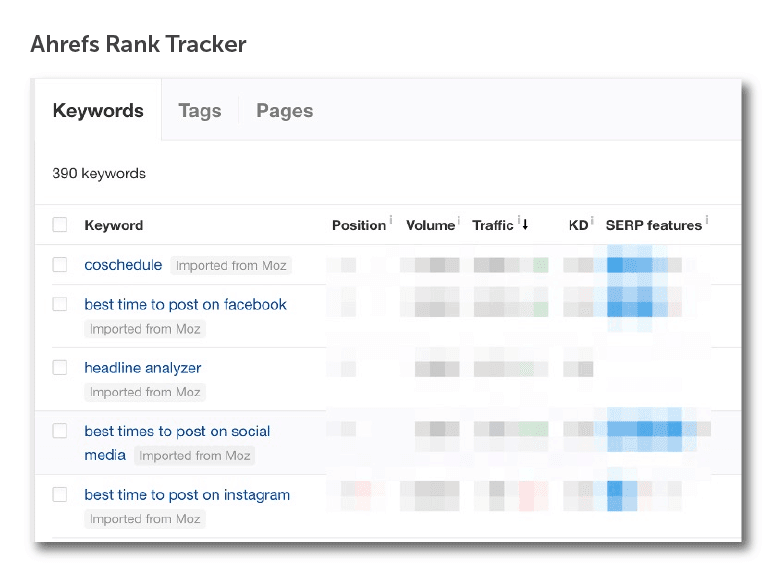 You can also run an incognito Google search to check your post rank as well.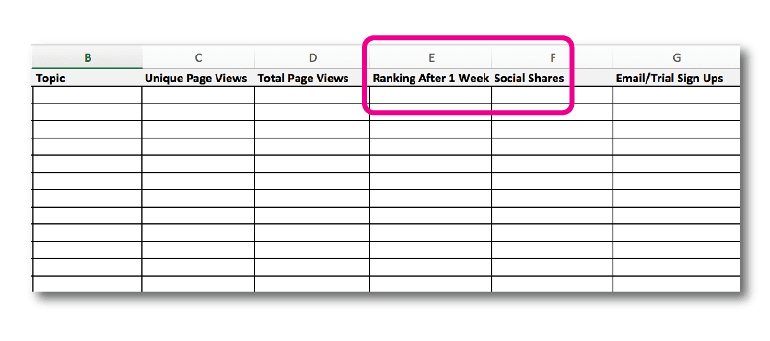 The last part of your template will include social shares and email list sign ups (if you're tracking them).
You can also use the Top Content Report in CoSchedule which will automatically count social shares on your content for you.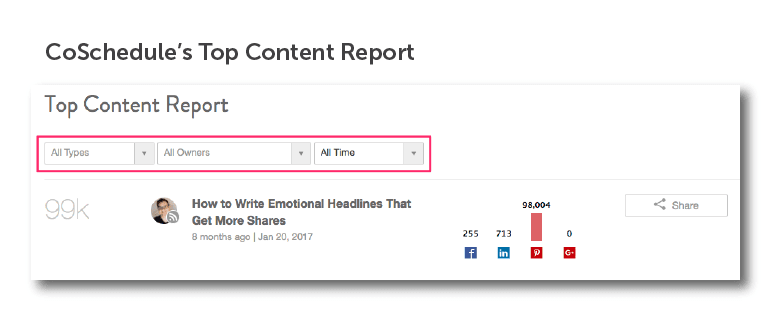 If you are tracking email sign-ups, trial sign ups or another action on your blog post you'll need a tool like Kissmetrics or Google Analytics.
This reporting process should be repeated for every blog post you publish. As you gather data, look for trends, keywords and topics that seem to gain the attention of your audience. Adjust your content strategy based on the feedback in your report.
Write Better Blog Posts With Your New Templates
Now you have all the templates and information you need to create blog posts quickly and efficiently.
Each template in this post is designed to help you brainstorm, organize and execute your blog posts in a way that gets them to rank.
Then, if you're ready to automate your WordPress blog + social media scheduling (and a whole lot more), create your free marketing calendar or schedule a demo with our team. We'd love to show you what our all-in-one marketing calendar platform can do for your business.
Do you have a strategy that works well for your team? Share it with us in the comments.
February 5, 2018