9 Types Of Blog Posts That Are Proven To Boost Traffic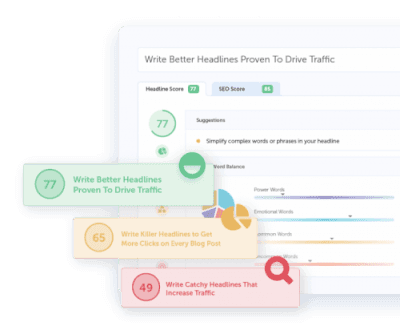 You work hard on every blog post.
Word by word, line by line to make your blog posts perfect. You even attach shareable images, break them into digestible paragraphs, and do the best outreach marketing process you can do. But still, sometimes they just don't deliver the traffic, shares, and leads you were hoping for.
It's simply because your audience doesn't like the blog posts you're publishing.
The solution to this problem is also simple—just publish the content your audience wants. You need something that can not only save you time but can also guarantee results.
It's time for you to identify the types of blog posts that will give you results. The content that gave your competitors an edge over you. The content that made a common person a huge influencer in your niche.
Let's explore these winning types of blog posts that the big marketing influencers are rocking right now that have helped them get huge followings and grow their businesses.
1. Publish Long List Posts To Get More Backlinks
No arguments. List posts are the best. And no, I'm not talking about only list posts; I'm talking about LONG list posts.
These guys are the ones that:
Attract audience attention by their obscure number.
Show your expertise.
Are immensely actionable for your audience as they read your content.
Are super informative.
Are easy to read and scan for the big takeaways.
Not to mention, list posts overwhelm your readers. A lot of folks may need to read these posts a few times just to learn all of the information you have to provide. In fact, there's a huge market of read-it-later apps like Pocket and Instapaper because of long posts like these.
Without any hesitation, I'll admit that I still visit Jon Morrow's list of 317 power words. I'm that dull. ;)
Copyblogger—one of the most influential content marketing blogs—has so many list posts among its popular posts. And they're still regularly publishing them.
Look at Brian Dean, founder of Backlinko, who attracted lots of eye balls through his 9th post called 200 search engine ranking factors. And according to Brian, this post still brings him 10,000–15,000 visitors per month, even months after he initially published the thing. Not to mention, the post ranks #2 for term "ranking factor", which is bound to keep that traffic flowing in.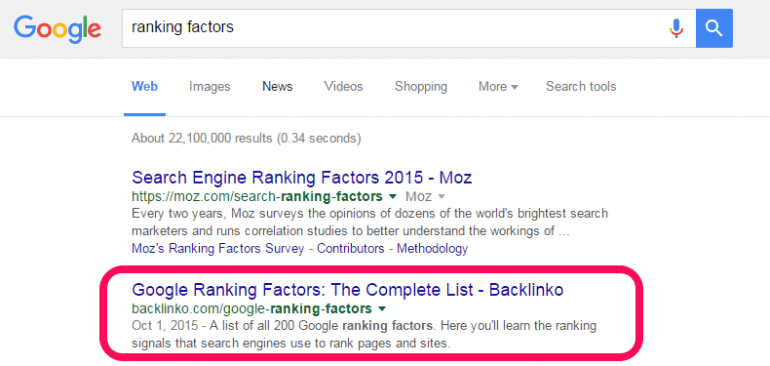 Here's how to write a long list post:
Find your big idea.
Write down as many points as you can.
Refine your list to the most important points.
Write an emotional headline involving the number (usually odd numbers perform the best).
Make it little longer than any other post you've seen on your idea.
Include lots of images and Click To Tweet buttons to entice social shares.
Include bonus takeaways in a content upgrade to turn your traffic into subscribers.
But, while doing so, make sure not to dilute its quality. For example, Jimmy Daly, editor of Vero Blog, compiled a massive list of 500 tips for this post. But, he preferred quality over quantity and refined the list to 20. And, the results?
That post resulted in getting 300+ links and 2,500+ shares in less than 30 days.
Pro Tip: Consider groupings in your list posts with proper subheads. It makes your readers curious to keep them reading.
2. Write Research-Backed, Data-Driven Posts To Grow Your Traffic
Want to position yourself as an expert? Research can establish you as an authority.
Peep Laja, founder of ConversionXL, is one of the best CROs (Conversion Rate Optimizer) out there. You know why?
The guy positioned himself as an expert with evidence and data-backed content. So instead of saying "simple websites are better", he includes evidence and says:
In a study by Google in August of 2012, researchers found that not only will users judge websites as beautiful or not within 1/50th – 1/20th of a second, but also that "visually complex" websites are consistently rated as less beautiful than their simpler counterparts.
Here's one more example; look at the image below: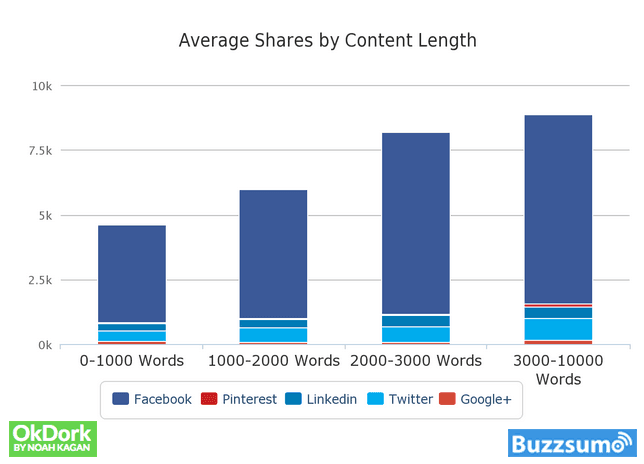 Looks familiar, right? Indeed, it is. Because Buzzsumo wrote a grand research post on OkDork. And, after that, it went viral. More importantly, it received 2,228 links. That's kind of a big deal.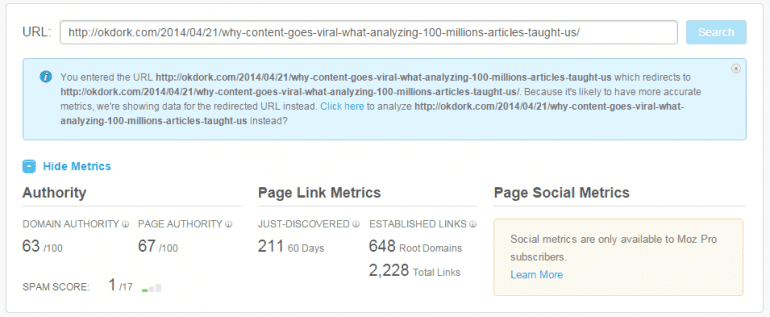 I know you must be thinking that this kind of research would take months to conduct.
Look, I didn't tell you that yours should be as huge as that example. Instead, it can be a result of a simple test. Here's an example:
Alex, the founder of Groove, wrote a guest post for the Buffer blog. In this post, he shared a result of simple test: power of story in your blog. And that simple test got 10,000 shares from social media. Or as Alex puts it in his words:
Within an hour of the post being published, we had 1,000 new unique visitors. That soon turned into 5,000, and then 10,000, and before long, 20,000.
Not to mention, CoSchedule also wrote a guest post for OkDork sharing their headline report. That post was one of several they wrote to understand their audience's interests in writing better headlines. After that was super successful, they repurposed that same data to build their Headline Analyzer Studio, which has now contributed 292,995 pageviews and 16,191 new email subscribers. Kudos :-)
So how can you write research-backed, data-driven types of blog posts?
Find a helpful, big idea on something that is never covered. Or you could take Brian Dean's advice and apply the skyscraper technique to your content to outdo anyone else who's already published something similar.
Determine how you'll gather the data you need in your post to make it factual and super actionable.
Show why it's important to your audience.
Add relevant images, graphs, and charts to prove your points.
Add your viewpoint to every research point. This is usually where you can include actionable guidance.
Lead your post to a strong call-to-action.
3. Share Your Success To Turn Traffic Into Profit
There's a trend these days.
People are publishing posts that share their success. And of course, these posts go viral within just weeks of publishing. I mean who wouldn't like to read:
How We Got 37 Million Hits In 3 Days
People go nuts when they see posts like these. Another reason that success-sharing posts posts work is because like case studies, they also have a story that their audience can relate to, and they follow a step-by-step approach to solve the problem.
Here's an interesting example...
Alex, founder of Groove, knew that these types of blog posts were becoming some of their hits. But like many others, he had no story to share with his audience. And as Alex himself put it in his own words:
We didn't have Ten Tips for Building a Successful Business or A Guide To Making Millions; because, we hadn't lived those stories yet.
...but he didn't give up. He noticed the gap and started sharing his ongoing journey to $100,000 in monthly revenue.
After that, the blog took off. It became one of the must-read blogs for startups.

And it didn't stop there—the blog helped him grab endorsements from big influencers like Hiten Shah and Andrew Warner.
And now the company's monthly revenue is $186,000.
Takeaway: When it comes to marketing, there is nothing like a rule. Try to break every rule and frame your own.
Do this yourself:
Brainstorm how you're solving some of your own biggest challenges.
Connect the dots between your own challenges and the problems your audience faces every day.
Write an open, honest, and transparent post about how you're overcoming that challenge to reach your goals.
If that post is successful, consider doing what Groove did and dedicate an entire blog to posts on those topics.
4. Share New Methods To Coin New Terms And Stand Out In Search Results
Your audience is always looking for new ways to solve their problems. They don't want to follow the same track because it's just not giving them success anymore.
You need to give them something new that can solve their problem—a method that's working for you, has already solved your problem, and something different that no one has covered before.
Unlike success-sharing posts, these types of blog posts will help your audience solve a problem with your new approach. So yes, they work wonders if done properly.
Look at Noah Kagan's Quant based marketing as an example. It was a new concept for startups because before it, there was only "hope-based marketing". So, it made his post stand out. After that, Noah wrote many posts explaining the concept more deeply.
And, who can forget Brain Dean's skyscraper technique—it was the only technique that guaranteed you results. No doubt, that's why this post is the most popular post on his entire site.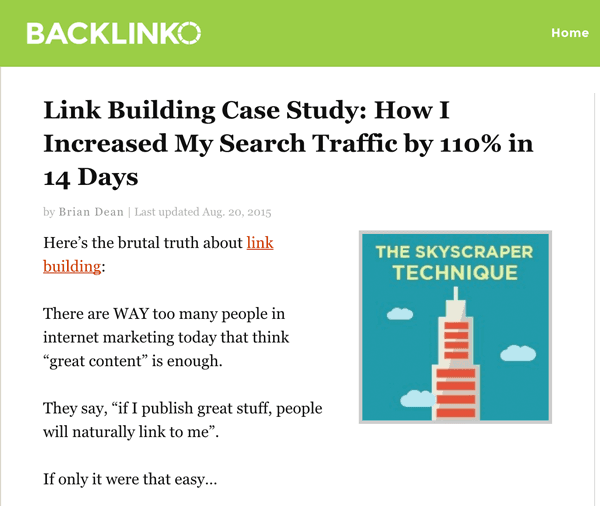 Also, before 2010, "Growth Hacker" was not even a term, but after Sean Ellis coined it in one of his blog posts with the help of Hiten Shah and Patrick Vlaskovits, it's now a highly reputable position. After that, Andrew Chen introduced it to a much wider audience, calling growth hacker the new VP of marketing.
These types of blog posts are great because:
They make you look authoritative with innovative ideas.
You have your own keyword that will rank you #1 in search results.
They tend to go viral on social media.
So how can you write a new method post?
Find your unique angle that you used to solve a problem—like how Bryan Harris found a new way to drive traffic using his poster boy method.
Convert it into a step-by-step solution.
Name it something descriptive of what it is, but no one has used before. Think of metaphors.
Tell your readers why it's important for them.
Share your unique solution with an influencer who can help you promote it.
5. Include Infographics In Your Posts To Get More Shares
Infographics get the most social shares of any blog post type. Not only do they get traffic, they also bring you a lot of inbound links. In fact, KISSmetrics got 41,142 links from 3,741 unique domains by publishing 47 infographics within one year. Pretty cool, right?
Meet Mike.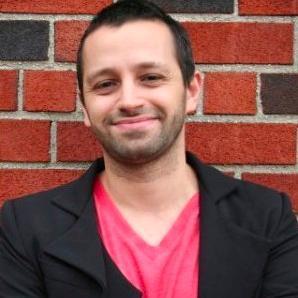 Mike runs a New York-based SEO Agency. One of his clients, FCE pest control, wanted more traffic. So, they approached Mike. But, there was a problem: Pest control.
I mean, how boring of a niche is that!? And, who's going to read a pest control blog? But, Mike didn't give up. Instead, he rolled up his sleeves and made a fascinating infographic. And the results speak for themselves...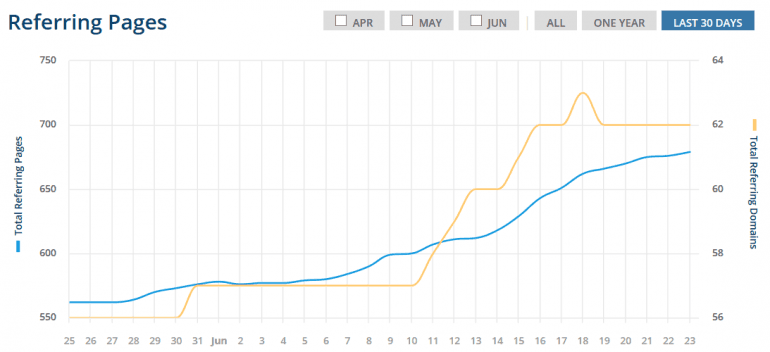 That infographic got 1,117 social shares, 12 backlinks, and 15% more traffic within two weeks!
So you're sold on infographics, but don't have a budget to hire a designer?
Don't worry, you can do it yourself using tools like Canva, Easel.ly, and Infogr.am.
To maximize your social shares and traffic, make sure to follow these tips:
Remember the main message you're communicating as you choose your typography, colors, and layout.
Just like a good blog post starts with a blog outline, plan what you want to visualize in your infographic to provide factual and actionable information.
Find the big ideas in your infographic, and figure out how you'll draw attention to specific elements. Remove the clutter to provide focus.
Practice the five fundamentals of good design: consistency, repetition, alignment, hierarchy, and proximity.
Email it to the influencers in your niche, and distribute it to infographic sites like Visual.ly.
Pro Tip:
Add an "embed this infographic on your site" box below your infographic. Unquestionably, it's one of the best ways to promote your infographic and get a handful of high quality links. You can use this
embed code generator
to do this really quickly.
6. Gather Expert Advice For Round-Up Posts To Steal Their Audience
When I was starting out, I was getting the same advice over and over again:
Interview a big name in your niche. It will give you a lot of visitors and subscribers.
But, you know what, no influencer wanted to interview with me. Because I was nobody to them. They weren't getting any value out of it.
Yet, there's also another thing that gives you exposure like interviews: It's called expert round-up posts.
And the best part? Lots of influencers want to join in because they also want to see their name alongside other experts. And so, doing expert round-up posts is easier than an interview.
In fact, it can give you a lot more visitors as compared to an interview. Why? Because in these posts there's a big number of influencers involved, and so, there's also a big number of audiences involved.
Publishing expert round-up posts gives you huge wins like this:
And if you want to push it further, you have to put in some extra effort and convert it into a monster roundup like the Ahrefs team published.
How to rock these types of blog posts, you ask?
Find your keyword around which you want to publish your post. This idea must be interesting both to your blog audience and to your experts.
Make your list of experts. If you want to feature 30 experts, make a list of 60 experts. You can find these people by searching for your keyword and reading the posts other influencers have already published on related topics.
Start approaching them one by one from less to more popular. Once you get a couple big names committed, you can name drop to entice other experts to join in.
Once you receive an expert's response, refine down the list.
Publish your post and ask the experts to share it with their audience.
7. Pitch Guest Posts To Build Your Email List
When you're starting a blog, you have no connections, no followers, and no subscribers. So, you may not get many visitors for your blog posts.
And I can feel the pain because I'm also suffering from this one. But, this is the time that you should not write on your blog and instead publish for others. Established blogs have their audience, and you just need to promote your blog in front of them. Indeed, this is the reason I'm writing for the CoSchedule Blog!
In fact, Buffer built their empire of 100,000 subscribers by posting 150 guest posts (I know it's huge) in nine months. Also, look at Jon Morrow, founder of Boost Blog Traffic. He built a waiting list of 12,500 customers even before writing a single post on his own blog.
Even some smart marketers like Neil Patel are publishing two guest posts per week after having a massive list of customers—and that's not just for audience, but he also does so to look authoritative.
And the list is countless. Guest posts have a lot of potential and can be a cornerstone in building your blog's audience.
Writing a guest post is a big deal, right? So here's how you can guest post successfully:
Identify the blog to guest post on that is a good fit for what you generally want to talk about and their audience will really care about.
Research all the posts that are popular on that site.
Find your main idea around the popular posts on that site.
Pitch your best three ideas and also write a small summary of why they'll be successful.
If your idea is accepted, start writing your post, otherwise rinse and repeat the process.
Write your post using the writing style that blog prefers.
Create a bonus and landing page for the blog's audience to lure them to your own website and convert them into subscribers.
Finally, leave the link in your author byline.
8. Cover Case Studies In Your Niche To Build Your Credibility
As a reader, I love case studies because they contain a story I can relate to. They contain a person who was having the same problem as me. And, they make me feel like I am the one for whom the post is written.
In fact, case studies work like this because they build brand credibility. I mean, just look at the LeadPages Blog—every 2nd or 3rd post is a case study. And, the interesting thing is they even have a link you can click to get featured on their blog.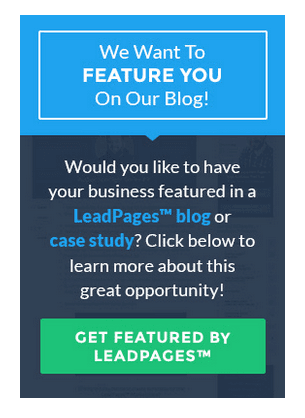 Monthly1k is Appsumo's email course that features four case studies on their landing page. The course helps Appsumo's prospects overcome their problems. And so, Appsumo features them on their homepage to grab more customers.
So, if you ever get an email like this: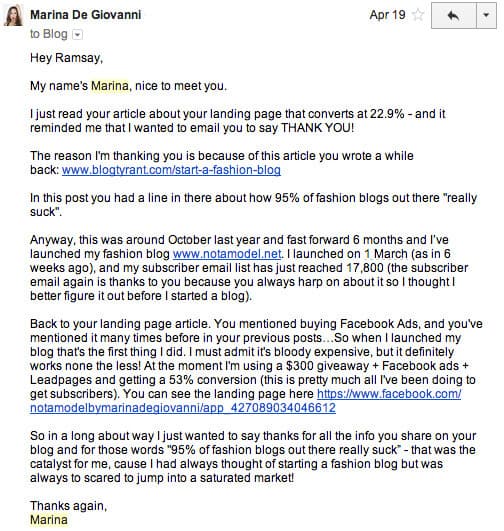 Make the most of it! Create a monster post covering the whole story like Ramsay did.
Follow these tips to write an awesome case study:
Research case studies from top blogs in your niche.
Make a list of all the questions your prospects are asking.
Start your post with the main problem. Show the familiar pain your audience is suffering from.
Tell a story using real people and examples.
Explain the solution step-by-step with problem, solution, and outcome.
Add as much information as you can add.
Sprinkle proof and images all over your post.
Pro Tip:
Case studies have a story, they follow a detailed step-by-step approach to solving the problem, and so, they are invaluable both to reader and to writer. These are typically great for the bottom of the
marketing funnel
to teach your readers why they should become your customers.
9. Repurpose, Republish, And Reinvent Old Posts To Get Even More Traffic
As time passes, every post grows old and they don't benefit your blog as they used to. But, that's not the result you wanted, right?
You want to use them again, and you still want to get the same benefit they used to give. This is where your Medium blog comes in—you can use it to republish your post in front of a brand new audience. And that gives you great exposure.
Look at Unbounce who got an extra 144 views by reposting an old post on Medium. Similarly, Buffer built a publication in Medium where they regularly repurpose their old content.
In fact, Buffer didn't post any new content for one month. They just updated old content repurposed it to Medium, Slideshare, and their own blog. And the results? Less than a 5% dip in traffic. Other than that, they increased LinkedIn followers, Quora views, video views, and Slideshare followers.
Sounds pretty good, doesn't it?
Another way for reusing old content is to repost it on Medium while adding a content upgrade at the bottom like this one: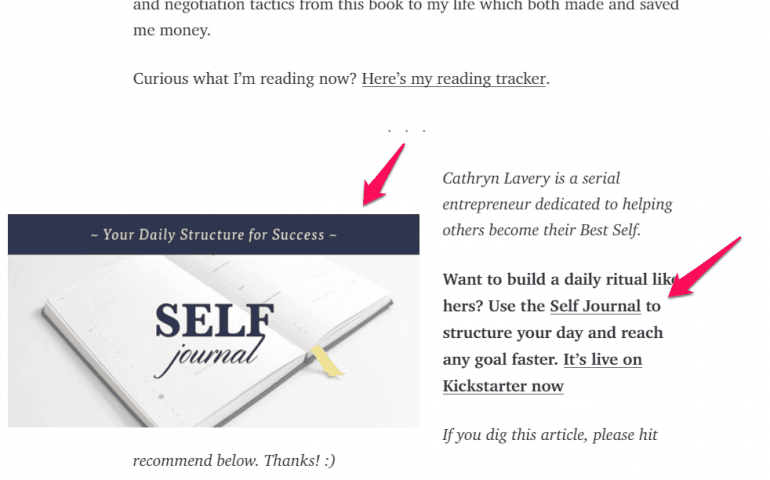 But what if you're just starting out, or if you don't have any blog posts to repurpose?
Repurpose someone else's content. Seriously, look at this:
Brian Dean found lots of ranking factors posts that actually only contained 110–120 of Google's 200 ranking factors. So he found his golden opportunity to write better content than anyone else and finally published a complete post on the topic himself covering every factor.
And, as Brian recalls himself:
When I saw that articles that didn't even list all 200 ranking factors generated links like this, I realized that I had a golden opportunity sitting in my lap.

It took 10 gallons of coffee and 20 hours of sitting in front of my laptop (don't worry, I took bathroom breaks) …

…but in the end, I had something that was clearly better than anything else out there.
And let's not forget the results he got after that:
Here's how to implement this type of blog post:
Find an old piece of content that has already worked worked well. Maybe it got lots of pageviews, social shares, or comments—you decide.
Republish it on Medium, LinkedIn Publisher, Business2Community, or BizSugar—it all depends on your niche.
If you're republishing on Medium, try to submit it to a Medium publication that has already built their reputation.
Repurpose your post into new formats an post it in YouTube, SlideShare, Quora, LinkedIn, and Pinterest. Embed your bonus material in the original blog post.
Don't forget to add more value and make it more visually appealing.
Bonus Tip: What You Do After You Create Content Is What Truly Counts
What you do after you create content is what truly counts @garyveeClick To Tweet
Gary Vaynerchuk said that about content marketing. No doubt, every word of it is true—because content marketing is all about reaching to your customers. You can't just wait for your audience to find your content, you need to put it in front of their eyes. You need to reach out to them. And by far, the best way to do this is by using these methods:
Include a post-specific bonus.
Contact everyone mentioned in your post through outreach marketing.
Get featured in weekly content round-ups.
Share your blog post on social media and with your email list.
Now It's Your Turn
Now I want to hear from you...
Let me know in the comments section below.
And don't forget to grab your free marketing bundle from my blog which contains checklists, guides, and email templates to help you promote your post and get more traffic and subscribers. Grab your free marketing bundle here.
October 28, 2015