29 Top Blogging Tools to Help Tackle Your Content Marketing
Headline Analyzer
The blog post headline analyzer will score your overall headline quality and rate its ability to result in social shares, increased traffic, and SEO value.
Test every headline before you publish. Try the Headline Analyzer »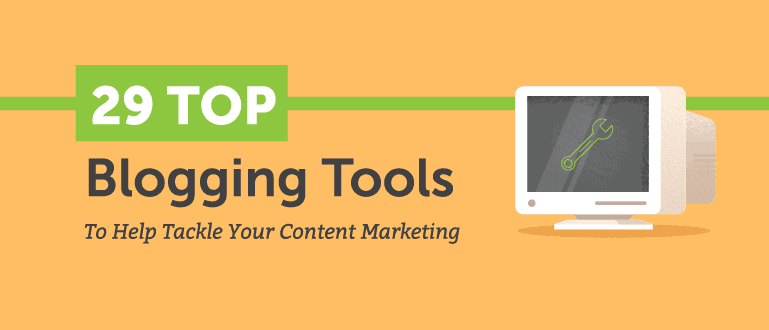 Do you find yourself staring at a blank page?
Unsure how to get started?
What is it that's holding you back from publishing a knockout blog post?
The journey from blog ideation to publish has a lot of steps and can be daunting if you don't have the right tools to get you there.
Finding the right blogging tools will ease your workload, and smooth-out your process. When you allow tools to do some of the heavy lifting you enable yourself to publish higher quality content, faster.
I've collected a comprehensive list of blogging tools designed to help ideate, organize, automate or simplify your blog creation process so you can get your ideas rolling without losing your sanity.
What is CoSchedule?:
CoSchedule is an industry-leading marketing management platform that empowers teams to plan and schedule every project in one place. That includes blog posts and social media promotion with seamless WordPress and social network integrations.
Start your free trial
or
schedule a demo now
.
Download Your Free Blogging Tool Kit
Before perusing the premium tools in this post, snag this bundle of free resouces you can put to use right now. It includes:
Blog Writing Checklist (PDF)
Blog Post Analysis Template (Excel)
Blog Post Social Promotion Template (Excel)
Best Times to Publish Blog Posts Guide (PDF)
Printable Blog Calendar (PDF) <—- (to keep your editorial plan visible at your desk)
Download it free below:

Blog Platforms
A blog platform is a software used to host and publish your content onto the internet. Choosing the right one for your needs will be crucial to ensuring long-term execution.
A few questions to ask yourself:
Do you have coding abilities?
Do you need built-in design templates?
Do you need to purchase a domain through the platform?
Will this platform scale as you grow?
Does this tool fit within your budget?
What are others on the internet saying about this platform?
Here are a few of the blogging platforms we recommend you check out:
SquareSpace: Attractive website creation platform with option to build or add a blog
Joomla: Free and open-source CMS that can be used to build a blog
Drupal: Another free CMS similar to Joomla or WordPress
WordPress: The industry's standard blog platform

Blog Planning Tools
Blog planning tools can range in function from ideation, research or SEO. These are the tools that drive your post's strategy and overall theme. Inarguably the most important part of the content creation process, these tools will help you outline your post's framework and ultimate goals.
Here is a sampling of the top recommended tools to aid in your blog planning process:

Writing Tools for Bloggers
When it comes down to actually writing your content, efficiency becomes a key player in ensuring you write effectively and consistently. Depending on your individual publishing schedule, you don't need to be bogged down by details a writing tool can take care of for you.
Whether it's simply taking care of spelling errors, helping you write a killer headline, or easing collaboration. The right writing tools will smooth out roadblocks ensuring you hit publish faster.

Blog Design Tools
Visuals are an important part to every readers blog experience. Graphics increase readability, comprehension, appeal and overall flow of an article. But what do you do if you don't happen to have a killer designer as a part of your content strategy team?
Fortunately for those of us not-so-artistically-inclined folks (guilty 🙋‍), there are plenty of tools out there to help you create visually appealing blog graphics.
Here are a few:

Blog Distribution Tools
Having a distribution plan in place is crucial for building reach and overall traffic to your page. Without an intentional approach to 'getting it out there,' you're likely to see lackluster results. Email and social distribution are the two natural places to start, but can be painfully manual if you don't have the correct tools in place to help you schedule and automate your distribution.
Tools to consider:
Which Blogging Tools Do You Use?
Planning, creating and publishing blog posts regularly doesn't need to be a hair-tearing-out process. It's okay to rely on a variety of tools to get the job done and avoid the blinking cursor effect.
Additional factors to consider when building your blog tool stack:
Budget restraints
Team onboarding
Team collaboration
Publishing approval process
Scalability
Hopefully this list gives you a good starting point for finding the right blogging tools to meet your needs. Are there additional tools you've found helpful in your own blog process?
October 25, 2018