Here's Why You Don't Need A "Content Marketing Strategy"
Headline Analyzer
The blog post headline analyzer will score your overall headline quality and rate its ability to result in social shares, increased traffic, and SEO value.
Test every headline before you publish. Try the Headline Analyzer »
Are you overwhelmed by your (apparent) need for a marketing strategy? Well, worry no more. You may not need one.
I know we love to sound fancy. If there is ever any question about our expertise, we simple add the word strategy to whatever it is we are talking about.
Social Media Strategy
Content Marketing Strategy
Blogging Strategy
Twitter Strategy
Hashtag Strategy
Blog Post Writing Strategy
Bulleted List Development Strategy
Too harsh? Maybe. While it's true that those phrases do mean something (kind of), what do you when you don't have a strategy at all?
The thing about the word "strategy" is that it implies deep thinking and forethought, as if there is a 30-page Google Doc somewhere outlining our every move. It's what used to be called the "marketing plan," but no matter what we call it now, you probably don't have one. Even worse, you probably feel guilty about it.
Great news. There is no need to feel guilty anymore.
The whole strategy thing has made some of us feel bad. What's worse is that it has made us believe that we need to be doing more than we can handle to promote our business and build our audience. It has made us feel like we should all be amazing planners when great marketing is anything but just great planning. Just ask a startup…
Learning Content Marketing From Startups
Not so long ago, a really smart guy named Eric Ries wrote a book called The Lean Startup that changed everything about how startup companies like CoSchedule operate. His ideas were developed from the work of Stanford professor and author Steve Blank, and they changed much of what we know about how to start a new company.
For a startup, business plans are no longer normal.
In fact, they are now considered a faux pas and seen as a mere "business guess." But that wasn't always the case. Before the lean startup, the business plan was a document that assumed we knew everything there was to know about our business, a plan set in stone. It was done, or so we thought.
In reality, it was just a big huge guess. 
Marketing plans and gigantic old strategy documents aren't much different. They may sound novel and responsible, but the reality is that they are just guesses too. What could content marketing strategy builders learn from the learn startup model?
How Does The Lean Startup Work?
Lean startup is method of business development driven by experimentation, iterative changes, and a constant process of validated learning. Ries claims that startups can shorten their product development cycles by adopting this hypothesis-driven approach. In short, lean startup is a way of introducing the scientific method into business.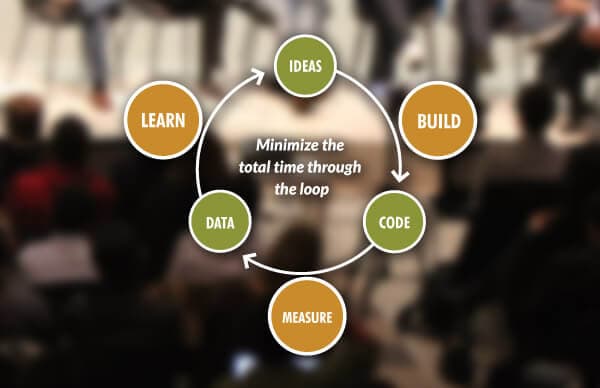 The lean startup model is best described by "the loop" or a diagram outlining the three key elements of the lean startup process.
Build -> Everything starts with an idea, but what happens next? In the lean startup model the next step isn't to plan (or strategize), it is to build. This is an important element to understand right away. In the case of a software developer, the first step is to build a minimum viable product, otherwise known as a simple version 1.0.
Measure -> After you have version 1.0, no matter how simple, the very next step of the process it to launch and immediately begin measuring results. For a new business, this may be as simple as gathering user feedback through a contact form, but the point is that good business development requires listening and measuring.
Learn -> Based on the data gathered during the measure stage, the business should then make reasonable and educated decisions about the next iteration of the product.  They should use the data they collected to immediately begin implementing changes to the product. This will naturally take them back to step 1, allowing the loop to continue itself.
The learn startup is built on the fundamental truth that "we don't know what we don't know," but too often we don't want to admit it. We love to write the business or marketing plan that assumes the exact opposite. That's where we get ourselves into trouble.
So, What Does Lean Startup Have To Do With Content Marketing?
The lean startup model has huge implications for any marketer.
In an age where data and metrics are readily available, there is no excuse for running a marketing strategy based on a written and pre-meditated schedule. We need to learn to improvise. We need to learn to build, measure and learn. Here's how I would see the loop working for a content marketing team.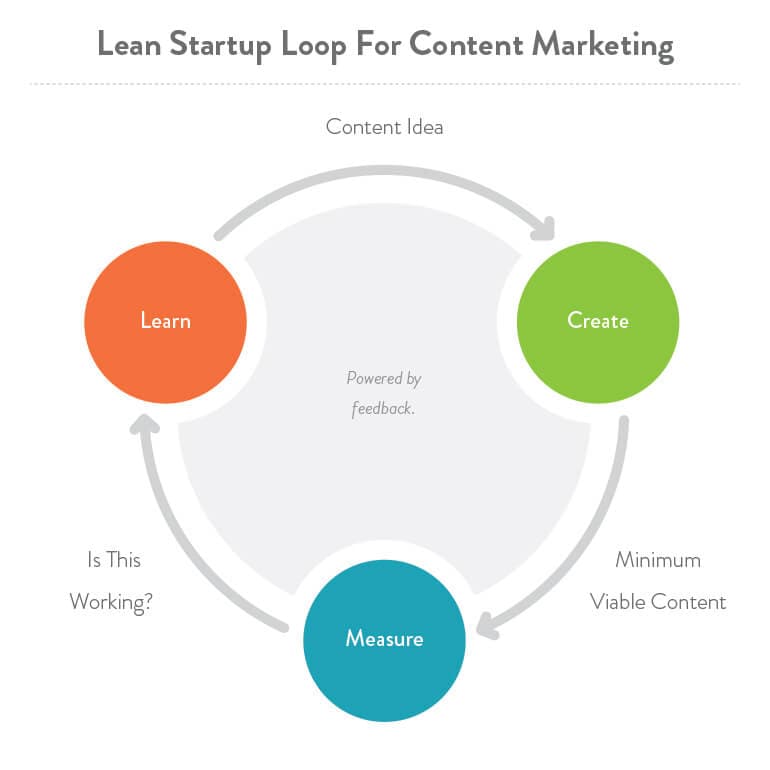 1. Create -> Minimum Viable Content
It all starts with your first piece of content, or the first element of your content marketing campaign. Many times, we overthink this step. We over-create and produce something that required too much time and investment. Just like the unnecessary marketing plan, this overthinking wastes our time and energy. It also assumes that we know more than we do.
The key to lean startup is releasing the bare minimum content necessary to test the idea. Don't write ten blog posts, write one. Or, don't write the entire ebook, just write a single chapter and give it away for free on your blog. If your readers like it, keep digging at the full version.
2. Measure -> Is This Working? 
We have every tool for measuring our content marketing that we could even need, right at our fingertips. Google Analytics is free, and fantastic. Do you use it? There are, of course, many other tools that offer more advanced tracking like KISSmetrics, but you don't need to spend a bunch of money, either.
For each campaign that you run through the loop, you should be tracking one (and probably only one) KPI, or key performance indicator. 
Before you begin your test, ask yourself "what is the one metric that will tell me if I am successful or not?" How will you know if it is working? Figure out how you will test this metric before you launch, but don't make it overly complicated.
You can also gather feedback more organically, by monitoring your comments field, or striking up conversations with people who share your posts on Twitter. Get in the habit of soliciting feedback from your readers, and listen closely to what they say.
3. Learn -> What Should We Do Next?
It can be hard to let go of a good idea, but sometime you might need to.
Once you have launched your test, gathered your feedback, and analyzed the data, are you prepared to accept the results as they come? For many, it can be hard to let go of what we thought was a great idea, but don't let that discourage you. Even if your content performed moderately well, the goal here is to make it better and more effective before jumping in with two feet.
Once you've analyzed your feedback, make a plan for your next test, and resist the urge to move past the testing phase too quickly.  If you had a good response to the first chapter of your ebook, figure out a way to outline the second and test it. Does it garner the same results? If so, you just might have a winner on your hands.
We Should Learn Our Content Marketing Strategy On The Fly
Over the last few month, we have been considering some ways to take our content marketing expertise on the road. One of the many things we considered was a Udemy.com course for startups that were looking to get going with content marketing. It sounded like a good idea, but was it?
We did some research on the site, but it was inconclusive. How could we know for sure?
I know for certain that there was a time in my life as a marketer where I would have dove in head first. I would have created the videos, built the best course possible, and launched without validating the content at all. As a team, we would have made a zillion assumptions about what our audience wanted and needed to hear, and even worse, we would have never considered an alternative until it was too late.
This is marketing… we take risks sometimes. But what if we didn't have to?
Rather than lancing a full course we brainstormed a few smaller ideas, like releasing a short course for free, or even starting to incorporate some of the ideas from the course into our blog. What would the response be like? Would it justify our next move? Either way, we should be able to decide pretty quickly if our course is a good idea or a bad one, and that is important.
Content marketing strategy sounds a bit hocus-pocus on the surface, and it pretty much is.
Much of the discussion about strategy often sounds more like guessing that strategizing. Maybe it's time to bring a bit of the lean startup method into our content marketing workflow? We might be surprised about what we learn when we start asking the right questions.
April 9, 2014