The Complete Start to Finish Content Marketing Strategy Guide (Template)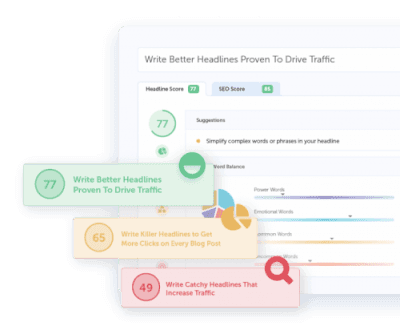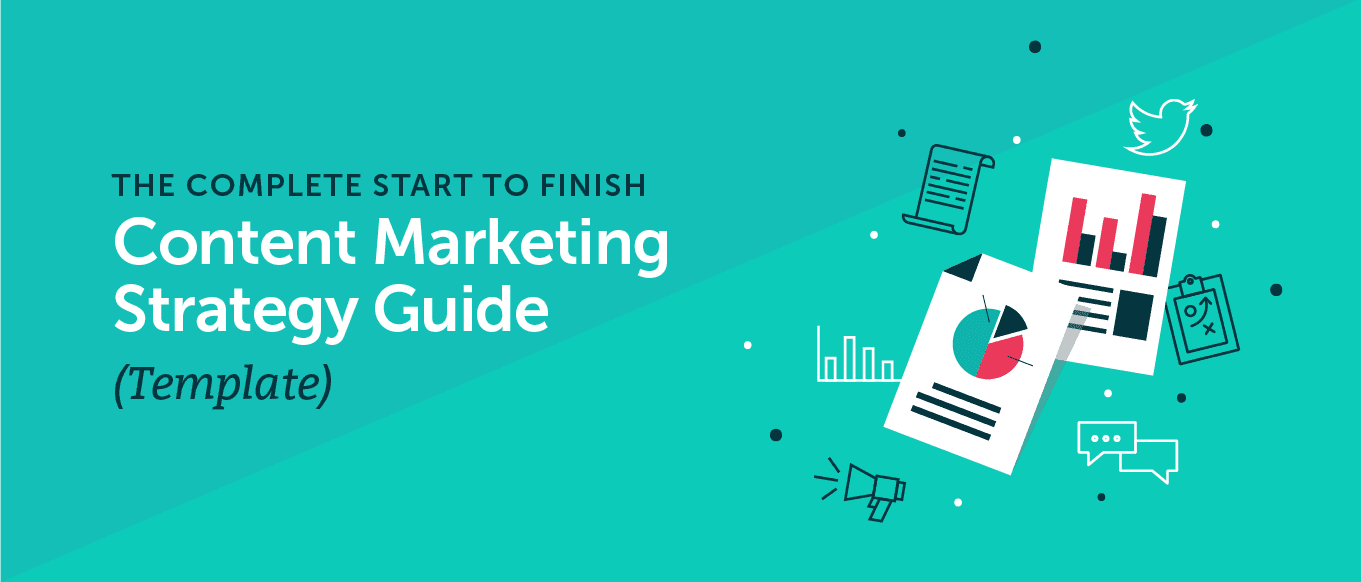 When you're getting started with content marketing, you might feel overwhelmed with the number of things you're adding to your to-do list.
Research your audience. Publish new content. Track the results. Repeat.
The only problem? You're doing all of that on autopilot. You don't have a content strategy that tells your entire team what to do. You're working based on assumptions and have a backlog of low-quality content you're not sure what to do with.
That's why you're here: searching for a way to put your content activity into a streamlined strategy.
You're in the right place.
This guide shares the exact process we've followed at CoSchedule to generate 434% more page views, 1,222% more email subscribers, and 9,360% more trial signups from our new blog posts.
No joke.
When you follow this content strategy, quadrupling your results may even be an understatement.
Ready to get started?
Content Strategy vs. Content Marketing Strategy
Marketing strategy, content strategy, content plans, oh my!
In the plethora of marketing jargon, what is your content strategy and where does it fit among everything else?
When you focus on semantics (like definitions), you focus your energy on internal processes that don't directly benefit your audience. The thing actually moving the needle is publishing effective content.
Let's get the definition of content strategy out of the way to prepare you for the process you'll learn throughout this post.
Content strategy is the process that ends in publishing effective content.
It's important to note that "effective content" is relative to your own north star metric. That could be more traffic, a rush of email sign-ups, or more revenue from your products.
When we refer to content strategy, it's the whole act of creating, planning, and optimizing content that helps work towards your business goals.
Why is Having a Content Strategy Important?
Creating a content marketing strategy is vital to the success of your overall content marketing.
We've found that marketers who document their strategy are 538% more likely to report success.
This is because it gives your content team a way to measure success (and failures) and stick to the plan you've designed.
Having a solid content strategy gets your entire team on the same page, too. You'll know the reason behind your content efforts, and the goals you want to achieve. You're not just hitting "publish" and hoping for the best.
If that wasn't convincing enough, a content strategy means you can promote content bound to get the best traction with your audience. There's no more questioning what your audience wants when you've got a plan in place.
It's no wonder why Content Marketing Institute found that a documented strategy is a key indicator of content marketing success.
The Essential Tools to Plan and Execute Your Content Strategy
The fact of the matter is: content marketing can be a bear to handle.
Using the right tools can help your team stay on track and organized. That's why the average business has more than 90 marketing tools in their arsenal.
The question is: which tools does your team actually need to execute a content strategy?
Analytics Platform
The first place to start is with an analytics platform. This type of tool makes it easy to gather data and measure performance for your content and social media marketing efforts.
You'll need to have at least one of the following analytics tools to track your content strategy.
Google Analytics is one obvious option here. However, there are tons more out there you might want to consider, too.
They include:
Content Management System
A content management system is a must for managing and publishing content. Think of it like the virtual home for your website. All of your content — be that blog posts, landing pages, or images — are created inside that virtual home.
WordPress is one of the most popular options out there, especially for creating company blogs.
It has thousands of plug-ins you can use to turn your WordPress site into one that takes payments, directs links, and optimizes your content for SEO. Hence, why it currently holds 63% of the total CMS market share with over 445 million websites hosted on their platform.
However, here are some other options you could consider:
Content Marketing Editorial Calendar
Calendars are essential for planning ahead, managing deadlines, and giving your team full visibility on all the content you're publishing.
With your new content strategy soon to be all systems ahead, you'll need a way to manage that new workload.
We recommend the CoSchedule's Content Organizer (as you may have guessed) as the top choice for a content marketing platform.
Here's a quick look at what we're all about:
Social Media Scheduling Tool
Social media is an important part of any marketing strategy. After all, there's not much point in creating content if nobody will see it.
CoSchedule's Social Organizer makes it easy to create and schedule social media posts for each of the top networks (including Facebook, Twitter, LinkedIn, Instagram, and Pinterest).
Plus, here are some other cool things in which you'll have access:
With ReQueue, you can reshare your best posts automatically.
With Best Time Scheduling, you can make sure every post gets published at the ideal time. You'll only post when your audience is online and active.
Plus, with our WordPress and social integrations, you can create and share content all in one place — no extra tools necessary.
CoSchedule even has a monitoring tool to help you stay on top of all your social media conversations. It'll show conversations that your audience is already having — all there for you to get involved with.
Every time we create a piece of content, we use each of the features above to spread it to our audience and beyond.
SEO and Optimization Tools
Did you know that 67% of all clicks in a search engine go to the first five organic results?
Search engines are a great way to drive traffic to your content. However, to get your content found in organic search and measure its performance, you'll need a solid set of SEO tools.
Here are some of our favorites:
Marketing Project Management Tools
Keeping a content marketing team in line can feel like herding cats. You've got assets that need creating, content to publish, and thousands of words to edit.
How do you manage all of that content without going crazy?
The answer: project management tools. Tools like Trello, Wrike, and Asana are popular options.
Here at CoSchedule, we use the Work Organizer to:
Create Task Templates, so we can work through the same process whenever we create a new piece of content.
Manage discussions (comment threads posted beneath our content, which we can view from inside our marketing calendar) to make communication and project management super easy.
Measure team productivity with Team Performance Reports.
See and track daily tasks of the whole team with the Team Management Dashboard.
Overall, what separates CoSchedule is that it's built specifically for marketing teams. That's why we use it, and the results speak for themselves.
Once you have your tools selected, record them in your template.
Content Strategy Template
Unsure how to start your content strategy? Don't panic.
We won't just tell you what to do, we'll actually show you how to document your content marketing strategy.
We'll even provide the template you'll need to get it done — completely free!
Download it below, and then we'll move on to planning your content strategy.
How to Plan Your Content Marketing Strategy
You have your free content strategy template. Now, let's put it to work with these eight steps.
1. Determine Business Objectives Content Marketing Will Help Achieve
You shouldn't start any new marketing strategy without a solid understanding of what you want to get out of it. We can see this clearly with Facebook ads. You physically can't run a campaign without setting an objective for it.
The same applies to your content strategy. You need to know what you're aiming for as a business and figure how content fits into that goal.
Common business objectives include:
Notice how each of these metrics somehow relate to your bottom line? A business needs to focus on revenue to stay profitable; a content strategy that doesn't impact those goals is set-up to fail.
Let's start to think about how your content strategy plays a role in that.
To generate revenue from new customers, you need to figure out how to drive target customers to your website.
Content is your ammunition. Small snippets of information posted all over the internet can raise brand awareness and drive brand new people to your website. There, you can use other techniques (like CRO) to convince them to buy.

Where this sometimes gets confusing is when you're working with long-term objectives — like boosting customer lifetime value, reducing churn, and providing great customer service.
You've got the customers. How do you get the recurring revenue?
Again, content is your main tool. You can create a lifecycle marketing strategy that focuses on the end of the marketing funnel.
It doesn't matter which objective you're pushing hard for. As long as it's relevant to your business's bottom line, it's a goal that should be guiding the rest of your content strategy.
Understanding how content fits within that is the first step.
2. Identify Your Target Audience
Publishing content without a basic idea of who you want to consume it is a bad idea.
Failing to target anyone makes the entire piece pointless. On the odd chance you do reach your target customer, the content you've made doesn't speak to them; it's just a generic piece of content not really applicable to the vast majority of people.
Your content is only as good as the leads and audience it attracts.
You can draw thousands of views, but if only five of them are the right people who would use your product or services, it's a waste of your team's time.
Identifying who your content should be targeting will help your strategists to determine what types of topics, ideas, and keywords you should cover. It'll also be your guiding light for content promotion.
What characteristics should you identify about your audience?
Here's a starting point:
Demographics

: age, gender, ethnicity, income, location, job title, etc.

Psychographics

: hobbies, interests, beliefs, and habits

Challenges They Face

: What are they dealing with that would cause them to begin to search for your product or service?

Pain Points

: What in their life is causing a disruption, or what problem does your product solve?

Where:

 If your audience is searching for a solution to their problems, where are they turning for information?

What

: What content format does your audience prefer to get their information from?

How Can We Help

: How can the content you create help give your target audience the information they need?
In your content strategy template, you'll have two audience profiles to fill out.
The first is for your primary audience. These are the people that are most likely to buy your product or use your services. They should be the primary focus of all the content you create, since they're the people most likely to put money in the bank.
It should look something like this: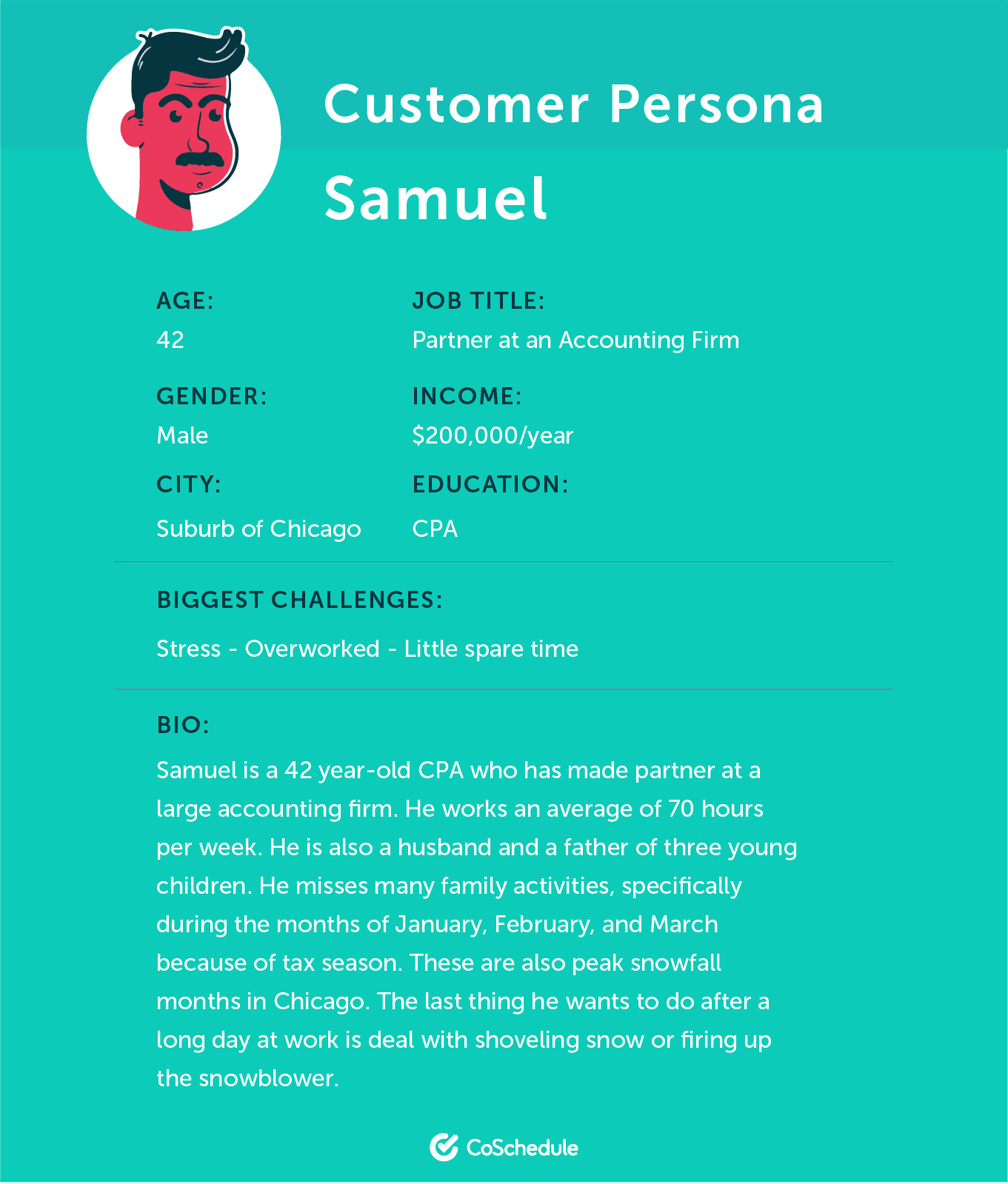 Your secondary audience are those who are close to being a part of your primary audience, but they didn't make the cut. They need more convincing content to become a customer. Your team will need to be more strategic in what they create for this particular group.
Do this by sending a survey to your audience using Survey Monkey, Typeform, or Google Forms.
Ask questions like:
Where do you live?
How old are you?
What's your annual salary?
What problem are you struggling with right now?
What blogs do you read?
Which company websites do you love?
Remember, you can make these surveys anonymous if you're collecting sensitive data — like salaries or locations.
Find common traits, behaviors, or demographics your audience has. Record that secondary audience data in your content strategy template.
3. Determine Your 10x Content Core
The next step is to develop your content core — the topics that are most closely related to your product.
For example, if your business sells construction equipment, some topics you might consider part of your content core could include:
Machine maintenance
How to do the jobs your equipment is built to tackle
Construction industry news
Useful tips for construction workers
Work with your content strategists to develop your content core and record it in your template.
Start by identifying broad topical pillars, then slot examples of subtopics underneath them. What questions do your customers tend to have? What features does your product solve?
4. Select Your Content Formats and Channels
You should have some idea on the channels you should be using in your content strategy from the audience personas we created earlier. Specifically the "what type of content do you enjoy reading?" question.
That might include a mixture of:
Print materials (magazines, brochures, etc.)
eBooks and white papers
Research reports
Visual content (infographics)
For example, if your target audience uses social media, short videos and visual content would be your best bet. If they like reading, maybe eBooks, white papers, or long-form blog posts would be a good idea.
The formats you're using massively impact the channels you'll use to promote said content. There's no point in getting this far and creating insanely valuable content if nobody will see it.
Unfortunately, content promotion goes beyond spamming your new post all over social media.
Some popular promotion channels include:
Search engines (like Google or YouTube)
Paid social
Organic social
Email
Content curation (sites like Quuu Promote)
You can create a content distribution plan based on actual data. Scan the channels your audience are using and look at the content format shared most often.
The end result is a handy guide to show which formats and channels to use — based on your content topic.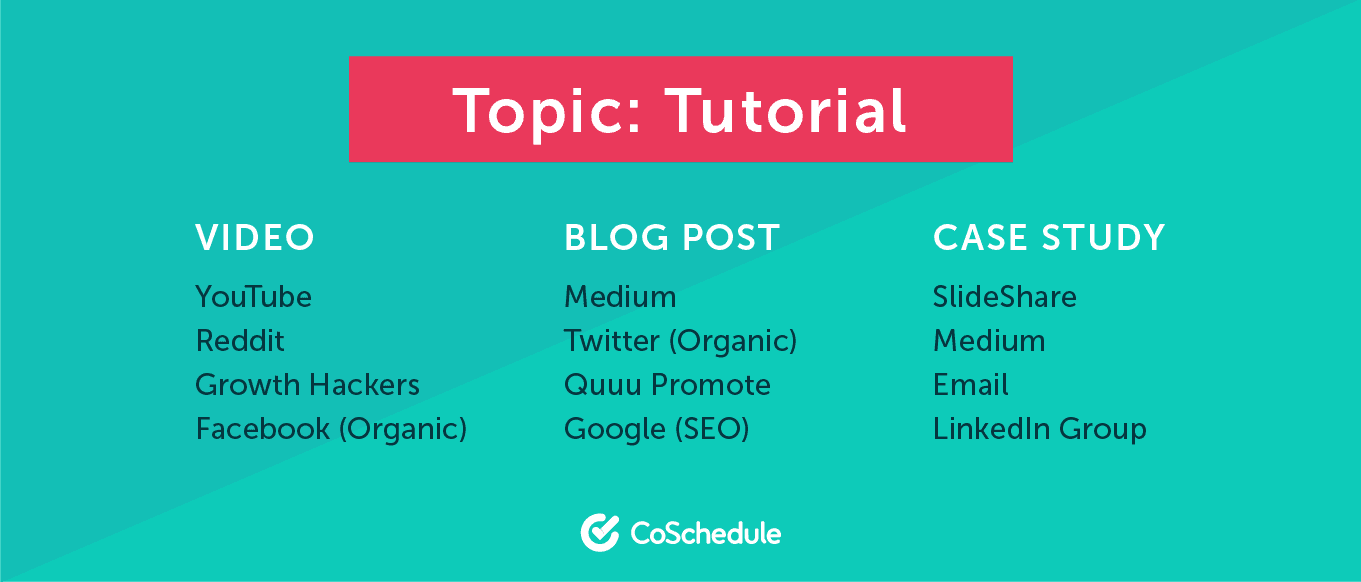 5. Establish a Basic Publishing Schedule
Each content type that your team creates needs to be on a particular schedule.
For example, if your content team creates blog posts, eBooks, and infographics, you would need to decide how often you want to publish those content types.
Spoiler alert: your schedule shouldn't be "whenever we've got time." Developing a regular posting schedule creates consistency. That's essential to building an audience. If they know you post new content every week, they'll come back weekly to read it.
Your schedule could look something like:
Three blog posts per week
Two infographics per week
One ebook per quarter
It's easier to start small and slowly scale up — like once a week, for example. As you start to build a backlog, use your Google Analytics data to see which days and times the most people visit your site. Post on those days.
Then, pull the content types that your team will create and assign them a publishing frequency in your template.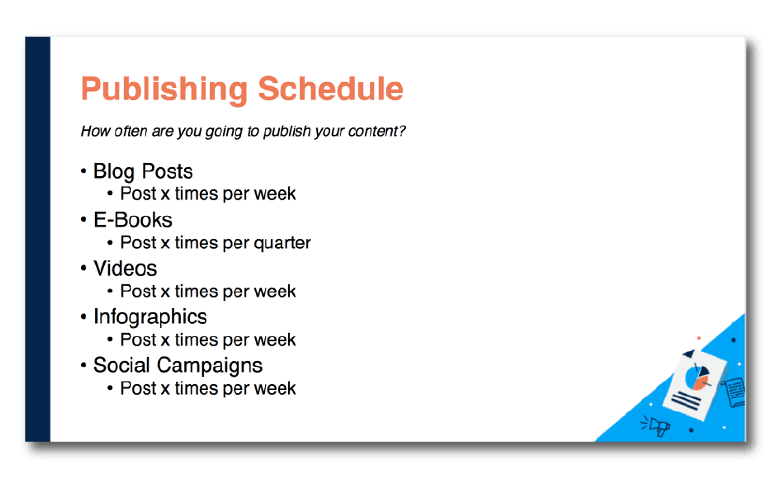 Still with me? Good, we're not done with calendars just yet.
The next part of your content process is developing your marketing calendar. These calendars will help keep your writers on track by letting them plan all your content based on the frequency you just decided.
Each piece of content you want to publish should be on your calendar and include:
The date it publishes
The topic it covers
The core content pillar it falls under
The content format you'll create
The channels you'll use to distribute your content
You can record this in your content strategy template:
6. Set Your Standards of Performance
Every piece of external content you release to the world should meet basic standards.
Failing to do so might result in you posting sub-par content and negatively impacting your reputation for producing great content.
You'll also release a bunch of mismatched content that doesn't fit your brand. Nobody will read your content and instantly recognize you created it.
Standards of performance help do this. You might also see them called "editorial standards" or "branded content guidelines," but they mean the same thing. It's a set of guidelines you must meet before hitting "publish".
Here's what that looks like for us:
Keyword targeting

 – Assign a relevant, strong keyword to every piece of content.

Comprehensiveness

 – Make sure each piece of content covers everything our readers would want to know about that specific topic.

Format and grammar

 – We don't capitalize subtitles, and we use the Oxford comma.

Voice and tone

 – We have a friendly, personable tone of voice that isn't too corporate. Use this list of adjectives to help describe yours: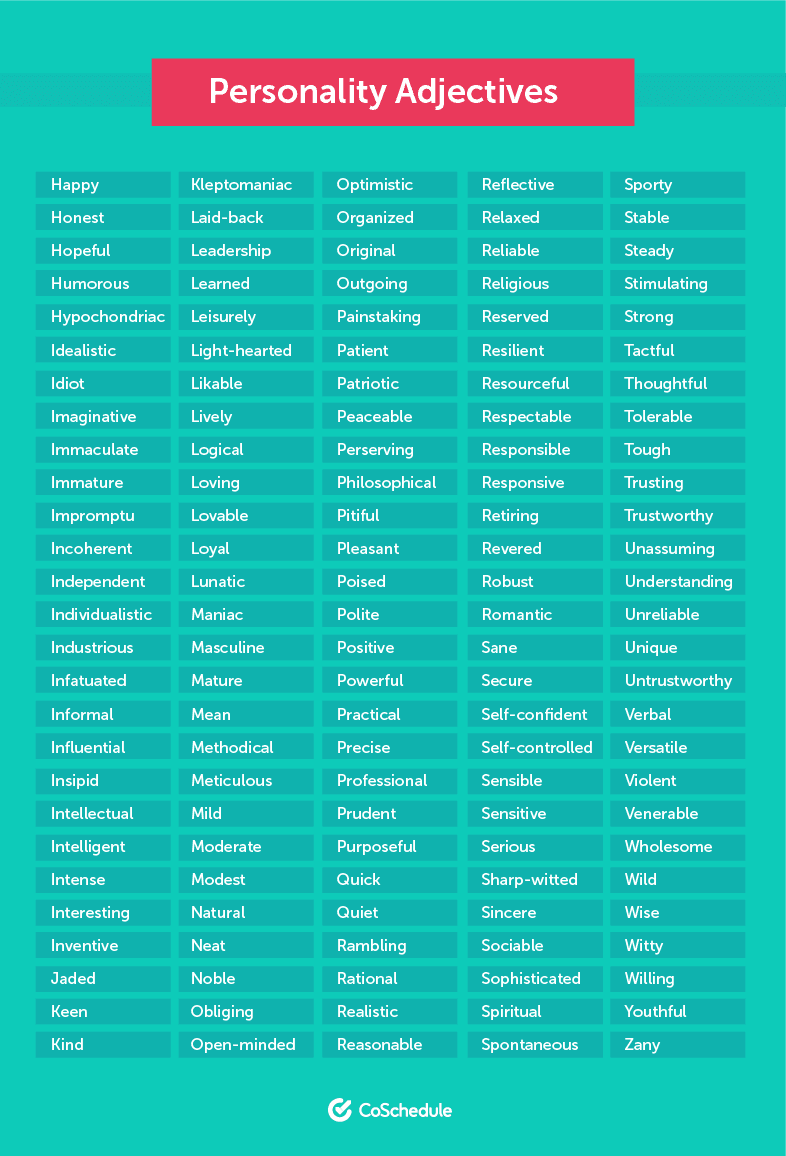 It's not just written text you need for creating standards of performance. Design standards — such as fonts, colors, and logo placements — are crucial for any visual content you're creating.
Collaborate with your designers to determine some basic design standards your entire content marketing team should know about. This doesn't need to be comprehensive, by any means. Just include the things that even non-designers should know.
Keep track of whether your content meets your standards of performance by giving it a grade for each guideline, on a scale from 1 to 3:
The bottom line: your standards of performance are things you refuse to budge on.
If you're reviewing a new piece you're about to publish, and it doesn't hit your guidelines (like one with a score of less than 8), either fix it or bin it. Don't publish anything sub-par.
7. Determine Who Will Be Involved in Your Editorial Process
Too many cooks spoil the broth, right?
Well, in this case, too many people involved in the content creation process spoils the end result.
Overcrowding the content process with too many people means it'll take ten times longer to publish it — especially if everyone needs to approve it. Plus, too many opinions can mean you're fighting over tiny details that — in the grand scheme of things — don't really make much difference.
Your content team likely consists of these people: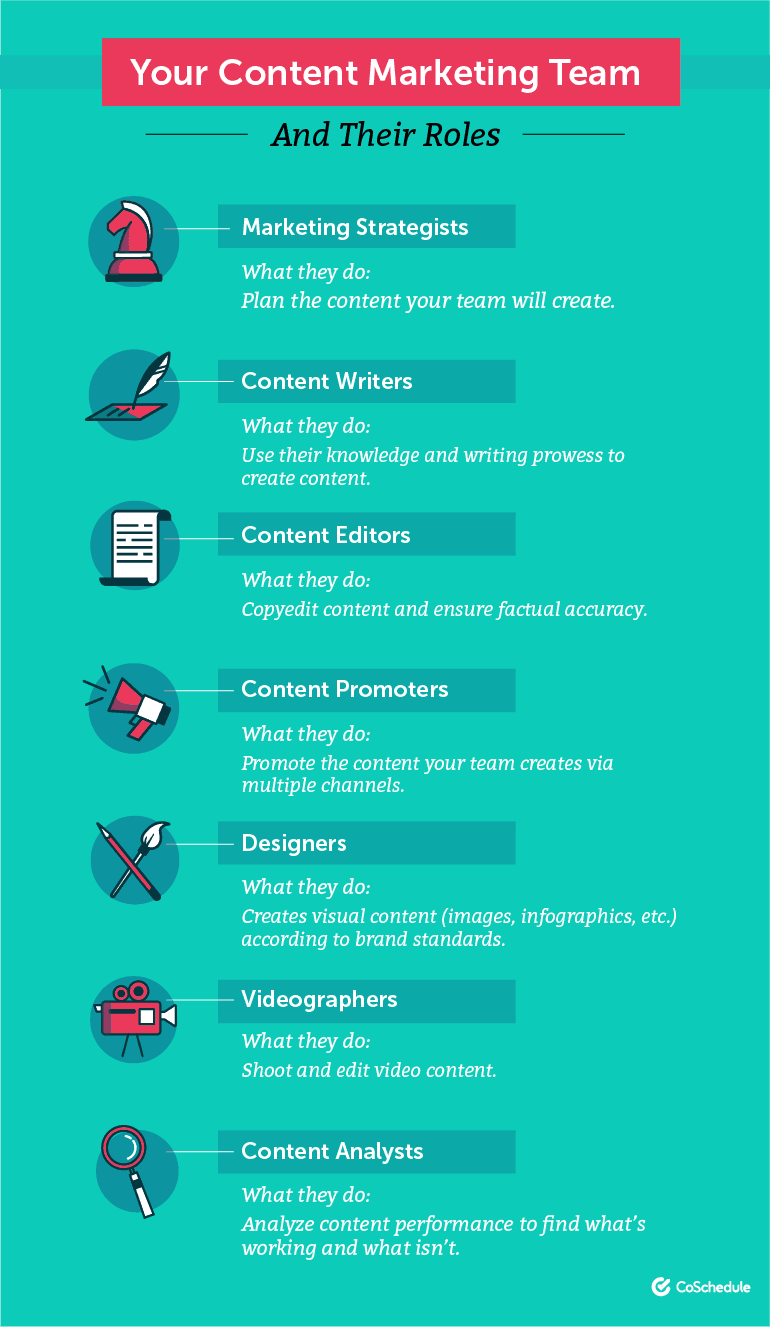 Each member of your content team has a vital role to play. Make a list of the people on your team, their role, and what they do.
Add this into your content strategy template, so you're clear on who does what from the get-go.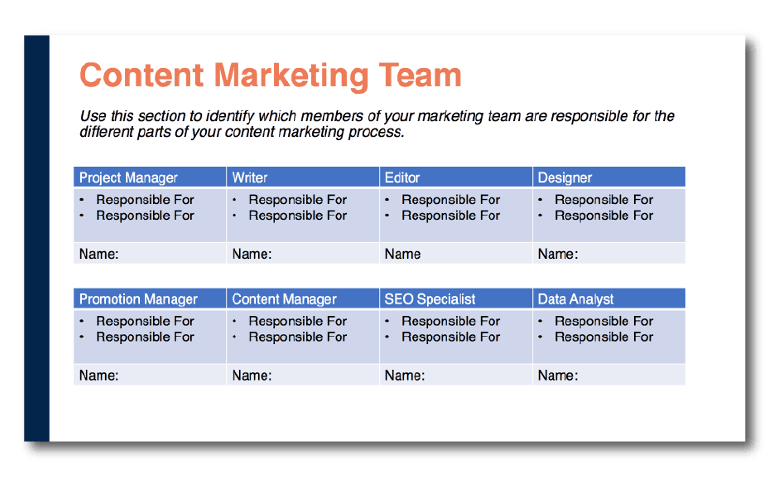 8. Develop Content Workflows and Processes
Great job! You've filled most of your template and have an idea of how you'll kickstart your content marketing campaigns.
However, your work isn't done. Content strategy isn't a one-and-done thing; you need to build workflows that help you do the same processes repeatedly.
These systems will help you understand everything you and your team need to do to complete the content. Nothing gets lost in the process.
Plus, you can break up the content into tasks you can delegate to various team members. This way, you can complete the content quickly and efficiently. Then, assign due dates to each task to realistically understand when to start working on the project to hit your deadline.
Do you repeat the same process over and over again — like creating a blog post or developing a video?
Create a task-based workflow of what you need to complete and assign the person who does it. Use that as your template when you need to repeat the project again.

Similarly, have a process for editorial ideas. Gathering input from your entire team helps you cherry pick the best content ideas, but it's hard to control them when ideas are whizzing around in your inbox.
Use our Idea Board to pull them into one place: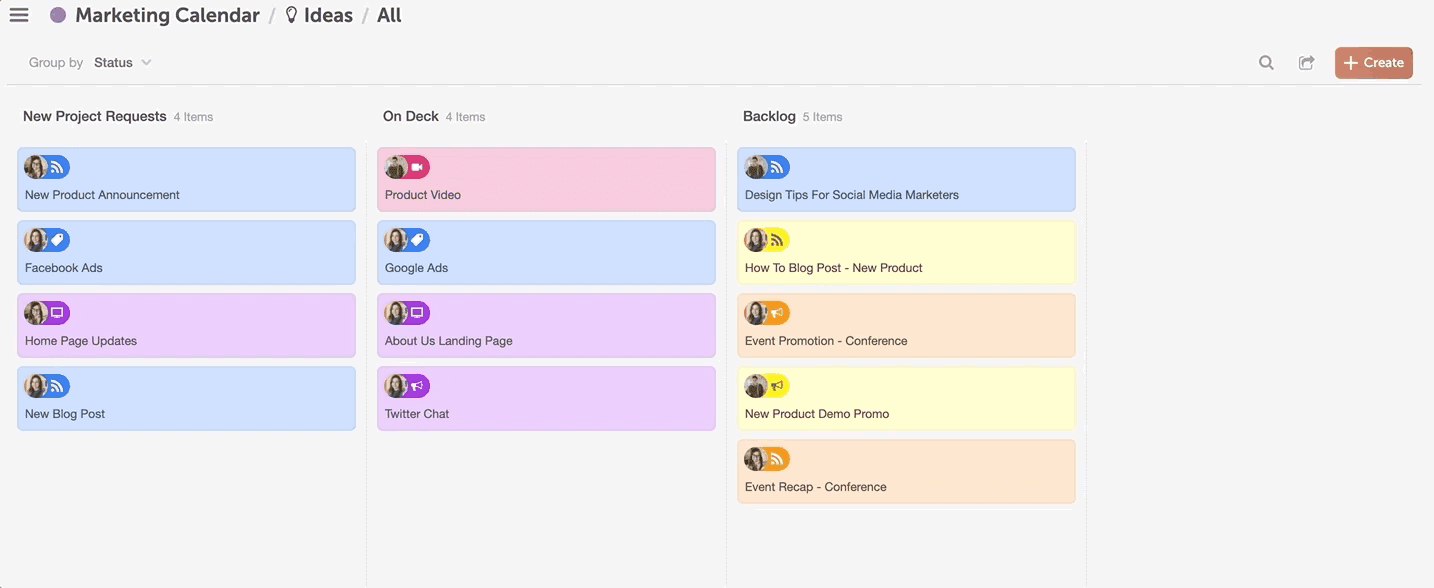 This is arguably the best method for focusing your efforts on the most effective work — something the stakeholders should appreciate when it comes to pitching your strategy to them.
How to Execute and Measure Your Content Strategy
By this point, you've got a solid content strategy detailing everything you're about to do.
You still need to plan how to execute your strategy before hitting "launch" on your new content.
Here's how to do that.
Create a Brief for Every New Piece of Content
Your creative brief is the content plan for a single piece you will create collaboratively with your team. Think of it like a smaller, individual strategy for each piece of content.
Remember how we said that a content strategy helps your team stay on the same page?
The same applies here; the purpose of the creative brief is to help understand the piece of content before they create it. It helps you plan your work, then work your plan.
The most important thing to include in a content brief is answering "What's in it for me?"
That's the question your readers, listeners, or watchers ask every time you publish a piece of content. They're thinking, "Is it worth my valuable time to check this out?" If the answer is no, they won't read, listen, or watch. You don't stand a chance at meeting your content goals.
Get this right by understanding the words your audience uses when asking questions and searching for solutions to their problems. Gather this information from monitoring your social media mentions, blog post comments, customer support inboxes, and new user surveys.
Also ask your existing customers:
What prompted you to start looking for a solution like [insert your product or service]?
Why did you choose [insert your product or service]?
What is the most significant difference [insert your product or service] is making in your business today?
How would you describe [insert your product or service] to someone else?
What is the single greatest benefit [insert your product or service] provides?
From here, use the language from your customers' answers to write "talking points" for the piece of content you are creating. These points highlight the benefits your readers, listeners, or viewers will receive when they consume your content.
Using the language from other folks like them will help you attract the right audience toward your content. That way, you can start to promote the product or service your company offers.
As you draft your talking points, stay away from generic benefits, like saving time. Everyone claims benefits like that.
How does your content, product, or service differ? What's your content's USP?
Run with the answers in your creative brief.
Get Approval From Stakeholders
You have a completed content strategy, and a plan for execution. The next step is to get approval — the final hurdle to jump before the wheels start turning.
Set up a 30-minute meeting with your stakeholders with the following agenda:
Idea review

 – Show your Google Analytics reports to demonstrate trends among your highest-performing content, according to the goal outlined in your marketing strategy. Show them how and why you selected the best idea based on your own data.

Creative brief review

 – Walk through why your audience will care, target keywords (how your audience will find it), and your outline (what you will actually create).

Team workload review

 – Talk about who you will need to create the content, how much time you expect each team member to contribute, when you expect them to complete the work, and the day you will publish the content.
Host a conetnt planning
Try to involve the stakeholders early on and get approval before you begin executing your content plan.
In their book, Sprint: How To Solve Big Ideas And Test New Ideas In Just Five Days, Jake Knapp, John Zeratsky, and Braden Kowitz say:
"By asking people for their input early in the process, you help them feel invested in the outcome. Later, when you begin executing your successful solutions, the experts you brought in will probably be among your biggest supporters."
Show your stakeholders your content plan, get approval before you begin executing, then publish that content on time. It's that simple.
Understand How to Analyze Your Data
You have approval to start shipping new content. As you get into the swing of things and new content starts sprouting everywhere, it's time to dig into the data.
Which specific pieces of content are contributing the most and least to your goal?
This will help you understand what types of content to replicate in the future and which to avoid.
Track this by setting up a custom report in Google Analytics. Head to the Customization tab and select "+ New Custom Report".

Fill in the Title, then in Metric Groups, select the name of your goal followed by (Goal # Completions).
In Dimension Drilldowns, select Goal Previous Step – 1. Then hit "Save".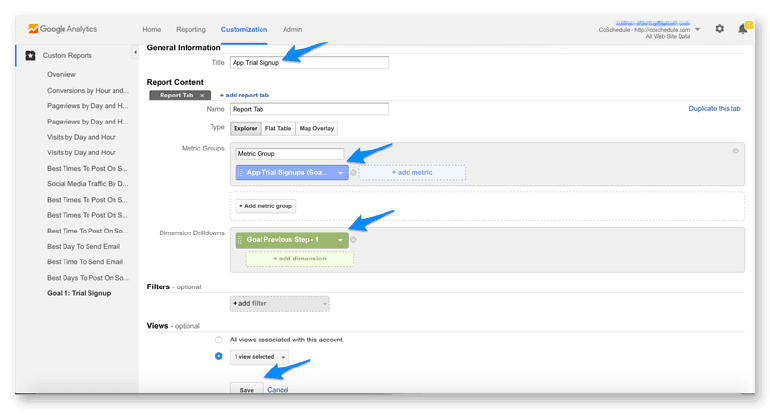 You can view the exact pieces of content that are contributing to your goals, and you can easily search for specific URLs to drill deeper into your content.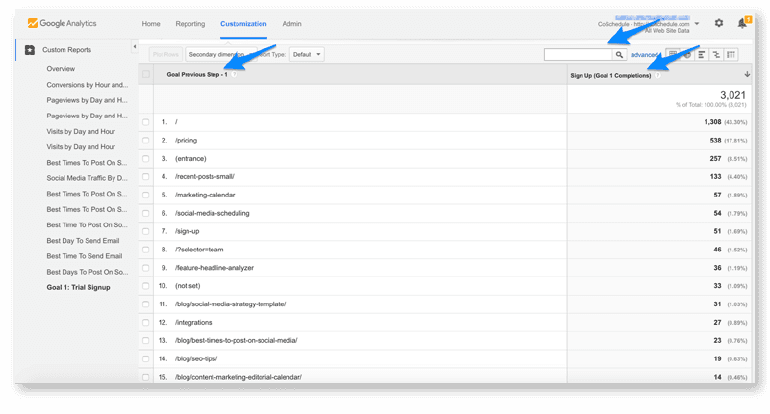 Sort your data from your best performers to the duds. From here, you can scrutinize which types of content to replicate in the future and which to avoid.
To make sure every piece has a similar opportunity to be successful, measure the results for the first 30 days after you published them.
Begin by opening your Google Analytics custom report. Search for each individual URL from the list you started in your grading process in the spreadsheet, and set the dates to the first 30 days after you published it.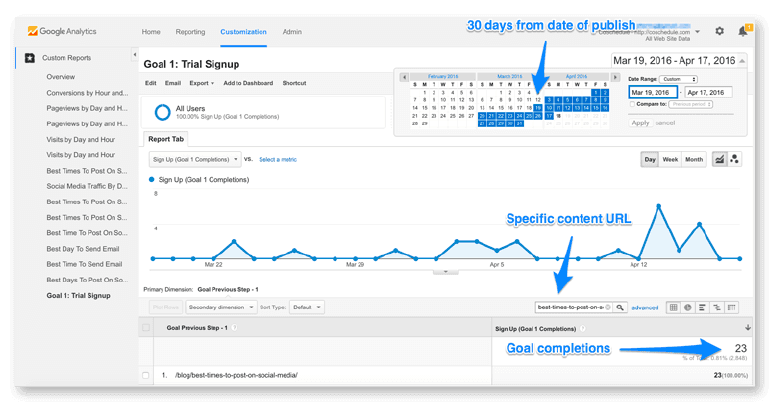 Remember the standards of performance sheet we mentioned earlier?
Pull it back up and enter number of goal completions you've achieved for each after they've been live for 30 days: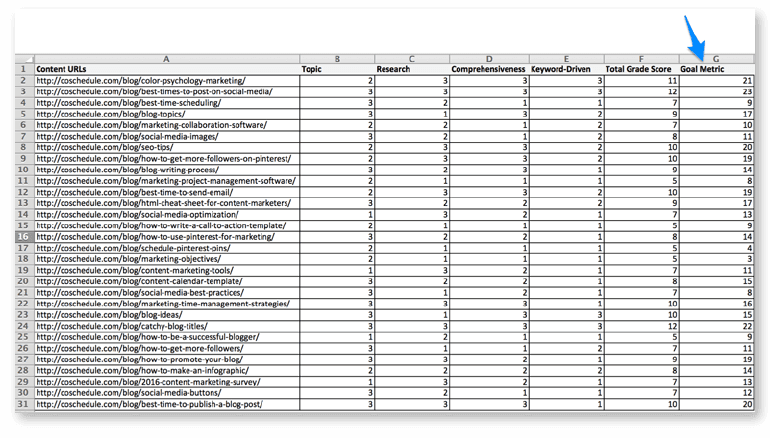 Note: Your Google Analytics goal will start tracking after you set it up — it will not track data that happened before you set up your goal.
You could ease into this process by first tracking page views (if that's not your goal already) because that data will already be available in Google Analytics — if you had it set up before starting this content strategy process.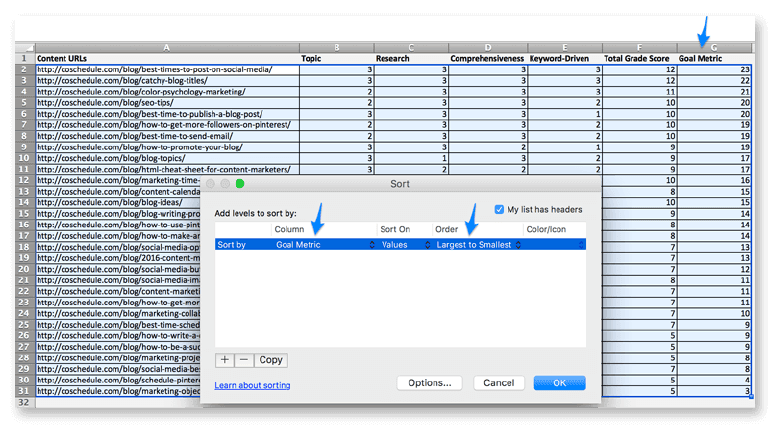 This spreadsheet is the ultimate way of tracking the performance of each content.
Your top piece of content should receive a 12 score, while your worst-performing content should receive a 4 score. If that's not the case, you learned something that will help you think critically about the upcoming content you'll publish.
Here are several things you can analyze from both your best and worst performing content to help you get bigger results from your future content:
Who wrote the content?

 Some of your producers may be particularly skilled at certain topics or could have brought an established audience to your content. You could invite those rockstars to work with you even more in the future.

What type of content was it?

 Was it a how-to, list, or question blog post? What about e-book, landing page, or online tool? Replicate the same approach in future content.

What was the tone of the content?

 Some websites do particularly well with thought leadership, controversial, humorous, or entertaining content, whereas others find better success with straightforward how-to and step-by-step content. Find what works for you and repeat it.

What additional media was in the content?

Did infographics, videos, surveys, e-books, or images help influence your success? Repeat what works next time, too.

What's the most popular subject matter?

 Look at your top-performing content and plan new ideas with a similar theme. For example, we discovered our blog post about using Instagram for business. We wrote blog posts about increasing your following and engagement on Instagram, too. All of these blog posts still perform well to this day.
You get the idea.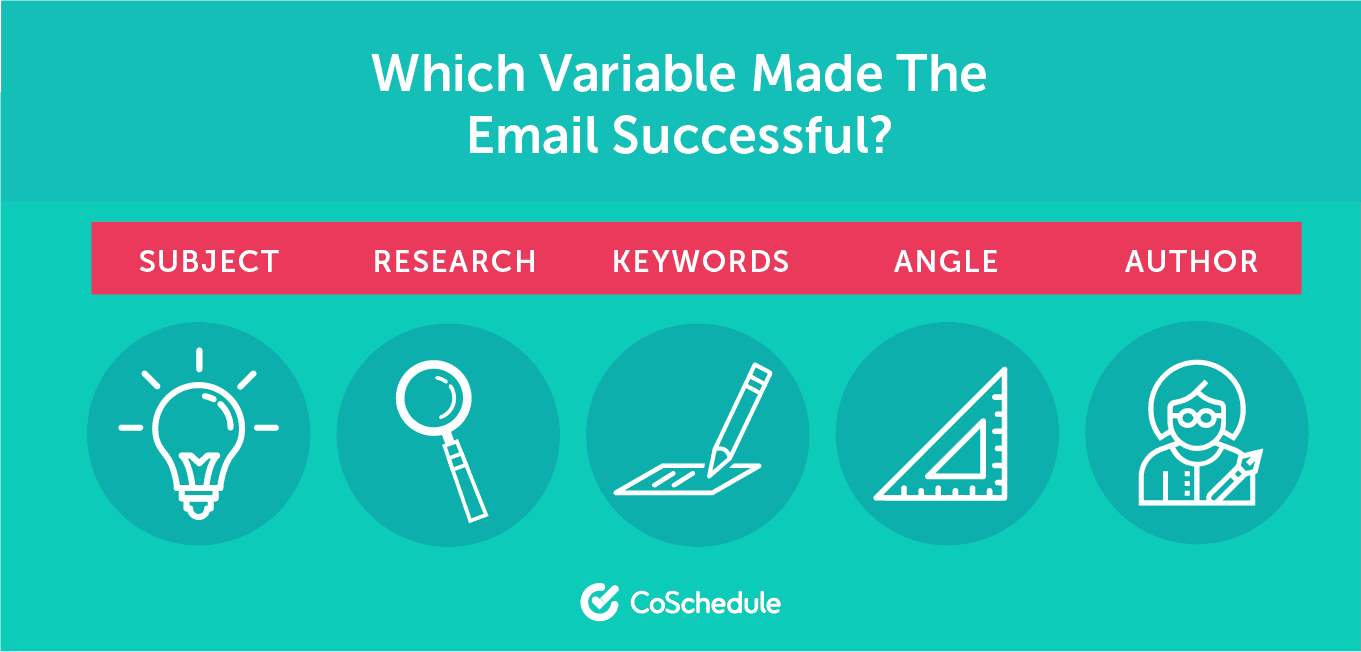 Before we move on, I'll leave you with one final framework: 10x versus 10%.
What ideas will help you grow your results ten times over, instead of just making a ten percent improvement?
The more you understand the results your content produces, the more effective content you will create. You don't need to reinvent the wheel, you just need to make it better. Keep doing what you know works extremely well until the fuel runs dry.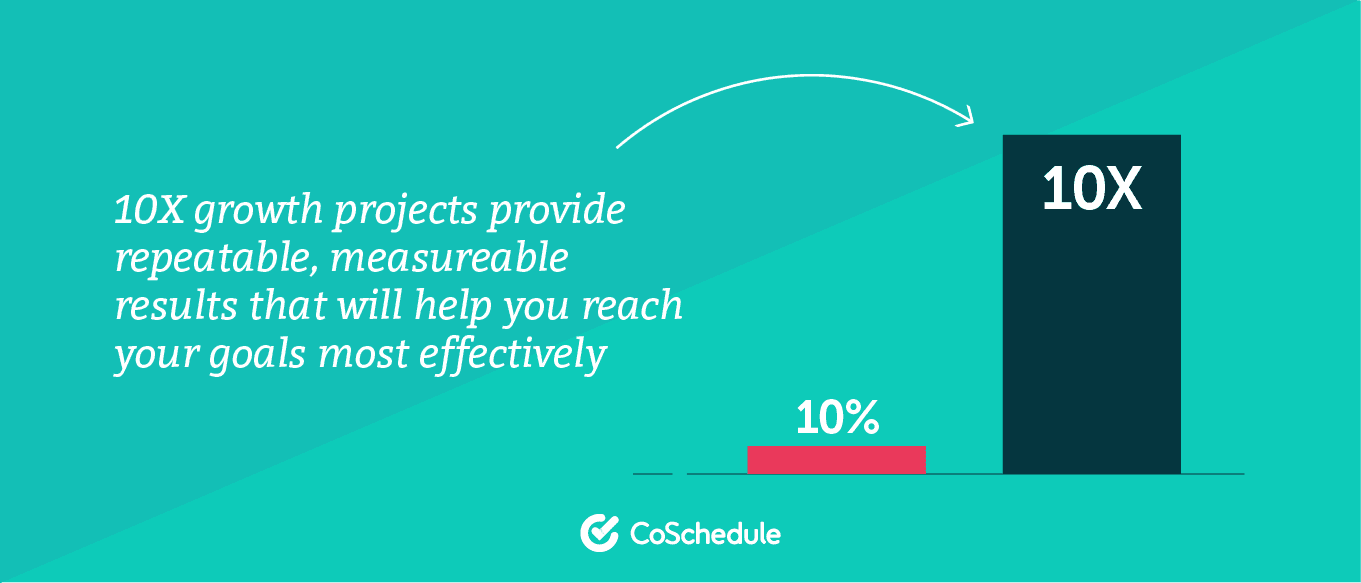 Define Your Monthly Goals for the Next Six Months
You've got a process in place to analyze data, alongside a solid understanding of which type of content works best for you.
Remember, if content strategy is new in your business, stakeholders might still need convincing that it's worth investing in long-term. Do that by rolling up your data to understand what your overarching monthly goals should be.
These are the KPIs you'll work to — those helping you get a return on your content investment month-over-month.
This will help you understand the larger impact of publishing effective content. If these predictions are less than you were hoping to see, you can use your data to increase your publishing frequency to generate even bigger results.
Open your Google Analytics custom report for your goal and find the data from an average month's performance.
An easy way to do this is by adding together the data from the last three months, then dividing it by three to find your monthly average performance.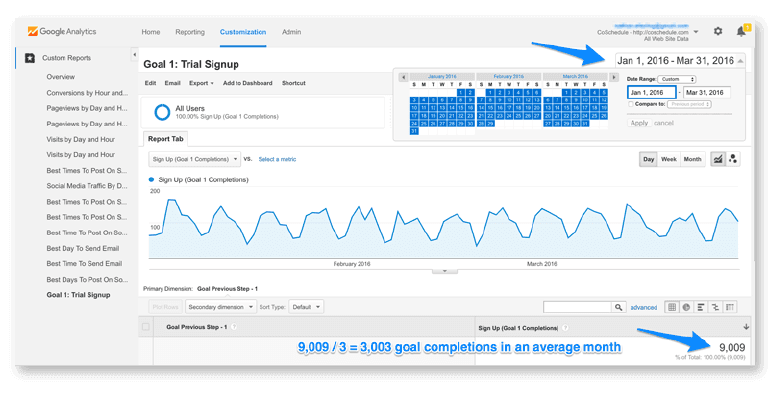 Next, determine how many times you'll publish your improved content every month.
This is how publishing consistent content will help you boost your results.
For example, if your goal is to get 200 goal completions per month, and you know that each piece tends to generate ten, commit to posting 20 pieces each month. Track the results.
Your head spinning with numbers? Don't panic.
The spreadsheet in your content strategy template has formulas built into it, so you don't have to figure it out yourself.
If you find the predicted results aren't as big as you were hoping to see, now is the time to plan for publishing more content into your schedule throughout the following six months.
Ready to Launch Your New Content Strategy?
Congratulations! You've made it this far, and now you're ready to use your content strategy template to make serious moves with production.
We can't let you go without one important tool that makes it ten times easier to get started. CoSchedule makes it easy to turn your content plans into published pieces. You'll collaborate more effectively, work more efficiently, and hit every deadline.
Create your free marketing calendar now!
It's built for marketing teams to get you completely organized. That's exactly what you need when you're executing a new strategy.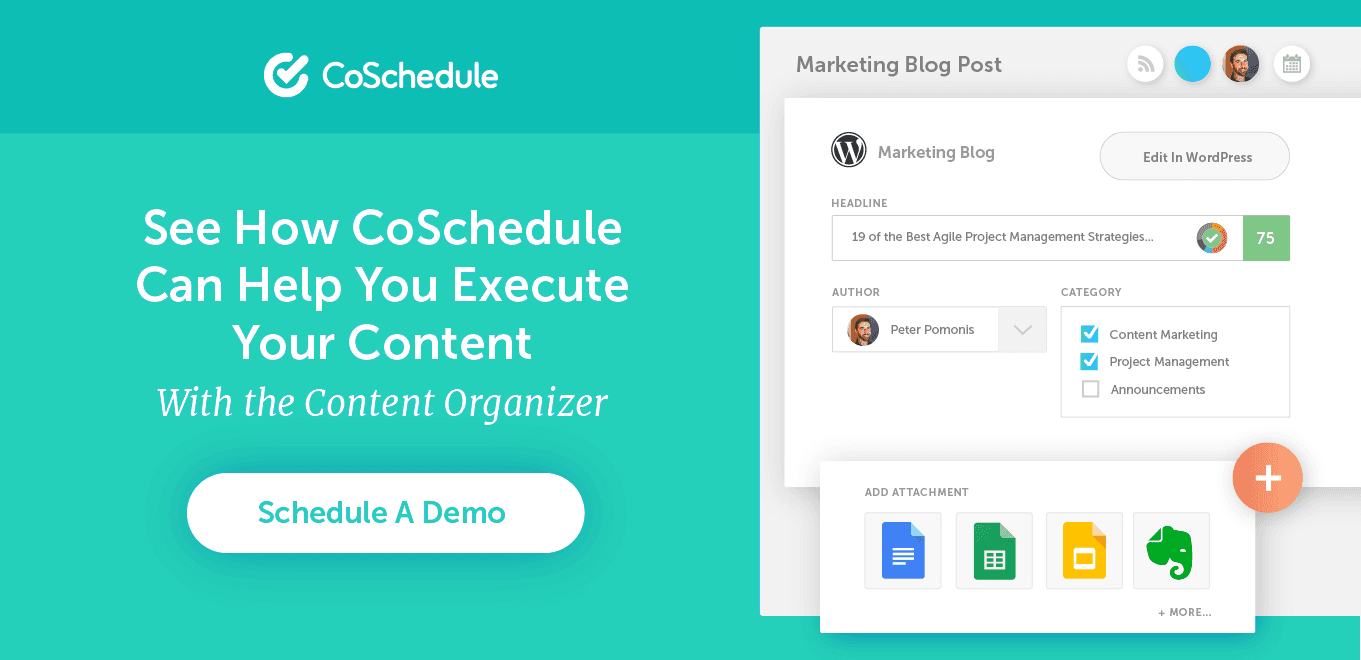 June 4, 2020