Does it feel like you've spent tons of time creating a thoughtful content marketing strategy, only to have it fall to pieces in a month or two because of shifting priorities?
This is the problem with most content marketing strategies – they aren't flexible.
After all, it's impossible to know in January what your organization's situation will look like in June.
So, your team needs to be agile.
And your strategy needs to be adaptable.
In this post, we'll cover exactly how to create a content marketing strategy that will:
Keep your team focused and organized, so you can plan your work, then work your plan.
Ensure your content is aligned with real goals that'll make an actual impact on your business.
Stay flexible and adjust according to what's working (and what isn't).
Plus, we'll touch on how CoSchedule makes it easy to plan and execute your entire content marketing strategy with the best marketing suite on the Internet.
Start With Your Free Content Marketing Strategy Template
Best of all, we won't just tell you what to do.
We'll actually show you how to document your content marketing strategy.
And we'll even give the template you'll need to get it done completely free!
Download it quick below, and then we'll move onto planning your strategy.
What is Content Marketing Strategy
A content marketing strategy is:
"An in-depth marketing plan that highlights the topics, processes, and standards that each piece of content a marketing team creates must meet."


Back to the Top
Why Should My Business Create a Content Marketing Strategy?
Creating a content marketing strategy is vital to the success of your overall content marketing.
Why?
Because it gives your content team the direction they need to create remarkable content, measure your success (and failures) and stick to the plan you've designed.
Still don't believe a documented strategy works?
According to our own data, marketers who document their strategy are 538% more likely to report success.
And that's just the beginning.
Check out this infographic for more statistics and data to help convince you to add content marketing to your overall marketing strategy:
Some of the statistics and data from the infographic above can help you begin to fill in the content marketing strategy template that you downloaded earlier.

Back to the Top
Which Content Marketing Tools Do I Need?
The fact of the matter is, content marketing can be a bear to handle. Using the right tools can help your team stay on track and organized.
The question is, which tools does your team need?
Content Management System
A content management system is a must for managing and publishing content. WordPress is one of the most popular options out there, especially for creating company blogs. However, here are some other options you may consider:
Analytics Platform
Analytics platforms make it easy to gather data and measure performance for your content and social media marketing efforts.
Google Analytics is one obvious option here. However, there are tons more out there you might want to consider, too. They include:
Content Marketing Editorial Calendar
Calendars are essential for planning ahead, managing deadlines, and giving your team full visibility on all the content you're publishing. We recommend The CoSchedule Content Organizer (as you may have guessed) as the top choice for a content marketing platform. Here's a quick look at what we're all about:
Social Media Scheduling Tool
Social media is an important part of any content marketing strategy. That's both for promoting content and creating awesome native social content. CoSchedule's Social Organizer makes it easy to create and schedule social media posts for each of the top networks (Facebook, Twitter, LinkedIn, Instagram, Pinterest, and Google+). Plus, here are some other cool things you might not know about:
With ReQueue, you can reshare your best posts automatically.
And with Best Time Scheduling, you can make sure every post publishes at the ideal time, too.
Plus, with our WordPress + social integrations, you can create and share content all in one place.
CoSchedule even has a monitoring tool to help you stay on top of all your social media conversations.
Every time we create a piece of content, we use each of the features above to spread it to our audience (and beyond).
SEO Tools
To get your content found in organic search and measure its performance, you'll need a solid set of SEO tools. Here's what we use at CoSchedule:
Marketing Project Management Tools
Keeping a content marketing team in line can feel like herding cats. That's where project management tools come into play. Tools like Wrike and Asana are popular options. Here at CoSchedule, we use the Work Organizer to:
Wrangle tasks with Task Templates (which are reusable project checklists).
Measure team productivity with Team Performance Reports.
Discussions (built-in comment threads right inside our marketing calendar) to make communication and project management super easy.
See and track daily tasks of the whole team with the Team Management Dashboard.
Overall, what separates CoSchedule is that it's built specifically for marketing teams. That's why we use it ourselves (and the results speak for themselves).
Once you have your tools selected, record them in your template:
Ten Steps to Building Your Content Marketing Strategy
The next ten steps are going to walk you through how to fill in the template you downloaded earlier and create your content marketing strategy.
Step One: Assemble Your Content Marketing Team
The first step in your content marketing strategy process is to document the team that will be working on the content from start to finish.
Each team may look a little different, but some familiar roles are:
Each member of your content team has a vital role to play. Remember that the role a person plays on a content marketing team may not necessarily match up to their title.
Record your team members, their role and their responsibilities in your template:
Step Two: Establish Your Mission Statement
The first part of the template that you need to fill out is the mission statement of your company.
Your mission statement should be the promise that your organization wants to fulfill for your audience.
Here's a template to help you get started:
The mission of [Insert Organization Name] is to provide our customers with [service one] and [service two] through [action one], [action two] and [action three].


Back to the Top
Step Three: Determine Your Content Marketing Goals
The next section of your content marketing strategy involves using your business objectives to creating content marketing goals for your team.
Your business objectives are the overarching goals that impact your business. Your content marketing goals should help your business achieve those objectives.
Some example business objectives are:
We want to sell more season passes to college-aged people.
We want to be the number one vacuum for households with two or more pets.
We want 70% of our audience to be 25-34-year-olds.
Your business objectives probably weren't set by your content marketing strategists.
They were most likely set by higher-ups in your organization. Which means you are going to need to talk to someone to obtain your business objectives.
Once you have them, record them in your template:
The next part of your content marketing goals process is to use your business objectives to set the goals for your content marketers.
Each one of your content marketing goals should be S.M.A.R.T. This acronym means:
Specific:

 Describe exactly what you want your team to accomplish.

Measurable:

 Have a numerical amount attached to your goal.

Attainable:

 Can your team reach this goal in the set amount of time or is it too lofty?

Relevant:

 Does this goal matter to the success of your team? Will this help prove what you're doing is working?

Timely

:

 You goal should always have a deadline.
When you're setting up your SMART goals, try something like:
By [Month, Day, Year] the content marketing team at [organization] will reach [number] [metric] every [time frame].
In practice it would look something like this:
By January 31st, 2018 the content marketing team at Reading Nook Bookstore will have gained 250 new blog subscribers.
Each one of the goals you set should relate back to helping your business achieve its overall objective.
Creating Marketing Goals Tied to a Business Objective
Marketing activities are only valuable if they move the business forward.
Let's say your company's business objective is to drive more revenue and be profitable. In order to achieve this, your marketing team probably needs to generate more leads per week.
Thus, your marketing goal should be to generate a specific number of leads per week.
Each individual marketing campaign should also have a goal set to work against that. Say you're launching a new whitepaper, the goal of that whitepaper should be to produce 100 (or whatever number is aspirational, yet realistic) leads during the first month.
Work with your team to create your goals and record them in your template:
Step Four: Audience Research and Persona Development
Who are you trying to reach?
Your content is only as good as the leads and audience it attracts. You can draw thousands of views, but if only five of them are the right people who would use your product or services, it's a waste of your team's time.
Identifying who your content should be targeting will help your strategists to determine what types of topics, ideas, and keywords you should cover.
What characteristics should you identify about your audience?
Demographics:

Age, gender, ethnicity, income, location, job title, etc.

Psychographics:

Hobbies, interests, beliefs, habits and more.

Challenges They Face:

What are they dealing with that would cause them to begin to search for your product or service?

Pain Points

: What in their life is causing a disruption or what problem does your product solve?

Where Are They Getting Their Information:

If your audience is searching for a solution to their problems where are they turning to search for information?

What Type of Content Do They Prefer:

What content format does your audience prefer to get the information they are looking for from?

How Can We Help:

How can the content you create help give your target audience the information they need?
In your template, you'll have two audience profiles to fill out. The first is for your primary audience. These are the people that are most likely to buy your product or use your services. They should be the primary focus of all the content you create.
When you're done… it should look something like this: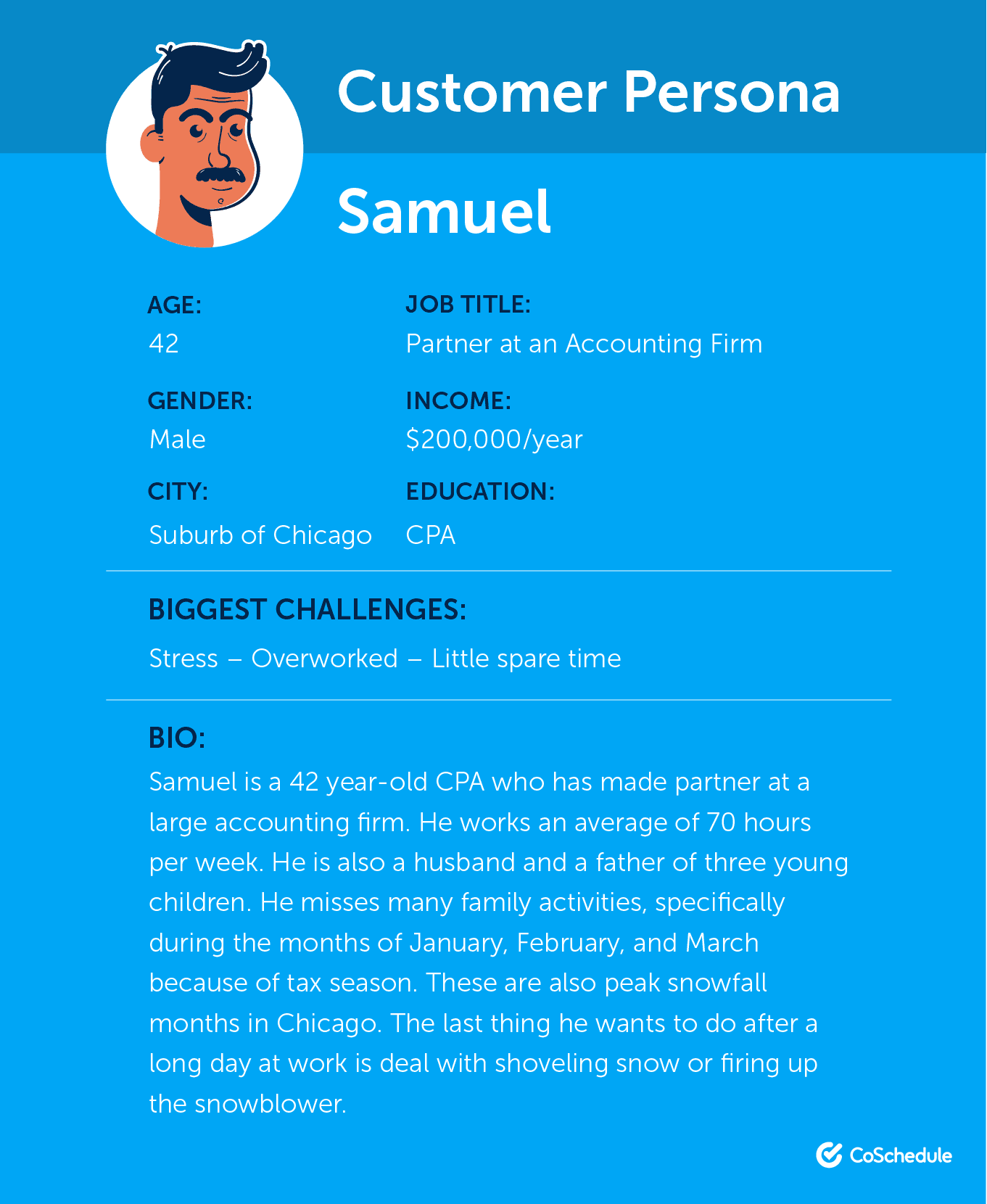 Your secondary audience is made up of people who are close to being a part of your primary audience but didn't make the cut. These people need more convincing from your content which means your team will need to be more strategic in what they create.
There are two ways you can find the details about the persona of your audience. If you have already published content you can go to your Google Analytics account and find the demographics of your audience.
Click Audience > Demographics > Overview:
There you'll be able to see the age and gender breakdown of your audience. You can also explore interests, geographic location and more if you continue to scroll through the pages.
If you haven't published any content yet accessing Google Analytics audience data may become more difficult. To gather this data try sending a survey to your audience using Survey Monkey or Google Forms.
Record audience data in your template:
Step Five: Determine Your Content Types
The next step in your process is determining what types of content you will create for your audience.
Content marketing isn't just writing blog posts.
Your team has a variety of options to choose from, including:
Email Newsletters
Print Materials (magazines, brochures, etc.)
Research Reports
Visual Content (infographics, etc.)
Choose the content types that are best to reach your audience.
For example, if your target audience uses social media, choose channels they use. If they like reading, maybe ebooks would be a good idea. Use your audience analysis and survey data to align content types with their needs and interests.
Record the content types your team will create in your strategy template:
Step Six: Choose Your Promotion Channels
You can create fantastic content, but it's only as good as the number of eyeballs that see it. That's why you need to choose the right promotion channels to bring those eyeballs in.
Here are some ideas to start with:
Organic Search

: 

Organic search revolves around creating content that ranks in the first top ten organic results in a Google search. This content is keyword heavy and focuses on a series of keywords and LSI terms that your audience is searching for.
Email Newsletters

:

Email is a durable promotional option if you are publishing multiple pieces of content. You can segment and feed your audience certain content to help increase the chance of them converting.
Social Media: 

This may include both organic and paid strategies.
Record your promotion channels in your strategy template:
Step Seven: Writing and Designing Your Content
The next step in your process is to determine your content core and design execution process.
Identifying Your Voice and Tone
Now you need to outline your voice and tone.
Your brand voice is an extension of the personality of your brand. Your tone, on the other hand, is how you say things. Your tone will continuously shift while your voice will stay consistent.
To outline your voice in your template, try picking two to three adjectives that describe your brand personality. Here's a list to help you get started:
Once you have your adjectives figured out record your voice in your template:
Your tone should be the general idea of how you want to say things. Remember this will change depending on the situation.
There is also space in your template to record examples of what your voice and tone should look like.
Building a Messaging Matrix
Next, build your messaging matrix.
Your messaging matrix should define your core brand messages.
In short, it should answer the question, "What message about our brand should our content communicate to our audience?"
This should include a main message and several secondary points.
Record your messaging matrix in your strategy template:
Establish Your Content Core
The next step is to develop your content core.
Your content core encompasses the topics that are most closely related to your product.
For example, let's say you sell construction equipment. Some topics you might consider part of your content core could include:
Machine maintenance.
How to do the jobs your equipment is built to tackle.
Construction industry news.
Useful tips for construction workers.
Work with your content strategists to develop your content core and record it in your template. Start by identifying broad topical pillars, then slot examples of subtopics underneath them.
Developing Design Standards
Next is developing your design standards. These are guidelines to help your designers create a consistent brand look throughout all of your content.
It should include things like:
Fonts to use.
Color choices.
Proper logo placement.
Collaborate with your designers to determine some basic design standards your entire content marketing team should know about. This doesn't need to be comprehensive, by any means. Just include the things that even non-designers should know.
There is also space for you to illustrate branding do's and don'ts which can come in handy when you're onboarding a new designer:
Step Eight: Define Your Content Creation Process
You have your messaging and brand standards ready, and your designers are prepared to give the final touches to your content. The next step in your content marketing strategy is to define how your team will create your content.
First design the content creation process for your writers. This should be a series of steps that need to be taken before the content is ready to move on to editors and designers.
This checklist should include the writers, editors, SEO strategists, and blog managers that are on your team. Each step in the process should be written in chronological order. An example content creation process could look like:
Come up with a topic.
Choose to publish date
Research keywords and LSI terms.
Create outline
Approve outline
Write draft
Revise draft
Send to editor
Each one of these tasks should also have the number of days before it needs to be completed. For example, if it takes your team two weeks to complete this list you need to start your first task two weeks before the content is due to an editor.
As you figure out your content creation process record it in your template:
Your strategy also needs an editorial content process.
This will involve editors, designers, your promotions team and your content analyst.
An example editorial process would look something like this:
Edit content
Send back to writer for revisions
Send content to designers
Design content
Approve design
Set content to promotions team
Set promotion
Approve promotion
Analyze results
Record your process in the template:
Next, set your publishing schedule. Each content type that your team creates needs to be on a particular schedule.
For example, if your content team creates blog posts, ebooks, and infographics, you would need to decide how often you want to publish those content types.
Your schedule could look something like:
Three blog posts per week.
Two infographics per week.
One ebook per quarter.
Pull the content types that your team will create and assign them a publishing frequency in your template:
The last part of your content creation process is developing your marketing calendar. These calendars will help keep your writers on track by letting them plan all your content.
Each piece of content you want to publish should be on your calendar and include:
The date it publishes.
The topic it covers.
The core content pillar it falls under.
The content format you'll create.
The channels you'll use to distribute your content.
You can record your content in your content marketing strategy:
Step Nine: Create Your Content Promotion Strategy
By this point, your team will have created an amazing piece of content. Now you need to promote it.
The first step is to determine what tactics you will use to promote your content and how often you'll use each tactic. You can pull the promotion tactics that you developed earlier in the strategy.
Using Social Media
If you decide to use social media as your promotional tactic of choice there are a few steps that you need to take.
The first is deciding what channels will be the best for your company. To do this you need to find where your target audience is the most active.
For example, if you're targeting 18-30-year-olds Instagram and Snapchat may be a good option for promoting your content. However, if your target audience is 35-50-year-olds Facebook may be a better option.
To determine which channel is attracting your target audience use the in-app social media analytics for each channel.
Once you've found your audience and chosen your channels you need to create a promotion schedule.
This schedule should be applied for every content piece that you post to the channel. An example schedule could be:
Day of publish:
1 Facebook post
3 Twitter posts
1 LinkedIn message
1 Pin on Pinterest
Day after publish:
2 Twitter posts
1 Facebook message
Week after publish
1 LinkedIn message
1 Pinterest Pin
2 Twitter Messages
Another option for your social media promotion is to use paid advertising. These ads help ensure your content gets seen and setting them up is incredibly easy.
Check out this video from Gavin Bell to see just how easy it is to get an ad up and running:
Using Email
Email is another strong promotion tool especially if you are publishing a lot of content.
If your content team decides that email would be your best bet to promote your work you need to decide:
How many emails you're going to send for each piece of content.
When you're going to send your emails.
See what 10 studies say about the best time to send email.
Using 3rd Party Distributors
Another option for your content team to use to promote their content is 3rd party distributors.
This could be as simple as sending your content to syndication sites and seeing if they'll republish it to their own websites.
Another option is to tag authors, strategists and influencers that you mention in your content to see if they'll share it.
You can also work with other companies to place your content in their email newsletters.
Using Organic Search
Lastly, we'll talk about SEO.
At the absolute most basic level, this means making sure that your content is focused on topics your audience searches for, and makes smart use of keywords.
Use this checklist to make sure every piece you publish is properly optimized:
As you choose your different promotion tactics, brainstorm with your team to decide how often you want to use each tactic and record it in your template:
Next, you need to decide what types of promotional channels you want to publish your content on and how often you're going to do it.
Each channel that you decide to publish on to needs to be recorded in your template along with the objectives, target audience, call to action and frequency that you're going to use each channel.
That seems like a lot to manage right? Tools like CoSchedule can help.
Our marketing suite is packed full of tools to help your entire content marketing team, plan, track and organize your promotions with:
Social Campaigns to organize and create your social posts in advance.
ReQueue to re-promote your best content automatically.
Best Time Scheduling allows you to automatically send your social media posts at the optimum time to gain the most exposure.
Kanban Capabilities to help you project manage your activities better.
An Idea Board to field project requests on your behalf.
An Asset Organizer to keep all your digital assets accessible to everyone.
Step Ten: Make a Plan to Measure Your Results
You've set your goals, and your content is out for the world to see. Now you need to measure your results and see if they are bringing your team the success you need.
The first step in figuring out your measurement process is to create your measurement framework. This gives your content idea a rough estimate of:
What you'll be reporting on.
Metrics.
Progress towards goals.
How often you'll create your reports.
What they should look like.
Once you have your framework created record it in your template:
Next, you'll need to create KPIs that will help show if your team is on track to reaching your goals. KPI's are specific metrics that are the closest to the goals you set earlier.
Check out this video for more on how to develop your own KPI's:
Once you've matched your KPIs and goals together record them in your template:
After you've figured out your KPIs, you can move on to metrics. This can get a bit confusing because KPIs are metrics but not all metrics are KPIs.
The additional metrics that your team chooses to track should contain the data points you need to prove that your strategy is working.
Those additional metrics should be recorded in your template:
Another piece of reporting documentation that your content team will need is a content scorecard.
Content scorecards allow your team to establish a baseline of performance for every single piece of content that you create.
For example for every blog post that we write we want to get 2,500 views per post.  You would repeat this process for every content type that you create.
Record each of those baselines in your template:
The very last part of your strategy should contain contact information for anyone who may have questions about the strategy that you've created.
This can be your content marketing manager or another strategist.
Books We Recommend Reading
Whew! This is a long post, and we've just scratched the surface on all there is to know. For further reading, we recommend the following books:
By the time you get through this list, you'll be a true expert.
Now Create Your Best Content Marketing Strategy
Now that you have your strategy in place you're ready to move on to the execution phase of your content strategy.