I like to think that just about every marketer out there has taken a similar approach to content marketing.
You know, the "this all looks good, do it all, see what sticks."
I'm guilty of it—we all are, which is not necessarily a bad thing. In some aspects, experimentation is a necessary part of marketing to your audience because the text-book stuff, or what the incumbent brands are doing, might not work for you.
That also means I've created a lot of content that failed miserably. I recall one piece I wrote drawing comparisons between brussels sprouts and content marketing. I thought it would do amazing.
Unfortunately, it bombed and saw virtually no engagement.
We all have underperforming content in our portfolios, but some more than others. While more marketers are using content than ever before, up 2% from last year, there's still some 65% of marketers that aren't able to determine what content is and is not effective.
Some of the top challenges for marketers today, especially in the B2B sector, is understanding how to measure the effectiveness of their content campaigns and produce engaging content.
As painful as it might be to look at all the failed content you've created, if you were to plot a chart comparing it to better performing content, you would see a pretty long tail of "failure", where the engagement ramps up to the great stuff you've created.
For example, you can see a clear gap in shares between an article I wrote for Kissmetrics and another I recently published on Social Media Examiner.
There's a lot you can learn from the content that seems to fizzle, and those that begin to perform better by examining the data around that content. Specifically, that data should be used to refine your content strategy moving forward so you write less about stupid things like Brussels sprouts, and more about topics that will actually drive engagement.
Want to use Click to Tweet on your blog?
Download Your Free Content Performance Tracking Template
Track your data over time with this Excel template.
Get Your Download Now
Plus, join our email list to stay up-to-date.
Success! Your download should start shortly.
Tired of the marketing mess?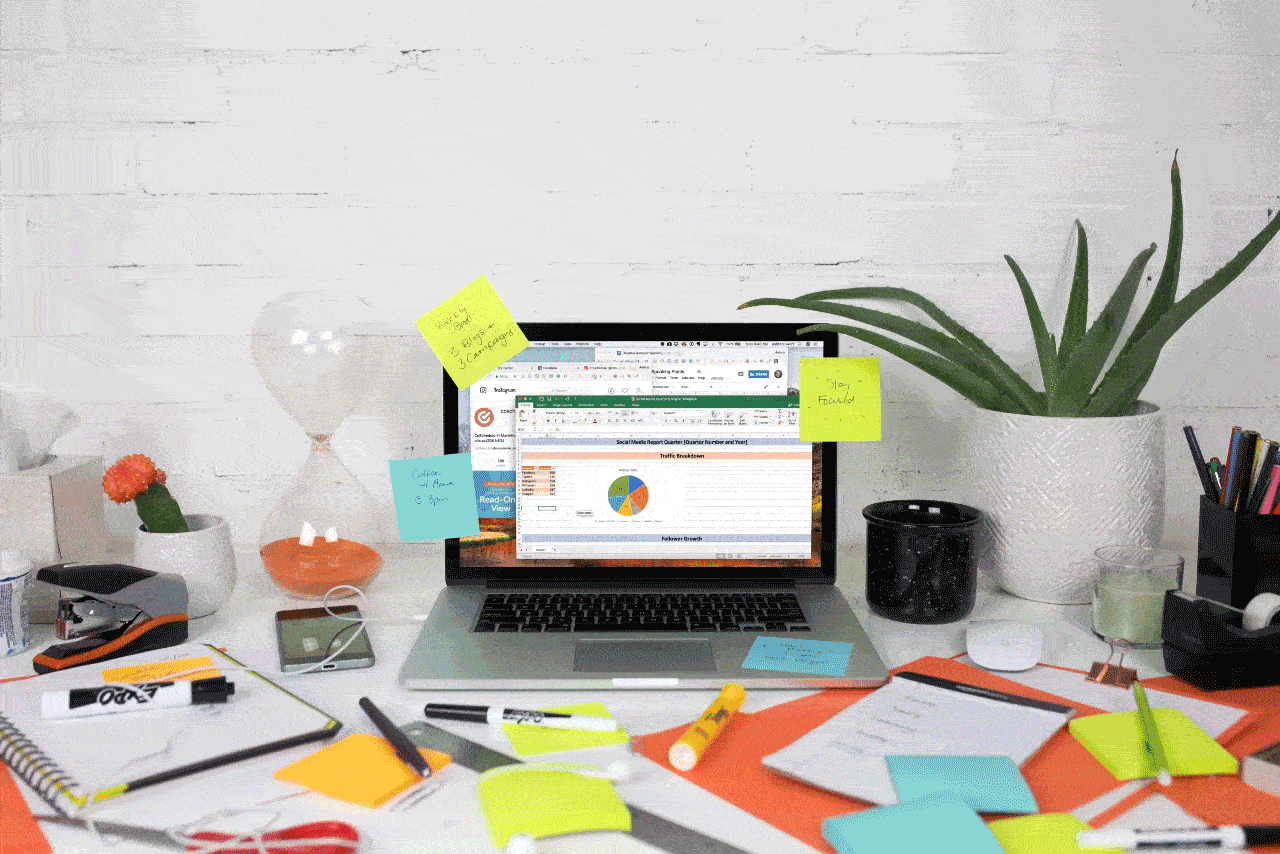 Awesome news! You're invited to a 1-on-1 marketing demo of CoSchedule! In 30 mins or less, you can see how to:
End the frustration of missed deadlines.
Get total visibility into ALL of your marketing in one place.
Save 20 hrs this week alone (and every week after).
If you've ever kicked the tires on CoSchedule, now's the time to see what it's really like.
Success! Your download should start shortly.
Clean up the chaos with your CoSchedule editorial calendar!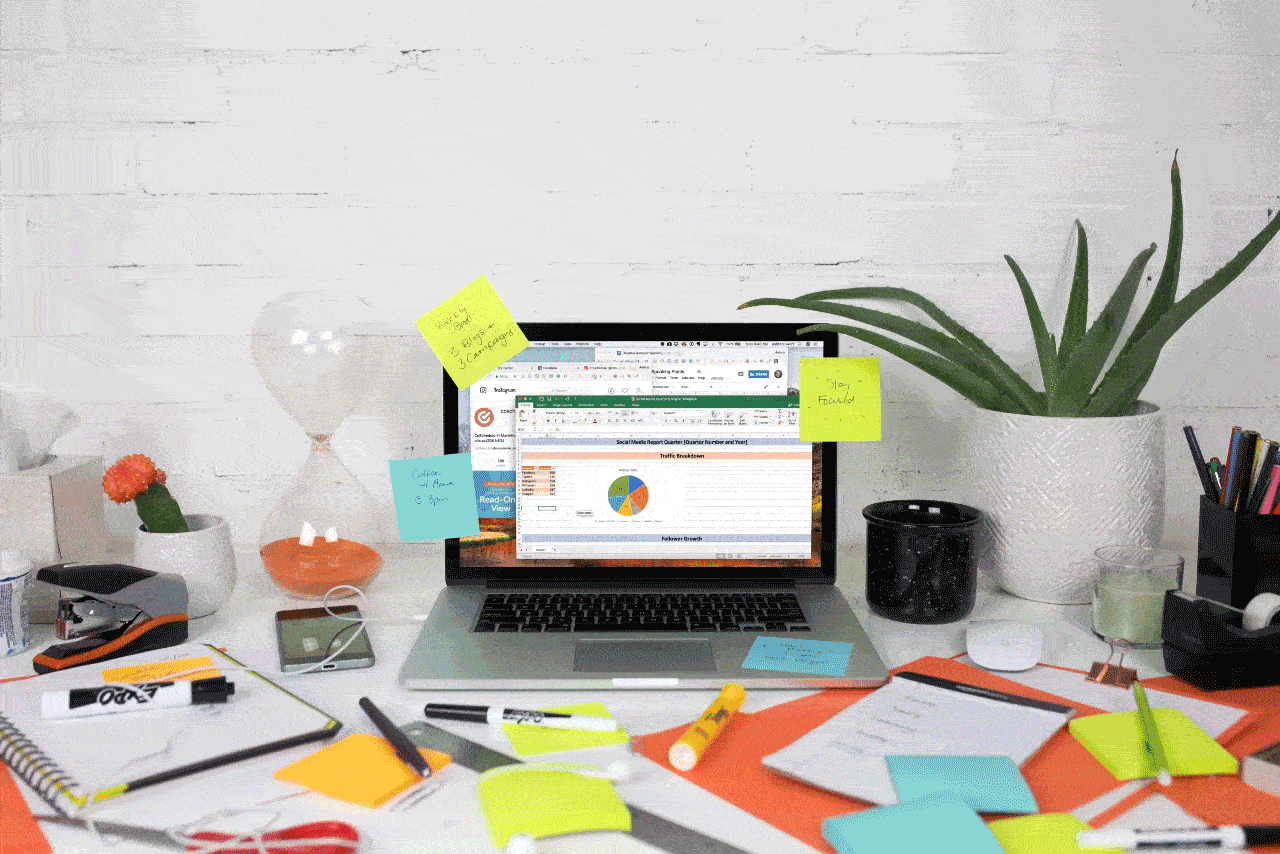 With CoSchedule, you'll:
Save time with blogging, social, and email (think HOURS every week)
Schedule your social posts in batches (and increase your posting frequency) super easily
Get your sh*t together (and hold yourself accountable to publishing like the boss you are!)
Now's the perfect time to start your 14-day free trial to see for yourself!
Want to use Click to Tweet on your blog?
Introducing Social Analytics: An Easy Way To Gather Social Media Data In CoSchedule
Data proves the worth of your work.
Gathering that data, however, can be time-consuming.
With Social Analytics, now available in CoSchedule, it's easy to:
Measure the success of your social messages so you can easily re-share your most engaging content (and improve future messages).
PROVE the ROI of the work you do! The proof is in the numbers, and now you can easily prove your value to your boss/clients (and yourself). Never question the results of your hard work!
Understand your engagement on social media. Spot trends with your content and social networks without the time-suck—and stress. Understand what your audience likes now to act quickly!
Know what's working (and what's not). Easily see and compare your performance across all of your social networks in one convenient place.
See Social Analytics in action:
Want to use Click to Tweet on your blog?
Companies Use Data In a Lot of Ways
The data you'll pull from your efforts provides more than topical insights. A lot of the brands succeeding with content marketing rely on their customer and engagement data to refine funnels and customer touch points, and discover the best pathways to rock their audience.
Kohls analyzes its customer engagement metrics and information to create more personalized content design to push consumers toward the checkout, and Arby's is pulling data online to find out which channels matter most to its audience – that lets them stay in front of the most relevant audience segments.
Other insights to pull from your content performance and customer data include:
The best times to post and share content to reach your audience
Which topics matter most to them
How they feel about specific topics
Friction points making them bail before they reach content later in your funnel
What content formats they prefer
Their preferred engagement level and how long you can hold their attention
Costs and return
Impact on acquisition and customer retention
Going Beyond Revenue Tracking
Measuring the success of your content strategy goes beyond monitoring a single conversion point, because the majority of your content is not transactional in nature. No single metric can indicate success. Instead, there are a number of metrics you should be using to monitor the performance and healthy of your content strategy and individual campaigns.
1. Page or Post Views
Generally speaking, page views shouldn't be a top priority when you're reviewing analytics due to the fact that it's a vanity metric. That means, by itself page views don't really provide any kind of actionable insight for change or improvement. As a site-wide metric it's nearly useless.
However, for your individual posts and landing pages, views are something you can use to measure success. Putting content side by side allows you to establish benchmarks for what to expect with traffic and performance.
When you perform the same kind of promotion across your campaigns, but one or more pieces of content aren't getting views, you know there's something to address like a headline, or the call to action that is (or at least should be) driving people to that post or landing page.
2. Unique Hits
It feels kind of pointless to spend time generating 10x content when nobody is turning up to view it. Looking at unique visits both for the content as well as your site is an indication of how well your campaigns are working to reach prospective customers in your audience.
Just remember not to put too much emphasis on the acquisition of unique visitors. While it's a metric you should be tracking, acquisition should never be your number one priority. The behavior of the visitor, and what they do when they're on your site, are more critical.
I would rather have 100 unique visits with 10 visitors staying engaged than 1000 unique visits with virtually no conversion.
Want to use Click to Tweet on your blog?
3. Measuring Content Engagement
This is a metric I often see missed when working with clients to refine their content strategies. Many fail to review the level of engagement in their content, but the deeper your content sits in the funnel, the more important this metric is.
For example, while you want prospective leads to stay for the duration of top-of-funnel content, you absolutely want to ensure engagement stays high with content designed to assist with customer onboarding later in the funnel – otherwise you're going to see high rates of customer churn.
This is backed by data from Chartbeat, suggesting that prospective customers who spent at least 3 minutes viewing or reading your content will return twice as often vs those who only read for about a minute.
While your analytics provide some engagement data, this may not be the most accurate in measuring engagement. It doesn't take into account people who open content then walk away, or how they engage your content. They may leave it open in another tab and get distracted by something else, or aim to read it later. Behaviors like that distort Time on Page metrics.
Instead, there are services like Riveted and other scripts you can use that measure actual engagement, like scrolling and clicking within the content, to provide an accurate engagement score.
Avoid relying on bounce rate as a means of measuring engagement. Just because a bounce rate is high doesn't mean your content or calls to action are underperforming. It may just mean your audience got the answer they were looking for.
Want to use Click to Tweet on your blog?
4. Return Visits
Returning Visitors is a key metric to watch, both for individual content posts as well as overall site traffic. For your content, it speaks directly to how helpful that content is. A high count of return visits means your audience is coming back time and again to refer to it. This is what you aim for with evergreen content loaded with tips, advice, and authoritative data.
For your site, it tells you that the content you've mapped to the buyer's journey and your funnel is having a desired impact. HubSpot has a great example of how content can be mapped based on the sales cycle and buyer's journey:
That top of funnel content has readers coming back for more, strengthening engagement and making them more likely to convert down the road as you build trust.
Regardless of the volume of traffic, a high return count is a good indicator that you're doing something right.
Want to use Click to Tweet on your blog?
5. Referral Sources
There are two areas to pay attention to when you're monitoring your referral sources. When I monitor my campaigns I pay close attention to external referral sources. Not only am I watching for referral traffic that comes from guest blogging, but also to measure the performance of content promotion.
Your referral sources can also show how well-distributed content is doing. This includes places like Slideshare, LinkedIn Pulse, Medium, StumbleUpon and so forth. I want to compare that traffic to other pieces on similar sites to help gauge the impact of the content as well as the effectiveness of whatever call to action I'm using for a particular campaign.
Use this to determine which distribution channels to focus on based on performance.
I also recommend monitoring in-site referrals and visitor flow. Once traffic lands on my site, it's important to find out how that traffic moves from page to page.
Your landing pages are still part of your content strategy, and monitoring this stage in referral traffic will help identify leaks in your funnel and friction points that are causing visitors to exit.
6. Social Engagement
Not all of your content metrics live in your analytics. Since promotion is a major part of any content marketing strategy, you want to dig into your social insights for measuring the health of your campaigns.
According to Shareaholic, more than 30% of website traffic is driven by social media, while also ranking those sites on the volume of traffic referrals.
Don't just focus on the performance of a single piece of content and how your audience engages with it on your own social profiles. Look at current and past content, doing side by side comparisons. This will give you great insight into audience preferences, and how social engagement changes by:
The channel it's promoted on, as well as other channels used by your audience
Type of content (article link, note, image, video, audio)
Headline approach
Content length/duration
Tone and approach (promotional, entertaining, educational, user-generated, etc.)
This may be easier to find on some platforms than others. Twitter and Facebook both allow you to look at your past posts at a glance and in detail to dig into performance metrics.
Lastly, be sure to search for your content by title or hashtag (if you used one specific to your campaign.) If you use a URL shortener like Bit.ly, you can also track link clicks and shares that way where your brand may not be tagged within the post.
7. Comments and Sentiment
Sentiment can be a little more of a manual process, but it's a great way to see how your audience feels about the things you share. For a new startup, customer sentiment can be one of the best metrics for refining products and services, and shaping their strategy—like these posts from Ahole Gear, where it's clear my small but growing Instagram following prefers some products over others.
This is one of the metrics I pay the most attention to when reviewing things like guest post campaigns or off-site content distribution and social promotion. Qualitative metrics like this are a solid way to find out what your audience dislikes, enjoys, and which topics are most likely to spark discussions.
Don't just focus on post comments, but watch the comments on social media as well. For example, when I publish new guest posts, I closely monitor and respond to comments but also watched reader response across LinkedIn, Facebook and Twitter where posts are shared publicly.
8. Measuring Click-Throughs and Goal Conversions
A solid strategy has content mapped to various stages of the buyer's journey throughout your funnel, and each piece of content serves a specific purpose in the funnel. For that reason, you want to measure how click-throughs and lead attribution changes for campaigns.
Compare your click-through rates on various calls to action in your content to see how that content is helping to advance leads through your funnel. When you find bottlenecks or friction points, where click-throughs are far below your benchmark, you can examine the root cause.
Does the copy match the user intent at this stage? Is the call to action effectively communicating the value in the next step? Is there value missing at this step that made the lead lose interest?
It could be as simple as running some split tests on your calls to action, or swapping out a content or trial offer to something more relevant to your audience at that particular stage.
9. List Growth and Engagement
Don't make the mistake of focusing on external content and your blog. Your subscriber list should be a big part of your content marketing strategy. Not only is this where the bulk of your lead nurturing takes place, it's how you'll stay engaged with your current customers to ensure they keep you front of mind.
Want to use Click to Tweet on your blog?
Nurtured leads make up to 47% larger purchases, and sending relevant email content can drive up to 18x more revenue than generic broadcast emails. To ensure that you're getting the right engagement, pay close attention to your open rates as well as your click-through rates.
This is particularly important with any auto-responders you have established. If the rates continue to decline over the course of your series, you need to review your approach.
When this comes up with my clients, I often look to the content itself to ensure there's a good ratio between value based (80%) and promotional (20%) emails. Then review the actual value being provided – what is the audience getting out of the content?
Lastly, check how audiences are segmented. If you have a solid content campaign but engagement is falling you might want to consider improved list segmentation. This way you can create more targeted content to specific list segments they're more likely to engage with.
When reviewing your email metrics, don't get nervous when people unsubscribe-especially if there's a lot of value in your list. In many cases, those people weren't a good fit for your list.
10. Measuring Organic Leads
When you're measuring the volume of leads that come in, break them down by source and pay close attention to organic leads. These are the ones that come from your content being promoted through social and distributed online.
Every lead is valuable, but the most valuable leads are the ones that come to you organically because of the low-cost of acquisition. Measure the close rates for your organic vs paid leads, and note the content that played a part in helping those organic leads close.
That data could provide insight into more top-of-funnel content to improve lead acquisition, as well as content topics that could help improve the close ratio of leads that come through paid channels.
11. Cost of Acquisition
Your paid advertising channels make it easy to determine the cost per lead based on what you're paying per click or action. For organic, it's a little less clear. While leads generated through organic content are reported to be over 60% cheaper than those acquired through paid methods, it doesn't mean they're free.
This will require some finagling with numbers since you have to calculate the cost of a content campaign relative to the value of your leads while figuring intangible costs.
I generally take into account the time I put into writing content, premium services I use like Quuu and Buffer for promotion, and other premium tools involved in the process of content production (like Buzzsumo for research.)
It's not necessary get super-micro with overhead, like my hot mocha habit from Tim Horton's, or the broadband costs, but it's good to have a ballpark cost for organic leads.
12. Leads per Campaign
As your content marketing ramps up, you're going to have content promoted and distributed through multiple channels. Pin-pointing where leads came from will help you easily determine which content is generating the highest return.
You might have a blog post with thousands of shares, and another with a few hundred. Knowing which one sent leads, and from which promoted channels, can help shape your strategy going forward.
Campaign tracking with UTM codes lets you trace those leads back to a specific piece of content. It doesn't take much time to setup URL parameters and it makes it so much easier to determine, at a glance, which organic campaigns are kicking ass for you at any given time.
Buffer has a terrific guide I highly recommend on UTM codes and using them to measure campaign performance.
13. Content Traction and Velocity of Engagement
There's nothing better than seeing a massive spike in traffic and engagement right after content is published. We're not always that lucky though. For many growing businesses, you're far more likely to see a gradual improvement as posts gain traction.
Want to use Click to Tweet on your blog?
Don't assume that because there's minimal engagement that a post is underperforming. One study from HubSpot revealed to their team that on average, it took a few months for their blog posts to gain traction and start seeing consistent growth in traffic.
This is another point where you want to compare your traffic metrics to other similar posts and topics. If the traction doesn't seem to be there, it might be cause for adjusting headlines, better promotion, or even repurposing the content in some other formats to reach more of your audience.
Now Power Your Content Marketing Strategy With Data
There's plenty of metrics to draw insight from, but not all of them will be applicable to every piece of content you create. When you're plotting out a new campaign, establish the key performance indicators and the metrics you'll use to monitor success based on your goals. Paying attention to your campaigns according to selected metrics will make it far easier to adjust your campaigns on the fly, and optimize their performance going forward.