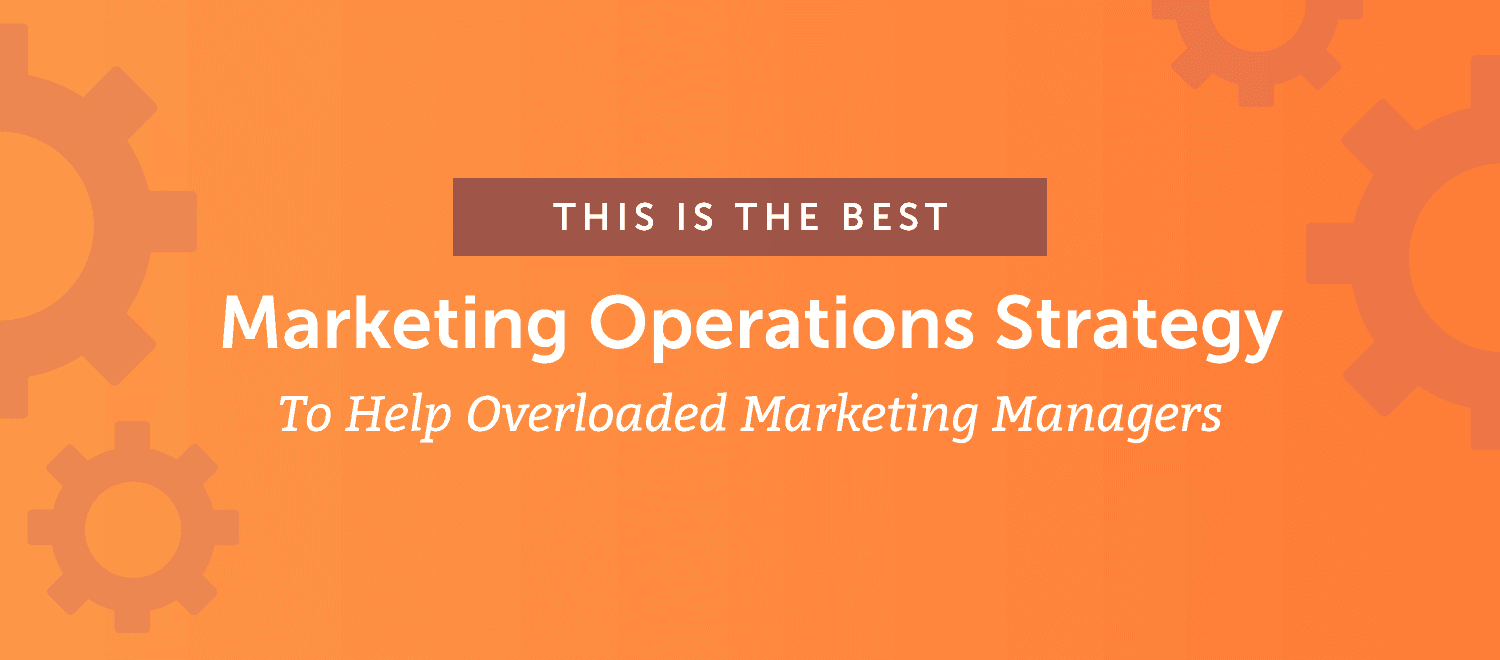 Let's be honest…
Marketing Operations doesn't sound very sexy.
It doesn't spark the same excitement as say… a blog post entitled, "The Best Times to Post on Social Media".
BUT, if you're a marketing manager looking to improve ROI, Marketing Operations is a topic you should care about.
Marketers are constantly expected to do more with less.
You're expected to show your value at every turn…
And we're not just talking about vanity metrics…
You need to show cold, hard numbers about how your strategy is driving real business value.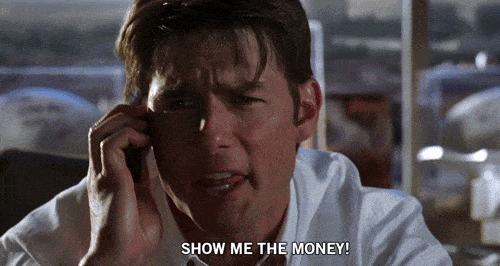 By implementing a Marketing Operations strategy…
(or even devoting an entire full-time employee to the task)
…you can start being more consistent in your processes and reaching your campaign goals on the reg.
CoSchedule Makes Marketing Operations a Cinch
So you don't have the budget to hire a Marketing Operations pro full-time…
UGH, you're thinking…
Not *another* task I have to take on myself.
Have no fear, CoSchedule is here.
For real.
Lots of Marketing Operations functions can be solved with CoSchedule.
Strategic planning? ✅
Project Management? ✅
Content Operations? ✅
Managing your roadmap? ✅
Providing insights to Stakeholders? ✅
Schedule a demo today to learn how it can make your work life SO much easier.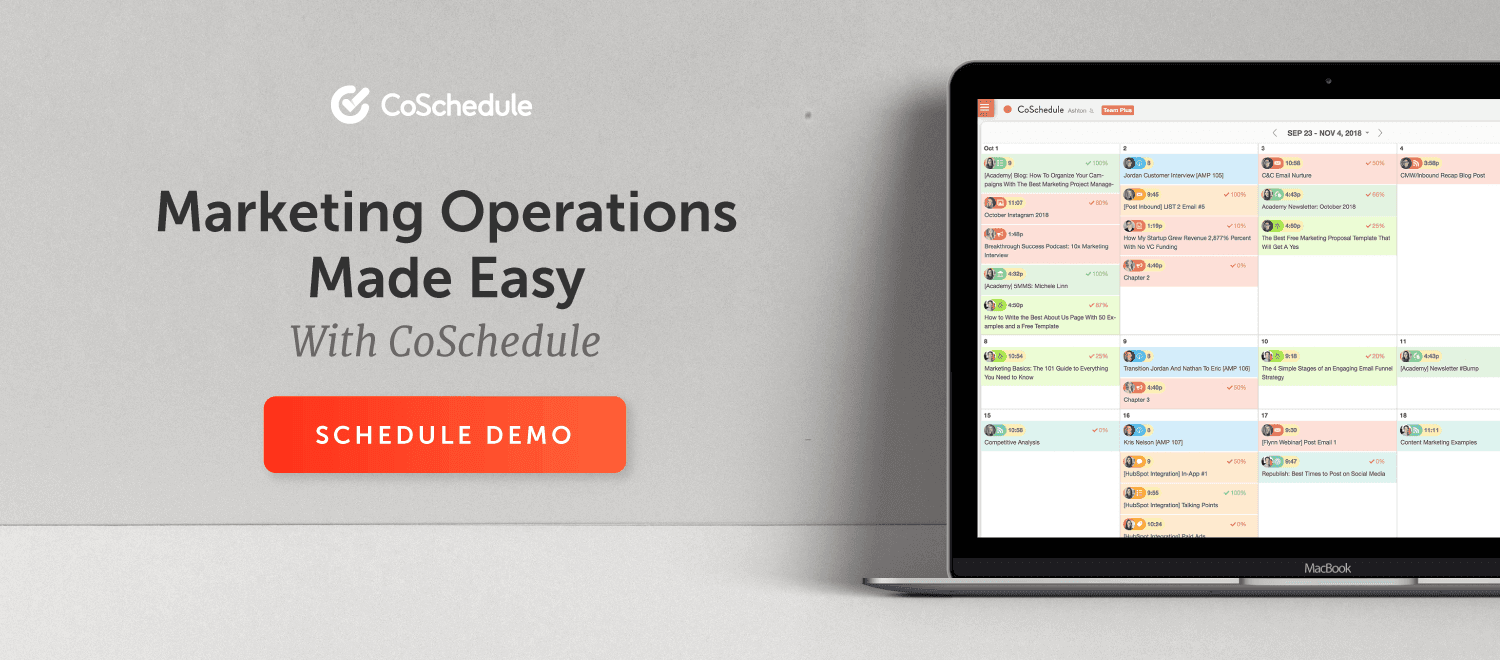 Download These Marketing Operations Templates
Before diving in, these templates will help you implement a Marketing Operations Strategy.
You'll find:
A

Simple Performance Management Checklist

 – Setting clear goals makes it easier to evaluate your marketing team and increase productivity. Use this checklist to know exactly what to look for, which questions to ask, and what to do.
An

Agile Sprint planning template

 – Use this template to implement an Agile marketing process and make sure every project gets done on time, every time.
A

Marketing Project Management Plan Template

 – Managing a marketing project is no joke. There are tons of moving parts. Use this template to help get your projects more organized from the get-go.
They'll make putting a strategy into practice much easier.
What Even is Marketing Operations?
Here are some analogies to illustrate:
Marketing Operations is the Excel Spreadsheet to your Adobe Illustrator.
It's the marketing analytics and logic to your design and creativity.
It's the skills handled by the left side of your brain in comparison to the right side.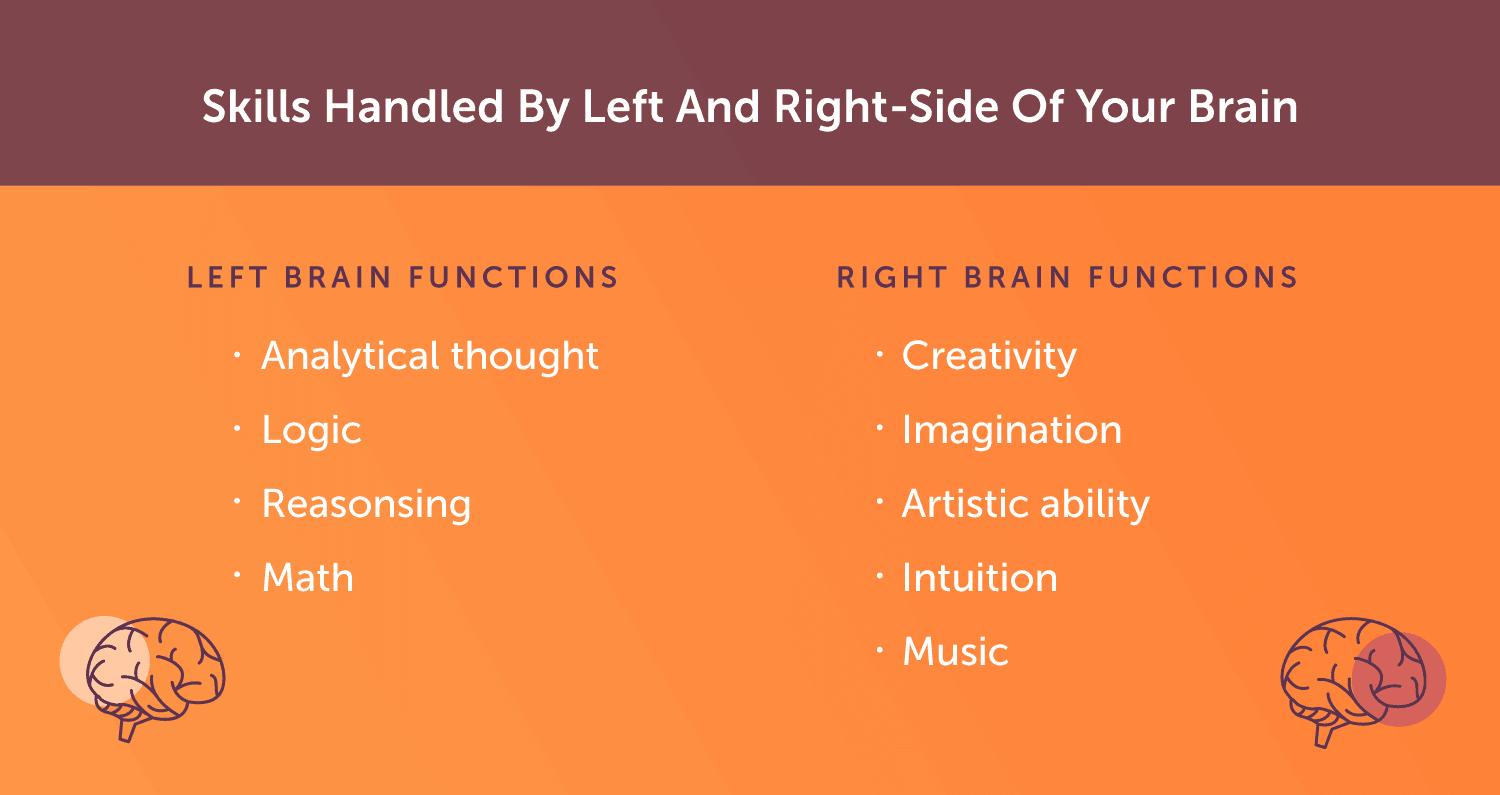 Not into analogies?
No problem.
Here's a quick and dirty explanation:
Marketing Operations focuses on behind-the-scenes planning, governance, and optimization to make marketing initiatives more successful.
From initial budgeting to end-of-campaign analysis, a Marketing Operations professional is responsible for providing hard data to back-up the marketing strategy.
Sounds a lot like most marketing managers, amirite?
The Scope of Marketing Operations
Marketing Operations can be found in all stages of the marketing process.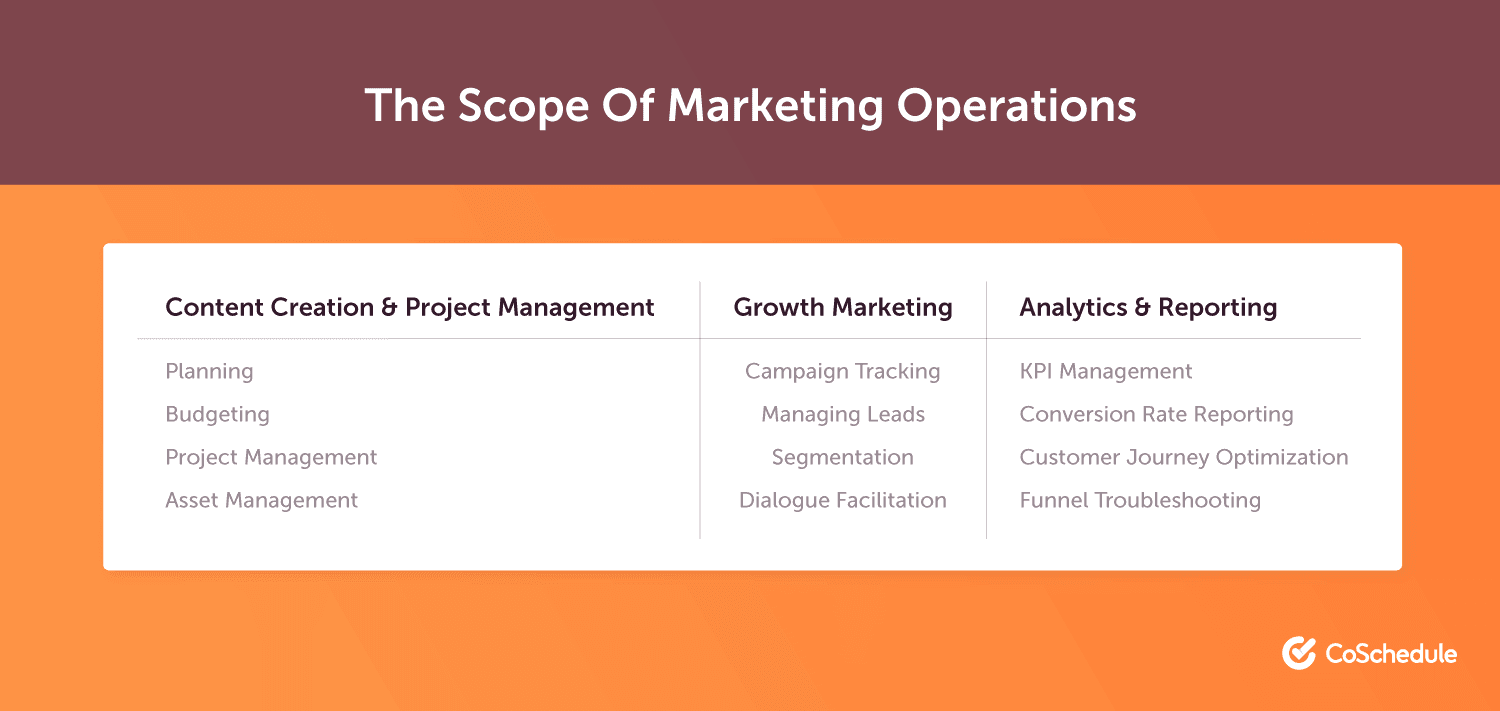 While marketing is usually thought of as the creative group in an organization, the role of Marketing Operations stemmed from the need for increased transparency, efficiency, and accountability.
As new technologies slowly proliferated the marketing scene, it became clear that a role was needed to align a company's processes, metrics and goals – enter Marketing Operations.
But for most small and medium-sized enterprises, all of these tasks fall on the shoulders of the Marketing Manager, Marketing Director, or VP of Marketing.
That said, here's a Marketing Operations Strategy to help make your Marketing Operations tasks easier than ever.
A Marketing Manager's Guide to Marketing Operations
Let's assume that you don't work for a mega-corporation that has all the resources in the world to devote to an entire Marketing Operations, operation.
You can still reap the benefits of Marketing Ops by using this strategy.
Let's start with technology…
Marketing Operations Technology
Marketing Technology or MarTech – has made our jobs as marketers both easier and more complicated.
Finding the right solution can make your day-to-day work life 1000x easier…
But finding that solution…
coupled with *actually* getting your team to use it, sounds like a task that is not worth tackling.
However, the status quo can't continue.
This spreadsheet has. Got. To. Go.
Let's start with your tool stack.
Don't have time to track down every MarTech tool for your stack?
Here's a short list to help:
Kissmetrics: Metrics, reporting and tracking your funnel are all basic tasks for Marketing Ops. Kissmetrics allows you to build powerful reports and dashboards to track your marketing funnel,  email subscribers, UTM parameters, website activity, and more.
Ahrefs: Benchmarketing, competitor analysis, and strategic content planning also fall within the scope of Marketing Operations. Ahrefs helps you target valuable keywords and figure out what you need to do in order to rank your content on search engines.
Salesforce: To manage your campaign operations and customer journey tracking like the best of 'em, Salesforce is pretty awesome. Track things like interactions, build customer segmentations and re-engage using one of the most powerful CRMs around. There is so much you can do with Salesforce we can't even scratch the surface – it's a must have to accomplish a lot of Marketing Operations functions.
CoSchedule: A project management platform that is actually made for marketing teams.  With CoSchedule you can collaborate, plan, manage workloads and track campaigns all in one tool. It's mission control for your entire marketing roadmap. Easily see what your entire team is working on day-to-day; share insights with stakeholders using the read-only view; and maximize your team's productivity.
Autopilot: Lead nurturing is awfully hard without a powerful marketing automation platform. Autopilot take a visual approach to email flows. Use this tool to implement advanced marketing automation functions, nurture your leads and hit each persona with the right message at the right time.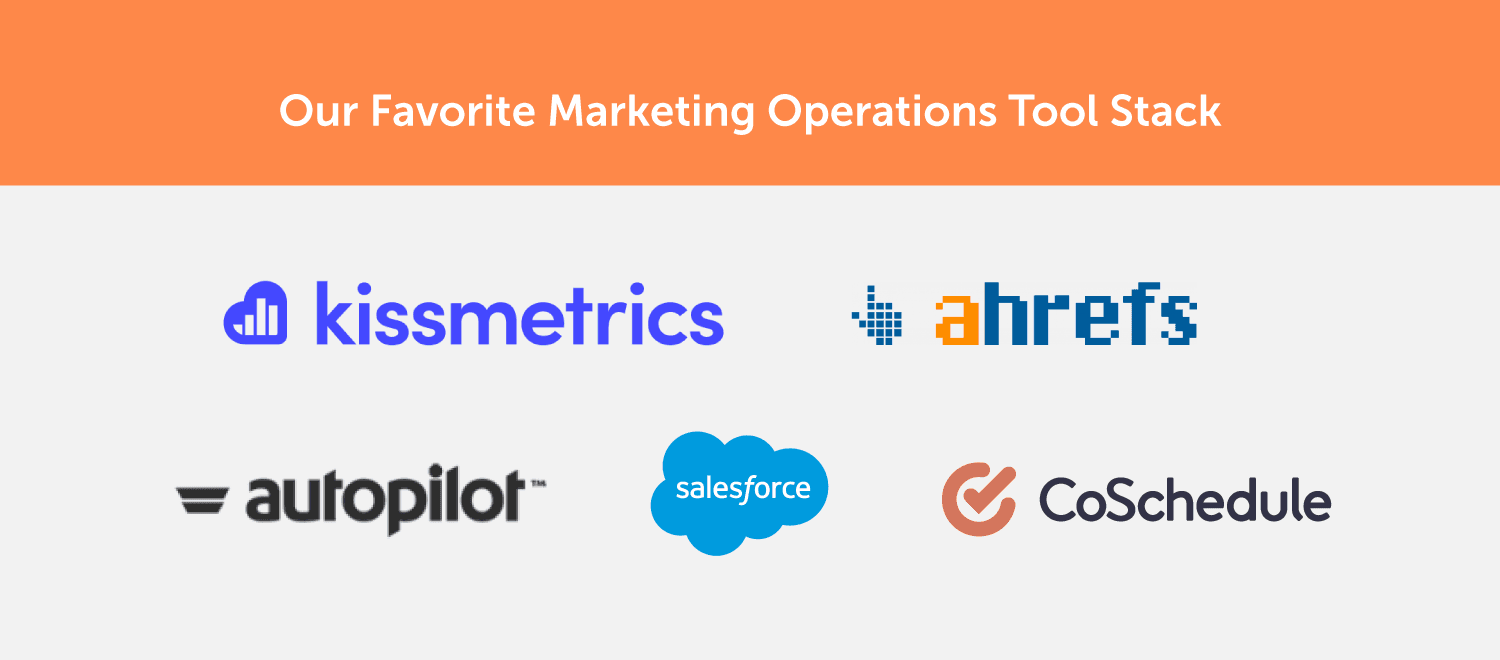 Process Development and Optimization
Efficient and effective processes are one of the key components of Marketing Operations.
A successful marketing team doesn't just set it and forget it, they are constantly improving and tailoring best practices.
Start by planning and documenting your workflows.
Documenting your workflows means that everyone knows the correct order of operations, when tasks are due, and where their contributions fit into the project's timeline.
They are essential for completing work on time, every time.
A documented workflow also means that you can spend more time doing meaningful work and less time following-up with every person at every stage of a marketing project.
Here's how to do it:
Step 1: Determine each team member's role for each type of project you execute regularly.
Step 2: Map out each task that needs to be completed.
Step 3: Next, assign the task and determine the length of time needed to complete each task.
Step 4: Work back from there to determine the necessary project length and attach task due dates for each step in the workflow.
For example, here's what this might look like for a webinar:
Let's illustrate how this can be done with CoSchedule:
In the top right-hand corner of your project click the task template icon.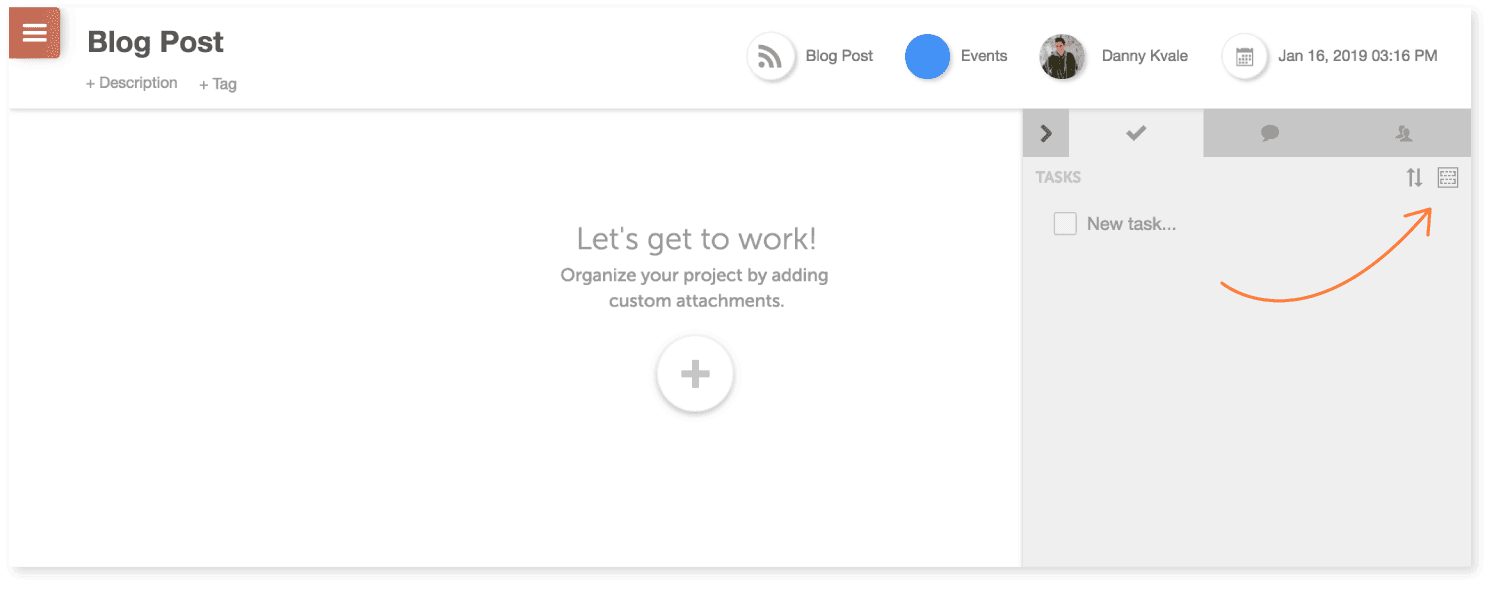 Then, create a new task template.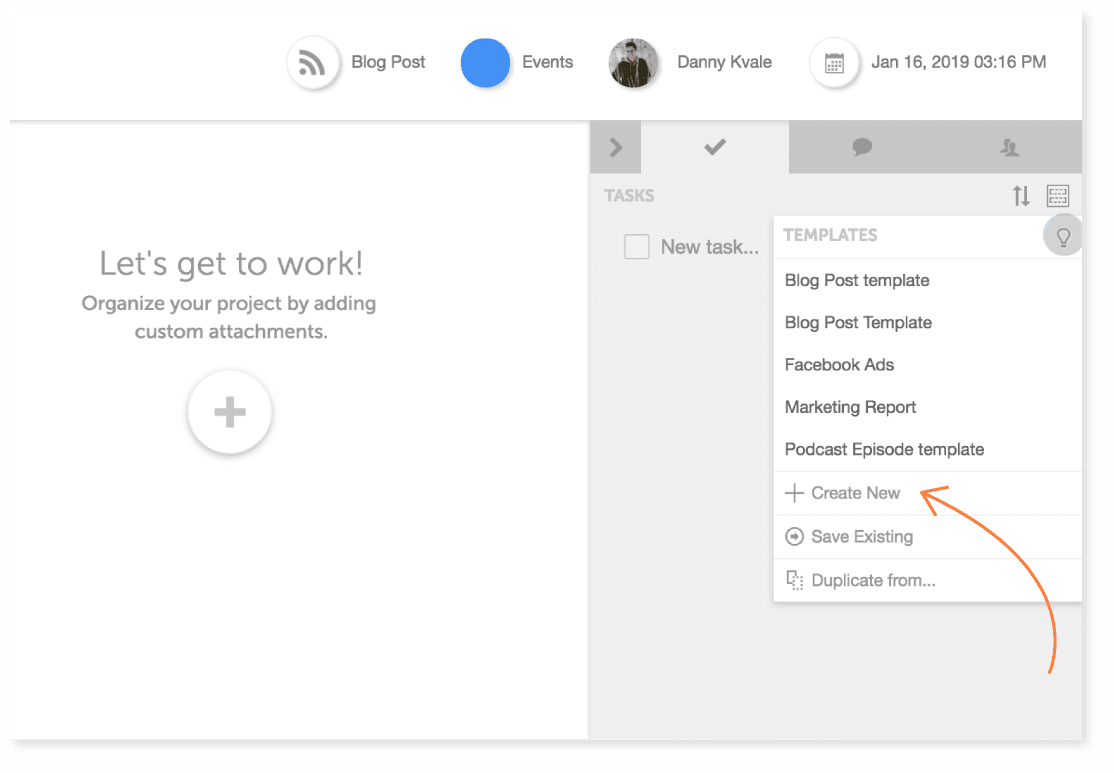 Name your workflow and add each task associated with the project.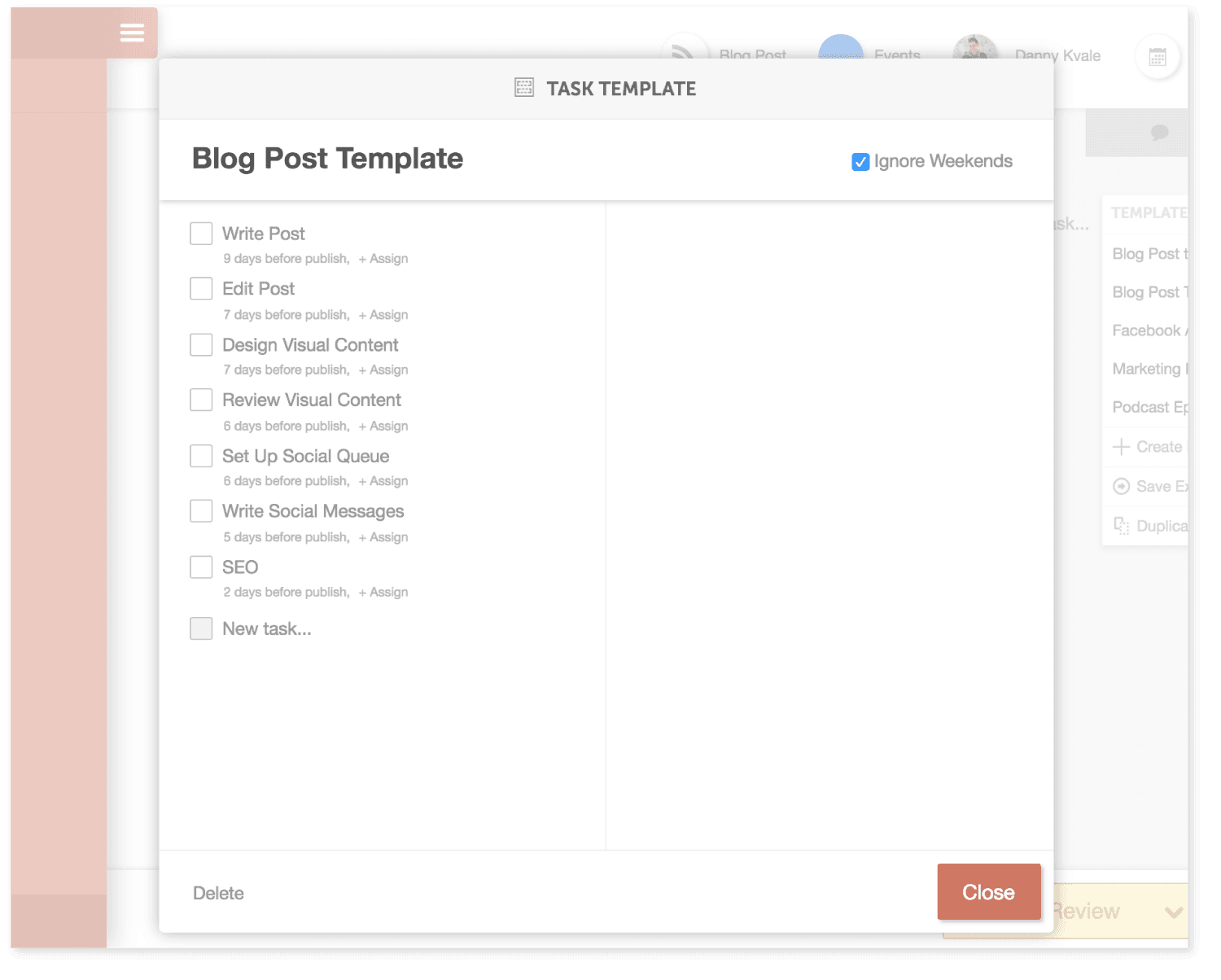 Next, you can add a due date for each task and assign it to the relevant team member.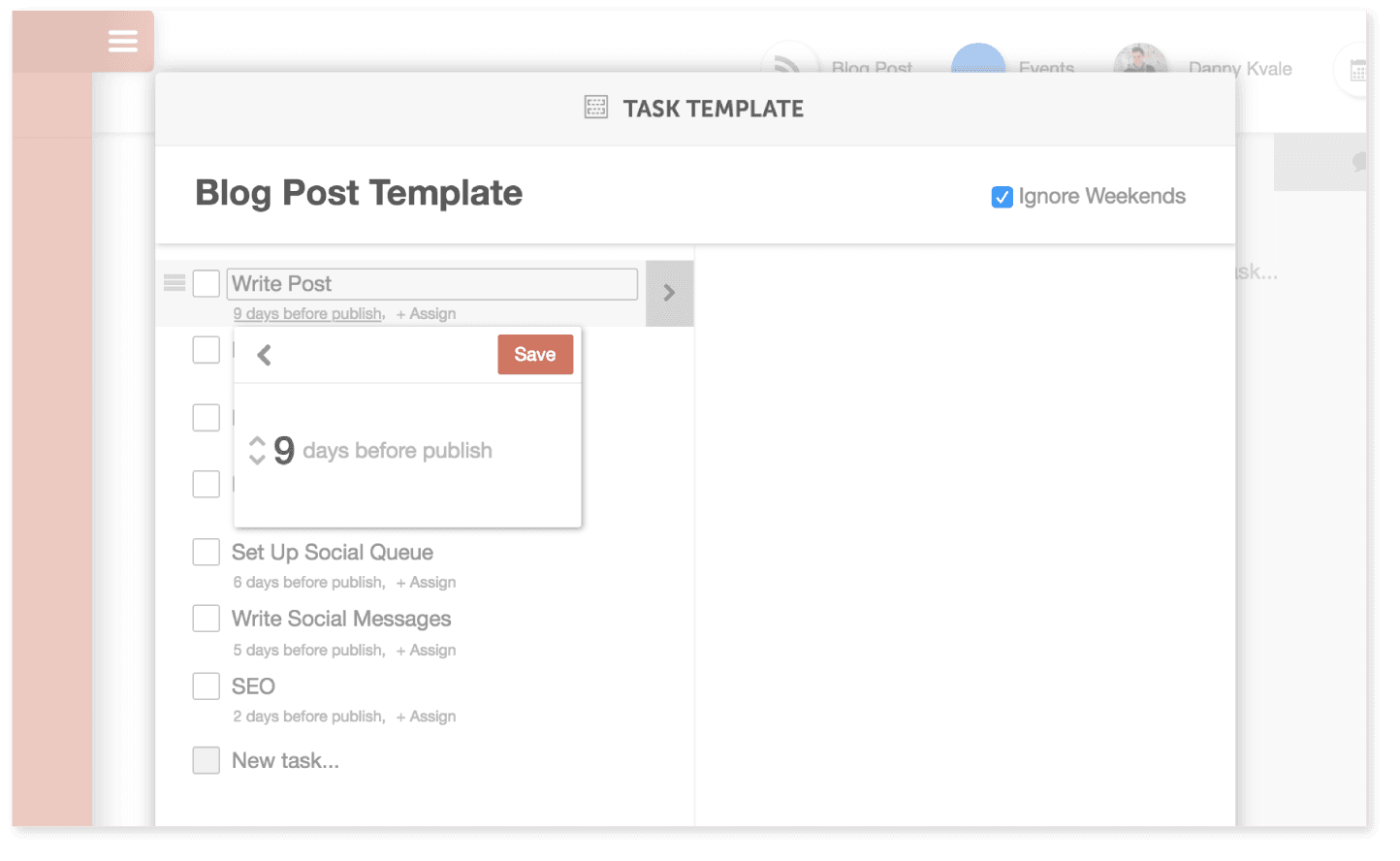 Now your webinar workflow is documented and ready to be attached to every webinar project from here on out.
Implement an Agile Approach
Agile refers to a flexible marketing approach in which teams identify high-value projects, break those project down into smaller deliverables, measure their impact, and then iterate on the results to incrementally improve.
Agile Marketing provides marketing teams a set process for running (most) marketing campaigns.
Hence a perfect fit for Marketing Operations.
Here's how to do it on a practical level:
Step 1: Define the Project
Before you get started, make sure that the project is a good fit for an Agile approach.
Agile is best fit for big projects that can easily be divided up into smaller pieces. (Think website redesigns and large marketing campaigns.)
Step 2. Sprint Planning Meeting
Next, schedule the sprint planning meeting.
Everyone who will be working on the project will attend this meeting.
Discuss each task and deliverable for the project.
Step 3. Task Breakdown
Each task within the project needs to be broken down. This should be fairly granular.
For example, writing a blog post, proofing the blog post, and approving the blog post could be separate tasks.
At this time, the head of the project (most likely the marketing manager) will ask info regarding how much time each task will take to accomplish.
In true scrum fashion, tasks are rated on a scale of 1-3… 1 being the easiest to complete and 3 being the hardest.
Step 4. Add up the Points
Adding up all the points of the project will dictate the timeline of the project.
Let's say you're on a deadline and the project needs to be completed in 4 weeks.
The total number of points will dictate if it's possible to complete the project in 4 weeks.
Let's illustrate: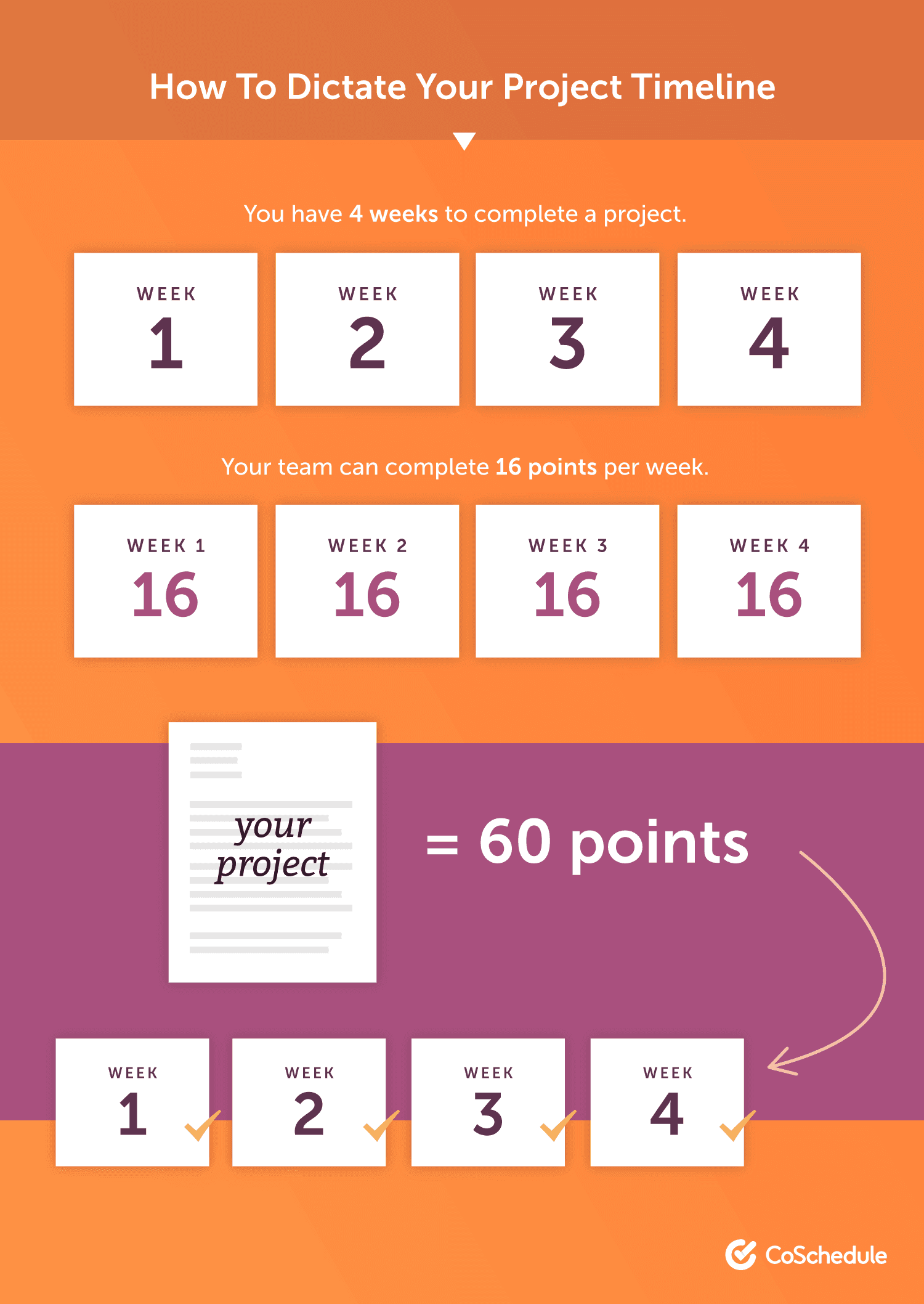 If your project added up to 70 points, it could not be completed in the 4 week timeline.
Rather than changing the deadline, go through your tasks and remove some to lessen the scope of your project.
For instance, let's say you are coordinating a new product launch and want send 5 email drip campaigns (30 points), write 4 promo blog posts (30 points) and hold 2 webinars (10 points) to promote it.
The total points of this launch is over budget. Simply lessen the scope by sending 3 emails drip campaigns, 2 blog posts and 1 webinar.
Step 5. Daily Scrums
Once you have all your tasks planned, teams start working on their tasks.
To keep track of your project, you will begin having daily check-in meetings.
These are extremely short and should only take 5-10 minutes.
Each team member will answer 3 questions:
What did you do yesterday?
What will you do today?
Any roadblocks?
Team Management Dashboard: Daily Stand-ups Made Easy
The Team Management Dashboard in CoSchedule makes implementing an Agile process super easy.
It allows you to…
Visualize your team's entire workload so you can easily delegate, assign, and reassign projects.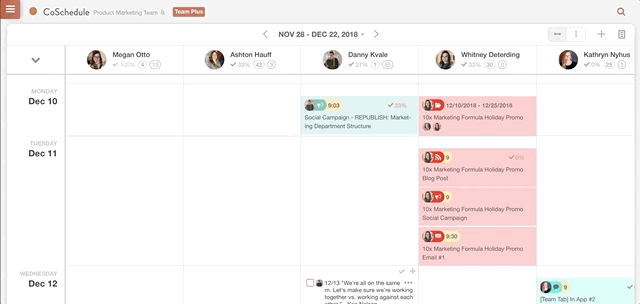 You can also see everyone's workload in real-time so you can set realistic timelines and keep stakeholders happy.
No need for 8 million emails just to get status updates. Simply open up your team's workload in CoSchedule, have a five-minute stand-up, and get some *actual* work done.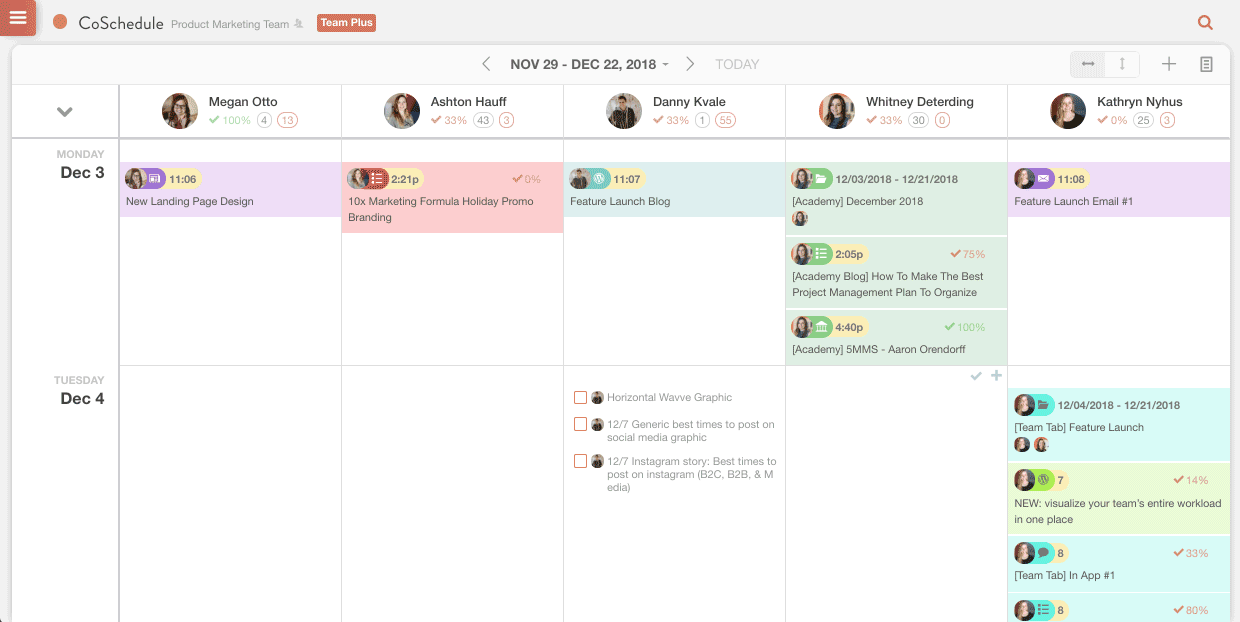 Project Management
So it's been established that marketing managers at small and medium sized businesses end up tackling A LOT of the Marketing Operations functions themselves.
BUT…
You're not really a project manager by trade…
It's just something that comes with the territory.
If you ask me, marketing managers at SMEs are the real marketing heros.
You're not only required to be creative, but also be a rockstar at strategic planning, budgeting, AND project management.
In other words, you have to be good at all. the. things.
But Kanban makes it easier.
If you're not familiar with Kanban style project management, here's a *brief* rundown.
Kanban is a style of project management where tasks are represented visually on a Kanban board.
This allows team members the status of every task at any time.
A basic Kanban board has a three-step workflow: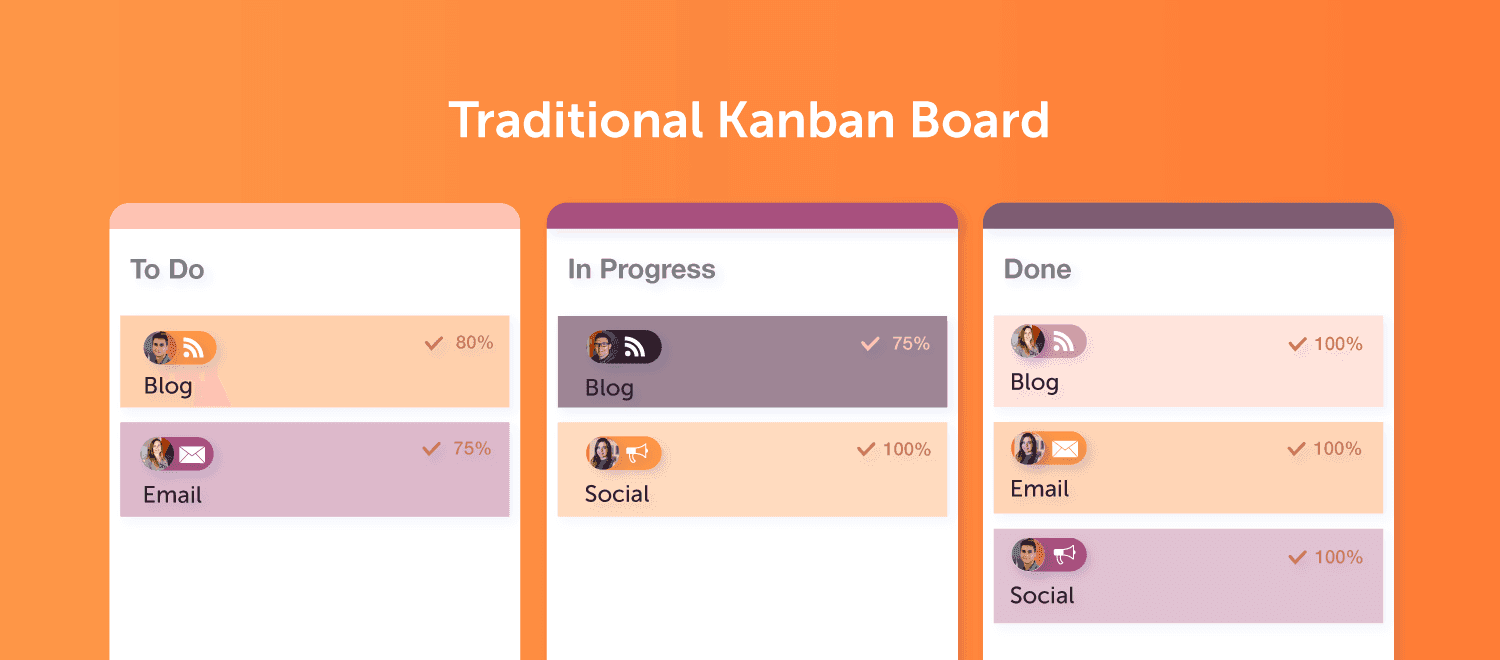 However, marketing teams implementing Kanban can map their own workflows to better meet their needs.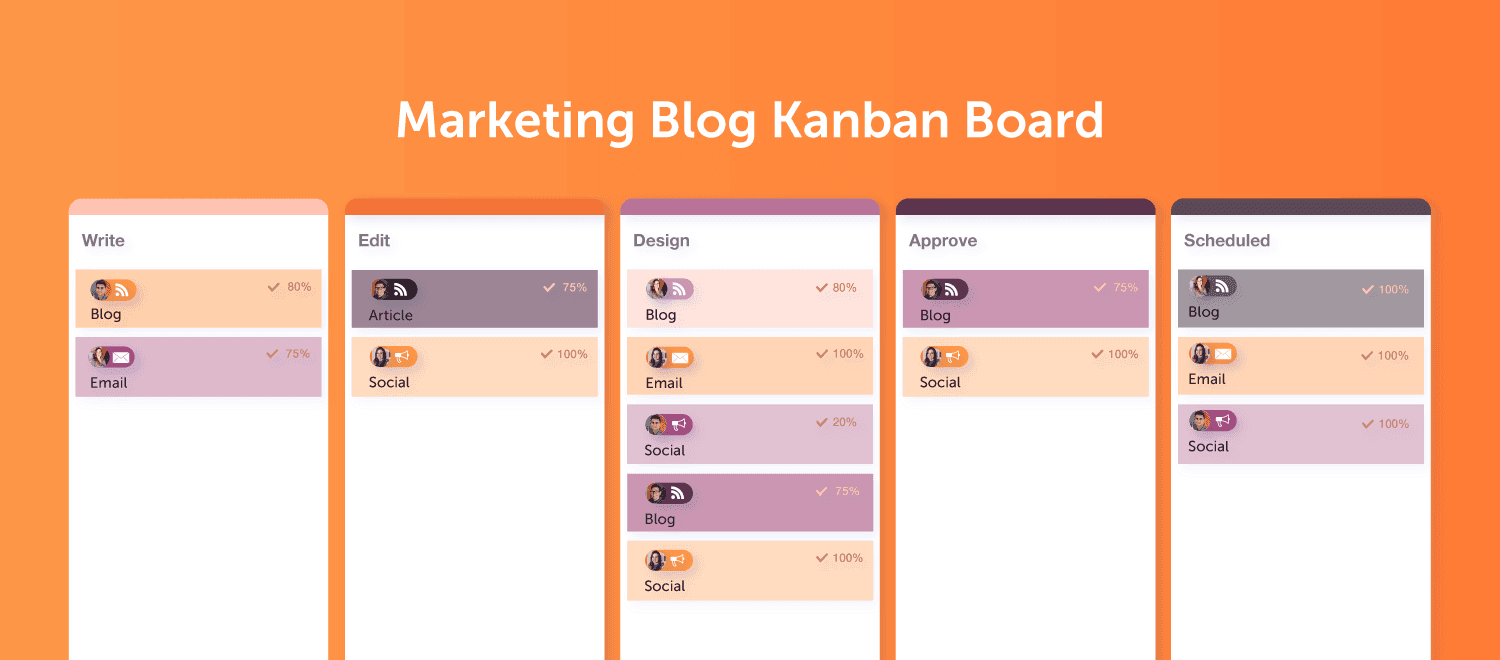 Here's a look at how the CoSchedule Kanban Dashboard works.
Performance Management
Every marketing manager needs their team to be productive.
In fact, increased productivity and efficiency are cornerstones of Marketing Operations.
Implementing an effective performance management process helps you, as the manager, set team goals and measure the performance of your team.
But tracking performance, productivity and progress is no easy feat.
The easiest way to do this is with Team Performance Reports in CoSchedule.
Each time a task is completed in CoSchedule, it'll be reflected in the Team Progress Report in CoSchedule.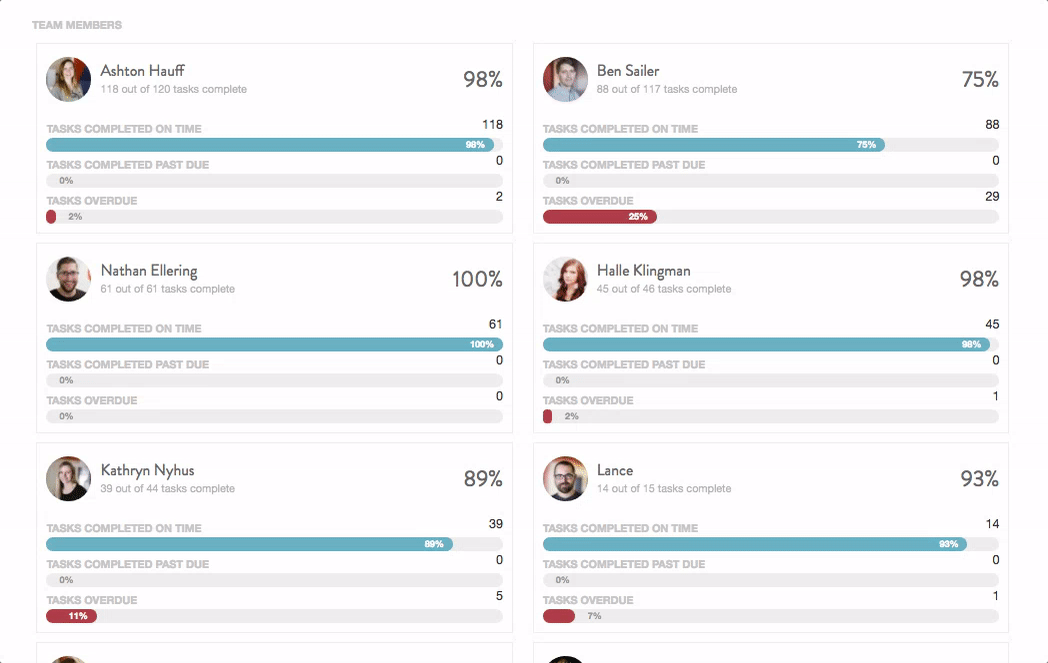 This report provides a clear picture of who's getting their work done on time, who might be overloaded, need additional training, or a meeting to discuss broken workflows.
You can also see a burn chart for how the entirety of your team is performing.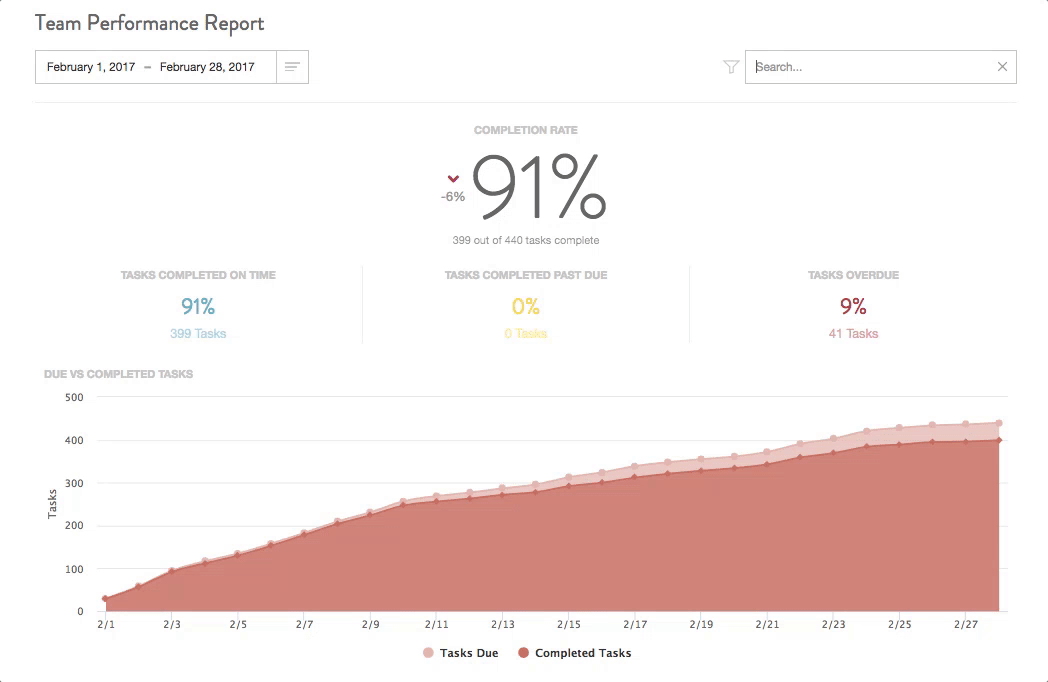 So there you have it.
A handful of simple ways to make Marketing Operations work for your marketing team.
Interested in knowing more about how CoSchedule can make your marketing dreams come true?
Set up a demo to see if CoSchedule is the right fit for your team.