How To Get A High-Traffic Blog, Even If You're Blogging Solo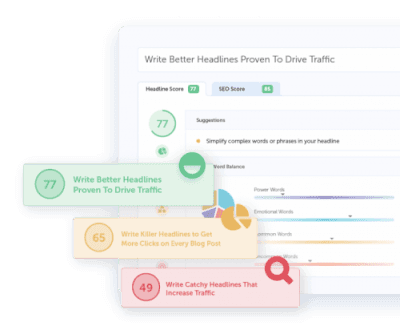 I've been solo blogging for over 12 years. I have seen the enemy. It is us.
Yeah, I have come face-to-face with a few challenges in that time. And yes, you are absolutely going to recognize these three core problems:
Random and irregular publishing. "What to publish? When? Why? Whee."
Publishing something worth reading. "Haven't published in a few weeks. This crappy post will have to do."
Letting other people know I just published something. "Only my mother has commented on my post. No one is reading!"
You could say the same for team blogs, too, except with a team blog you have others to help publish, edit, design…blame. When it's just you, you have to make it all happen on your own.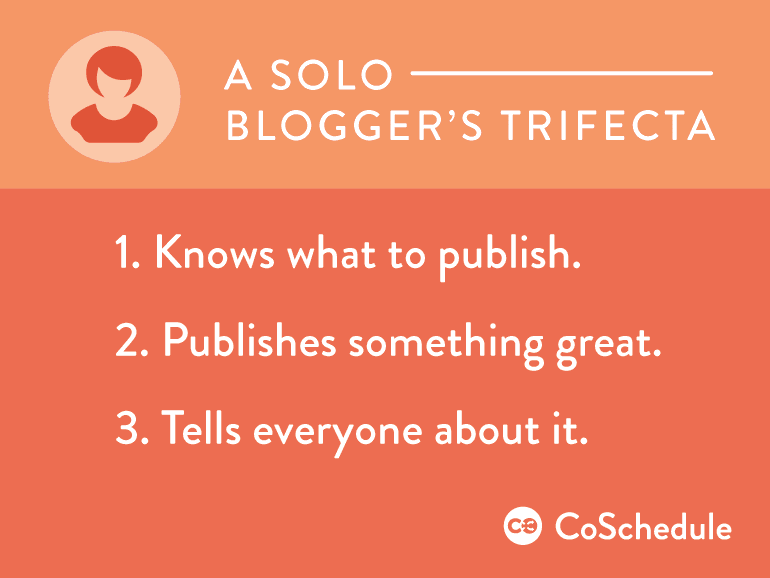 How Solo Bloggers Can Publish More Regularly
Random and sporadic publishing results in much less traffic than you could have if you published more reliably (and more often). Have a look at this bar graph from seven days of traffic on my own blog. Which day do you think I published a blog post?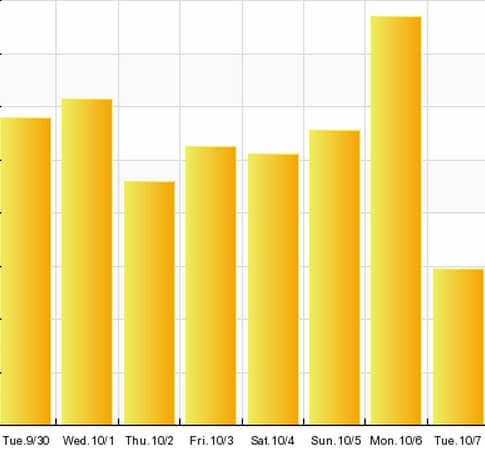 It's not a huge difference, but it is a noticeable one.
All the drafts, ideas, or SEO magic in the world won't help you if you do not publish blog posts. Blogger Kevin Duncan recently (and humorously) shared his findings on what happened when he blogged every day. What did he discover?
No surprises here. He found that by publishing on his blog daily, he had:
An 84% increase in the social shares of his blog posts.
A 119% increase in comments on his content.
A steady bounce rate (meaning he didn't trade low traffic for more visitors that left quickly)
A 46% increase in traffic in general.
Heck, publishing every day must be the solution! Maybe twice a day!
A team blog might be able to publish every day, but that's asking a lot of a solo blogger, particularly if you're really into long-form content. Maybe you're a real whiz kid, and you can pull it off, but most of us can't keep that kind of publishing schedule up on a regular basis, particularly if you have a full-time job or freelance clients to attend to.
So no. This isn't an admonition to blog every day. Please, let's not mistake the problem of haphazard publishing with one demanding daily publishing.
At the end of Duncan's experiment, despite the increase in traffic and shares, he realized that kind of schedule was too demanding on him, and that it left him little time to promote or build social proof. It is possible to publish regularly…once a week. Or twice a week. In fact, regular publishing has no numerical definition. It just has two qualities that need to be met:
1. You publish on a regular schedule so people know what to expect.
Do I know who my audience is? (distracted and want something new every few days vs. reading once a week is fine)
Do I know what is expected or typical of my niche? (breaking news every hour vs. nothing changes in a decade)
Have I created categories that I can regularly write on? (giving each category equal attention)
2. You publish on a regular schedule so you don't find yourself forgetting to publish.
How much time do I have to create new content? (get a calendar, look at the clock, and do the math)
How many words can I handle per post? (sit down, write a few posts without fussing, and see what your typical word count seems to be)
Do I have a list of headlines ready to go? Have I brainstormed ideas before hand? (planning ahead is hard if you don't have anything to work with to put on your calendar)
Regular publishing is for your audience and for you. The first is for building trust, and the latter is for building a habit.
How CoSchedule can help: CoSchedule is an editorial calendar, and editorial calendars are a fantastic way to set up this kind of regular blogging. You have to make the decision on how often you'll blog and what about, but you can use an editorial calendar to help you make it happen.
CoSchedule has features that seem geared towards teams, but I use them as a solo blogger with great effect when planning. For this stage, where I'm laying out the plan to help me publish regularly, I use CoSchedule's tasks. They serve as reminders of things I need to do for each posts. I get email reminders and can track them in my CoSchedule account. Whichever tools you decide to use, an editorial calendar will help. We've created a free comprehensive guide on how to use an editorial calendar–with printable starter sheets–and it works great for solo bloggers!
How Solo Bloggers Can Publish Something Worth Reading
Pursuing great content is like pursuing the golden fleece. It is fraught with disagreement and terror.
1. Define what is worth reading.
You're going to be frustrated if you don't know what you consider great content. Great content isn't what everyone else is doing, and frankly, great content isn't necessarily what gets shared the most on social media (headlines have a huge part in that). If you aren't into data or don't care for scientific research, don't go chasing after posts with headlines like "How To Choose The Best Diaper, Backed By Science."
Determining this is similar to writing a mission statement for your blog. For my blog, I set up a rubric that goes something like this:
Does it help or hurt people?
Does it encourage or discourage people? (Sometimes helpful content, depending on how it is relayed, can be discouraging.)
Will people feel something after having read it? (laugh, thoughtful, sad, etc.)
Have I written the best I am able to at this moment? (I might be embarrassed a year from now, but I shouldn't be embarrassed now.)
Is it original to the best of my ability? (i.e. not purposefully aping other bloggers)
Is it somehow a part of my larger story? (for a personal blog, this is fairly easy)
Am I being overly sensational or making linkbait? (after awhile, you'll get backlash)
Come up with your own rubric. Define what you think is good writing for you and your niche.
2. Do good writing.
The mechanics of your writing should be top notch. Your research (if it applies to your style of post) should be impeccable and from good sources. You should take the time to proof and edit your posts as best you can, even though you don't have a proofreader. You should be familiar with writing techniques, like storytelling or journalism, as best you can.
3. Don't forget the extras.
Once the writing is in place, you have the extras, like graphics and photos. Because you don't have a team designer, you need to find a way to create images for your posts on your own. Use apps geared for non-designers and create graphics for your posts. Rethink how you use stock imagery and consider coming up with viable alternatives.
How CoSchedule can help: 
The
comments section
of each CoSchedule post works great with teams, but it's also fantastic for solo bloggers. I use it to store research, links, images, and ideas for posts. Often, post ideas come to me in a rush and while I don't have the time to write a full draft, I can at least write down the gist of the idea. I put it in the comments section, and whenever I decide to write the post, I have a strong foundation to build on.
How Solo Bloggers Can Get An Audience
You can publish regularly, and you can publish Pulitzer quality material, but you're not out of the woods yet. Merely publishing is only 1/3 of the solo blogging story. Search engines and the whims of fate and the kindness of your mom might bring some readers to your site, but it's not bringing in as many as you could be.
The truth is that regular publishing brings more traffic, but that's often because we publicize our new blog posts on social media and that brings in traffic. This is why you don't have to blog every day, but you must promote every day.
Let's look at one of my own posts as an example. Here's a snippet from my Google Analytics. Which day do you think I published the new blog post?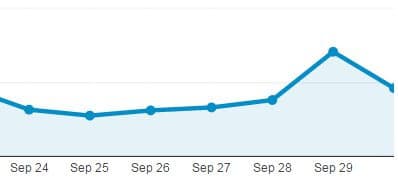 It looks like I probably published on September 29th, doesn't it? But I didn't. Check out my CoSchedule editorial calendar and see if you can figure out what I did: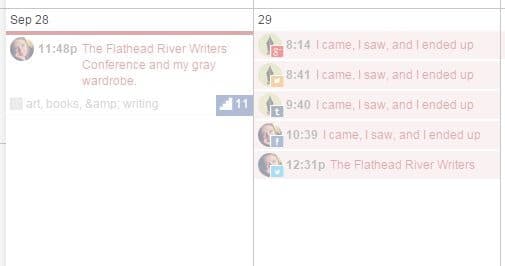 I had just finished with a great writers' conference, wanted to write a blog post about it while it was fresh in my mind, so I wrote and published it straight away. But it was late -- almost midnight (the glory hour for many solo bloggers). So I held off on sending out any social messages related to this new post until the next day, at more reasonable times.
There was a tiny bump up in traffic when I published because an RSS feed gets sent to a Twitter account, but what really carried it was the social messages I planned and created for the next day. Gone are the days of blogrolls and fisking and blog rings that helped people find new blog content (yes, that's old school blogging). Social media is the news delivery feed of choice, now. If you don't tell them you published, they won't know.
As a solo blogger, you'll be handling your social media promotion in two ways:
Published post days: On the days you have published a new post, you'll be setting up a social media sharing schedule to promote that post. Your schedule will share your post on the day of publishing, and on into the future.
Post promotion days: On the days you aren't publishing a post, you'll be promoting old posts as if they were new. Go back in your blog, and find your greatest hits and your evergreen content and promote them with the same kind of social media sharing schedule you use for new posts.
One needs the other. If you don't regularly write new posts, you won't have content to promote later. And your RSS readers are going to quit with you. But you can't rely only on new material. You have to understand that social promotion is a HUGE driver of traffic.
How CoSchedule can help: Because CoSchedule is connected directly with your WordPress blog and to your social accounts, promoting new and old posts is super easy.
You can promote your old posts randomly. Page through your CoSchedule calendar, find a post, and promote it with your standard social promotion schedule.
You can promote your old posts methodically. You might choose to promote posts based on which are the most popular according to your social analytics. You might have seasonal posts (Christmas, Halloween, New Years) that are relevant every year; find them on the calendar, and promote them again. You might decide every month to promote the posts from five months ago. A methodical approach helps keep you from accidentally spamming your networks with the same content.
You can use your related posts plugin. A related posts plugin (I like YARPP) is a good way to find old posts; they show up at the bottom of your freshly published post. As long as you haven't restricted your plugin to recent date limits, you'll find posts you've forgotten about. It also makes for an easy workflow: publish new post, promote new post, visit new post on website, open related posts in WordPress, promote them the rest of the week. Handy.
When you use a tool like CoSchedule that cuts out the middleman (and there are so many when it comes to social media), you are more likely to do it. Anything that makes it easier to share old content is a tool you want. You will get more traffic when you share posts on social media, period.
October 13, 2014