2023 Product Launch Calendar: How To Plan & Organize Yours
Tame the chaos of launching a new product with a product launch calendar. Organize your marketing efforts to build awareness for your product and watch revenue skyrocket.
What Is A Product Launch
A product launch is a
company's coordinated effort to debut a new product on the market
. The goal of a product launch is to make a product available to customers and build profit. Product launches increase brand awareness, grow bottom-line profits, and improve competitive advantage for the business.
What Is A Product Launch Calendar?
A product launch calendar
lays out the schedule for the product launch
. Product launch calendars organize your tasks, clarify responsibilities, and successfully
execute your product launch
.
5 Simple Steps To Plan A Product Launch
Step 1: Plan Your Messaging & Positioning
Before you start planning any dates or deadlines, you'll want to clarify the strategy and details behind the product launch. Once you move onto brainstorming content and other assets for the campaign, you'll know the big idea ties together a campaign.
The first thing you'll want to figure out is your
product's positioning
.
Positioning is part of the "classic marketing mix," the most important thing to define before effectively marketing something. Your product's positioning is where it's situated within your larger market or industry. It's the "you are here" sticker on a map of the competitive landscape.
Your product's positioning means knowing:
What its main competitors or alternatives are
How it's similar to them
How it's different from them
Why those differences make it better for certain customers
Once you know the product's positioning, you can come up with the
launch campaign's core messaging
, or how you'll communicate your strategic positioning to customers, in their language. For example, if your product's positioning is stronger, faster, and more secure than the competitor's solution, messaging would be the copy on your homepage, pricing page, and more ensures visitors know that. When it comes to clarifying and organizing this information for a product launch, you'll want to come up with campaign-specific answers and consolidate information into one document or folder. Your team will need to reference this information throughout the process, so you'll want it all in the same place.
Step 2: Plan Your Projects
Once you know your product's positioning and messaging, you can come up with ideas to communicate them in engaging and persuasive ways. You can brainstorm different events, content, and other assets you'll need to plan, create, and publish during your product launch.
The options are endless, but think about things like:
Videos
Images / photos
Social media ads
PPC ads
Branded hashtags, filters, and gif stickers for customers to use
The list gets long fast, since you'll have multiple assets for each of the bullet points listed above. For example, you might have one newsletter and three social media posts for each day of the weeklong launch campaign.
Listing everything you'll need helps ensure you're covering all your content bases.
Ensure your messaging conveys all important product details, positioning, and campaign specifics, such as availability and location. You'll likely want to repeat yourself to ensure customers will see and remember the news. Luckily, once you have a list of everything you want to create or publish, you can see where you'll be able to
reuse and repurpose messages or entire assets. For example, one product mockup or paragraph of copy can easily be adapted and used across multiple emails, landing pages, and social media posts. After crafting a compelling one-paragraph product description, targeting the audience and showcasing its value, you can seamlessly incorporate it into various long-form content pieces like press releases, blog posts, newsletters, and more.
Step 3: Plan Your Execution
Once you've brainstormed all of the different outputs you'll need to create for the product launch, you'll want to break that down into individual inputs
, the work that needs to be done in order to produce those assets. That's what the next step involves:
creating a task breakdown
 for each asset or piece of content to get a full picture of all the work involved in the launch. This ensures that your team has all the necessary information for effective planning and execution.
Go one by one through the list of assets you came up with in step 2, and add details such as:
The individual steps required to complete the project
How long each task will take
Which team member is responsible
If any other tasks depend on it
And double-check the list to make sure you haven't missed anything. On your first pass, you might have overlooked some small but vital tasks.
For example, in creating a YouTube video, planning, filming and editing are important, but assigning someone to export and upload the final video to YouTube is equally vital for success. And remember dependencies. The video can't be filmed until it's scripted, edited until it's filmed, and exported until it's edited. It's important to take sequencing into account. Once you've listed out all the tasks required, you can arrange them by dependency (in the order they need to be completed in) to create a rough workflow to flesh out in the next step.
Step 4: Plan Your Timeline
It may seem counterintuitive not to think about dates until step 4, but waiting until now makes it much easier by allowing your team to work with less stress and realistic timelines. Plan your asset creation and tasks so you can
choose a realistic launch date. Given your past consideration of task duration and task asignees, you can easily see what's possible and what's not. When faced with external deadlines or launch dates, compromises on ideas from steps 2 and 3 might be essential. You may need to reduce content or streamline workflows to meet tight schedules. In that case, start from the launch date and work backwards to figure out what's possible to create in the timeline you have.
Step 5: Plan Your Calendar
It's time to
grab your calendar
 and add due dates. You have everything you need to plan ones your team will follow, based on the timeline and tasks you've already outlined.
Map tasks and projects onto specific dates, considering time estimates, dependencies, and team member assignments.
This can be visualized in a marketing project management tool like CoSchedule Calendar, so you and your team can get a clear view of the project and calendar.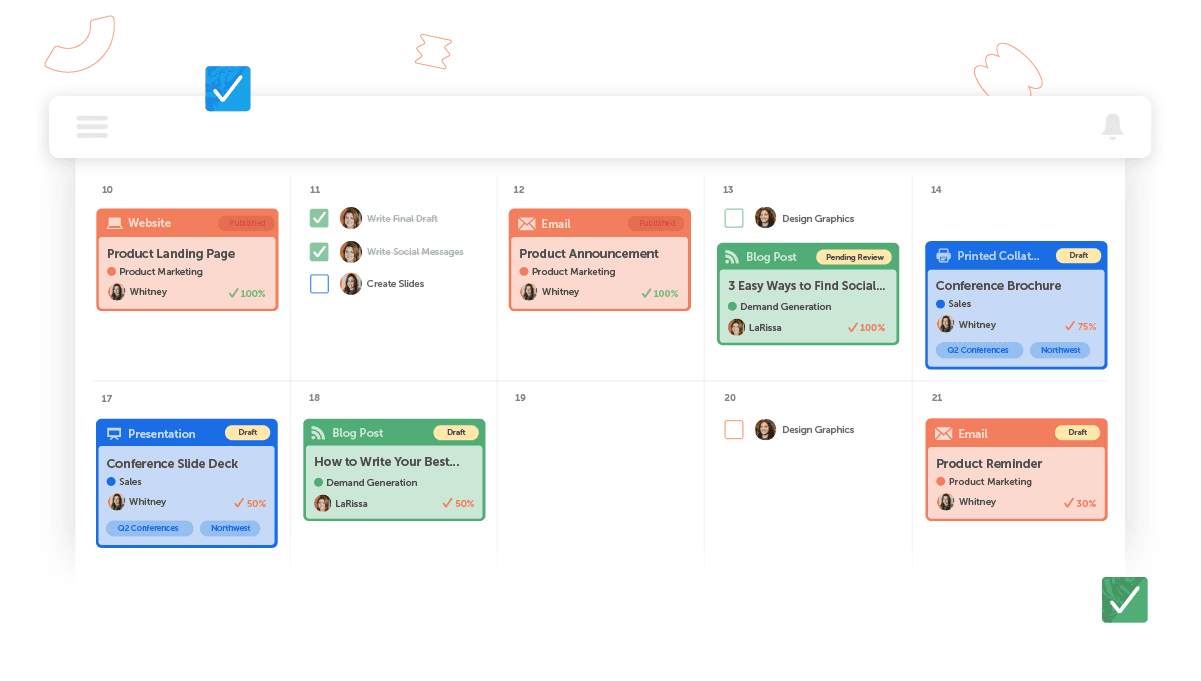 As the launch campaign progresses,
don't forget to review and update the calendar regularly
to accommodate any changes or updates. Prioritization occurs in weekly or biweekly project meetings, where team members can share progress and make necessary adjustments. Steady progress through these reviews ensures a successful product launch.
How To Put Your Product Launch Calendar Into Practice
Organize Your Product Launch Using CoSchedule Calendar Products
Let's put a product launch into practice! With your CoSchedule Calendar, you can create a
 Marketing Campaign
 that begins and ends on the date the product launch runs:
You can add tasks and projects into the campaign on the calendar dates you wish to publish the content on, and assign those tasks out to team members. Now, let's add a
 Social Campaign
 to this product launch: Schedule social messages to post about your product over a specific timeframe:
Social Campaigns
 and
Marketing Campaigns
 provide your team an opportunity to successfully launch a product and track the progress of your marketing efforts. Start organizing your product launch today with
 CoSchedule's Calendar
!
Product Launch Calendar FAQs
What Is The Best Day To Launch A Product?
Backed by research, the best day to launch a new product is
Tuesday
. However, some businesses would benefit from looking into alternative dates. Always look into your target audience's habits and your business nature to find the perfect date for your launch.
What Is The Best Tool To Set Up A Product Launch Calendar?
Optimize your product launch organization with a planning tool - free or paid software or spreadsheet. Select the most suitable tool to streamline tasks, clarify responsibilities, and achieve a successful launch.
CoSchedule's Calendar
 is an optimal product launch tool. CoSchedule Calendar schedules, organizes, and shares all your marketing efforts in one place.
Which Social Media Channels Should I Use For My Product Launch?
The key social media platforms for launching a new product include
LinkedIn, Facebook, Instagram, and Twitter.
 These social media channels
endorse new products
to create the most "buzz" around your company.
How Do I Successfully Launch My Product?
CoSchedule's
Actionable Marketing Institute
 course on "Product Launch" guides you through organizing a product launch. This course equips your team with the tools and tactics to execute a successful product launch.
This piece was originally published October 21, 2021. It was updated and republished January 2023; July 2023. Paige Nordstrom and Brier Gurholt contributed to this piece.