Proof That Publishing More Content Won't Grow Your Blog Traffic (And How To Do That)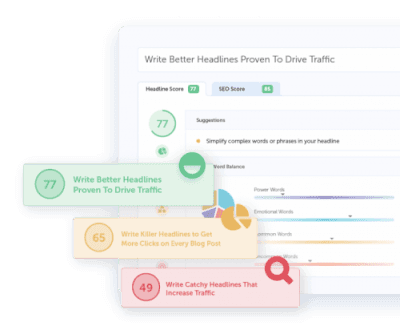 It's a little bold to say that publishing more content won't grow your blog traffic.
I mean, more content + more social shares = more blog traffic… Right?
But this comes from experience of what happened to us at CoSchedule when we published more content recently. Our social shares dropped and our blog traffic wasn't too impressive either.
And that's happened to us twice after we increased our publishing frequency.
So I had to ask myself, "Hey Nathan, could there really be a sweet spot for how many posts we should publish a week to get the most social shares and blog traffic?"
After all, the answer may not be a lot of blog posts a week, but only a couple. And… that's exactly what I found out.
Why Publishing More Content Won't (Necessarily) Grow Your Blog Traffic
Well—to be clear—it might… but it also might not be worth your effort.
Four weeks ago, we switched from publishing two posts a week to three. That's a lot more content to create (especially considering our posts average 2,000 words and have about 8 graphics in them).
So we really wanted to make sure the payoff was worth our time.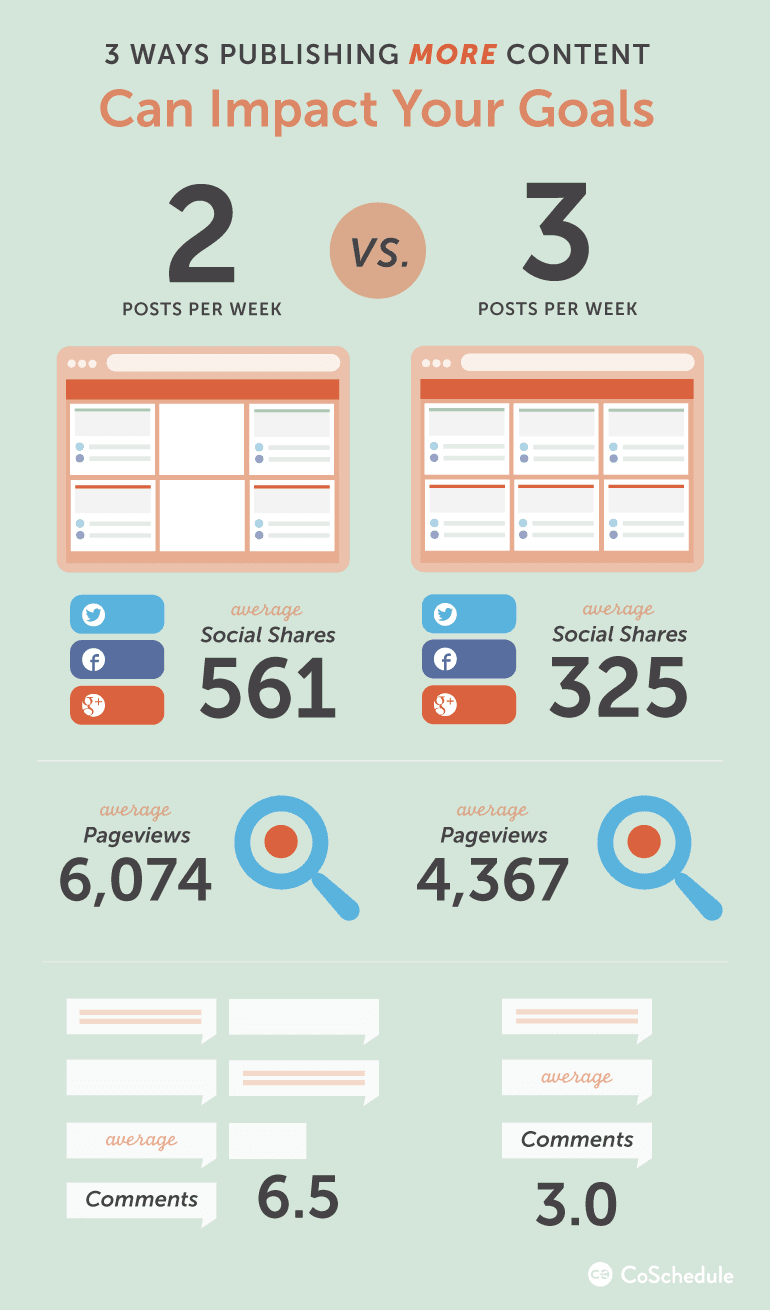 This is what publishing 2 posts a week looked like.
Before we made the switch to publish more content, 4 blog posts (2 a week) averaged these stats within 2 weeks of being published:
Social shares averaged 561 per post.
Pageviews averaged 6,074 per post.
Comments from readers averaged 6.5 per post.
Not bad. So we should have been able to get a lot more results with 3 posts a week, right?
This is what publishing 3 posts a week looked like.
This is what our stats looks like for 6 blog posts (3 a week) within 2 weeks of being published:
Social shares averaged 325 per post.
Pageviews averaged 4,367 per post.
Comments from readers averaged 3 per post.
Not so good.
This is what it looks like when you compare the data.
So whatever, right? I mean, that's not so bad.
In fact, didn't blog traffic increase because we published more content?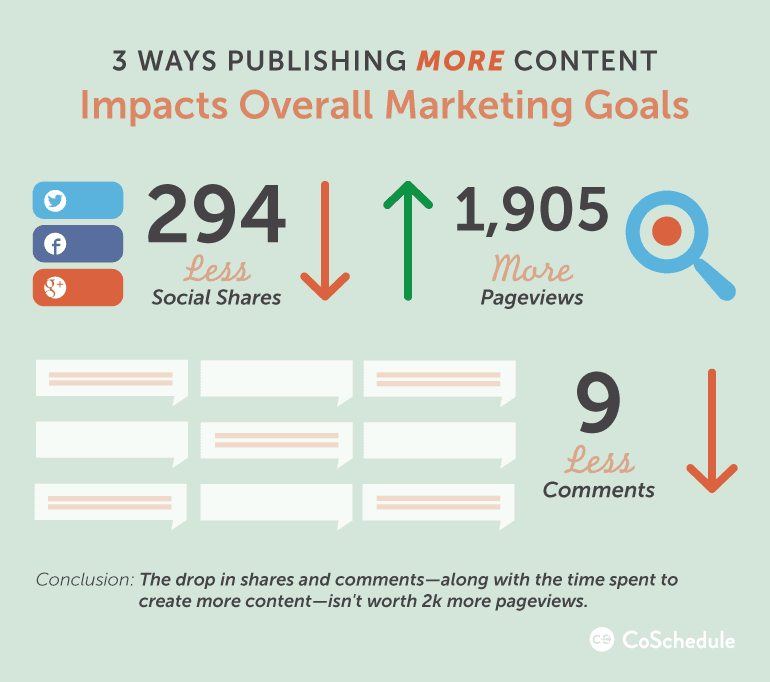 When you compare the data, switching from publishing 2 blog posts a week to 3:
Decreased social shares an average of 236 per post. That's a grand total of 1,950 which was 294 less than the previous average of 2,244. Yikes.
Increased pageviews by 317.5 per post. Yes, that is an increase. It makes a total of 26,204 pageviews compared to 24,299. That's an increase of only 1,905 pageviews to publish 2 more blog posts in a 2-week period.
Decreased comments by 4 per post. So that's 17 compared to the previous 26.
So I'm kind of full of crap, right? I mean, we did increase our blog traffic.
But to me, it's not worth publishing two more posts to get fewer than a thousand pageviews per post.
But was it really the publishing frequency?
Now, there are a ton of outliers to consider into this:
Who were the authors and did they have lots of followers?
Were the topics we chose to cover not quite right for our audience?
Should we have experimented more with different publish days and times?
Should we have shared our content differently with social media?
Did we mess up when we emailed our subscribers (aka, you guys)?
Did we give this study enough time for our audience to get used to the change?
Not to mention:
All of these posts target specific keywords that should help us grow our blog traffic in the long term.
The posts published in the 3-a-week periods have been gaining a lot of social shares just this week.
Blog traffic has increased for all 10 posts in this study.
And I'm sure there were a billion other things on my mind once I realized our posts weren't performing as well as they used to.
So I became Sherlock Holmes.
The thing was… our samples from each data set (2 posts a week, 3 posts a week) were very average for our content (no outliers to throw off the data I analyzed).
I even looked at our email open rates: They were nearly the same as always. And during the testing time when we published 3 blog posts a week, we grew our number of email subscribers.
But the moment our social media shares dropped, so did our blog traffic.
My biggest conjecture on this:
We gave our audience (you guys) so much content to share that you had to pick and choose what was worthy enough for you to share. Even if we published 3 awesome posts a week, you needed a little diversity in your social shares—not all from one source.
So when social shares drop, so does blog traffic.
And that, my dear Watson, is a complete guess. What do you think?
10 Things You Should Learn From Publishing More Content
Honestly, it could have been a dozen things that led to a bit less blog traffic than I was hoping for. So here are my lessons learned from this experiment that will help you choose the right publishing frequency for your blog:
1. Don't be afraid to try new things.
While this analysis is a bit young (it happened with content we published in February), I learned a lot by publishing more content. The entire team here at CoSchedule worked hard to mature our processes to create content super efficiently.
That is a huge win we'll keep with us as we continue to create content our readers should really love.
And we would have never known that publishing more might not be what our audience wants until we did it. And you can bet that I'll continue to look at the results of those posts to see if my thoughts about this change in a couple months.
The manager accepts the status quo; the leader challenges it. —Warren BennisClick To Tweet
Should the drop in blog traffic prevent us from publishing more content?
This experiment—though ultimately not resulting in the blog traffic I wanted—didn't impact our email subscribers, let alone product signups. Both of those figures were the highest they've ever been at this time.
So that is definitely something to consider for this:
Never be satisfied with status quo. You'll never know if you could be doing something that ends with much higher results.
2. Base your publishing decisions on data.
I mentioned that we've bounced around with our publishing frequency a lot at CoSchedule. That's a little funny coming from the guys who preach how to publish more consistent content, right?
This is what our publishing frequency looked like for a couple months in 2014: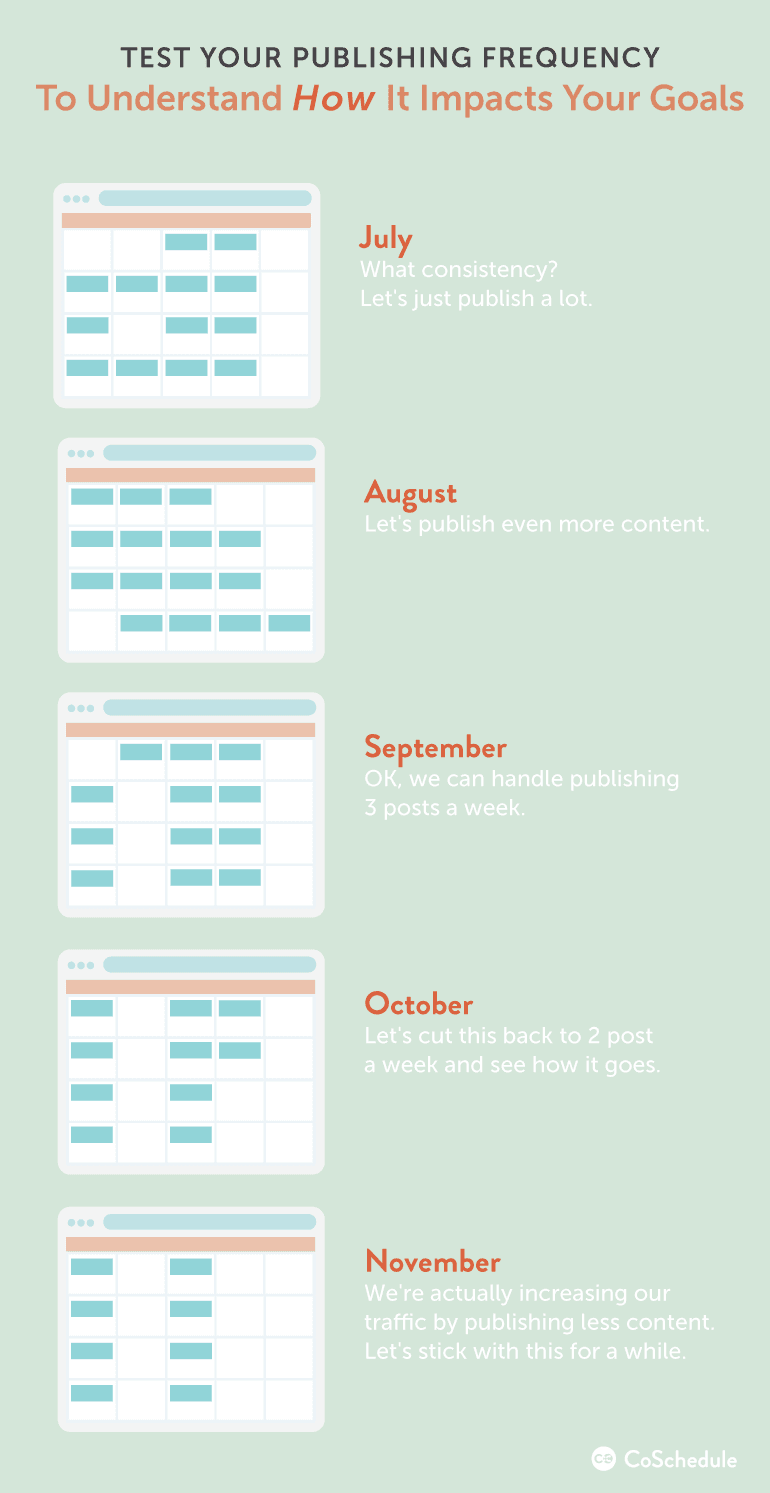 The point is, we were testing to figure out what would work best for us. We were publishing the content we had.
And we weren't afraid to get scrappy to get things done.
But in the end, we started focusing on publishing the right amount of times to get the most out of our content. By the time November rolled around last year, that right amount for us was twice a week.
And hey, at the time, we saw blog traffic increase as we published less content. We published that way to create our own data.
But, what's really ironic about this, is that there's already some data that basically says companies that increase their publishing frequency from 3–5 times a month to 6–8 nearly double their leads. So while this data is about leads and not blog traffic, publishing 2 posts a week should be a sweet spot.
It would have been cool to know that information before we started just to measure that even better!
3. Plan your publishing frequency to achieve your marketing goals.
I would have never cared about these slight changes—or added up the totals for this study—if I wasn't counting on every single blog post to contribute to a much larger goal.
For every post we publish at CoSchedule, I measure initial success by the number of social shares and pageviews. For the special posts when we create free blog giveaways, I also monitor how many times you guys download those resources (infographics, checklists, templates, e-books, and more).
Every post must contribute to our overall marketing goals to increase:
Social media shares.
Traffic in general.
Email subscribers.
CoSchedule signups.
Doing the math, it's easy to see how publishing more content may help us achieve our goals: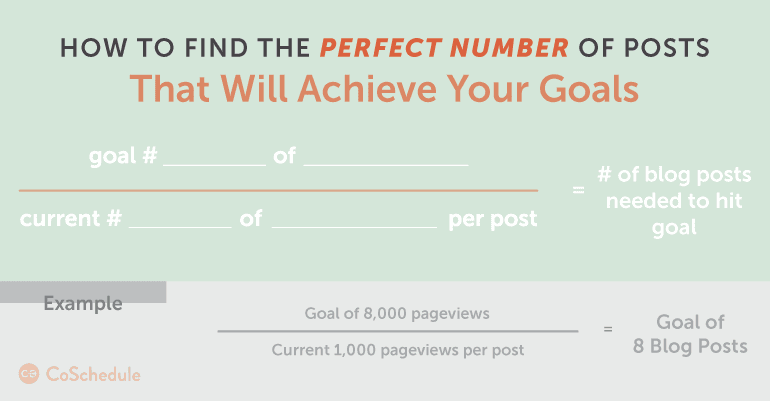 Just divide your metric's goal by what an average blog post contributes to that goal. That's a really rough estimate of how many posts you need to write to hit that goal.
4. Build momentum as you establish your publishing frequency.
You shouldn't just rush in to publishing more content. When we went from publishing 2 posts a week to publishing 3, we just switched to 3 and kept going.
In hindsight, I wish I had given the team a bit of breathing room to build up our momentum by staggering several weeks of publishing 2 posts then 3 posts.
That would have helped us work through our processes with a bit less runaround. But we got it done because the entire team had the ambition to do it (and thanks for helping me out, Ashton and Krista!).
Even for the pros, we still need to understand that running a marathon without training ends in fatigue.
5. Test the best days and times for publishing and sharing.
A year ago, we would literally publish new posts every single day of the work week. Then we'd publish 3 posts the next week, and 4 the following.
We're no strangers to testing what will work for us to achieve our marketing goals. But we needed to do that to know what would work for us.
So when we decided to bump our frequency up to 3 posts a week, we used data from the best times to publish and chose Monday, Tuesday, and Wednesday since blog posts published later in the week tend to perform a bit lower.
We also bounced this idea off a few of our friends in a content marketing community to get their opinions on the best times to publish.
Sometimes it's worth it to publish on different days and times to understand how that impacts your blog's performance.
6. Analyze your data to actually know if you're reaching your goals.
There is no way I'd be writing this post if I didn't plan time to analyze our data.
You write every post for a reason. Measure its success against that metric.
Here is an easy way to do it: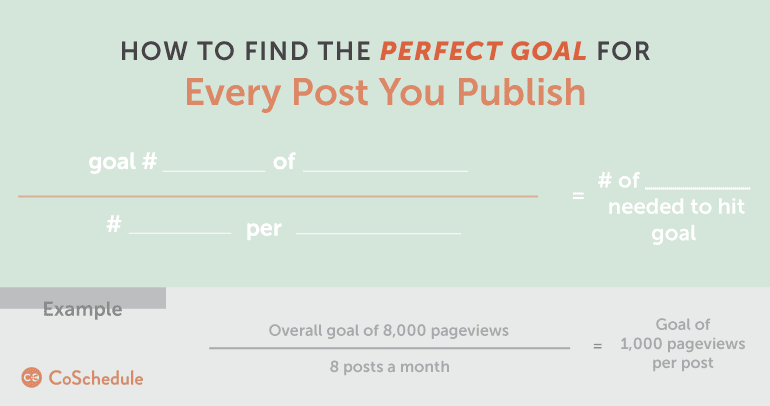 Divide your overarching goal by the number of posts you want to publish. That will give you a rough estimate for your goal per post.
Tip: This is similar to what you did in lesson #3. But it's not the same.
If you want to hit a marketing goal by maintaining the amount your current posts contribute to that goal, go with lesson #3. The algorithm shared here actually gives you something to shoot for to improve every post to hit your goal.
From here, you can determine new ways to promote your content to get the blog traffic (among other goals) your content deserves.
7. Don't believe what they say about vanity metrics.
…unless they say that vanity metrics like social shares matter.
There is so much to learn by understanding how people share your content. For example:
People read what they know is popular.
People share what they know is popular.
People subscribe to what they know is popular.
And beyond that—social shares provide a solid gauge on how your content is performing.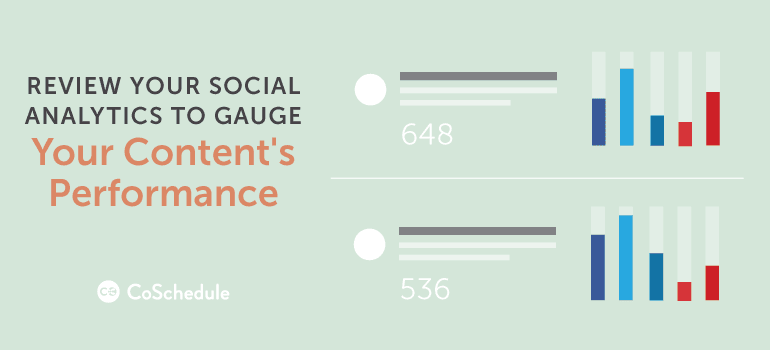 I noticed something was strange with our content when we started publishing 3 posts a week because our social shares count was lower than it had been in a long time.
From there, I completely analyzed our blog traffic patterns to gather the data in this post. And that ultimately helped me make the decision to publish only 2 posts a week.
8. Understand the trade-off for quality versus quantity (and go for quality).
Yeah, yeah. You already know this.
But here is what we did to be able to publish more content:
Free blog giveaways dropped from being in 3 of 4 posts to 2 of 6 posts. That's a bit of a hit for additional resources that we know you guys find super helpful. And that's how we also get a lot of new email subscribers for our content.
Graphics per post on average fell from an average of 7.5 to 6.
Content length also dropped slightly (with a couple outliers).
While we made sure the topics were awesome—and the content was great stuff you should have really liked—we did sacrifice a few "bonuses" we usually had in our content to be able to publish more.
So, once again, someone just told you that sacrificing content quality for quantity takes a hit on your social shares and blog traffic. But this time you can actually see the data that backs up that claim.
9. When you fail, fail fast.
Franklin D. Roosevelt said:
It is common sense to take a method and try it. If it fails, admit it frankly and try another. But above all, try something. —Franklin D. RooseveltClick To Tweet
The moment you realize that something may not be working, research it immediately. Your gut is probably right.
If that's the case—and what you're doing isn't getting the results you expected—stop doing it and try something else.
"But," as Roosevelt so elegantly puts it, "above all, try something."
At CoSchedule, we're really familiar with throwing new ideas at the wall just to see what sticks. We try something out just long enough to see what will work and what won't.
Now that we've decided to head back to publishing 2 posts a week on the CoSchedule blog, we plan to use our spare time to:
Create more landing pages with templates, checklists, and other cool tools and resources.
Start guest blogging regularly to connect with new audiences.
Explore new content marketing methods we haven't had the chance to try out yet.
And this leads to nicely into my final thought for this post…
10. Don't take my word for it.
Growing blog traffic specifically depends on your audience, industry, and company. If you have the resources to create awesome content and are willing to test the waters for publishing even more of it, that's what I highly recommend.
By cutting back on your publishing frequency, you could:
And there are dozens of other things you could do, I'm sure!
The point is:
Publish awesome content.
Test everything (times, dates, frequencies, headlines, visuals, you get the picture).
Never be satisfied with status quo.
If you keep doing what you've always done, you may miss out on some great opportunities to meet your marketing goals.
March 11, 2015