Managing and organizing marketing projects and teams can be challenging and complex.
However, with the right collaborative tool like CoSchedule, teams of all sizes can simplify their workflows for optimal efficiency and effectiveness.
So how do you handle the varied project management needs of a successful content marketing team?
The answer is a content marketing platform. Content marketing platforms are software services that act as central hubs for organization, team communication, and project management from start to finish.
You're about to learn about how your content marketing platform will help you organize your content marketing projects, complete with the steps necessary for managing your projects in three categories:
---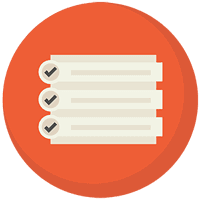 Workflow consistency:
Breaking down large projects into smaller, easily achievable tasks.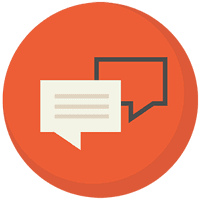 Team communication: Communication on projects in the form of comments that won't get lost.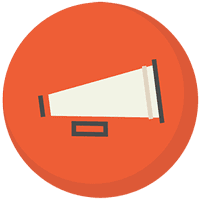 Content promotion: Promoting your content and reviewing the analytics of its success.
---
One of the most important aspects of organizing content marketing projects is consistency. Publishing consistently shows professionalism—you're dedicated to providing high quality information for your audience, which keeps your brand relevant.
But maintaining consistency is easier said than done.
Follow these steps to maintain a consistent posting schedule for your content.
Determine When To Publish To Get The Best Results
Choose a day or two when you'd like to consistently publish on the foreseeable future.
To decide the best day(s), test a few different days over the course of a few weeks to see which days are most effective for you. Narrow down what the most effective time of those days would be to publish.
Commit To Publishing Consistently To Build Trust With Your Audience
Once you set those days, you'll need to commit to publishing on those days. Make it a habit to post consistently.
Think about the three R's of habit change:
Set a reminder to notify you in advance to publish your content. You can receive email reminders regarding upcoming tasks through a content marketing platform like CoSchedule.
The routine is the process of actually creating and publishing your content. For this step, it'd be easiest to create a repeatable workflow.
Workflow templates will allow you to break your tasks down into smaller chunks and assign them—with due dates—to team members. CoSchedule helps you manage your content marketing workflows easily with reusable task templates.
The reward is your content going live and the traffic increase you'll gain from your hard work. Beyond the growth reward, you could also treat you and your team every time you publish content successfully on time—it's a great way to bond together to consistently create amazing content.
Break Down Larger Projects Into Manageable Tasks
Another great way to keep your content marketing projects organized is to streamline your workflow by breaking down large projects into smaller chunks.
Think about what steps need to be done in a specific order to successfully complete a project.
For example, let's say you want to create a blog post. It sounds simple enough, but you want it to be the absolute best and most comprehensive piece of content for that topic on the web with the best content, graphics, and sources.
Now you have quite the challenge.
You'll want to break down this project into smaller steps and tackle the project piece by piece. Let's continue with our example of creating the blog post to illustrate how to break down large projects into more manageable, assignable tasks:
Task #1: Think of a topic. You may want to create an idea bank where you can add ideas at any time.
Task #2: Determine an angle. Keep in mind that your audience will always be asking, "What's in it for me?" Write your content so your audience feels that they're gaining something from reading your blog post.
Task #3: Create a headline. CoSchedule offers a free headline analyzer tool that will rate the strength of your headline. It would be best to make a list of 20–25 headlines and choose the one that's most relevant with a high score (a score of above 70 is a pretty good starting point).
Task #4: Write and review your outline. Remember, the process of writing an outline won't be the same for every writer. Write your outline and peer review it to thrash your projects before your team begins executing.
Task #5: Begin the actual content creation process. Think of it as turning your outline into a readable blog post.
Task #6: Design blog post and social media graphics. Pages with images get 94% more page views than those without, so capture that opportunity in every blog post.
Task #7: Optimize your blog post for search engines. After you've included your blog post graphics, review the keywords in your content. Make sure you've optimized your content so that it'll rank as highly as possibly. Check out some of these SEO tips to help you.
Task #8: Edit your final draft. Keep in mind the formatting of your blog post. Unlike a traditional document, you won't indent at the beginning of your paragraphs. You'll also want to keep your paragraphs short to make them easier to read on the web. It's best if your team thoroughly edits your blog post to ensure the best content; don't be discouraged if your content has a large number of red marks.
Task #9: Schedule social media messages. Write compelling messages and include your graphics in a social media posting schedule to share your blog post with your followers.
Finally it's time to publish your blog post.
This is just an example of how to break down your process (with some helpful hints thrown in).
Assign Those Tasks To Your Team
Breaking down the project into smaller chunks will make it much easier to manage. Once you break down your project into tasks, you can delegate the tasks out to your team and assign due dates.
Meet with your team and give them an outline of your workflow, providing them with the purpose of the meeting. There are two things to do:
Decide who should be involved in the project. Have a clear idea of why each member should be in the meeting and how they'll contribute to the project.
Set due dates for the tasks. This may sound easy, but it won't be effective to just set one single due date for the project. In fact, it works best to work backward from the publish date to assign due dates to individual tasks in chronological order.
Ask yourself a few questions to get started:
What is the order in which the tasks should be done? It's best to do the bulk of it first, then make the edits and smaller adjustments toward the end.
What tasks should be completed by X days before the publish date to ship it on time? Set different due dates to different tasks so you can ensure that each task is done correctly and efficiently.
Who would be best for each task? Think about the strengths that each member of your team has, and give them the tasks that their strengths can handle best.
Keep Team Communication In One Place To Boost Your Efficiency
Another important aspect of organizing your content marketing projects is team communication.
One-third of failed projects tanked because of poor communication. A solid content marketing platform will help you avoid that outcome.
Your team may be using email, but is that the most efficient form of communication for you? Since internal email chains can get messy quickly and no one really likes handling a busy email inbox, it's probably not the most effective choice for managing project communication. You could also use a team messaging app like HipChat or Slack, but they can get filled quickly and can easily become overwhelming and distracting.
You'll benefit most from getting everyone on one form of communication that allows for them to visualize the tasks going on.
That's why CoSchedule built team communication features into the editorial calendar where you manage everything else. CoSchedule's communication system is based on comments that help your entire team view the discussions and collaborate effectively.
Everyone who is involved in a project automatically receives notifications of the comments for their projects.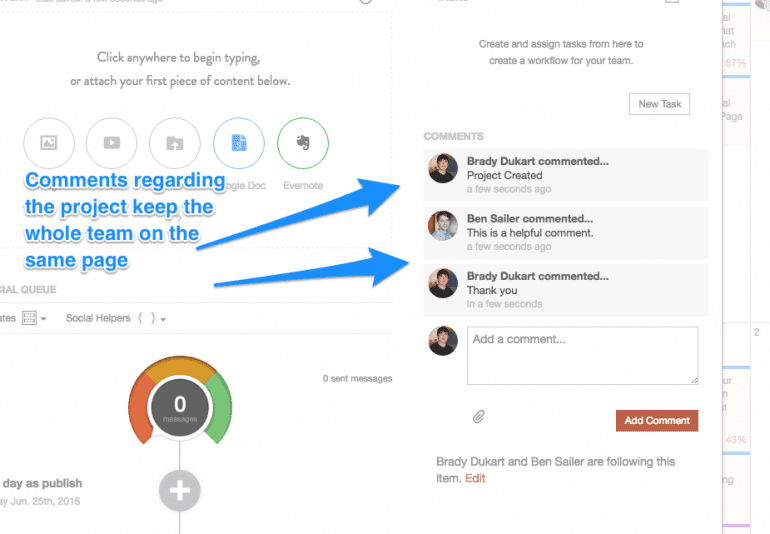 It's likely that, even if it may not be working, your team will be a little apprehensive to start using a completely new communication tool.
But there are a few steps you can use to help them get on the same page:
The first way is to seek team buy-in. Your team won't effectively communicate if they don't believe that the new tool will be effective. But if they're all in agreement about it, your communication will be successful.
You'll then want to put all other forms of communication (within your workflow) to a halt. It's best to keep only one form of communication for the project. Having consistent communication channels makes it easier for teams to know where to find messages and where to communicate regarding the project. CoSchedule allows for project notes on tasks so everyone can see where everyone is at in the process.
Commit to forming a habit of effective communication. Along with team buy-in, make it a point to use that system. At the end of a project, review what went well, what went wrong, and what you could improve with your communication to continue working even more efficiently.
Share Your Content On Social Media To Reach Your Audience
Using social media as a tool to reach your audience can effectively grow your brand. You can use social messages to reach your audience and leave a lasting impression on them regarding your brand.
Focusing on high quality content is important to do this. But getting organized in advance and sharing consistently can get tedious.
Thankfully, CoSchedule has Social Helpers to help you consistently post quality content. Here's how to use them:
First, you'll want to open a project dashboard in CoSchedule then select the Social Helpers button. Then select New Text Helper.

Next, enter a name for the text helper. This will be the shortcut title for it. Once you've entered that in, enter in the social message you want to share. You can enter any type of content that you want such as hashtags, questions, or conversation starters.

After you've set up your social messages and decided which social platform you're going to use, select the Helpers button and choose the text helper you just built.

The social message you just wrote will appear as your post. Click Add Message and the message will be set!

Once you've written your text helpers, you'll want to decide on what type of post is best for you. Think about what type of social message your audience will respond to best.
Also consider how well the social message will do on your particular social media platform. Different types of social messages perform differently on other social network platforms.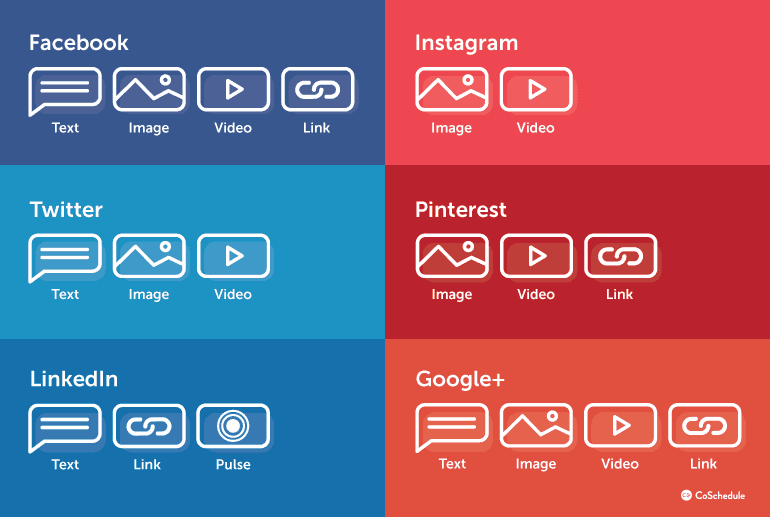 Now that you've got the message written and chosen a network to use, you'll have to answer the question of when. Keep in mind when your target audience is going to be most active.
In addition, you need to consider how frequently to post your content. CoSchedule offers tools to help you decide when and how frequently to post directly within the dashboard.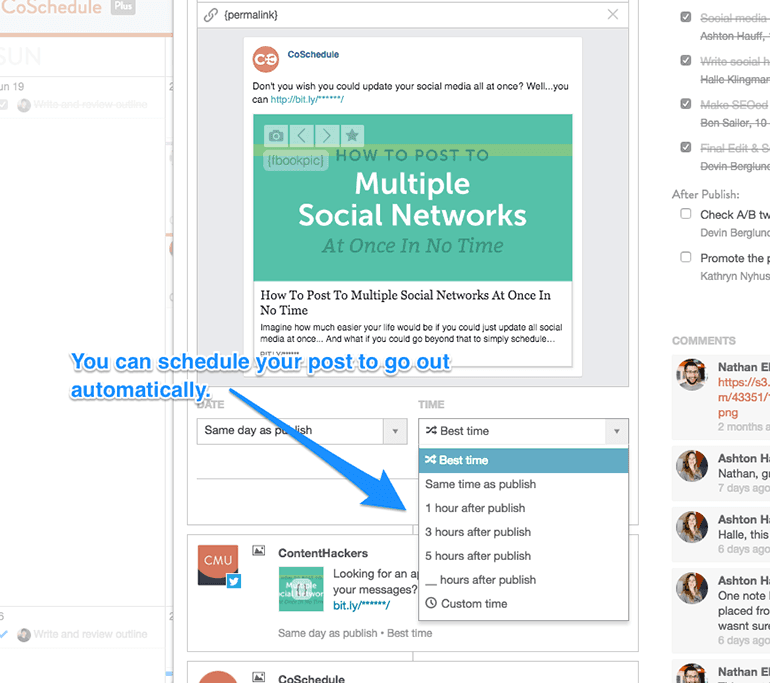 You can also decide how many times to share a certain social message. In order to properly reach your audience with a certain message, it's important to share an important message more than once.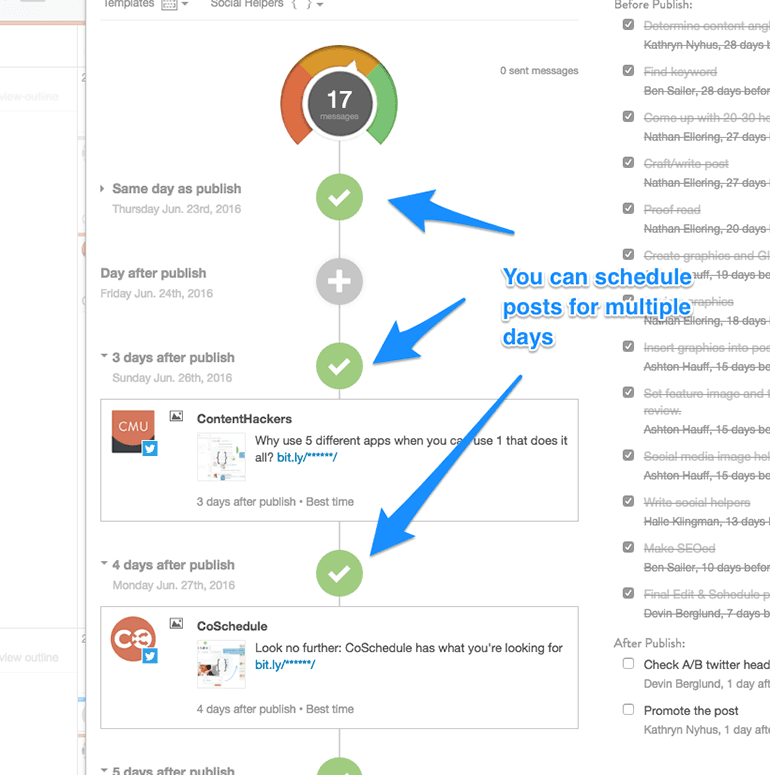 Now that you've built your social media schedule and you're happy with it, you'll want to use it again in other projects. Why not continue doing what's working for you?
CoSchedule lets you easily save your social media schedule as a template at the click of a button.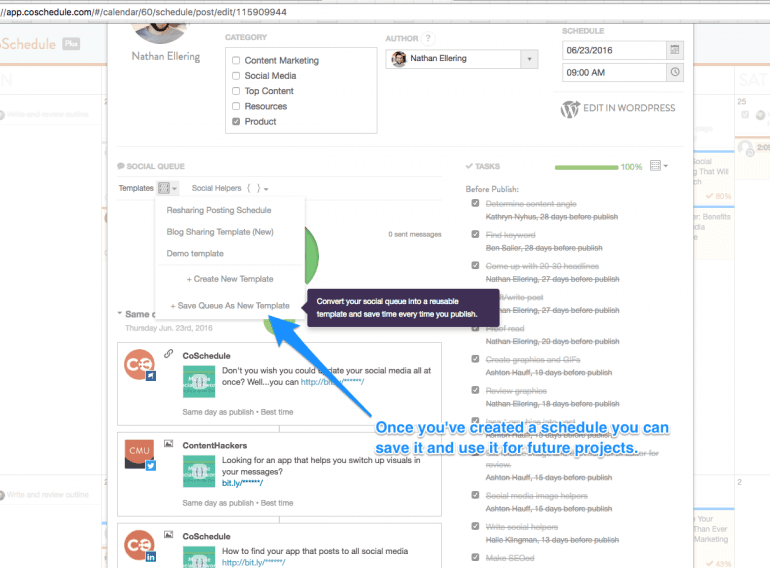 How CoSchedule Will Help Organize Your Projects
One Collaborative Content Calendar For Your Entire Team
CoSchedule is a content marketing editorial calendar that helps marketing teams stay organized and publish consistently.
The tool sends you email reminders and helps you keep a routine to finish tasks on time. Your entire team will work on projects in one centralized hub, and each member of the team can view the progress of the project.
You can also upload documents to work through within each project.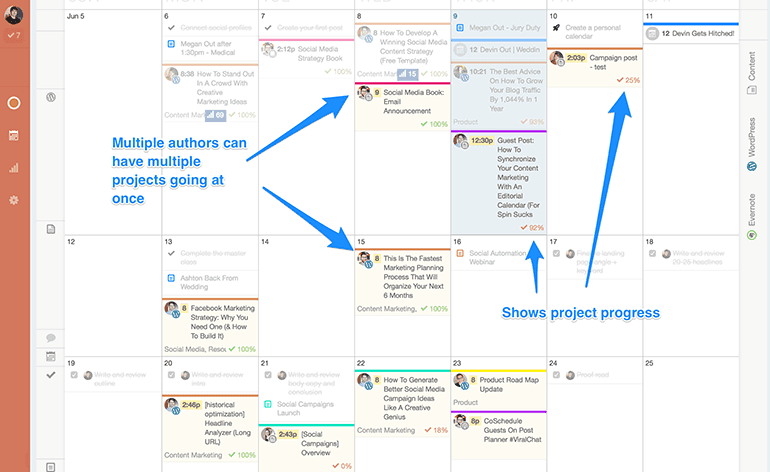 Reusable Task Templates To Organize Your Content Creation Process
Task templates break down large projects into smaller tasks so you can assign them to specific team members with due dates.
As your team completes each task, CoSchedule will also display how far you've come toward completion using a percentage metric.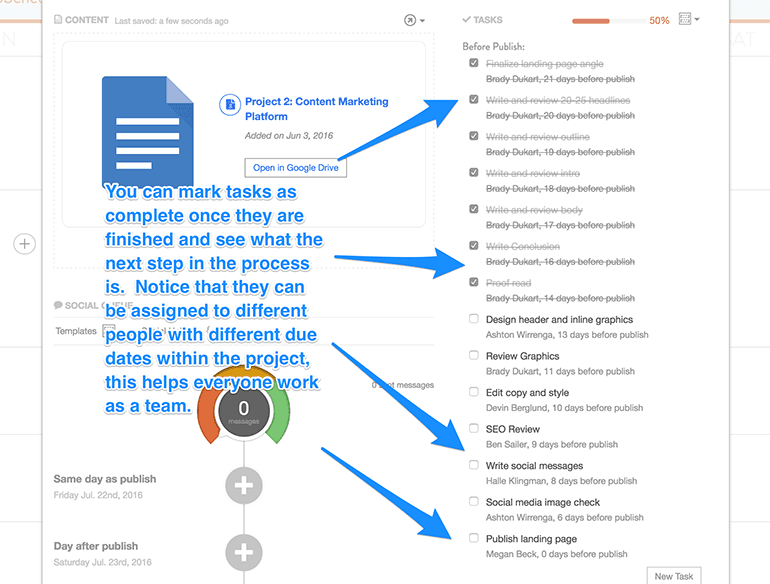 Use Your Drafts Bin For Ideas And Projects In The Works
CoSchedule has a drafts bin in which you can easily store your work and have find your projects. The draft bin will save it indefinitely.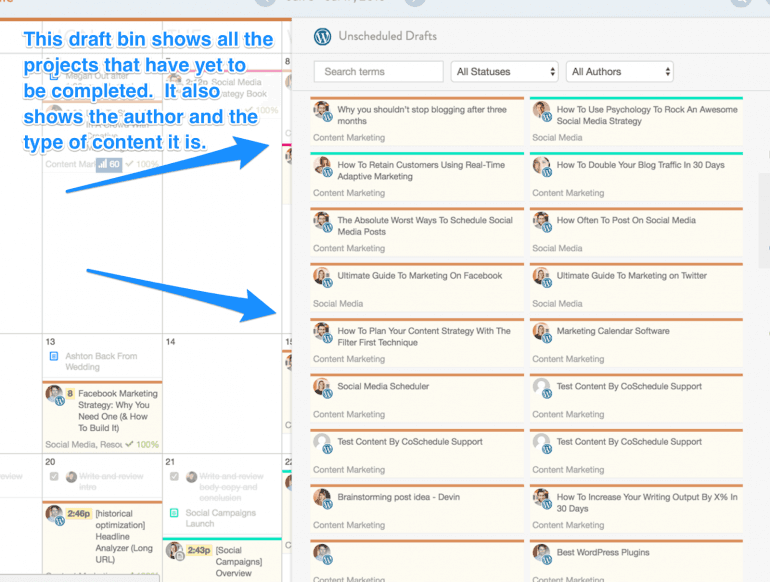 The Headline Analyzer Will Help You Get More Traffic, Shares, And Search Results
The headline analyzer will help you appeal to your audience's emotional reasoning to click through to read your content using:
Word balance
Headline type
Length analysis
Search previews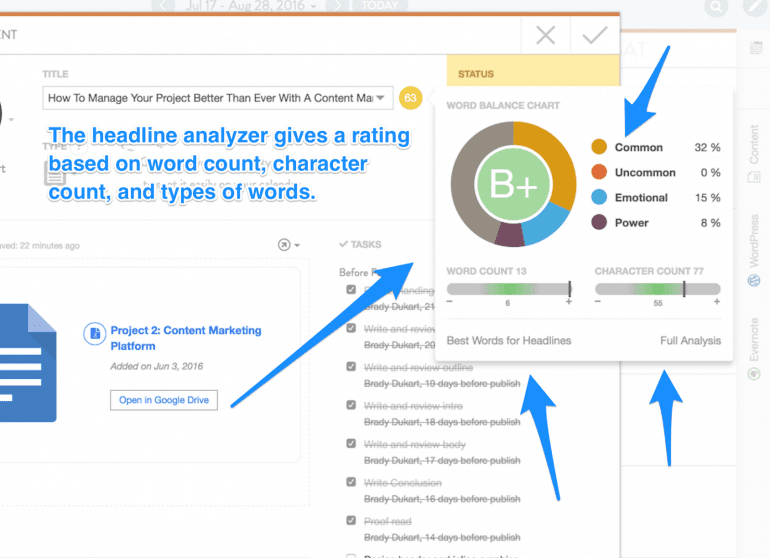 Project Comments And Notifications Organize Team Communication
The team commenting system in CoSchedule ensures that you stay alert on the tasks that need to be done. Your teams will communicate about projects through comments specific to each project.
You can also upload files, such as text documents and images, in your comments.
Notifications can be set for each member who has tasks assigned to them. CoSchedule will send an email to each team member when a task is assigned and before a task is due to remind them to finish the task or mark it as complete.
The notification will automatically send to the team member 24 hours before the task is due.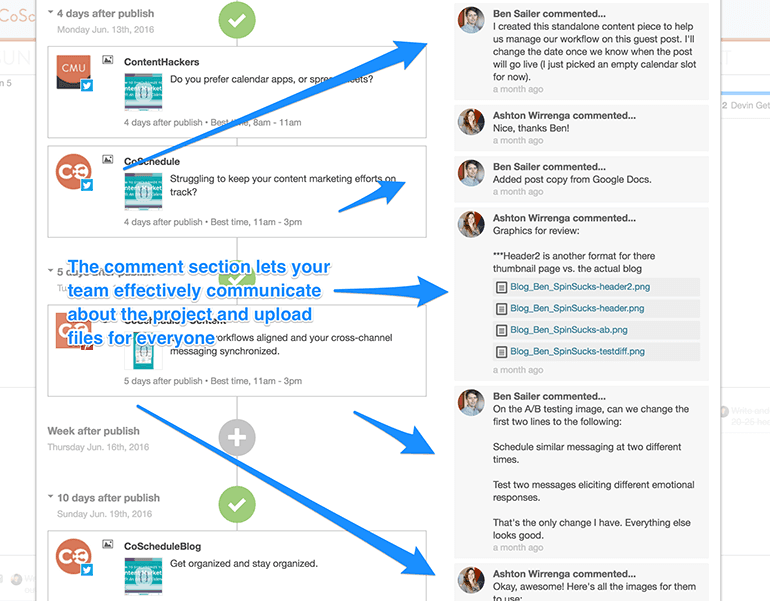 Schedule Social Media Posts In No Time
CoSchedule also includes several features that streamline your social media publishing workflow. These include:

Eliminate tedious manual repeated work because you'll be able to schedule lots of messages and save your posting schedule as a template.
Create reusable social sharing plans, allowing you to focus on creating awesome content.
Schedule multiple social media messages so you can share your content and posts faster.

You will share your social media messages at the best times for engagement and reach without having to actually remember all the times for the different networks.
The best practices for sharing at the right time are built directly in the calendar, complete with collision detection to space out your messages throughout the day.
Best Time Scheduling will track what you've already posted and make sure that you're not posting too often or too little.

Fills in the gaps in your posting schedule.
Create a bank of social media messages, and CoSchedule will send them out to ensure that your content is being published consistently.
You can re-promote your content effortlessly with social automation.

Organize a series of social messages in one place to manage it as a project rather than an individual message.
Gain a more organized and prioritized view of the social messages surrounding a campaign.
Focus your efforts on quality content and let CoSchedule worry about the social campaigns.
Curious to see how easily CoSchedule can make managing and organizing your team projects? Try out this content marketing platform now with a 14-day free trial.