How To Run The Perfect Content Planning Meeting 72
Headline Analyzer
The blog post headline analyzer will score your overall headline quality and rate its ability to result in social shares, increased traffic, and SEO value.
Test every headline before you publish. Try the Headline Analyzer »
How do you run a great content planning meeting?
Creating content that your readers love day after day isn't easy, especially when you are working in a content marketing team. The days of simply "getting it done" are over. The modern content team needs to be forward-thinking, strategic and organized. This is why many teams are opting for regular, and formal, content planning meetings.
The purpose of these meetings is simple. Teams work better when they understand their collective purpose and message. There is also the added advantage of each individual knowing what they will need to do next. A successful content planning meeting will result in a list of action items for each writer involved.
How To Structure Your Content Planning Meeting
Content planning meetings are usually characterized by an all-writers-on-deck meeting that thoroughly reviews the upcoming blog schedule,  and makes decisions about the themes and post topics that will be covered on your blog in the weeks or months to come.
These meetings are not a top-down effort dictated by the editor. Rather, everyone should be involved, and ready to contribute. This includes each writer, editor, art director, and content manager.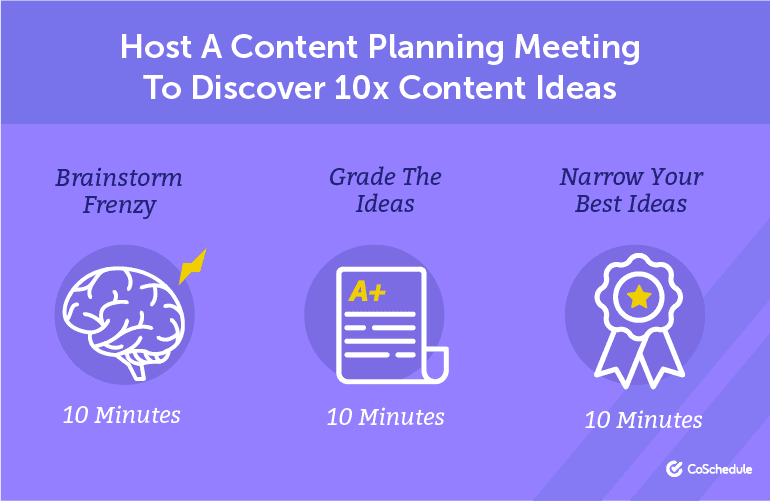 Many teams find it helpful to keep the discussion topics broad at the beginning of the meeting – brainstorming new topic ideas and overall writing themes, and slowly move toward the more detailed aspects of the upcoming schedule. A sample meeting agenda could look something like this:
1. Content Brainstorming (What should we write about next?)
This portion of the meeting should be dedicated to discovering new blog post ideas to that can be written about during the current content plan, or a future one. Take some time at this point to review recent success stories with your customers, or new trends happening in the industry that you are covering. Everyone should be able to contribute something. By calling on each individual to share their own ideas, you will help develop the habit of cataloging post topics within your team.
This portion of the meeting is most successful when each attendee has done their homework, and come prepared with a set of creative ideas. Your discussion will center on the overall angle and purpose of the post that they are proposing. Someone in the meeting should be in charge of collecting all of the ideas into a single place, and organizing them by topic category and priority.
Timeline: 25 minutes
2. Theme Discovery (Make a high-level plan.)
For a content planning meeting to work, you will need to understand the broad themes that your blog will cover in the time period being planned. This is more than simple topics or post ideas, but rather the overall story arc that you are hoping to cover. If the content brainstorming portion of the meeting was 10,000 foot level, this portion with come in at about 5,000 feet. The key questions that you will be answering are "what topics do we need to cover right now," and "what key themes are important to our current schedule."
For example, on this blog we talk regularly about content marketing, blogging, and the art of inbound writing, but even within those topics we have deeper themes that run for four to eight weeks at a time. Currently, we are running a subtle theme on becoming a better writer and working with a content creation team. These larger story arcs should be clearly defined and reviewed at this portion of the meeting. Your group will naturally begin to combine these story arcs, and the new ideas being generated, into your forthcoming content plan.
Timeline: 15 minutes
3. Scheduling (Decide who, what, and when.)
The third phase of the content planning meeting is to finally get down to the 1,000 foot level and decide who will be writing what, and when they will need to have it written. These are are the nuts and bolts of your content planning meeting. Someone, likely an editor, will need to take charge at this point and ensure that finite decisions are being made. Without a clear signal that you are moving from brainstorming to planning, the meeting can quickly get off course.
It will be up to the team involved at this point to look at the ideas that were generated in the brainstorming session, or left over from previous meetings, and put them into place on the editorial calendar. The leader of the meeting should clearly define the number of posts that should be planned each week, and length of time that you are planning for in the future.
A successful meeting will result in a fully planned schedule for your team. When they leave the meeting, all of your team members should have a good idea of what will be expected from them over the coming weeks.
Timeline: 20 minutes
How Far Ahead Should Your Content Planning Meeting Look?
Content plans can range from a week, several weeks, or even a month at a time. The right choice for you will depend on how long your team has been working together, and how much content you will need to produce. At CoSchedule, we plan our content no further than two-weeks ahead of time. For us, going further than that doesn't pay off because our writing circumstances change so quickly. We never know when a new release may be ready, or a sudden change in direction.
Other teams are able to plan a month (or two or three) worth of content in a single content planning meeting. If your organization falls into this category, then you will simply need to be a bit more organized at the start, and be sure to have enough ideas on hand.
As a rule of thumb, more frequent meetings usually result in shorter meeting times and more focused discussion than those that only happen once every month our two. This is because of the lower quantity of information that needs to be discussed, and the familiarity of the process for your team. More frequent meetings will help keep your team focused on your key goals, and will ensure that they develop good meeting habits.
Go Team!
Content planning is a team effort. We need to make it a team effort, but it won't be unless you keep things organized. Regular content planning meetings are a great way to keep your team on the same page, motivated, and focused on the same goals.
October 23, 2013