100 Awesome Marketing Ideas You Can Use Right Now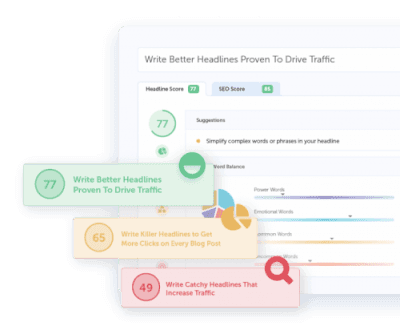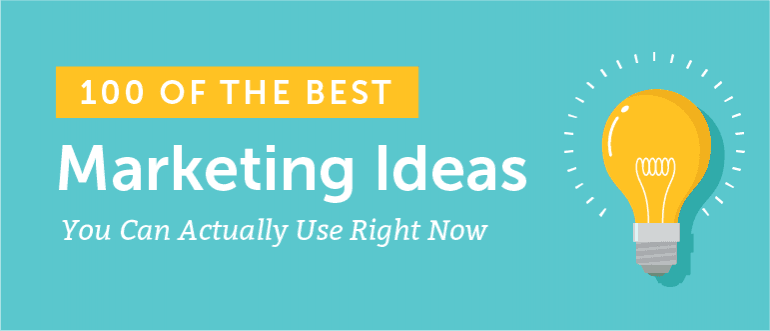 We can all use some creative inspiration once in a while.
Sometimes our tactics get stale.
Or, we get tired of doing the same old things and getting the same old results.
That's exactly why we've pulled together this list of 100 marketing ideas (that you can actually use).
Whether you're creating content, managing social media, shooting video, rocking email, or building a small business, there are at least 20 awesome ideas here you can put to use right now.
No matter your role or business size, from mom-and-pop shop to Fortune 500, there's something here for you.
Plus, as always, we've rounded up an effective bundle of templates to help you implement them all.
So, fire up your favorite marketing calendar (or download a template to build one below), and get ready to fill it with tons of actionable ideas right now.
Execute Your Ideas With Our Marketing Template Bundle …
As you read this post you're going to see a hundred different ideas to help inspire your team. Use our marketing templates to help you plan and execute your favorite ideas from this bundle.
You'll get:
Marketing Editorial Calendar. Keep track of what's coming next and always be able to plan ahead.
Content Marketing Project Checklist. This checklist will help you break down your next idea and make it easier to assign pieces to your team to make sure it ships on time.
Marketing Project Management Template. The marketing project management template will let your team flesh out the ideas you see in one space.
Marketing Project Sprint Backlog. Keep track of the list of all the ideas your team wants to execute.
Marketing Project Time Tracking Template. Use this template to estimate and track how long it will take members of your team to complete a project.
... And Organize Your Entire Marketing Team With CoSchedule
Your ideas are only as good as your execution.
And effective execution starts with effective organization.
That's where CoSchedule comes in. All 100 ideas in this post are things you can plan and promote with our marketing calendar platform.
See every deadline on one interactive calendar ...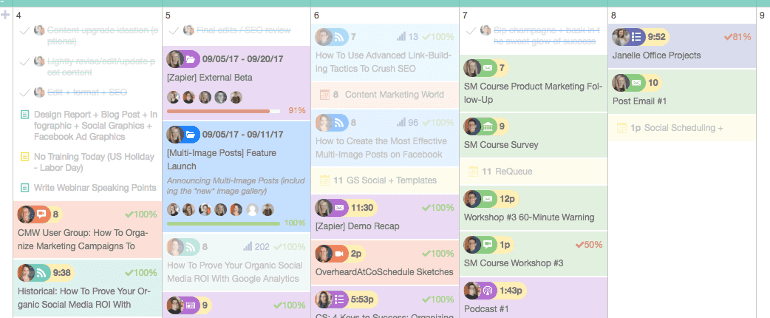 ... use Marketing Campaigns to make organizing complex projects simple ...
... connect your favorite apps, services, and platforms (like WordPress and all the top social networks) ...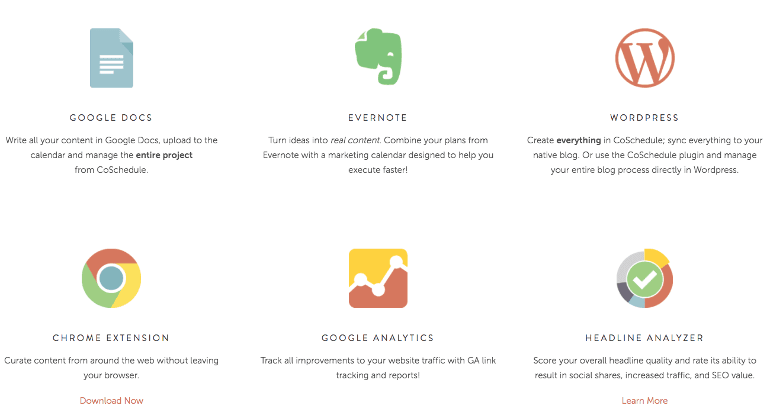 ... and more.
In short, it's the hub that connects all the spokes to plan, organize, and execute your marketing strategy. Start your free trial now and put all your marketing ideas into action.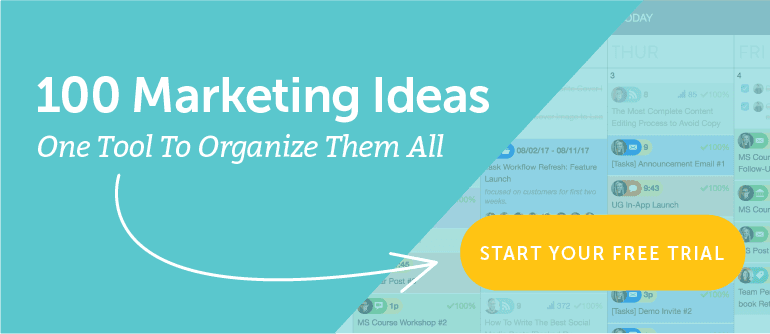 20 Social Media Marketing Ideas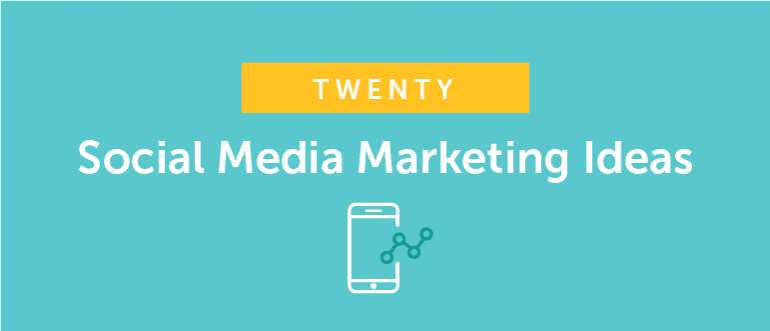 Social media is a pivotal part of your marketing strategy, and these 20 ideas can help jumpstart your creativity.
Create a Custom Facebook URL
Custom URLs can make it easier to for your fans to find you on each social network. Typing in Facebook.com/yourcompanyname is easier than trying to search the site wondering which Facebook page is yours.
However, creating a custom Facebook URL does take a few steps. Once you're done, though, your clean new URL your Facebook URL should look something like this: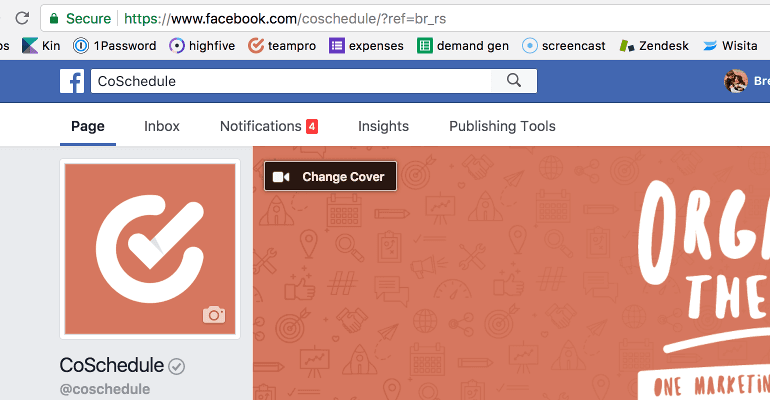 Optimize Your Profile Picture on Every Channel
Your profile picture follows your fans on different social media channels. That means it needs to be recognizable and at the optimum size.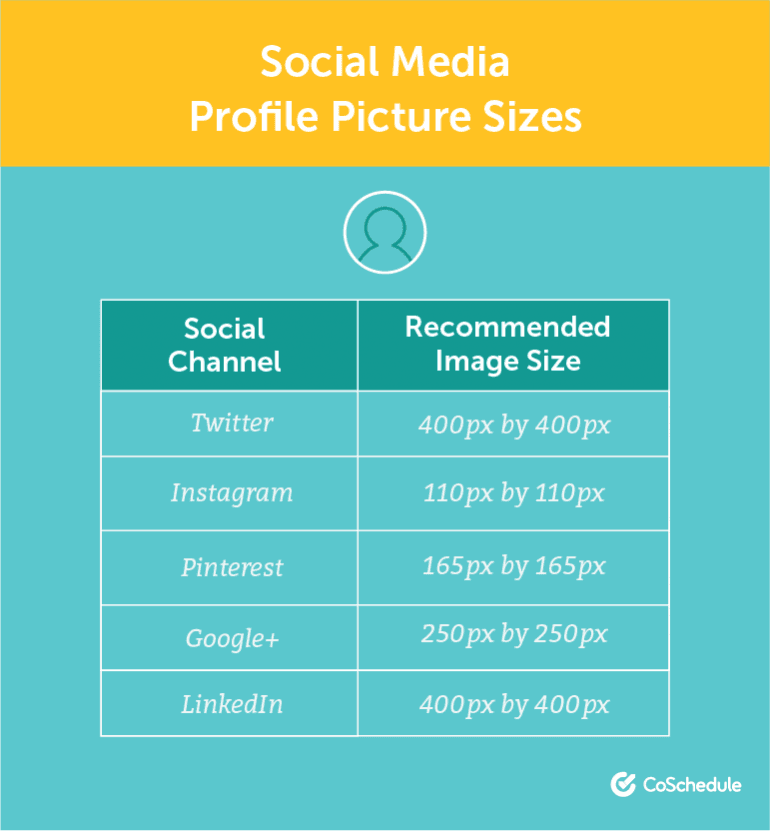 Check out this list for more image size recommendations across social media.
Publish Your Posts at the Best Time
To get the best results on social media, you need to post when your audience is most active.
Follow the times on this infographic to give yourself some starting points to consider. Then, tweak your schedule based on what does (and doesn't) seem to work best.

CoSchedule also has a built-in feature called "Best Time Scheduling" that schedules your posts at the best time for your audience automatically.
Best of all, it's super easy to use, too.
Start by writing your post and scroll down to the bottom of the post. Then, select Best Time from the drop-down menu:
Optimize Your Posting Frequency
Knowing how often to post on social media is a common question for marketers.
You want to maintain a consistent presence, but you don't want to spam your audience, either.
Instead of guessing how many times you should publish posts on your channels, follow the data instead.
And fortunately for you, we've done the research and pulled together these recommended posting frequencies based on 14 studies.

Run a Contest
Who doesn't love free stuff? Social media contests are a great way to get your audience to interact with and share your content, thereby increasing its reach.
Three things that you should keep in mind when you're creating your contest:
Outline the rules for your fans.
Establish cut off dates and what your winner needs to do to claim their prize.
Have some sort of prize but don't break the bank trying to find the best prize for your social contests.
For even more instructions on how to create social media contests check out this post from Vertical Response.
Build Company-Specific Hashtags
Hashtags are a great way to make your content searchable on social media channels.
Having hashtags that are specific to your organization makes it easier for audience members to find content specific to you and include you in their conversation.
For example, Nike's #JustDoIt is a short searchable hashtag that helps their fans create conversation around products, sports, and other athletic adventures.
ThriveHive has a great guide on how to build custom hashtags for your brand.
Create Launch Campaigns for New Products or Features
Social media campaigns are a great way to announce and inform your fans about new products and features.
Take Taylor Swift for example. Her social campaign building to the announcement of her latest album had fans going crazy: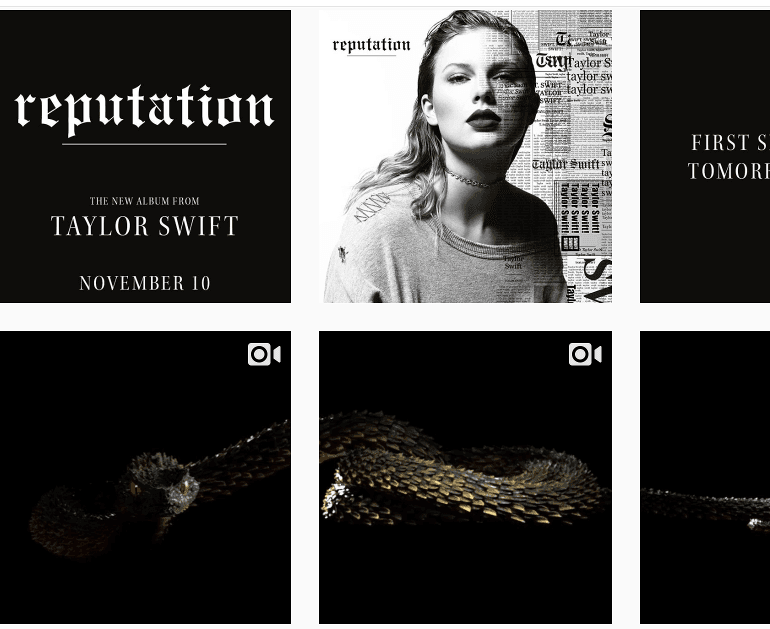 Scheduling social campaigns may seem like a lot of work, but it doesn't have to be. CoSchedule has a built-in Social Campaign feature that will help automate the process. To access it go to your calendar at click + > Social Campaign: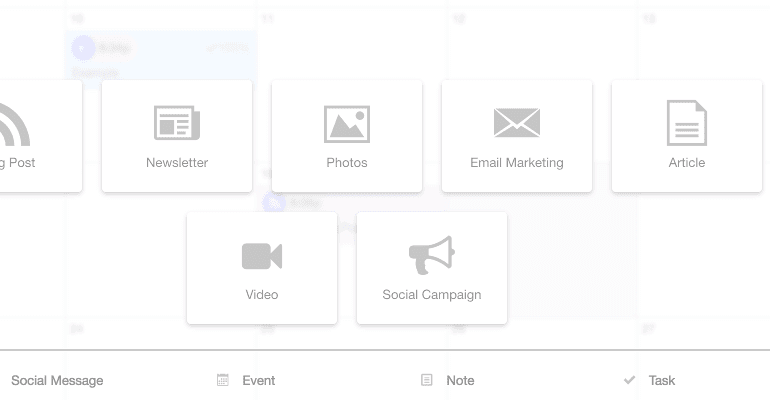 Title your campaign:
Click the + button in the middle of the screen and add posts and the channels you want them to publish on for each day: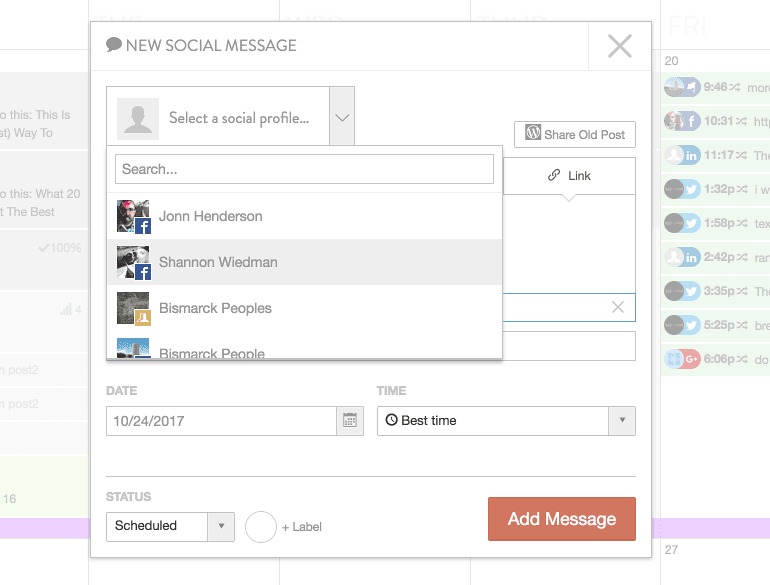 Once you have the number of posts you want to send lined up, add in text helpers. Text helpers will automatically fill in content for the messages they are added to. To create a new helper click + Text Helper: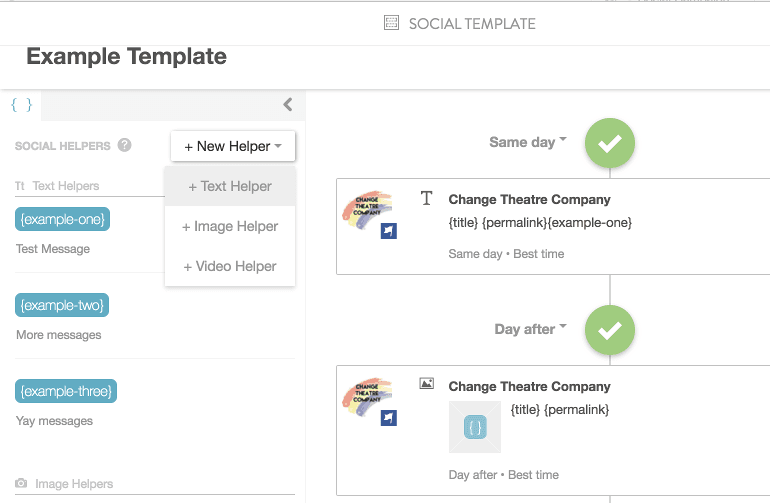 Title each helper to the message it should be posted into but don't fill in the actual content. Click the text helper title to add it to a social post that's been lined up in your queue: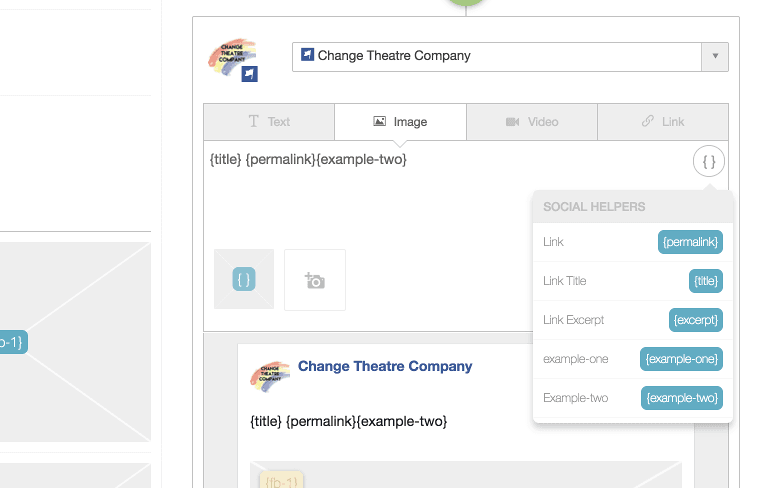 You can also add image helpers to your social campaigns, which much like text helpers will automatically fill in images in your social posts. To add an image helper go back to the right-hand side menu and select +Image Helper:
Title your helper and add it to your message by clicking the camera icon: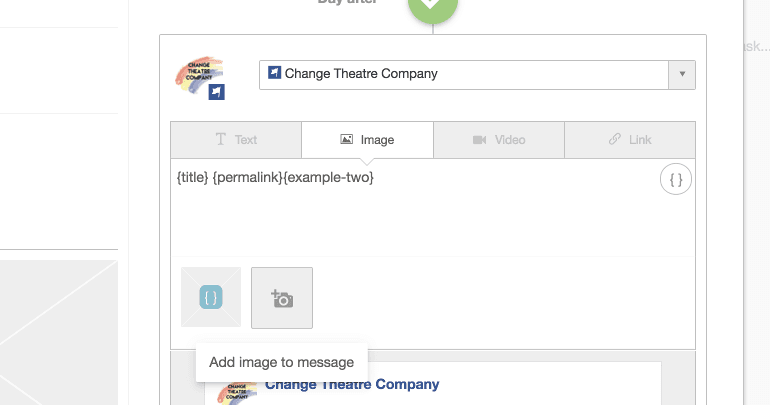 Then select the image helper you want to add to the post: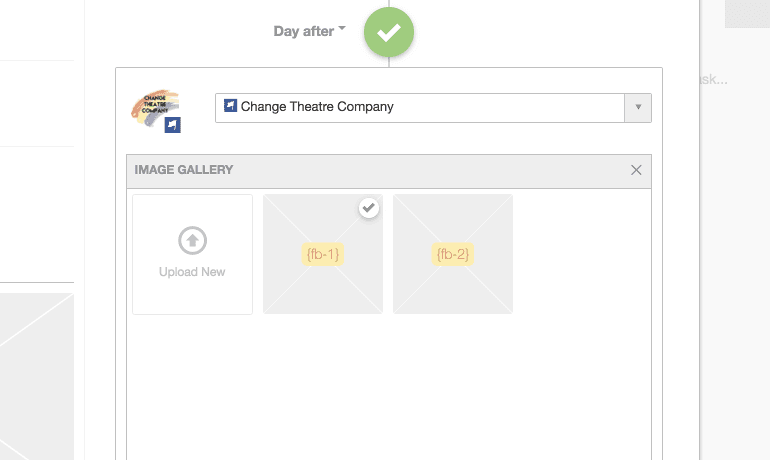 Once your template is complete, save it and then add it to your social campaign: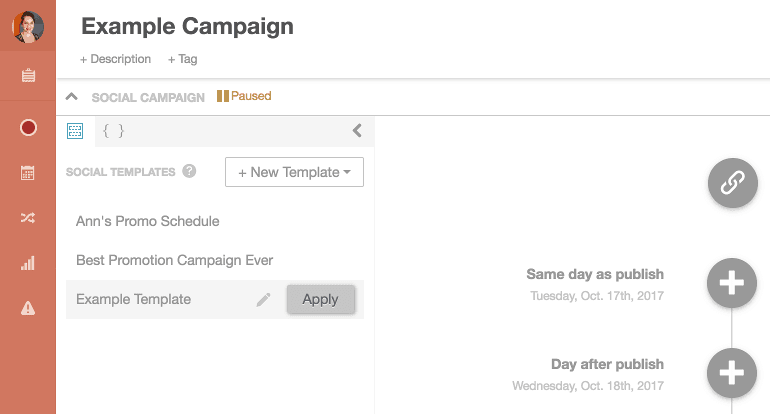 Once your campaign template is in your can fill in the helpers on the left-hand side: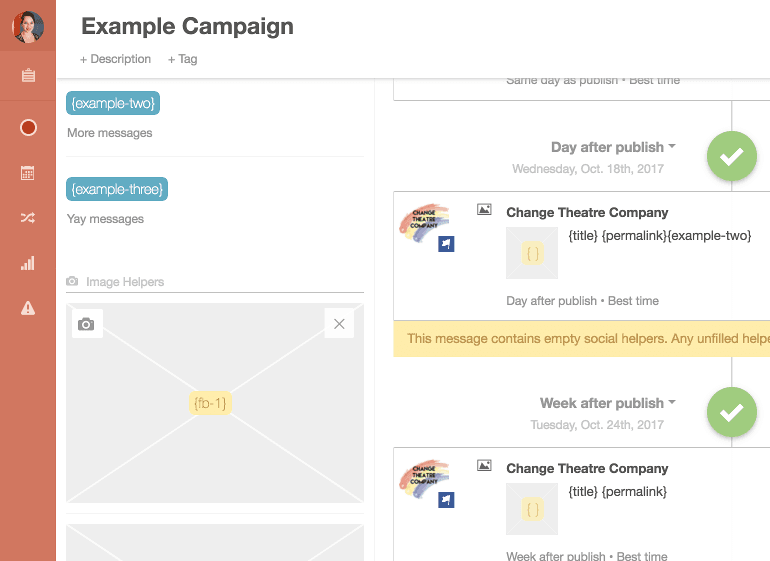 Share Videos That Show Off Your Culture
There's no better way to show off your company culture video. Video performs well on platforms like Facebook.
So by combining videos that show off who you are as a company with a video-centric social platform like Facebook, you'll reach more eyeballs and fans will get to learn about your company.
Learn how to do Facebook video marketing the right way with this post from CoSchedule.
Make Your Posts Stand Out By Using Infographics
So your marketing team just completed a bunch of research and you've created an awesome blog post and landing page to share your findings. While those do well on LinkedIn why not stand out from the crowd and design that data into an infographic?
Infographics are visual and present data in a way that is easy to digest and skim through.
Here's how to build amazing infographics from CoSchedule designer Ashton Hauff.
Join or Host Twitter Chats
Want to grow the presence of your Twitter account in a hurry? Hosting or participating in Twitter chats are a great way to connect with fans or meet potential ones.
If you don't know what a Twitter chat is, they are hour-long sessions on Twitter that are centered around one topic. Participants can interact and answer provided questions.
These chats usually occur at the same time every week and participants use a single hashtag to connect to the conversation stream.
For more on how to host your chat read Buffer's blog post on how to start a Twitter chat.
Post Instagram Albums to Show Your Product in Action
In late February of 2016 Instagram launched a new update that allowed users to upload multiple photos in one post.
With the update, you don't have to worry about spamming your followers with multiple posts.
The ability to upload multiple photos and videos allows you to expand on how a new product or feature is used without having to pick one single picture.
Bannersnack's Robert Katai broke down six creative uses of this feature for Adweek.
Connect Your Products to Pinterest and Create Shoppable Pins
Shoppable pins are a relatively new addition to the corkboard inspired platform. Shoppable pins allow teams that have products listed on their website to add them to a Pinterest board.
Once there pinners can see prices and click the pin which will take them directly to the site to buy them.
You may need to work with your developers to help connect your products to Pinterest, so check out their help docs to find out how.
Use Facebook Events to Help Increase Your Event Attendance
Many people are connected to Facebook, in fact Facebook has over 2 billion active users. Events are a great way to reach potential attendees and get them to attend. Plus Facebook sends out reminders to anyone who clicked that they were interested in your event.
Setting up events on Facebook is easy, just remember to include the following information:
Where the event is. Try to include a map or directions if you can.
What they should expect.
If they need to bring anything.
Contact information for the host.
Check out Facebook's step by step walkthrough on how to create your own event.
Reach More People With Paid Ads and Boosted Posts
Paid advertising is becoming more and more popular across all social networks. If you want your content to reach the eyes of your audience, you're going to have to pay for it.
Ads will range in price and how many people that you want to reach but it is safe to assume, the more people you want to reach, the more you're going to have to pay.
Business 2 Community helps break down the different options your team has for social ads in this post.
Prove the ROI of Your Social Posts With Google Analytics
One of the biggest challenges that any social media team will face is how to prove your social media efforts are affecting your bottom line. With Google Analytics you can prove how much money you're making every time you send a social media post.
Pretty slick huh?
Our social media ROI post will show you step by step how to set up your Google Analytics account to start tracking those sales.
Create a Customer Service Plan
According to Social Media Today, one in three people prefers to use social media as their channel to interact with customer service representatives. That means that more and more people are turning to company social media pages for answers.
Not having a plan in place could lead to an escalated social media disaster that no one wants to deal with.
Instead, create a plan for your social and CS team that outlines steps they're going to take to respond quickly to your customers and get them the information they need.
Read this Business News Daily article to learn more about how to create a customer service plan.
Utilize Customer Generated Content
Your customers are your number one fans and when they take the time to write positive things about your brand why wouldn't you take advantage of it?
In fact, 92% of consumers trust peer reviews than content that is coming from your marketing team. But before you go posting customer reviews keep in mind that:
You should always ask their permission to share their content.
Give fans credit for any photos or media that you use on your channel.
Thank them for reviewing a product or giving your team feedback.
Using customer generated content is easy and Simply Measured has a great post on how to encourage your fans to generate that content.
Interact with Your Fans on Every Social Channel
Any time a brand takes the time to interact with their fans, it's a good thing. Not only do those interactions help your customers feel like their voice has been heard it can also help increase their brand loyalty.
That means that your team needs to set up interaction guidelines to maintain a consistent presence on the channels.
Step one:

Determine how often you're going to respond to fan comments. Will it be once a day or multiple times on one each channel? Once you set those guidelines stick to them.
Step two:

 Write drafts of how to respond to negative comments. This doesn't mean you should copy and paste the same response over and over again. That could make a bad situation worse, however having a message set for different common complaints is okay. It could look something like:
"Hey ______. Thank you for bringing this to our attention. We're so sorry that this has happened and we never like when we fail to meet someone's expectations. We're going to have ____ from _____ department reaching out to you in the next 30 minutes to get this resolved."
Step three:

 Write drafts of how to respond to positive comments. Just like how negative comments deserve your attention so do positive ones. Your fans are taking the time to write something nice about your company or product. Give them the recognition they deserve.
Here's an example:
"Hi ____. Thank you so much for your kind words. We're so glad you enjoyed ______. Do you mind if we share your photos and reviews on our social media channels? Thanks again!"
Use In-App Analytics To Keep Track of What's Working (And What Isn't)
Your team puts a ton of effort into your social media marketing, and you want to prove that what you're doing is working.
Each social media channel offers some form of in-app analytics that can help you track how many people your posts are reaching and how often they engage with your content.
That data can help your team determine what your audience wants to see from you so you can connect with them more often.
Kit Smith broke down 15 tools you can use to track your social media analytics in this post from Brandwatch.
CoSchedule also offers our built-in Social Engagement Report feature that breaks down how often your audience is engaging with your content and pulls engagement rates and top posts for each channel.
Check out this step by step video to see how it works:
Work With Influencers to Spread the Reach of Your Brand
With the rise of social media came the rise of social media influencers. These users have huge followings on one or more platforms and can be a powerful tool when it comes to increasing the reach of your content.
Working with influencers isn't complicated, but you should always outline the goals and expectations for any influencer that you decided to work with before you have them start to post on behalf of your brand.
Pauline Cabrera illustrates five successful ways to work with influencers in this post for Post Planner.
20 Email Marketing Ideas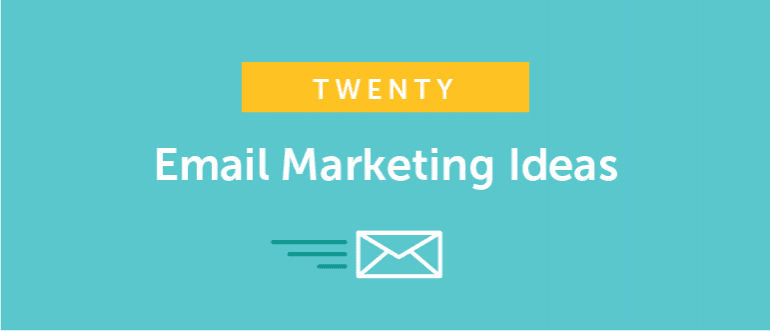 Now that you've got ideas flowing for your social media team let's move on to 20 ideas for your email marketing plan.
Run A/B Tests on Your Email Subject Lines
Whenever you craft an email, write two different headlines and test what language causes your audience to open your message.
Use that winning data to help format future headlines and get into the mind of your audience. Learn more about how to A/B test your headlines with this Campaign Monitor post.
Make Your Email Copy Skimmable
No one reads giant chunks of text on the internet anymore. We don't have the attention span for it. Your emails are included in that as well.
Improve your clickthrough rate and readability by breaking down your emails into short sentences. Here are some things to keep in mind:
Keep your paragraphs short, three sentences max.
There should be no more than 25 words per sentence.
Don't be afraid of one paragraph sentences.
We follow this format all the time at CoSchedule. Check out one of our emails from our product marketing lead Kat: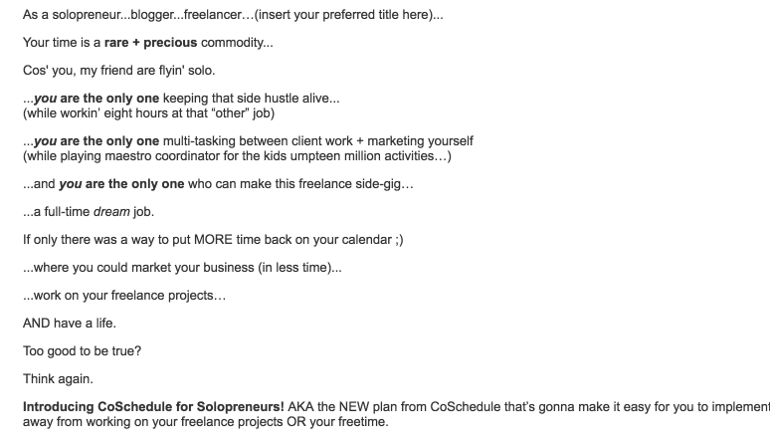 Send a Weekly Newsletter
Keep your company in the mind of your subscribers by sending a weekly newsletter.
Newsletters allow your list members to see what's new with your products or company. However, this is not your one stop shop to push your products all the time. According to Hubspot, your newsletters should be 90% educational and 10% promotional.
Read their blog post on how to craft the perfect email newsletter.
Write Attention-Grabbing Subject Lines
Your open rates hinge on the quality of your subject lines. So, if you want to succeed, you've got to make 'em good!
That's easier said than done, of course. Fortunately, we've prepped the perfect guide to nail your subject lines.
Put Email Opt-In Forms on Your Website
You drive a ton of traffic to your website, and you want them to remember you after they leave the site. Emails are a great way to do that, and your website is the perfect place to collect those email addresses.
Work with your web development team to add email opt's all over your website. They can be simple buttons or pop up windows that give visiting customers the chance to get on your email list.
"But Breonna, don't people exit out or ignore those buttons?"
If they aren't clicking your button isn't answering the fundamental question: What happens when I click this?
According to Joanna Wiebe at Copyblogger to get your audience to click on your button you need to calm their fears and tell them what is going to happen when they click to subscribe to your emails.
A friendly button = more click-throughs and email subscribers.
Listen to Joanna's advice on the Rainmaker FM podcast.
Gate Your Downloadable Content
One way to increase your email subscriber list is giving your subscriber something in exchange for them giving you their email address. This is normally done through gated content like downloadable templates, spreadsheets, infographics and more.
Curious to know if, when, and how you should gate content? Check out this Whiteboard Friday video from Moz's Rand Fishkin.
Round Up Your Best Content and Send It in an Email
Creating content takes up a good chunk of time for your marketing team (if it's done correctly). Why not extend the life of your content and round up your best posts for the week and send them to your email list?
To build a roundup email, you'll need to:
Gather your content that you published for the week.
Look at what's already going over well with your audience. Maybe one piece of content has more social shares or comments than the other. Stick those towards the top of your email.
Title each piece of content and write a short description underneath recapping what the post is about.
After that attach your email list and send. It's that easy.
Survey Your Email List For Feedback on Products, Content and More
Surveys are a great way to check in with your audience and get their opinion on products your company is producing, content your marketing team is creating or thoughts on what's going on in your industry.
Tools like Survey Monkey are resources that you can use to format questions and collect data all in one place.
Before you jump in and start polling your audience, read this post from Convince and Convert first on how to properly survey your audience.
Encourage Email Sign Ups With a Social Media Campaign
One way to get people to subscribe to your newsletter, sales list, etc. is to add sign up links to your social media messages.
To do this:
Step One:

 Grab your sign up form link.

Step Two:

 Enter it into Google Analytics URL builder. This will help you track how many people are signing up for your emails from your social posts.

Step Three:

Shorten the link using bit.ly.

Step Four:

Add the links to your social posts.

Step Five:

After your posts have published check your Google Analytics dashboard to see how your posts did.
Write CTAs In Your Content to Drive People to Sign Up For Your Newsletter
If your marketing team is publishing online content, add in a CTA to get your readers to sign up for your weekly newsletter or subscribe to your email list.
Your audience is taking the time to read your content so why not start with a small ask to help keep them connected to your organization.
All of that rests on writing a strong CTA, so we broke down how to write the best call to action statements in this blog post.
Segment Your Email List and Target Them With Content They'd Want to See
As your email list begins to grow one way that your marketing team can provide extra value is to start segmenting your list and targeting those groups with content that they want to see.
Giving your audience content that they want to see let's you cut through the noise and give your audience what they're looking for when they need it.
This Hubspot article will help walk you through how to properly segment your list.
Give Fans Extra Incentive to Subscribe to Your List With Access to Exclusive Content
As a consumer when you purchase a product, you have decided that exchanging your money is worth the product that you're buying. The same goes for your email list; you have to get your subscribers the incentive to swap their email address for something.
Exclusive content can help you do that. It could be an extra 25 tips in your blog post or access to your new set of infographics, just give your audience content that they'd happily hand their email address over for.
Check out this post on our blog on how to create killer content upgrades.
Cater to Your New Email Subscribers With a Series of Introductory Emails
So you finally get a member of your audience to subscribe to your email list. Now what? You could throw them into your normal list, or you could retain them by sending them a series of emails that help them learn what to expect when they're part of your list.
Your email series could look something like:
Introductory email.

 This is the first email that shows up in their inbox after they subscribe to your list. This should thank them for subscribing and explain what to expect when they're part of your list.

Follow up email.

This email should come within the first 15 days that they subscribed to their list. You could use this email to help segment them into different lists by asking what problems they're experiencing, or what information they need from you.

Second check-in email.

As your subscriber continues to receive emails from you follow up after 30 days to see how they're getting along. Are they enjoying the information that you're sending them? Do you need to switch them to a different list because they've moved on to the next step in your funnel?

Final check-in.

The final check-in email that you'll send to your list will come 60 days after they first subscribe. This email is the last personalized email that they'll receive from your team to make their subscription fit what they're looking for from you.
Learn more about how to set up drip campaigns with this post from Zapier.
Send Your Emails at the Best Times
You send emails with the purpose of your audience opening them and reading what you have to say, right? So how do you avoid making sure that your email doesn't end up in the trash unopened?
Send them at the best times. According to 10 different studies the best times to send your email are: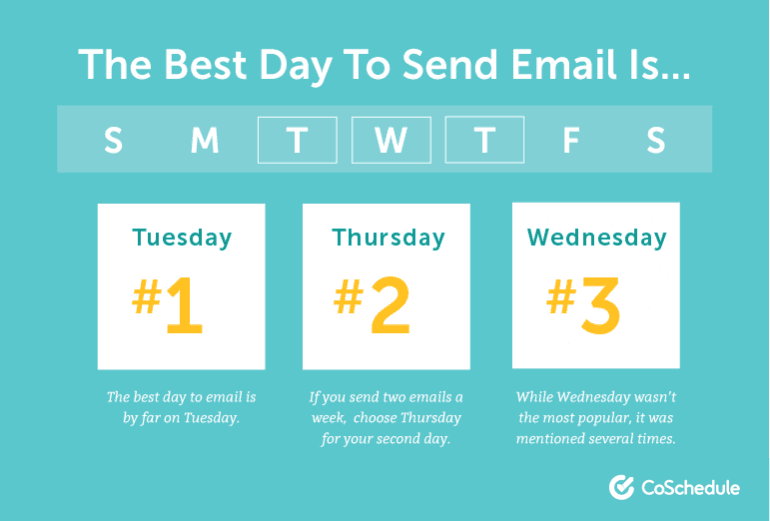 Let The Seasons Inspire Your Email Content
If your team is struggling to come up with ideas to send to your email list, let the seasons guide you. Creating seasonally relevant content is an easy way to fill your email schedule and it doesn't have to be over the top or cheesy to be effective.
Check out the advice from MarketingProfs on how to plan your seasonal content.
Use Strategic Emails to Push Holiday Sales
Black Friday sales ring a bell for anyone? Or maybe your organization goes all out for the fourth of July weekend. Those holidays and their sales can help drive your email content.
Use tools like the Time and Date Holiday Calculator to find different holidays to run sales and emails around.
The nice thing about this tool is if you have an international audience you can switch the country around and find different holidays you may not have known about yet.
Recap What Happened In Your Industry Each Week
If your organization is focused on one industry, recap what's been going on to keep your audience informed and up to date.
To keep track of what's going on, use tools like Feedly to curate content and choose top stories to share with your subscribers.
To use Feedly create your account and select + Add Content in the bottom left-hand corner: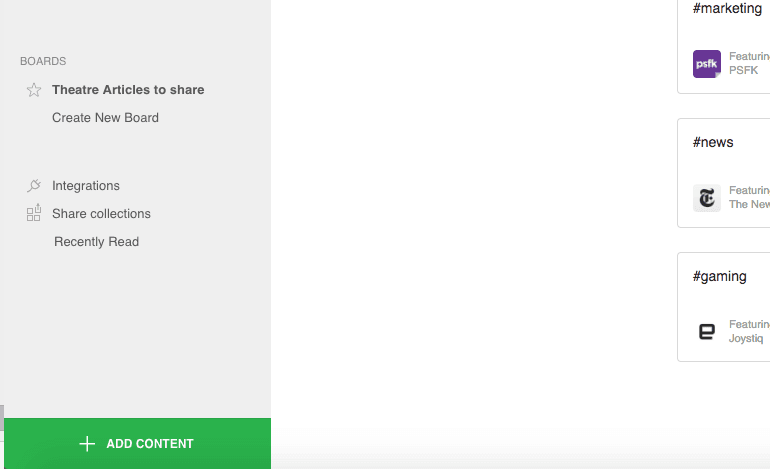 Then you can add in keywords, publications, and topics that you want to curate content around.
Once you start following sources, Feedly will curate content based on those topics which your team can read and recycle into your weekly email recap. A few things to keep in mind before you hit send:
Always read the content all the way through.

 Headlines don't always guarantee what content is in a post.

Make sure you're using content from reputable sources.

 The last thing you want to push out to your email list is something that is false or inaccurate.

Explain how any new trends may affect your organization.

 Maybe there's a series of new safety regulations that will make your product even better than what it was before. Tell your audience about it.
Build Best of Emails Highlighting Your Most Popular Products
If your company has a ton of products on the shelf why not highlight your best sellers with a "Best Of" email?
These emails can help drive traffic towards the products you want to sell and help create a feeling of missing out or FOMO.
Read Campaign Monitor's Aaron Beashel's blog post on five elements that need to be a part of a high-converting marketing offer email.
Remind Your Customers About Offers and Other Sales
If you're like me, you're prone to forget things like where your keys are or when your favorite books go on sale at Barnes and Noble. And if you're inclined to forgetfulness odds are your audience is too.
So remind them of upcoming sales and offers with reminder emails. These don't need to be large over the top emails, just a simple nudge that says "Hey, we have some fun stuff going on over here."
Check out this blog from SplashThat that is full of tips to use in your reminder emails.
Experiment With Plain Text and Designed Emails
With today's technology emails don't have to look like the standard, intro, sale information, CTA anymore. To grab the attention of your audience experiment with plain text and designed emails.
Designed emails don't have to be incredibly complicated and you don't have to be a graphic designer to create amazing content. Check out this post from Canva to learn how you can design jaw dropping emails with their tool.
Plain text emails should not be forgotten and Limitus breaks down how to craft the best ones and why they should be a part of your strategy.
Back to the Top

20 Content Marketing Ideas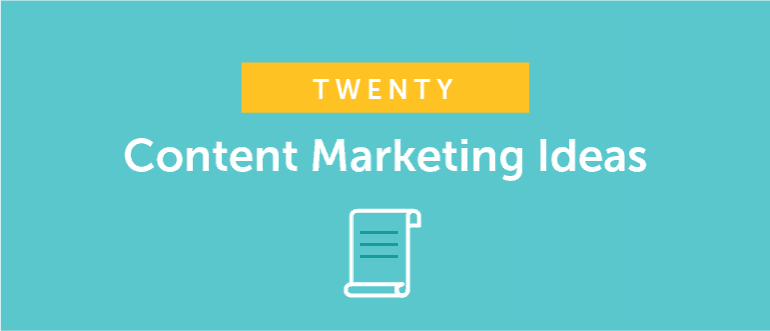 You've covered social media and email marketing, now let's tackle 20 ideas to boost your content marketing.
Republish Your Top Performing Content
If you have a piece of content that is going over well with your audience, don't just publish and let it sit. Set it up to republish again and again to get it back in front of members of your audience who didn't see it before.
"Yeah, but that takes so much time."
It doesn't have to though. Republishing your content can be as simple as updating or adding small pieces and scheduling it to be published again at a later date. At Coschedule these are the steps we take to republish our content:
Step one:

 Re-read post and update outdated information or add and expand a topic.

Step two:

 Create a working draft.

Step three:

 Update graphics and social campaigns.

Step four:

 Copy and paste the updated code over the original content.

Step three:

 Schedule publish date.
That's it, that's all we do, and it makes republishing our best content a breeze.
Publish Your Content on LinkedIn Pulse
If you're looking to give your content a second platform to call home, LinkedIn may be it. LinkedIn Pulse is LinkedIn's professional blog platform and republishing your content there is as easy as copying and pasting it from its original source.
It is important to note that any content you publish has to be authored by you and only you. If you have multiple writers on your team, only they can publish the content they write.
LinkedIn has a more in-depth overview of how to publish on Pulse in their help docs.
Get Content Ideas From Your Sales Team
Did you know you had a whole source of content ideas waiting for you in your office? They're on your sales team.
Your sales team is interacting with your current and potential customers all the time meaning they have an inside line in how your audience thinks and responds to your organization as well as what questions they have and problems they're facing.
Use that knowledge to help inspire your content. Check out this article from Content Marketing Institute on ten ways you can get your sales and marketing teams to work together.
Set a Consistent Publishing Schedule
If your team decides that publishing content on a blog or some other source is right for you, make sure that you are sticking to a consistent schedule.
Not only does a consistent schedule set expectations for your audience to find new content at a specific time, but it also holds your team accountable for your deadlines.
Check out this blog post on how to maintain a consistent content schedule.
Once you've determined your schedule you can use a tool like CoSchedule to manage your editorial calendar. Our WordPress-friendly platform will help you manage your content from start to finish.
Use the Skyscraper Technique To Improve Your SEO Ranking
Do you ever get frustrated because you just can't seem to get your content to rank? The skyscraper technique that was developed by Backlinko's Brian Dean and consists of three simple steps.
Find the top content for any keyword.
Create better content than the top performers.
Solicit and share content to encourage linking.
Our CEO and co-founder Garrett Moon broke down how to use the technique in this blog post.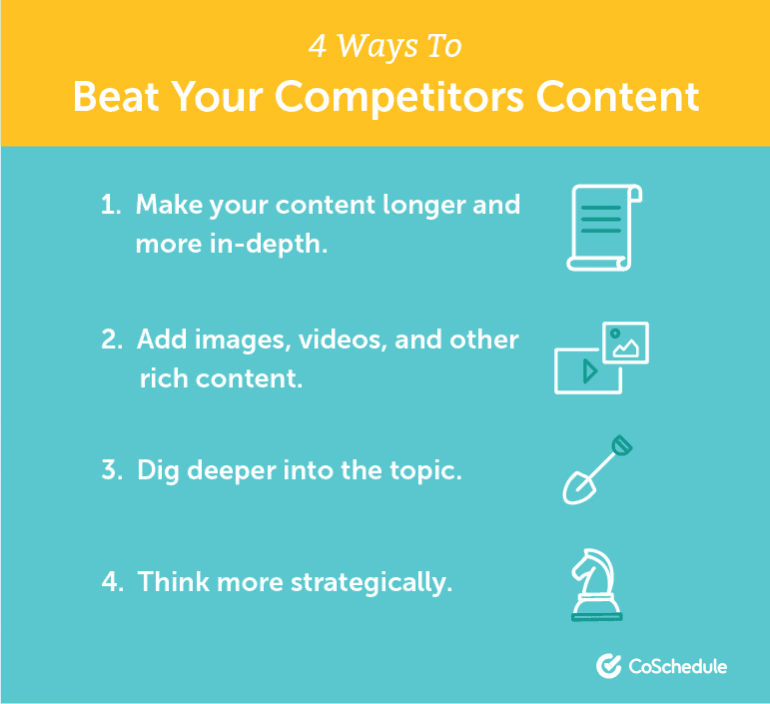 Start a Podcast
Looking to branch out and try to create different types of content? Try a podcast.
Seems like a crazy amount of work but trust us when we say the work is worth it. Almost 57 million Americans listen to podcasts. That's a huge audience that you could tap into.
Read this blog post to learn more about starting your podcast from someone who's actually done it.
Utilize Guest Authors to Help Fill Gaps in Your Blog Schedule
Your content writers write and write and write….and still, it's not enough to keep your blog schedule full.
Reaching out and having guest authors fill some of those gaps can allow your regular blog writers to get ahead in their content schedule and stay there. Plus you get the bonus of bringing the reputation of your guest writers to your blog.
Check out this blog post on how to handle guest bloggers the right way.
Create Actionable Content That Gives Instructions About How to Use Your Product
A lot of content just tells people what to do. So, stand out by showing your audience how to actually get stuff done.
Writing actionable content, especially if it's step by step can take a lot of time. I should know I write that way all the time. However, this type of content gives your readers something to hook their teeth into, and it provides them with value.
After all, isn't that why we write? To provide our readers with value.
Check out this blog post from Neil Patel about seven ways you can make your content more actionable.
Use Topic Clusters to Help Boost Your Search Traffic
Topic clusters are a newer SEO content strategy. They entail creating one piece of topical pillar content, supported by smaller pieces of content that fill out details around that topic.
Think about it like this: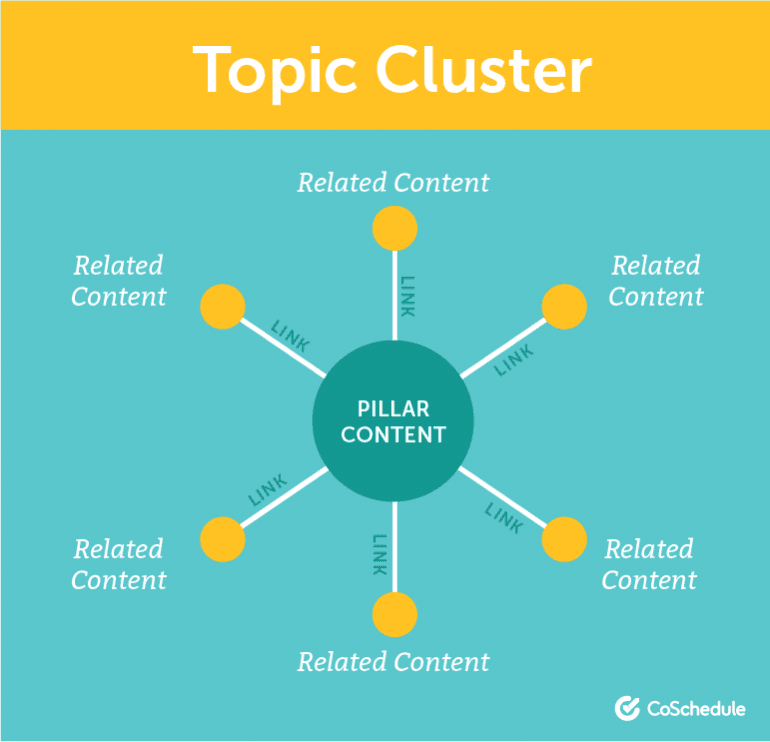 Topic clusters work to increase the authority of your posts by creating a web of backlinks to your parent topic which gives it an extra SEO boost. The theory is that as your parent topic rises in rankings so will your related content.
We broke down the whole process of building content around topic clusters on our blog.
Use Your Podcast Episodes to Help Inspire Your Blog Content
You write a lot of blog content; you have a demand to fill after all. Suddenly you hit writer's block, and you can't think of any topic to cover.
Let your podcasts episodes inspire your content. Depending on how often you record them you can either create complementary posts to your episodes or recap them for those who haven't listened yet.
We do this for every episode of the Actionable Marketing Podcast. Some things to keep in mind for every blog post that comes from your episodes:
Make sure readers can listen to the podcast episode from the post.
Include a transcript of your episode. Rev is a great resource to use if you don't want to transcribe it yourself.
Encourage people to subscribe to the podcast.
Interview Your Audience and Ask What Topics They Want to Learn About
Your audience is continually consuming your content and if your marketing team is stuck in a rut and running out of topics to cover turn to your audience.
Creating a content survey can let you tune into the problems and questions that your audience has and create content that they need and want to read.
Read about how Hubspot's Megan Keaney Anderson outlined how to create and direct a content survey.
Create a White Paper People Will Actually Read
White papers don't have to be boring. In fact,, they can be a powerful tool in your content marketing strategy if done well.
White papers are research-based reports that dive into a specific topic. They're based on facts (rather than opinions) and are great for presenting original research or summarizing information around a topic.
Learn how to craft the perfect white paper by reading  this blog from CoSchedule's Ben Sailer.
Link Out to Authoritative Content
When you're writing on topics, it's easier to gain the trust of your audience by backing up your opinions with content from highly authoritative sources.
These sources should back up any facts and advice that you give your audience. It also helps give your content an extra boost because search engines will crawl through your content and place more weight on backlinks that search engines consider high authority.
This article from MOZ will show you how to find authoritative websites to support your content in a few easy steps.
Write Guides That Break Down Different Topics In Your Industry
Creating a guide on a topic in your industry is another idea to create solid content. These guides should be the most comprehensive and thorough content that your team has ever created.
They should not only tell your audience what they need to do; they should show them how to do it as well. That's the theory that went into creating our Marketing Strategy Guide just a few weeks ago.
So what are the steps for creating these jaw-dropping guides?
Step One:

 Choose a keyword and several related LSI keywords that your guide should cover.

Step Two:

 Read the top ten pieces of content for every keyword that your guide targets and take notes on recurring questions or topics that you need to cover in your guide.

Step Three:

 Research and gather data through surveying your target audience or reading reports from high authority sources (or both).

Step Four:

 Compile all your information together in one easy to read guide.

Step Five:

 Share it with the world.
Create Content On The Best Practices For Your Industry
Another common content marketing idea is publishing a list of best practices for your industry. These lists can cover a wide topic like "Best Practices for Social Media Marketing" or you can get into a niche subject like "the best practices for marketing on Facebook."
Some things to keep in mind when you're writing best practices content.
Read what ranking content is including on their list.

 This is part of the skyscraper technique that we mentioned earlier. By including some of the same sub-heads but doing them better you'll increase your chances of ranking.

Don't include three tips and stop.

 If you're going to write a best practices list go big or go home.

Tell your audience how to do something.

Don't just give your audience advice, show them how to practice it.
Answer Popular Questions Your Audience Has On Platforms Like Quora
When your target audience is looking for answers why not be the ones that give it to them? The more answers you can provide your audience with the more likely they'll be to turn to you for help the next time they have a question.
Platforms like Quora give people a hub to ask questions and search for answers. It doesn't take much to share your expertise, so scan through questions and tackle one or two at time that you could give solid advice answering.
Brush up your knowledge on how to tackle a commonly asked questions by reading this post from Content Marketing Institute.
Show Your Product In Use
If your organization is trying to get your product into the shopping carts of your audience (online or in real life), help bring the sale home by showing how your product works.
We do this at CoSchedule all the time. We love being able to show our audience how our product works and different ways it can help make their marketing processes easier. (Hint, hint, nudge, nudge).
MarketingProfs explains how to create demos that your sales team will use, and customers will want to see in this blog post.
Create Courses to Teach Your Audience New Skills
If you haven't made the connection already, teaching your audience how to do something should play a big role in your content marketing strategy.
To quote CoSchedule's Head of Demand Generation Nathan: "People want to be shown how to do something."


So creating a course is a great way to integrate that teachable aspect into your content. However, before you start uploading content keep these things in mind:
Keep your course content evergreen.

 You don't want to have to update content every few weeks.

Be thorough in the knowledge you present.

 No one wants to waste their time or money on content that they already know. Make the course worthwhile for them.

Think through what your objectives are for teaching said course.

 If your team has clear objectives for why you want to teach a course that will come across in your content. Don't just teach a course to teach a course. Create content with a purpose.
Learn from the experts at Teachable about how to create an awesome course.
Guest Write for Other Blogs
Expand your content reach by guest blogging on other high ranking blogs in your industry. Guest blogging is an easy way to help increase your authority on industry topics and get your content in front of fresh eyes.
Kissmetrics has a great guide on how to manage your guest blogging.
Curate Content From Reputable Sources to Fill Gaps in Your Calendar
You've exhausted all your resources, and you still have gaps in your calendar to fill. Curating content from reputable sources can help you fill those gaps.
There's a common misconception that curating content is somehow cheating or drives traffic away from your site. Both of those things are false.
Curating content from reputable sources is not cheating as long as you're giving credit to the original authors every time you share said content. Now it may seem like driving traffic to another source is a bad idea. However, you can increase your own authority because you're introducing your audience to information coming from another reputable source.
To learn how to curate content correctly, check out this blog post.
You can also download the CoSchedule Chrome extension which will let you find, curate and schedule content right from search results.
20 Video Marketing Ideas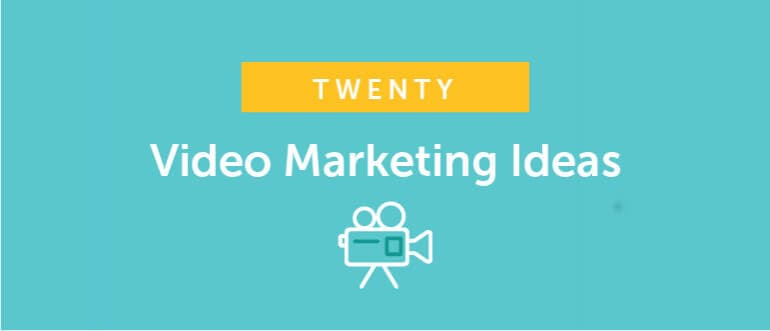 Video marketing has been on the rise for the last few years, and while it may seem complicated to produce watchable videos, these 20 tips will help get your team going in the right direction.
Develop Instructional Videos
Have you ever watched a Tasty video on Facebook? Those instructional videos make creating creme brulee look like a piece of cake.
Instructional videos go over well with audiences because they break down complicated tasks into digestible pieces.
Look at how easy the team at Buzzfeed makes it to follow along with simple cooking instructions:
Read this piece from Faculty Focus on how to create useful instructional videos.
Use Live Streaming Apps
Live video usage has gone up in droves since Facebook launched Facebook live in April of 2016. In fact, according to Livestream 80% of audiences would rather watch a live video from a brand.
Social channels like Facebook and Instagram can live stream video right from the platform but if your team is looking to break out and try live video out.
Check out this list from Hubspot on different live video apps you can stream your content from.
Host a Webinar
Webinars are a great video marketing technique that allows you to interact directly with your audience. In fact, as of 2016, the average webinar draws about 233 attendees.
That face to face interaction and the chance to hear directly from your audience isn't something you'll want to miss.
Check out this post from our resident video marketing expert Jordan Loftis on how to create a useful webinar.
Create Behind the Scenes Videos
People love seeing what goes on behind the camera. Why do you think there's always a blooper reel or behind the scenes footage when a cast and crew are filming a blockbuster movie?
Behind the scenes, content is a relatively cheap and easy way to create consumable video content that your audience will love to see.
"Yeah but isn't shooting that kind of content difficult?"
Not necessarily and BehindTheShutter.com created a content piece to show just how easy it is to capture that perfect BTS footage.
Edit Your Video Length to Fit Each Social Platform
Video is a natural content addition to any social media marketing strategy, and one way you can get your videos to stand out in a sea of them is to optimize their length to each platform.
Does this take more time in the editing process? You bet it does. However, taking the time to make sure that your video lengths fit the platform ensures that your audience can see the whole story and not miss out on vital information.
The length of video allowed on each platform varies so check out this blog post for the optimum time recommendations.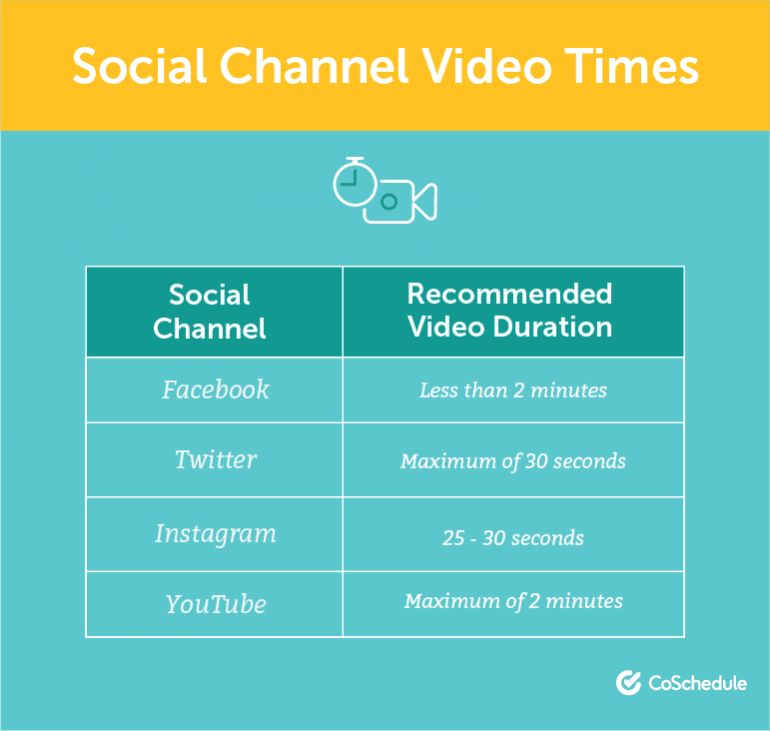 Teach a Class Via Video
At CoSchedule we decided that we wanted to add video webinars to our social media and content marketing courses.
Teaching a skill via video is another way to bring information across to your audience.
"Isn't that the same as a webinar?"
Not exactly. Videos allow your audience to go through content at their own pace while webinars are usually live.
Some things to keep in mind when you're creating a video for a class:
Outline the expectations for the video.
Thoroughly explain ideas, concepts, and instructions even if it seems like something should be basic knowledge.
Include visuals or demonstrations in the video if you can.
Film a Mini TV Series
In August of this year, Facebook launched Facebook Watch, where brands and channels could upload TV-like episodes for people to watch.
Kind of like a Netflix for social media.
These mini tv episodes can be highly engaging when they're produced the right way and the great thing is, they don't have to be as long as a standard 30 minute tv show. Five to ten minutes will do just fine.
TubularInsights broke down ten things you need to consider when making tv show style content.
Create a Weekly Video Series
Weekly videos are another tool that can be used in your video marketing wheelhouse. Weekly videos don't need to be complicated or over the top, just consistent.
Check out this weekly video series from ad agency H2M:
To learn more about what makes a solid weekly video, check out this interview that Wistia did with IMimpact's Shane Melaugh.
Partner With Industry Experts to Release Videos on Different Topics
If your video content needs a bit of a boost in views or a new audience to watch consider partnering with an expert in your industry to cover a topic your audience frequently asks about.
Take CoSchedule's partnership with Convince and Convert's Jay Baer to host a webinar earlier this summer. Jay is one of the leading experts on content marketing so it would make sense for our team to pull together both our expertise.
Some things to keep in mind when you're planning your videos:
Outline what you need for your industry expert.
Determine what content you're going to discuss in your video.
Decide who will be in control of promoting and publishing said video.
Shoot a Sales and Promotion Video
Sales and promo videos are a standard part of any video marketing strategy. We see them all the time in commercials on tv, those annoying ads that show up before your YouTube video, Facebook, everywhere.
When done correctly sales or promotion videos can be a significant player for organizations. Take a look at the famous "Dumb Ways to Die" video which was a promo ad reminding people to be safe around train platforms. It's a catchy song that draws in viewers and hits home with its point right at the end of the video.
Watch this video on eight simple steps you can take to make a great sales video.
Show Off Your Culture
Whether you're looking to hire new employees or show off who you are as a company, culture videos are a fun way to do that.
For example, check out Dropbox's company culture video:
The video is without a doubt creative, fun and shows off how Dropbox operates as an organization.
Check out StudioBinder's seven tips for creating great culture videos.
Film a Thank You Video
Everyone likes to feel appreciated and thank you videos are one way for your company to say thanks to your audience in a fun and memorable way.
CoSchedule makes a thank you video every year like this one:
Thank you videos should be fun and light but that doesn't mean you shouldn't have a strategy in place first. Check out Constant Contact's blog post on how to create a thank you video.
Interview Customers or Clients
People trust reviews. More specifically people trust reviews from other people like themselves. That's why things like user-generated content go over so well with audiences because the source it is coming from is not being paid for by someone trying to sell the product.
Customer and client testimonial videos are easy to create and publish as long as you ask the right questions.
Dustin Walker of Crazy Egg breaks down what you need to conduct the best customer interview and get those perfect tidbits of conversation for your video.
Create Product Specific Videos
Is your team getting ready to launch a new product? Creating a product specific video can help aid your team in that launch and make a memorable impression.
Take the product video that Dollar Shave Club created when they first launched their subscription service. It's fast-paced, sassy and memorable.
Check out this post from Vimeo on nine tips to create a killer product video like Dollar Shave Club.
Recap or Promote Your Event With a Video
Event videos are a great way to build hype and encourage your audience to attend an event you're hosting or going to.
They can also be used to recap an event and encourage people to attend next year. The thing about these videos is that you don't have to think about your content, it's already there ready for you to capture on film.
Before you start filming with your iPhone read this list of 13 keys to a successful event video from Videomaker.
Do an Expert Q and A Video
If your team is running out of ideas for content, try turning back to the experts in your industry.
Filming a simple Q and A video is an easy way to bring content to your audience base with little to no effort on the part of your team. Score!
Read this great Q and A overview blog post from Vlog Nation.
Get Creative With Your Data By Using Whiteboard Videos
Whiteboard animation videos have grown in popularity over the last five years or so because of their ability to convey complex information in a simplified way.
Not to mention the possibilities are endless, your team is only limited by what they can draw!
Jeff Bullas breaks down ten things that your team should be doing to create the perfect whiteboard animation video.
Create Time-Lapse Videos to Show Processes From Start to Finish
Time-lapse videos are always fun to see. Seeing any project go from start to finish in a matter of minutes is always entertaining and can easily hook your audience in.
Why? Because they want to see the finished product.
This theory can apply to marketing a new product or feature. Maybe your team had to build something from scratch. Show your audience how it all came together.
Read Time Lapse Network's step by step guide on how to create your time-lapse video.
Give Your Audience a Tour of Your Office
I don't know about you, but I love seeing the inside of offices of other businesses. Different office setups are always fun and sometimes help inspire your space.
Get personal and let your audience see where the magic happens and how you bring them the products or features they love with an office tour video.
Mini Matters breaks down how to create those personalized videos in this blog post.
Recap a Conference Your Team Attends
Your team just got back from a conference, and your brain is full to brim with new information and ideas. Before you launch into them all, use your attendance as inspiration for your next video.
Recap videos don't have to be these complex over the top products, even a simple two-minute video with a few photos and explaining what you gathered from the conference will suffice.
Check out how to build the perfect recap video with this blog post from Matter Now.
Back to the Top

20 Small Business Marketing Ideas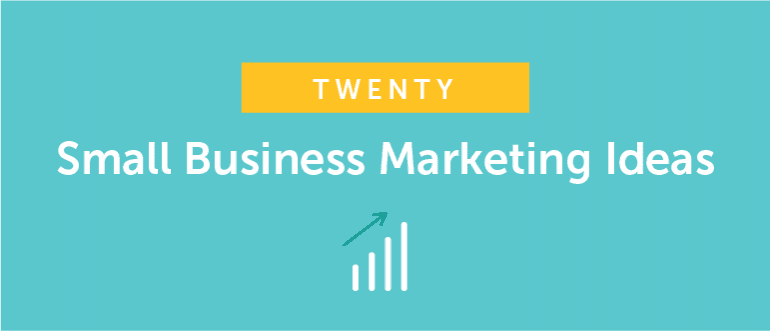 You're almost to the end of our list. The last part of our marketing ideas blog is going to cover a smorgasbord of marketing ideas to use for your small business.
Get Involved In Your Local Community
If you've just started your own business and you're looking to gain more traffic, get involved with your local community.
That means joining your local chamber of commerce or doing something to help add value to your community. These small actions can help get your business in front of your community which would add in foot traffic.
Read this blog from New York Life on how to get your business involved in your community.
Ask Your Fans to Refer Your Product or Business
So your business is finally gaining a fan following. People are love your product; they tell you all the time how they can't get enough of it.
Maximize that love and ask them to refer your business to their friends.
Read 25 ways to ask for a referral from Entrepreneur.
Create a Website Page for Every Service or Product Your Company Provides
If your small business is just starting to get off the ground, you need to let people know who you are and what you do.
One way to do that is to create landing pages for the different services and products your company offers.
Yes, it's a lot of work, but you need to be able to show your customers exactly what they're going to get from you if they decide to purchase your services.
Check out this list from Crazy Egg of seven tools you can use to power through your landing page creation.
Target Facebook Ads to Your Service Area
Your business is just starting to use social media, however, if you want to give it a boost try running small batches of ads targeted towards your local audience.
You can always move your ad range out as your business grows but depending on the product you sell, you may need to focus on your local audience first.
Facebook has a great examples on using local ads.
Use Free Tools Like Canva, Piktochart, and Infogram to Create Marketing Graphics
As a small business owner, you're probably doing a lot of your marketing yourself, meaning you're a strategist and graphic designer in one.
Free tools like Canva, Piktochart, and Infogram can help you design marketing materials like infographics, social media images, brochures, and more (even if you have no design experience).
Take a look at this example of an infographic created with Infogram: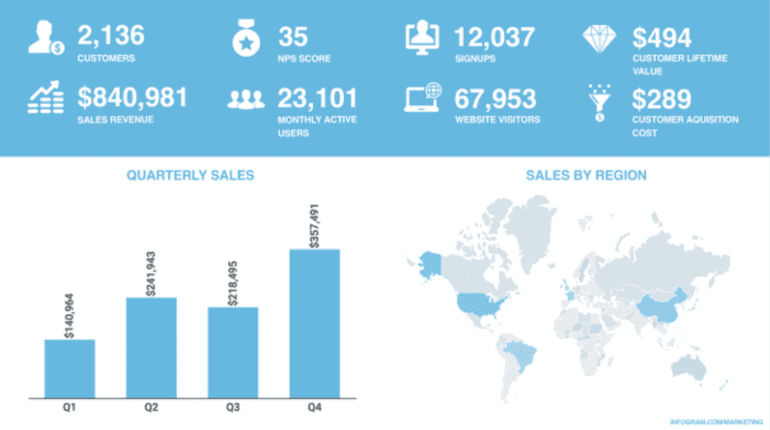 Post Planner put together ten graphic design hacks to help you get your design process started.
Build Branding Guidelines
Another step you can take as a small business owner is to create a branding guidelines document that will help you convey who and what your business is online in one well thought out message.
Branding guidelines include everything from the colors you want to your brand to use, to what not to do with your logo. Having this setup is indispensable because as your business grows and you add more people to your team, you can refer them back to this document.
Work Together With Other Businesses To Cross-Promote Your Brands
You don't have to go the long road by yourself. Partner with another local business to help promote both your brands.
Not only does this help the two of you get in front of each other's audiences, combining resources may allow you to go for larger scale advertising efforts than what you could originally afford.
Read NFIB's 10 ideas to help inspire your team to work with another local business.
Write an Elevator Pitch
What's an elevator pitch?
An elevator pitch is:
"A short speech on who and what your business is that is concise enough to be said in the length of an elevator ride."
As you talk to people about your small business, you need to convey who you are and what you do in a hurry. That's why elevator pitches are so handy.
Use these seven steps from The Balance on how to write a killer elevator pitch.
Keep a Consistent Blog Schedule
If you decide that blogging might be a good route to go for your small business, there is one thing that you need to remember.
Keep a consistent schedule.
As your audience begins to read your content, they're going to start expecting more from you. Creating a consistent schedule helps you maintain those expectations so they can continue to consume your blog posts.
Read more from The Sales Lion on different blogging schedules and experiment to see which one might work best for your team.
Respond to Positive and Negative Reviews
As a small business, you're going to see your fair share of positive and negative reviews. It's important to respond to every single one of those reviews.
Those initial reviews will set the tone for how people view your business and the more upfront you can be the better. Plus your audience gets the added bonus of knowing that you care about what they think.
Vendesta breaks down how to respond to negative and positive reviews in their blog posts (plus there's a free template to help you craft what you want to say).
Cross Promote Across Your Marketing Materials
You take a ton of time creating a variety of different marketing materials to help promote your business. Don't just use them once and let them go to waste, cross-promote your material.
For example, say that you created a brochure to distribute at other local business promoting your new space. Add your social media icons to the bottom and encourage people to follow you. Now your audience is reinforced with your marketing message twice.
Read this guide from Vertical Response on how to cross promote your content via email and beyond.
Join Local Networking Groups
Whether it's a local meetup or a group like the Kauffman Foundation (that hosts local 1 million cups events) help expand the reach of your business by joining nearby networking groups.
Networking is common in almost every industry and it's vital to the success of your business. It's not just what you know, it's who you know.
Learn more about networking groups with Business 2 Community's top 10 business networking groups that you should join.
Consider Direct Mail
Who doesn't like getting mail? Unless it's bills (in that case, getting mail sucks). Direct mail may seem like an outdated marketing process however, it can still be incredibly effective.
According to SmallBizTrends, direct mail campaigns receive about a 18 to 20% return on spend.
This Hubspot blog will teach you how to make the most of your direct mail campaign.
Create a Sales and Promotions Calendar
Sales and promos are a common way to get your customers through your door. However, keeping track of all those sales and promos can be a pain in the butt.
Especially if you're scrambling at the last-minute to get them put together. That's why having a calendar that tells you at a glance when your next sale is coming up is so vital to your success.
This post from CoSchedule will show you how to create and plan a marketing promotional calendar.
Build an Email List
Like direct mail email lists another channel your business can use to reach your audience. According to Kissmetrics, of the companies they surveyed, 23% of their total sales came from email marketing.
In other words, building an email list should be a top priority for your brand.
Read their full report and learn how to build your own email list in this blog post.
Find Your Target Audience
It may be easier to just blast your marketing material anywhere you can find, but that might not yield the results you're looking for.
Your business needs to find it's target audience and show them materials at the right time to lead them down your sales funnel.
But first you have to figure out who that audience is. This blog post will help you flesh out and determine the best people to advertise your business to.
Offer Incentives For Customers to Buy Your Product
You know those punch cards that after 10 punches you get a free coffee? Those work for a reason (and Im not just saying that because I use them).
Having some sort of incentive program for your customers can help drive them in the door because your business is providing extra value for their business.
This blog post from The Balance will help walk you through how to create a sales incentive program to help your business attract and retain the customers you're looking for.
Automate Your Marketing Where You Can
Marketing automation helps your small business get off the ground because you don't have to sweat the small things anymore.
The more you can get your marketing to work for you the better off you'll be.
Usually marketing automation means using some sort of tool which can be hard if you're working with a shoestring budget. Heinz marketing wrote a great blog post that will show you 12 ways to automate your marketing process on a tight budget.
Once you're done reading that, check out CoSchedule. Our all in one marketing calendar will help you automate your marketing process with tools like:
ReQueue
Best Time Scheduling
Task Templates
Social Campaign Templates
And more.
The best part is, we'll be the tool your team needs at a budget that won't break your bank.
Use MOZ Local to Help Improve Your Search Engine Rankings.
SEO is a powerful tool that can help your audience find you and your products. Navigating it takes a bit of work though.
That's where tools like MOZ come in. MOZ will work with you to help make sure that your business has the same information listed everywhere across the web.
Now you don't have to worry about a phone number accidentally redirecting your customers to the pizza place down the street.
Read more about how the tool works in the MOZ Local guide.
Build a Google My Business Page
Google is the search engine of all search engines (sorry Bing). If you want your business to be listed on one of the biggest search engine platforms in the world, try creating a Google My Business page.
They're simple to create and help you manage your business information while eliminating all that guesswork.
See Google's walk through of how to create your Google business account.
Back to the Top
You've Got 100 Ideas. Now, Go Run With Them.
So you just read a TON of ideas to help you kickstart your marketing strategy. Don't waste any more time, grab that template bundle that you downloaded earlier, pick your favorite ideas and get going.
Once you're ready to start planning and executing those great ideas, turn to CoSchedule. Start your free trial today.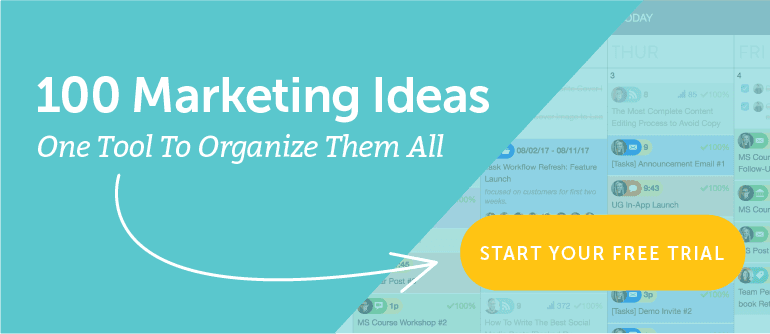 November 29, 2017