34 Marketing Plan Samples and 7 Templates to Build Your Strategy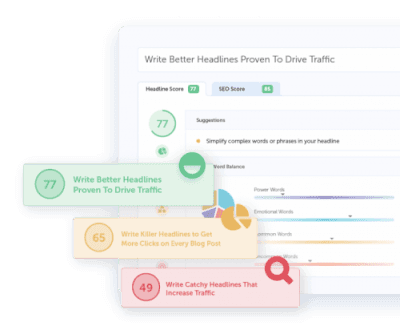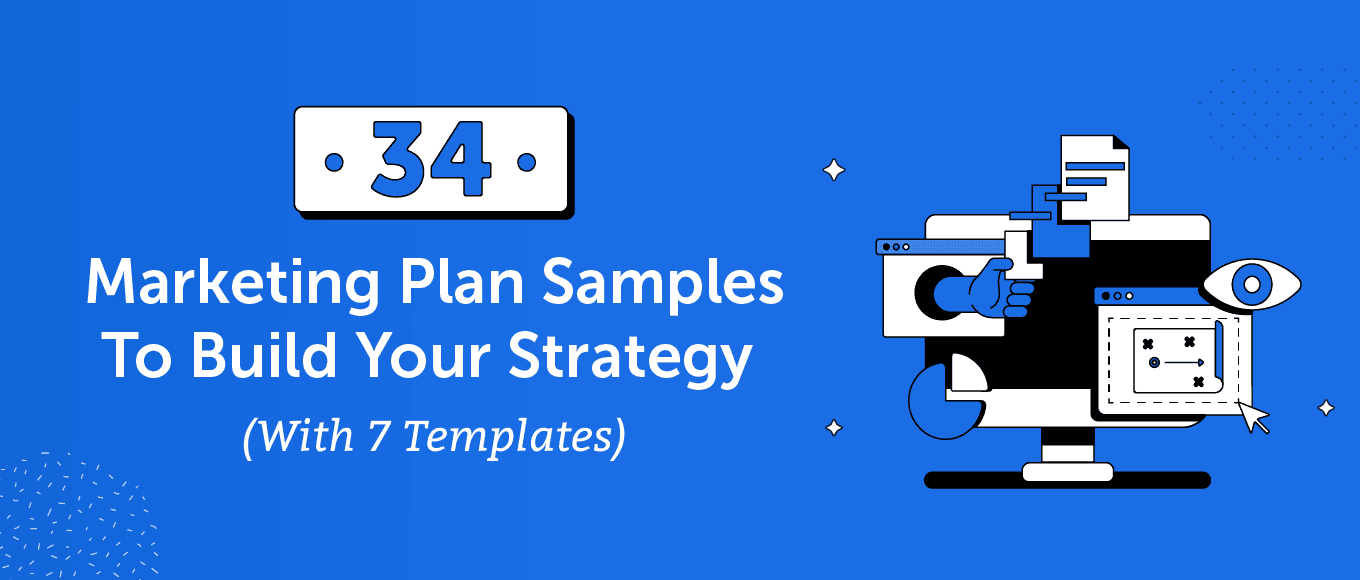 Maybe you have no idea where to start when it comes to creating your marketing plan. Of course, you don't want to leave out something important. Maybe you're refining one you've already created.
If you've done a simple Google search for marketing plan samples for inspiration, you've probably found it difficult. We thought you'd appreciate these 34 examples you can follow.
This post is split into two sections: one with a list of marketing plan samples, and another with 12 exercises to help you write an awesome marketing plan, step-by-step.
Let's get started.
Download Your Free Marketing Plan Template Bundle
With your marketing plan template bundle, you'll find everything you need to build a great marketing plan. It includes:
Social Media Strategy Template (PowerPoint): Manage every channel and achieve success with a clear social media roadmap.
Audience Persona Template (Word): Figure out who you're marketing to in the first place.
Marketing Budget Template (Excel): Make sure you stay on budget.
Marketing Plan Outline Template (Word): Document your entire marketing plan using this free outline.
Marketing Strategy Template (Excel): Map out every part of your strategy in one place (complements this guide).
Content Marketing Strategy Template (PowerPoint): Plan tactics and channels to make your content marketing a success.
Email Marketing Strategy Template (PowerPoint): Strategize every piece of your email plan before sending your next campaign.
Take The Guesswork & Stress Out Of Marketing. Create A Plan & Get Certified
Get step-by-step tutorials and premium resources you need to actually create and execute a marketing strategy that drives real results. 
Become Marketing Strategy Certified for $199 $49 (75% off for blog readers only). Simply enter code CERTIFIED at checkout to claim your spot. 
Enroll in the Actionable Marketing Institute's Marketing Strategy Certification Course to learn how to create a strategy that supports your goals, execute industry-tested best practices, and so much more!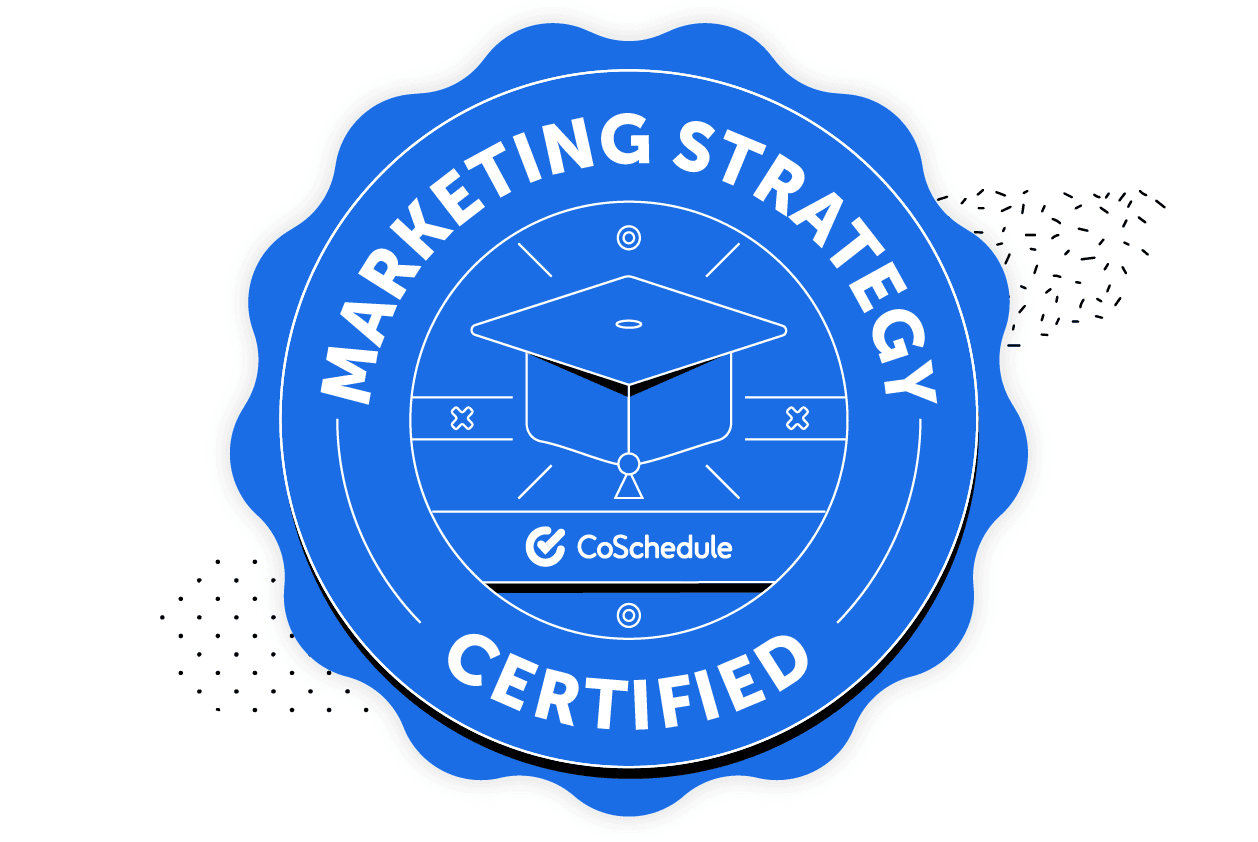 34 Marketing Plan Samples and Ideas to Make Yours Stand Out
You'll learn tons of exercises, ideas, and tips to create your own marketing plan. Some of these marketing samples are hypothetical, some are from real companies, and others are just marketing samples. In any case, you'll get a good feeling for what your own marketing plan should look like and how to lay it out.
What Does a Marketing Plan Look Like?
At their most basic, they're straight-forward planning docs that are usually formatted in Word. Here's an example for a quick look:
How to Write an Awesome Marketing Plan in 12 Steps
The following 12 exercises will show you how to build each piece of your marketing plan. They are based on just some of the examples linked above.
Table of Contents With Numbered Pages to Easily Navigate Through the Plan
Documented marketing plans can end up being lengthy, so having a table of contents will help you and others find their way around your plan.
Write a Basic Marketing Plan Outline
At a glance, these are the things that are typically included:
Map Out a Table of Contents
Write an Executive Summary (Includes Template)
Write a Mission Statement
Figure Out Your Goals
Establish Content Standards of Performance
Determine Core Competencies
Conduct a Situation Analysis
Do a SWOT Analysis
Connect Your Message to Your Target Market
Create an Audience Persona
The 4 Ps and Your Go-to-Market Strategy
Pricing Strategy
Marketing Tactics
Create a Values Matrix
Create a Budget
A few cool things that you might want to include in your marketing plan to spruce it up:
Include graphics and graphs (tables, diagrams, and even pictures).
A one-page marketing plan.
An appendix of complementary research that proves your points.
You can go into as much detail as you'd like with your table of contents. Here is a great example, of a detailed table of contents by the Palo Alto Software: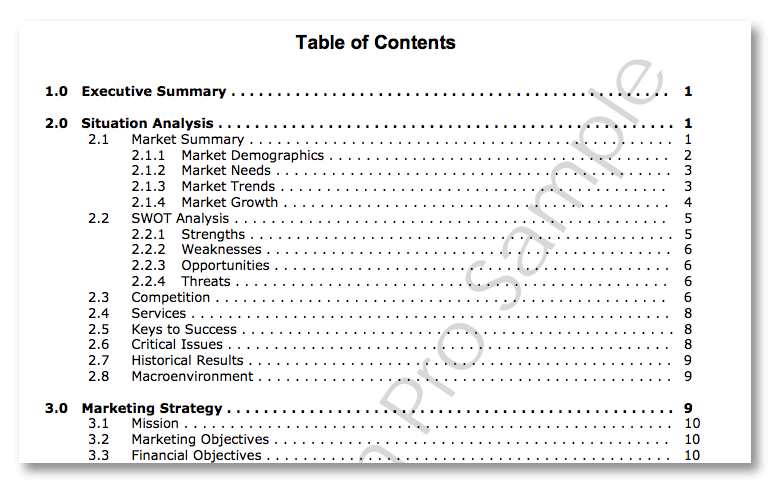 Executive Summary to Sell Upper Management On Your Plan
The executive summary provides a high-level overview of your marketing objectives.
Write the executive summary last.
Leave a spot at the beginning of your marketing plan for your executive summary. Make things easier by downloading the complementary marketing plan template in this post.
Ask yourself these questions as you work on your executive summary:
What types of customers are you targeting?
What patents or products will you market specifically?
What unique partnerships will you leverage to succeed?
How is your marketing plan special?
How will your company stand out?
What problem are you solving?
What is the solution?
Why now?
Here's an executive summary template to get you started:
[OUR COMPANY] offers [PRODUCT] to [TARGET CUSTOMER BASE] to help them [ACHIEVE GOAL]. Some of our leading product lines include [PRODUCT], [PRODUCT], and [PRODUCT]. Thanks to our unique position in the marketplace, we're able to easily leverage relationships with [PARTNER] and [PARTNER] to reach our customers.

This marketing plan differentiates our strategy in the marketplace by focusing on [ACTIONABLE TACTICS].

By following this plan, [OUR COMPANY] will stand out amongst our competition by better addressing our customer's core concerns with more creativity and more targeted messaging. By clearly communicating how [PRODUCT] solves [PROBLEM] for [CUSTOMER], [OUR COMPANY] aims to achieve greater success for our organization and [CORE AUDIENCE] alike.

With the release of [NEW PRODUCT/FEATURE] and [DISRUPTIVE TREND FOR YOUR AUDIENCE], now is the time to pivot our strategy toward our best customers' most pressing problems.
Write a Mission Statement to Show What Is Most Important to Your Business
Having a mission statement will remind you and your team of what is important. In order to do any of these marketing plan exercises, you'll have to ask yourself a ton of questions. You might have already noticed that.
What do we do?
How do we do it?
Who are we doing it for?
What value does your blog or company bring to the table?
Figure Out What Your Goals Are
It's also super important that you state your company's goals (financial and non-financial), so you know where you are headed and how much you can afford for certain things. Blue Sky also provided a great example of their goals.
Figure Out Your Financial Goals
What are your business goals?
How much do you have to generate from your marketing efforts?
What is your budget?
What are some of the things you'd like to do?
How many sales do you need to reach those goals?
Figure Out Your Non-Financial Goals
Writing your goals is one of the first steps to reaching them. First off, you've probably seen blog posts on S.M.A.R.T. goals many times before, but they are really good to mention again.
How to make your S.M.A.R.T. goals:
Specific: Is your goal clearly defined?
Measurable: Can you track your goal?
Aspirational: Reach for the stars. Push yourself.
Realistic: Are your goals realistic?
Timely: When do you want to reach your goals? What do you have to do to reach your goals and deadlines?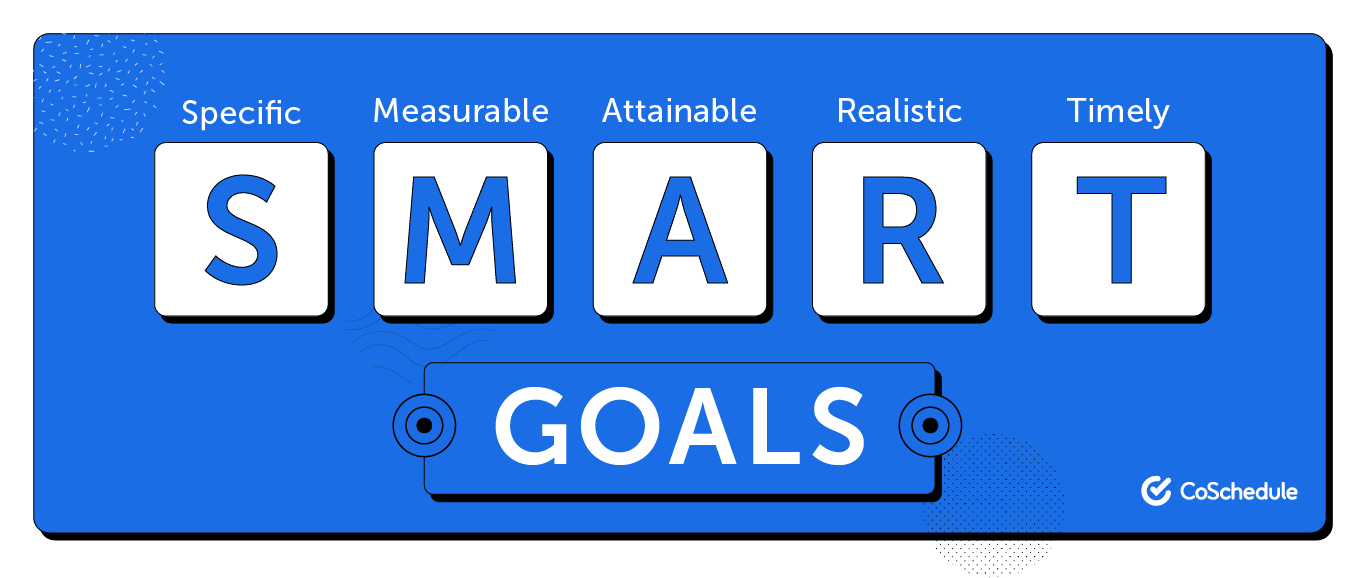 Now, write your goals and add them to your marketing plan.
Back to the Top

Standards of Performance to Direct Content Development
When writing your marketing plan, it's important to know what your standards of performance are, so you can continue bringing in bigger results or change up your current process to improve your content.
To figure out your standards of performance, make a list of your latest content.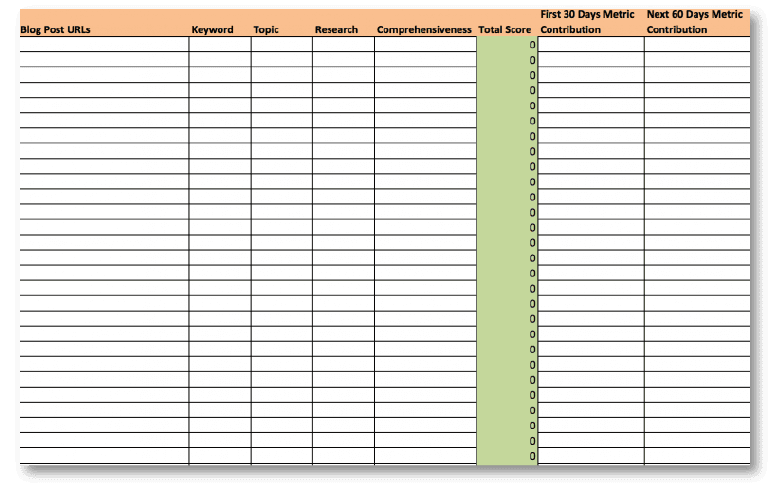 Once you've entered your data into each field, ask yourself:
What are the characteristics of my top-performing content according to my company's goals?
For example, there are four pillars that we make sure to implement in all CoSchedule content:
Is the keyword well-chosen (for search volume and difficulty) and optimized throughout the post to help me get long-term traffic?
Was this topic something my readers would want to learn more about?
Was this post deeply researched to share unique and better information than any other source on the internet?
Did the post turn the research into comprehensive, how-to advice?
Grade each piece of content against your standards of performance with a scale from one to three. A score of three means it's awesome, and one is not so good.
For more information on figuring out your standards of performance, check out our post on rocking your data-driven content calendar template.
Back to the Top

Core Competencies to Help You Choose the Right Projects
Remind your company about what they do well and show them how you plan to stand up against rivals.
If you don't know what your company does well, find out by meeting with your team and discussing it.
Ask yourself unique questions to get yourself thinking about your core competencies in a different light, rather than just wondering what you and your company do well. David Meerman Scott has a great example of this.
Get out an Excel spreadsheet and type out the answers to these questions:
What makes you and your company remarkable?
What value do you bring?
What proof do we have that you are the best?
Instead of Planning Another Meeting, You Could Also Send Your Team a Google Form
First off, go to Google Forms.
Pick out the kind of Google Form you'd like to send.

Once you click there, it will open to something like this — depending on which one you chose: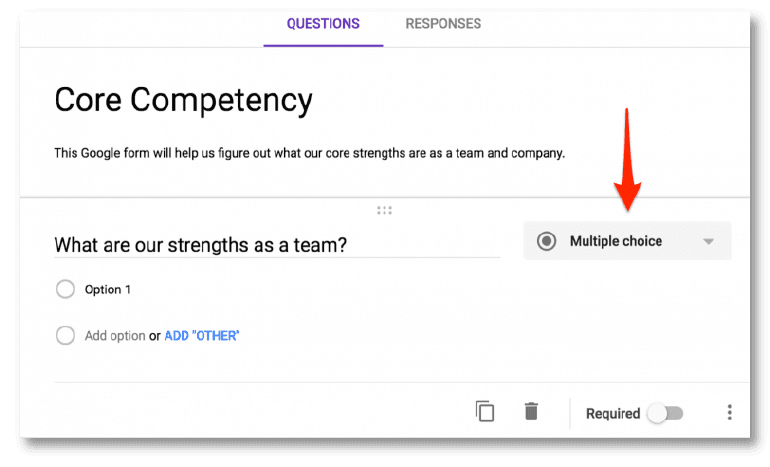 You will be asked to give the Google Form a title and a description. Add your first question and press on the gray bar — right of the question — to change up the questions you want to ask.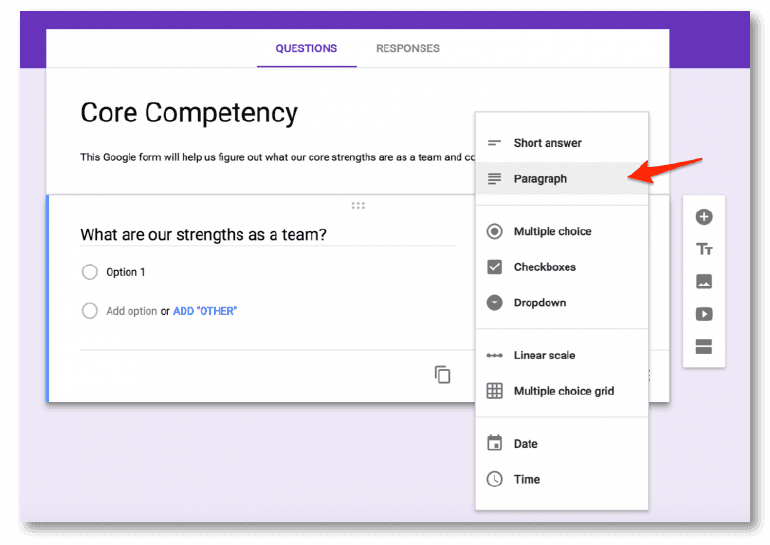 Pick Paragraph to let your team write as much as they'd like.
Ask these questions:
What are our strengths as a team?
What are our strengths as a company?
What are the strengths of our product?
How can we (are we) be the best in our industry/niche?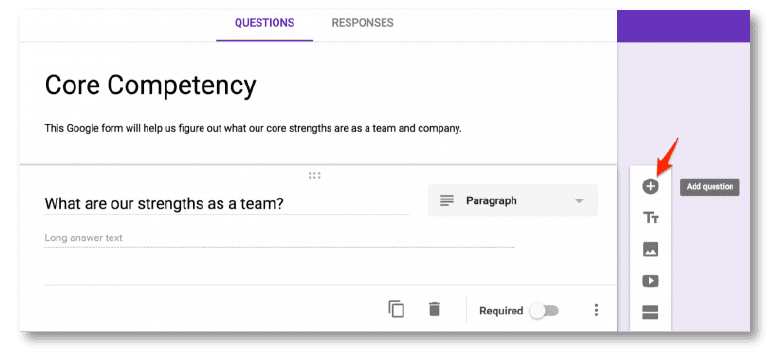 Click on the plus sign to add another question. You can also add pictures or videos here.
Once you are done, you can send an email to your team members with the Google Form link. Before sending the email, make sure you read and include the questions from Exercise #7.
Create a Situational Analysis to Understand the Business Environment
In order to thrive in your environment, you first need to understand it. This is what your situational analysis will accomplish.
Company Outline:
Statistics about company size, locations, employees, etc.
Tagline
Unique Selling Proposition
Sector
Brand awareness
Customer Outline:
Age
Income level
Geographic location
Socio-economic status
Purchase tendencies
Education level
Competitor Outline: 
Provide a list of each competitor, their products, and how they directly compete with your company (i.e. where they are strong and weak in comparison to your company).
Environmental Factors:
Determine the environmental factors (both internal and external), which can include economic or sociological factors that impact your business's performance.
SWOT Analysis to Understand How You'll Differentiate Yourself
It's important to have your strengths, weaknesses, opportunities, and threats at a glance. Then you can see what you need to improve.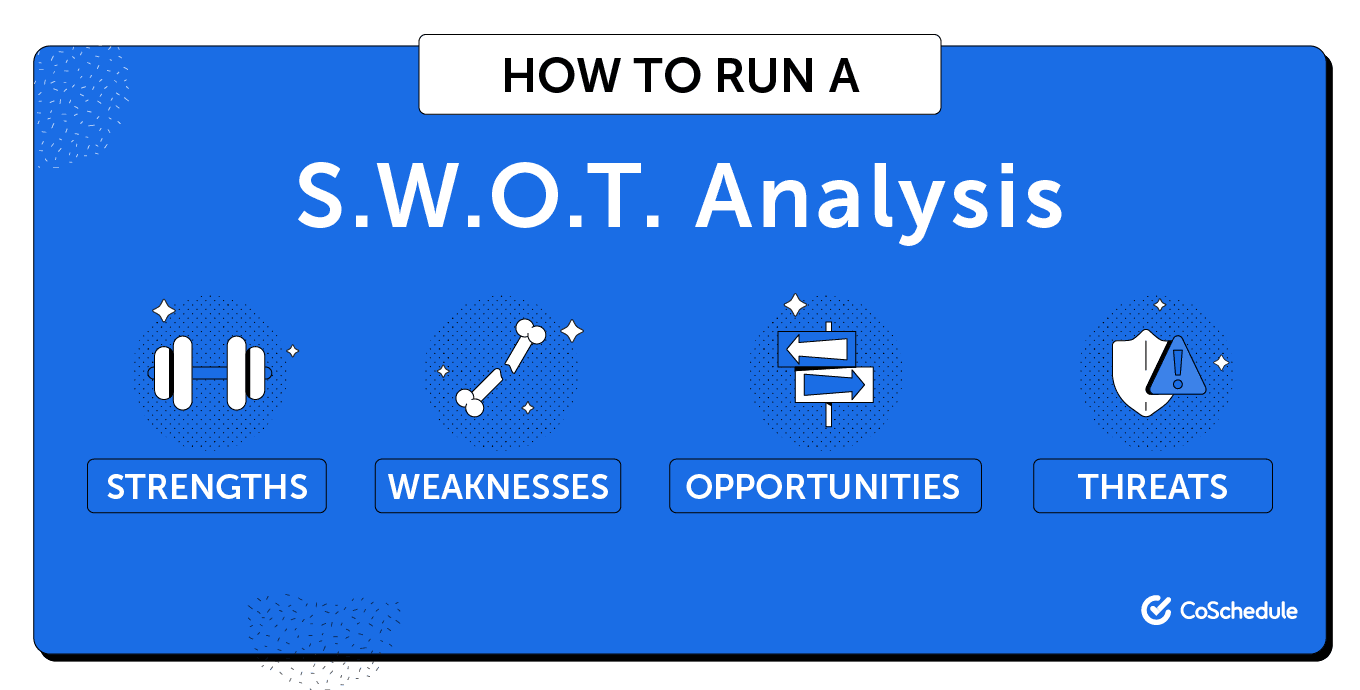 When you meet, discuss these questions as a team:
Strength (internal): What are your company and/or product's strengths?
Weaknesses (internal): How about your company and/or product's weaknesses?
Opportunities (external): What opportunities do you/we have?
Threats (external): What are your/our threats? Who are you/we competing against?
On a few of the different marketing plans I've seen, they put their S.W.O.T. quadrant into their appendix section. To see an example, scroll to extra tip #1.
Pro Tip: When you write your S.W.O.T. analysis in your marketing plan, go in-depth in each of the categories.
Connect Your Message With Your Target Market
You'll need to take a look at your Google Analytics to figure out your target market.
You'll want to find the answers to these questions:
What is the majority of your audience's gender?
How about their age range?
Where are most of them located?
First off, it's super important to know who is currently following you. Read on to find out who your current audience is.
Want to Find Out Who Your Current Audience Is?
Click into Google Analytics. On the left side, you'll see Audience. Click on it and scroll down to click Demographics and Overview.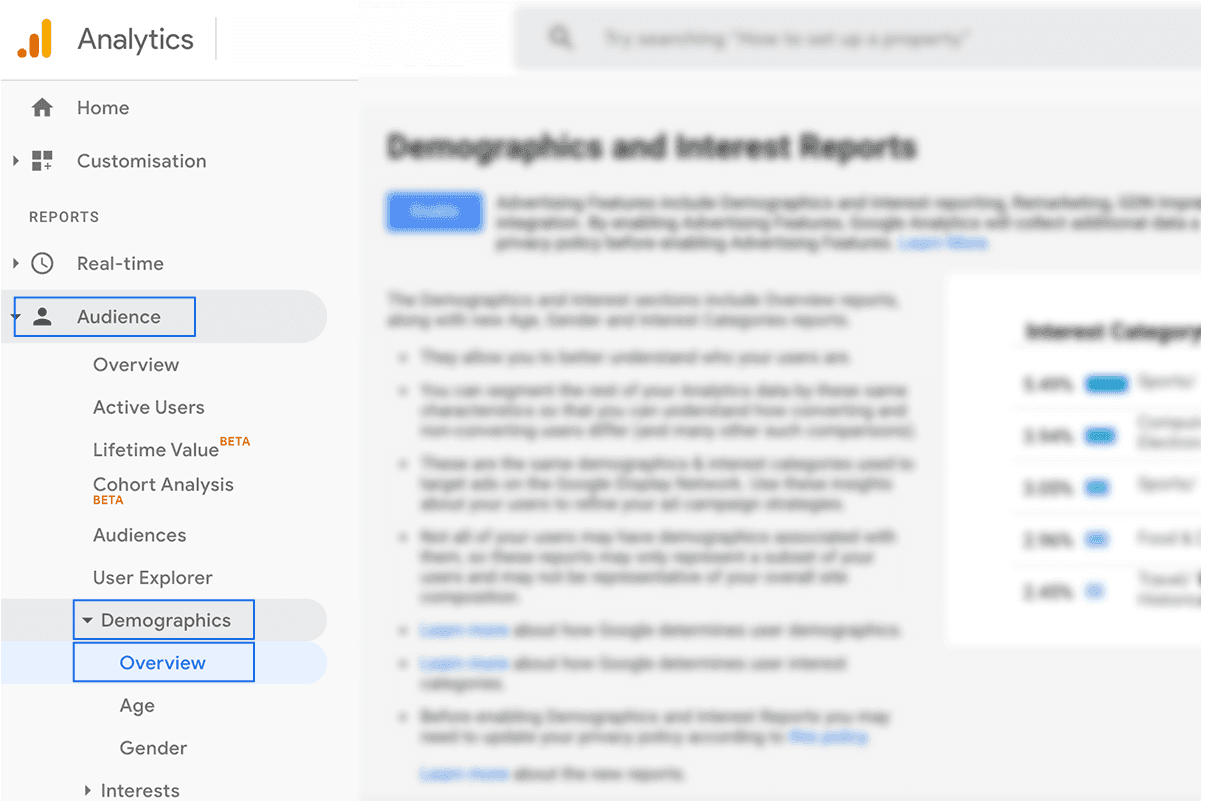 For more in-depth information on each of the demographics, you can click Age and Gender.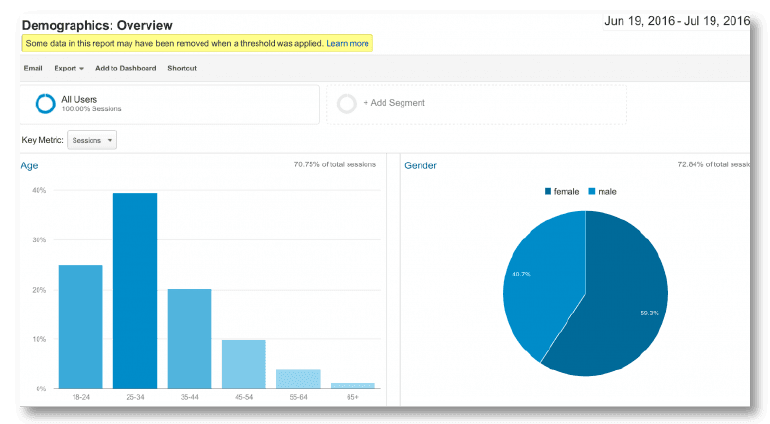 If you click on the Age tab underneath demographics, you'll see a more in-depth graph.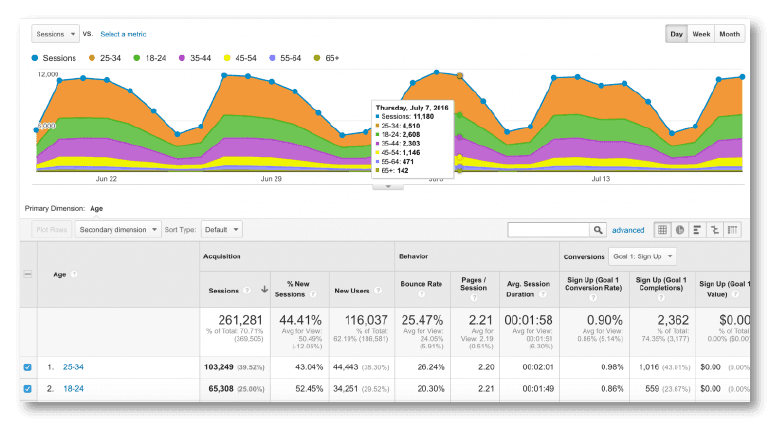 Hover over one of the blue dots to see how many sessions you had and how old each of those people were.
If you click on the Interests tab on the left side, you'll be brought to this page, which will show you their interests.
In that same audience section of Google Analytics, you can click on Overview, and then you'll see a button underneath demographics that gives you a choice to look at which countries people are tuning in from. Then you'll know their location.
After you know your current audience, it's important to take a look at who you'd like your target audience to be.
How to Find Your Target Audience
Ask yourself these questions to figure out who your target audience is:
What are their pain points? Keep in mind the audience that you want to attract.
What problem does your company/blog/product solve for them?
Who is your competition?
What will your customers gain from your company/blog/product?
There's so much more on finding your target audience that we haven't covered yet. It would take a whole post to discuss that.
Fortunately, you're in luck. We have a post on that here.
Back to the Top

Create an Audience Persona to Help You Know Who You're Writing Content For
Take the information you found in the target audience exercise and ask yourself these questions to figure out your audience persona.
An awesome persona answers these questions:
Who are they?
What is their personality?
How about their family life?
What are their values?
What do they do?
What is their job title?
Where do they work?
Where do they live?
What's their income level?
What are their challenges?
How about their pain points?
What are their needs?
It's easy to forget to ask questions that will really open up the psyche of your persona, so you can really pull the emotion into your content and business. Emotion sells.
What scares them?
What are their life beliefs?
What stresses them out?
Favorite books, movies, and music?
What keeps them up at night?
Go in deep when you are figuring out who your user persona is. Then go online to find a picture of them.
Find the Four Marketing Ps to Help You Understand Your Go-to-Market Strategy
In order to do marketing efficiently, you need to keep the four P's of marketing in mind: product, place, price, and promotion.
What Product Are You Marketing? (Product)
Set your user persona and target audience next to you when you fill out these questions:
What is it that our audience wants?
Why do they need it?
What makes it special and different? Why should your audience care?
Where Should You Sell Your Product? (Place)
How will you sell your product?
Are you selling it in a physical store or on E-commerce?
How Much Should You Sell It For? (Price)
Is it a good value for what your audience would be getting?
How does the price compare with your competitors and others in the market?
How Are You Going to Promote It? (Promotion)
Where are you going to promote your content/product?
How are you getting it in front of people?
Will you do ads? If so, where will you do them?
Here's a helpful video that is thorough and simple.
To illustrate the whole idea a little better for you let's imagine you're selling some rad shoes with wings that you've created.
Product:
What is it that your audience wants? Awesome shoes that will fly you all over. You know, like the shoes that had wings on them in Greek Mythology? Yes, just like Hermes and his flying shoes.
Why do they need it? It'll cut down on gas prices and also encourage people to get out more.
What makes it special and different? Well, they sorta have wings. I'd say that definitely makes them different.
Place:
How would you sell your product? I'd sell them online (on my website) and in stores.
Price:
Is it a good value for what your audience would be getting? I'd probably charge a lot of money for these shoes because they are definitely a great value for flying shoes. I mean, where else can you find such awesome shoes with wings?
How does the price compare with your competitors and others in the market? Well, I don't have any competitors, so I'd say the price sets the mark for this product.
Promotion:
Where are you going to promote your content/product? On my website, in shoe stores, and introduce them to the athletes who perform in the Olympics. Who knows, maybe a new sport will be created because of these shoes.
How are you getting it in front of people? I'd send a pair to influencers, artists, and sport stars. I'd also do an awesome job with my branding. The shoe box would be super cool. Shoelaces would be different colors and even some sparkly tissue paper instead of the newspaper colored tissue paper you usually see stuck in the shoes at department stores. My aim would be to make everyone feel like flying superstars.
Will you do ads? If so, where will you do them? I don't think I'd need to do much advertising once it got out there because I think shoes that allowed you to fly would pretty much sell themselves.
Even though I used a mythological product idea in this example, you get the point. But, man, I'd love to have a pair of those shoes.
Create your 4 Ps for your product and make it jump off the page at your audience.
Back to the Top

Create a Pricing Strategy
Before you define your price, it's best to nail down your positioning, branding, and distribution channels. This ensures that your pricing doesn't negatively affect brand strategy or the company's values.
The pricing strategy you choose will greatly influence how the market perceives your brand, so it's important to get it right.
Match Your Pricing Strategy to Your Value Proposition
Your price needs to be consistent with the perceived value of your product. If your product is too expensive to it's perceived value, it won't sell. Whereas, if your product is too affordable in relation to it's perceived value you risk losing out on revenue and potentially damaging your brand. After all, a luxury usually comes with a price.
Analyze Competitor Prices
Look at a wide variety of competitors to see how you are priced in comparison. This ensures that you are still pricing your products according to your brand strategy.
Determine Price Sensitivity
Higher price tags usually mean that your company with sell at a lower volume.
Volume isn't the only to consider, though. You may generate more total revenue and/or profit with fewer units at a higher price. This depends largely on if your customers are extremely price-sensitive.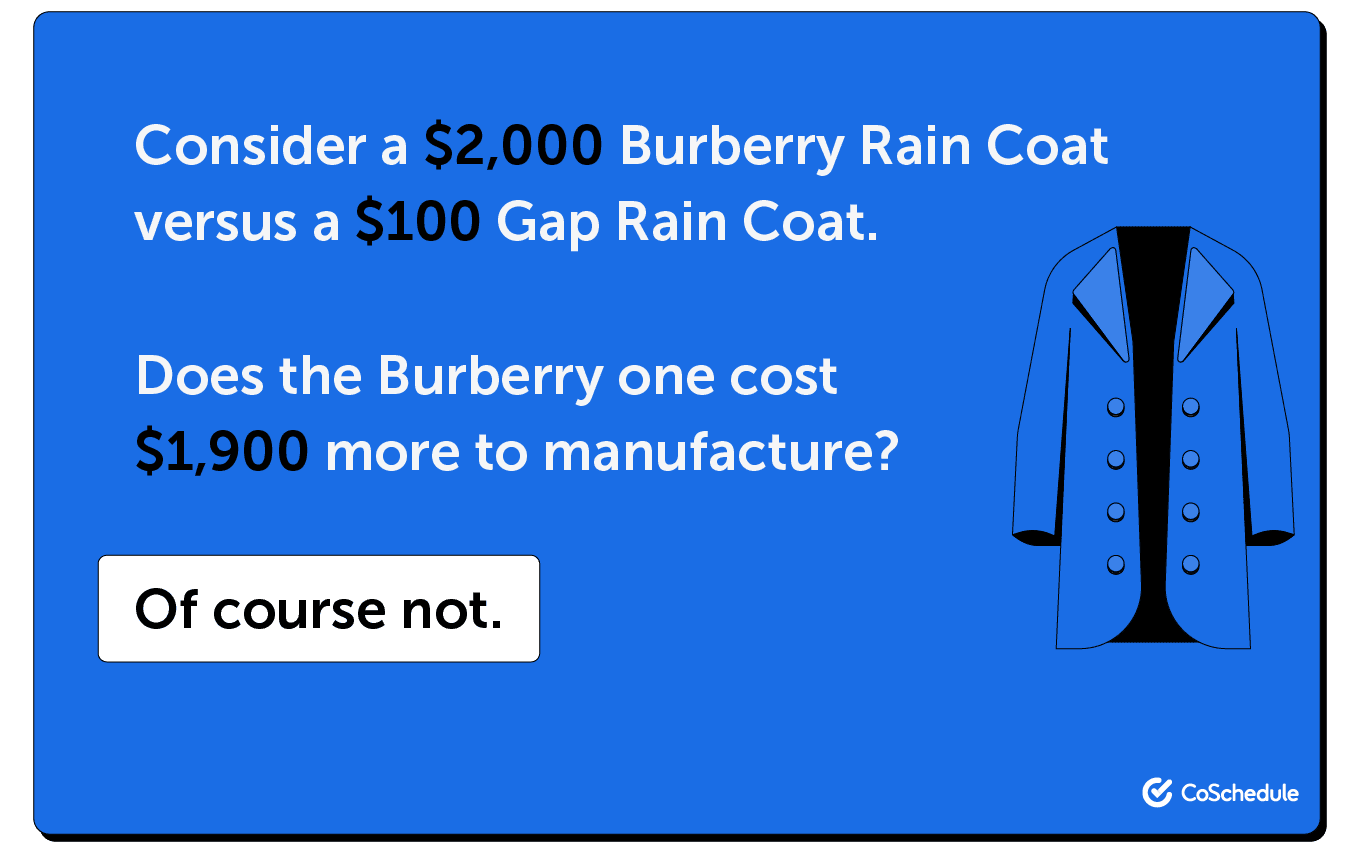 Burberry's customers are less price-sensitive, so the company can move less volume at a higher price tag, yet generate more total profit.
The Gap version, on the other hand, moves greater volume at a much lower price due to tighter margins.
Marketing Tactics + Checklist
What will be your ongoing marketing plan? What do you want to do? Where do you want to do it? In order to plan your future marketing, you have to know these things.
Set up an ongoing marketing plan for the year. What things will need to be done. I found this great sample example from the Agricultural Development Center at the University of Tennessee. It's so easy to see it all at a glance. You'll know exactly what goals you'll need to hit monthly.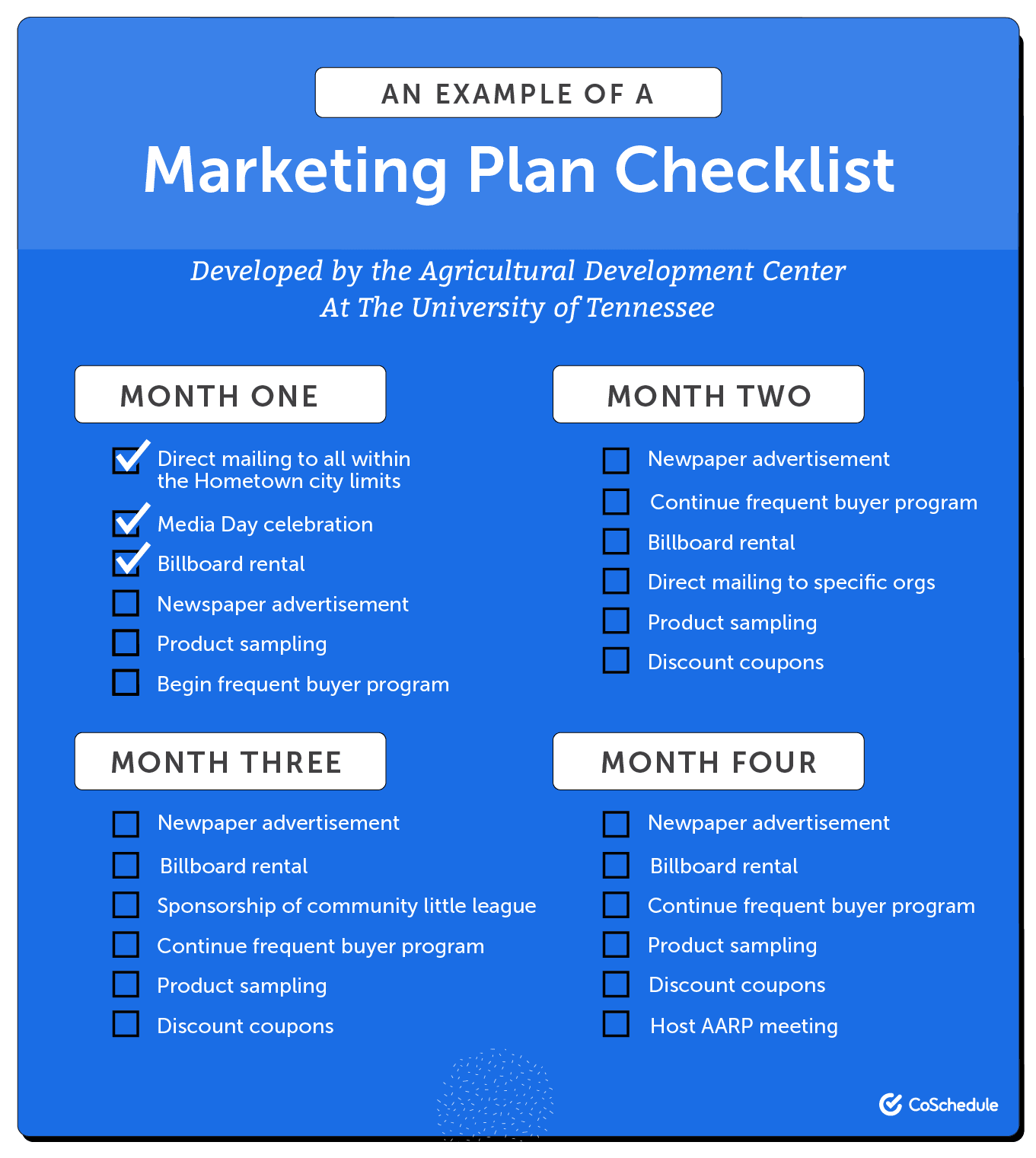 Create a Values Matrix
A values matrix helps you prioritize all the tactics that you have come up with. Essentially, it helps you choose the tactics that have the highest business value and take the least amount of resources to implement.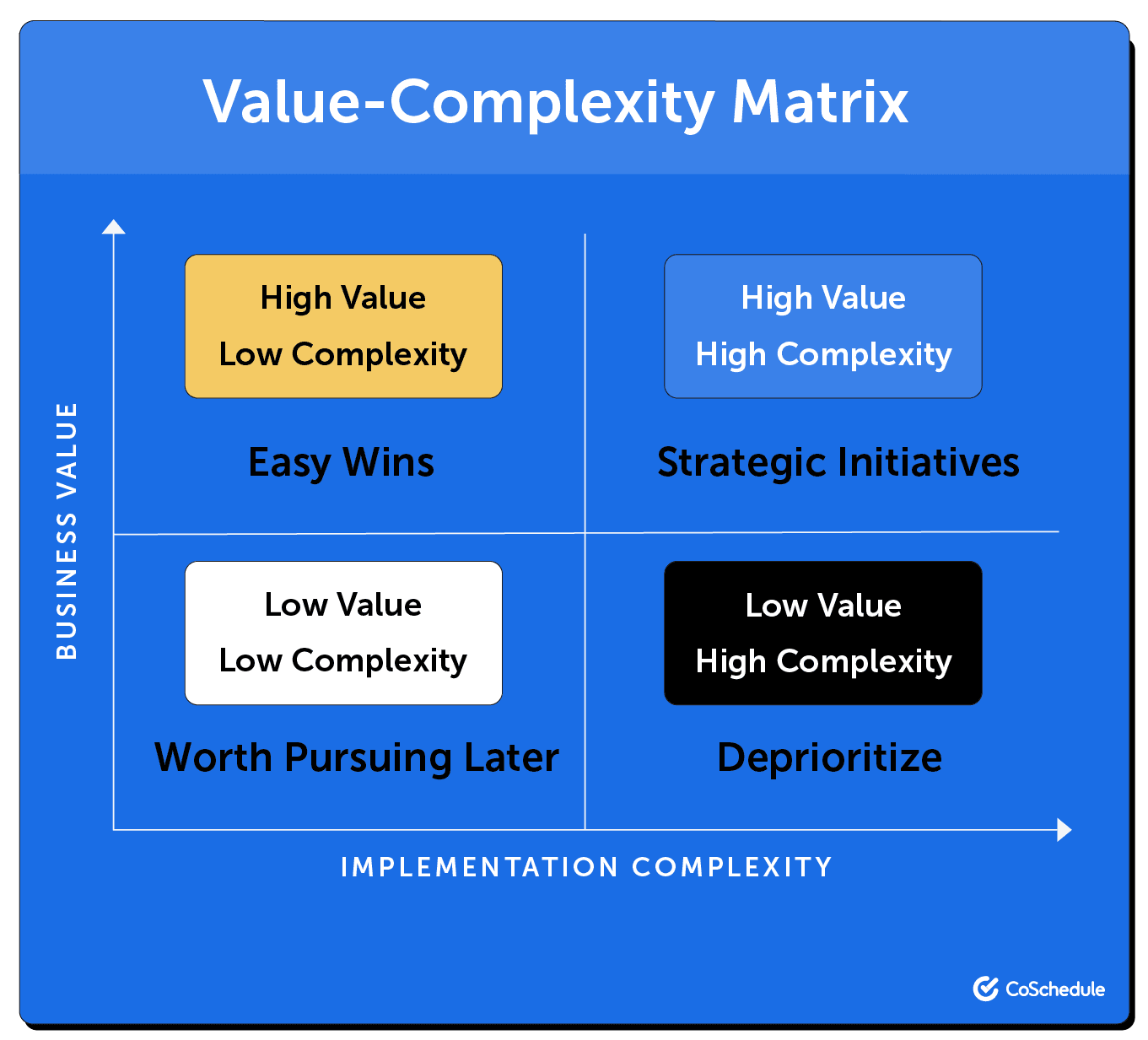 Business "value" depends on strategic objectives. This could include a campaign's usefulness in increasing sales, increasing website visitors, generating leads, or increasing brand awareness. The most valuable marketing campaigns, initiatives, or activities are the ones that are tied closest to the business's overall objective.
Implementation "complexity" encompasses the time it takes to implement, internal resources needed, and design costs.
High-value, low-complexity: "Easy wins" that should be considered for your plan.
High-value, high-complexity: Larger strategic initiatives that require effort and time but pay enormous dividends.
Low-value, low-complexity: Might or might not be worth your time. Revisit these features later or brainstorm ways to make them of higher value.
Low-value, high-complexity: Items that should be deprioritized.
Budget to Understand Where You'll Spend Cash and Find Gaps
You need to estimate how much your marketing projects are going to be. You'll be able to put together a budget to keep everyone on track over the course of the year.
Marketing costs and needs vary quite a bit. There is no easy way to figure out what your marketing budget should be, but starting with your needs and wants is a great place to start.
What's important is that you know what your needs and wants are. Answer these questions:
What does your content or business need when it comes to spending on marketing? This will help you narrow down the most important things that you currently need.
What does your content or business want when it comes to spending?
How much can you spend monthly?
Next for the needs and wants, write down how much it's going to cost. After doing that for all of your needs, you can start to see how much you can budget for your wants.
Scroll down for a great example of what you could include in your appendix that has to do with budgeting and your financial goals.
Bonus Challenge: Can You Fit Your Plan on One Page?
What if a full documented marketing plan feels excessive for your needs? If that's the case for you, try paring it down to the bare essentials. You might even be able to squeeze it down to just one page with the most important information you need to guide your strategy.
In this example, we have a one-page sheet you can glance at to see the most important information from your marketing plan. You might consider following a similar template: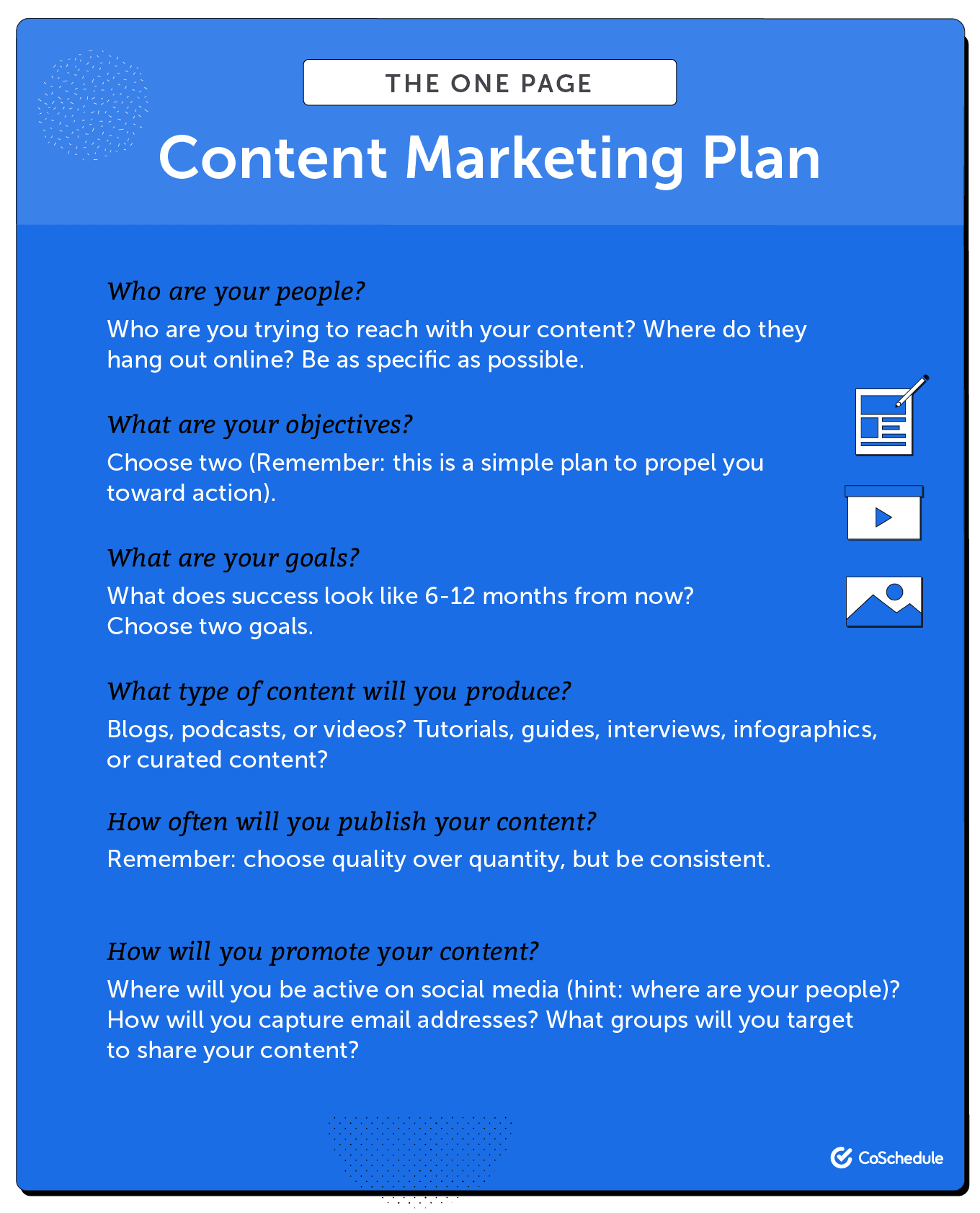 Now You Know What It Takes to Write an Awesome Marketing Plan
Since you have a ton of marketing plan samples — and the awesome marketing plan download — you're set to be a rock star in the marketing realm.
Just make sure you wear your shoes with the wings.
Earn A Certification That's Not Just For Show
Actionable Marketing Institute's Marketing Strategy Certification course gives you a proven roadmap to follow, so you can focus on the metrics that matter most - like leads & sales. 
Start your certification course for only $49 (75% off) before it's too late. Enter code CERTIFICATION at checkout. 
Offer available for blog readers for a limited-time.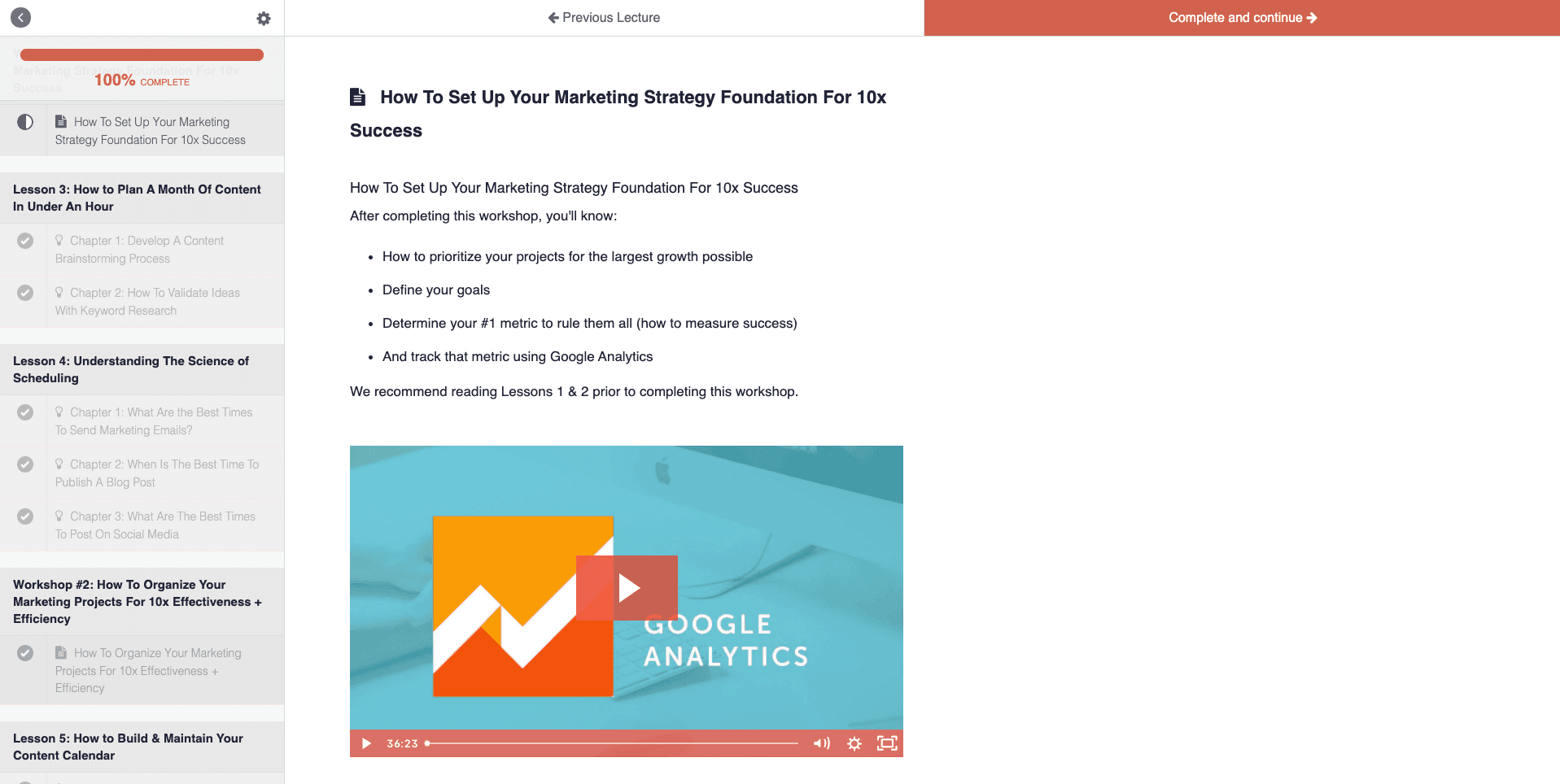 This post was originally published on August 15, 2016. It was updated with new images and information on June 22, 2020.
June 22, 2020