Plan an Entire Year of Content with this Retail Marketing & Events Calendar Template
Headline Analyzer
The blog post headline analyzer will score your overall headline quality and rate its ability to result in social shares, increased traffic, and SEO value.
Test every headline before you publish. Try the Headline Analyzer »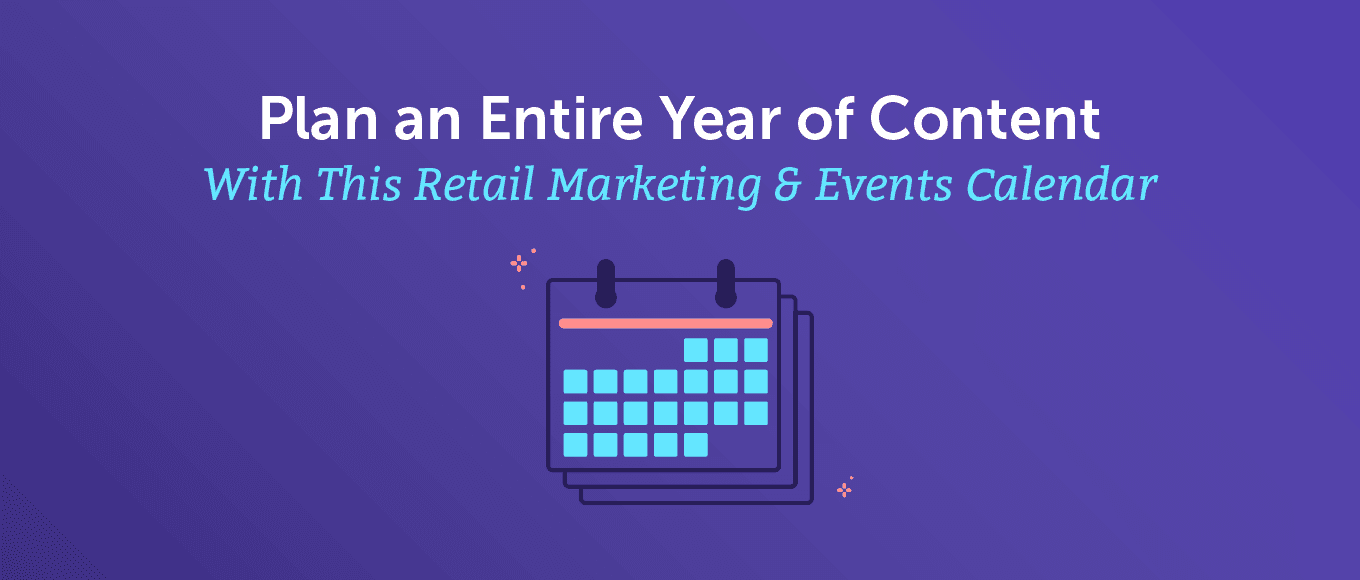 You're probably thinking that it's a little too soon to be planning next year's retail marketing calendar. But why put off until tomorrow what you can do today?
In fact, there are a lot of benefits to planning your retail and e-commerce marketing campaigns early. A few include:
You'll start filling your sales funnel early, which means people will be closer to making a purchase decision by the time peak buying periods roll around.
Working far in advance means you'll have more time to build up plenty of marketing runway.
You can be more creative, since you'll have plenty of time to do it right.
There will be fewer last-minute fire-drills, making your work life more manageable.
While I'm not expecting you to have all of your retail marketing activities for next year planned, this template and infographic should help you build up at least a quarter or more of marketing campaigns.
If you're not ready to start planning yet – no problem. It'll be here waiting for you when you're ready to get started.
There's even a printable retail marketing infographic and calendar template to help you when it's time to get planning.
Retail Marketing Calendar Templates
Before getting into the nuts and bolts of planning your retail marketing calendar, you'll want to download these templates.
You'll find:
 A

Marketing Campaign Planning Template

 to organize your entire retail marketing campaign.
A

Retail Marketing Calendar

with all the upcoming holidays to plan your campaigns around.
A

Printable Retail Marketing Infographic

 to keep up with all the key marketing dates.
What is a Retail Marketing Calendar?
Let's start by discussing a little about what a retail calendar actually is.
A retail marketing and events calendar is usually a spreadsheet that gives the marketing team a single source of truth for all the upcoming marketing activities.
It's the birds-eye view of the marketing strategy, new merchandise launches upcoming events and promotional schedules.
A robust calendar should outline deadlines, tasks, and all required actions that must take place for content to publish on time.
It's the document that makes sure your marketing activities go from imagination to reality.
Companies who sell a product via a brick-and-mortar, e-commerce store, or pop-up shop can all benefit from a retail marketing calendar.
Planning Your Retail Marketing Events and Campaigns
When sitting down to start strategizing about your upcoming retail and sales campaigns, there are a few things you can do to make sure your initiatives are successful.
Some marketers feel that these steps are a waste of time and take away effort that could be used to produce customer-facing content.
However, marketers are 356% more likely to report success when they engage in a few planning activities before launching a campaign. Here are a few areas to focus on:
Goal and Objective Setting
The main goal of retail marketing is to bring visitors to the store… be it a digital or physical location. Then, we need to convert these visitors into paying customers.
Rarely does a visitor complete a purchase their first time in the store. The buying cycle typically involves numerous interactions prior to making a sale.
The individual will visit the store, see an ad or social media post, follow the company, sign up for its mailing list, visit the store again, put something in the shopping cart, abandon the shopping cart, click an ad, go cold for a few weeks, open a discount email, visit the store again, and finally complete their purchase.
It's a convoluted process… and it can take weeks or even months.
Defining goals and objectives can help you make sense of the often complicated marketing funnel.
Let's go through how to set goals that actually contribute to the bottom line.
"Get more visitors."
This is not a very well-thought-out business goal.
Why? Because it doesn't specify much more than an outcome.
Your marketing goals need to provide clear guideposts for what success looks like. In other words. Your goals need to be S.M.A.R.T.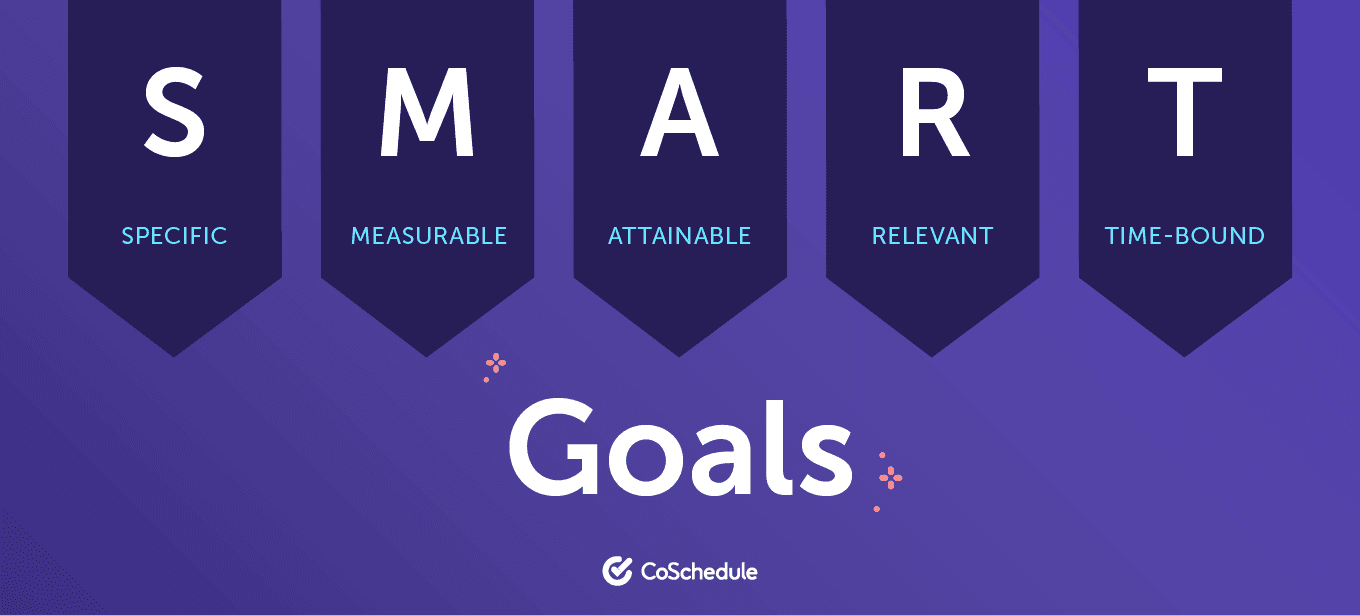 Here's what your goal should look like instead:
'We need 20,000 website visitors and 5% converted into leads, within the next 12-months in order to achieve our revenue goal of $1.2 million."
Find Your Retail Marketing Goal With This Step-by-Step Process
Start by figuring out how much revenue you need to generate and how much you want to grow.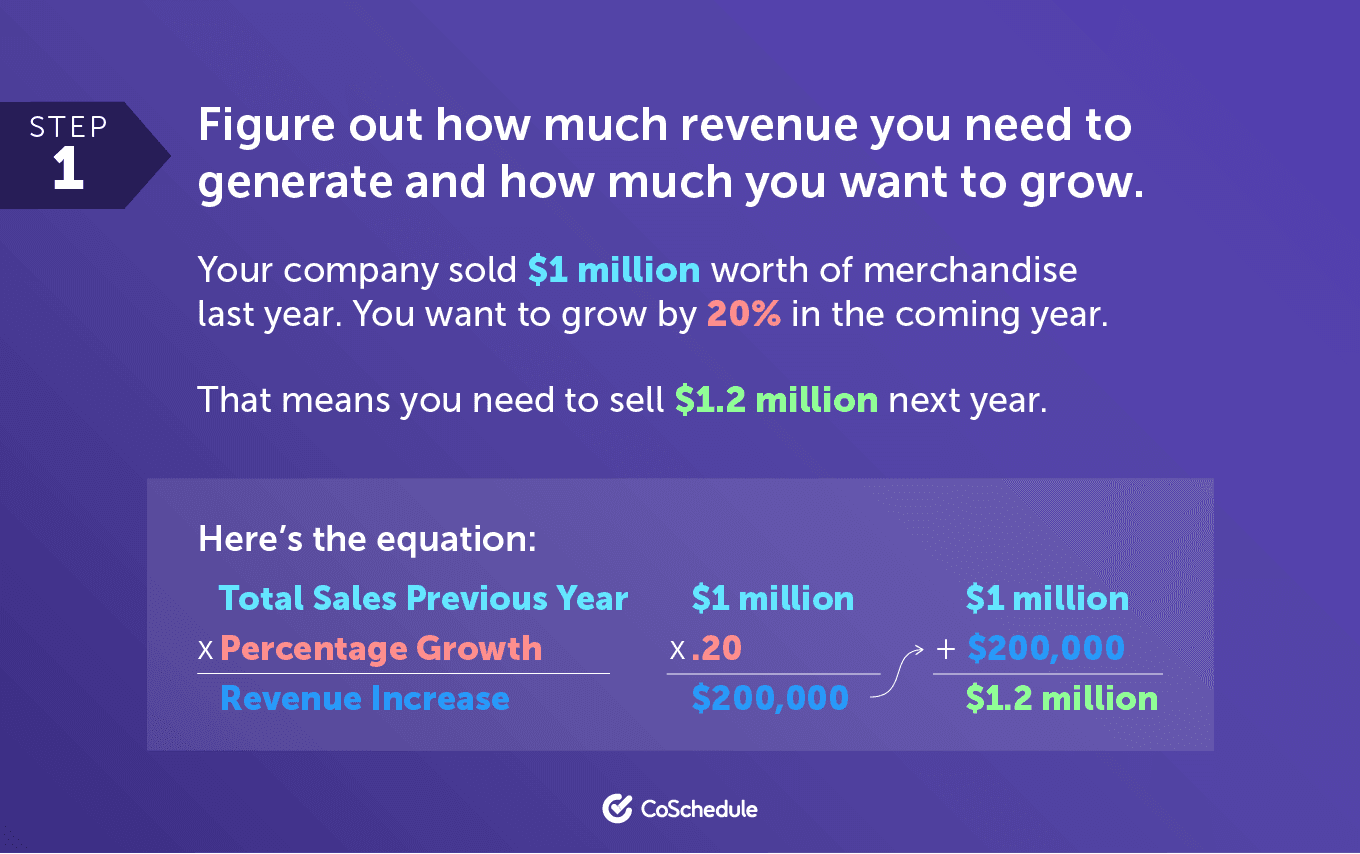 Step 1:
Figure out how much revenue you need to generate and how much you want to grow.
Your company sold $1 million worth of merchandise last year. You want to grow by 20% in the coming year.
That means you need to sell $1.2 million next year.
Here's the equation:
Total Sales Previous Year x Percentage Growth = Revenue Increase
$1 million x .20 = $200,000
$1 million + $200,000 = $1.2 million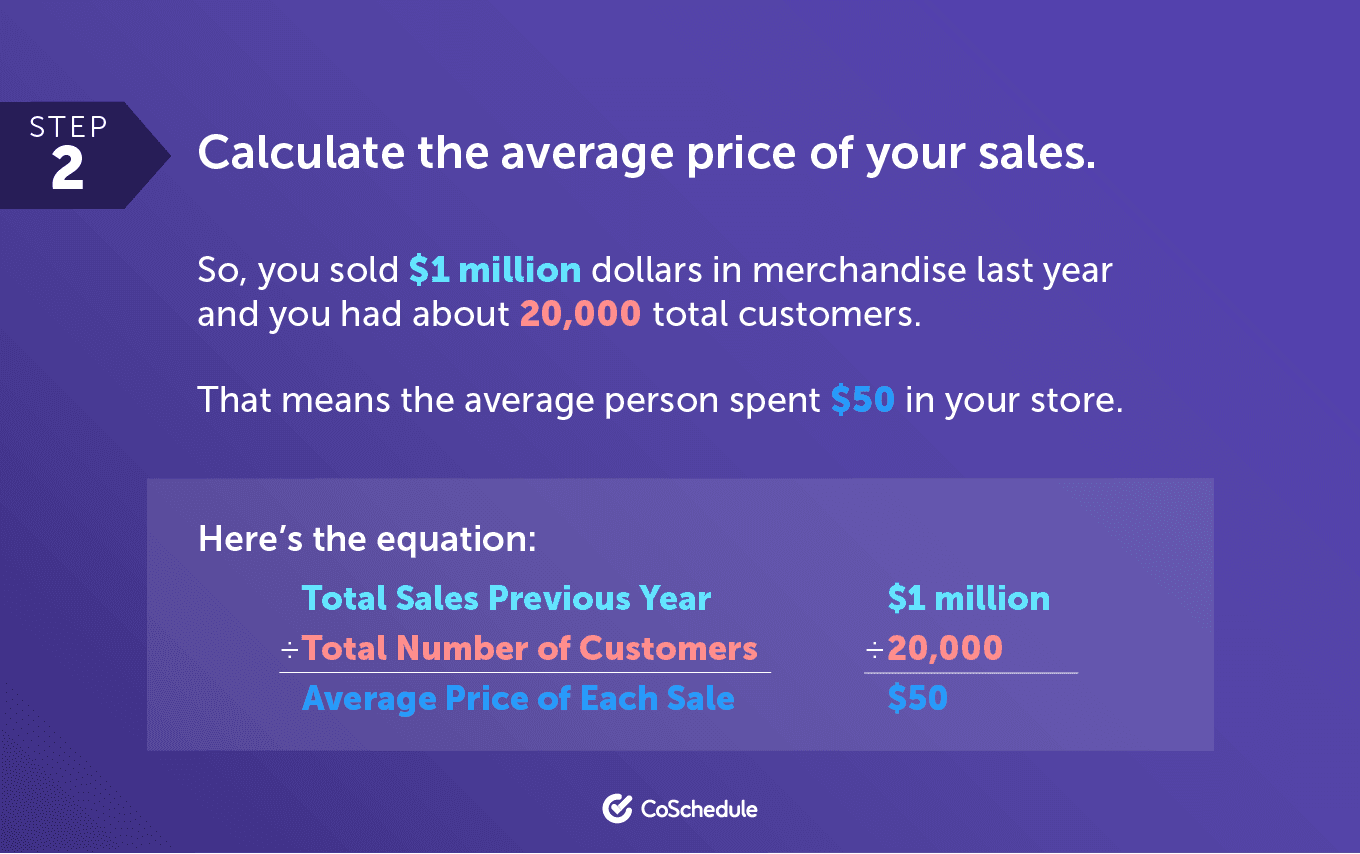 Step 2:
Calculate the average price of your sales.
So, you sold $1 million dollars in merchandise last year and you had about 20,000 total customers.
That means the average person spent $50 in your store.
Total Sales Previous Year / Total Number of Customers = Average Price of Each Sale
$1 million / 20,000 = $50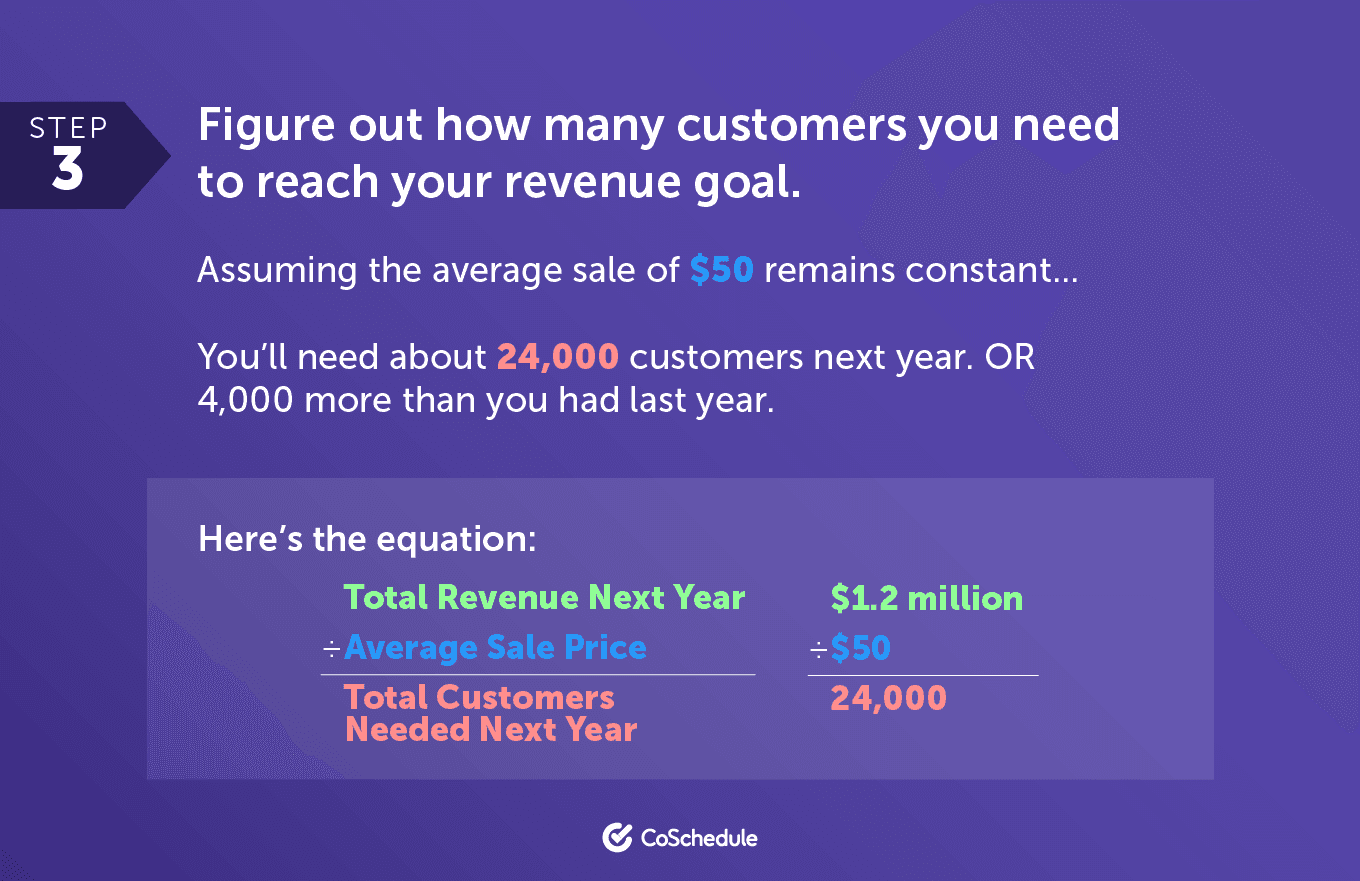 Step 3:
Figure out how many customers you need to reach your revenue goal.
Assuming the average sale of $50 remains constant...
You'll need about 24,000 customers next year. OR 4,000 more than you had last year.
Total Revenue Next Year / Average Sale Price = Total Customers Needed Next Year
$1.2 million / $50 = 24,000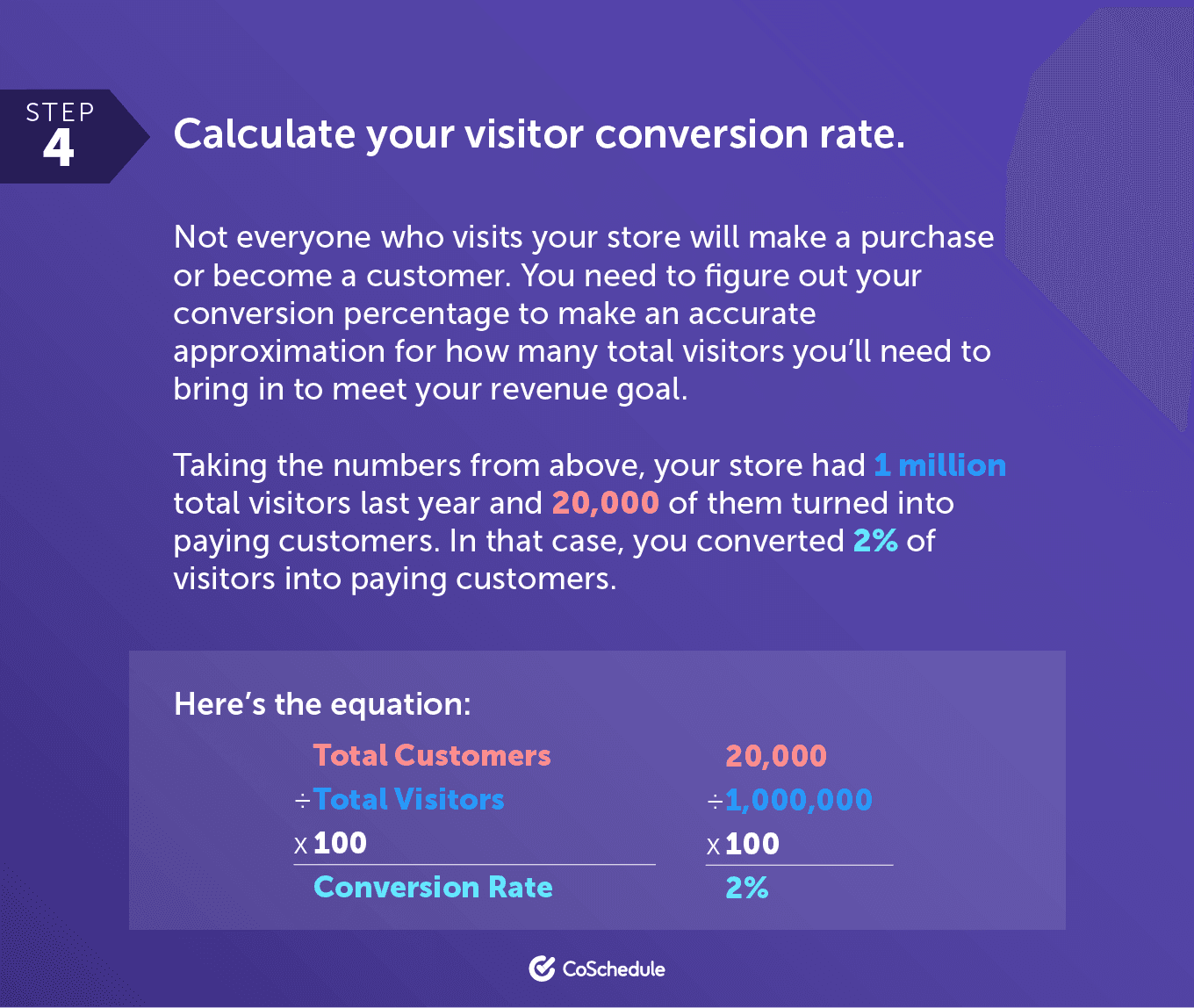 Step 4:
Calculate your visitor conversion rate.
Not everyone who visits your store will make a purchase or become a customer. You need to figure out your conversion percentage to make an accurate approximation for how many total visitors you'll need to bring in to meet your revenue goal.
Taking the numbers from above, your store had 1 million total visitors last year and 20,000 of them turned into paying customers. In that case, you converted 2% of visitors into paying customers.
Total Customers / Total Visitors * 100 = Conversion Rate
20,000 / 1,000,000 * 100 = 2%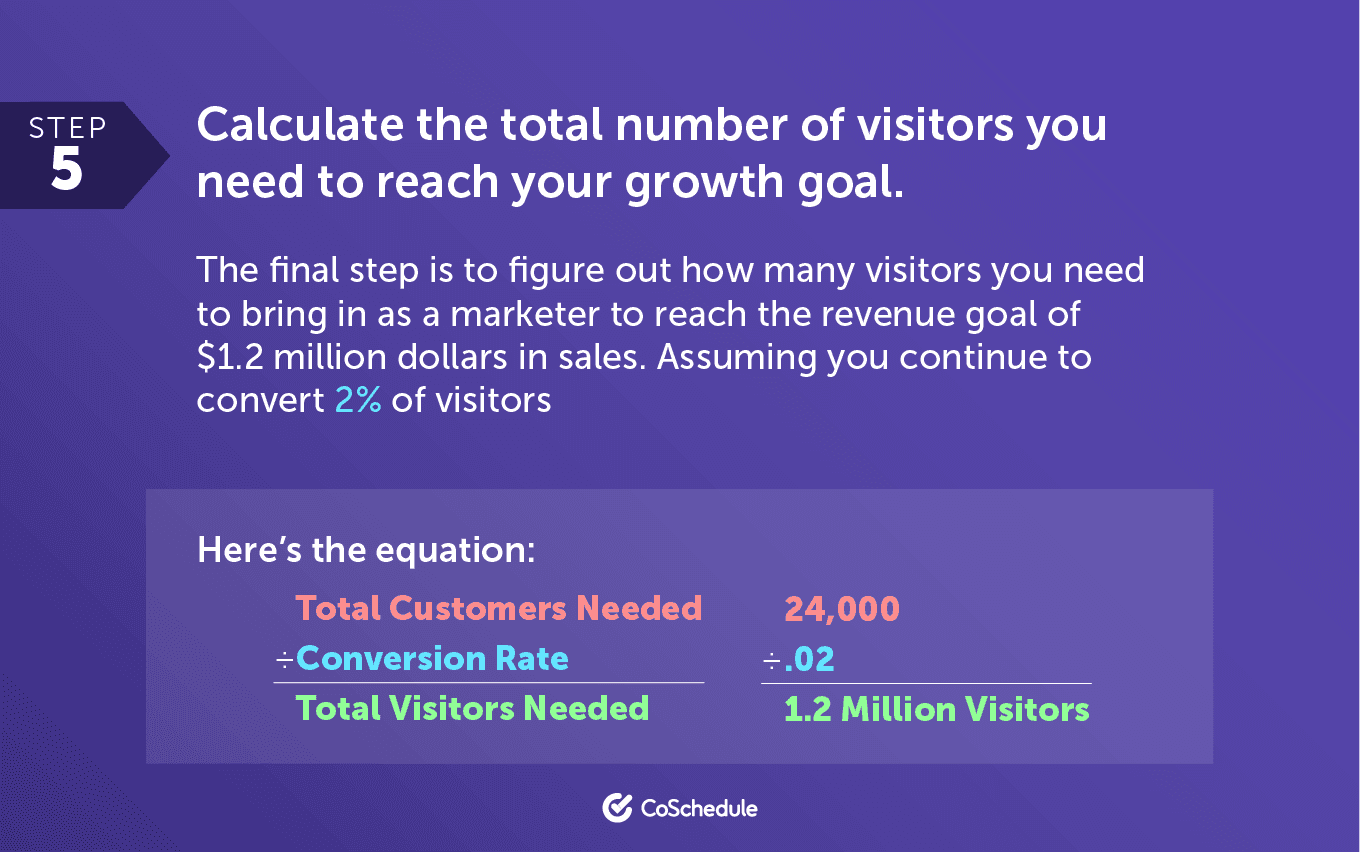 Step 5:
Calculate the total number of visitors you need to reach your growth goal.
The final step is to figure out how many visitors you need to bring in as a marketer to reach the revenue goal of $1.2 million dollars in sales. Assuming you continue to convert 2% of visitors
Total Customer Needed / Conversion Rate  = Total Visitors Needed
24,000 / .02 = 1.2 Million Visitors
That's your north star as a marketer. Everything you do should be focused on driving 1.2 million people to visit your store.
Brainstorm Ideas to Reach your Visitor Goals
1.2 million visitors (or whatever visitor number you calculated using the formula above) aren't going to just magically appear. You've got to do some great marketing to bring them to your store.
To start your brainstorming session, use this simple three-step process.
Step 1: Get your marketing team together in a room. Have everyone spend ten minutes writing down as many ideas as they can. Don't worry about the quality of those ideas yet - you will vet the ideas in step 3.
Step 2: Spend ten minutes reading each idea out loud. Have each team member score every idea on a three-point scale. Threes are home runs, twos are possibilities, and ones you can skip altogether.
Step 3: Spend ten more minutes reviewing each idea that everyone agrees is a three. These are your best ideas and the ones you should go with.
By following this process, you can wrap up your campaign brainstorming in half-hour to an hour (depending on how much time you spend discussing ideas at the end).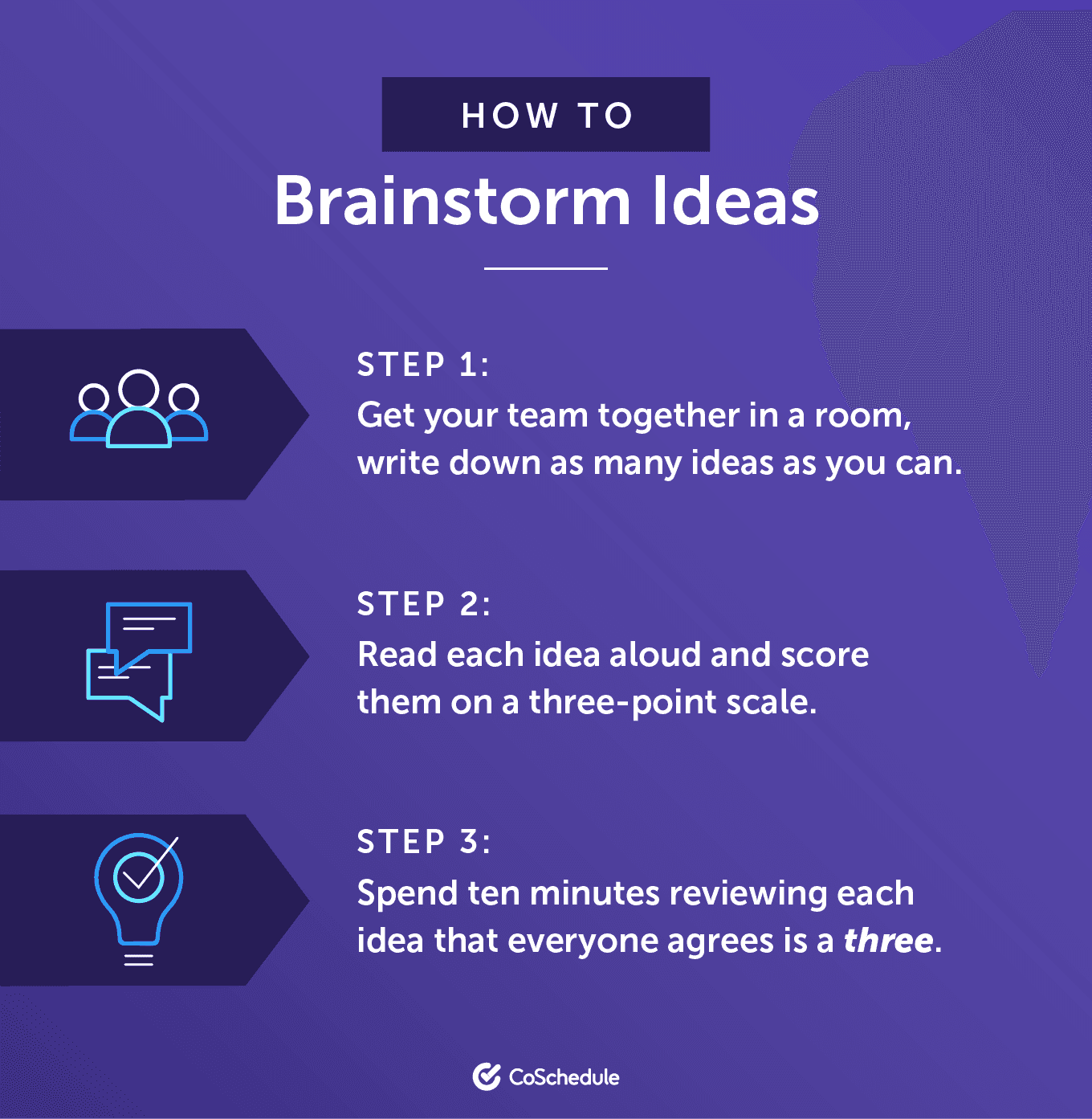 Map All Your Best Projects on a Retail Marketing Calendar
After you've figured out all your best marketing ideas, it's time to get planning.
The template provided in the download above provides a basic foundation to get started. Simple populate the excel spreadsheet with all your ideas, when you're going to launch them and who will be involved. Remember each individual project should have a goal to drive a certain number of visitors.
Here's how to use it:
I've created a fictional company that sells basic kids clothing and accessories. This activity plan gives a high level for each campaign that is coming down the pipeline.
In the next tab on the spreadsheet, you'll find an area for the granular campaign details.
Begin filling out details for each project under the campaign.
I started by creating a fictional influencer outreach campaign where 4 influencers will create sponsored content on their Instagram feeds.
Provide a short description of the project, the budget, the goal, and due dates for each task needed.
Next, you can fill in the due dates on the calendar template provided. This provides further clarification of due dates for each task
If you're kinda sick of managing a bunch of different spreadsheets…
And you're never really sure if people are on top of their tasks…
Try planning your retail marketing activities in CoSchedule instead.
Rather than having to constantly update a spreadsheet, CoSchedule gives you a single version of truth so everyone can finally get on the same page.
Start by creating a marketing campaign by choosing the first option called "marketing campaign".
Once you've done this, you'll see the campaign populate on your calendar.
Next, add each individual project that will make up the campaign. I'll start with the influencer campaign similar to the one in the spreadsheet template.
Next, give your campaign a title and due date.
Now, instead of creating static due dates in a spreadsheet, assign and delegate tasks in CoSchedule so everyone knows what their contributions are and when to do them.
After you've assigned the tasks, each individual will see them pop-up on their daily to-do lists.
Once you've added all the projects, everyone on your team will be able to see how all the pieces of your retail marketing campaign fit together.
Here's what a fully populated marketing campaign in CoSchedule looks like. You'll see every project, due dates, tasks and project progress all in one place.
Use CoSchedule's Hubspot Integration for The Ultimate Holiday Calendar
A lot of retailers are leveraging the power of Hubspot. Which is great – lucky for you we integrate seamlessly with all things Hubspot.
Here's how it works:
Connect your HubSpot account directly in CoSchedule to sync your email marketing, pages, and blog posts into one place.
Once you've connected your Hubspot account, you can create Hubspot projects directly in CoSchedule.
When adding a new project, you'll see a couple of Hubspot options you can add to your CoSchedule calendar.
Enter your title, add labels, owner, etc. Click the Create button when you are ready.
Next, choose your URL, if you're managing multiple sites, then the Page template you're wanting to work with. Once finished, you will see the HubSpot Page editor added to your project.
You can change the Post Title, Author, and Scheduled Time in CoSchedule. To edit further, click Edit in HubSpot.
Key Dates in Retail Marketing
Retail marketing ebbs and flows with seasonal changes, holidays, events and special occasions.
Knowing key dates allows you to plan in advance and prepare to increase sales with strategically timed marketing campaigns.
This printable infographic will help you identify key marketing opportunities for better social media content, email promotions and more. I've also provided a few examples under each to show how you can launch similar occasion-based marketing campaigns around holidays and key dates.
Key Marketing Dates Infographic

August 2019
2nd - International Beer Day
3rd - Watermelon Day
4th - National Chocolate Chip Cookie Day
10th - National S'mores Day
16th - National Tell a Joke Day
31st - International Bacon Day
September 2019
2nd - Labor Day
6th - Read a Book Day
8th - Grandparent's Day
11th - September 11th Remembrance Day
13th -  Friday the 13th
19th - International Talk Like A Pirate Day
23rd -  Autumn Equinox
29th - Rosh Hashanah
October 2019
1st - International Coffee Day
4th - World Smile Day
5th - World Teacher's Day
8th - Yom Kippur
14th - Columbus Day
16th - Bosses Day
17th - National Pasta Day
31st - Halloween
November 2019
1st - All Saints Day
11th - Veteran's Day
13th -  World Kindness Day
17th - World Peace Day
23rd - National Adoption Day
28th - Thanksgiving
29th - Black Friday
30th - Small Business Saturday
December 2019
1st - World Aids Awareness Day
2nd - Cyber Monday
7th - National Cotton Candy Day
7th -  Pearl Harbor Day
8th - International Children's Day
18th - Bake Cookies Day
20th - Go Caroling Day
22nd - Hanukkah
22nd - Winter Solstice
23rd - Festivus
24th - Christmas Eve
25th - Christmas Day
30th - Bacon Day
31st - New Year's Eve
January 2020
1st - New Year's Day
4th - National Spaghetti Day
15th - National Bagel Day
19th - National Popcorn Day
20th - National Cheese Lover Day
20th - MLK Day
25th - Chinese New Year (Year of the Rat)
February 2020
2nd - Groundhog's Day
2nd - Super Bowl
7th - Bubble Gum Day
9th - National Pizza Day
10th - Clean Out Your Computer Day
14th - Valentine's Day
17th - Random Acts of Kindness Day
17th - President's Day
18th - National Drink Wine Day
20th - Love Your Pet Day
22nd - National Margarita Day
25th - Mardi Gras
March 2020
6th - Employee Appreciation Day
8th - International Women's Day
14th - Pi Day (3.14)
17th - St. Patrick's Day
20th - International Earth Day
20th - Vernal Equinox
23rd - National Puppy Day
25th - Waffle Day
April 2020
1st - April Fool's Day
7th - National Beer Day
10th - National Siblings Day
12th - Easter
22nd - Earth Day (US)
23rd - Take Your Child to Work Day
23rd - Ramadan Begins
24th - Arbor Day
26th - National Pretzel Day
May 2020
1st - May Day
2nd - Kentucky Derby
5th - Cinco de Mayo
5th - National Teacher's Day
6th - National Nurses Day
8th - Daycare Provider Day
10th - Mother's Day
25th - National Wine Day
25h - Memorial Day
Dates Vary - High School/ College Graduation
June 2020
5th - World Environment Day
5th - National Doughnut Day
6th - D-Day
12th - National Peanut Butter Cookie Day
14th - Flag Day
21st - Father's Day
19th - Juneteenth
21st - International Yoga Day
21st - Summer Solstice
26th - Take Your Dog to Work Day
July 2020
1st - Canada Day
1st - International Joke Day
4th - Independence Day
13th - Friday the 13th
14th - Bastille Day
14th Shark Awareness Day
17th - World Emoji Day
19th - National Daiquiri Day
19th - National Ice Cream Day
Occasion-Based Retail Marketing Campaign Examples
If you're looking for a new way to market your business, try creating an occasion-based campaign. To start, choose a day from the infographic above that fits your target audience interests or product offering.
Here are a few examples to get you brainstorming.
International Beer Day - TGIFridays
Bar and restaurant, TGIFridays launched a massive marketing campaign around International Beer Day.  The marketing campaign ran for four weeks in over 60 markets. The campaign aimed to make Fridays a destination for beer lovers from around the globe.
Want to Replicate This?
This was a full-on integrated marketing campaign. The company launched organic social media, paid sponsorship posts, in-restaurant collateral, and more. To replicate this, be ready to devote most or almost all of your social media activity to your promotion.
Read a Book Day - Manolo Blahnik
Reading a book and wearing luxury footwear don't have a lot in common at first blush. Unless your footwear company is Manolo Blahnik.
The company smartly promoted its new book and a snazzy pair of its shoes in an Instagram campaign for National Read a Book Day.
Want to Replicate This?
This one is an easy one to replicate. Sure not all companies have books written about them, but you could do a series of social media posts featuring several different employees reading their favorite books. You could even turn this into an HR branding campaign and devote one hour of work time to allow your employees to dive into a new book.
World Smile Day - Smile Direct Club
Smile Direct Club leveraged World Smile Day to produce a killer marketing campaign. The campaign incorporated social media, discount codes, giveaways and more to raise brand awareness and increase sales.
Want to Replicate This?
To replicate a retail campaign like this one, find a wacky holiday that fits with your product. Then create a fully integrated campaign that incorporates email marketing, blog posts, discount codes, and giveaways.
Basically Any "Holiday" or Pop Culture Event - Petco
Petco is all over the occasion-based marketing. The company posts social media content around many of these days – from National Doughnut Day to the Game of Thrones finale.
Which makes sense because if there's one thing that makes a quirky holiday more fun, it's pictures of animals dressed up in costumes.
Want to Replicate This?
Petco does an amazing job of leveraging user-generated content. Ask your followers to submit pictures to be featured on your social channel. You could even run a campaign to help grease the wheels a little - offer people a discount code or some other carrot for submitting their images.
St. Patrick's Day - Aldi
Discount grocery retailer, Aldi, launched a special line of cheeses in honor of St. Patrick's Day. The lineup included 5 Irish-themed cheese varieties like Pesto Gouda and English Sage Derby that were green in color, Aged Irish Cheddar, Irish Cheddar with Beer, and Irish Cheddar with Whiskey.
Want to Replicate This?
First, choose a holiday that you want to promote. Then, create a limited edition product line to support the holiday. Old Navy does this on a yearly basis with its annual 4th of July t-shirts.
Earth Day - Everlane x New York Times
Clothing company, Everlane, partnered with the New York Times to launch a collection of t-shirts to highlight the issue of climate change.
For every one sold, the New York Times gifted 9 public schools students access to a year's subscription to its newspaper.
This might seem like an odd partnership, but the backbone of Everlane's brand involved sustainability – through initiatives like completely removing plastic from its supply chain.
Want to Replicate This?
Partner with an organization in a different industry than yours, but shares the same values. This type of partnership allows both companies to access a wider range of customers than they could on their own.
Pi Day (3.14) - SEC Network
This creative social campaign around Pi Day comes from the SEC Network. The network created clever social media posts to fill their channels in honor of celebrating the ratio of a circle's circumference to its diameter.
Want to Replicate This?
This is another easy one to replicate. Use Pi day by creating unique social media messages. You can either use the number to highlight your products like the example above, offer a product on the day for $3.14, or give some other type of discount.
Yoga Day - Penguin Books
This book publisher took a unique take on Yoga Day for its marketing campaign. The company featured illustrations of made-up yoga poses for when you're so entrenched in a book you don't notice anything else.
Want to Replicate This?
Create custom illustrations and creative copy for your retail marketing campaign. All it takes is a graphic designer and a little creativity.
Easter - Banana Republic
Banana Republic took a fun digital and IRL approach to the traditional Easter egg hunt. The company hid eggs stuffed with extra saving for customers to find throughout their stores/website.
Want to Replicate This?
Turn your digital idea into an experiential marketing opportunity by adding a real-life version to your brick-and-mortar stores.
Graduation - Net-a-Porter
Graduation is a special time of year where gift-giving can be particularly tricky. Digital retailer, Net-a-Porter aimed to make it easier with its graduation gift guide.
The marketing campaign features several different gifts hand-curated by stylists at the company.
Want to Replicate This?
Create an email campaign with curated items from your retail store. This idea can be recycled for multiple holidays like Christmas, Mother's/Father's Day, Graduation, etc.
Cinco de Mayo - Pottery Barn
Similar to the Net-a-Porter example above, Pottery Barn carefully curated an assortment of its products that fit with the Cinco de Mayo holiday.
From colorful floral tableware to margarita glasses, this retail marketing campaign helps highlight a specific product category for the company and also helps customers easily find relevant products related to the holiday.
Want to Replicate This?
Find products in your line that fit with an upcoming holiday and build a retail marketing campaign around them. This can be used for social media, email, direct mail, etc.
Make Your Retail Marketing Easier
Now you're armed with an awesome template to plan a ton of content in advance for your e-commerce or retail store. You also know how to set goals to increase your likelihood of success, what key marketing dates are coming up to build content around, AND some real-life examples to inspire you.
What more could you need? Maybe a demo of CoSchedule to see how it will simplify literally every aspect of your marketing.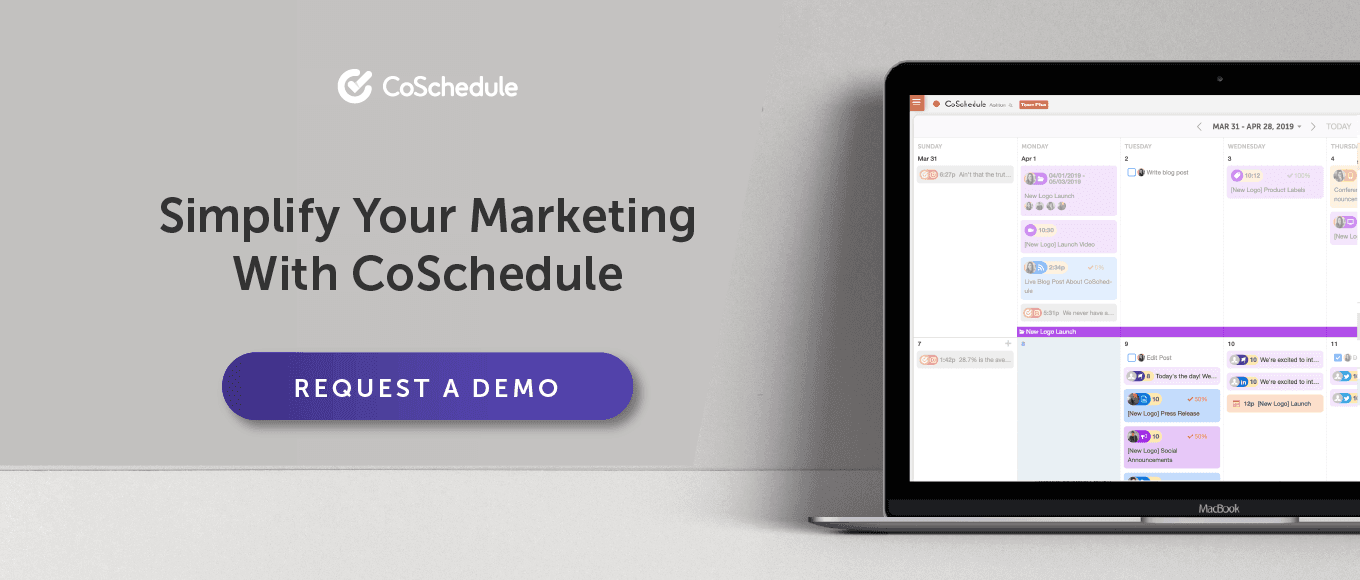 July 24, 2019